2018: Design events from around the world
Featured image: Reflection Room, by designer Flynn Talbot, is an immersive coloured light experience that was the first London Design Festival installation to be housed in the Prince Consort Gallery (2017).
Each year sees a plethora of fantastic design and architectural events around the globe – from Paris's famous Maison et Objet to lesser known events like DesignMonat in Austria. Here we have gathered together all the most important design events in the calendar for easy reference.
January

January 15–21
IMM COLOGNE Cologne Germany  |  www.imm-cologne.com
The international furniture trade show that sets the stage for furniture and design trends for the coming year. Open to the general public from Friday.
January 17-20
FORMEX Stockholm, Sweden  |  www.formex.se
Formex is a 4-day event showcasing the best of Nordic interior design.
January 19-23
MAISON ET OBJET Paris, France  |  www.maison-objet.com
Often cited as the most important event in the interiors calendar, January's Maison et Objet attracts industry leaders from across the globe.
January 24–25
ARCHITECT @WORK Olympia, London, UK  |  www.architect-at-work.co.uk
This two-day worldwide trade fair is aimed at architects, designers and specifiers.
February

February 5-9
CEVISAMA Valencia, Spain  |  cevisama.feriavalencia.com
The International Ceramic Show presents the latest in ceramics & bathroom furnishings.
February 5-11
STOCKHOLM DESIGN WEEK Stockholm, Sweden  |  www.stockholmdesignweek.com
The world's largest meeting place for Scandinavian Design. The main event is Stockholm Furniture & Light Fair which attracts around 40,000 visitors.
March

March 3-11
MUNICH CREATIVE WEEK Munich, Germany  |  www.mcbw.de
Munich Creative Business Week (MCBW) is the largest design event in Germany for designers and contractors.
March 15-18
DESIGN MARCH Reykjavik, Iceland  |  www.designmarch.is
From fashion to furniture, architecture to food design, this is the best of Iceland's design scene, with some global names to spice things up.
April

April 17-22
SALONE DEL MOBILE, MILANO Milan, Italy  |  www.salonemilano.it
Showcasing the excellence of Italian furniture since 1961, the Milan Design Week is the largest trade fair of its kind in the world. Today, it is a truly international affair, with half of its 300,000 visitors coming from all over the world.
Salone del Mobile | Local Milan, a showcase of work by 11 Australian designers, took over a space behind a 12th-century church in the Italian city. (2017) Courtesy Local Design
May

May 16–20
ARCH MOSCOW NEXT!  Moscow, Russia  |  www.archmoscow.ru
The biggest yearly event in Russian design and architecture with this year's edition set to be the biggest in its 20 year history.
May 5 – June 3
DESIGNMONAT GRAZ  Graz, Austria  |  www.designmonat.at
A month-long design extravaganza that consolidates the region's creative energy into a few weeks.
June

June 1-30
LONDON FESTIVAL OF ARCHITECTURE London, UK  |  londonfestivalofarchitecture.org
This festival is a month-long, city-wide celebration of architectural experimentation.
June 27-30
NEW DESIGNERS London, UK  |  www.newdesigners.com
Championing the work of young designers for 30 years, the show's long-standing reputation attracts a high-profile audience of nearly 20,000.
September

September 6-16
HELSINKI DESIGN WEEK Helsinki, Finland |  www.helsinkidesignweek.com
The largest design festival in the Nordic countries – including fashion, architecture and cultural design. Various events staged across the city including a design market.
September 8-16
PARIS DESIGN WEEK Paris, France |  www.maison-objet.com
Fast becoming the definitive cultural counterpoint raising the bar for design weeks across the world. Overlapping the Maison et Objet September show and uniting the French and an increasingly international design community, the PDW city becomes immersed in promenades, cocktails & exhibitions… culminating in the celebration of emerging talents at Now! Le Off.
September 15-23
THE LONDON DESIGN FESTIVAL London, UK  |  www.londondesignfestival.com
A city-wide event that celebrates London's thriving design sphere over nine days. The events are staged at 400 different venues across the city.
Dutch Design Week | MVRDV presents a hotel you can reconfigure (2017)
September 16-19
DECOREX INTERNATIONAL London, UK |  www.decorex.com
Synonymous with luxury and internationally renowned for being one of the best events to discover the most coveted products from an unrivalled collection of 400 hand-selected exhibitors.
September 18-21
HABITAT Valencia, Spain |  www.feriahabitatvalencia.com
With over fifty editions, this fair is one of the most veteran in decoration and design. It has spaces dedicated to different sectors of furniture, lighting and home textiles.   
September 19-22
100% DESIGN Olympia London, UK |  www.100percentdesign.co.uk
100% Design is the largest and longest running contemporary design event for industry professionals in the UK.
September 20-23
LONDON DESIGN FAIR London, UK |  www.londondesignfair.co.uk
London Design Fair is the largest collection of international exhibitors, designers, brands, country pavilions, features and exhibitions including 'Tent London' & 'Super Brands London' in one destination during the London Design Festival. Open to both trade visitors and members of the public.    
October

October 21-29
DUTCH DESIGN WEEK Eindhoven, Holland  |  www.ddw.nl
Dutch Design Week is one of the largest design events in Northern Europe, attracting over 250,000 visitors. It aims to encourage and nurture young talent, and consequently places strong emphasis on the future of design.
November

November 28-30
WORLD ARCHITECTURE FESTIVAL Amsterdam, Netherlands  |  worldarchitecturefestival.com
The World Architecture Festival is the only annual live event that celebrates architecture and design from across the globe. More than 2,500 architects and designers attend representing 68 countries. 1,100 architecture projects are entered each year into the WAF awards with 530 awards taking place at the festival and 150 international judges giving live critiques.
---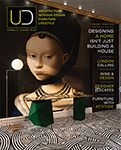 This article first
appeared in the
inaugural issue of
UD Magazine.
To read UD Magazine
online click here.
---