Designer Escapes: Chic & Sexy Retreats
In this issue we look at a sumptuous urban palace and three stunning beach properties: a French hotel in midtown Manhattan, a hippy-chic spot on an unspoiled Mediterranean isle, a treetop retreat on the Mexican Riviera and an eco-paradise in the idyllic Maldives.
Kudadoo, Maldives
Above: The roof of Kudadoo's iconic two-storey architectural masterpiece, the Retreat, generates sufficient electricity to serve 50 residents and 100 staff occupying the resort at any one time.
Above: The outdoor deck of each villa is a spacious extension of the living space topped off with a 44 m2 infinity plunge pool, for those who don't fancy braving the sea.
If environmental concerns are as important to you as a stunning location, then this luxury eco-conscious island resort in the Indian Ocean with solar power, energy-efficient climate control and sustainable building materials is perfect.
On a secluded private isle in the Maldives, the multi award-winning tropical hotel has just 15 over-water wooden villas, built with minimum environmental impact on the seabed. For guests, everything is included during their stay – unlimited meals, drinks, leisure activities, excursions and wellness treatments, as well as one's own private 24-hours-a-day butler.
Naturally, the low-key luxe villas at Kudadoo (the name means small island) feature a private pool. Architect Yuji Kamazaki wanted the residences to feel as natural as possible, with timber roofs and shaded outdoor living areas, opening on two sides to give the feel of being close to the turquoise waters, while the oak floor is from sustainably-managed forests. The design is inspired by the architect's native Japan.
This is an ideal place to disconnect, with spa experiences including a cave lined with 1,000-year-old Himalayan salt, while the more active can go paddleboarding, sailing or kiteboarding. For speed freaks, there are speedboats and jet skis – look out for dolphins. Guests can also get close to the undersea world by snorkelling and scuba diving in coral reefs, spotting turtles, rays and sharks, and having fun on water scooters.
Our favourite gastronomic experiences are the floating breakfast in one's own pool, and the world's largest all-glass undersea restaurant (at the next door sister resort), although one can also dine on the beach by candle light, in one's own villa, or at the central building, whose roof is covered with the solar panels that power the resort. Many ingredients are organic and sustainably sourced, or grown on the island, which also has a water-bottling plant – single-use plastics aren't allowed – to add to the eco-friendly vibe of the resort.
Azulik, Mexico
Picture a hotel whose candle-lit rooms are either perched on the jungle treetops or peeking out at the Caribbean, made entirely of natural materials. Designed in harmony with its natural environment and local Mayan beliefs, following a distinctive yet free-flowing architectural form, Azulik eco-retreat is a unique and ground-breaking concept in the fashionable Mexican beach resort of Tulum.
A hotel largely without mod-cons like TV, air conditioning and in-room WIFI can present a challenge to our modern-day preconceived assumptions and expectations. But Azulik is a different sort of project, embracing nature, art and ancient wisdom.
The eco-resort's 48 Insta-friendly villas, or "habitable sculptures", are furnished with wooden beds and mosaic-tiled or volcanic stone bathtubs. Guests can choose from several room types including the spectacular, spacious, sea-facing Aqua suite (100 m2), featuring indoor water-ways and direct beach access, while even the most bijou, basic Jungle rooms (7 m2) have power points and an outdoor balcony with private hot tub fed by cenote water (from sacred underground pools).
All the villas, restaurants and other facilities within the resort are connected by raised winding walkways, with trees growing naturally around and through them – hence the uneven floors.
The Patagonian-born artist and entrepreneur behind the project, Roth, has no formal architectural training, and built the hotel gradually and organically using locally-sourced sustainable materials from the jungle such as bejuco (an indigenous climbing plant) and jiles (wooden sticks).
Azulik (meaning blue wind) has an onsite gallery, SFER IK, with characteristically amorphous shapes and undulating floors made of concrete and timber (Peggy Guggenheim's great-grandson co-curated the inaugural exhibition); a house of ancestral medicine; a spa and beauty salon; and a shop selling clothing and accessories.
Five Flowers, Formentera
Above: The bathroom in a Flower Premium room.
Above: The bright interior of a Flower Boutique room.
As the first five-star hotel on the least-known of the Balearic islands, this newly-opened hipster hangout has a fun hippie-luxe vibe.
The hotel, which opened in May 2019, immediately shows its quirky, whimsical side, with huge sculptural flowers adorning each corner of its white concrete and glass block, like something out of a psychedelic fairytale. Inside, one finds soft, rounded chairs in a petal-like design, as well as pods often seen in forward-thinking tech companies.
The organic interior design of the 79 good-sized rooms features orchid-shaped basins, complete with applique-type flower decorations hanging from the ceiling and enhancing the walls. The floral theme continues with the room names, from Flower Boutique to Flower Garden and Flower Sky. All rooms have their own terrace or balcony, but the premiums (Flower Sky and the suites) also come with private whirlpool tub.
Above: Even the toilets have not escaped the hippy flower-power theme.
The 1960s and 1970s hippie flower-power theme – zingy orange, citrus yellow and bubblegum pink colour pop chairs and cushions on a white background – combines with modern facilities, such as a 55-inch flatscreen TV, ambient lighting controlled by touch panels, and a Bluetooth speaker.
Es Pujols beach, with its clear turquoise waters, is just two minutes' walk away, and one can cycle to other beaches nearby. There's a Japanese restaurant by Michelin-starred chef Hideki Matsuhisa on the roof terrace, complete with tasting menu, as well as a Mediterranean restaurant by the ground floor pool.
For cooling off without leaving their luxurious surroundings, guests have an infinity pool on the hotel roof, offering fabulous 360-degree views over the surrounding countryside and the sea, perfect for enjoying a romantic sunset cocktail, as well as a larger pool on the ground floor with sunloungers and daybeds.
Baccarat Hotel, New York City
Above: Inspired by the Côte d'Azur, the pool's checkered floor and warm, pure water make for a dreamlike quality, as does the comfort of its crisp white daybeds.
The first hotel by the legendary French crystal house the Baccarat is decorated, lined and hung with 15,000 pieces of hand-cut crystalware that glimmers and glistens throughout. Combining Parisian living with New York urban style, its 114 rooms and suites occupy the first 12 floors of a 185-metre-tall tower on West 53rd Street. Add a restaurant by two-Michelin-starred Gabriel Kreuther, as well as the US's only De La Mer Spa with a stunning indoor pool, and you have a highly desirable property.
Above: The Bar takes its visual cues from great American long bars of decades past, glamorous ballrooms of French hôtels particuliers and the royal stables at Versailles, with distinctive barrel vaulting and natural-wood walls defining much of the space.
Baccarat, which was founded in 1764, is famous for its exquisite crystalware: glasses, bowls and lamps, as well as jewellery and decorative pieces. The hotel's lofty ceilings are adorned with 17 custom-made chandeliers featuring signature red crystals, which are made with 24-carat gold dust. One of them, with 64 arms, is in the Grand Salon.
The mood of the hotel is pampering, but on a grand scale. Interior designers Gilles and Boissier (both Parisian, naturellement) have used an upscale palette of soft ivory and platinum gray, accented with bold red, while huge displays of fresh blood-red roses provide a dramatic touch against the chic neutral background.
Above: We love the crisp white Mascioni bedding and the upscale palette of soft ivory and platinum grey, accented with splashes of bold red.
Rooms feel light, spacious and sleek, with sumptuous Mascioni bedding and a monogrammed Baccarat cashmere throw, wood parquet floors and luxurious white marble bathrooms. One even gets a red minibar cabinet with Baccarat crystal glasses, as well as lamps and wall sconces from the French luxury brand.
A Parisian connoisseur scoured auction houses for unusual art works, and the hotel is filled with a fascinating variety of pieces, including quirky photographs, paintings and prints which add a sharp contemporary edge. The bar, with its high vaulted ceiling modelled on the stables at Versailles, boasts risqué black and white photographic prints to accompany one's signature cocktail. The afternoon tea menu is a sight to behold, with Turkish and Russian-themed menus. There's even an outdoor terrace, to survey the city; you're on West 53rd Street and Fifth Avenue, opposite MoMA.
Baccarat is reinterpreted in a contemporary way in an LED light show in reception, featuring 2,000 classic Harcourt glasses. Additionally, 11 French or France-based artists were commissioned to reinterpret the Harcourt, into twisted and deconstructed versions, celebrating a new, avant garde perspective on the French house which has provided crystalware to royal families, dignitaries and celebrities around the world for centuries.
---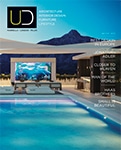 This article first
appeared in the
7th issue of
UD Magazine.
Click on the image to read online.
---