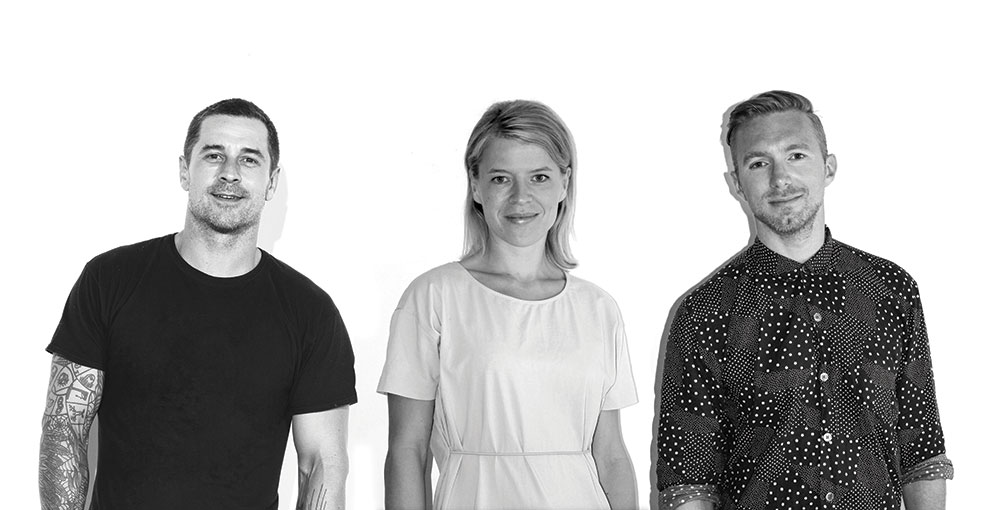 Feathr Weight Champions
Anti-apathy, open source and optimism: these are the words used by FEATHR founders Tom and Anne Puukko and Oli Green to describe their ground-breaking interiors company.
Giles Brown chats with Tom about wallpaper as the Next Big Thing, about why the Finns have their lives sorted out and about ditching fear by taking risks…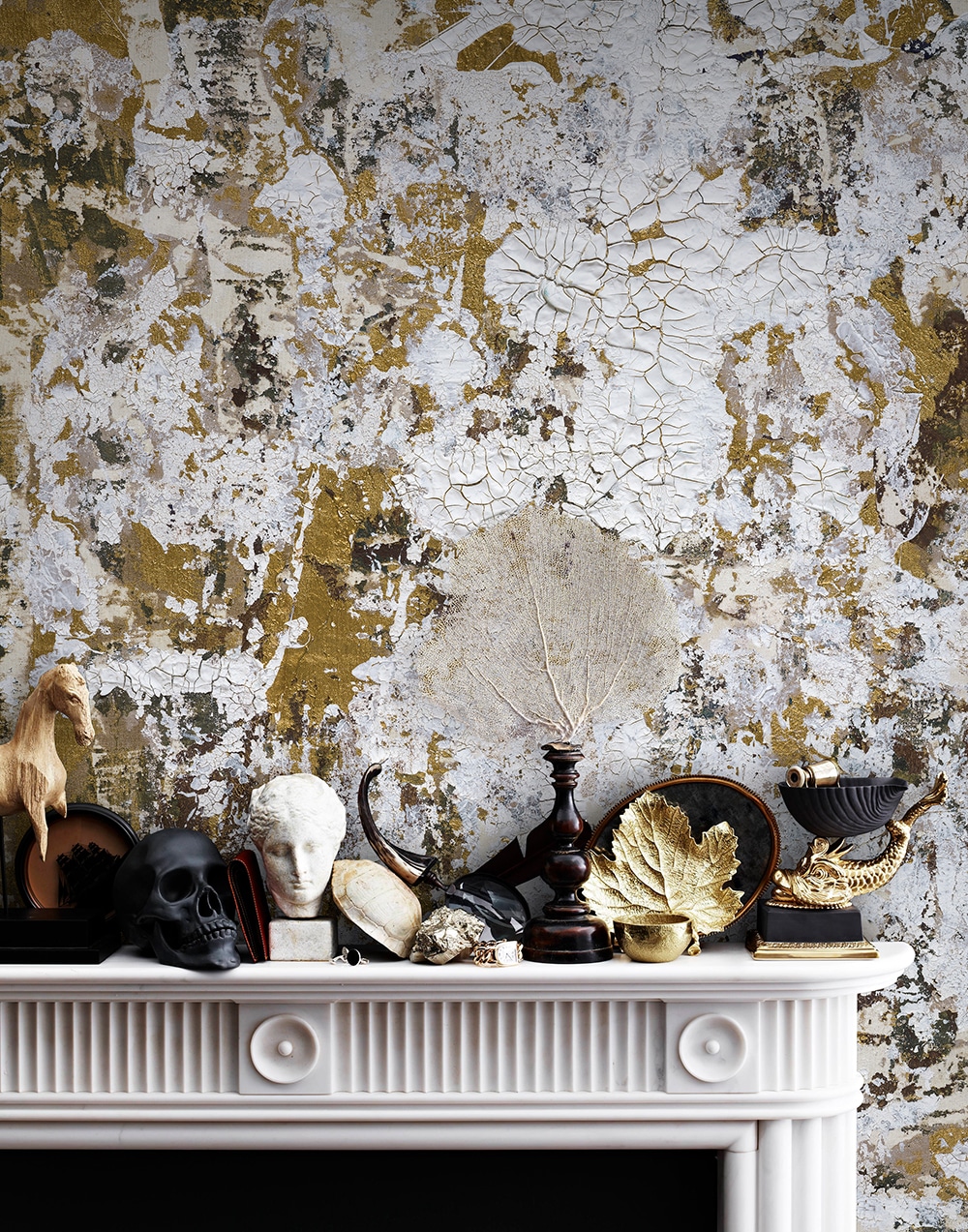 Above: SAFARI WALLPAPER by Kiki Slaughter
Adapted from the original artwork by American abstract artist Kiki Slaughter. Safari was painted with oil and metallic acrylics on canvas and demonstrates Slaughter's process of pouring, scraping, layering and otherwise manipulating paint on the canvas to create works that are rich in both color and texture
How did FEATHR come into existence?
All three of us who started FEATHR worked in advertising, and we could no longer face writing ads to sell chocolate cereal to children. We had a few ideas knocking around to do something new, mostly in the design world, but the concept for FEATHR bubbled up during a shopping trip for wallpaper for our home. 
Wherever we went (online or off) we saw the same designs, the same brands, the same styles – one sales person even went through a whole wallpaper book saying repeatedly, "oh, don't get that, everyone's got it." We left that store thinking: surely there must be a company that brings together independent creative talent and interiors? We found out there wasn't, and FEATHR was born. 
It's been quite a road from that light bulb moment though. At the start we had nothing more than the idea of 'more art, less decoration', and that was our tool for convincing artists to work with us. We're also outsiders to the interior design world, so we've had to build connections from scratch. But that's also allowed us to ditch some of the old rules and find new and better ways to do things.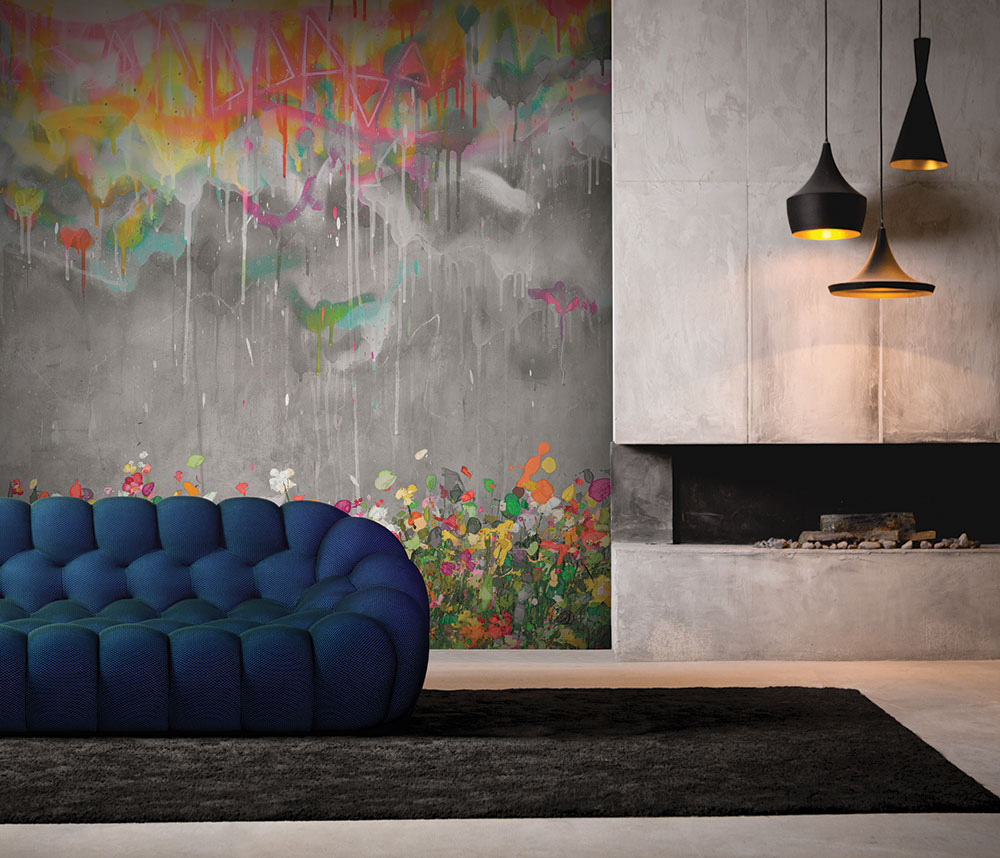 Above: GLOWING SHARDS GREY by Lee Herring
This wallpaper displays Lee's trademark mixing of media, with spray paints, markers and acrylic paints. The result is a stunningly modern meeting of florals with graffiti styling: a true centrepiece wallpaper mural
Why do you think that designer wallpaper has become the Next Big Thing?
People have become bored with the 'white box minimalism' that dominated interior design for so long. There's a real desire for brighter colours, bolder patterns, textures, maximalism – and just having a bit of fun with your interiors. Designer wallpaper has been a big part of that – it's a simple way to transform a room and make a big statement.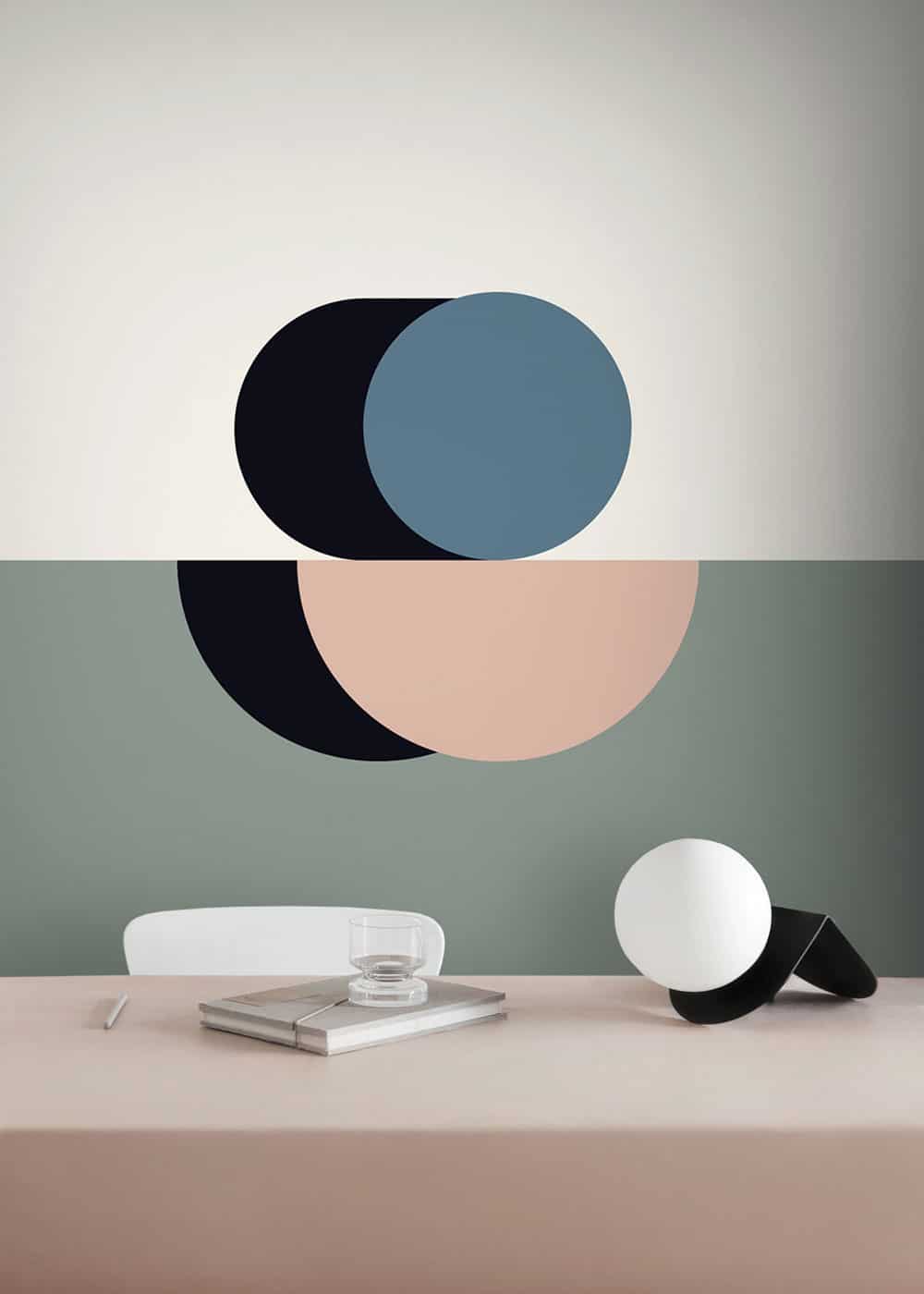 Above: ELEVATION SAGE by Elo
Photographer, instagram star and founder of Eloisa (the TV branding company), Elo creates geometric artworks using woodcut blocks. Her work recalls modernist architecture and the playful aesthetic of the Memphis Group. movement
You moved to Fiskars in Finland, an artistic community in the countryside. Yet we are always being told that cities are the place to be if you want to be "edgy" and "happening". I assume you have to travel a lot?
To steal a quote from the badly stuffed pillow that is Boris Johnson – we're pro having our cake and eating it. Fiskars gives us the best of both worlds. It might be in the countryside, but as it's a hub for artists and creative people in general, we find plenty of "edgy" and "happening" comes to us. On top of that, the creative world, just like the rest of the world, is being decentralised by digital – if you wanted to find the hot new stuff twenty years ago, a city was the only place to be. The Internet has broken that hegemony, and now you can live and work and be culturally connected in a small village, or a beach, or wherever you want. Of course, travel is a part of what we do for work and pleasure, and there's always a gallery or a gig you want to get to. But it's no longer the binary choice it once was.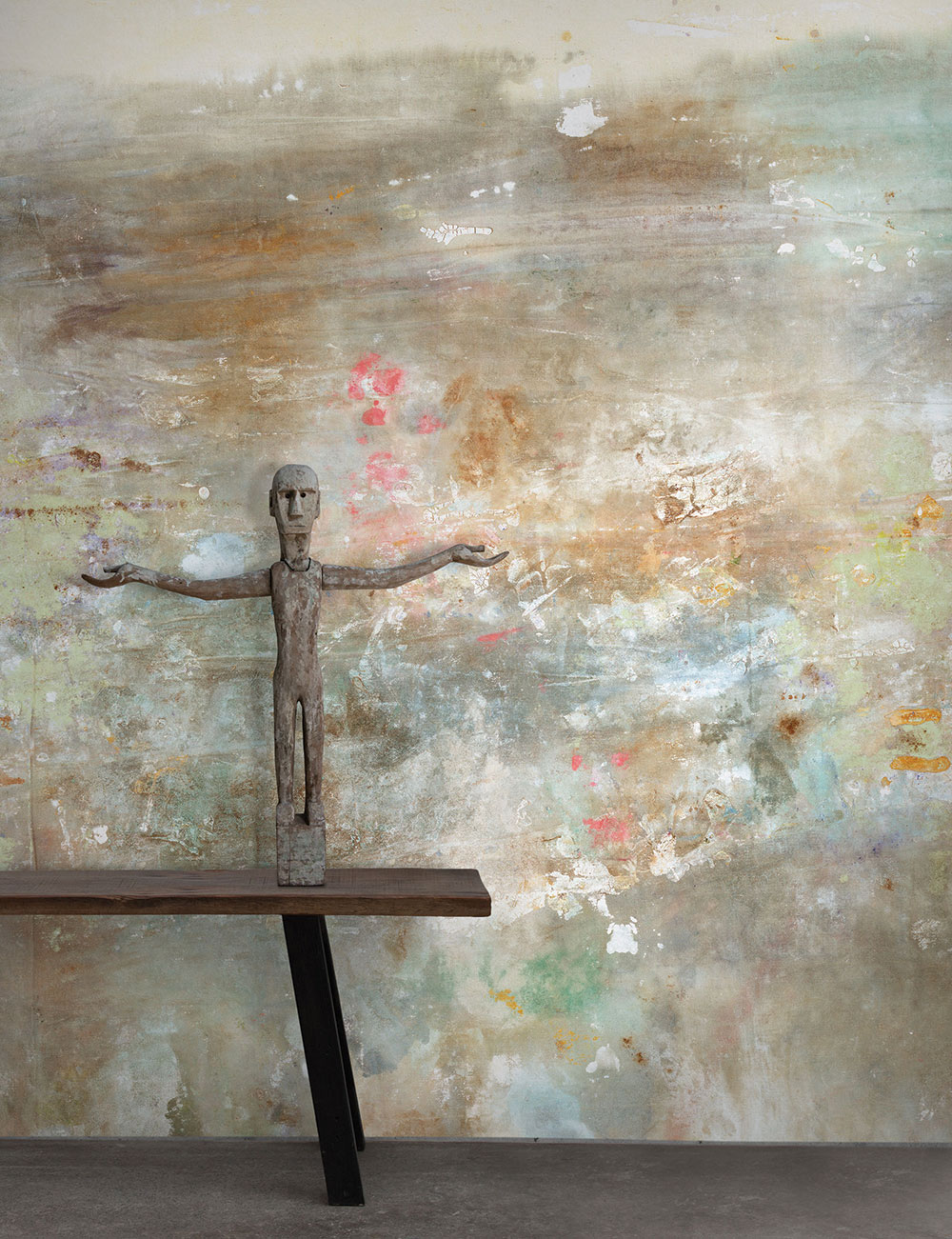 Above: OH LA LA WALLPAPER by Kiki Slaughter
This distressed shabby chic wallpaper won "Surface of the Year" (2017) and was the runner-up in "Wallpaper of the Year" (2016) in Homes & Garden Magazine
Did you imagine that FEATHR would be so successful so quickly?
That wasn't really a measure we had in our heads when we started. Our hope was to create some beautiful work in collaboration with artists we admired, and we didn't mind if it had a following large or small, as long as it had a following that loved what we were doing. Success is such an illusory goal that I much prefer to focus on being in the moment, creating something I'm proud of – and hopefully good stuff, new friends and food on the table follows from there.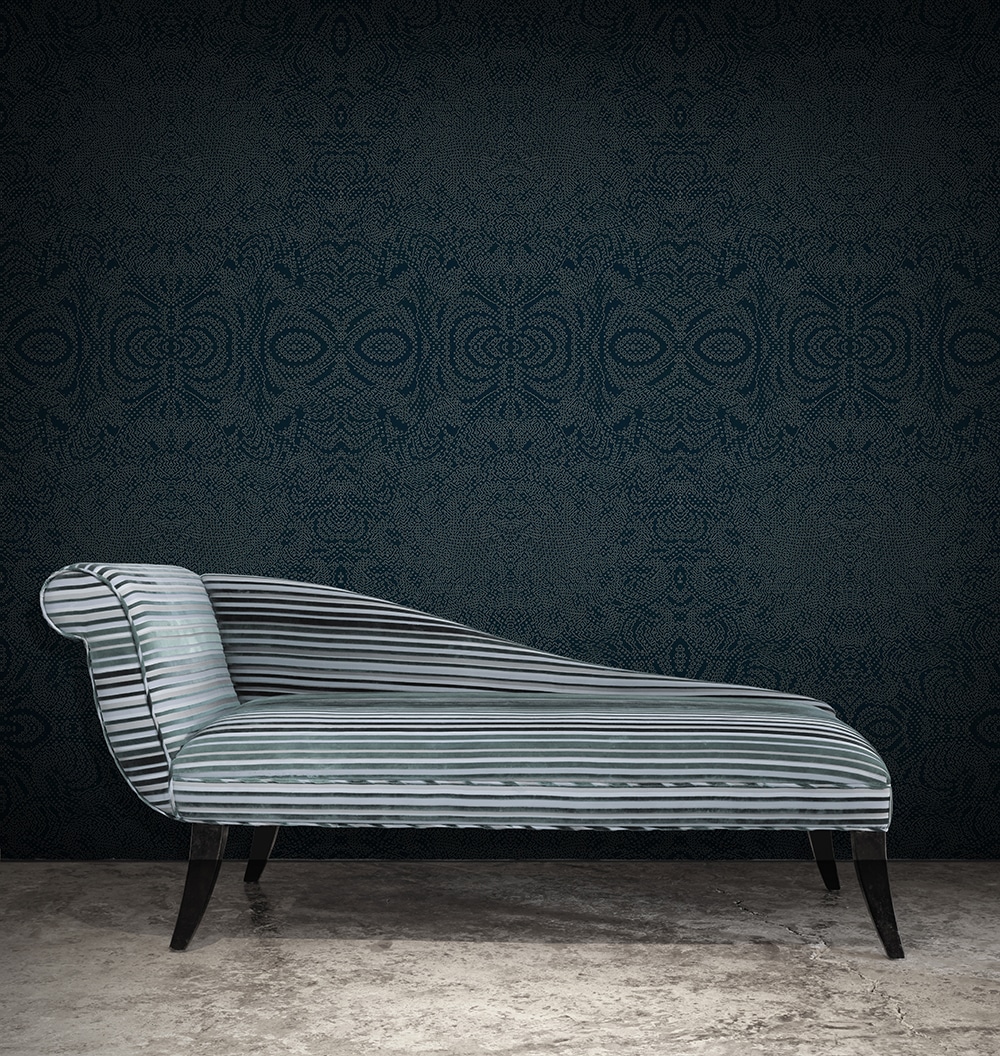 Above: Above: JUNGLE OF DETAIL II WALLPAPER by Deep Dawda
Inspired by fractals, optical art and lizard skin, this designer wallpaper will bring the exotic into any room of the modern home
You've described your designs as anti-apathy. What do you mean by this?
Apathy is the lazy sibling of fear. We believe in ditching fear and just doing, try things out, experiment, take risks, get it right, get it wrong, shock yourself, surprise others, learn and do it all again. That's an attitude I have for life and for our work. Wallpaper is a canvas where we can be bold and encourage others to do the same with their homes.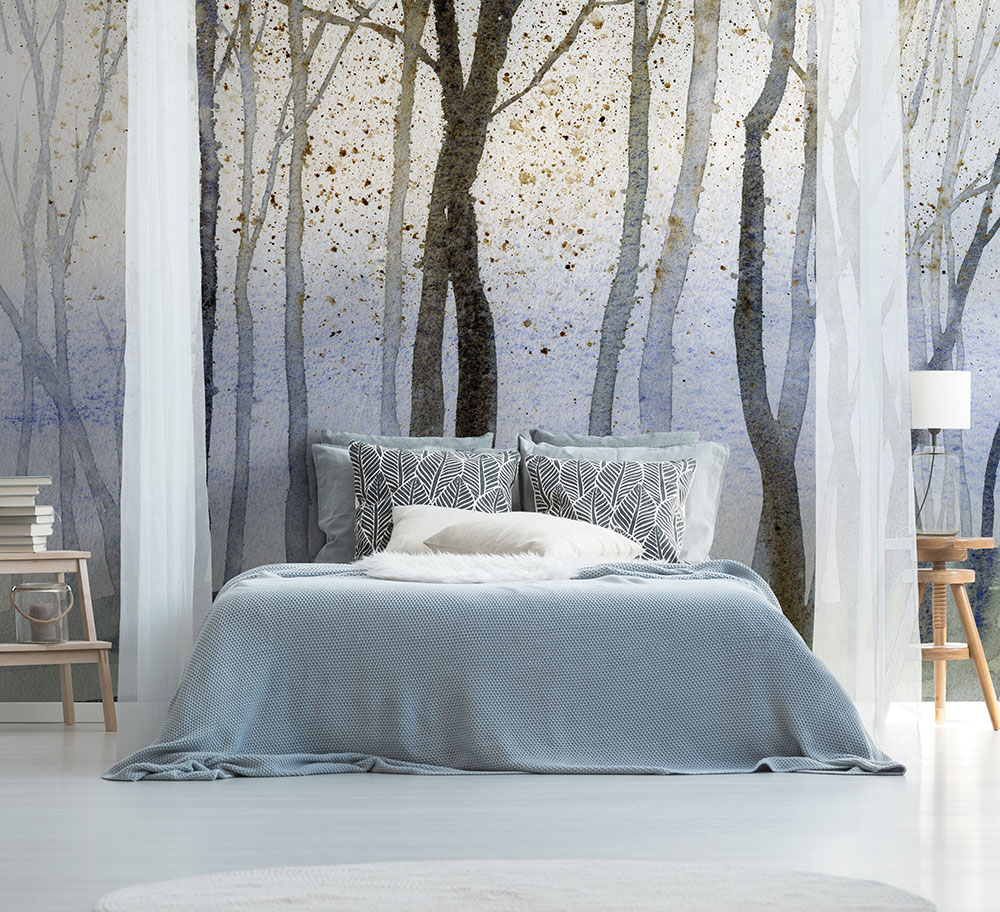 Above: Zephyr Wall Mural A calm forest scene, originally painted with watercolours, that captures trees shedding their leaves on a misty autumn day.
You must be delighted to have picked up a couple of awards for your work…
Totally, although it's the artists who created the work who are really getting the award. It's their creative energy and brilliance that people are reacting to. The FEATHR team are more like the DJ who remixes the work with a particular crowd in mind.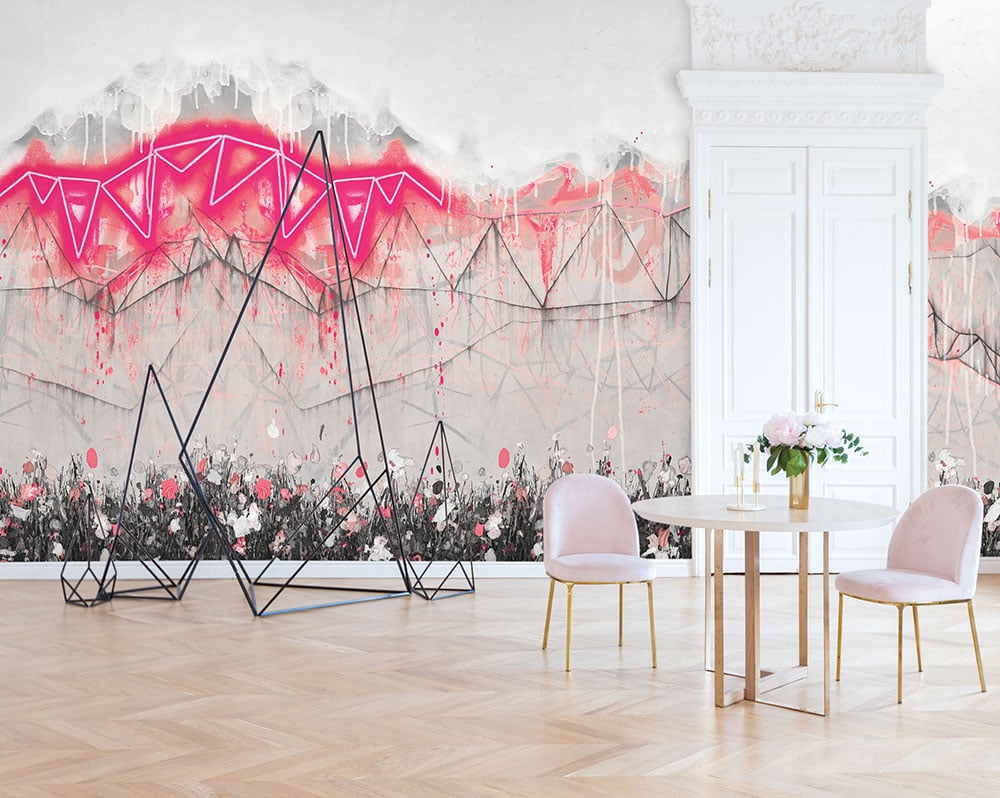 Above: NEON BUNTING SOHO PINK by Lee Herring
A playful modern take on the British tradition of hanging bunting at summer parties. Lee's use of spray paints is maximised here, with the neon graffiti bunting popping out from a pastel background.
What was the idea behind the Finland Toile wallpaper?
We wanted to troll Trump via the medium of wallpaper. That's probably a world first – I hope so anyway. Finland is the most awesome country. It's pretty much worked out most of the solutions to the current ills of the world, but the Finns are often too humble to shout about it. So we thought that with the world's media focused on Helsinki, what better way to talk up Finland? The juxtaposition of the traditional toile de jouy style with modern topics like gender equality, plus the added dash of Trumpian topicality, has proven a potent mixture: we've had worldwide interest in the Finland Toile wallpaper.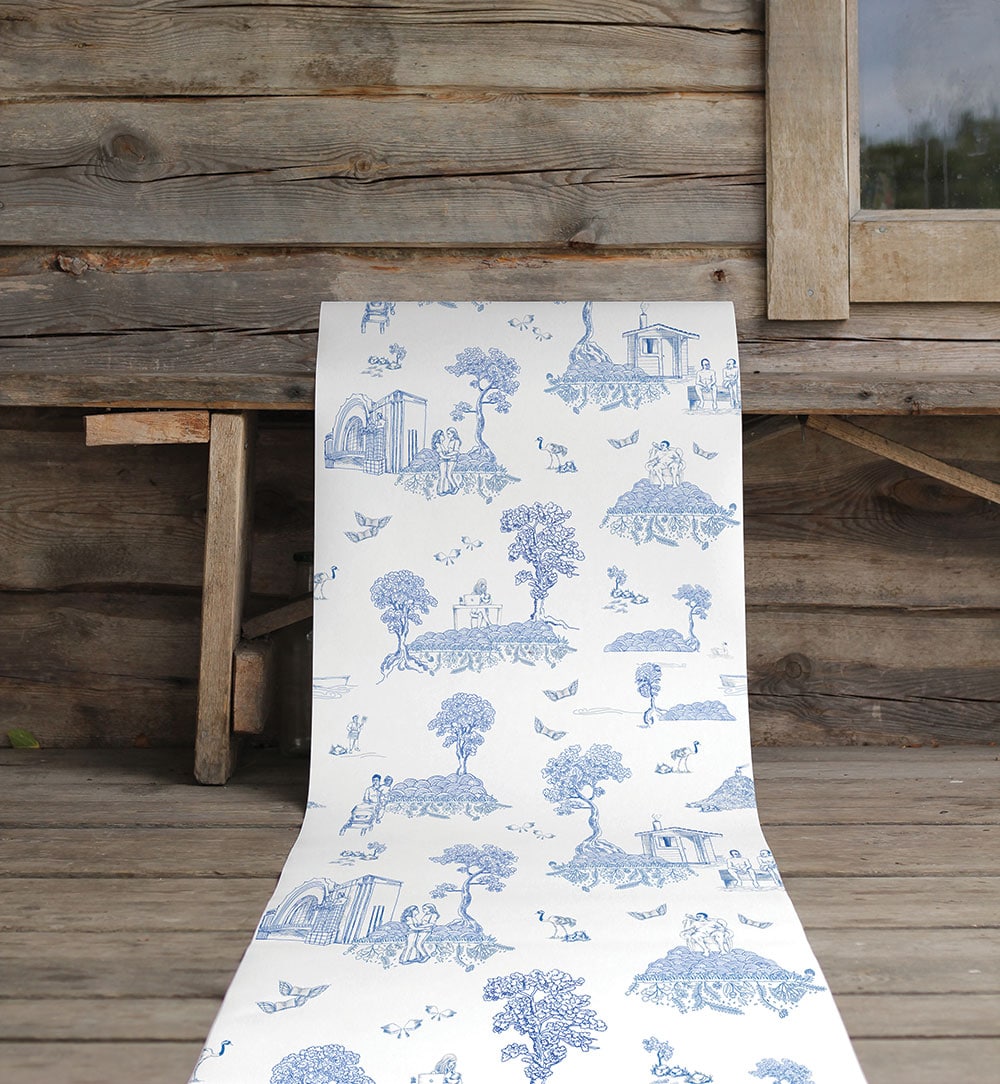 Above: FINLAND TOILE WALLPAPER
Mixing traditional toile de jouy styling with playful, modern Nordic illustrations, this wallpaper celebrates ten traits that have helped make Finland one of the most progressive and happiest countries in the world, according to the UN's 2018 World Happiness Report. To see what these ten traits are, visit: bit.ly/UD-Finland
You sent both Putin and Trump the Finland Toile. Did you hear anything back?
Not directly from them, though either is welcome to stop by our showroom to pick up matching cushions anytime they like. We did have the Ministry for Foreign Affairs in Finland get in touch. They're planning to hang the Finland Toile wallpaper in their offices.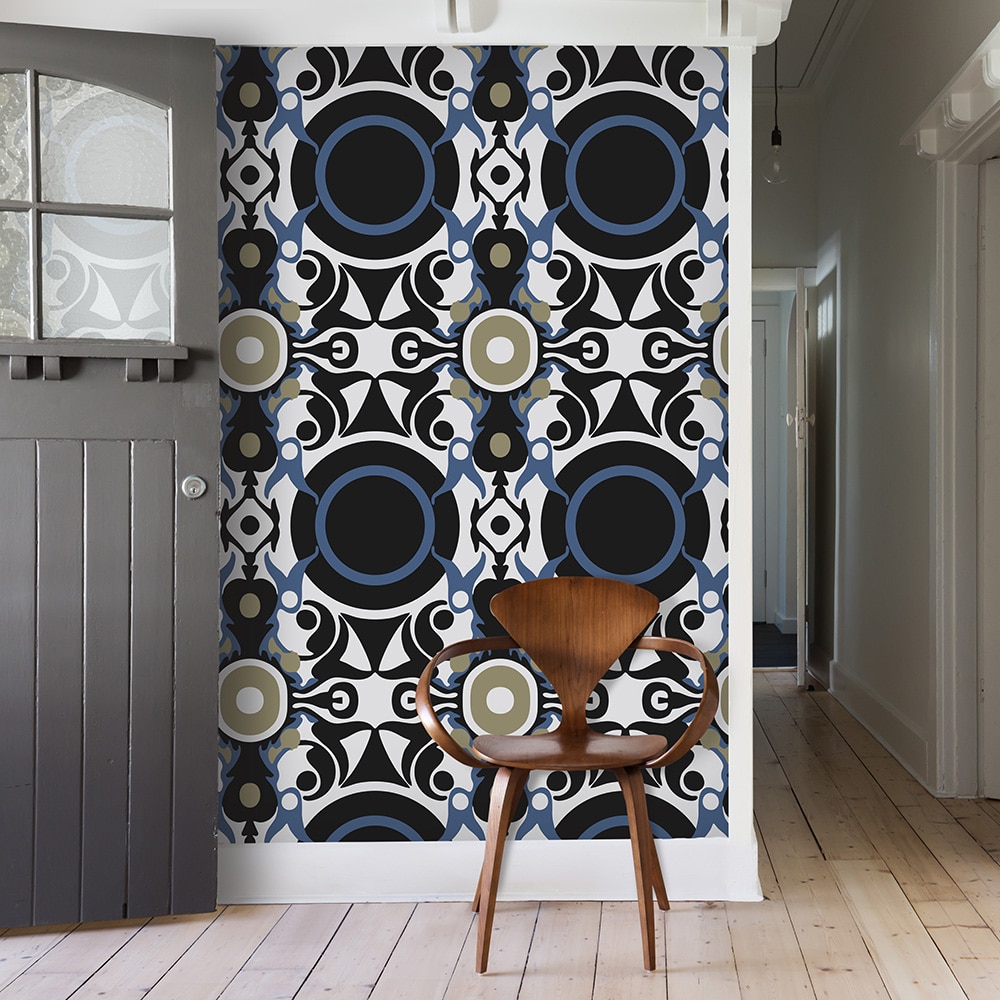 Above: THE FOUNTAIN by alizamiri
Showing the artist's mix of eastern and western influences, this exotic and unusual wallpaper design would add a touch of the souk to any modern home
What's the future for FEATHR?
More awesome artist collaborations is what we're really focusing on. We've got some excellent ones lined up and each collaboration always begets new ones. As well as creating beautiful pieces to go into people's homes, we're also working on some digital innovation to help people select and buy wallpaper more easily than ever. Then, finally, we'll be expanding our product line to bring our artists' work into homes in new ways. Basically, world domination!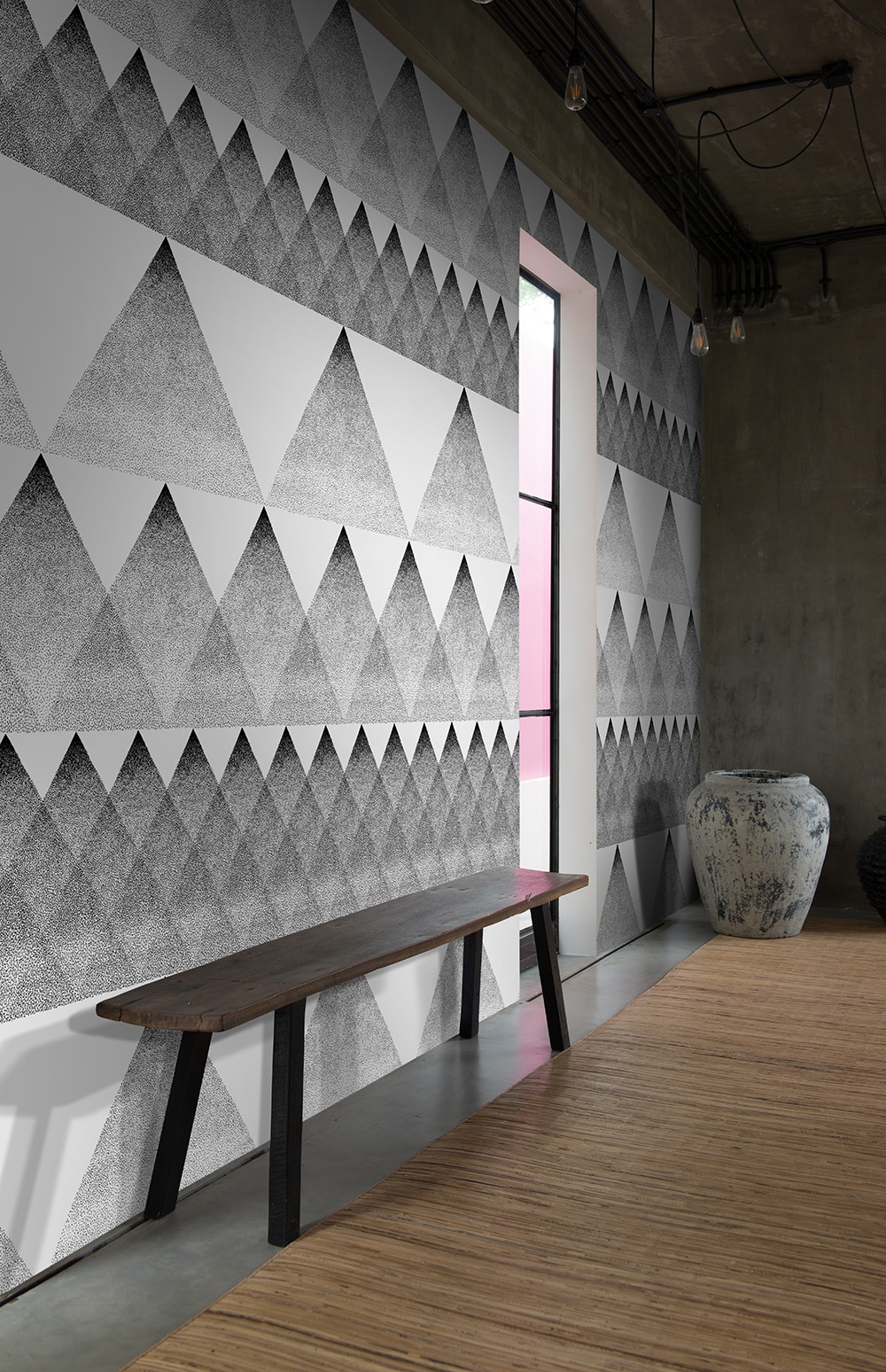 Above: BAI WALLPAPER by Tong Ren
The work of Chinese artist Tong Ren mixes together Asian and Scandinavian influences. With BAI, he uses the repetition of a single dot to create the rhythms of this calm and meditative piece. Our Creative Director, Oliver Green, on why we love this design: "I'm a sucker for evidence of the human hand. Imperfect perfection is my thing. BAI takes thousands of tiny hand made marks to create an effect that's beautifully geometric and all at once human."
According to your website, you are working on a novel. Does it feature a brave and daring wallpaper maverick?
Nice idea – I might steal that! About three years back, I was working part time on writing and part time on getting FEATHR going. One morning, Anne (my wife and other FEATHR founder said something along the lines of: "FEATHR's getting really busy, can you work only on that for now?" "Okay," I replied, "but just for a couple of months." That was the last day I worked on my novel. FEATHR has taken up all of our time since then, but it's no problem, I much prefer the mix of creativity and sociability that FEATHR gives me.
---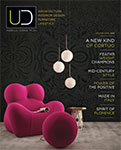 This article first
appeared in the
4th issue of
UD Magazine.
Click on the image to read online.
---