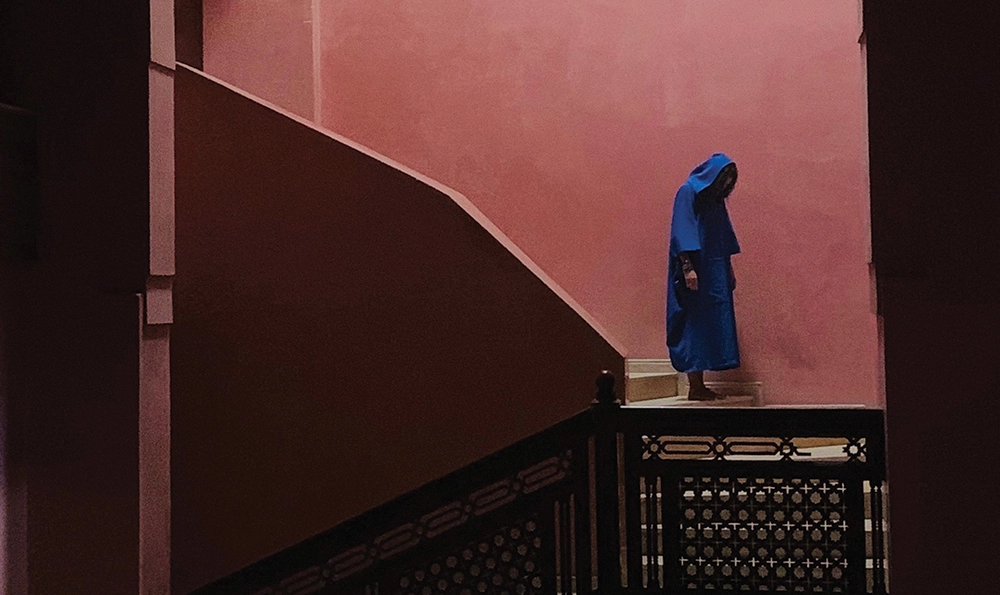 Man of the World
Firouz FarmanFarmaian is a contemporary artist who embodies many themes that are central to our society: belonging and exile, origins and tolerance, memory and present. A man without a country, he is a man of the world who, having left his homeland in Iran because of political turmoil at the age of four, grew up between Paris, Marrakesh and Marbella. A lover of life in Tarifa, he admits that its wind can make you a little crazy, and he often travels to Finland to reconnect with nature and his Nordic roots. His artworks are just as multifaceted: the architect in him brings scale, the rock band singer brings poetry and rhythm and the diasporic Persian artist an exploration of separation and all the cultures he has absorbed. With previous exhibitions in New York, Paris, London, Washington, Dubai and Tehran, to name a few places, the artist is at ease with movement, as long as the caravan of life brings him to the next adventure.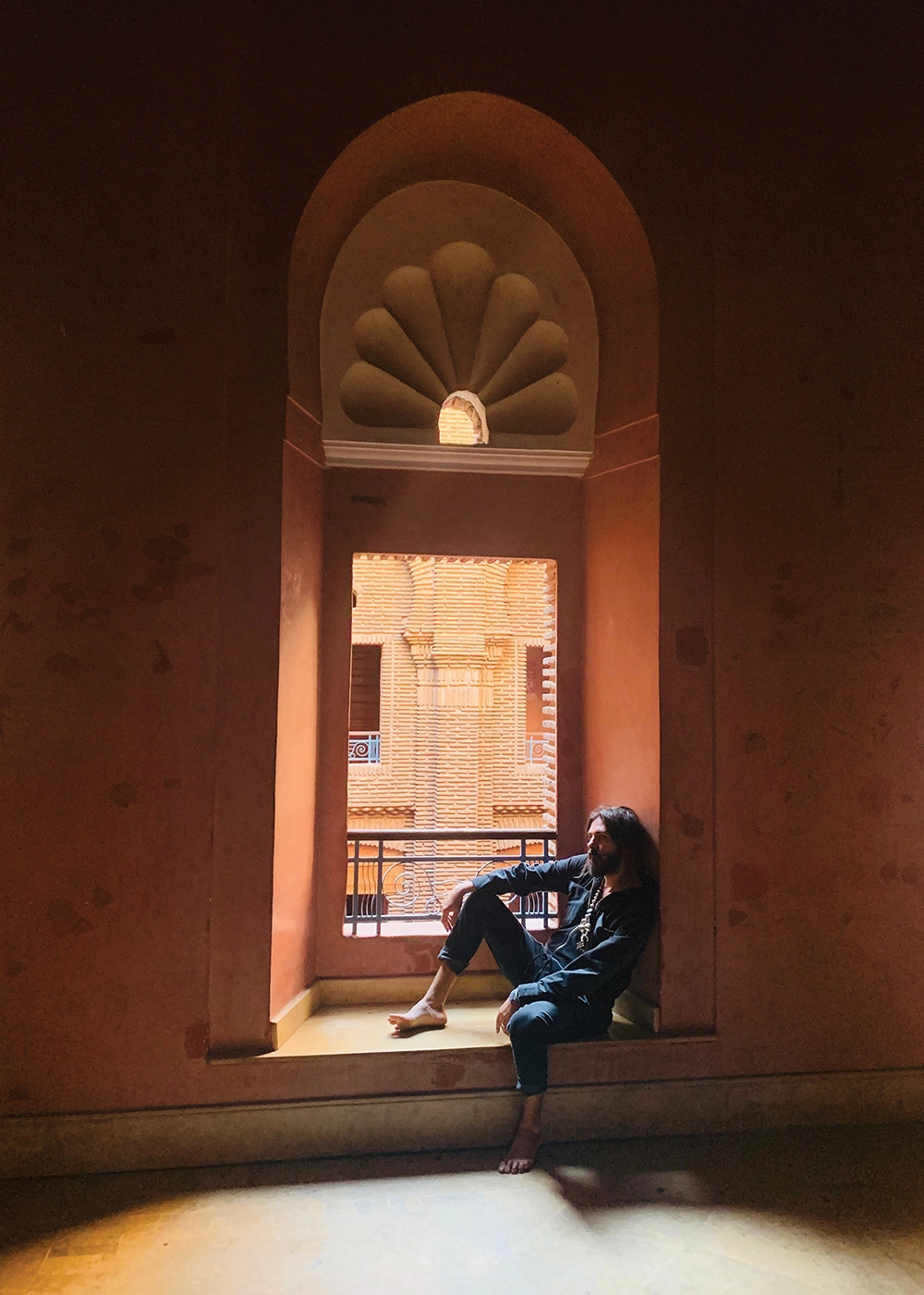 Above: Firouz FarmanFarmaian
At the beginning of your creative path you dropped out of architecture studies and went on the road earning money solely with your art. What gave you the courage to do that?
My paternal grandfather, Persian architect Abdol-Aziz FarmanFarmaian, was the founder and head of AFFA, the largest contemporary architecture agency of the Middle East up to 1979. Following the Islamic revolution my brother Teymour and I were taken under his wing in Paris to be tutored and prepped before we both signed up for architecture. Teymour became the architect. At first, I also felt at ease in the companionship of the ateliers, the diversity of the courses, the freedom to manage projects and assume control of concepts. But I soon hit creative limitations as I felt increasingly curious to discover new areas of investigation. That's when I decided to hit the road as a writer, director and producer of avant-garde shorts. It was very tough, but I moved from that point up. As the creative process unrolls, I feel confident, content. As long as the caravan weaves its way towards the next exploration.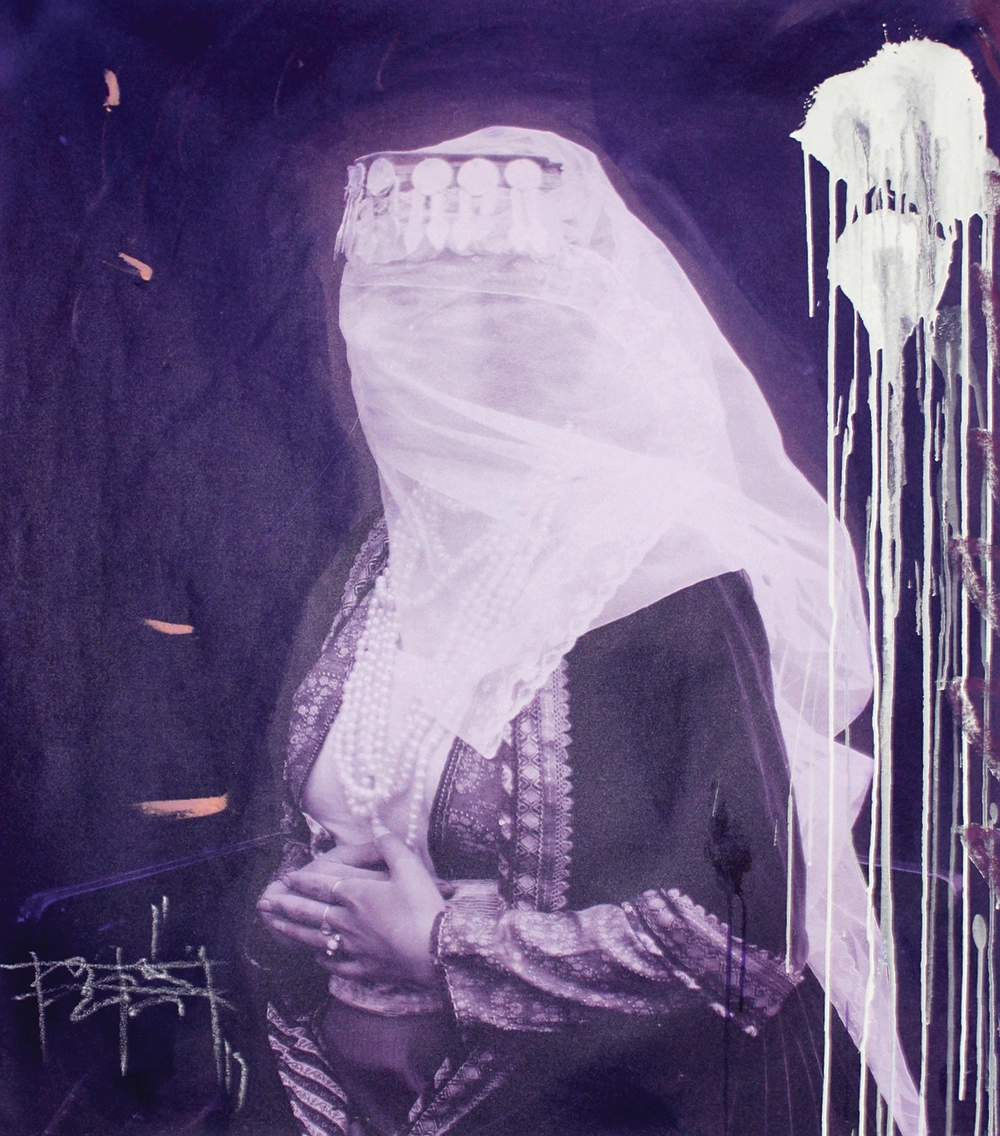 Above: A Woman with Veil in Purple (Panel III), 100 x 120 cm, 2017. Amazonite Pigment, Acrylic, Digital Art layered on Archival Canvas Print.
It seems the past inevitably influences us even if we aren't aware of it. When did you start realising that the separation from your country was a theme you had to explore?
When you come to think of it, the sheer complexity of interwoven circumstances that need to shape up to create a full-scale revolution are simply staggering. And that's what happened in Iran in 1979. At the scale of my tribe, to lose the physical link to our ancestral land has been brutal. Not unlike being thrown out on angry seas and landing on foreign shores. It took time for me to find a path forward. I had many questions to answer.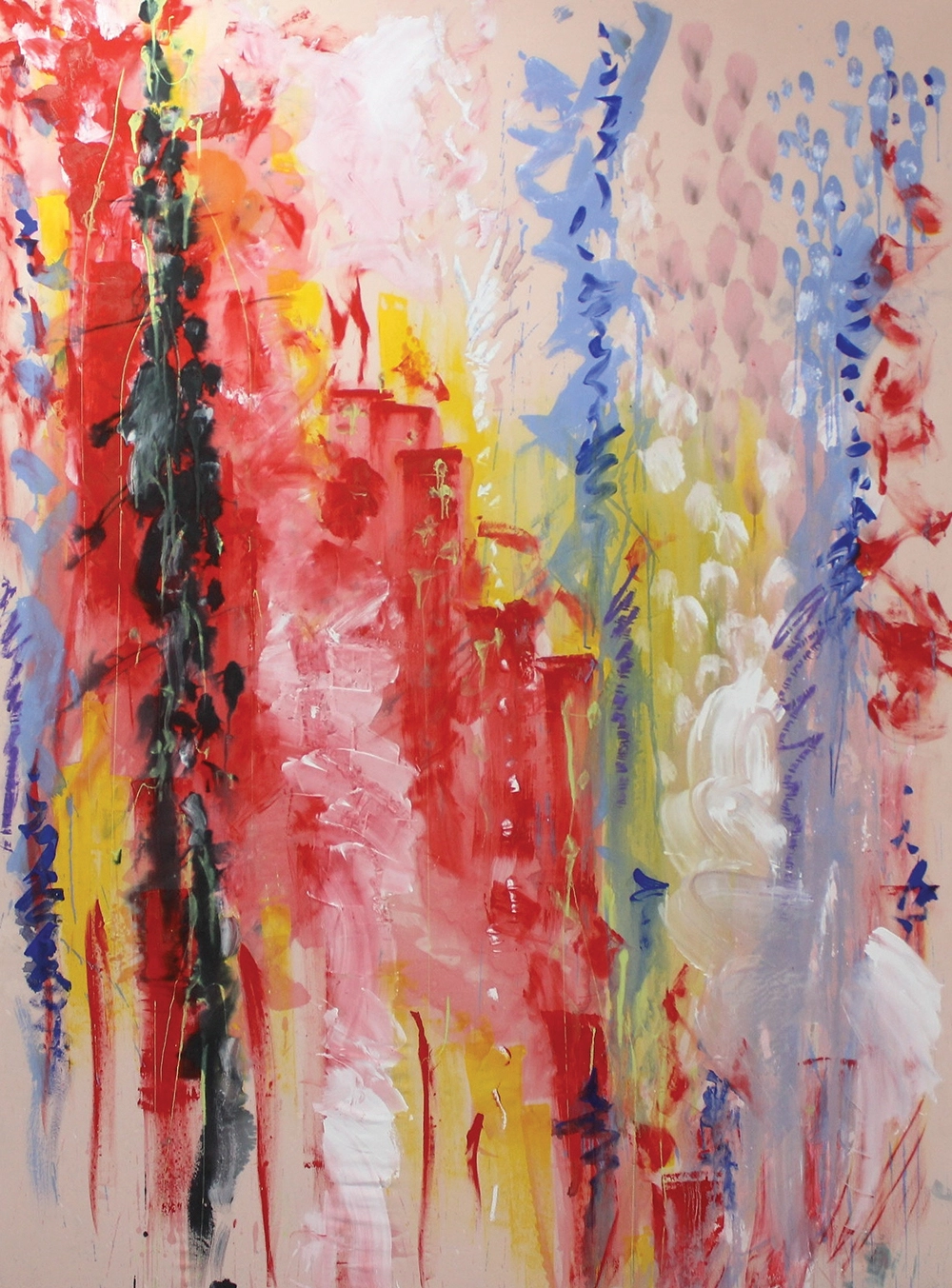 Above: Daybreak Panel I (Chapel series) 2018. Pigment, Acrylic, Majorelle Blue, Wallpaint, Oil Sticks and Earth on Cotton Bedsheet.
Tribalism is a term often used in a derogatory way when it comes to social behaviour, and yet 'tribal' is an adjective enthusiastically embraced by the worlds of art and design. Why?
This precise dichotomy was the underlying thematic of my last New York exhibition, Poetry of the Tribe. It felt timely and appropriate given the political climate in the United States and the rising voices of native poets ringing throughout America. The population of earth is growing, communications have been fluidified, and the idea of "nation" is under threat as we move towards a global consciousness merging the material and the immaterial. The epidemic rejection of this relentless wave is a return to nationalism and protectionist politics, dubbed as a return to tribalism by the mainstream press. It is as simplistic as it is false. On the contrary, tribes have arisen from the heat of this new wave, reconnecting to values such as the sacred, the respect of memory, the safeguarding of the planet through the story of our link to it. The art world is, for many, a refuge where non-formatted spiritual thought is seen as evolved and forward.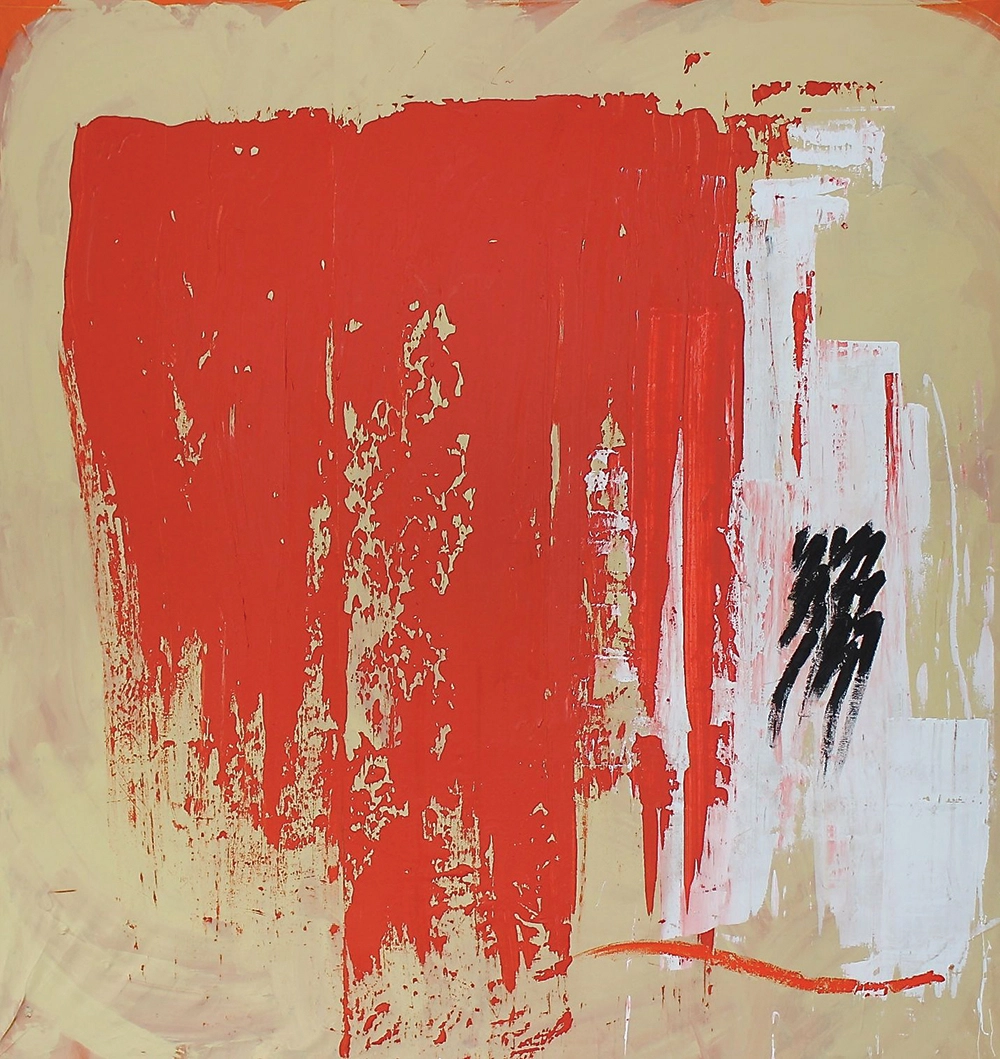 Above: Totem XII Part I, 170 x 170 cm, 2018. Plastic Paint & Oil stick on Cotton Sheet –  from the New York exhibition Poetry of the Tribe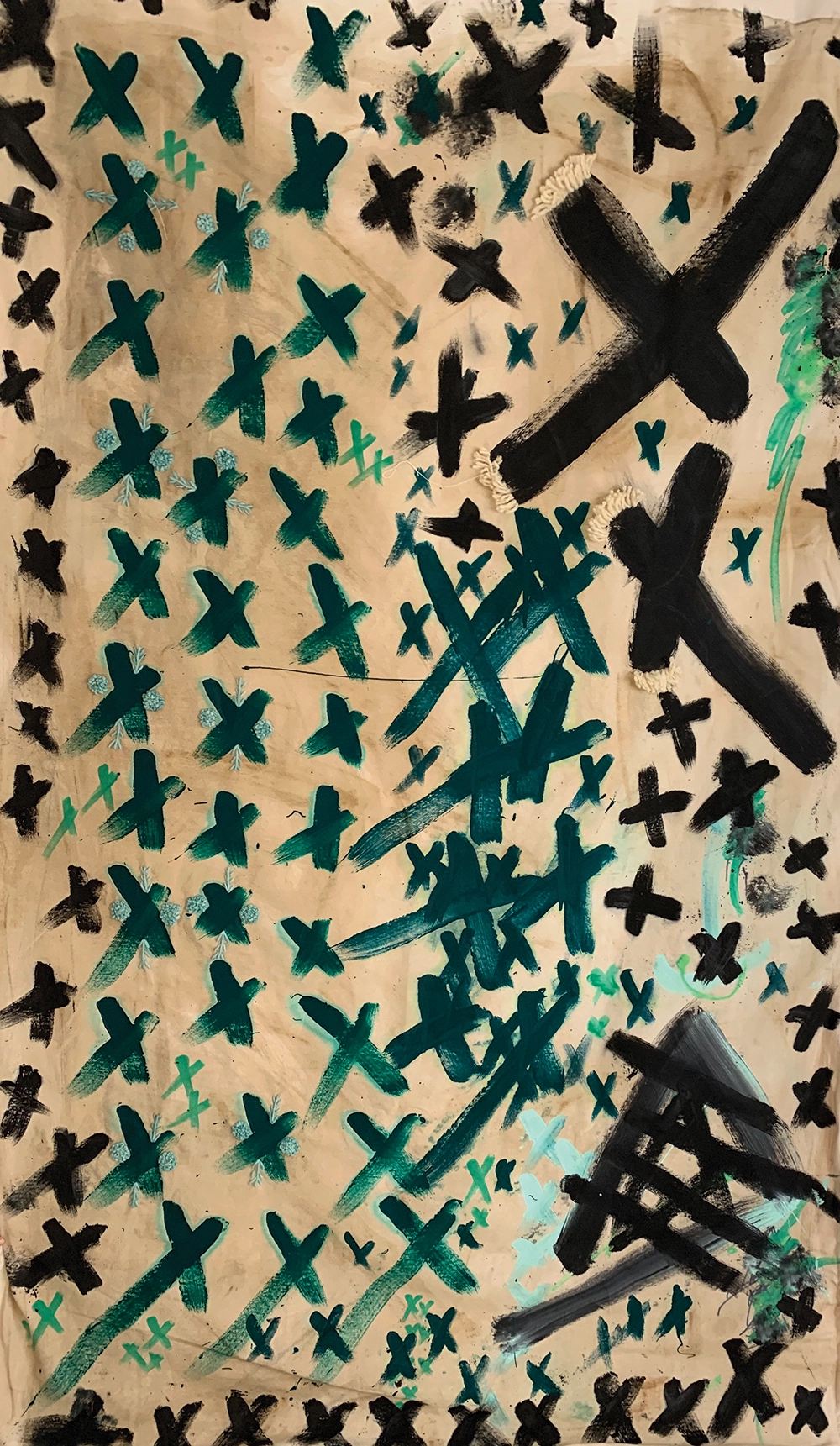 Above: Talisman VI, 240 x 140 cm, 2019. Flashe Paint, Plastic Paint, Henne, Pigmented Raw Wool & Acrylic Marker on Berber Tent Fabric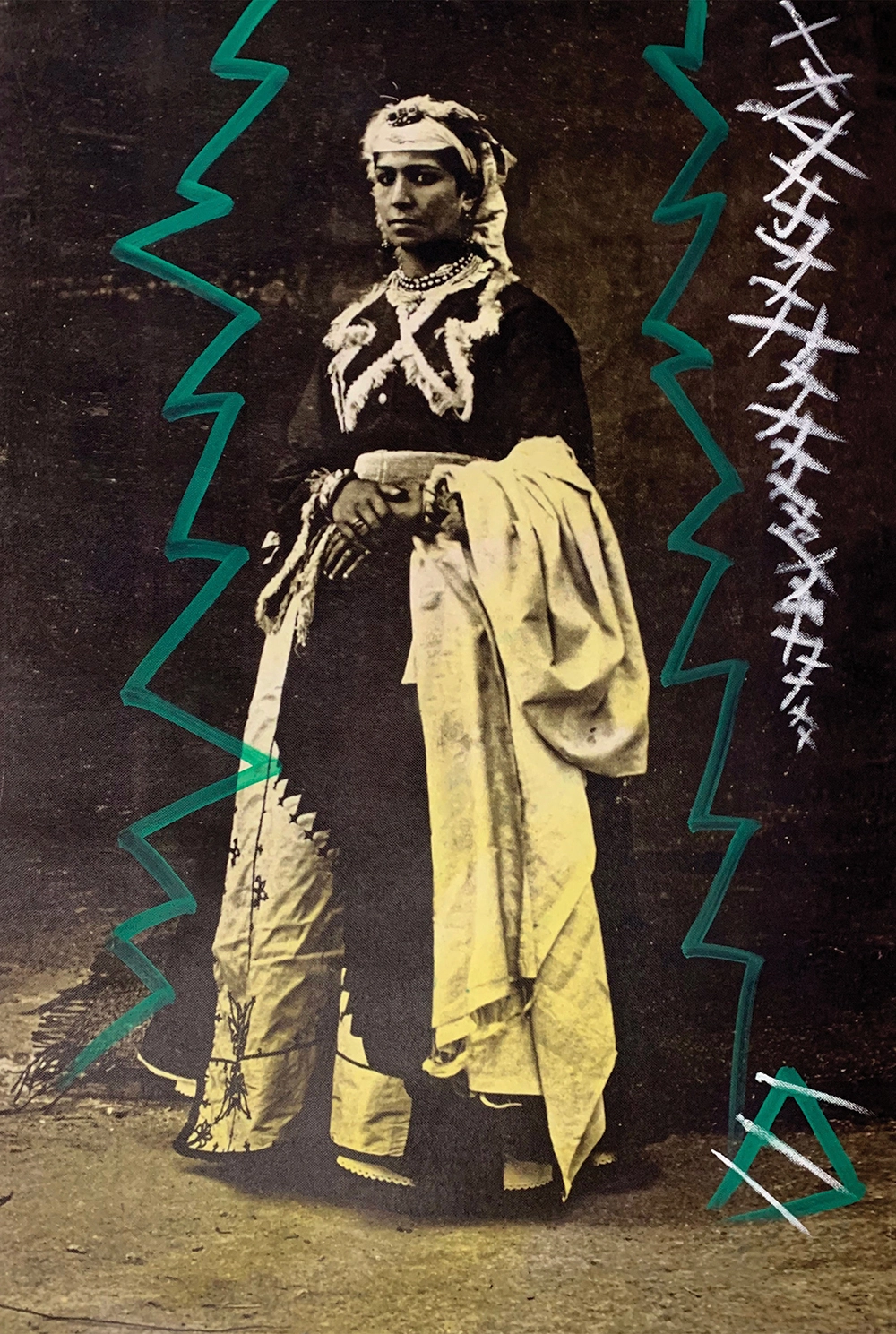 Above: Portrait of a Berber Woman 100 x70cm, 2019. Pigment, Oil Stick & Acrylic Marker on Archival Print
After having spent some time in Finland (where your wife comes from) what can you say about the Nordic cultures and their way of self-expression?
What strikes you first is their tight connection to nature. I tuned in very fast in Finland. Walking barefoot in blueberry fields listening to the forest. I introduced handpicked blueberries into the Naturescape (Blueberry Panels) Series that sold-out last fall in my Washington DC exhibition. There is a dialogue between the man and the natural world that has been set aside, but it is very alive in the North. On one side, my mother is a Swedish-Finn expatriate born in Calcutta, brought up in Beirut and married in Tehran, where I was born. My grandfather was an attaché to the Swedish Embassy and lived his life moving around the East. He once compared his family life to one of a travelling caravan. On the other side, my Finnish great grandfather was a painter of Kalevala (epic Nordic poetry). I grew up impacted by his art deco representation of the Vikings fighting a mythical sea dragon on stormy seas. My Finnish grandmother called it sisu. I relate to that. It is a very positive mind frame. As my mother puts it: be open, be positive, fight on.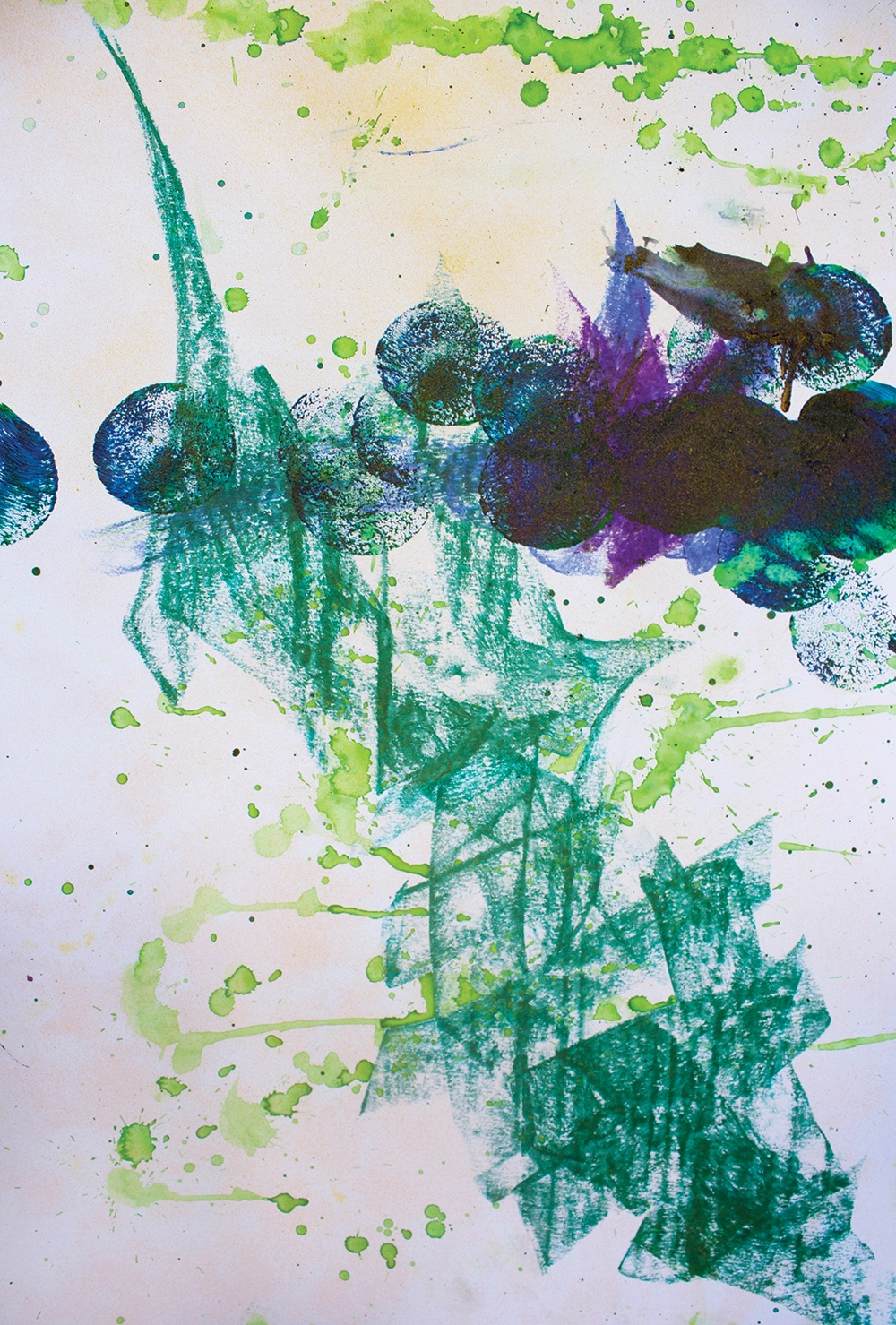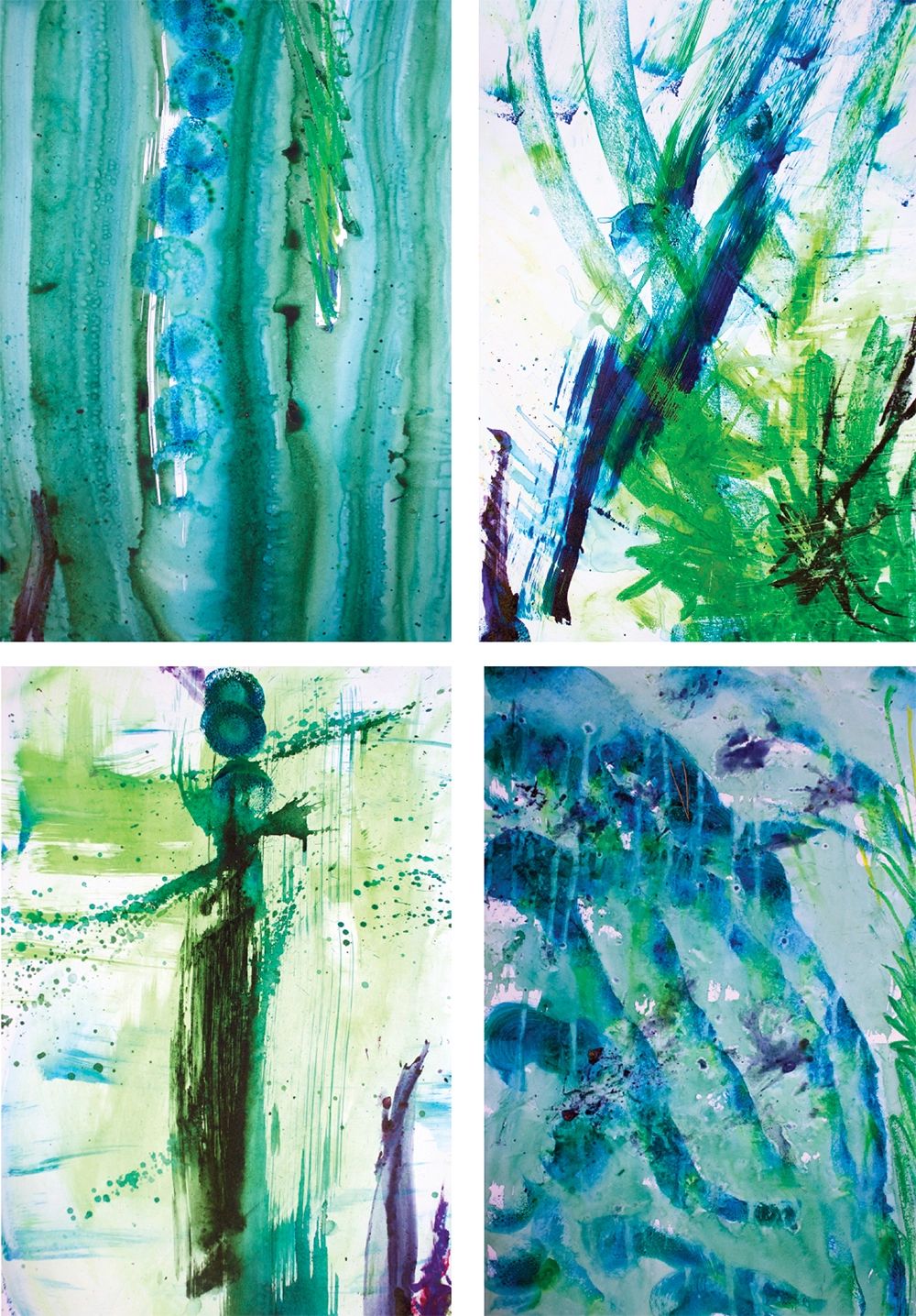 Above: All images from the Naturescape Series – BlueBerry Study Sequence, 33,2 x 50 cm, 2015. Oil Stick, Graphite, Gouache, Acrylic & Blueberries on 220 g paper.
What characteristics would your ideal home have in terms of architecture and interior design?
In terms of architecture, a central characteristic would be the connection between the abstract form and the surrounding nature. If I could, I would also introduce responsibility to recycle what we leave behind as a new kind of social contract. Dutch architect Rem Koolhaas talks about it extensively in his Junkspace essay. Inside, I love my mess (which drives my wife crazy). I staple, tape, stack and sketch on any open surface. I collect furniture I inherit. Design-wise I relate to Philippe Starck, but my heart is set in Knoll-style vintage of the 70s. Camilla and I often spend our Sundays hunting the flea markets of Paris. Nowadays, you can often see us roam the dark alleyways of Torremolinos or the Fuengirola rastro.
You're currently based in Marbella and Marrakesh. What is it about the two places that made you settle?
My parents divorced in the mid-eighties while living in Marbella. My mother stayed on, but my father relocated to Marrakesh. I grew up in constant transit between Marbella, Marrakesh and Paris. Camilla and I adore living by the Strait of Gibraltar, we find it powerfully romantic to have the option to cross over into continents at will. As a result, our art space, Nouvelle Vague Artspaces, is based in Spain and our agency, We R the Nomads, is based in Morocco. The agency works on cross-cultural projects such as the production of Memorandum of the Unknown Path. The installation and its prototype book will be on display at the Royal Theatre of Marrakesh from February 2020 onwards as part of the Marrakesh edition of 1-54 Contemporary African Art Fair.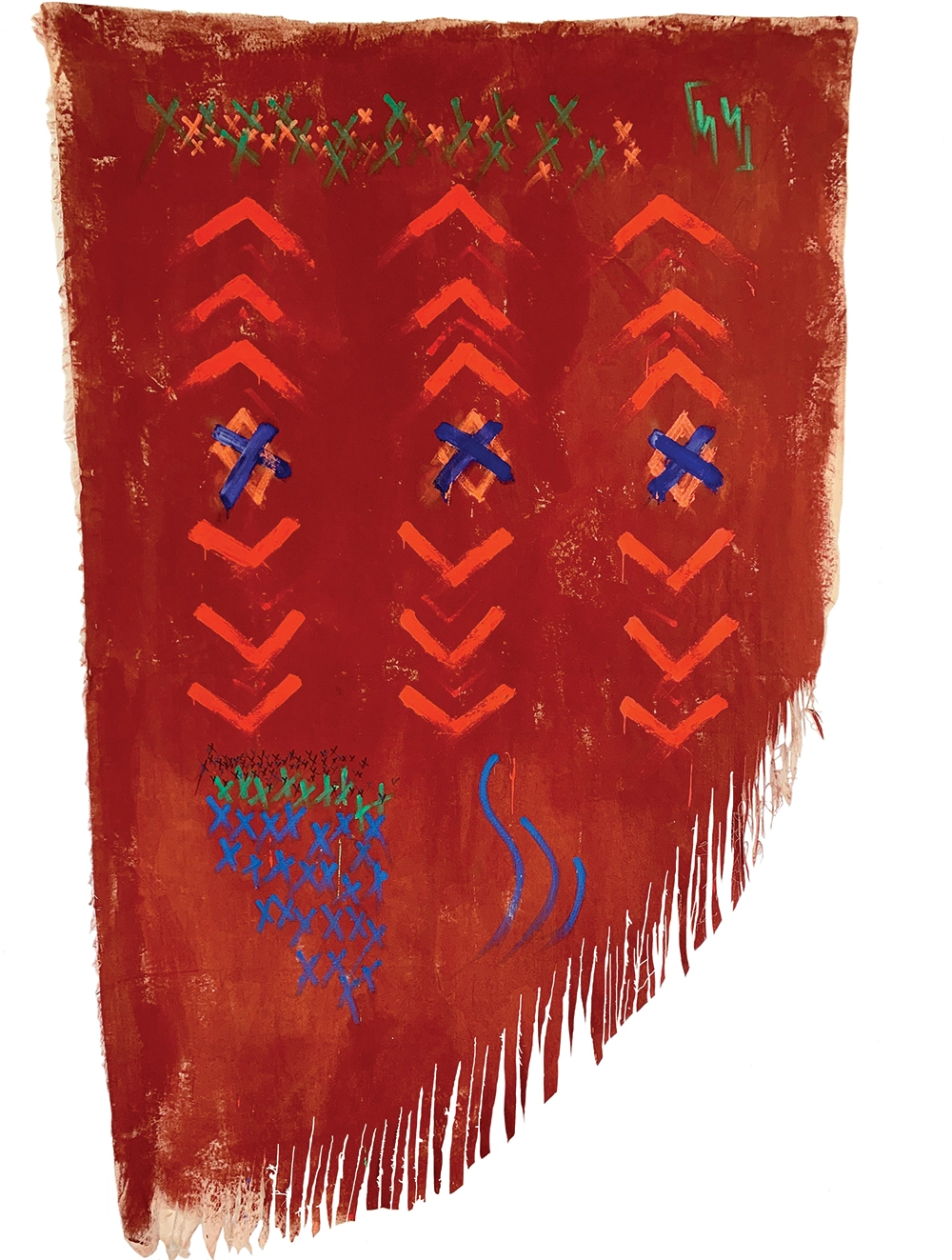 Above: Banner of the Unbanished Artist Proof, 2019. Majorelle Blue, Sienna Pigment, Plastic Paint and Acrylic Marker on Tent Fabric.
What is the main idea behind the Memorandum of the Unknown Path?
Memorandum of the Unknown Path triggers the necessary question of a return to the source. If ecology of the planet is the restoration of a natural world order, then ecology of the spirit is a restoration of a link to our millenary archaic selves. It stems from an urge to create a Wagnerian 'Gesamtkunstwerk', a total work of art. To illuminate unseen stories, traces, through a Tolstoyan sense of time, weaving its wheels. The installation entangles Moroccan and Persian tribal cultures in a Sufi-like dance of textures and symbols, weaving fabrics sourced in the Atlas Mountains and the Sahara Desert. Created as a site-specific intervention in the main hall of architect Charles Boccara's legendary Théâtre Royal de Marrakesh, it turns nomad tent elements into a work of art. A circle of contemplation and meditation, a haven where different cultures can meet and reflect. The balance between archaic spirit and tech-age philosophies. The juncture of cultures crossing and creating new tribes. The unicity of our planet. Contemporary revolutions.
Memorandum of the Unknown Path, Théatre Royal de Marrakesh. Part of the 1-54 Marrakesh 2020 Public Programme.
Opening February 21, 2020 – Running until March 21, 2020.
---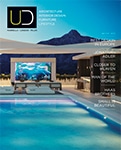 This article first
appeared in the
7th issue of
UD Magazine.
Click on the image to read online.
---