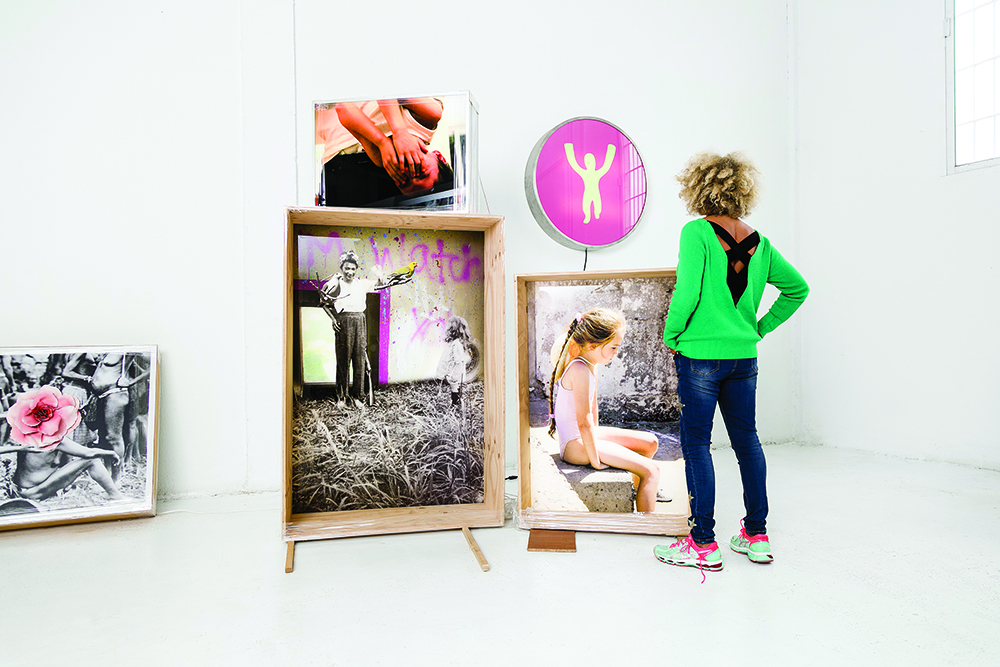 Artist – Interview with Owanto
Described as a multidisciplinary artist, Owanto works across a variety of different media including photography, sculpture, painting, video, installation and performance. Her inspiration has always been her own deep questions about life and its meaning. Her creative process arises from her belief in art's ability to transform consciousness and effect change. She has exhibited prolifically over the last decade.
Many who live in Marbella will be familiar with her art as she has been based in Marbella for a number of years now, with her two (now grown) children going to school locally. When she is in Marbella she spends most of her time working in her studio, the Poligono Gallery.
I went to visit her to talk about art, colour, design and what's really important in life.
How did you get into being an artist? Did you always know as a child that you wanted to become an artist?
I didn't become an artist till much later in my life. As a child I loved to draw and was good at it, but now I hate it and don't draw at all! Twenty years ago I loved colour and volume, now I love words. How things change.
You have very different periods in your work. When we first met in the early 2000s you were creating abstract paintings, Totems and beautiful bronze sculptures. How has your work evolved since then?
From 1984 until 2004 I was into painting. I believed my work would make people happy – that colour would transmit energy into their homes and transform their reality. Colours are messages, they talk to the soul. By 2005 though, I had stopped painting everyday and started to become interested in "saving the world", in "art for change" in society. My daughter at that time was involved in climate change and organising conferences at school, and I wanted to know what I could do to change the world. I felt within me a real sense of mission – I started working on my Lightboxes Series which I believe carries a strong social message, and at the same time producing my second book, Visual Poetry, which helped to consolidate my ideas. Then in 2009 I was asked to represent my country at the 53rd Venice Biennale with a solo show – this was a crucial moment for me – what an honour to represent your country. Fernando Francés, Director of the CAC in Málaga was the curator of the Pavillion du Gabon and the theme was "Building Worlds". When you represent a country you can't be an ordinary person you have to think big!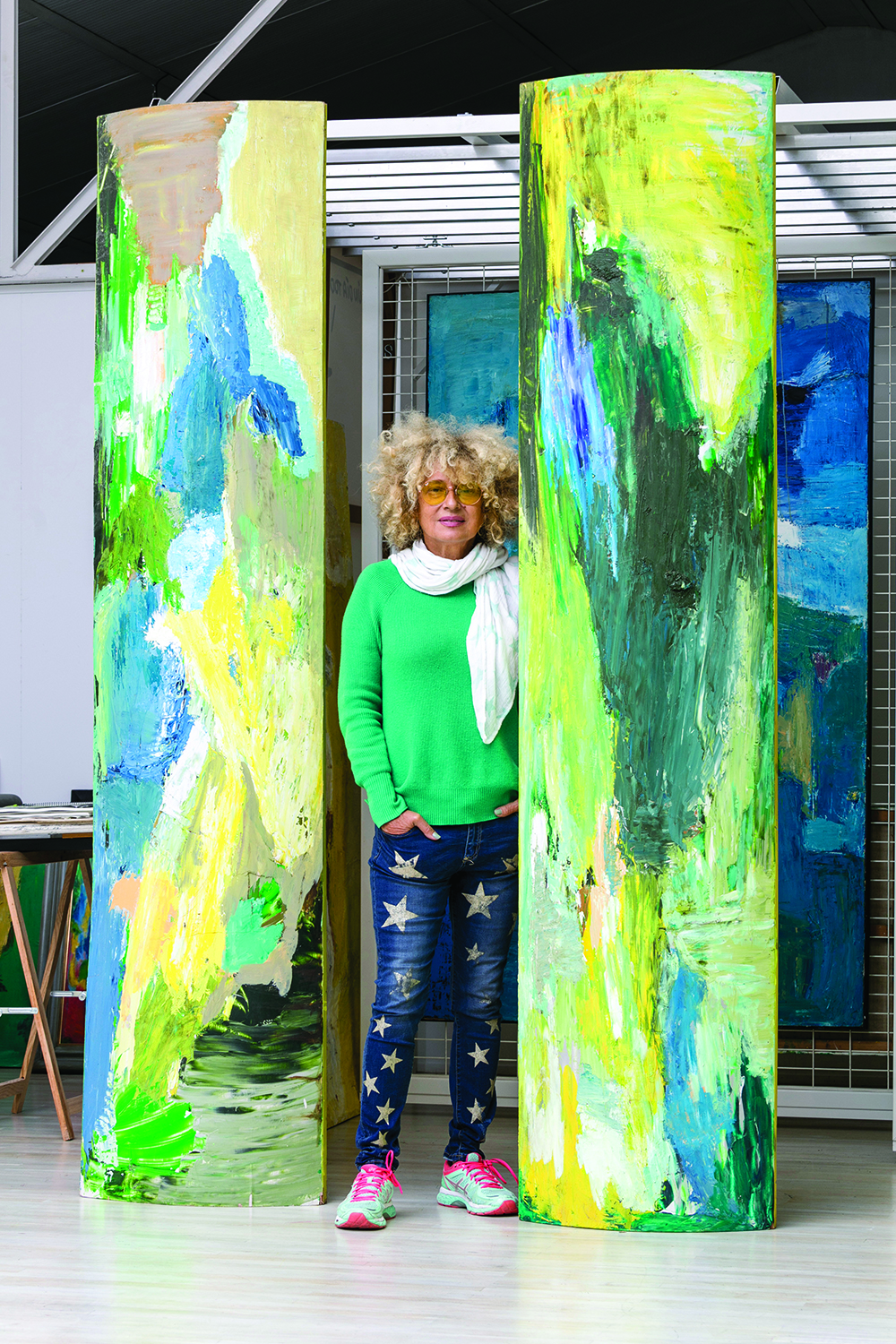 Above: To live with Owanto's paintings is to embrace an artwork which emits a positive life force of its own.
And since the Biennale, what have you been focusing on?
Firstly, my "Neon Series", which uses retrieved objects from the sea, rubbish some might say, which I then recycle. Something abandoned and then transformed into art. In this body of work it's all about light and words. Then there is the "Flower Series", a project about social change and women's empowerment. And lastly "Dance with Me", which is in essence a collage of memories. I have now become a storyteller!
The "Flower Series" I find stunning – they are very healing images.
The series is a deep reflection on the rights of women over their own bodies. The sculpture of the flower symbolizes blossoming. The flower gives the girls in the photographs multiple possibilities, healing possibilities, for them to be empowered as they embody a different narrative.
What do you believe your fundamental work is now?
As an artist I believe I am here to interrogate – it has to come from self-interrogation first, of course. But we need the boldness and courage to share our message and give people the opportunity to discuss and eventually transform their view into a positive answer that will make a more beautiful world.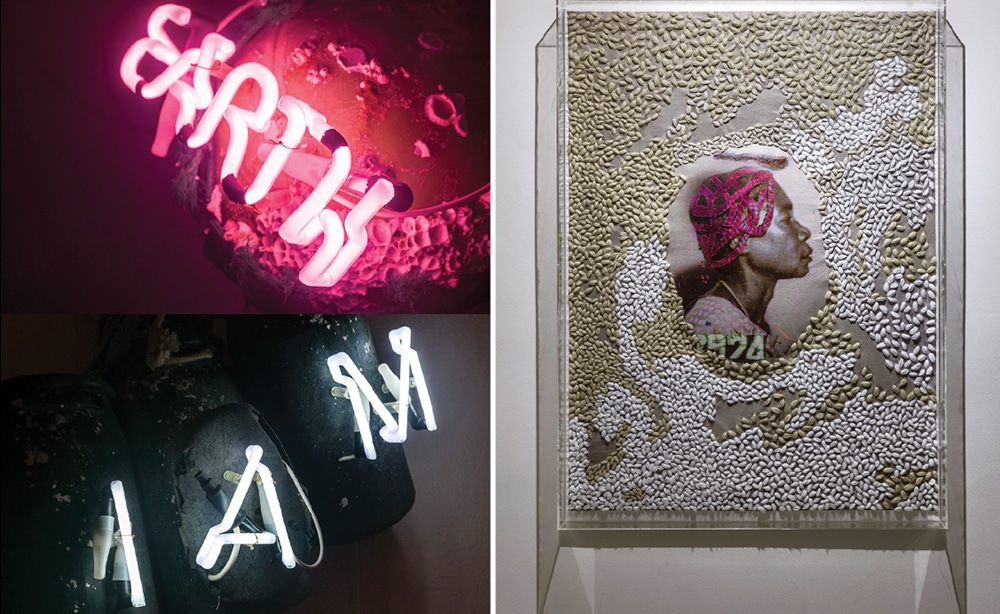 Above: (Left) Details from the 'Neon Series' (Right) Part of the 'Dance With Me' series where memory, mementos and historical moments are clasped together, formulating the universe of our imaginations.
Above: Poligono Gallery, Owanto's studio, in Marbella.
How would you describe 'beauty' – in 140 characters or less?
Beauty is Truth, Truth Beauty. "Beauty is Truth" was part of the collective show entitled "Beauty", a travelling exhibition curated by Fernando Francés. It presents a contemporary revision and reinterpretation of John Keats' poem Ode on a Grecian Urn.
What's your daily routine when you are working? Do you only create when you are here in your studio?
Like many contemporary artists I work wherever I am. I travel a lot and take the chance wherever I can find it. But it's very important to me to have a space to see my work. White space. Breathing space.
What's your favourite colour?
(Owanto holds her hands out for me to see her nails. They are green.) I have been wearing this nail varnish for 5 years now. I have a green jumper on, green shoes. Green is my colour!
What colour schemes do you live with at home?
I love my space to be neutral – white walls, off white walls, grey or neutral floor – this allows the art to exist. Art should be the inspiration, the centre piece giving the space it's feeling and energy. A good interior design/er allows the art to breath, creating a feeling of harmony.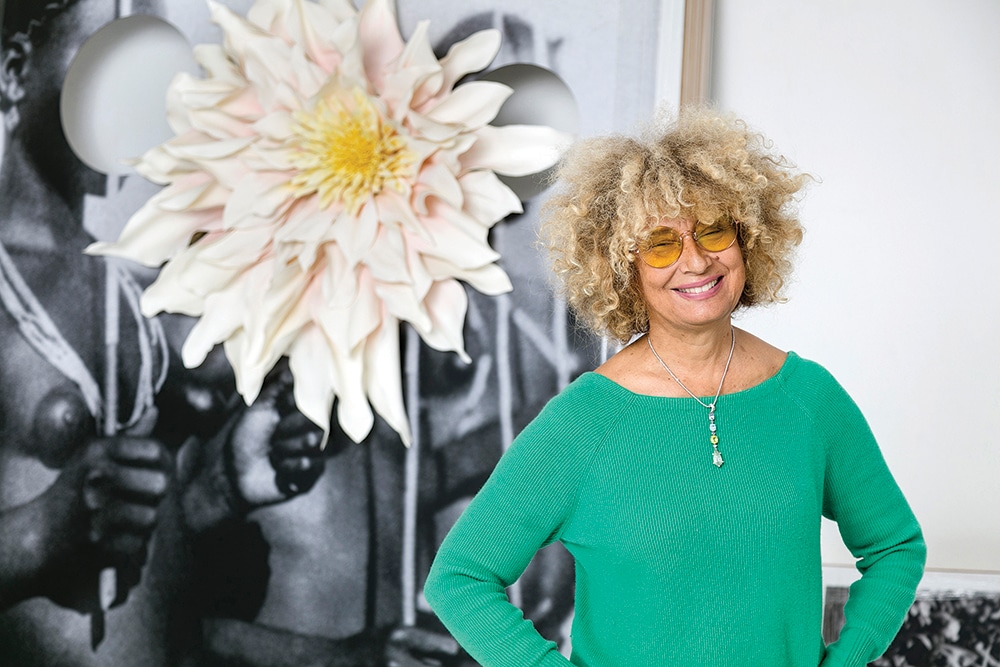 Above: Owanto with one of her "Flower Series", that stands more than three metres tall.
What artists could you compare yourself with?
Wow! I'm not sure, that's an interesting question. It would have to be someone on a spiritual path, someone who is an activist, and it would also have to be a woman as there are not enough of us!
What superpower would you like to have, and why?
Hahahaha! Great question! It would have to be "healing". I would like the power to heal the world.
What's your dream project?
I'm on it.
Interview by Cheryl Gatward
---
Owanto's "La Jeune Fille à la Fleur (Flowers II)" is part of the inaugural exhibitions at the recently opened Zeitz Museum of Contemporary Art Africa (Zeitz MOCAA). Situated in Cape Town, South Africa, Zeitz MOCAA has been hailed as Africa's answer to the Tate Modern.
---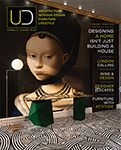 This article first
appeared in the
inaugural issue of
UD Magazine.
To read UD Magazine
online click here.
---