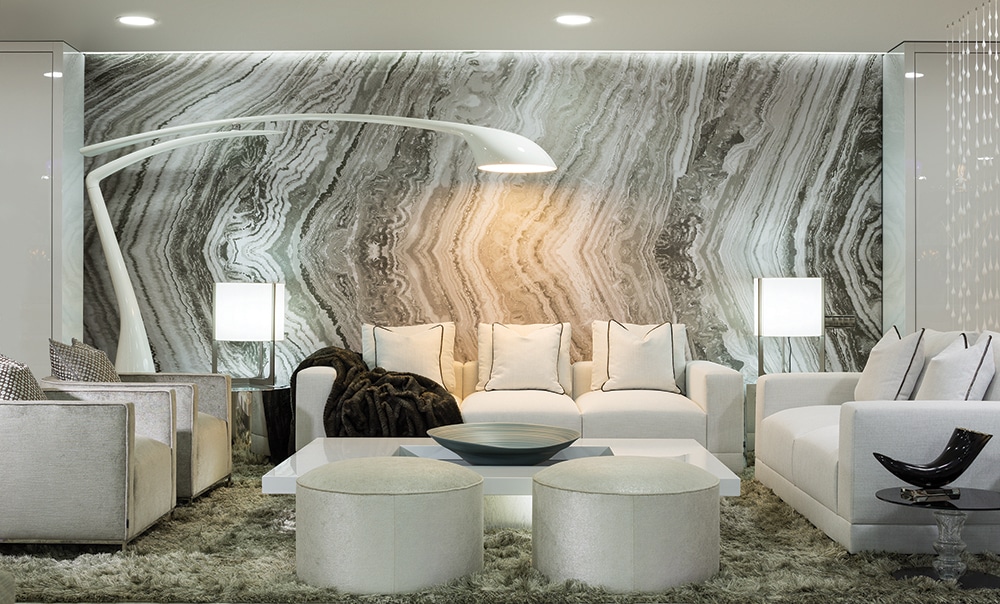 Bespoke is better: The ancient & noble art of furniture making
The first piece of furniture was made when the first caveman balanced a flat rock on a pedestal and sat on it. It is indeed an ancient and noble craft, and while computers are now being used to design furniture and high-tech materials may be used to make it, the basic concept has remained the same throughout the ages.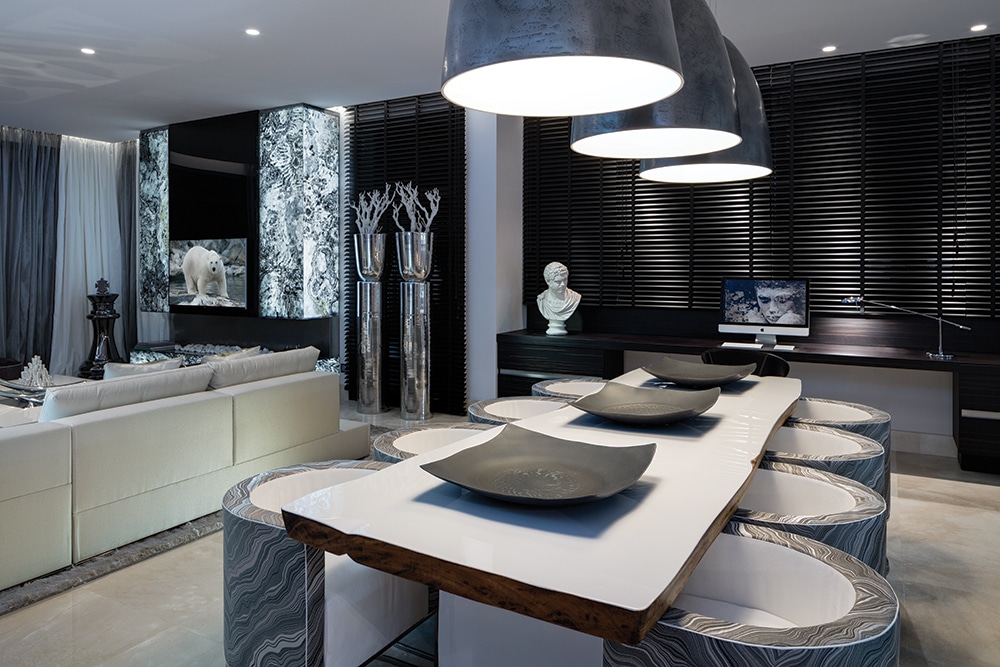 Above: Virtually everything in this room was custom-made by UDesign. The dining table is made from solid tola wood and has a high gloss lacquer top. The matching chairs were created with fabric by Romo. The cabinet is in ebony wood finish with stainless steel detailing.
A house without furniture is an empty shell, and filling it with the furniture we want is as personal to us as the way we dress, or the way we talk. It tells us, and the world, who we are.
You can go into a shop and buy a piece of furniture, or you can have it made. This is bespoke furniture, and for people who have given serious thought as to how they want their houses to look, choosing the right pieces of furniture is a serious business. That's where UDesign come in. They specialise in making outstanding bespoke furniture that is as unique as the creativity you put into your own home.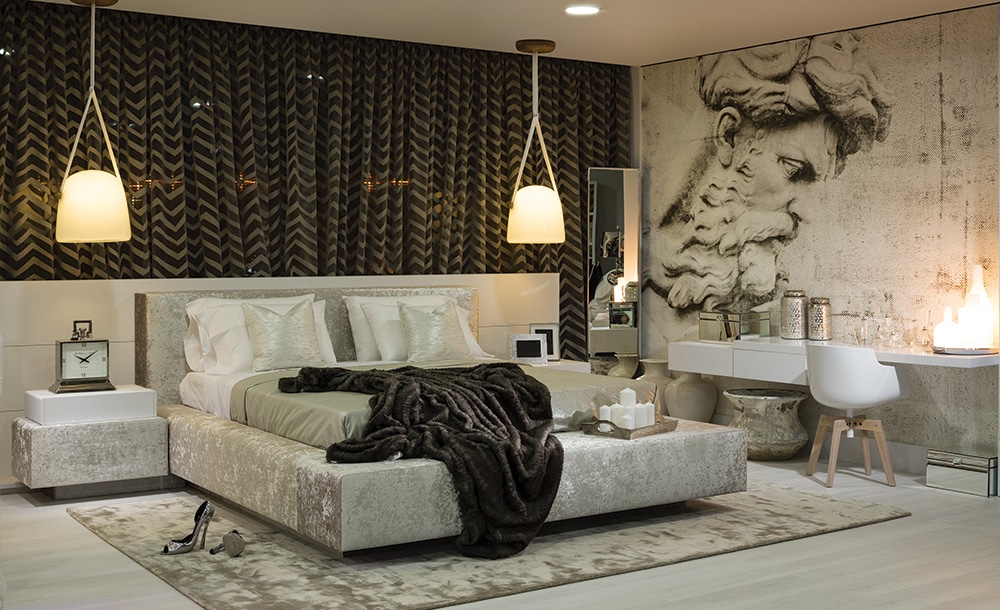 Above: UDesign created the headboard and frame in crushed velvet, with back panel and side tables in white matt lacquer. The floating vanity unit has a matt lacquer top with draws in high gloss.
Furniture design is both art and engineering
They have the cabinet makers, the carpenters, the metal workers, the specialist paint finishers, the upholsterers and the product engineers needed to turn an idea into a work of exquisite craftsmanship, and they do it with pride and passion. Furniture design is both art and engineering, and the pieces they make, like all genuine works of art, are timeless. Welcome to the world of bespoke furniture making.
Roberto Carlos Luján Olivera is one of UDesign's master carpenters. He loves his work, and he is very good at it.
"We're lucky here," he says, "we have a four-man team of virtual designers on site, and this makes the process of choosing what you want run smoothly and quickly. They help you decide the design, the materials and all the other details that go into a bespoke piece, and this can be an exciting process."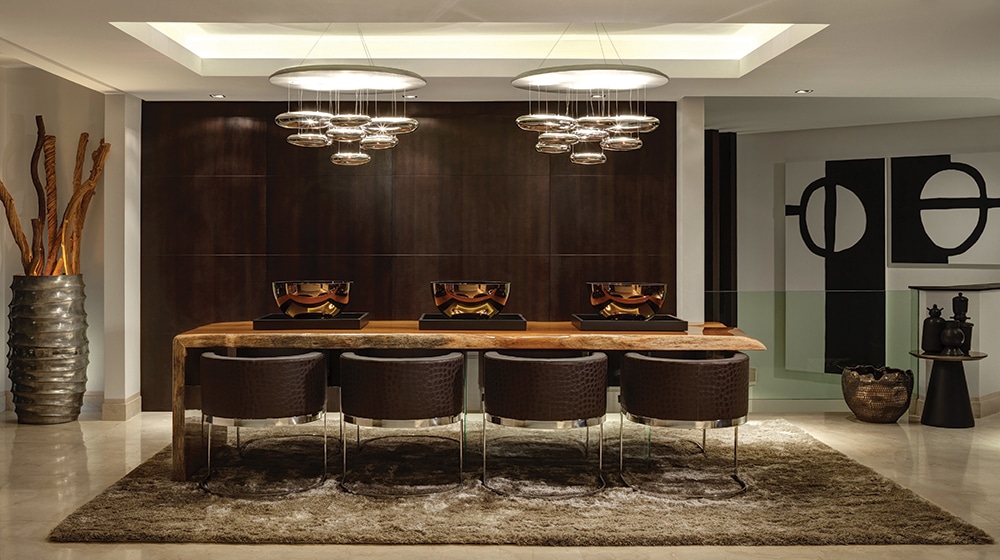 Above: UDesign large dining table in solid tola wood with high gloss laqcuer finish and floating glass leg. Dining chairs in crocodile Stine leather fabric with steel bases.
Bespoke furniture defines your relationship with your own living space
Like all his colleagues in UDesign, at all levels, he understands how form and function can be used in harmony to produce the very best that the human mind can dream up.
"Our master craftsmen have years of experience and love the problem-solving process that is part and parcel of designing furniture. In the end it's not just how unique each piece of furniture is, it's the passion that goes into making them. The key is quality and originality," he adds.
Master carpenter Mykhailo Shestov explains what exactly happens:
"The first meeting with the client is to discover what your ideas and needs are, the function of the piece, the space it should occupy and the kind of decor it should match. If the piece is complicated, our product engineer will let us know what's possible. Sketches are transformed into computer images by our team of 3D virtual artists."
He goes on to explain how, at a second meeting, the proposed designs are presented along with samples such as woods, fabrics or whatever else goes into the making of the piece.
"In this way," he says, "You see clearly what your piece of furniture will look like before the production process begins. The only possible surprise can be how beautiful the finished product is. And if you like, you'll be very welcome to visit the workshop to see our craftsmen in action. We love showing people around."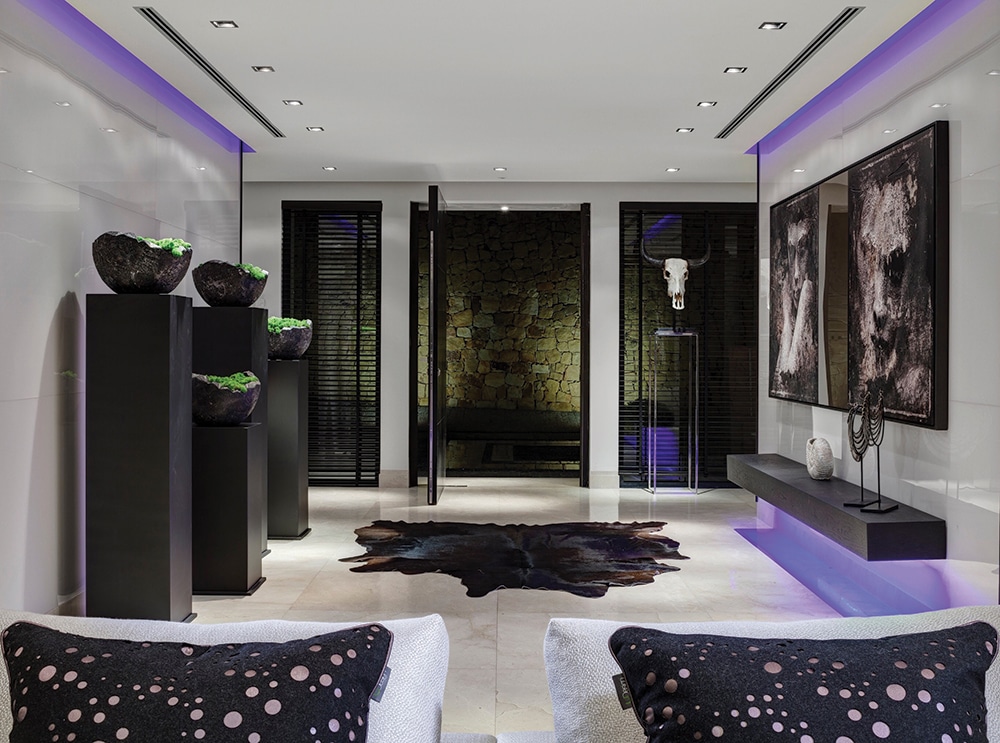 Above: A bespoke UDesign hallway with white high gloss wall panels, black oak floating shelf with built in LEDs, floor standing pedestals in black oak finish. Cushions in Romo zinc fabric.
To commission your own piece of furniture call the UDesign Showroom on (+34) 952 794 117 or email info@udesign.es
Article by Sophie Gatward-Wicks
---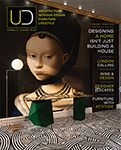 This article first
appeared in the
inaugural issue of
UD Magazine.
To read UD Magazine
online click here.
---