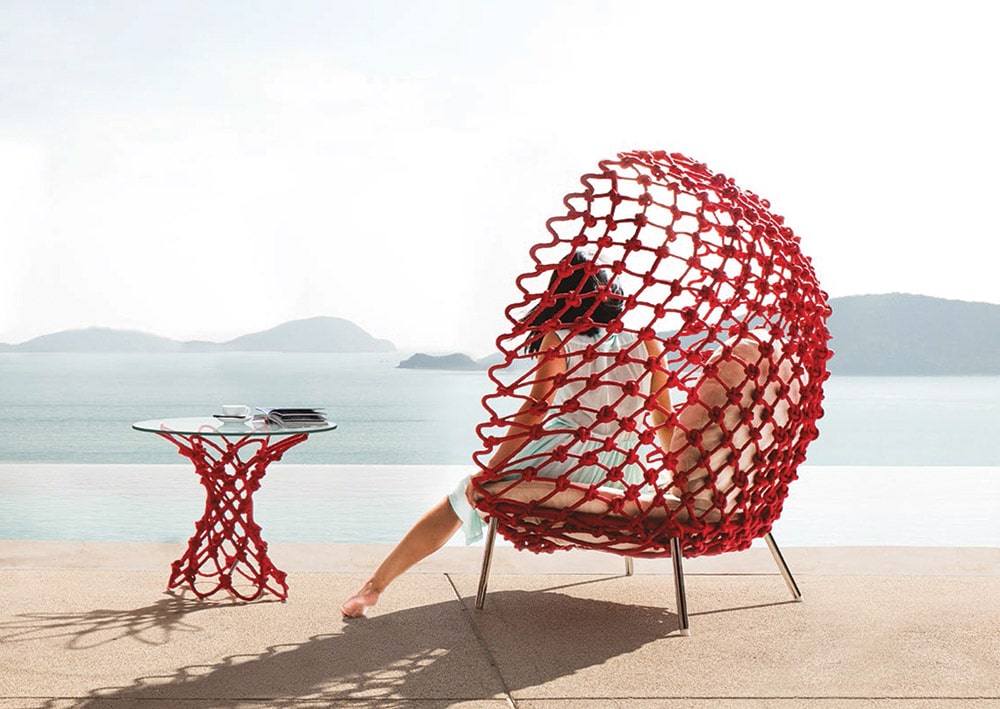 Furniture with Attitude: Interview with Kenneth Cobonpue
What do bicycle spokes, fish traps, opera houses, sheep, a bowl of noodles and much of everything we see around us have in common?
They all inspire Kenneth Cobonpue to create some of the most outstanding works of contemporary industrial design in the world today.
There are many of us who may have never heard of him, but one suspects that we soon will. Genius, which includes the ability to think what nobody has ever thought before, is rare, and this man has it.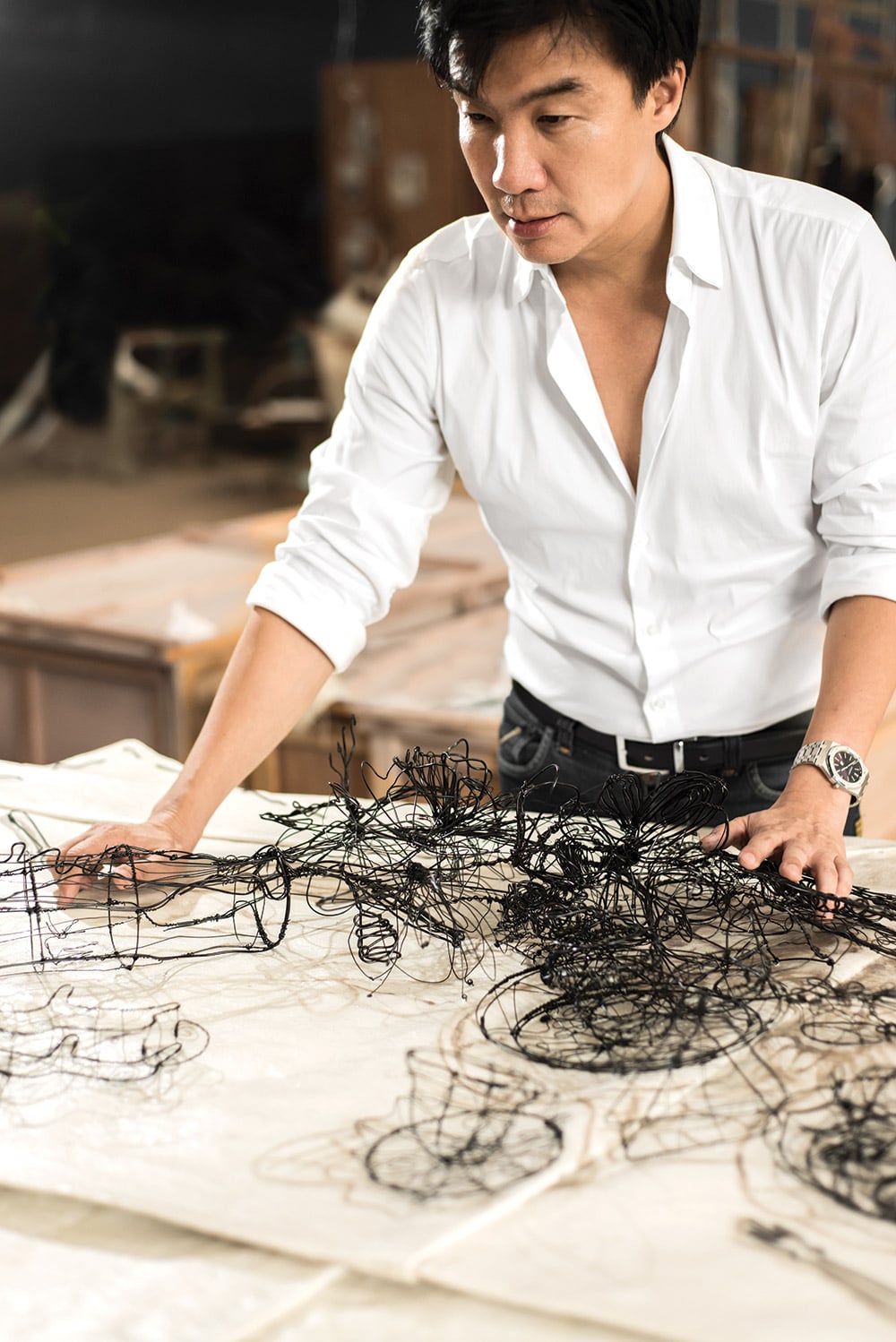 Above: Kenneth Cobonpue working in his studio in Cebu. "We're quite old school…since our manufacturing process is handmade, our design process is also handmade."
We have all seen his designs before, most likely without knowing it. We have seen his extraordinary use of rattan, wicker, fabric and other organic materials, and we remember them, because once seen, never forgotten.
Cobonpue, from the island of Cebu, in the Philippines, studied in New York, Italy and Germany, and over the past twenty years has turned his mother's small furniture company on the island into an influential global brand.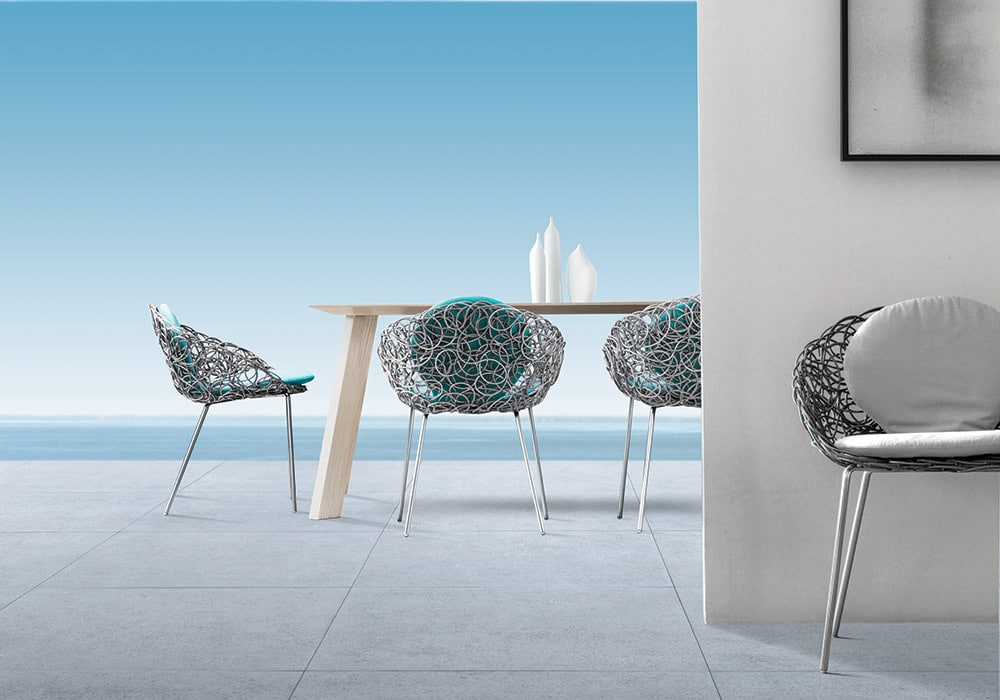 Above: The wild and fluid lines in the Noodle Collection, made in rattan on steel and resembling split noodles or random doodles, demonstrate the value of chance in art.
We know your mother had a great influence on your life. At what point in your childhood did you realize you were going to follow in her footsteps?
As a young boy, I was always playing in our backyard with the craftsmen and artisans, tinkering with scrap materials and building my own toys. But I don't think I ever knew that I was going to be a furniture designer. All I knew was that I enjoyed making beautiful things, especially when they made my mother smile. This extended to my adulthood, and here I am now making other people smile with my work.
Are you a computer geek, using the most sophisticated programmes to produce your designs, or are you more traditional in your work methods? Do you prefer to use pencil and paper?
Paper and pencil are two essentials in my office that I can't go without. Design is a fluid process, but my team and I usually work with materials first and create concepts around them. We're quite old school, so we work with prototypes early on using paper mock-ups and clay molds, and the like. Since our manufacturing process is handmade, our design process is also handmade.
"Without letting go, there is no show" is the quotation you associate with your Life is a Circus collection. Does this apply to your creative process as well?
I like to see how far my imagination can take me. This often results in designing statement pieces that my team and I like to call "divas" in the living room, because they're conversation pieces.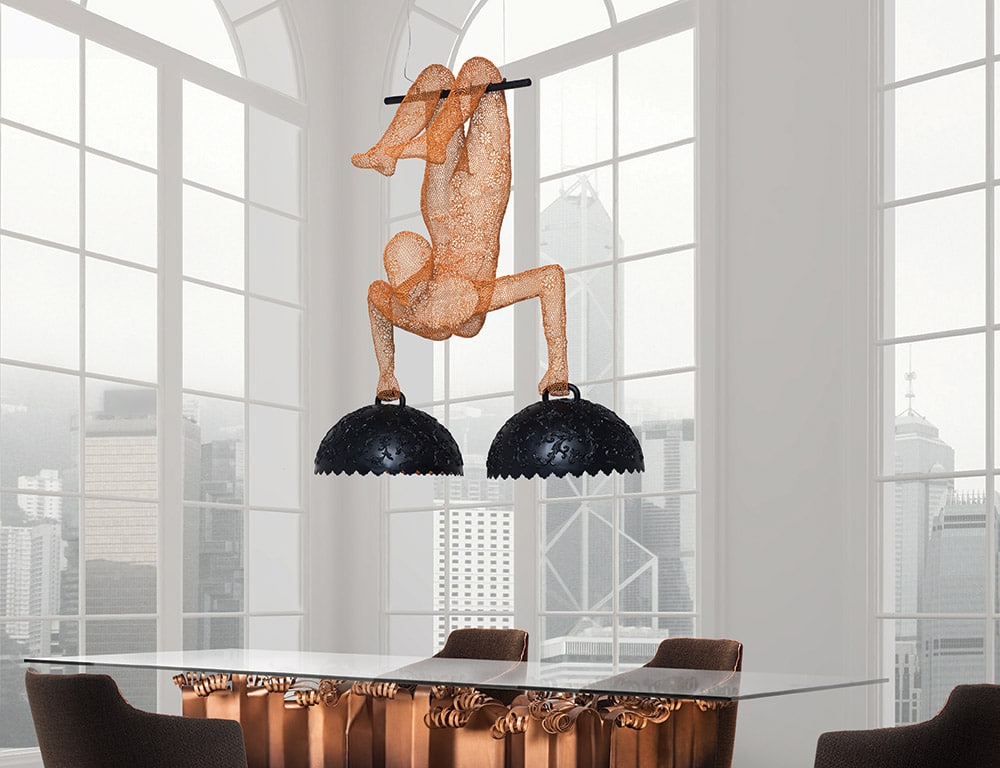 Above: A 'dive' in the dining room: the Trapeze light from the Limbo Collection
Your client list is pretty impressive, from the Queen of Spain to Brad Pitt and the offices of Google and Nike. Is there anyone that you would particularly love to create for?
I would love to design a chair for the Pope that he can use in his office. The challenge is to make something as banal as a chair for someone who has the keys to heaven.
You've successfully carried the expression of creativity from childhood to adulthood. How do you manage to keep it up in the face of today's busy lifestyle and all it entails?  
I believe inspiration does not come to you in sudden jolts; instead, you have to seek it. I go through old sketches and notes I made a decade ago to remind me of what I always tell my students – to look at the world through the eyes of a child. Sometimes we have to revisit the past to be more mindful of the present, and to remind ourselves to never lose that childlike sense of wonder.
The Yoda Chair is an absolute favorite of ours. Tell us the story behind the creation of this piece of furniture.
The Jedi master used to say we must all bend but never break. I wanted to capture that with Yoda. The grass-like rattan vines at the back flex depending on the pressure exerted by the sitter. The chair exudes a feeling of calm, peace, and balance. Most people jokingly say now that the back of the Yoda resembles the few strands of hair standing on the Jedi's head.
Talking of favourites, what is your favourite piece and why?
I'm not sure I can choose; it's like picking a favorite child. Each of my designs is very personal to me. Of course, there are design triumphs that are unique and difficult to replicate like the fabric manipulation of Bloom, the simplicity of Yoda, the sculptural grace of Wave, and the form of La Luna.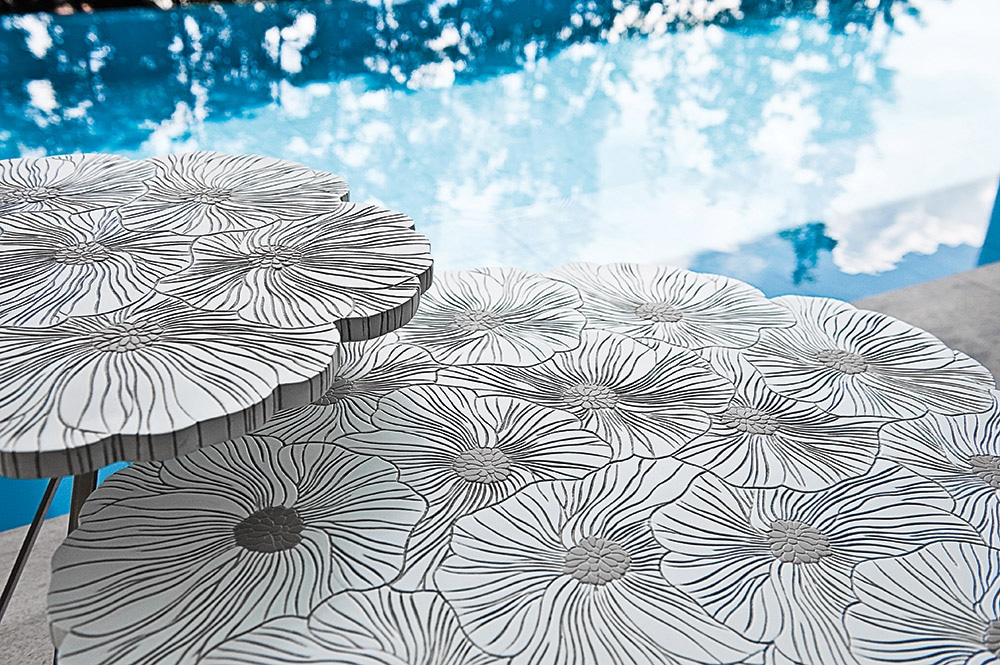 Above: Detail of the beautiful Bouquet table
Seeing that you are now the leading light in Asian industrial design, do you have anything to say about the "Made in Asia" brand?
The everyday challenge is to make the South East Asian aesthetic global; to change the perception that luxury can also mean made in Asia, not just in Europe. I think it's slowly happening, but there's still more work to be done. To achieve that, I will continue to do my part in remaining connected to my roots and striving for designs that are reflective of the Asian culture and ingenuity.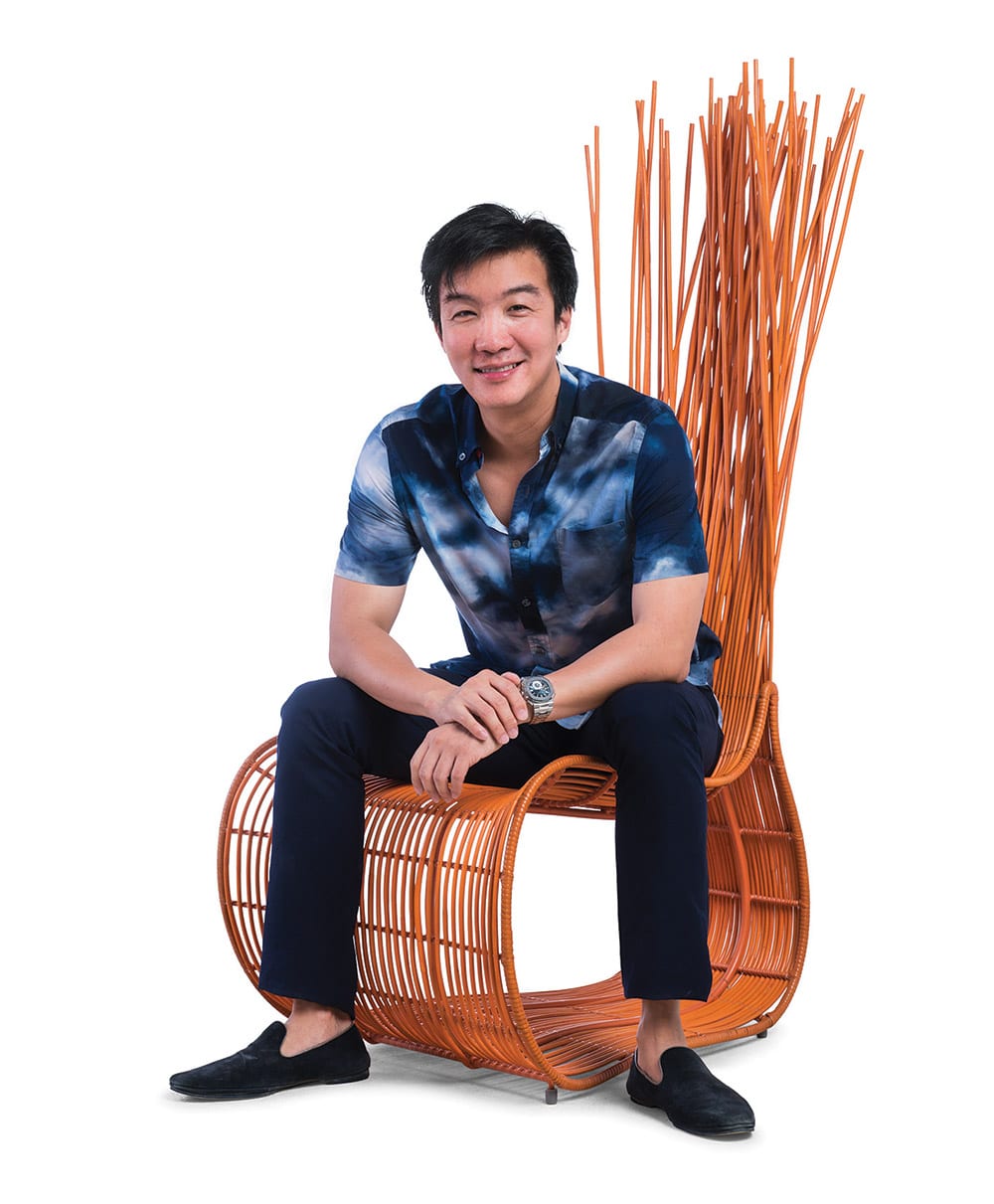 Above: Kenneth on his famous Yoda chair
We've heard that you travel somewhere new each year to gain inspiration. Where have these trips taken you this past year, and how did they inspire you?
We usually travel to exotic places like Morocco, Peru, Nepal, and Burma, but this year, we took it easy and went to the South of France. It was a diverse mix of lush valleys and mountains and beautiful coastlines, which have been inspirations to me before. I've been to a lot of places, but from this particular trip, I realized how furniture influences and affects how our day goes and our moods. If our chair were comfortable to sit in, we'd be enjoying more cups of coffee than we need. If our beds were cozy and snug, we might hit the snooze button on our alarms too many times to indulge in our slumber just a bit longer.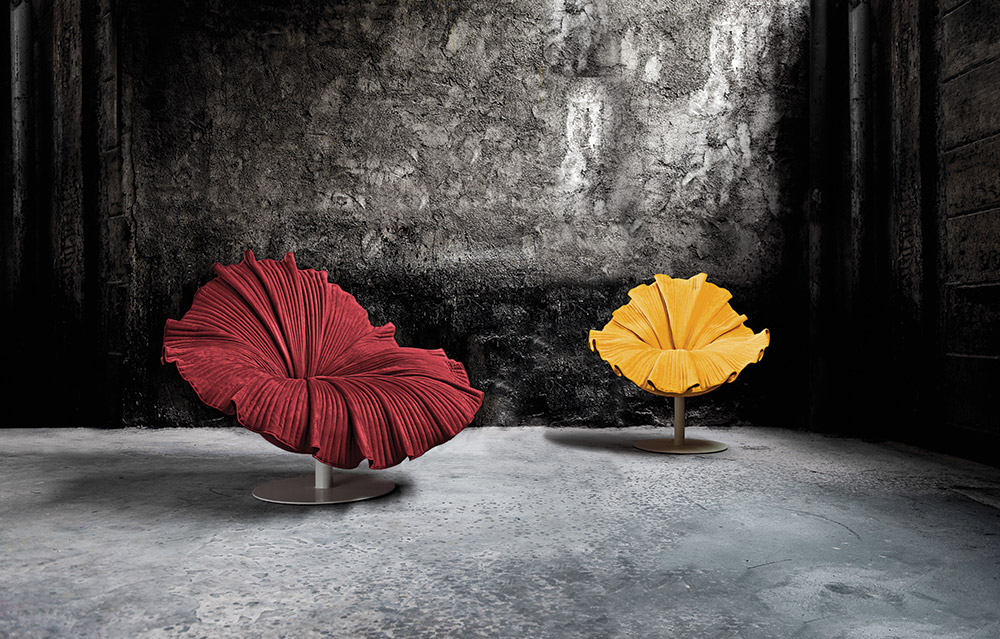 Above: BLOOM: Welcome to the organic beauty of the indoor garden. Inspired by a delicate blossom, the Bloom is composed of hundreds of fine running stitches that radiate from the centre of the seat. Handmade in microfiber stitched over a fiberglass reinforced top, Bloom sprouts from a base made of steel.
You had an elegant new chair, the Cita Armchair, on show at the Milan fair this year, which was the result of your working together with Brazilian designer Sergio Matos. How did this collaboration start and are there more in the pipeline?
We have very similar design principles, so it was natural for us to collaborate. Sérgio derives inspiration from the landscape of his home, Brazil, and values ancestral techniques that bear the warmth of the human touch. We plan to do more collaborations with other designers.
Where do you see the future taking you, especially with regard to both general design and the direction of your company? 
Space design and architecture are something I love taking part in. I recently designed a prefabricated house, and we currently have a project with a resort, so I want to explore that further in the future. I would love to design a resort of my own.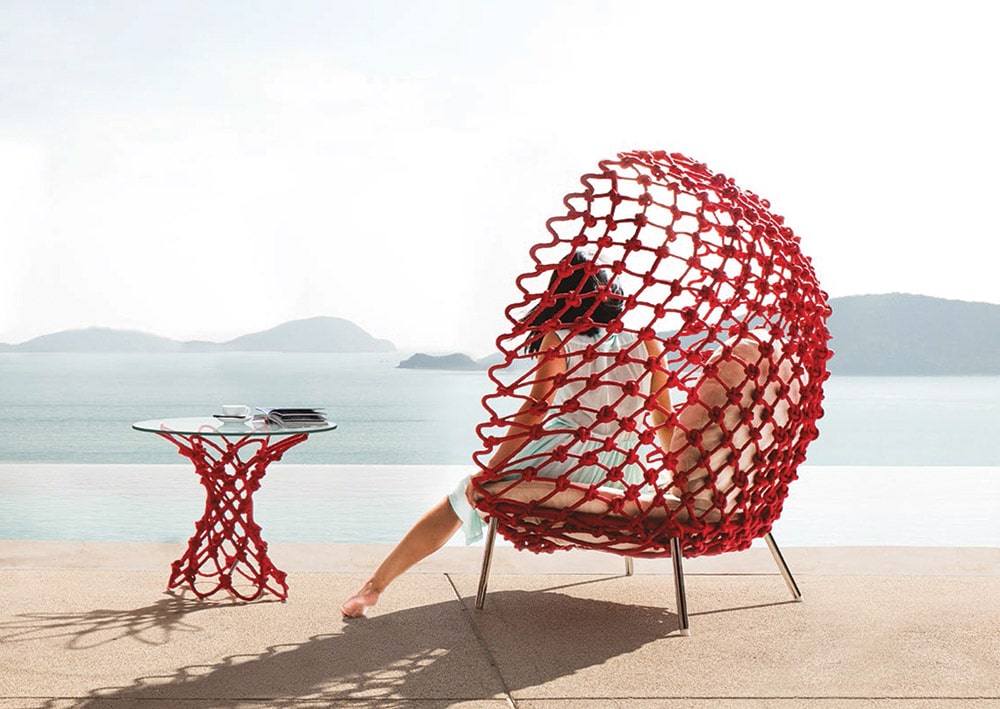 Above: Dragnet: Inspired by fishermen's nets and created from fabric twisted and wrapped around a stainless steel frame, the Dragnet lounge chair surrounds you like a cocoon.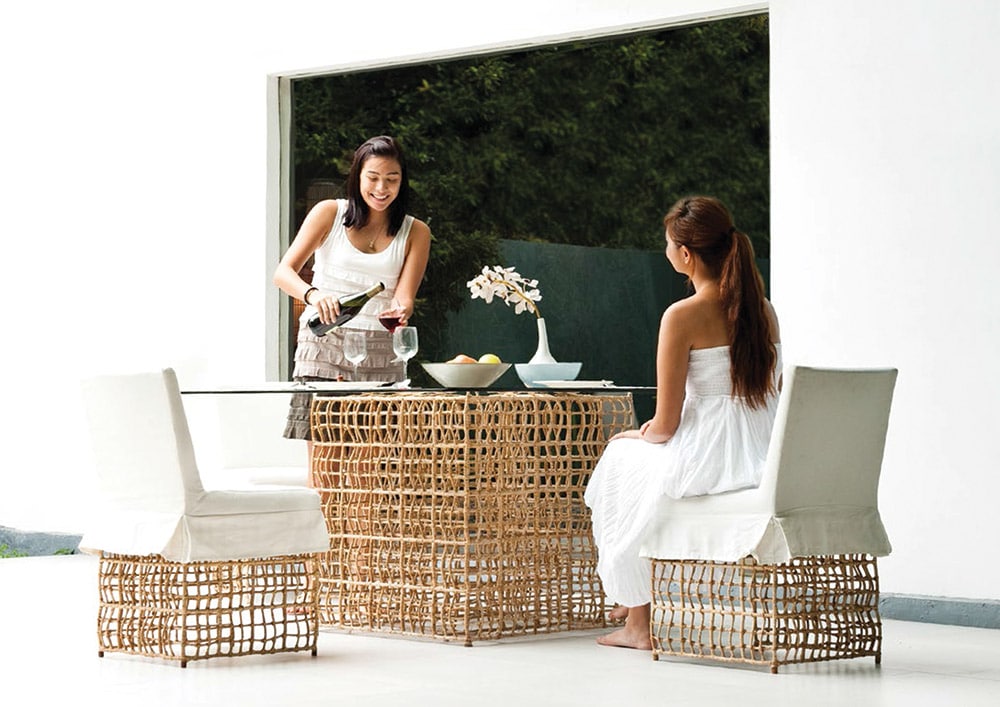 Above: Yin & Yang square dining table inspired by patterns found in nature. Solid yet transparent, voluminous yet airy, random yet symmetrical. An innovative play of opposites.
And finally, that famous car. Some people say that your greatest creation is not a piece of furniture but the Phoenix car that you designed and made for the Milan Furniture Fair in 2011. Would you agree?
I'm not sure if I agree that it's my greatest creation, but it was definitely controversial. While the cars we know are made of heavy industrial materials, the Phoenix was handmade using bamboo, rattan, steel and nylon. It provided the option of inexpensively and ecologically replacing the shell if needed, while maintaining the same inner construct. Lightweight, environmentally friendly vehicles using green production techniques and materials are the wave of the future, and we want to be part of building that solution.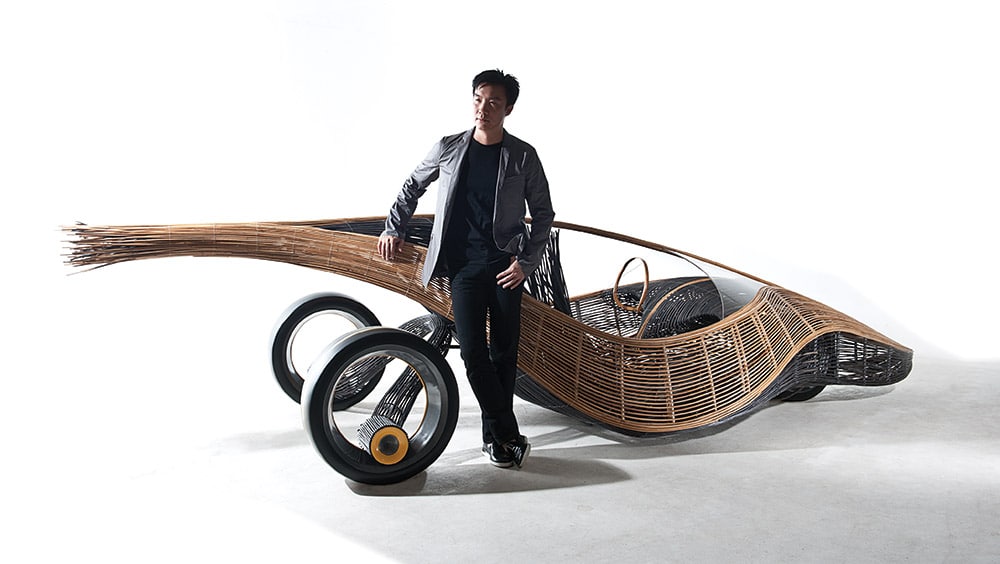 Above: Kenneth and the Phoenix Car
---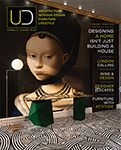 This article first
appeared in the
inaugural issue of
UD Magazine.
To read UD Magazine
online click here.
---