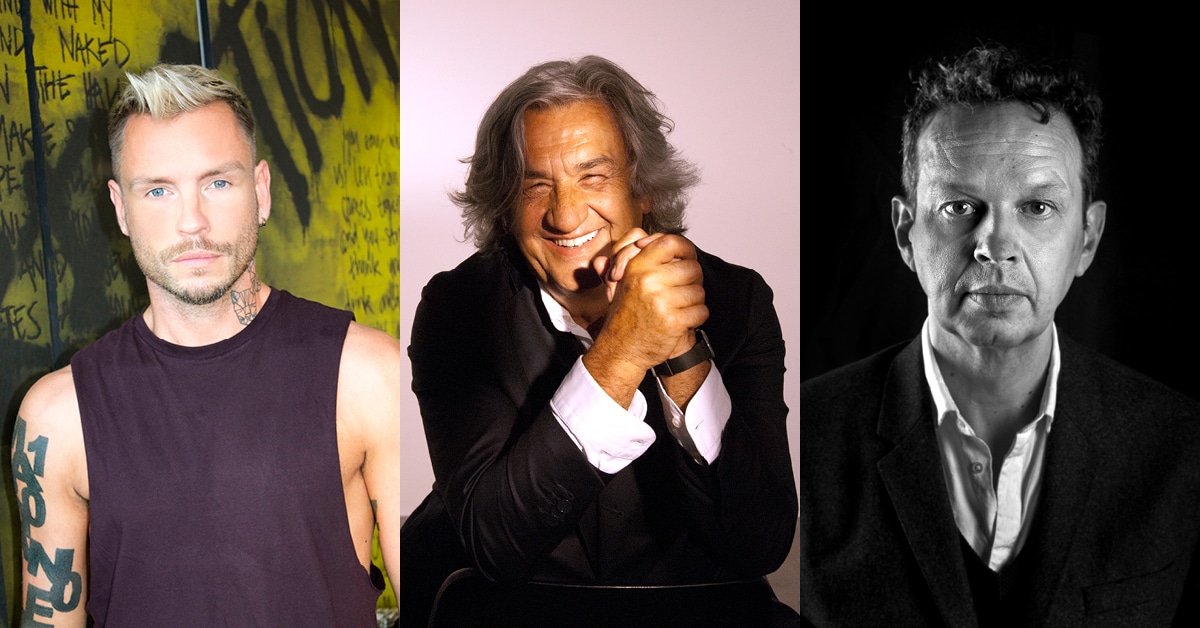 UD Magazine brings you avant-garde artists, lighting gurus and famous designers
In the 2nd issue of UD Magazine we are delighted to bring you four people who have impacted the design world in a great way: Jimmie Karlsson and Martin Nihlmar from the avant-garde designers Jimmie Martin, who have worked with Madonna, Pete Townsend and a host of other celebrities; the quintessential Englishman, Tom Dixon, who has permanent exhibitions in the world's top design museums, and the effervescent and illuminated Enzo Catellani, whose lights hang in London's Victoria & Albert Museum.
---
Interview with Jimmie Martin
Dare 2 be a Rebel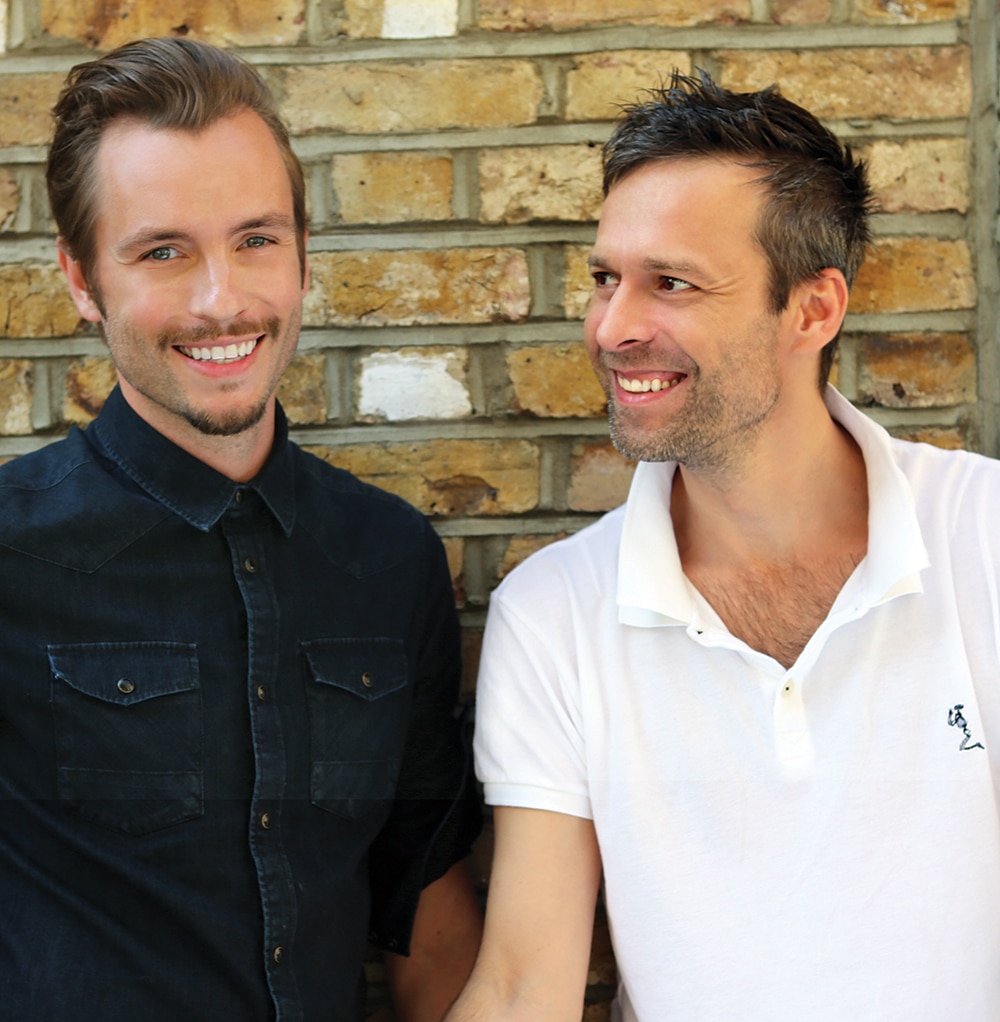 Above: Jimmie Karlsson (right) and Martin Nihlmar (left)
Jimmie Martin is not really a furniture label, or an industrial design label, or a fashion label. Or any other kind of label, for that matter. They are just two guys from Sweden, Jimmie Karlsson and Martin Nihlmar, who refused to be labelled from the start, and they are still difficult to tie down with words on a page. But if you're interested in furniture and interior design, you'll certainly need to know about them.
Our Editor spoke to Jimmie Karlsson, Creative Director of the company, to find out more about their work and what inspires them.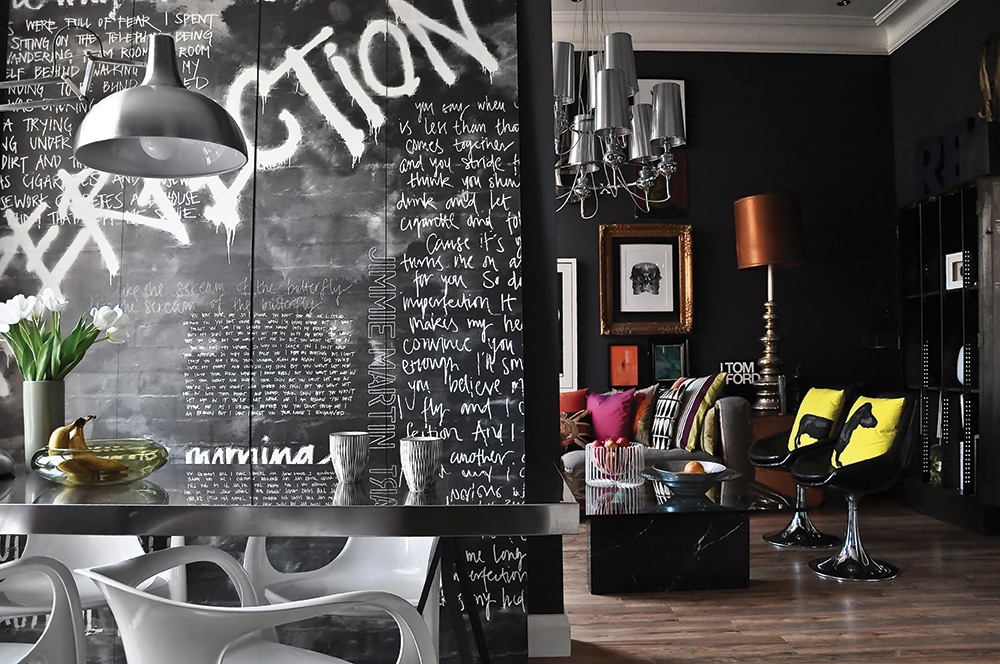 Above: Jimmie Karlsson's pad in London is a riot of colour, graffiti and original artwork
They obey no rules. They reject technical perfection in favour of sparkling creativity, turn opulent decadence into fun, take nostalgia and shake the soppiness out of it, splashing old and tired pieces of antique furniture with paint, gold leaf, varnish or any other material at hand to create something entirely new, surprising and glamorous. What you see may not be what you think you see when they're finished with it.
"I like to paint a different picture," says Jimmie Karlsson in our interview, and that just about sums up the work philosophy of Jimmie Martin.
Read the interview on page 116 of UD Magazine
Interview with Tom Dixon
Born to Design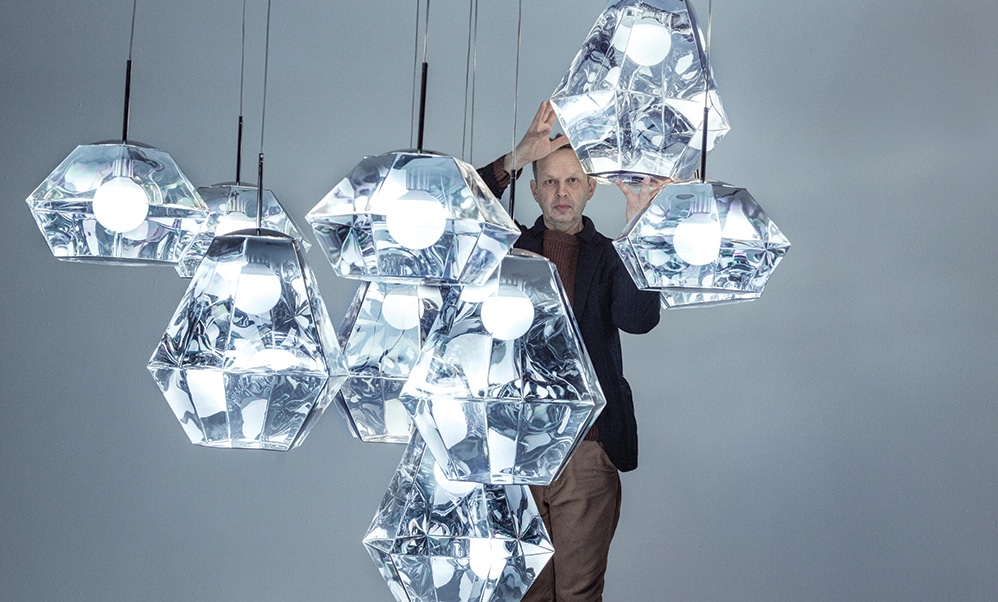 Above: Tom Dixon pictured with Cut. Futuristic and faceted, Cut is an exercise in optics. It's space-age mirror finish when switched off transforms to reveal a translucent kaleidoscopic gem when switched on.
To know about Tom Dixon, there's no need to read a word. Just look at the pictures. In fact, the story of his life, even without pictures, would make a fascinating article in itself, but we believe his life, his story and his work are one of a piece. He is, quite simply, defined by what he makes.
Born in Tunisia, brought up in London, studied for six months in Chelsea School of Art, printer, designer, cartoon film colourist, pop musician, night club manager with a need to decorate and thus, welder of scrap metal and designer. The bare bones of his life-story give some hint of the way life itself turned him into what he is today.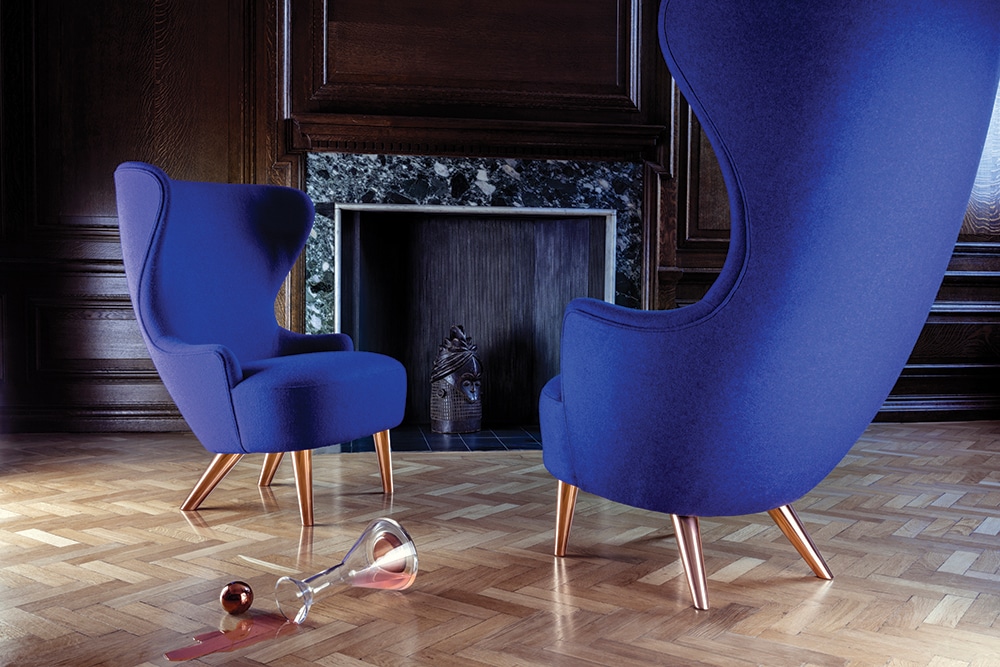 Above: Wingback Armchair. Inspired by the 17th century wingback and the smaller 18th century balloon back, these refined hybrids have been re-imagined and updated for the 21st century. The exaggerated proportions of the wing and the extravagant scale of the chair allow the sitter to be enthroned against a grand backdrop or completely hidden from view.
Little would he know then that his work would now be in some of the most prestigious museums in the world, such as the Victoria & Albert, the Moma and the Pompidou Centre, and that his products would be on sale in more than seventy countries in the world. Oh, and an OBE in 2001.
"The fight even now," he told UD Magazine, "is to avoid being typecast or pigeonholed into being the person who makes chairs out of scraps."
Read the interview on page 78 of UD Magazine
Interview with Enzo Catellani
Into the Light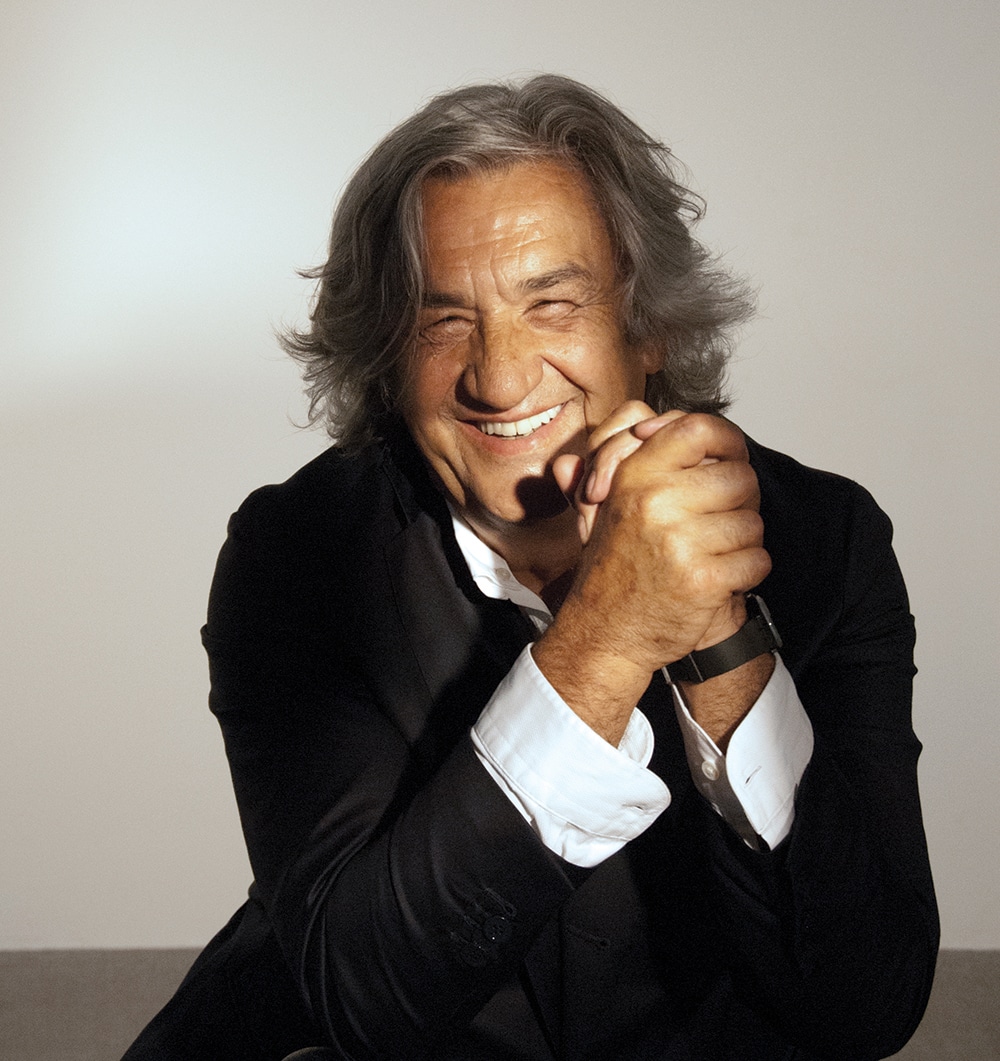 Above: Enzo Catellani
Strike a match and you've made light in much the same way as your ancestors did many thousands of years ago. Blow it out immediately and in the time it has taken you to do so, its waves of light, if they could follow the curvature of the earth, would have hit you in the back. Light is life. Light is extraordinary.
So too is the craft of producing light. Enzo Catellani does this, and he does it like nobody else in the world today.
In recent years he has been devoting much of his time to outdoor lighting, some images of which we feature in this article. Organic forms rising from the earth like glowing flowers, trees of glittering bulbs, other-worldly stalks of light like magic bulrushes, clouds of light floating overhead: welcome to the world of Enzo Catellani.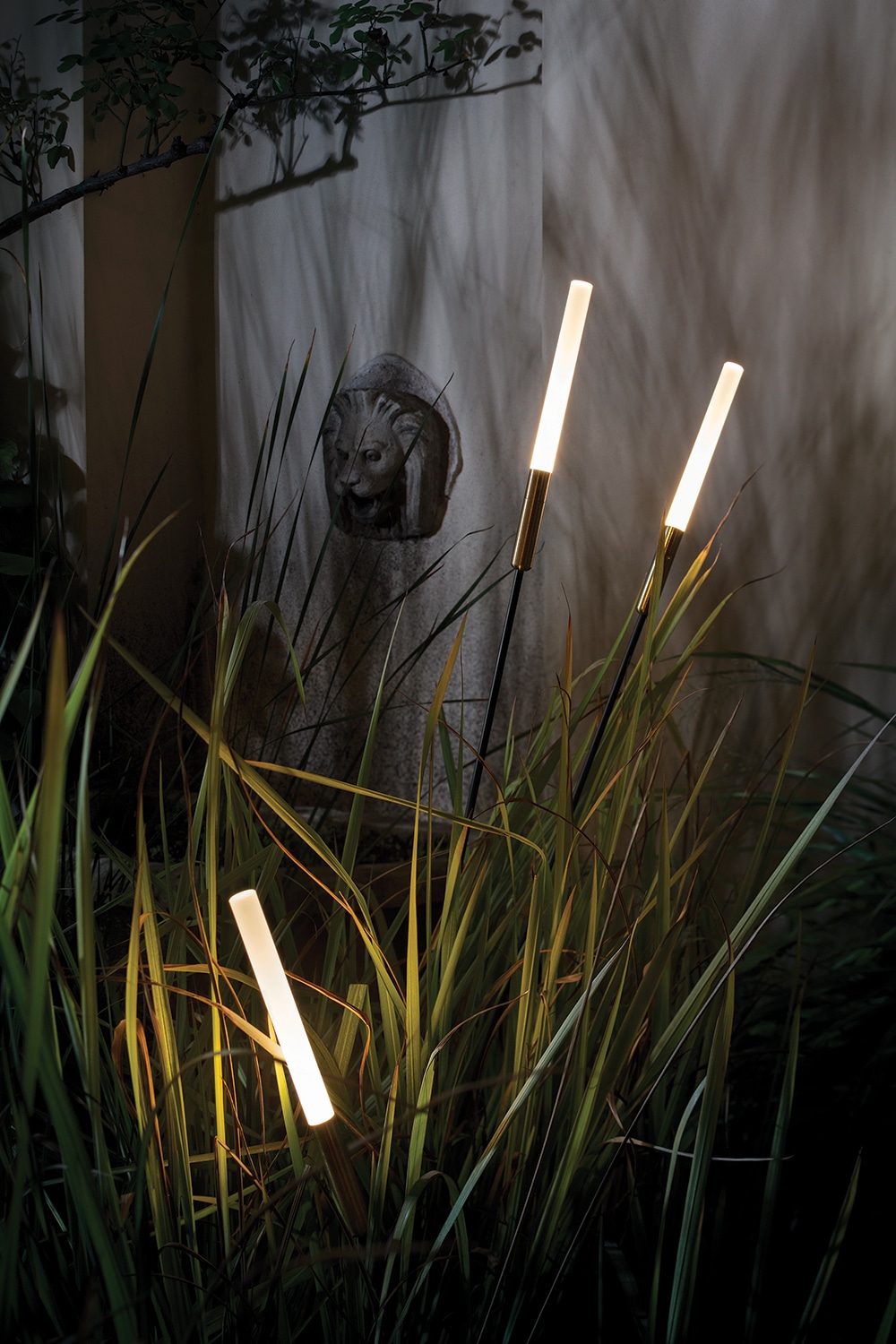 Above: I Maestri del Paesaggio. Installation by Catellani & Smith, showing the Syphasera lamp, an opaline glass cylinder with natural brass detail and black system.
In our interview he speaks of the past, the present and the future of lighting, the importance of craftsmanship and light technology, art, public spaces and much more.
Read the interview on page 30 of UD Magazine
Aside from these wonderful people, our 2nd issue is jam-packed with gorgeous imagery, exceptional architecture, cutting-edge design and creative inspiration.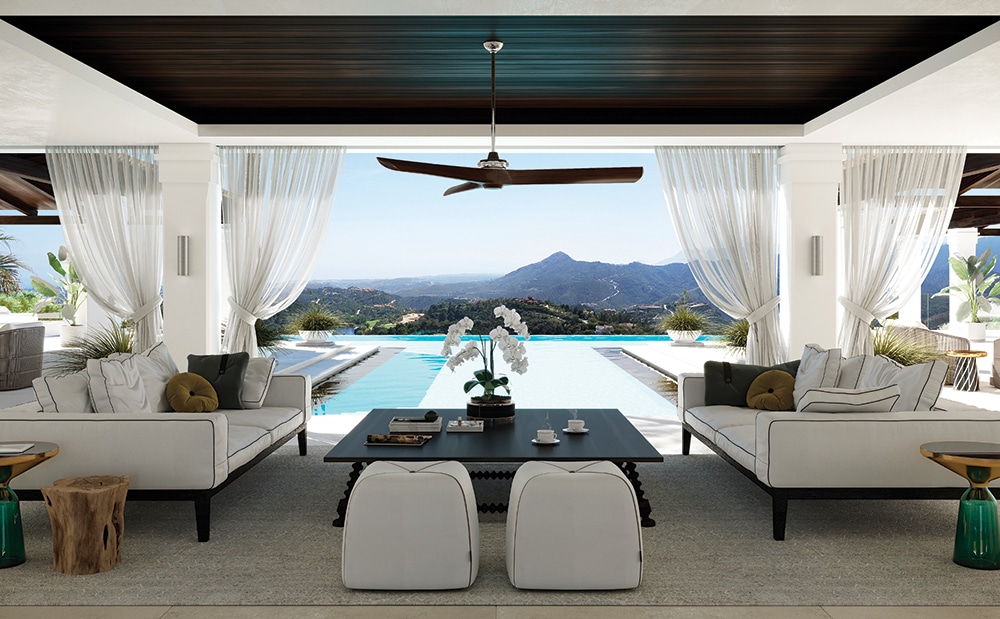 We have a special feature on Terraces – "Life on the Outside" – where we explore the issue of the terrace being a natural extension of your lounge, both architecturally and socially.
Read 'Life on the Outside' on page 10 of UD Magazine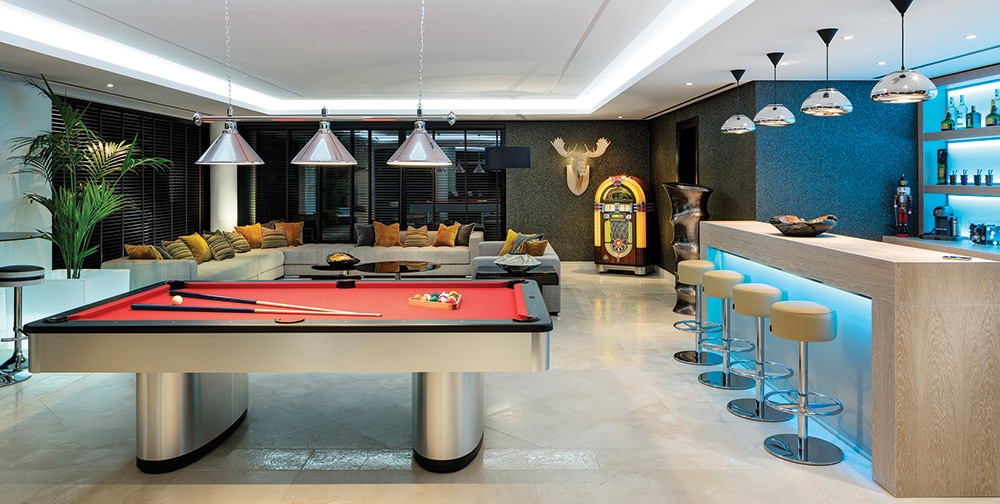 Giles Brown discovers that stylish staying in is the new going out in our article on entertainment rooms – the fun and funky spaces where you can let your imagination run riot.
Read 'Entertain Me!' on page 44 of UD Magazine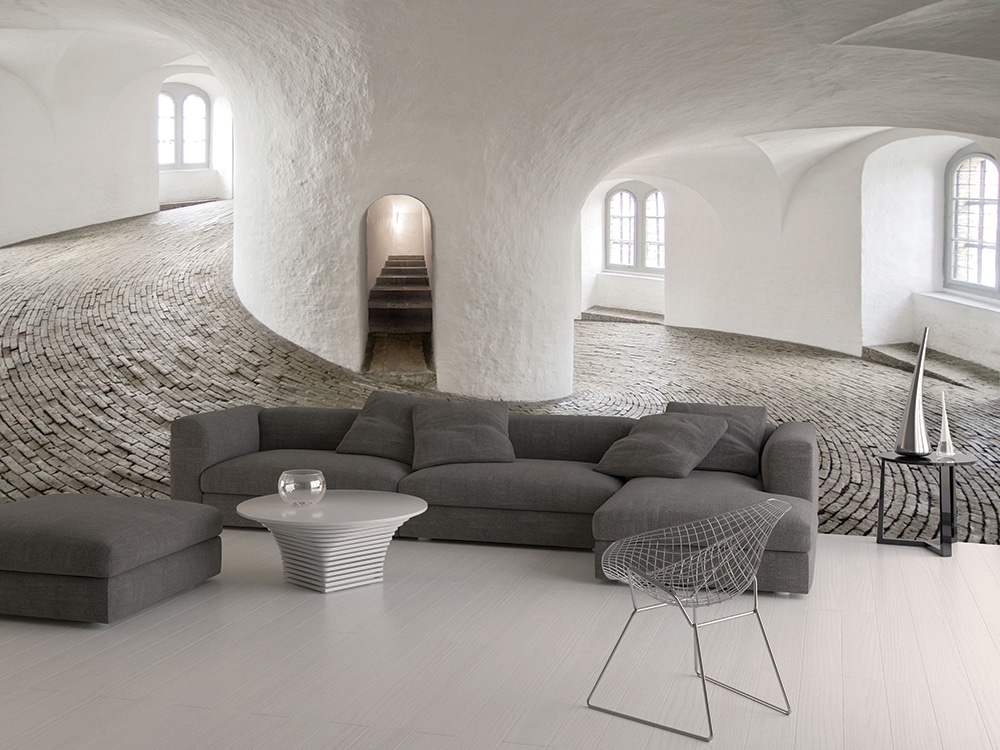 We look at an innovative Italian company – Creativespace – who have injected a touch of magic into the extraordinary wallpapers they produce. "We re-interpret photographic emotions by dressing walls." Rather than simply decorating a room, their wallpapers completely transform it.
Read 'Paper Magic' on page 64 of UD Magazine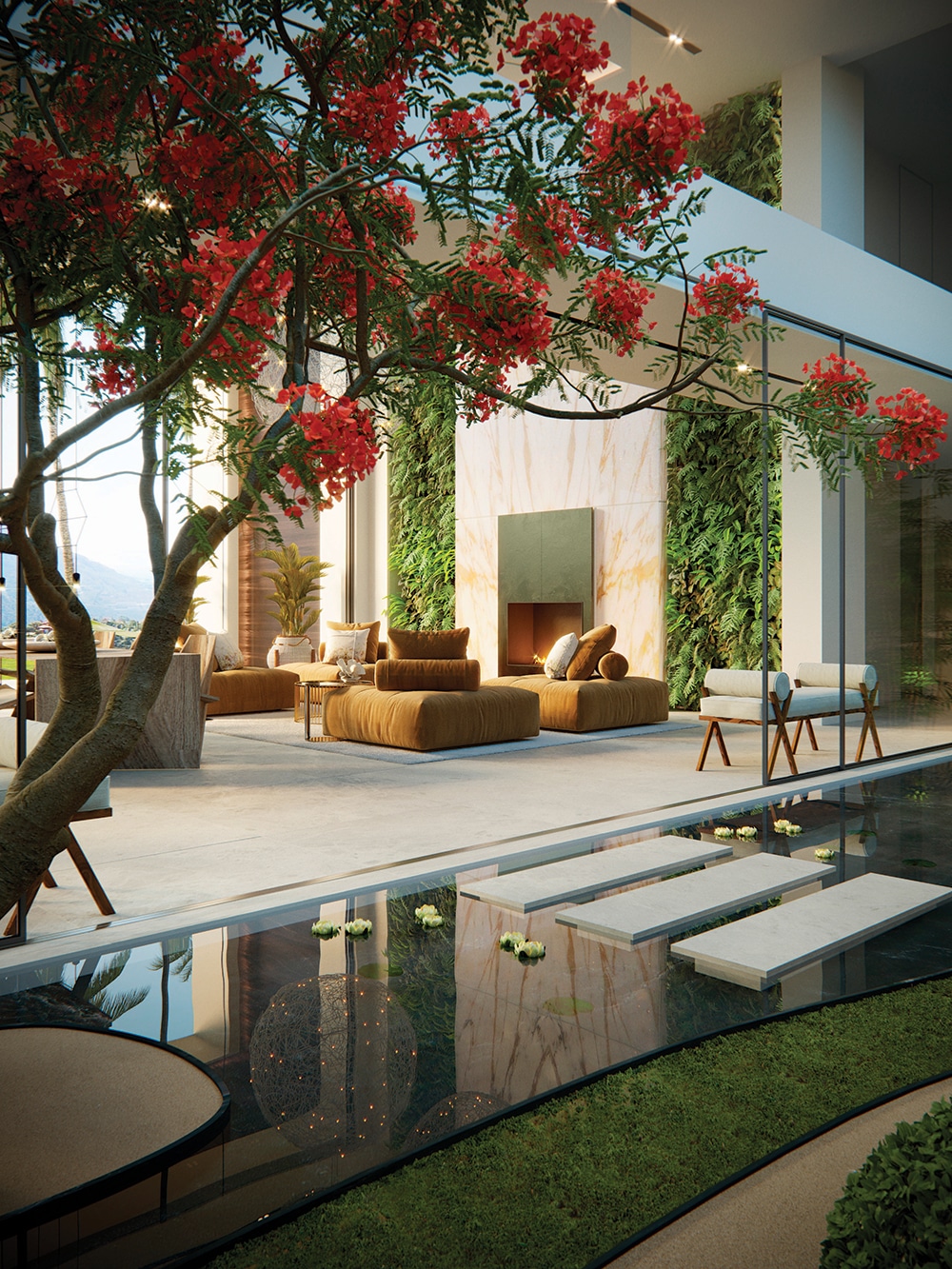 We take the chance to show off a little in our Showcase feature where we peek inside a villa which has its main focus on an open interior garden that can be seen, enjoyed and accessed only from the lounge.
Read 'UDesign Showcase' on page 90 of UD Magazine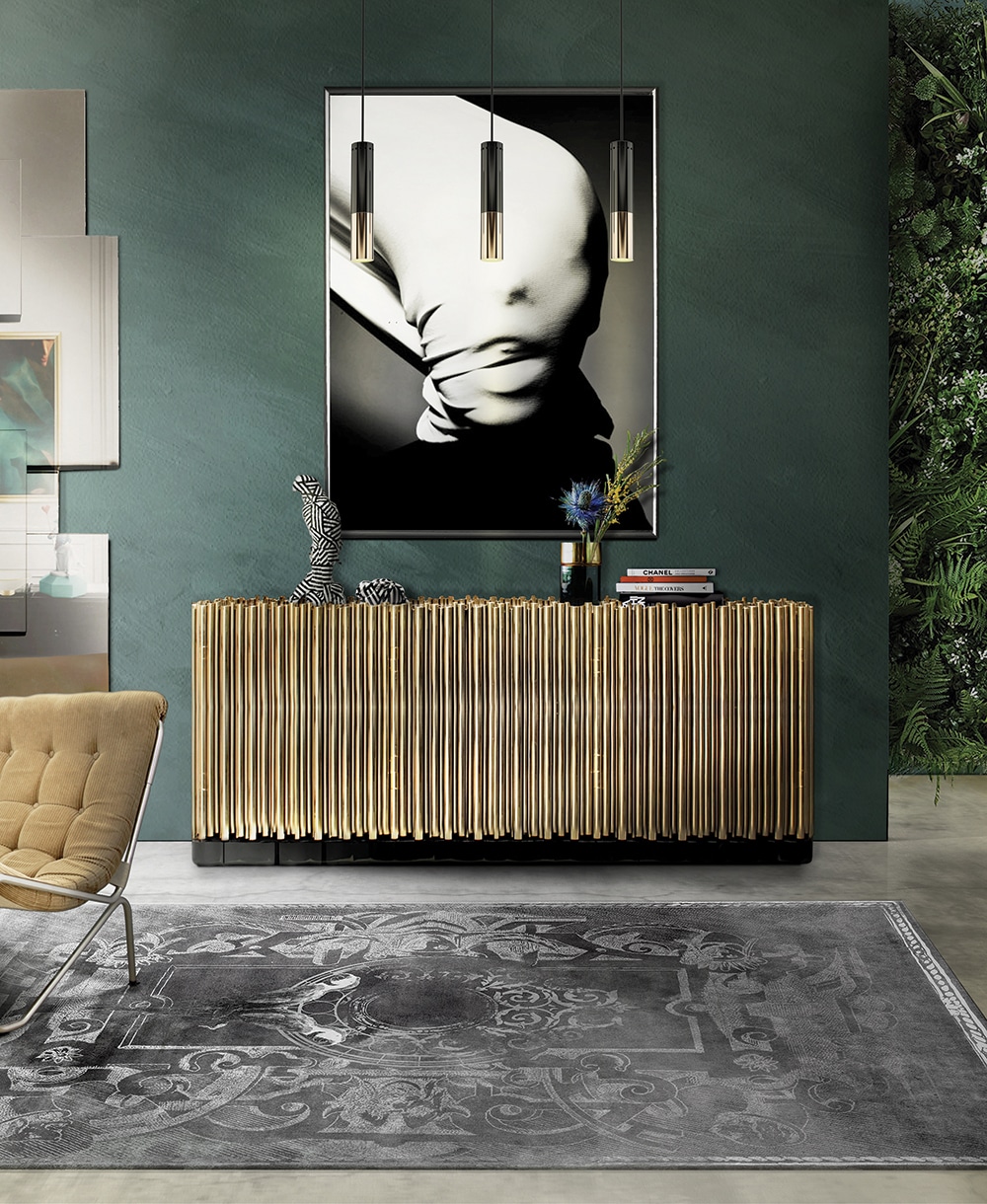 We present a mini exhibition of what we think you'll need in your home this year – designs that will take your breath away, or at least make you smile.
See 'Making a Statement' on page 104 of UD Magazine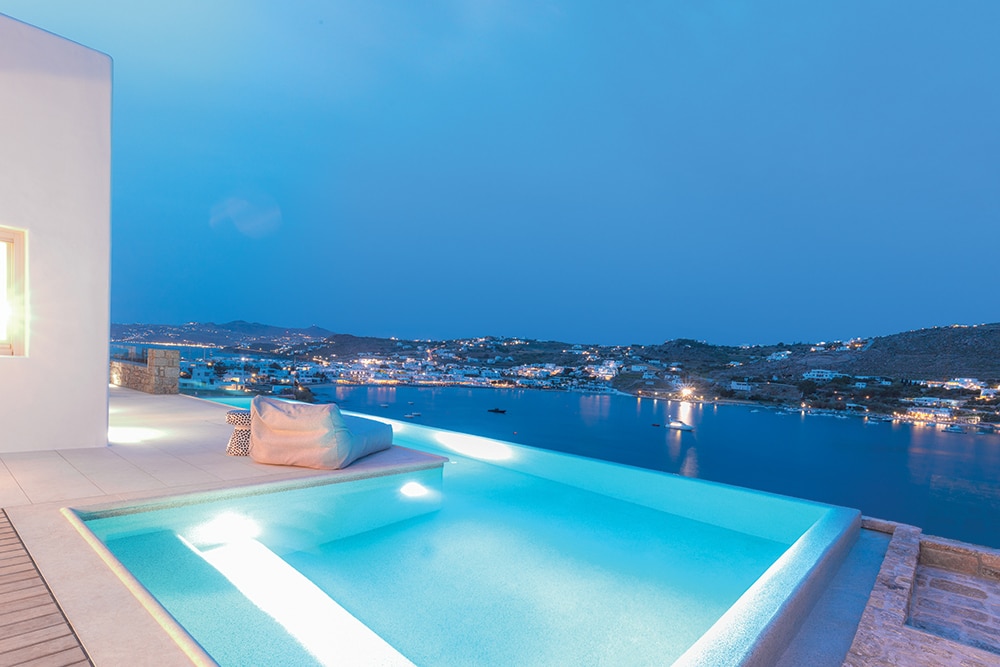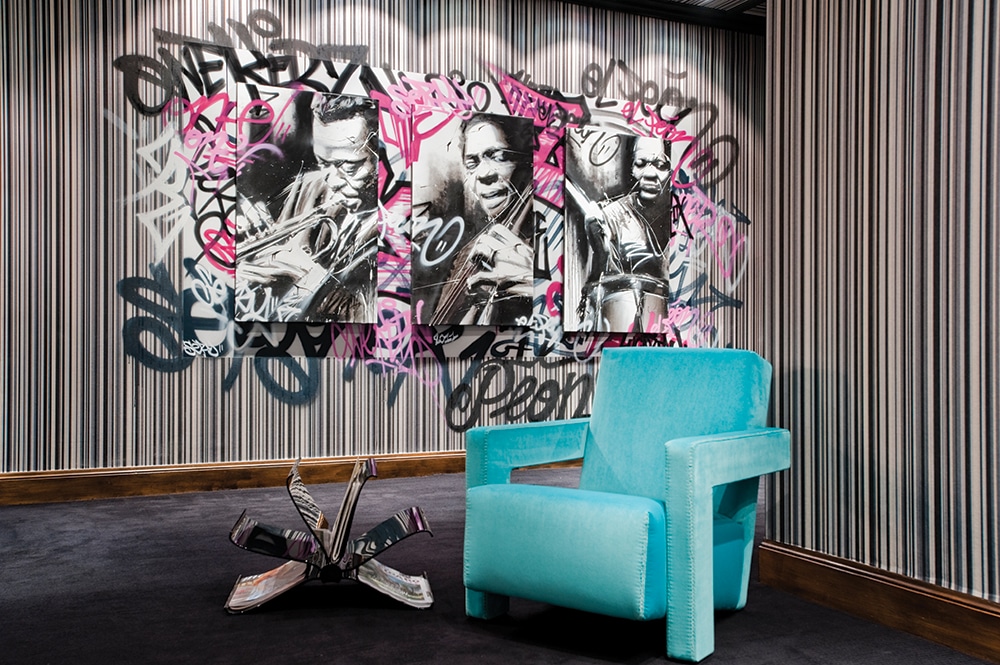 Get away from it all! We travel to an uber-stylish, award-winning seaside hotel, the epitome of designer rustic-chic, on the Greek island of Mykonos, and to France's Atlantic coast, for a boutique property converted from a Royal Mint, marrying period charm with cutting-edge art.
See 'Designer Escapes' on page 132 of UD Magazine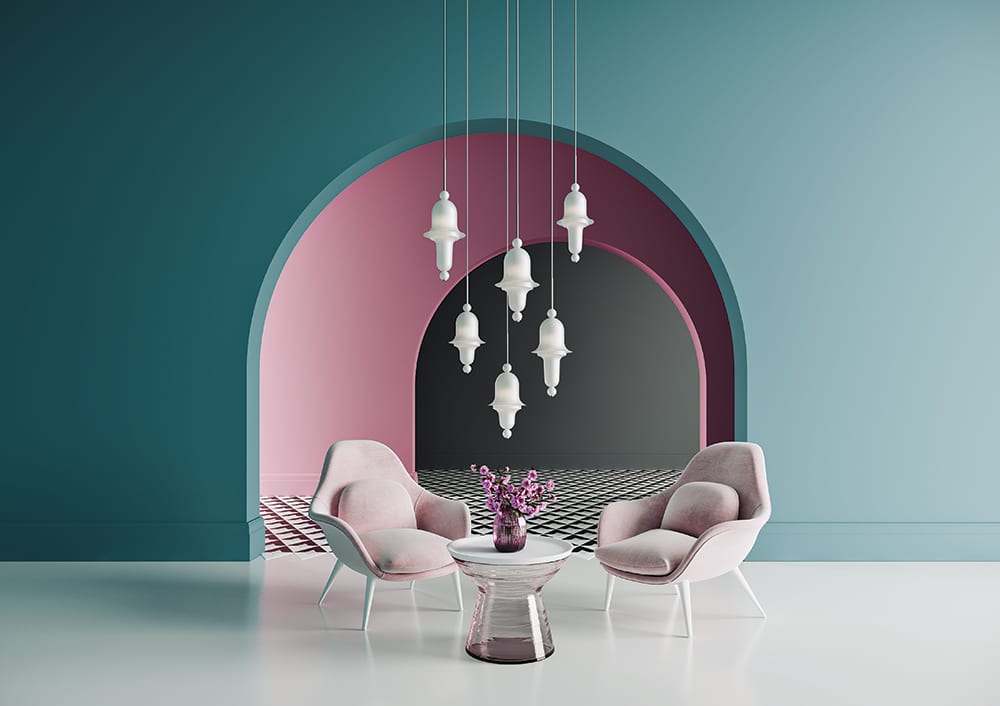 And finally our regular feature on Design Trends discovers the New limited edition Panton chairs from Vitra, Dedon's fantastic new fabrics and Tom Dixon's artistic set of Paint & Geo cushions. We fall in love with Preciosa Lighting's newest solitaire, The Siren and take a closer look at the nifty designs in Gloster's latest collections.
See 'Design Trends' on page 144 of UD Magazine
If you are interested in reading the first issue of UD Magazine, click here.
---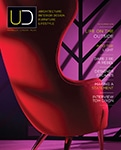 These articles first
appeared in the
2nd issue of
UD Magazine, Summer 2018.
To read UD Magazine
online click here.
---