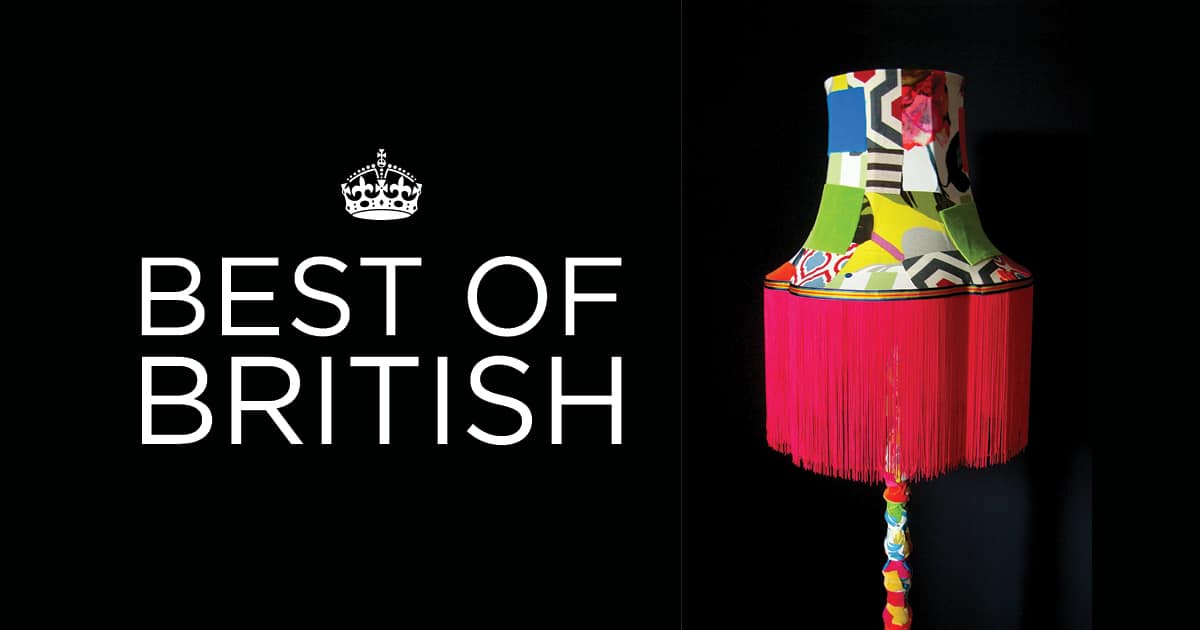 Best of British: A chat with Lisa Whatmough of Squint Limited
Those in the know know, but for those who don't, Squint is one of the most creative interior design and accessory companies in the UK. Founded thirteen years ago by Lisa Whatmough, it produces exquisite vintage fabric-covered pieces of furniture coveted by clients all over the world.
You left art college as a qualified sculptor, skilled in welding, but couldn't afford a proper studio, so you concentrated on painting for a decade or so until you realised you weren't a 2D person. Then, having collected vintage textiles for years, you began what you called "a strangely circuitous route into design".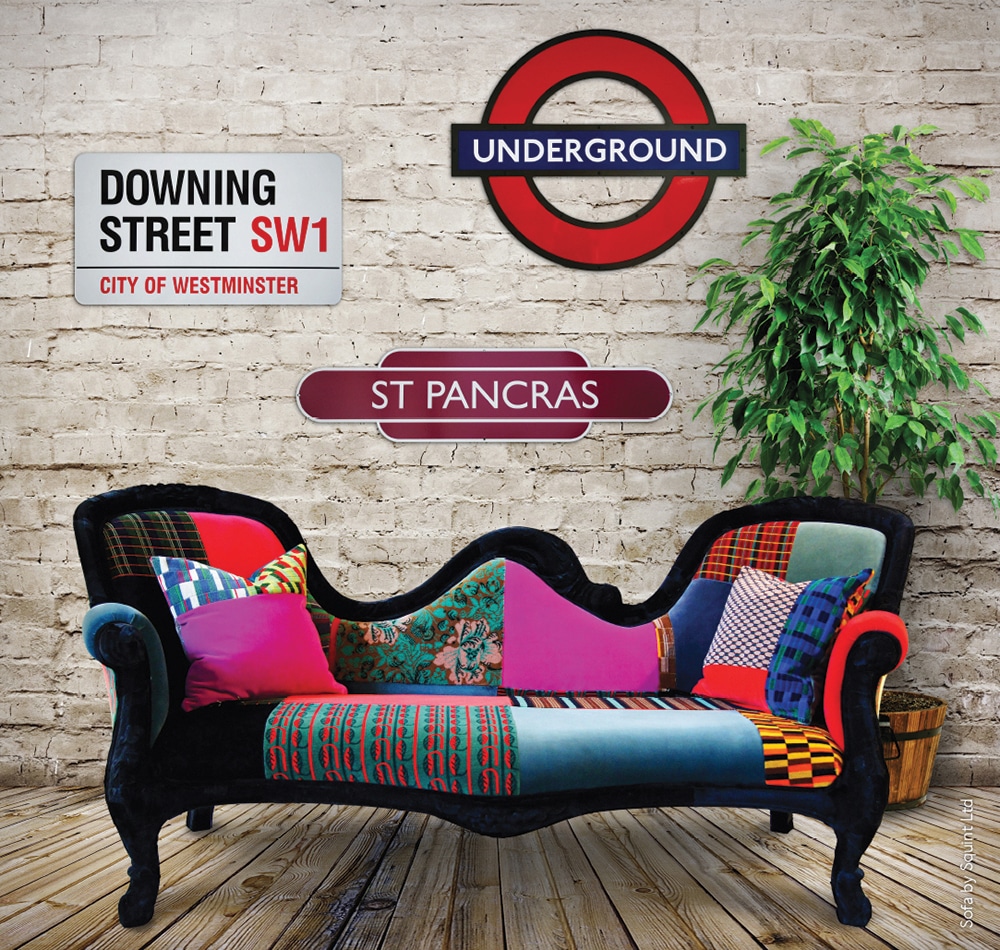 Above: The double End Chaise, commissioned by Transport for London as part of the London Design Festival
Your initial efforts at wrapping lamps, tables, chairs and mirrors in vintage fabrics resulted in a very successful association with Liberty and Anthropologie. You started Squint in 2005, and now, based in London and working with a number of long-established workshops to produce astonishing pieces, essentially British in their exuberance, you sell globally.
It would not be an exaggeration to say that you take up a full chapter in the story of contemporary British interior design.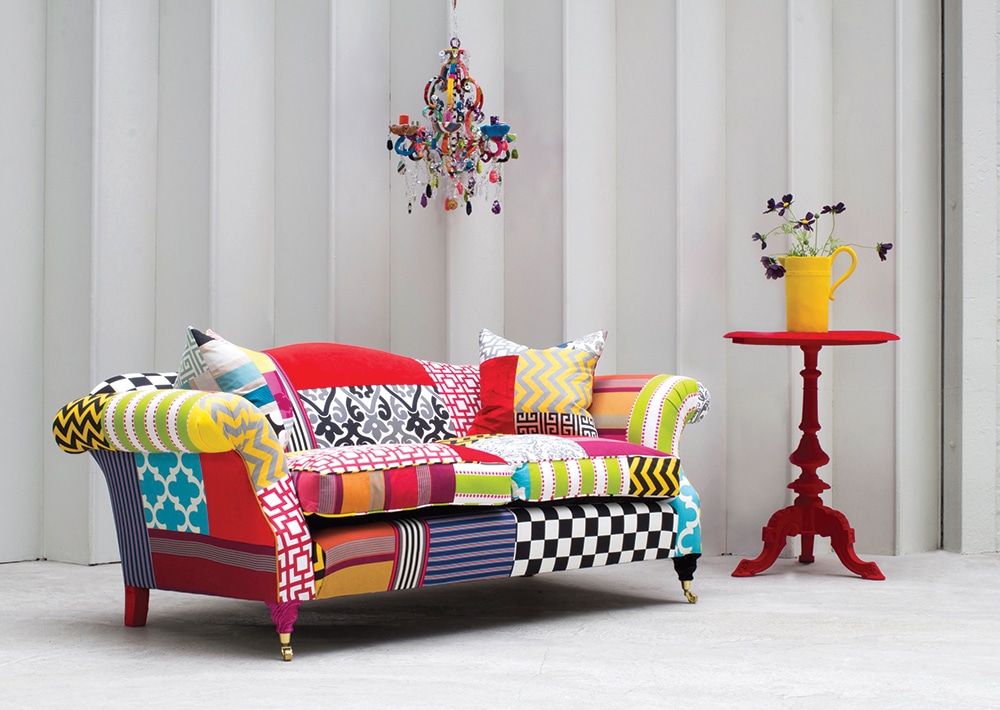 Above: The Highgate Sofa and the Two Tier Chandelier in patchwork, the Giant Jug and Wine Table in a velvet finish
You say that your work has become "hotter and brighter" over the years…
I'm much more confident in my choices these days, which is a reflection of the business and clients' reactions to my work over the years. This has been a creative gift, because often the artist or designer is removed from the end user and doesn't get to luxuriate in positive feedback. Also, textile design, particularly for the home, has come on a long way technically. When I set out, Designers Guild was really the only company working with fluorescent base dyes, and they weren't colour fast; upholstery fabric was a variety of creams and beiges, but now I have many delicious textiles to choose from and I can work to any colour palette.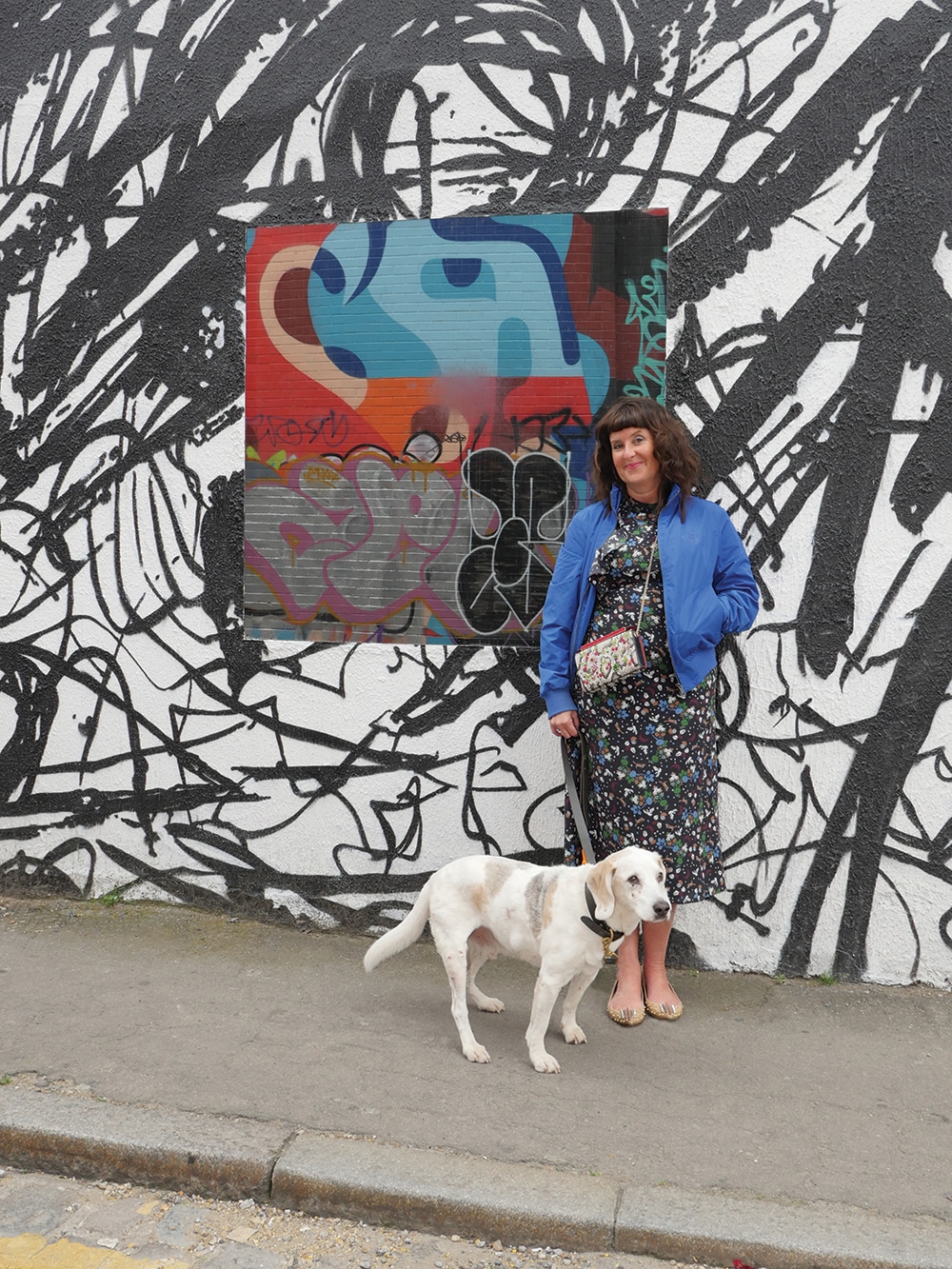 Above: Lisa and Stan in Shoreditch, close to where it all started for Squint Limited
Are you thinking of anything specific when you begin a new piece – what is fundamental to your philosophy and process?
I think both my client and I have to love it. Pieces for home are so personal, and in Britain we have a history of passing down quality furniture, so quality is supreme. Then it's really about the brief: some clients want formal, others fun, and we can fulfil both ends of that… there must be some synchronicity for a client to come to Squint in the first place.
What's your biggest seller?
Sofas. Usually, after art, they're the most expensive piece in a room, and they really should be the starting point for everything else. Then probably mirrors. Occasionally clients will show me a paint colour as inspiration but I always tell them paint is cheap and taste in colour does change over the years, so start with your absolute favourite fabric/s and then pick the wall colours which best complement.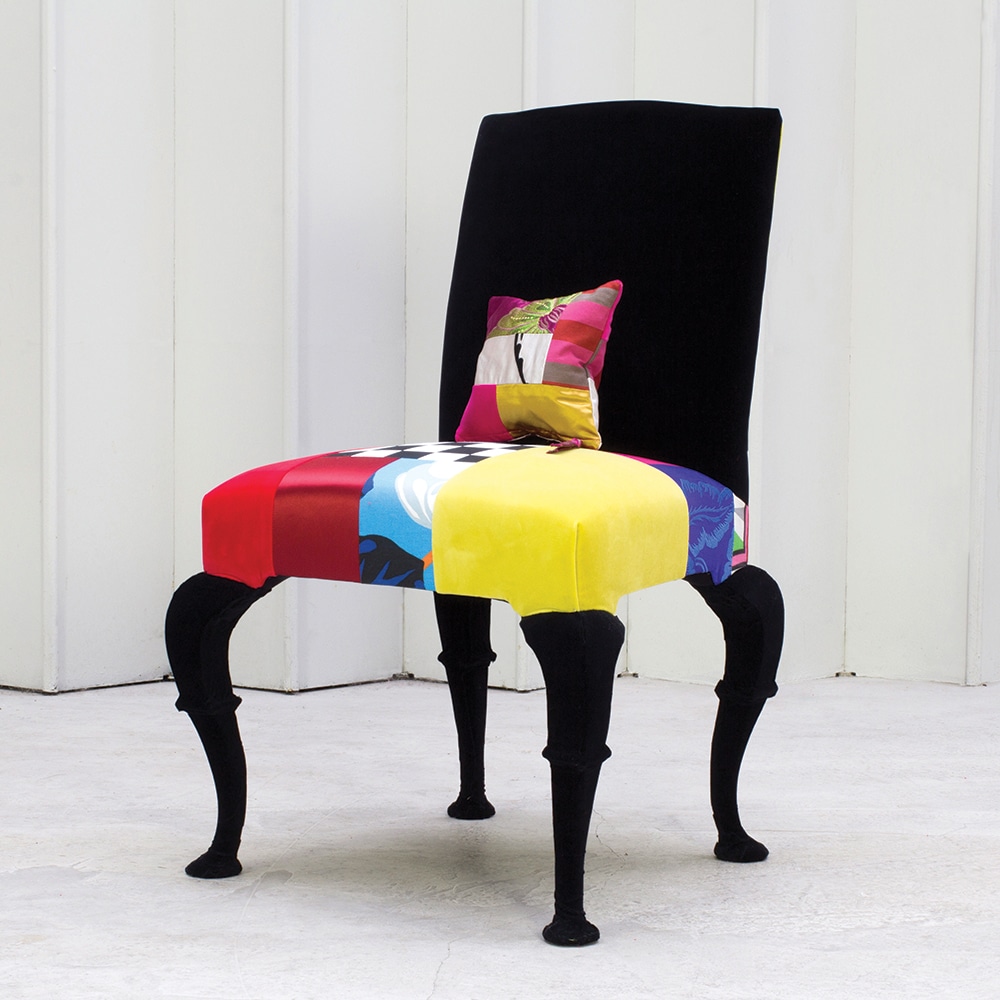 Above: The mahogany George 1 dining chair made to commission, as shown in velvet, silk and cotton parts
How do you organise the competing demands of modern day business and home life?
That takes time to work through, but I love what I do and who I do it with. There isn't really work and home: there's just life, and it flows seamlessly these days. Because of technology I don't need to be in the studio all day every day, although I am constantly responding to emails and calls to keep on top of it all. Much of it is international, so I can be in conversation online in the evenings. Likewise, I wake up early to messages from Asia and the States. It doesn't feel like a job, just conversations with fab and fun people and making beautiful things.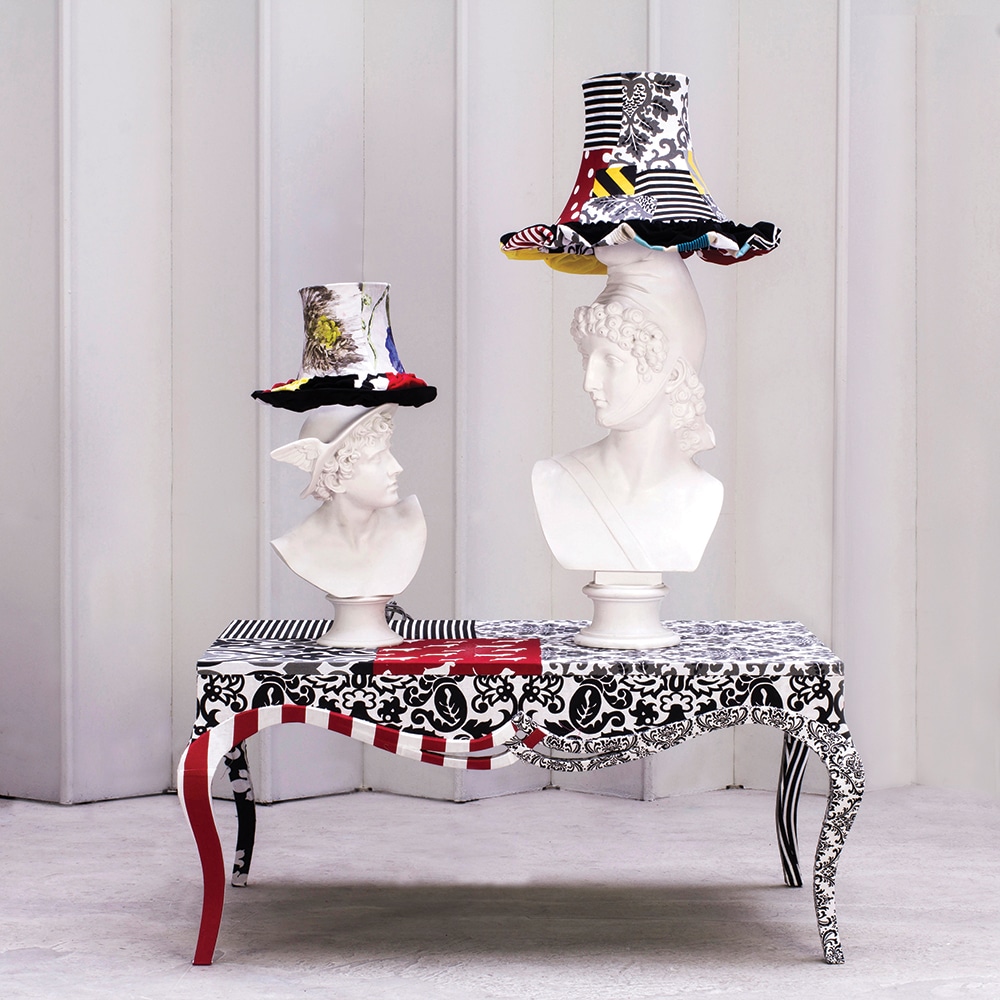 Above: Paris and Mercury marble lamps with patchwork shades, sitting on a matching patched Coffee Table.
Do you agree with Tom Dixon that the bed is the most important piece of furniture in the house?
I absolutely do. The late and wonderful David Tang always said the greatest of luxuries for him and his wife was not the house or cars or holidays, but that they got to have fresh bedding every night at home. I have several very wealthy friends whose guest beds are awful and I always complain long and loud when I stay over in an attempt to shame them into an upgrade!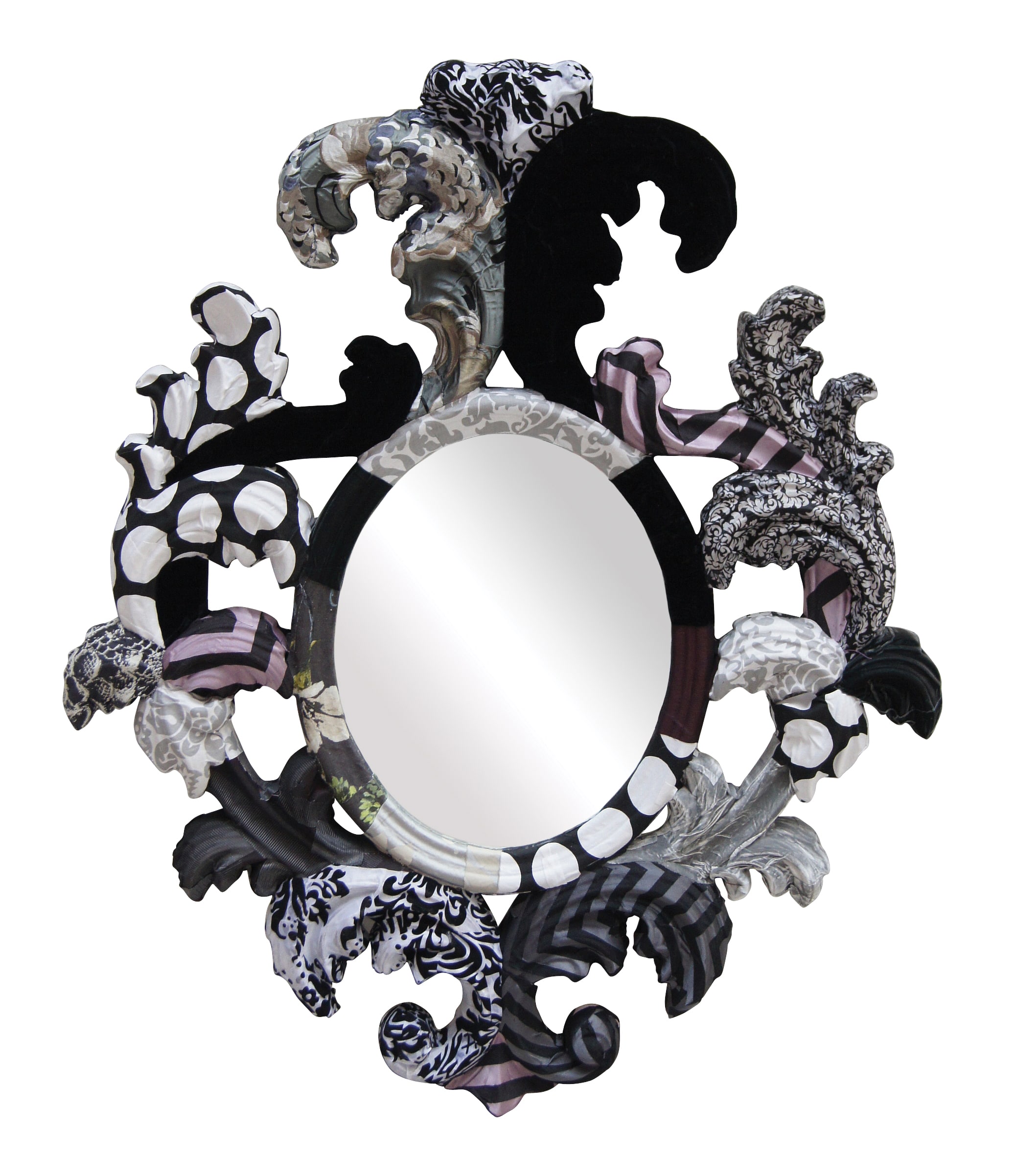 Above: The Small Oval Leaf Mirror, made to order and wrapped in single colours or patchwork.
What do you feel is the most challenging part of your work?
I think owner/makers are unusual, and we have to be both driven and prepared to just get the job done on time to the highest standard, whatever it may be. The larger the team the more stress one feels, and as a creative person, that stress sapped my creativity. Designing became the last thing of the day, after all the structural and practical jobs with the team management. I was tired and often frustrated. I've come around almost full circle now and the team is much smaller and stronger, so I don't have to micro- manage every single thing, because I trust they'll get the job done.
Are you inspired much by other designers or artists?
I'm inspired by anybody who is prepared to put their money where their mouth is and jump in feet first. It's a scary thing to put yourself out there in any realm, but if you don't do it how will you know if you can? London is so vibrant, in every arena there's an overflow of entrepreneurs who aim to be the best and bring whatever they have to the market. For me that's inspirational. It's all about the energy.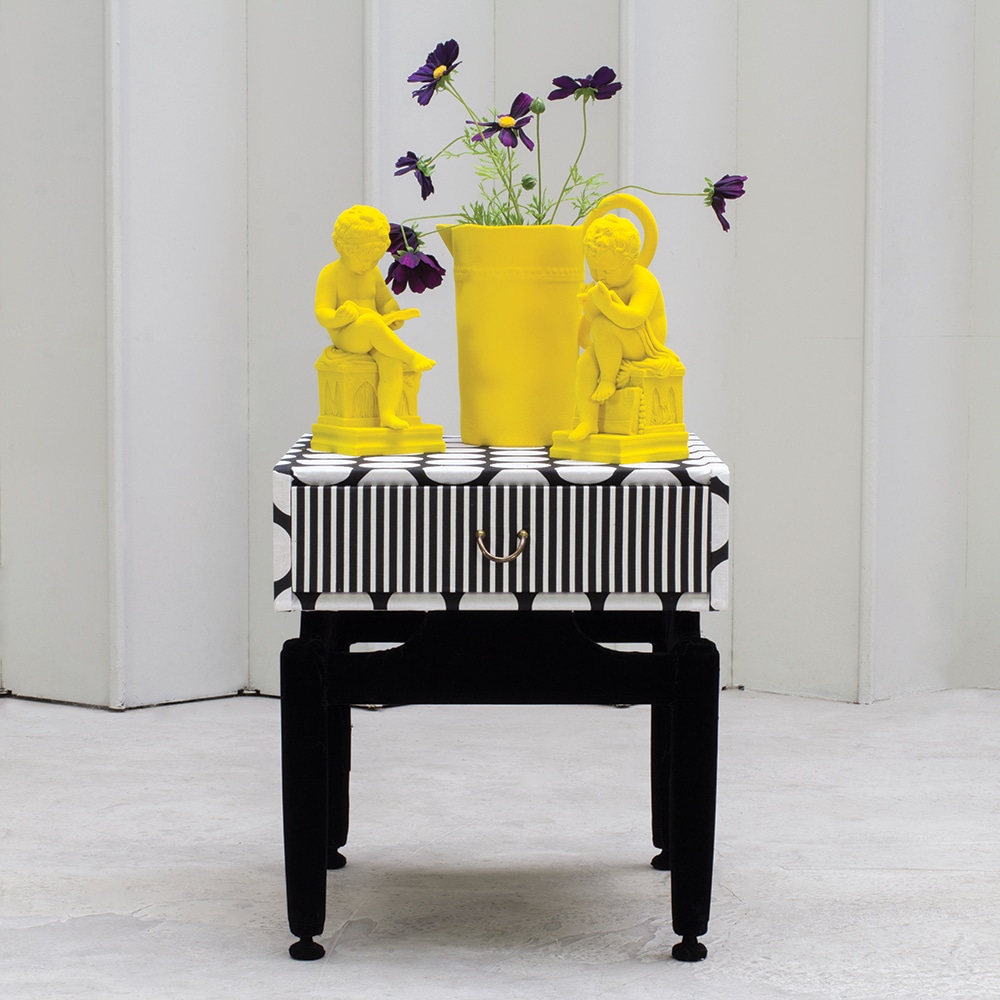 Above: Marble Study Bookends and Giant Jug, made to order in a velvet finish, sitting on a wrapped G Plan Cabinet.
What would be your dream project or collaboration?
I don't really think in those terms. I guess I've been so lucky and had all kinds of utterly amazing collaborations so far, and I do like to collaborate. Luxury homeware for Disney is top of my list at the moment and we are working on Mickey products, it being his 90th birthday this year. But any order we take gives me a bit of a buzz.
What's the best mistake you've ever made?
I think having a showroom in Knightsbridge. It was an amazing space, over two floors with a courtyard and very edgy, an unusual place in such a smart location. However, it was very expensive to lease, to staff and to fill with stock, and was a real drain for a time on our expenses. I felt we needed that postcode, which has always been prestigious for the mere fact of being an East London brand, but after three or four years, when we finally gave it up, I realized that our clientele is really only interested in the product and doesn't need the retail validation.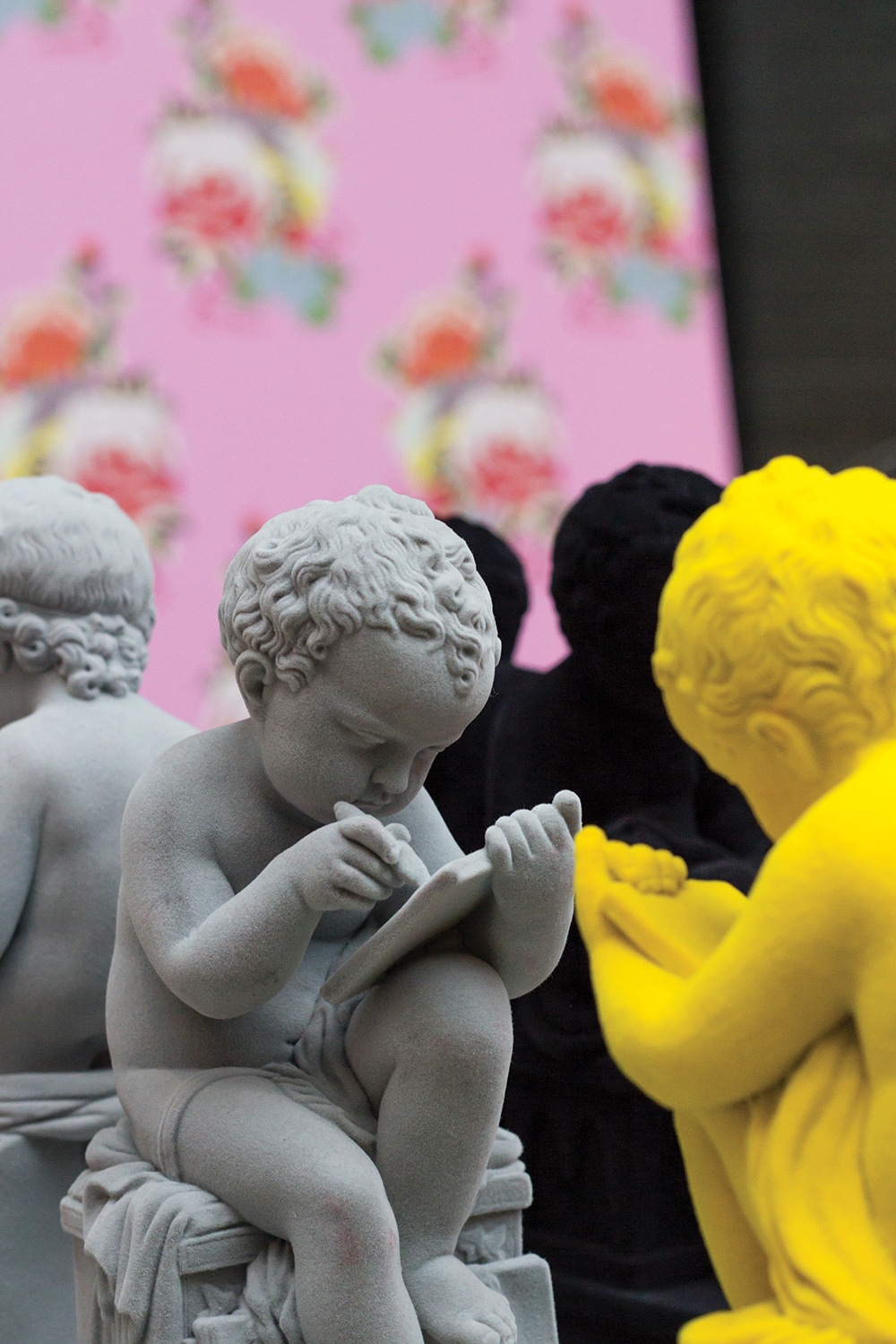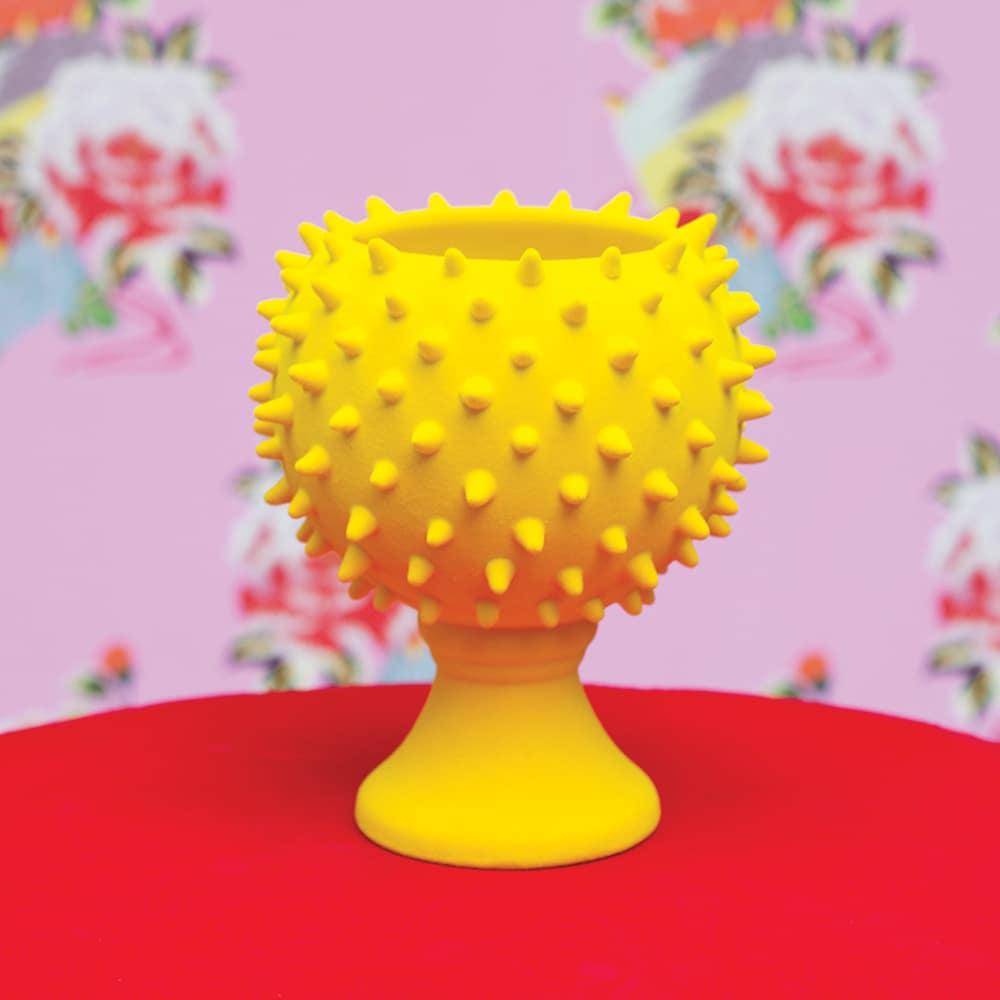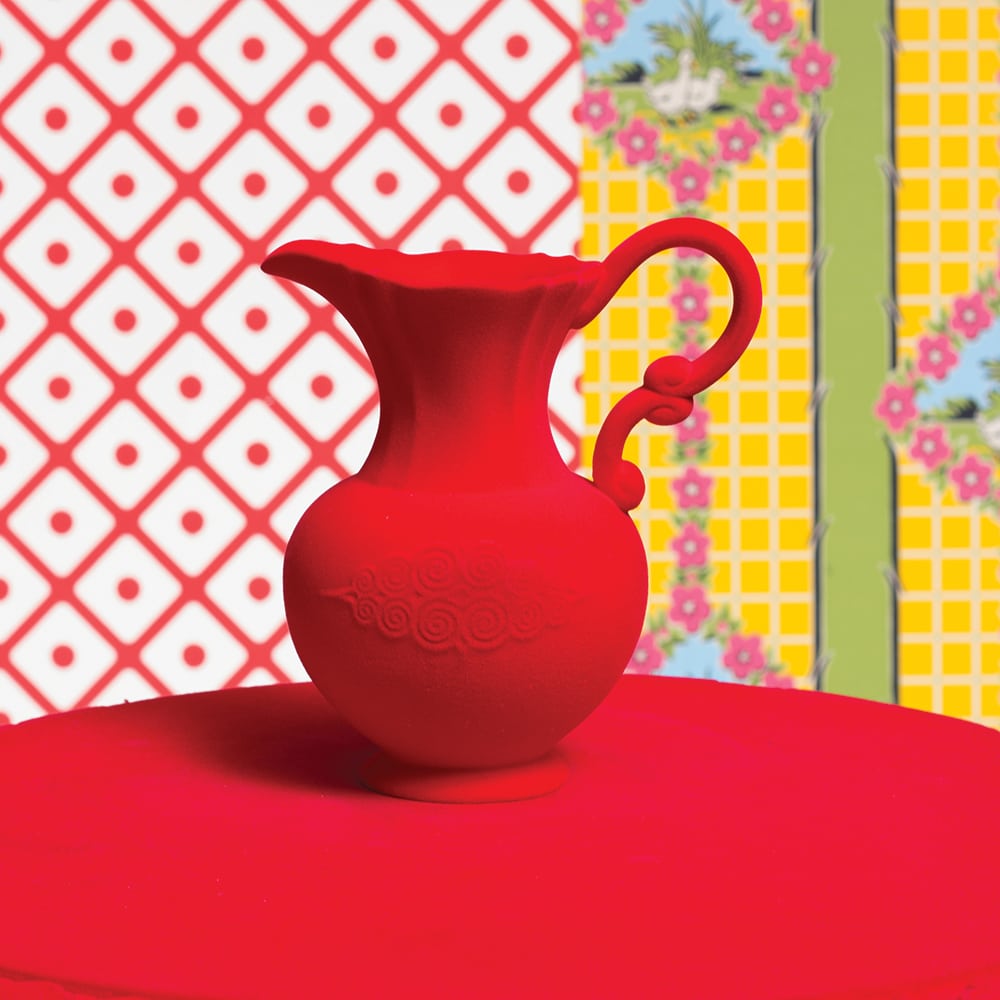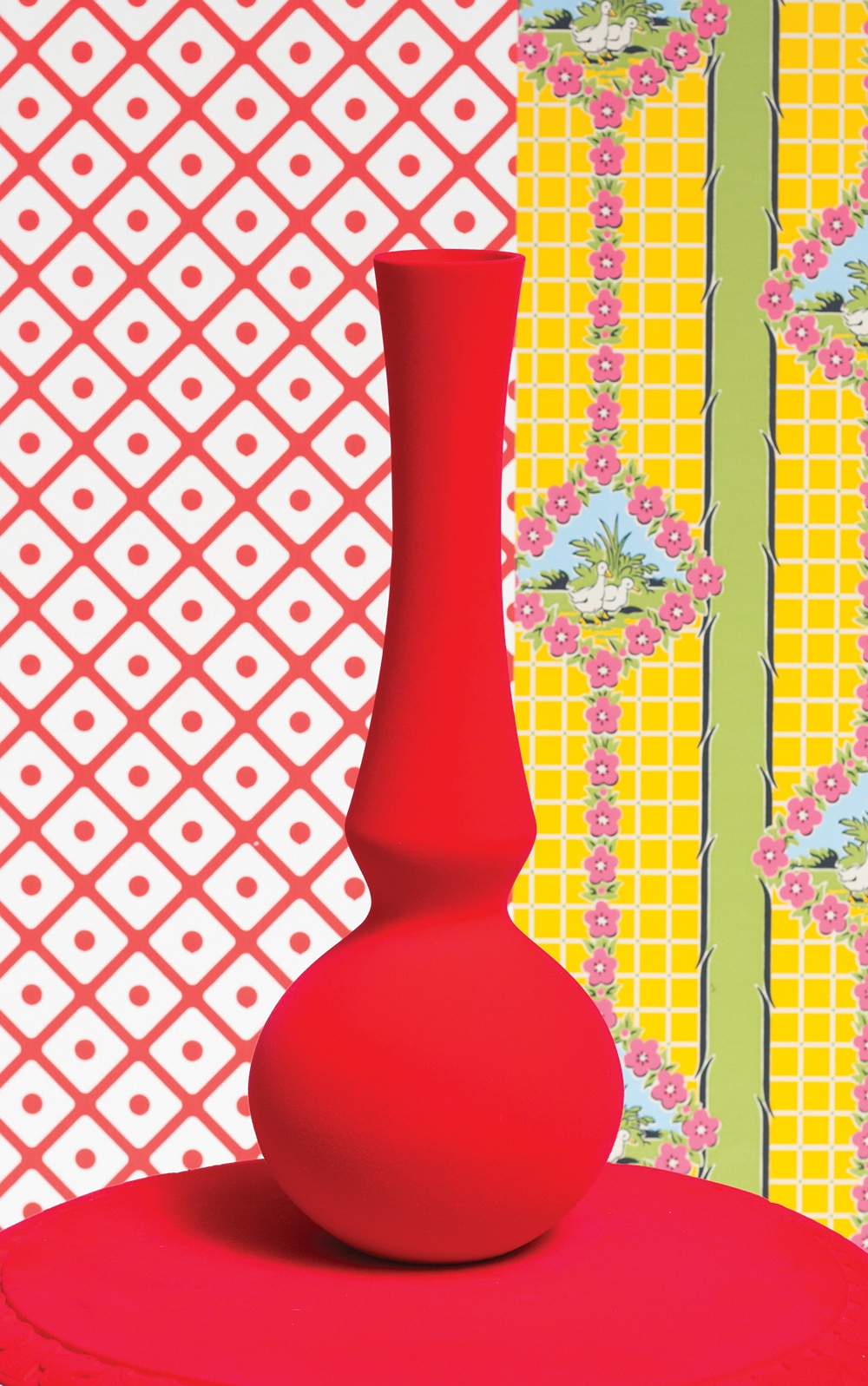 Above: Opposite page: a selection of velvet finished accessories, with a waterproof and heat resistant finish.
How would you define success?
Wanting to get up early every day and get to it. Stan, my beloved 16-year-old beagle, sums it up for me: he is always joyous in whatever moment doing whatever we are doing, while always eager for more. That's an attitude towards life we should all aspire to, I think.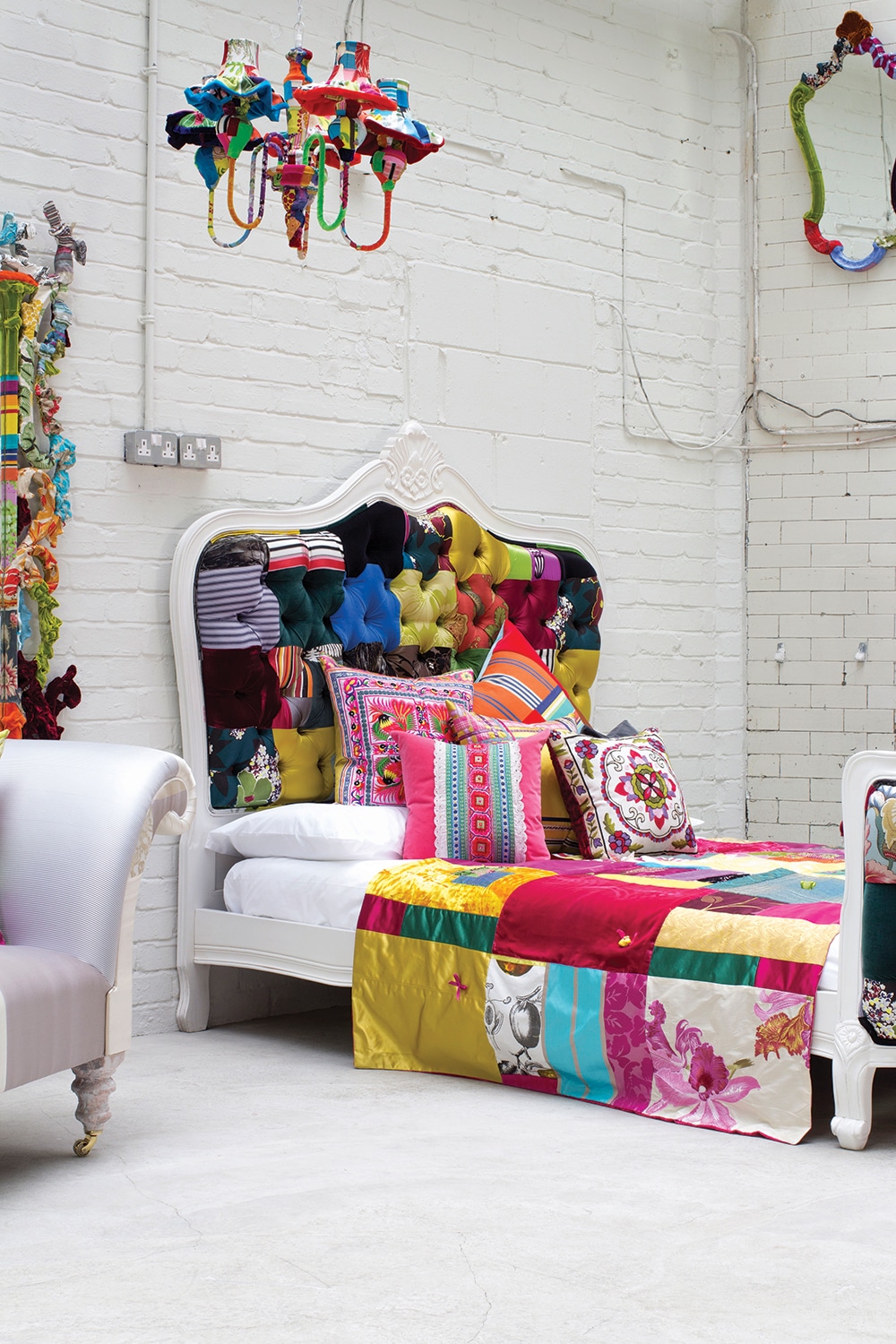 Above: The Carved Mahogany bed made in a classic French style, as shown with a patch worked head and footboard.
What's the process of commissioning a piece of furniture from Squint?
Clients are directed to our website, both for shape and colour inspiration, as anything can be the starting point for something else. A client may like the colours on a particular sofa but want a bedroom cabinet to go with it, for example, so we work out the fabrics for that palette. We e-mail them a selection of textiles and then post the real samples for the final okay in situ. We deliver internationally, so can arrange the courier or shipping agent if needed. Once the order is complete, we send over a selection of photos for approval. It's very straightforward and we've fine tuned the process over the years.
What projects have you in the pipeline?
We have a variety of private clients coming up, including some London property developers and Disney, of course, with Mickey's big 90th. We're also working on a project for China and the Shanghai Design Fair next year, in collaboration with a commercial client. A number of things going on in Seoul too. It's very much a global proposition now and I do enjoy the differences in taste, territory-wise. The internet has made shopping overseas so very simple… it's great.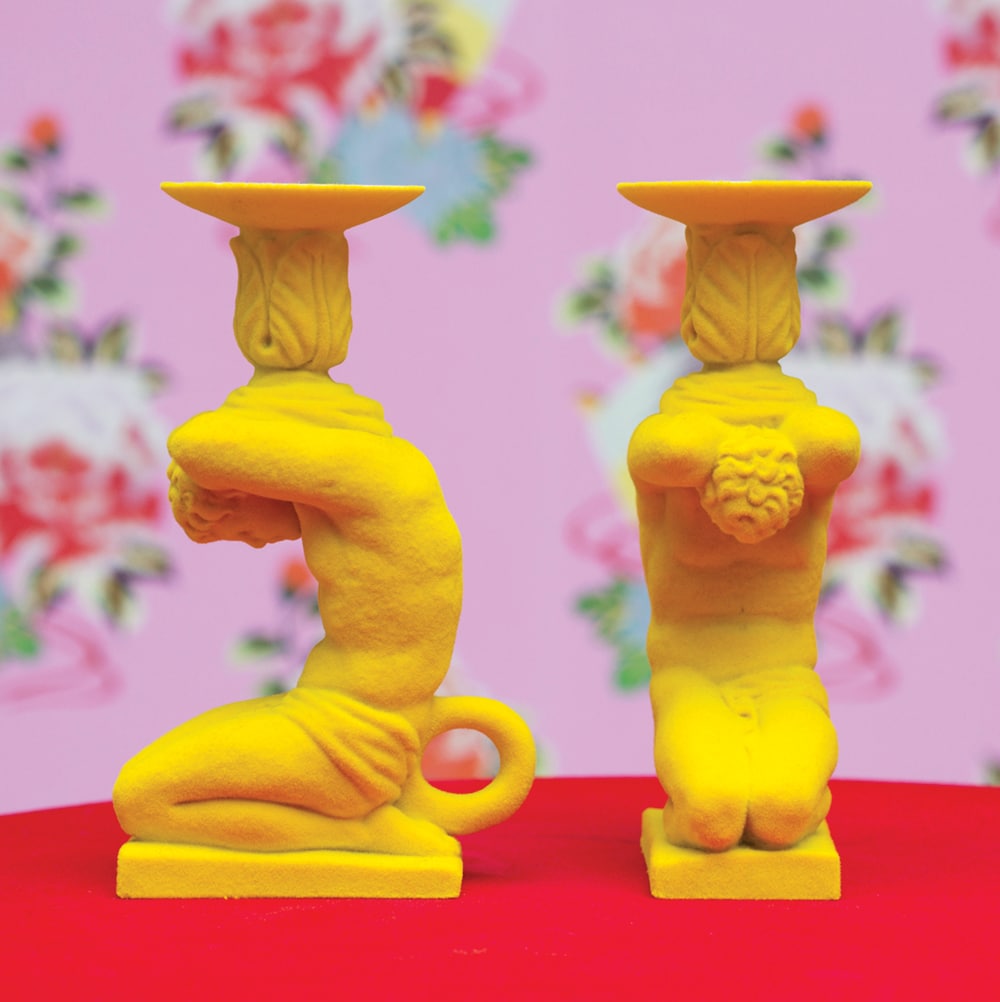 Above: Atlas with candle holder sculptures, a Grand Tour pair made to order in a bespoke velvet finish
What's your motto?
The Best of British. That and be happy. Love what you do and feel the gratitude.
---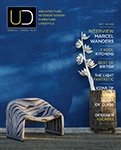 This article first
appeared in the
3rd issue of
UD Magazine.
Click on the image to read online.
---