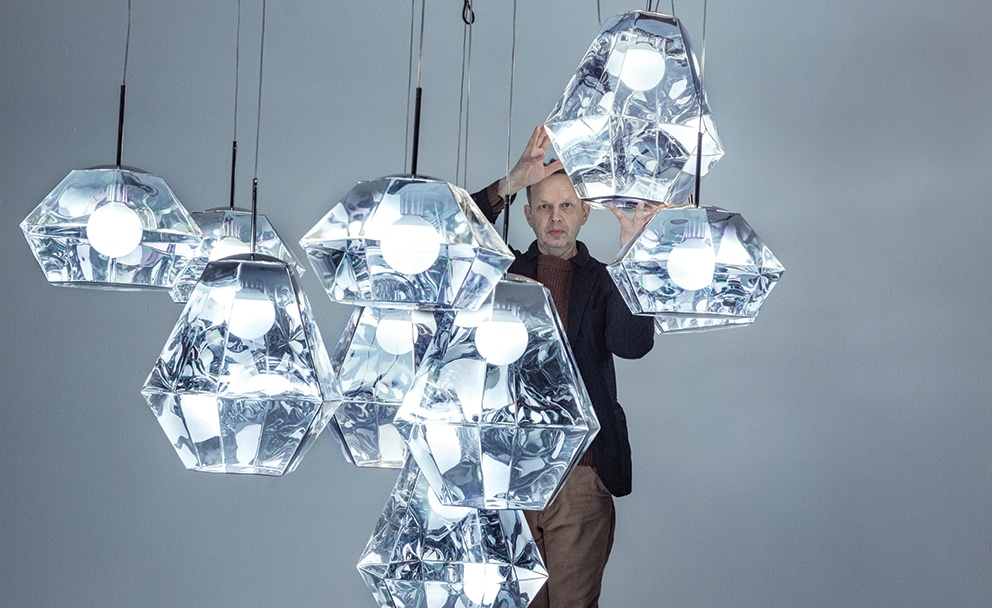 Born to Design: Interview with Tom Dixon
To know about Tom Dixon, there's no need to read a word. Just look at the pictures. In fact, the story of his life, even without pictures, would make a fascinating article in itself, but we believe his life, his story and his work are one of a piece. He is, quite simply, defined by what he makes.
Born in Tunisia, brought up in London, studied for six months in Chelsea School of Art, printer, designer, cartoon film colourist, pop musician, night club manager with a need to decorate and thus, welder of scrap metal and designer. The bare bones of his life-story give some hint of the way life itself turned him into what he is today.
"I wouldn't want to be orthodox, would I? I think…"
Little would he know then that his work would now be in some of the most prestigious museums in the world, such as the Victoria & Albert, the Moma and the Pompidou Centre, and that his products would be on sale in more than seventy countries in the world. Oh, and an OBE in 2001.
Tom Dixon makes things, in an uncomplicated way:
"My stuff isn't complex. Most of it is making it look simple and getting it at the right price. And still allowing it to be different from everything else…
"I just like seeing things made. And I think, weirdly, everybody kind of does. Humans have a natural inclination to fiddle with stuff and learn how it works and be part of it."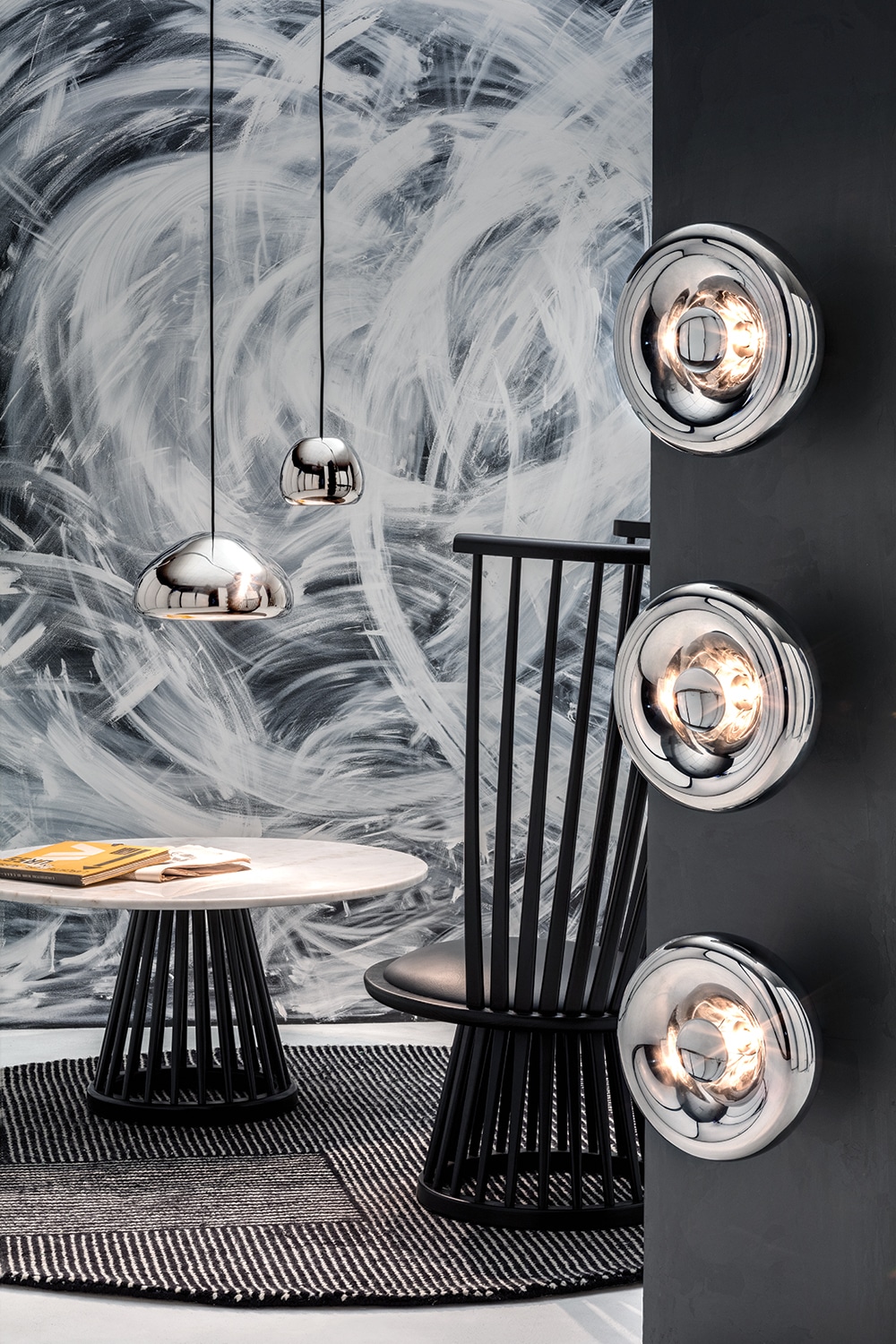 Above: Void surface and pendant lights with Fan table and chair.
And his close friend Deyan Sudjic, director of the Design Museum, says of him:
"Tom's always coming up with something new. I don't think he's an evangelist. He just likes to do interesting things in a not too Sturm und Drang kind of way."
Some of the details of his career have become legendary. He stole manhole covers in the street for use in seats and replaced them with others of his own design. He gave away hundreds of chairs in Trafalgar Square. He submerged chairs for years in Miami waters just to see what happens to them, and to save on storage costs. He designed a couple of vibrators. Among other things, of course.
But he will be remembered by many as the designer who loved to scavange in tip heads.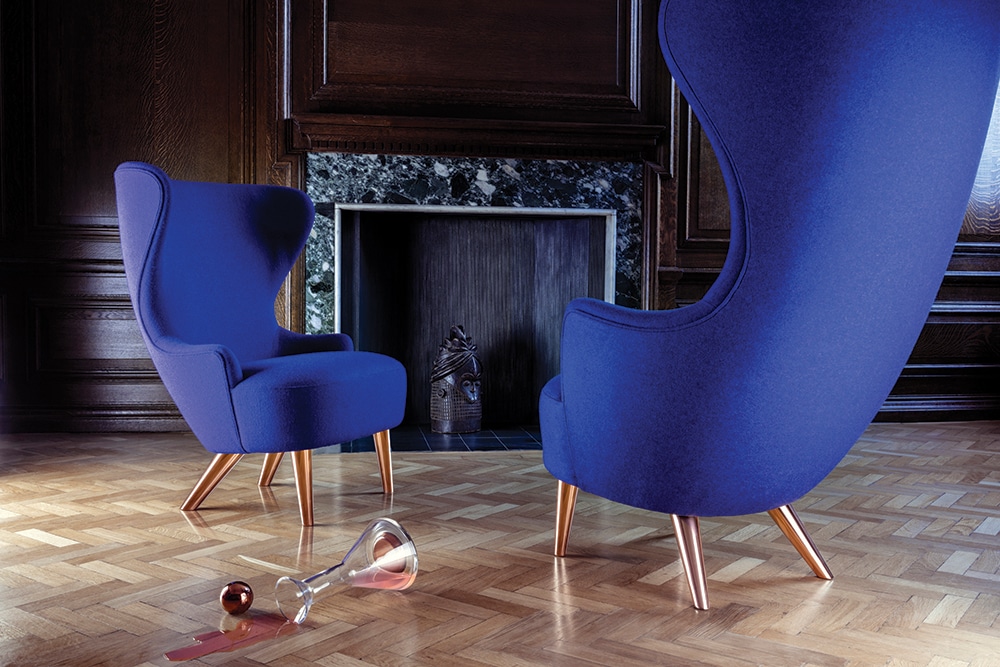 Above: Wingback Armchair. Inspired by the 17th century wingback and the smaller 18th century balloon back, these refined hybrids have been re-imagined and updated for the 21st century. The exaggerated proportions of the wing and the extravagant scale of the chair allow the sitter to be enthroned against a grand backdrop or completely hidden from view.
"The fight even now," he told UD Magazine, "is to avoid being typecast or pigeonholed into being the person who makes chairs out of scraps."
People are becoming more aware of design, he believes:
"They are interested in the process and where stuff comes from. There's such a remoteness from how things are made now and how they function. There's a symptom of people not feeling like they have any power over their environment. You don't know how a phone is made."
We asked him which design he would most like to be associated with in the long term:
"The S-Chair provided a step out of the self-production ghetto," he said, "while the Jack proved a convincing attempt at mass production."
The first is a reference to his most famous design, the S-Chair, which he made while working at the Italian giant Cappellini, and the second is what he describes as a "sitting, stacking, lighting thing", a multifunctional object that was one of Tom's first experiments with plastic, made by a process of air rotational moulding which gives an even wall thickness.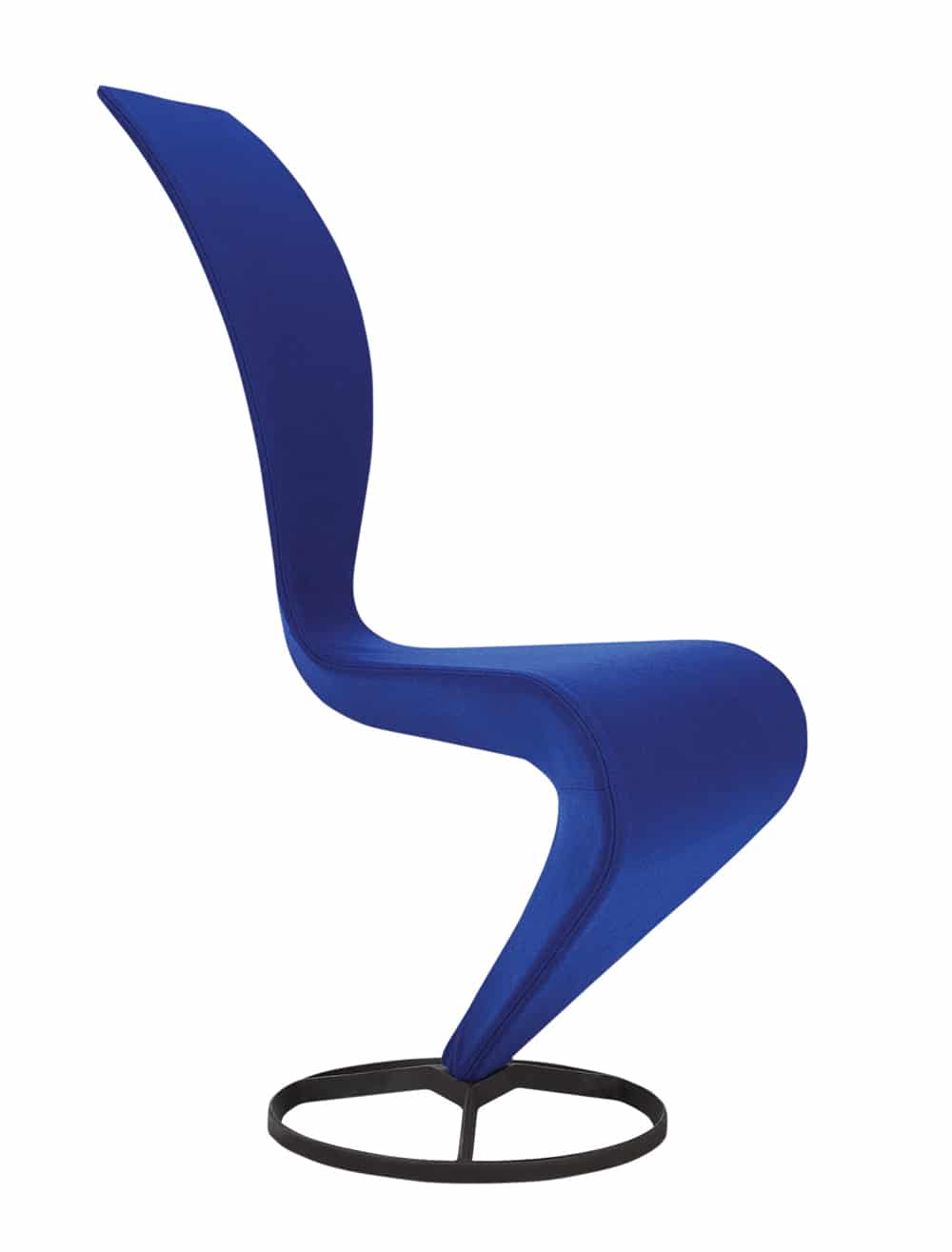 Above: Tom Dixon's S-Chair
We asked how he managed to keep coming up with new ideas:
"A designer has to be working on the edge of their comfort zone, innovating with new processes or materials or shapes or new combinations of functions to create something new…they have to be in the present."
As for the future, he writes in his Dixonary, exciting times are coming with the new decentralised digital manufacturing processes.
"Products can now be made, adapted and reinvented to suit individual needs with simple software that is common between designers and industry – a dream for designers, manufacturers and shopkeepers for centuries."
His empire is in constant expansion. He opened his New York office and distribution centre in 2007, his Brand Centre and Retail Shop in London and his office and distribution Centre in Hong Kong in 2010, his first concession store in Harrods of London in 2014, his second Tom Dixon Shop in SoHo, New York, in 2015, and his third stateside Shop in Los Angeles a year later.
Curiously, one of the products that helped turn his company global was, he says, a design failure, although if he had achieved what he wanted with this design, it would have adversely affected the growth of his company.
The Mirror Ball is a highly reflective lamp made of a lightweight transparent plastic sphere coated with a thin layer of aluminium, and sells, on average, more than a thousand every month.
"I thought that if I made the simplest shape I could get away with in highly polished mirror, it would be invisible because it would reflect its surroundings."
The best-laid plans…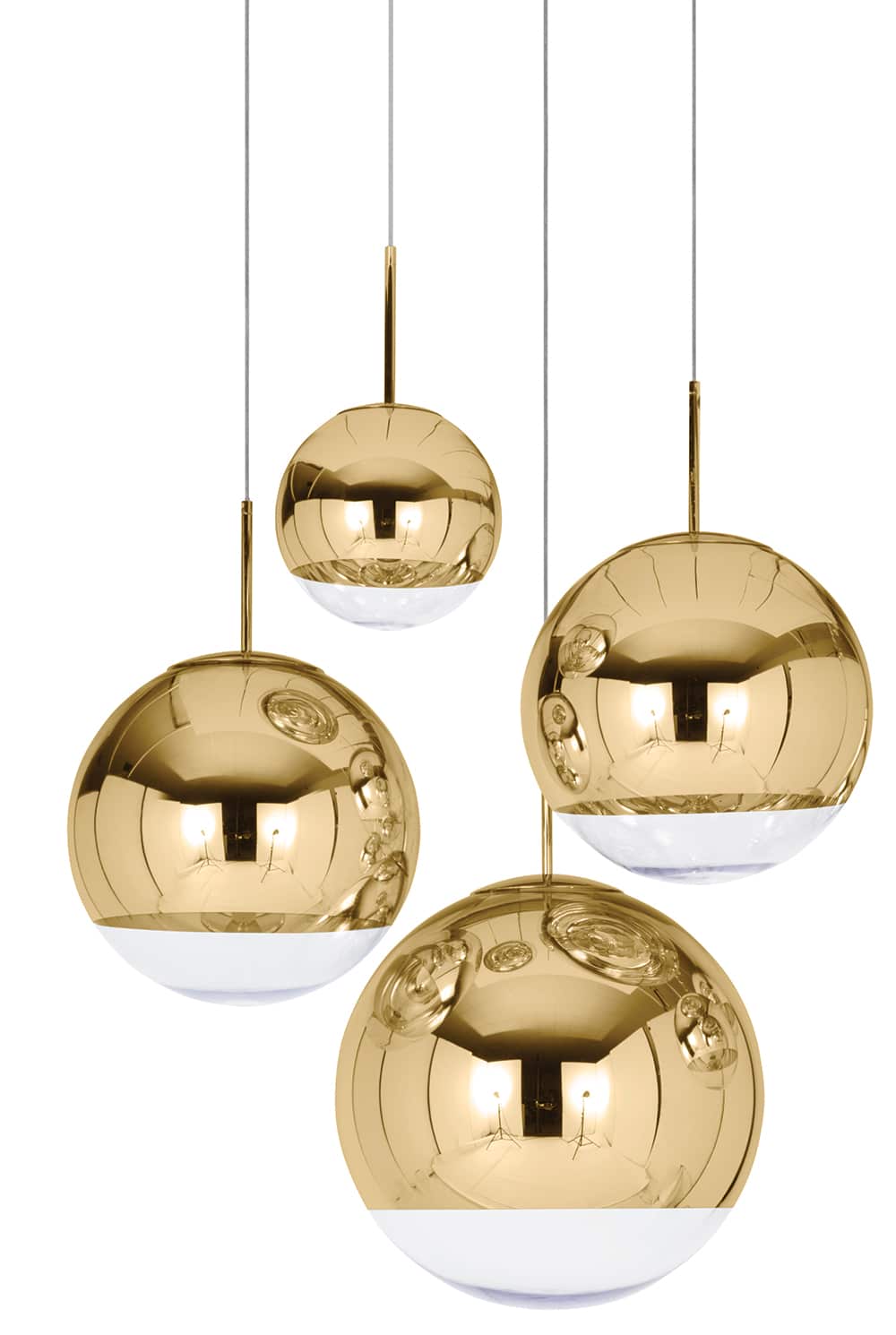 Above: The Mirror Ball
"In practice, it did the polar opposite," he says. "It is very much a focal point of a room, almost a blingy object in a way. But it made it a more successful object commercially as a result. So that's a lesson for all designers. Sometimes your biggest failures could be your biggest successes."
The company was bought by a private equity firm in 2015, but this has not changed Tom's approach to his work in any significant way, even if he was initially uneasy with the situation.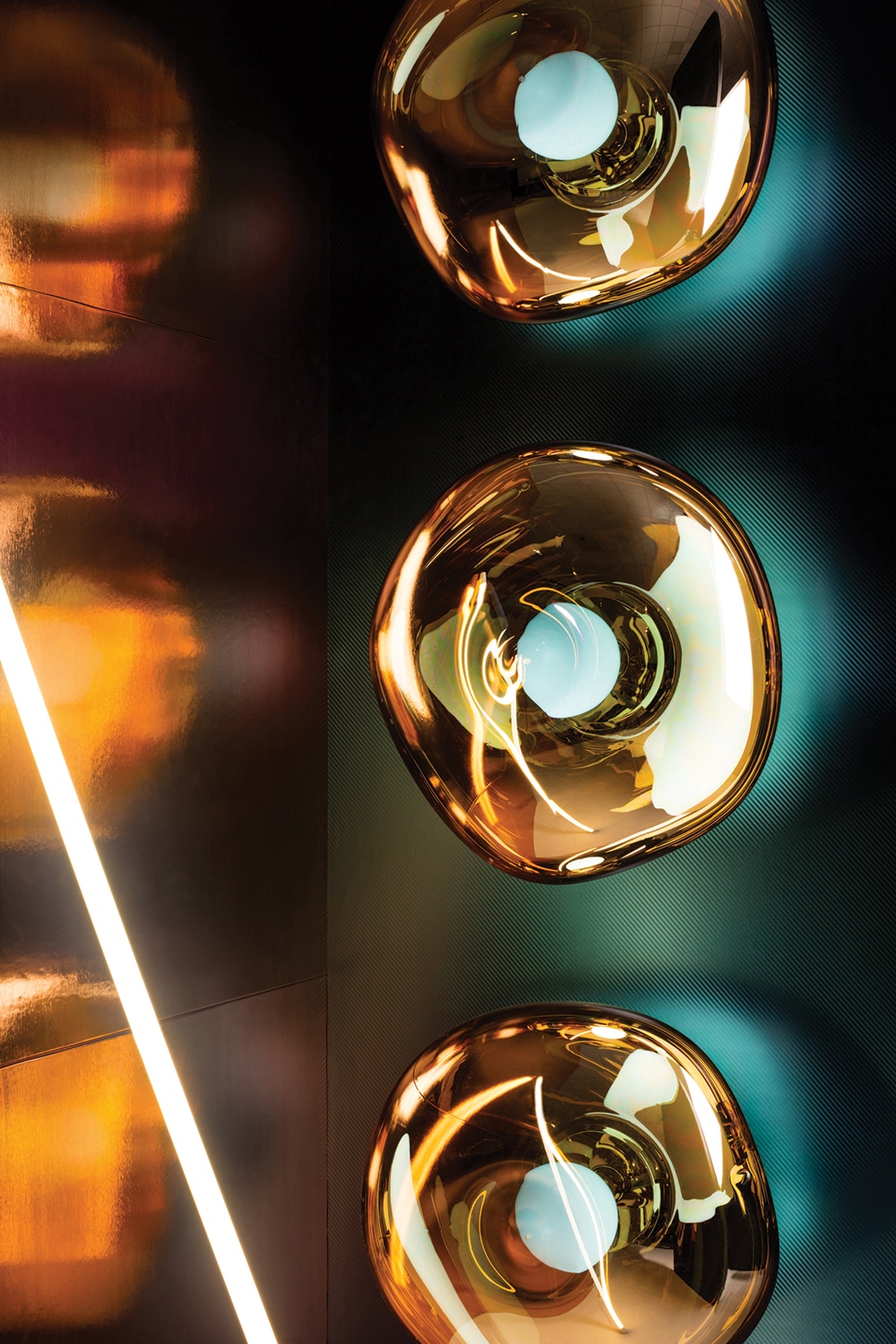 Above: Melt Surface Light: this latest evolution of Melt can now be mounted on any surface – wall, ceiling or floor.
"It's a fight that is quite often: how do you maintain the joy of making stuff, and maintain freshness when the thing becomes a proper business?"
"Sometimes your biggest failures could be your biggest successes"
A recent BBC programme gave us part of the answer. At issue was the primary purpose of the already famous Delaktig bed/sofa, designed in a minimalist style by Tom Dixon for IKEA as a kind of updatable platform – essentially a single bed – in tough aluminium, with the possibility of adding parts and changing its purpose as life's needs evolve. Basically, it can be a bed or a sofa, but the design permutations are endless, and best of all, it can all be easily done by the owner.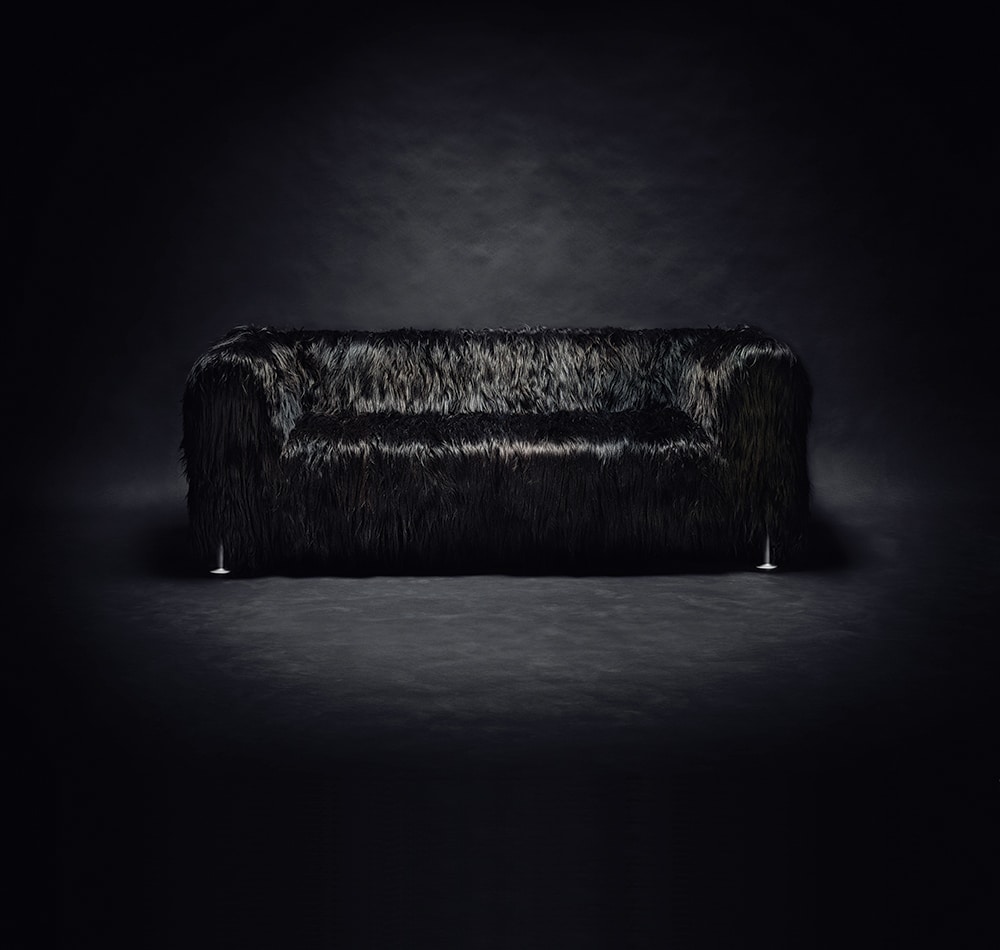 Above: The Delaktig bed/sofa pictured with our favourite haute couture hack, the Furry Cover. IKEA have grown accustomed to being hacked; it is, in a way, a mark of appreciation. But now the company, and Tom Dixon, invite us to hack their most recent star creation, by adding components as the years go by. Welcome to the future!
This was a new departure in furniture design, and surprisingly, a product nobody had really thought about before. It is quite beautiful, both in its simplicity and its concept, and it will clearly have a decisive influence on furniture design in the future.
Dixon had insisted from the start that it was to be a bed first and a sofa second, given that a bed is the most important piece of furniture in a house. He also knew there were bureaucratic issues to be resolved if it was to be sold as a bed, and they were resolved. But the IKEA bosses were more interested in getting it on the market quickly. At one point, while the product was being shown for the first time at the Milan Furniture Fair, it looked as if they might win. The documentary was a thriller right to the end, and guess who won?
---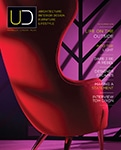 This article first
appeared in the
2nd issue of
UD Magazine.
Click on the image to read online.
---