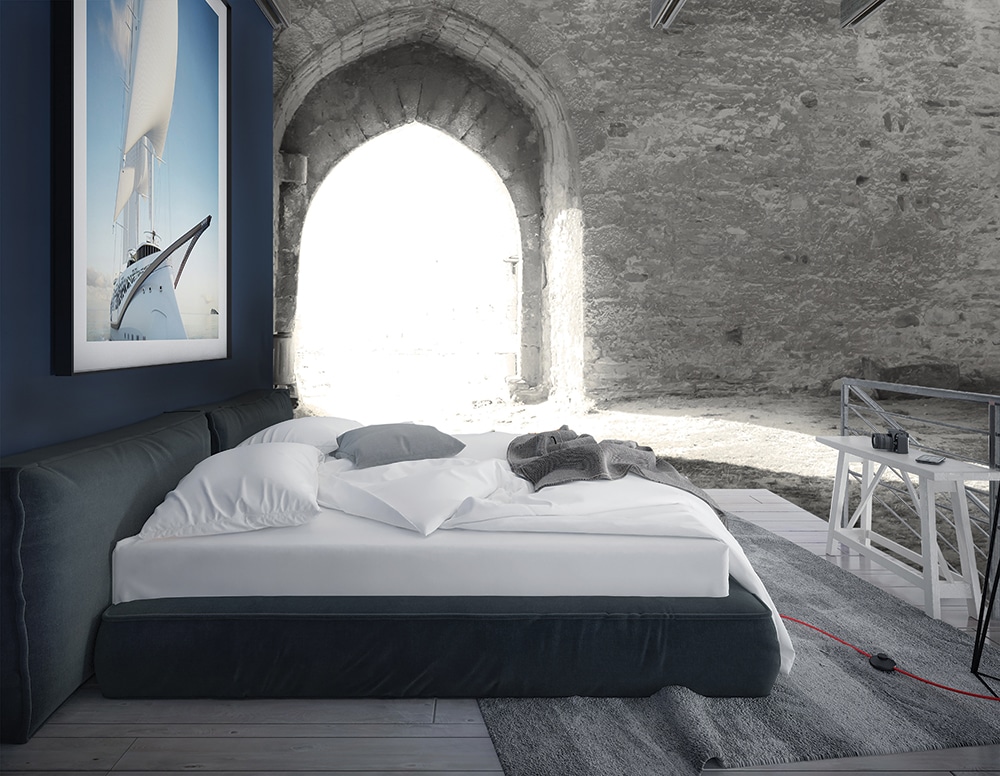 Paper Magic – wallpaper like you never seen it before
Some things are not what they used to be. Wallpaper was guaranteed to give a dowdy look to a drab room, and we always knew what to expect. But a touch of magic has been injected into the extraordinary wallpapers made by an Italian firm called Creativespace. Now, we can expect the unexpected.
Text: Sophie Ann Gatward-Wicks   Photos: Creativespace
We don't have any other word for it, so we call it wallpaper. But this is wallpaper of a different species: not flimsy paper that weakens body and soul trying to paste it on a wall as background decoration, and not design motifs limited to repeat patterns inspired by flowers, and more flowers, and the odd plant and then more flowers. This is none of that.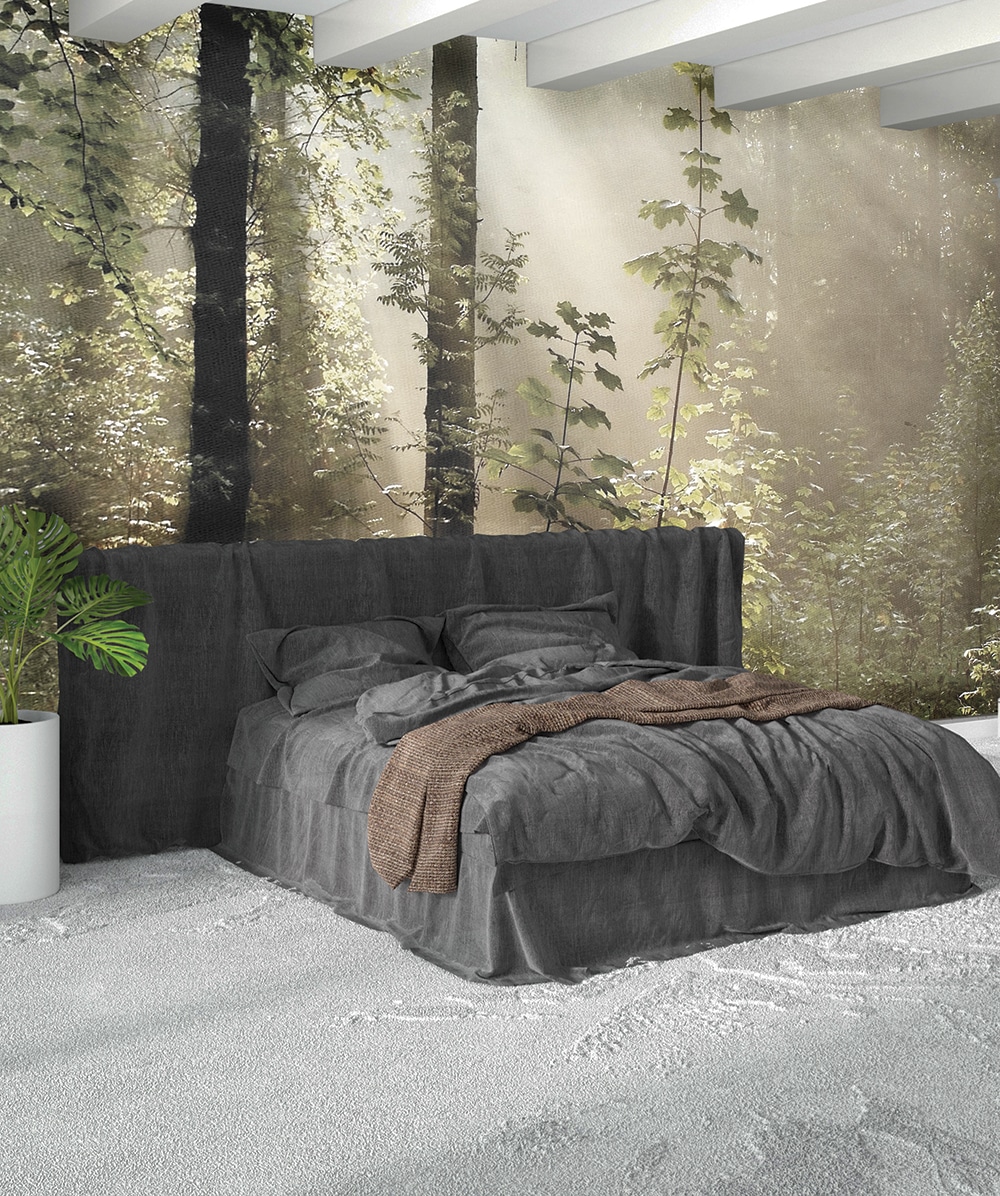 Above: You can reach out and touch the sunlight in Green 2.
No, this is a way to utterly transform a room, to become a new room – almost literally – using digital printing technology to create a durable, washable wall-size mural based on any design or image anybody could possibly come up with. If you can conceive it, they can create it. And if you can't, the aptly named Creativespace company can still do it by presenting suggestions and samples that will blow your mind.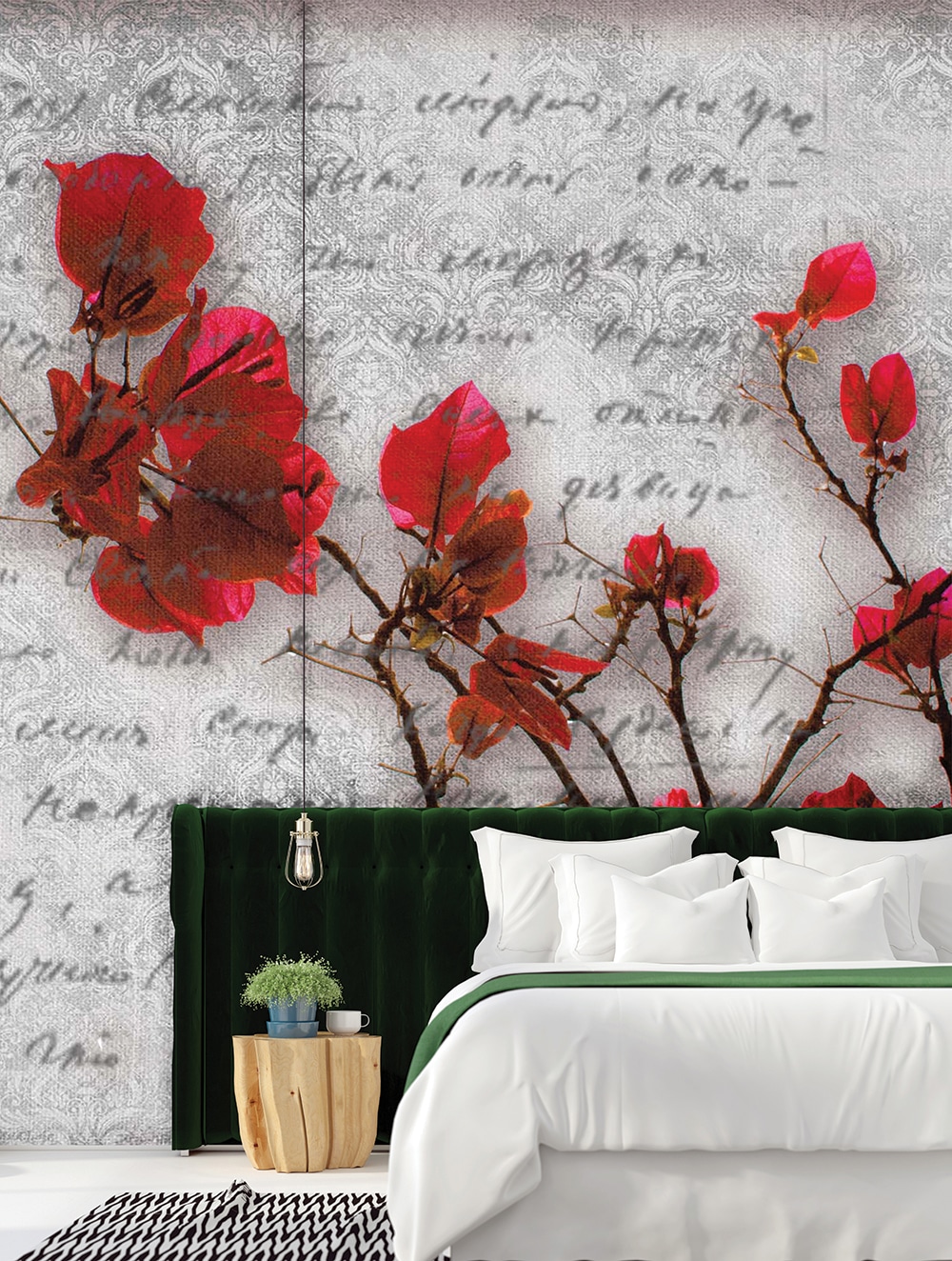 Above: Poetry and bougainvillea to wake up to in Fiona.
Rather than simply decorate a room, 3D wallpaper transforms it completely
You pick the emotion and mood you want, which is basically what constitutes all art. Emotion and mood, photographed or painted, drawn by hand or generated by a sophisticated computer programme, copied from a work in a museum, from a doodle on the back of a used napkin or from a snapshot of your cat: the only limitation is that the original work is not still subject to copyright. Or you can choose the most normal of images: trees in a forest, flowers in a field, an ancient doorway hanging off its hinges, and the technology used by Creativespace will print it in absolute detail on tough paper or fibreglass to cover any vertical space in your house.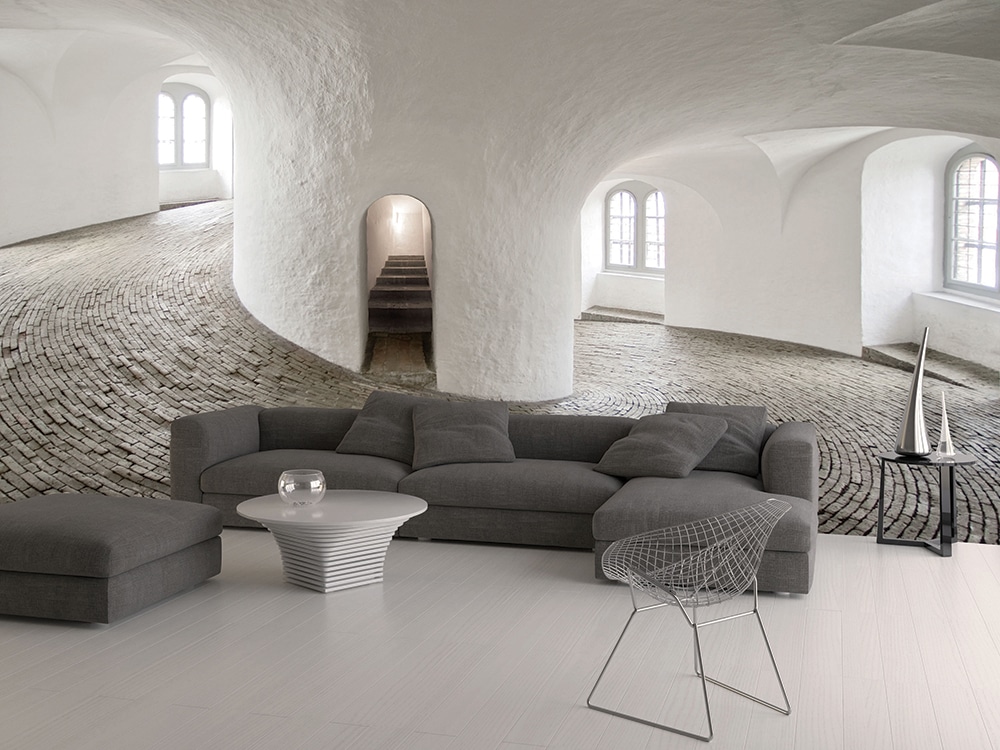 Above: This mind-bending mural, named Castles, extends both the room itself and the spatial perception of the person in it.
You may be in the difficult but rewarding process of restoring an old property and need to re-create some of the vintage wallpaper on the walls. You have no more than a small fragment, but that is enough. The Creativespace designers can use it to continue production, however long ago it stopped.
"We re-interpret photographic emotions by dressing walls." Creativespace
This will not come cheap, of course, although costs may be reduced by ordering less than a complete roll for a smaller area. But take a closer look at the pictures on these pages: rooms using contemporary mural wallpaper are focusing attention on the mural to such an extent that all furniture in the room must complement the mural, rather than distract from it. That invariably means very little else is needed, or indeed desirable.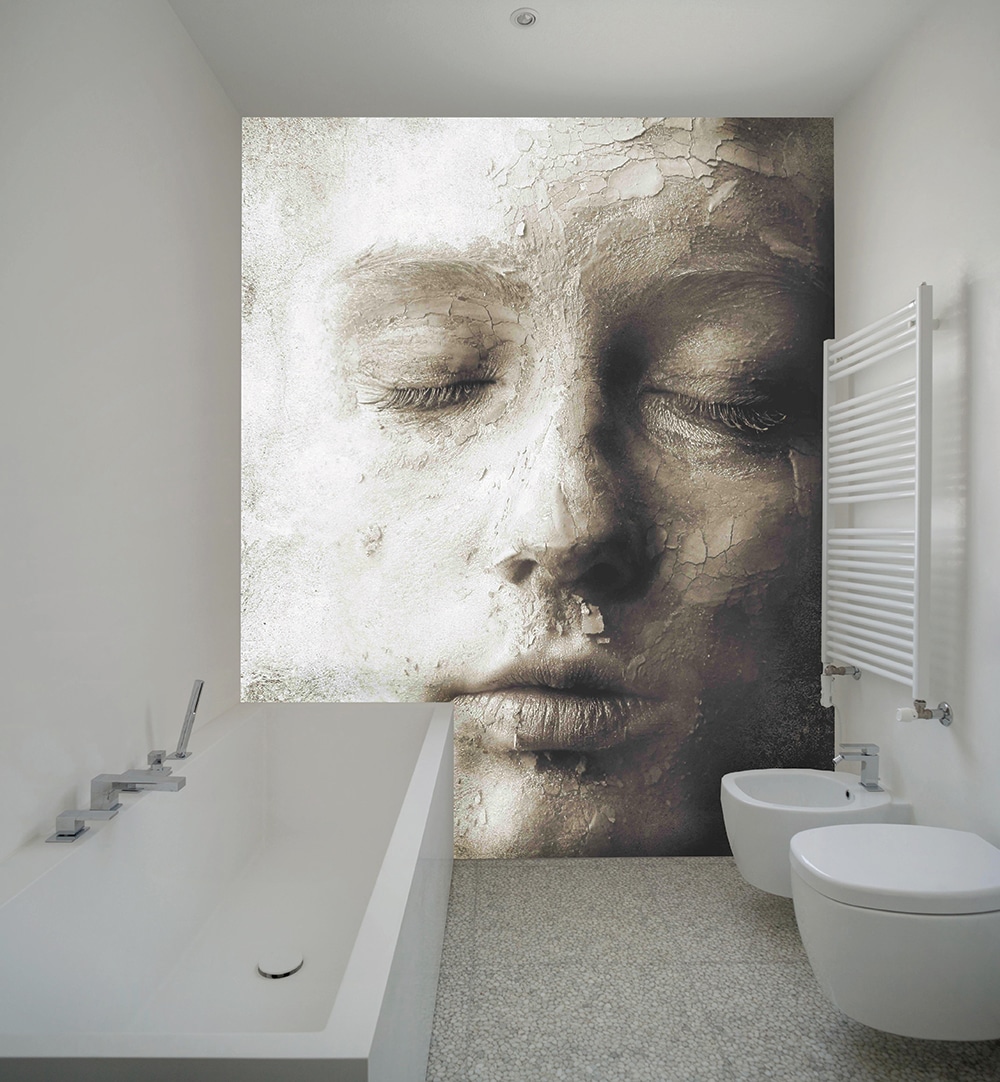 Above: The dream-like Face, with it's close, intrusive perspective, brings the mural into the bathroom with you.
A glance at the images here shows the huge variety of moods one can create in a room, and closer examination reveals how it is done. They all have one thing in common: they almost all extend the room, sometimes by using a design that one can reach out and touch, sometimes by using clever perspectives to show what could possibly be an actual extension of a room, and sometimes by inviting the viewer to keep walking – out into the forest or straight up the steps in the last two photographs. On the other hand, in the image above, the face seems to come into the room, which is devoid of any other decoration. The photographic images are so lifelike that they turn the rooms themselves into new worlds, but there are many other options available too: the use of painted artwork, graffiti or hand-drawn sketches are just some.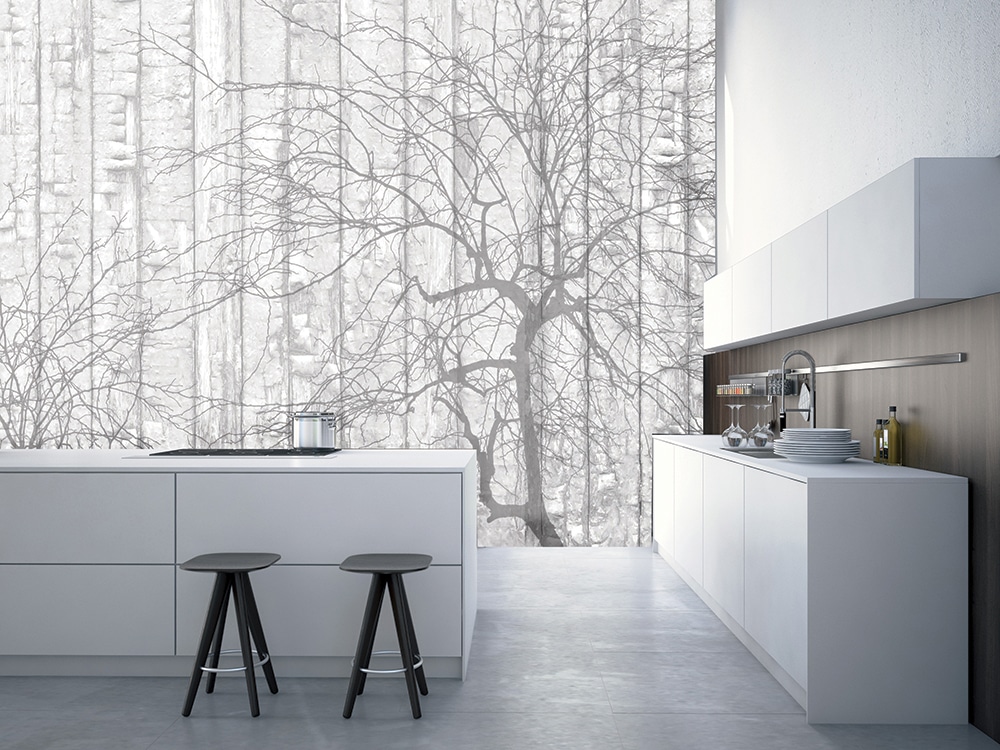 Above: Tree, a still visually silent landscape.
A basic knowledge of decoration is needed to make the best use of the mural wallpaper. No point, for example, in using ill-chosen colours in the furniture against a subtle grey mural: one visually obliterates the other. In the bedroom below, the colour of the headboard matches that of the mural, while in the last two photographs already mentioned, the shapes, positions and tones of the furniture are just right for what we see in the murals behind. Evidently, planning is essential from the start.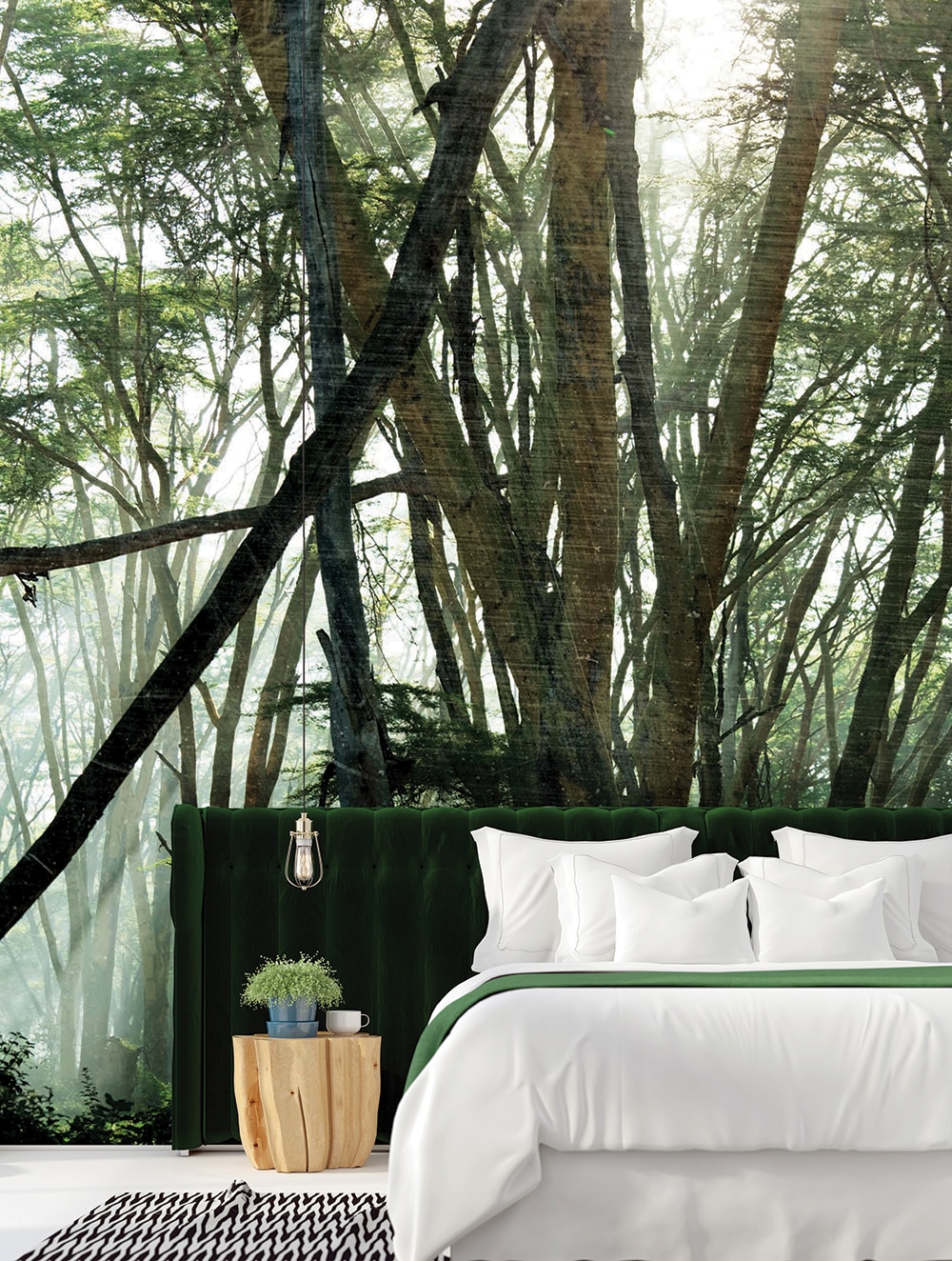 Above: Nat, a misty forest to lull you to sleep.
The Creativespace company can provide you with a 3D rendered preview of what you want, which could be particularly useful when using bold designs. You send a picture of your wall with its measurements and the design you want, and they give it back with the simulations. The service is free of charge.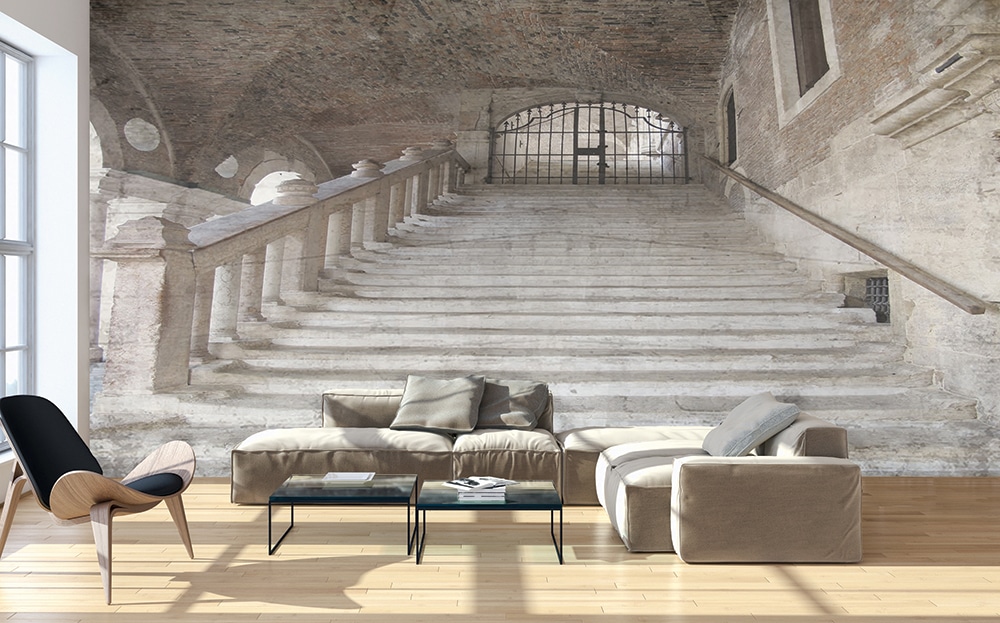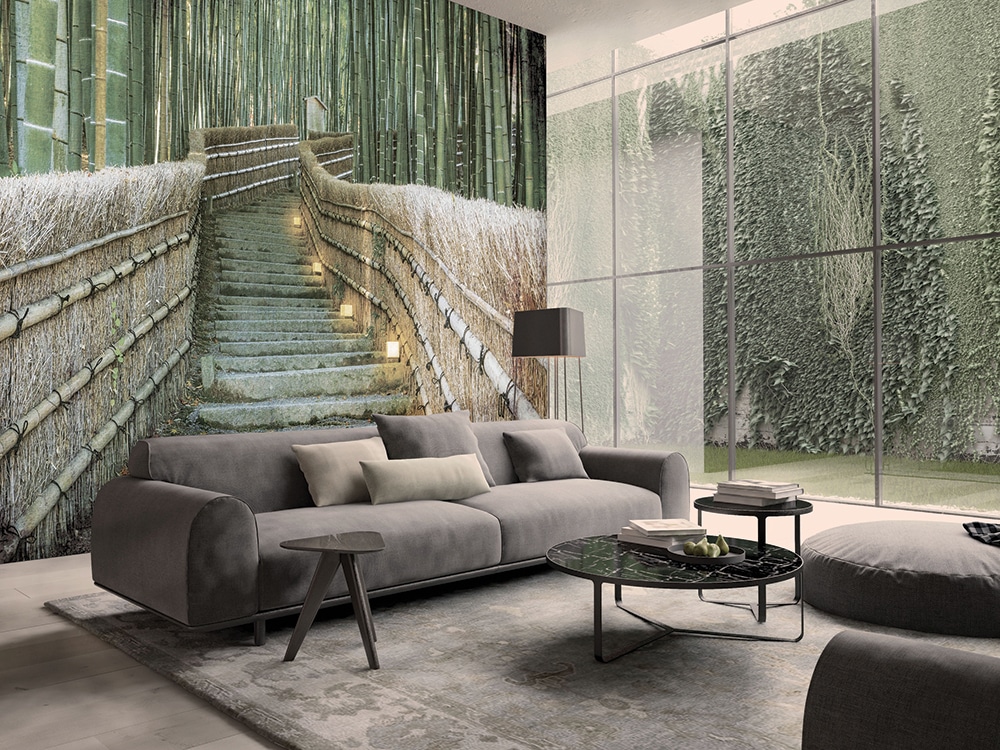 Above: Step and Candle, both entreating you up where you your imagination takes you.
The wallpaper itself (paper-based for dry spaces, fibreglass for bathrooms and the like) costs between fifty and a hundred euros per square metre, but you are advised to use the services of a professional interior designer in making your choice of image.
You may also need a professional to hang it, which ups the cost by between ten and fifteen euros per square metre. This is, in fact, very reasonable, taking into account the results achieved and the more expensive alternative means of decorating space and transforming it completely.
The wallpapers that appear in this feature are available from the UDesign showroom in San Pedro (Marbella).
Visit creativespace.it to see more wonderful wallpaper.
---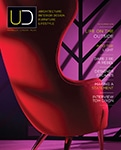 This article first
appeared in the
2nd issue of
UD Magazine.
Click on the image to read online.
---