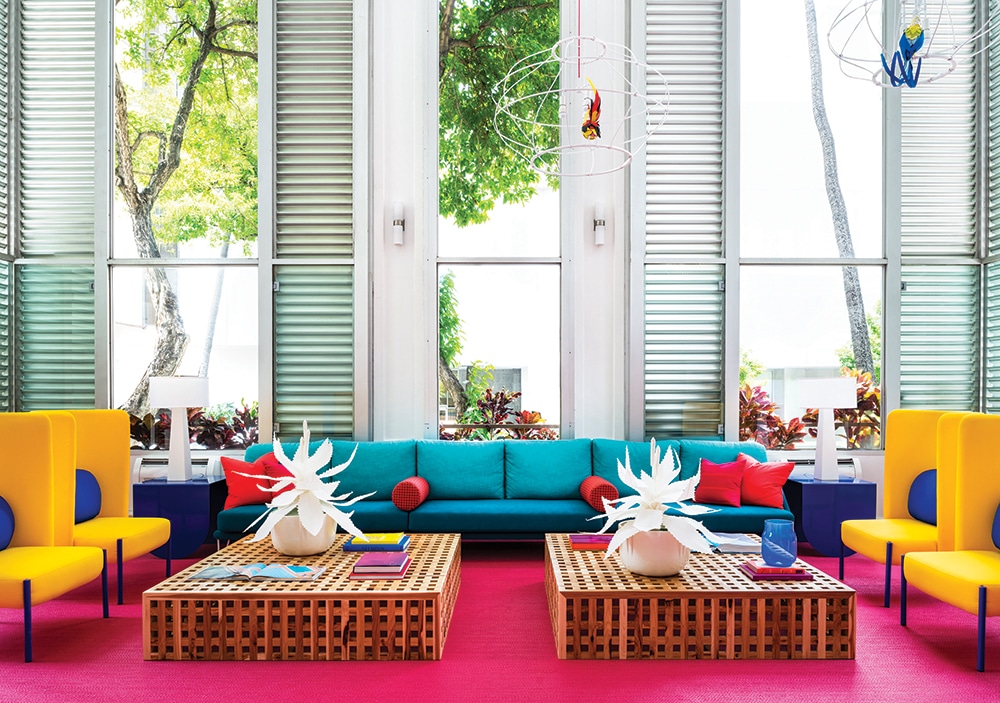 Designer Escapes: Shoreline Hotel Waikiki
With a zingy colour palette and tropical prints, a rooftop pool and hip restaurant, this funky beachfront pad is a psychedelic seaside fun palace.
If you like vibrant, strong shades and a buzzy ambience, close to a world-class beach, this recently refurbished hotel will float your boat.
Above: Sip a fruit-infused water while you check on the day's surf conditions (don't miss the hashtags!)
With a concept by Army of Moon People and design by BHDM, the interiors have been carefully thought out to offer visually arresting content for Social Media posts, with engagement guaranteed – from the uber-stylish reception to the intense blue rooftop pool terrace, the hotel's bright shades and bold prints echo the island's tropical flora and fauna.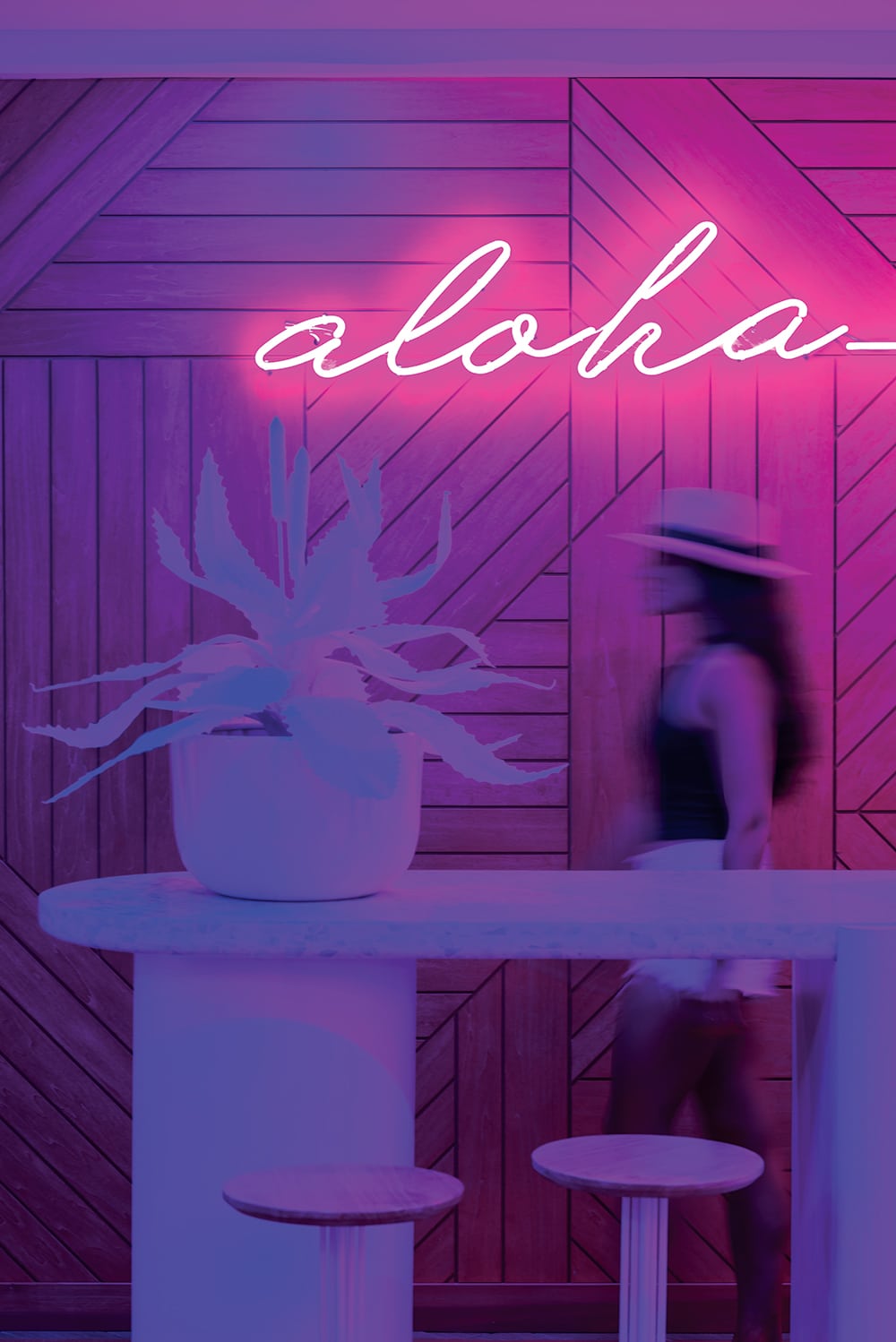 Above: A neon light lends a party mood. #naturemeetsneon
In the light-infused lobby, with its high ceilings and huge windows looking onto lush plant foliage, you sit down on a brilliant turquoise sofa or turmeric yellow winged armchair, co-designed by Missana and BHDM, with Yves Klein-blue cushions, while your thonged, tanned feet rest on a cerise-pink carpet. It's like being in a Mondrian painting with kitsch touches – papier-mâché sculptures of native birds in delicate rattan cages hang above your head, a neon sign reads "aloha".
As a contrast, apart from some block colours, the walls are plain white, while tables are in neutral, natural pale acacia wood or rattan. At night LED lights make the lobby glow pink, mimicking a Hawaiian sunset.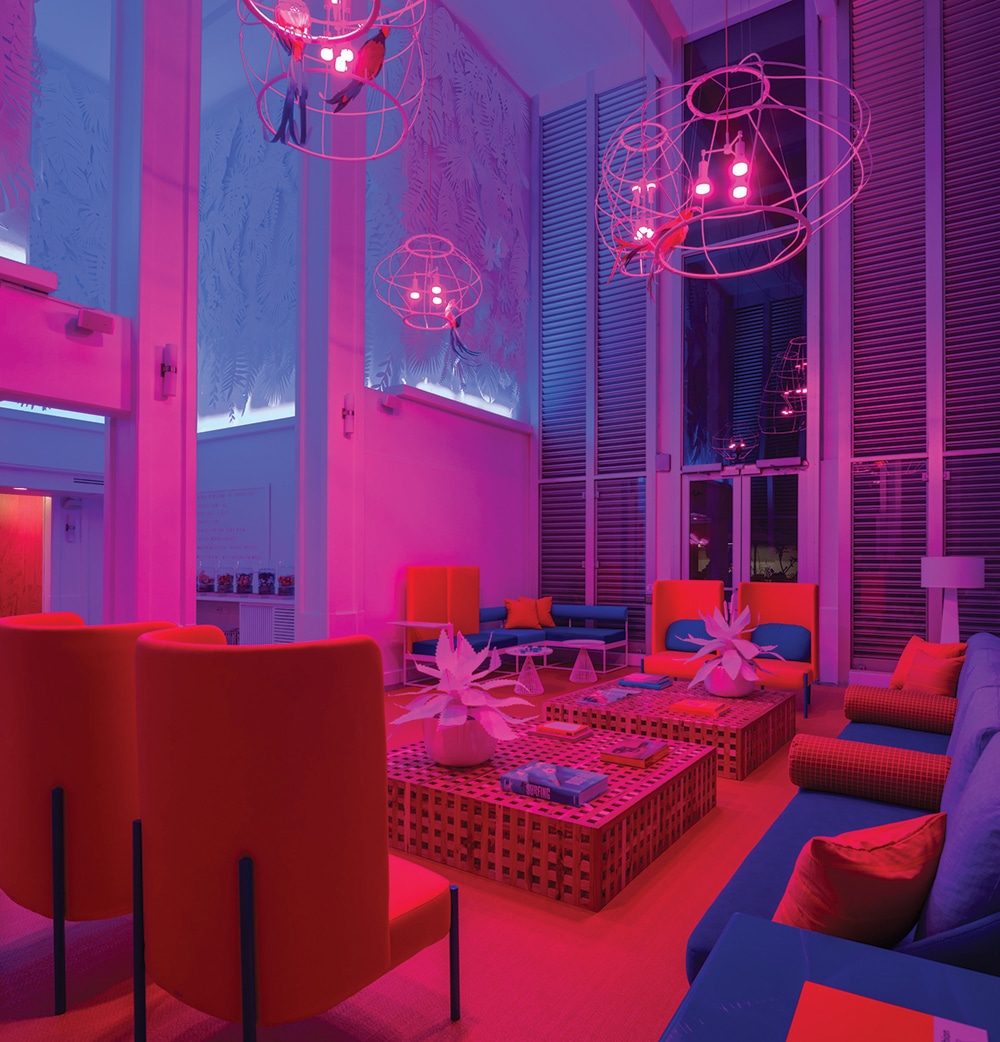 Above: Clever coloured LED lighting transforms the lobby at night.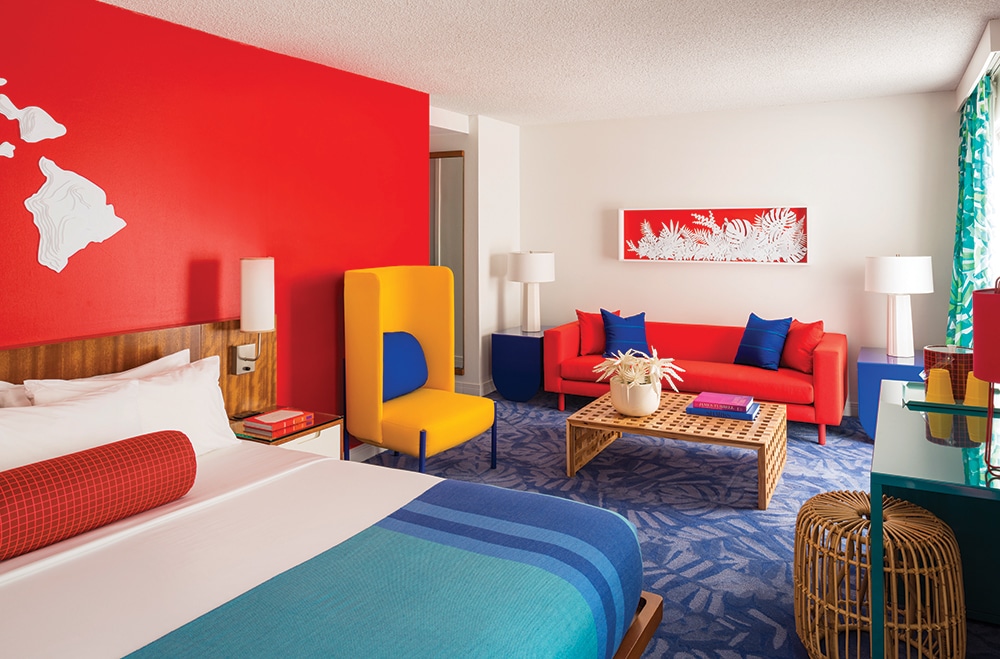 Above: The sharp primary colours and geometric shapes of the guest room furniture make a bold statement, while leaf print rugs and curtains add a natural, fresh element. #seizethestay
Guest rooms – there are 135 – continue the theme: one scarlet red or cerulean blue wall bears a relief map of the islands, to remind you of where you are. More geometric contemporary furniture in bold tones – blasts of sunshine yellow and fire-engine red, is complemented by vibrant tropical print curtains and carpets. Even the bathtubs and toilet seats are bright pops of primary colours.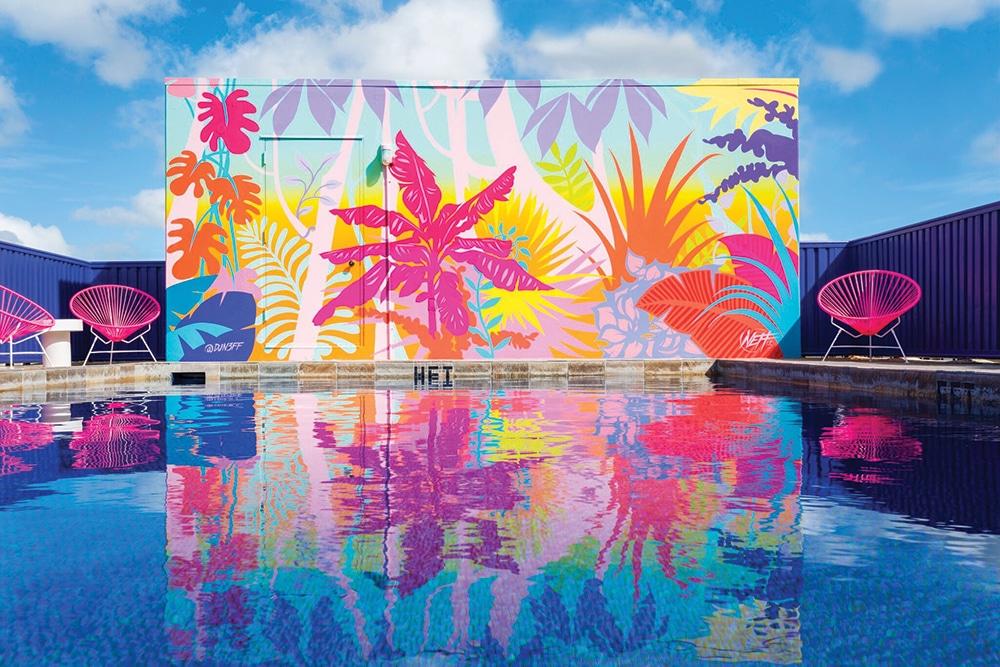 Above: DJ Neff's multicoloured tropical mural creates a vibrant backdrop at the pool terrace. #shorelinevibes
Up on the 14th-floor rooftop, with its on-trend pink Acapulco weave chairs and lovely beach views, there's a mural commissioned from California-based artist DJ Neff with orange, pink and purple exotic flora, while the walls that enclose the suntrap terrace housing the swimming pool are a vivid purply-blue. The vibe even extends to the staircase, with crazy clashing colour plant murals covering the walls and ceiling – like a psychedelic jungle.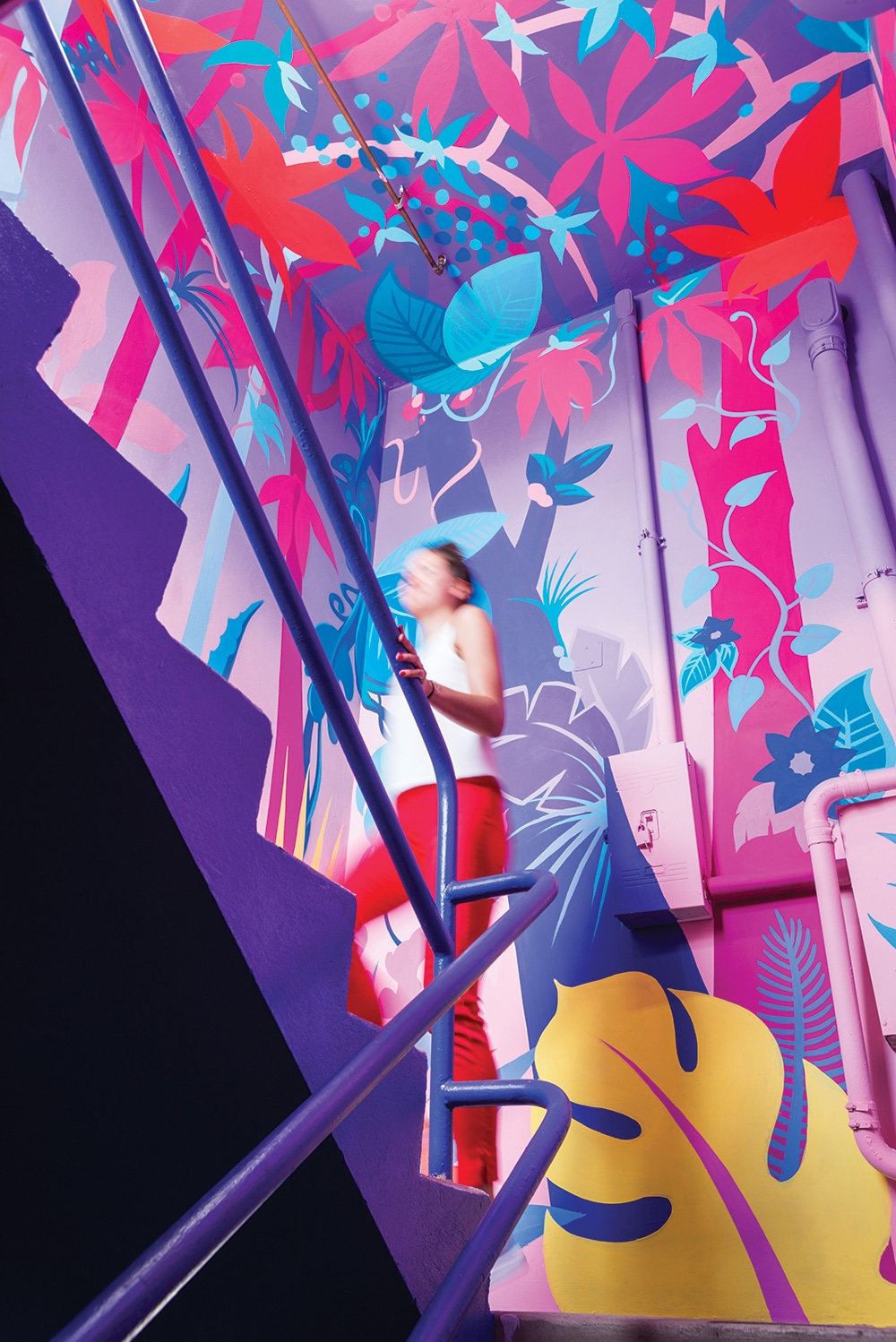 Above: Even the staircase is a riot of colour, with exotic foliage climbing up the walls and snaking over the ceiling.
As you'd expect, the Heavenly Island Lifestyle restaurant has an equally quirky, youthful feel, with informal wooden tables and a surfboard on the wall. From seafood and organic meats to farm-grown greens, appetizing dishes include: for breakfast, eggs benedict with Okinawa purple potato or Big Island French toast covered with fresh fruit; local pork and cilantro maze-soba for lunch; and for dinner, Kulana Ranch ribeye steak or Kauai garlic shrimp.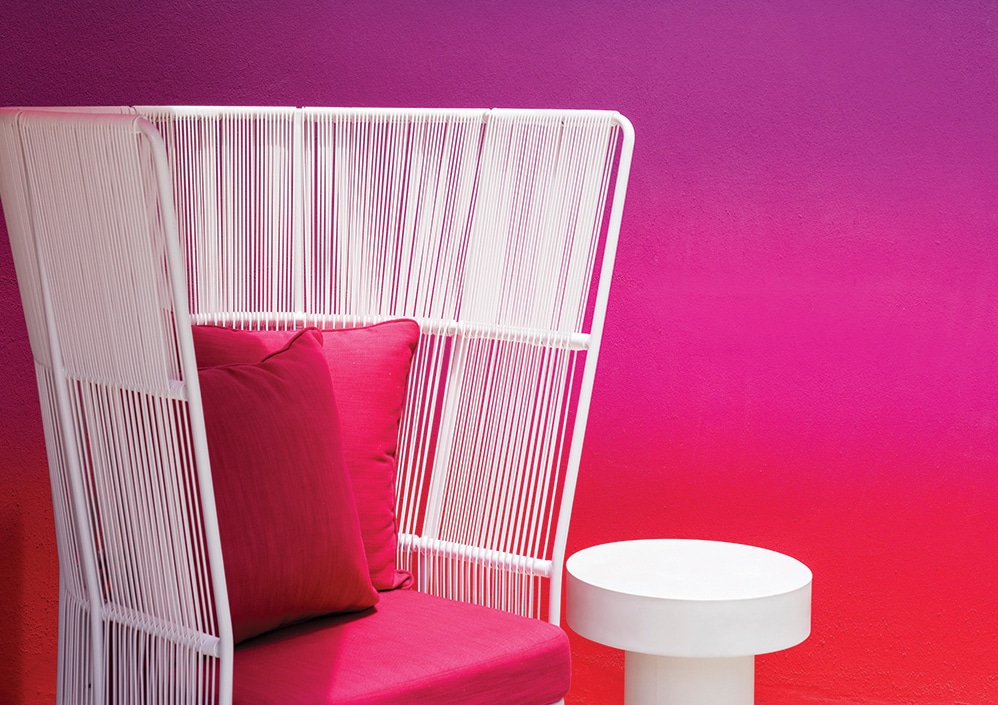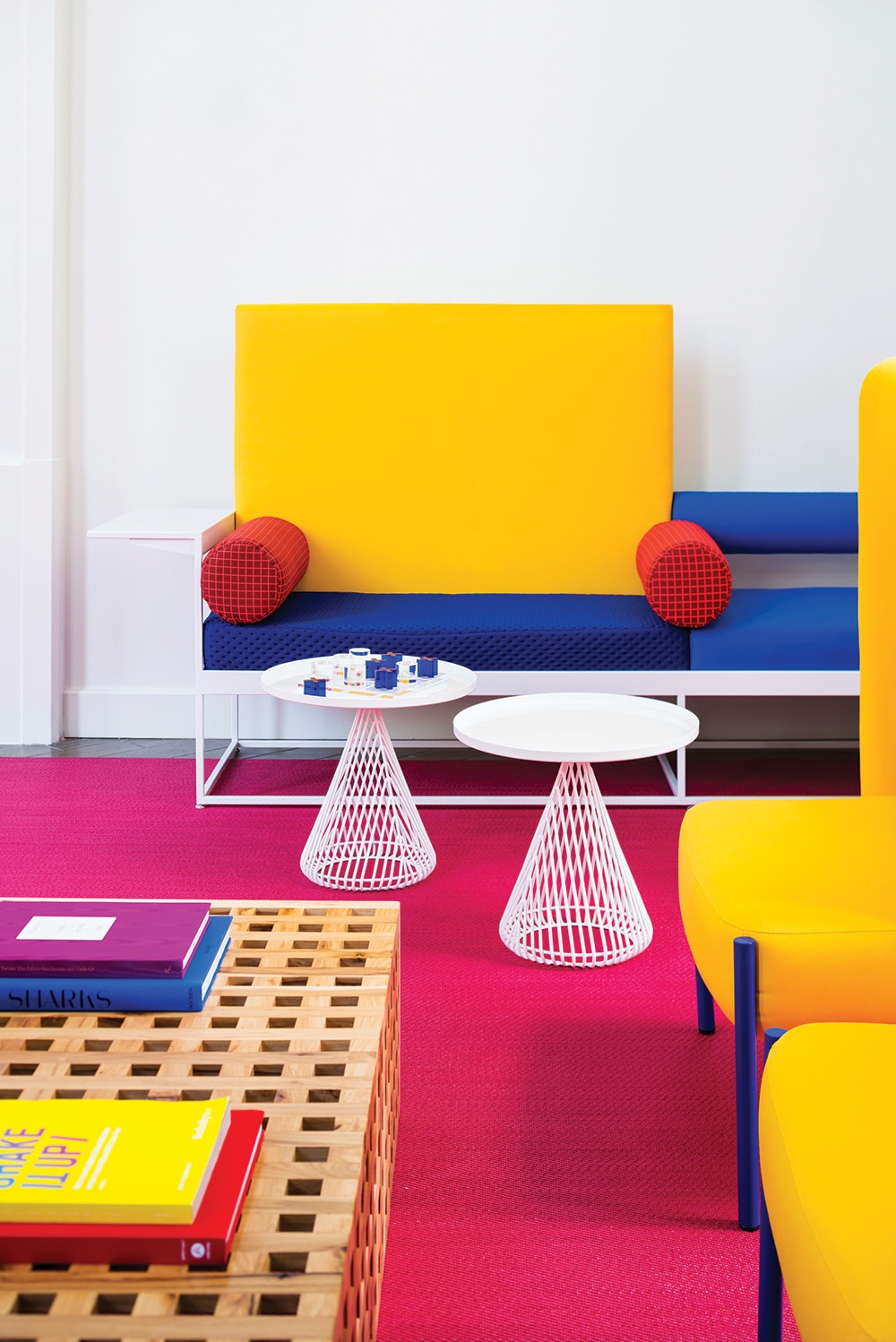 "It's like being in a Mondrian painting with kitsch touches"
With all the tropical fruit available on the island, juice fans will be in their element, with Mao Farm organic carrot juice, and kale, banana, almond milk, mango, and spirulina smoothies, while for cocktails think mojitos infused with mango, caipirinhas with açaí, Maui gold pineapple mimosas, and papaya sangria.
The hotel offers yoga and painting classes, as well as a shop with clothes and accessories by Hawaiian brands and local makers, for some take-home "aloha spirit". One wall of the lobby is decorated entirely with coloured straw hats – lime green, fuscia pink, sea turquoise and citrus orange  – so you can match your beach outfit with coordinating headwear. And then take a selfie, of course.
---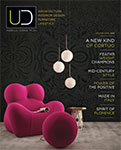 This article first
appeared in the
4th issue of
UD Magazine.
Click on the image to read online.
---