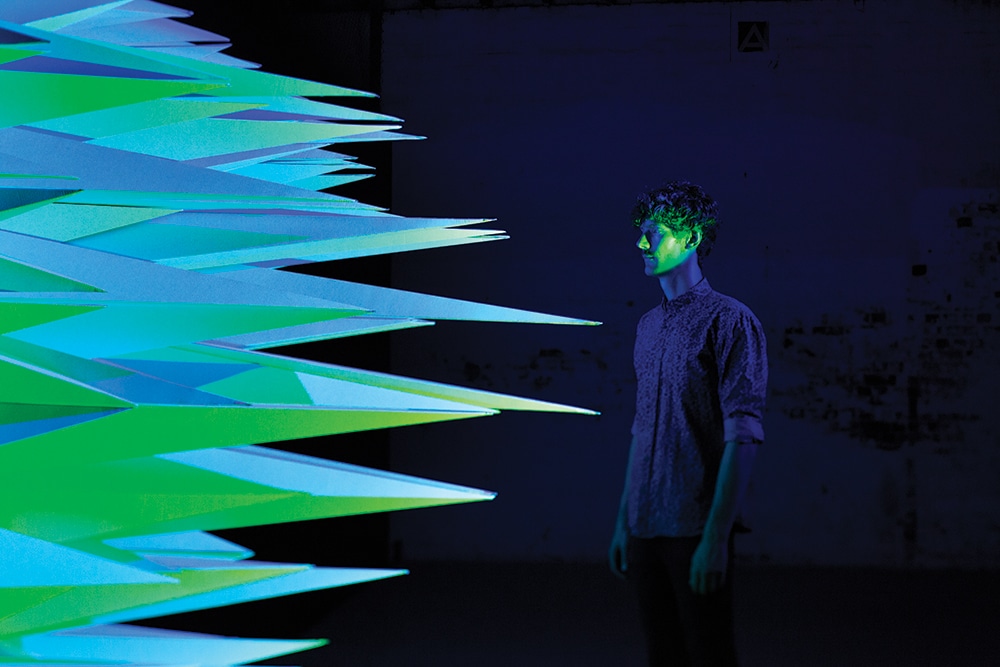 Flynn Talbot: Light Fantastic
Flynn Talbot is an Australian lighting artist and designer based in London. With a growing reputation for creating lighting installations and commissioned pieces for galleries and unique buildings, Flynn shot to prominence last year with a stunning installation at London's V&A Museum.
He spoke exclusively to Giles Brown about his influences and inspirations.
Flynn, how did you get involved in lighting?
I studied product design in Western Australia, although I didn't actually do anything on lighting there. I got a job in a lighting store and soon realised the power that lighting has to influence a mood or a space; that you could build a new experience. There is something more intangible – an emotional layer to working in lighting – than there is to furniture.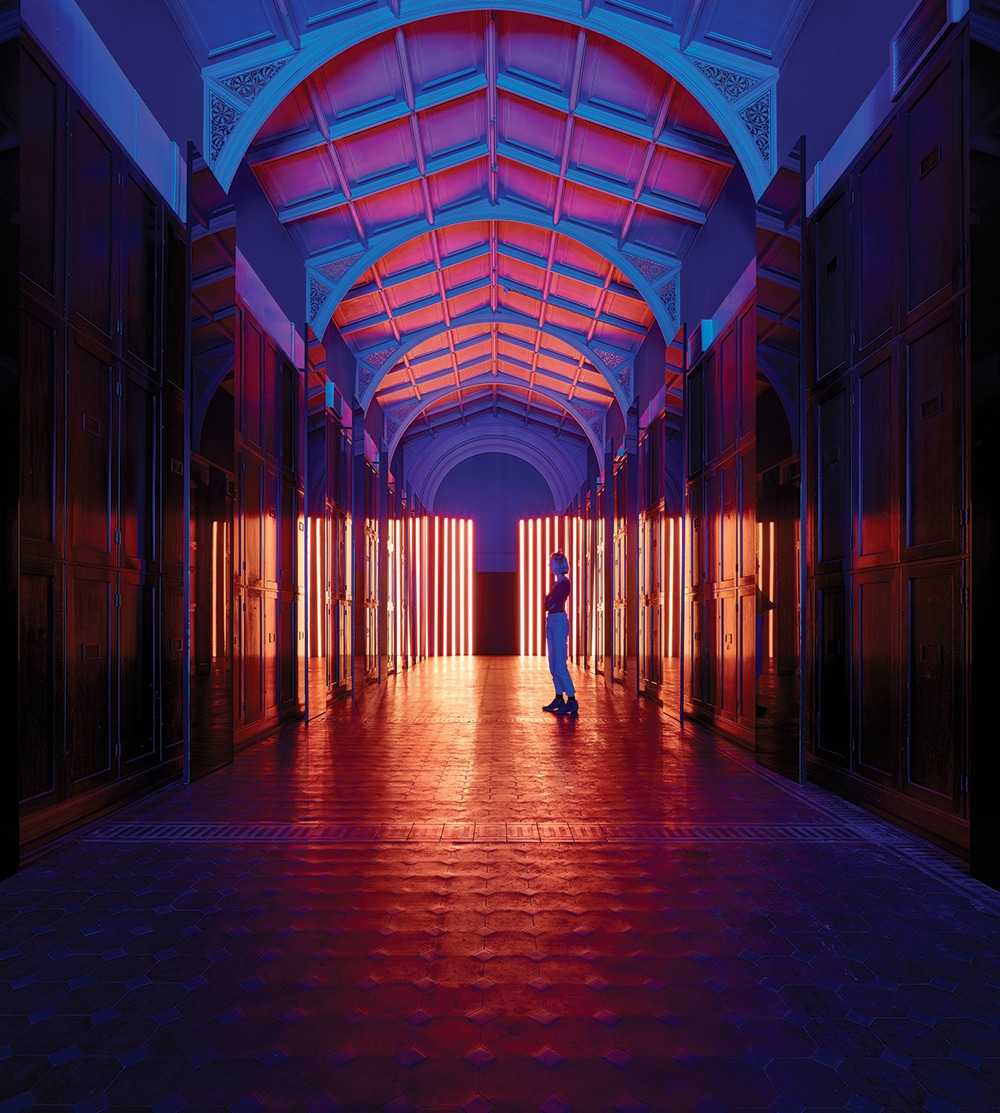 Above: The Reflection Room, created by Flynn Talbot, is an immersive, coloured light experience – the first London Design Festival installation to be housed in the V&A Museum's Prince Consort Gallery.
The V&A installation brought you to a wider audience. How do you approach a project like that?
That was quite a tricky one. At the V&A there are a lot of factors to consider. Early on I had a choice of different spaces there and it took me a while to work through a variety of options. I settled on the Prince Consort Gallery because, unlike a lot of spaces in the V&A, it doesn't have a lot of natural light. So I didn't have to battle against that and there was a long tunnel-shaped space which I thought was perfect.
I decided on saturated light as I've dealt with that a number of times. The V&A is a pretty amazing space, with many layers and many buildings connected together, each with its own story. So I just thought about what my story was and the blue and yellow combination that I've worked with a number of times since my very first light work, which is a connection with my Western Australian background – sunsets over the water and things like that.
Above: The Contour Mirror
Do you take a lot of inspiration from Western Australia? Does nature give you that creativity?
Certainly in the way that light works in the natural world, because I think that when you are creating an exhibition in a place like the V&A, which attracts people from all over the world, if you can connect with them all on a simple human level you can create a strong experience with an installation.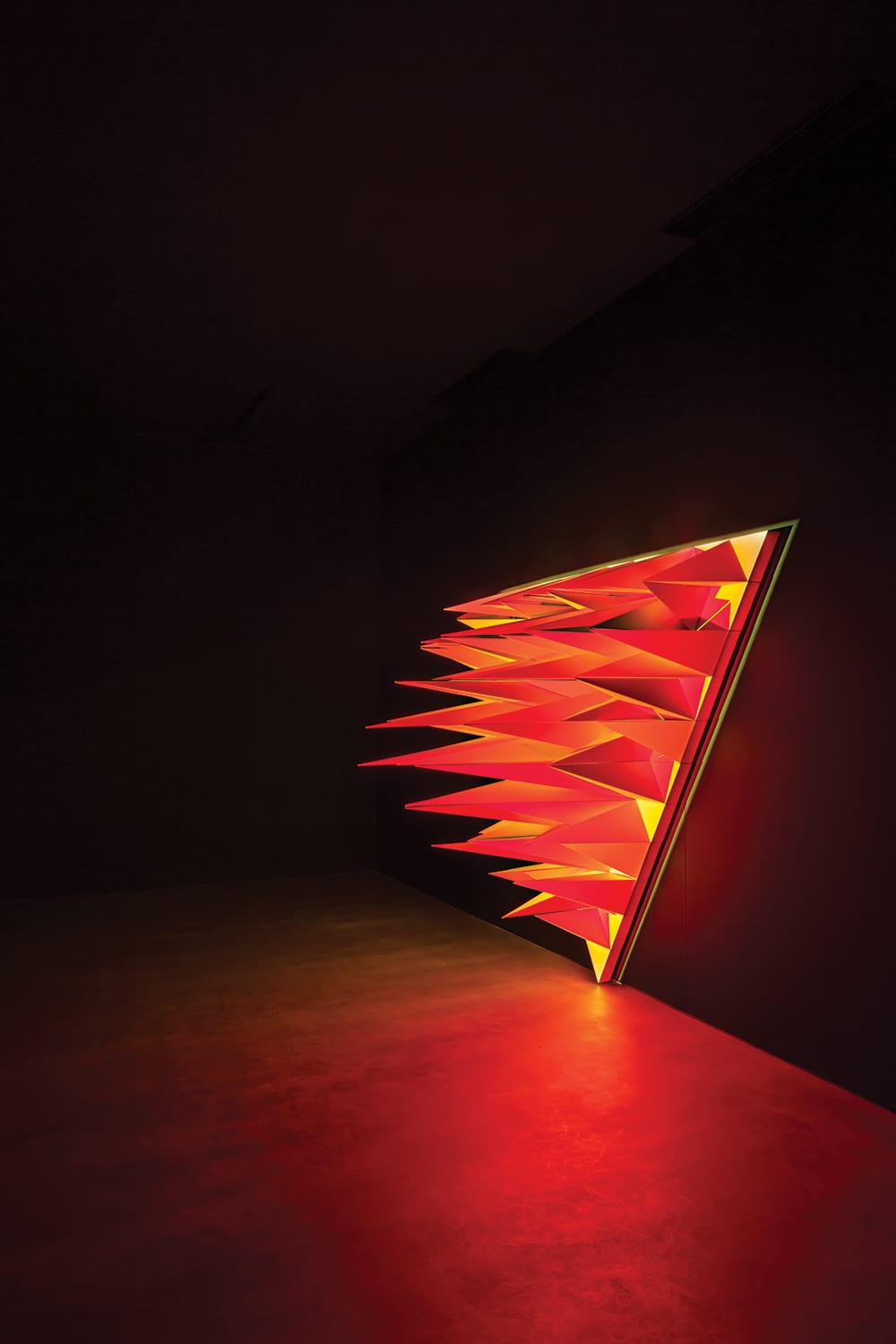 Above: Primary Seoul: an exploration in colour and light. Primary is a three sided wall installation which is illuminated by three LED light sources. This is a reference to the primary colours of light: red, green and blue (RGB).
Is that what attracted you to working in light, in that it connects to people on a basic level, a visceral level if you like?
Absolutely. I think you can connect with people in a very simple but powerful way, probably more easily than you can in other media.
When you start a new project, where do you take your influences from? The contour mirror for example?
With the contour mirror I was trying to build a connection with people in a different way. I guess that I'm always studying this relationship with light and people, and how I can use light to create a new experience, just targeting that aspect from many different angles.
The early concept was how you'd feel if you saw a reflection of yourself within light, and that made me think about identity. Then I thought about the fingerprint pattern, which was a good graphic to play with as a symbol of our own identities.
Tell us a little bit about the actual process that you go through in creating your work.
If I'm lucky I'll be able to sit in the space for a while – at the V&A I did that. I do quite a lot of lighting projects in Western Australia and collaborations with architects there, where some of them are new builds and I don't get to sit in the building at all. But certainly with existing buildings I'm happy to travel and take the opportunity to visit the space and consider the best way to approach a job. Sitting in a space and considering what the light does during the day and talking with locals who can tell how the light changes during the seasons. It's all important to consider.
Any building can look fantastic, and then the sun goes down and it's up to people like me to think
about how the building is perceived or how it looks in the dark. There are a million options.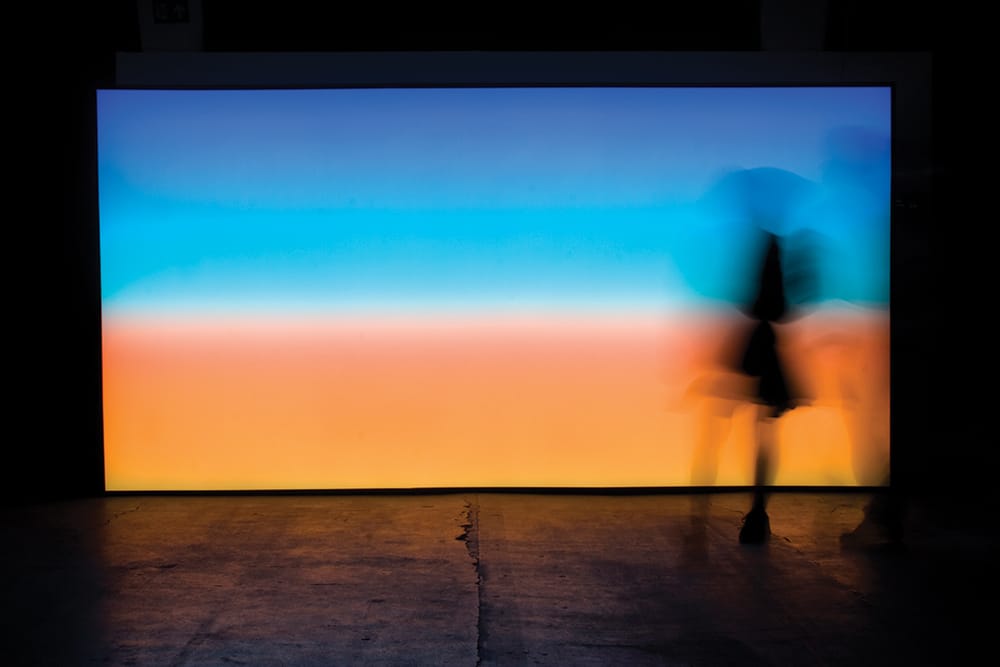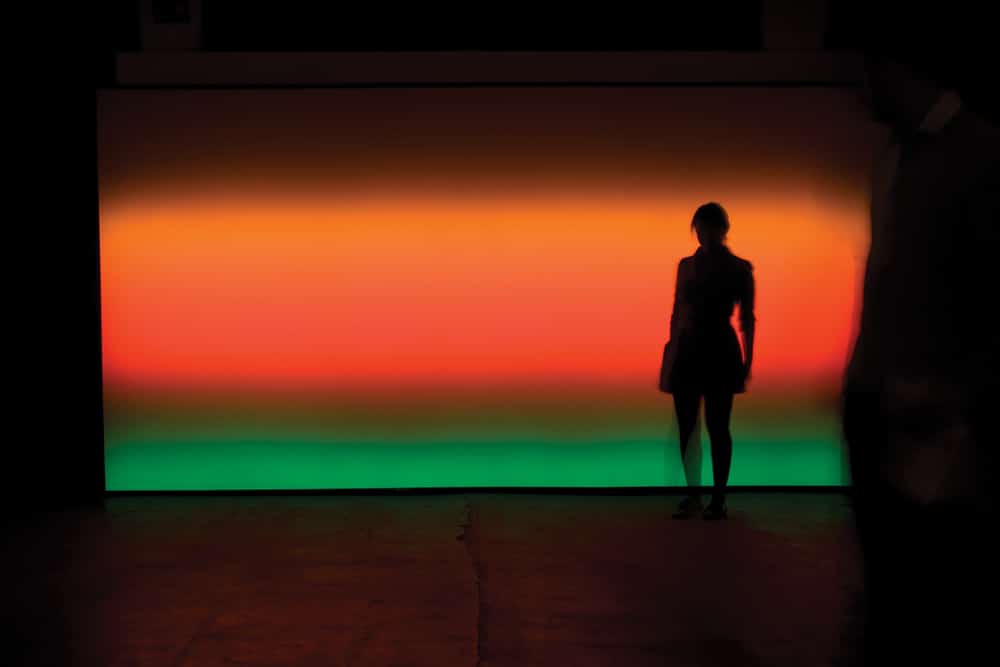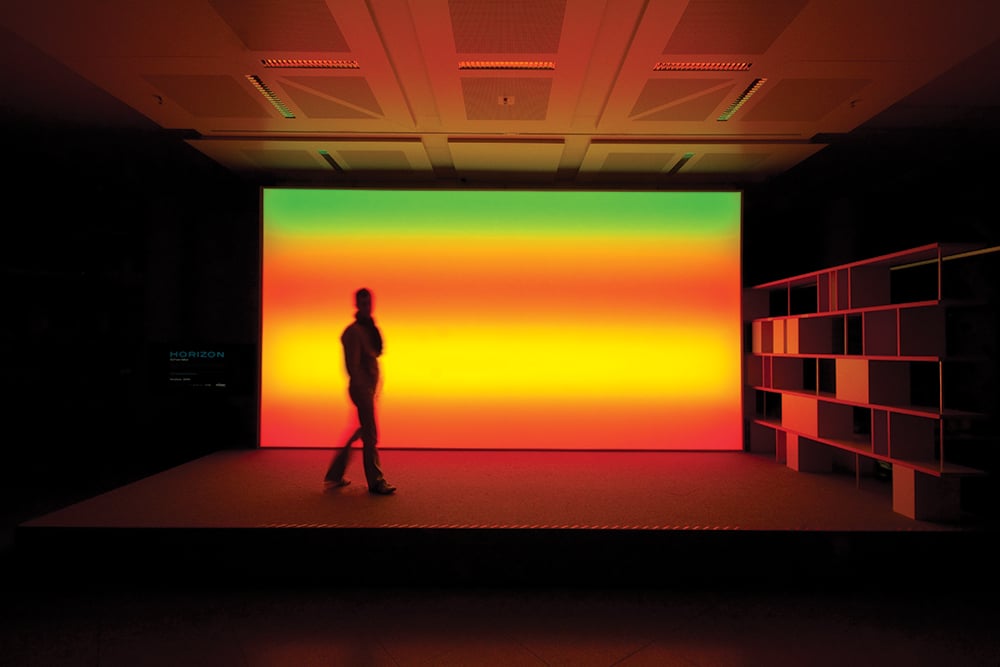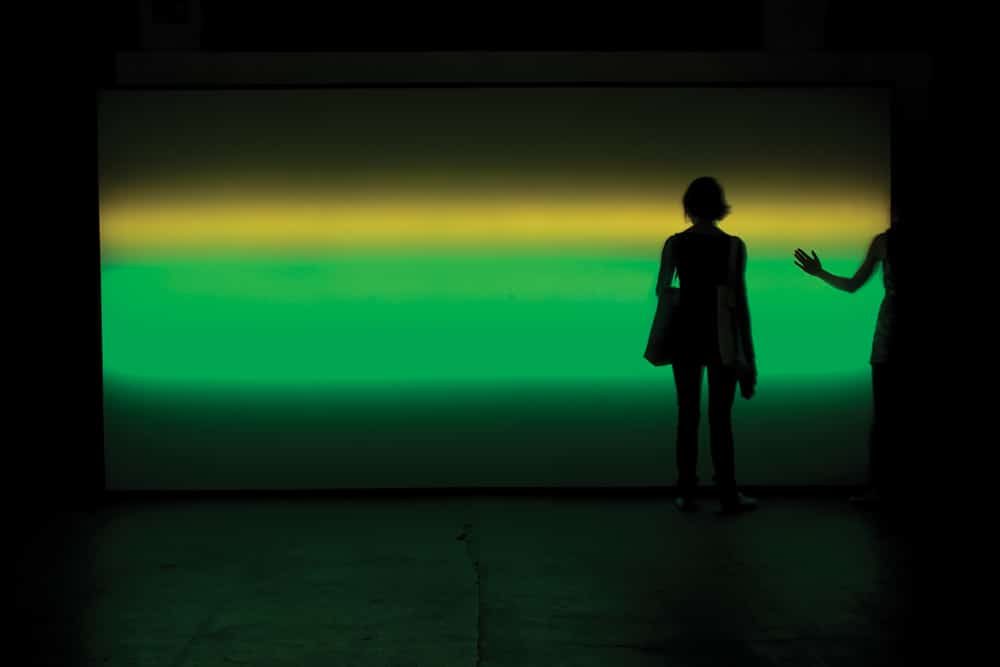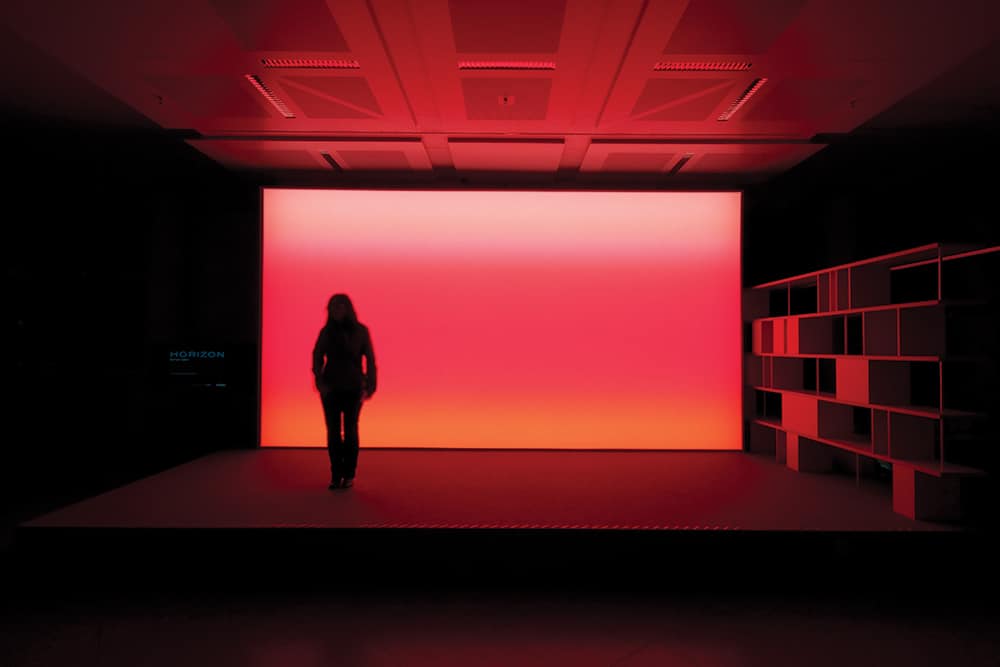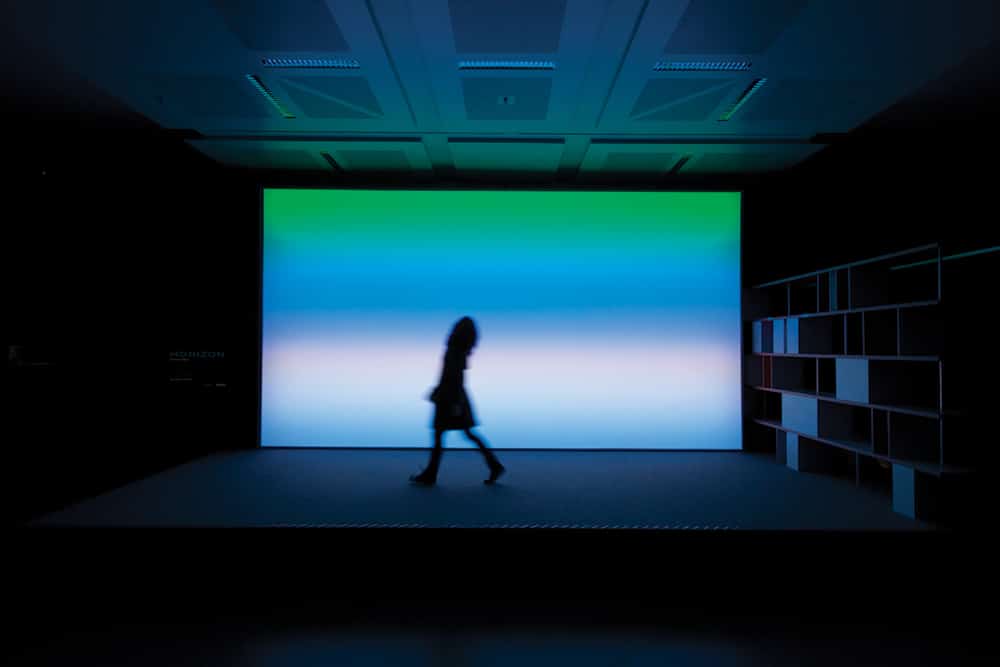 Above: Horizon, an exhibition shown in Sydney, London and Frankfurt, recreates twilight. It captures this moment in time, but re-imagines it as an ever-changing, interactive light show. The slowly shifting bands of light were programmed but visitors were also invited to create their own sky-inspired patterns by interacting with the colour of light.
What developments have changed the way in which you work?
It's an aspect that has kept me enthralled, to be honest – the development of technology with light sources getting smaller and brighter. You can really hide the light source away and create a project where people are considering the light effect more than the product that's creating the light.
What current trends are interesting you right now?
Light is being used all over the world in lighting festivals to create more immersive and tactile experiences. One of the projects that I've designed is called Freeline. Light has become more than just a light bulb hanging in the middle of the room; it has become more detached from the architecture. It's become much more flexible – how you want the physical structure, how you want the light fitting and the light source. You can do a lot more now.
Finally, what are you working on now?
I was invited to represent Australia at the London Biennale, which takes place in September this year, so I'm working on a new coloured light installation in Somerset House. It's going to be a career highlight if I can pull that one off!
flynntalbot.com / londondesignbiennale.com
---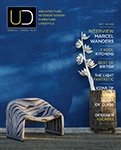 This article first
appeared in the
3rd issue of
UD Magazine.
Click on the image to read online.
---