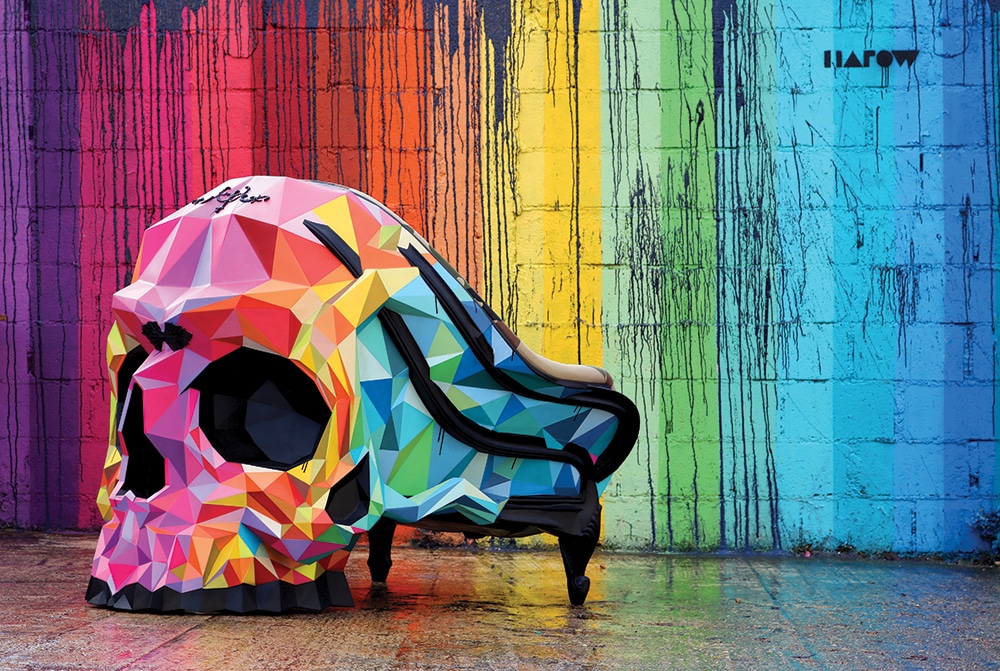 Interview with HAROW: No borders no limits
HAROW is a Parisian design studio that has blurred the line between sculpture and product design. Shocking colours, surprising imagery and a hint of classicism has made their pieces truly unforgettable, and explains why Harow has become, almost overnight, a reference in the global design world.
Harrow, born Harold Sangouard, is the founder of the Harow Design Studio in Paris, which makes furniture that is the perfect blend of art, sculpture and design. With a desire to constantly create and a brilliant lack of preference in choice of medium, he became famous almost overnight with his ominously powerful piece, Skull Armchair. UDesign caught up with Harow shortly before the release of his new collection (while moving studio, as it happened) and talked about the trajectory that took him from being a master tattoo artist to an award-winning designer who follows no trend.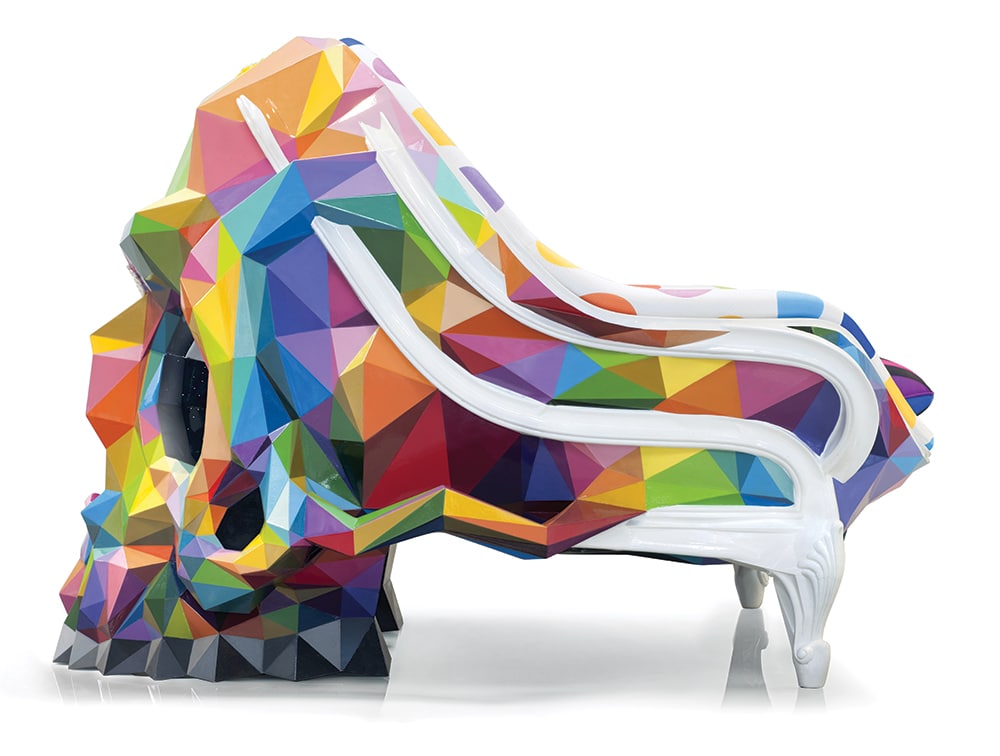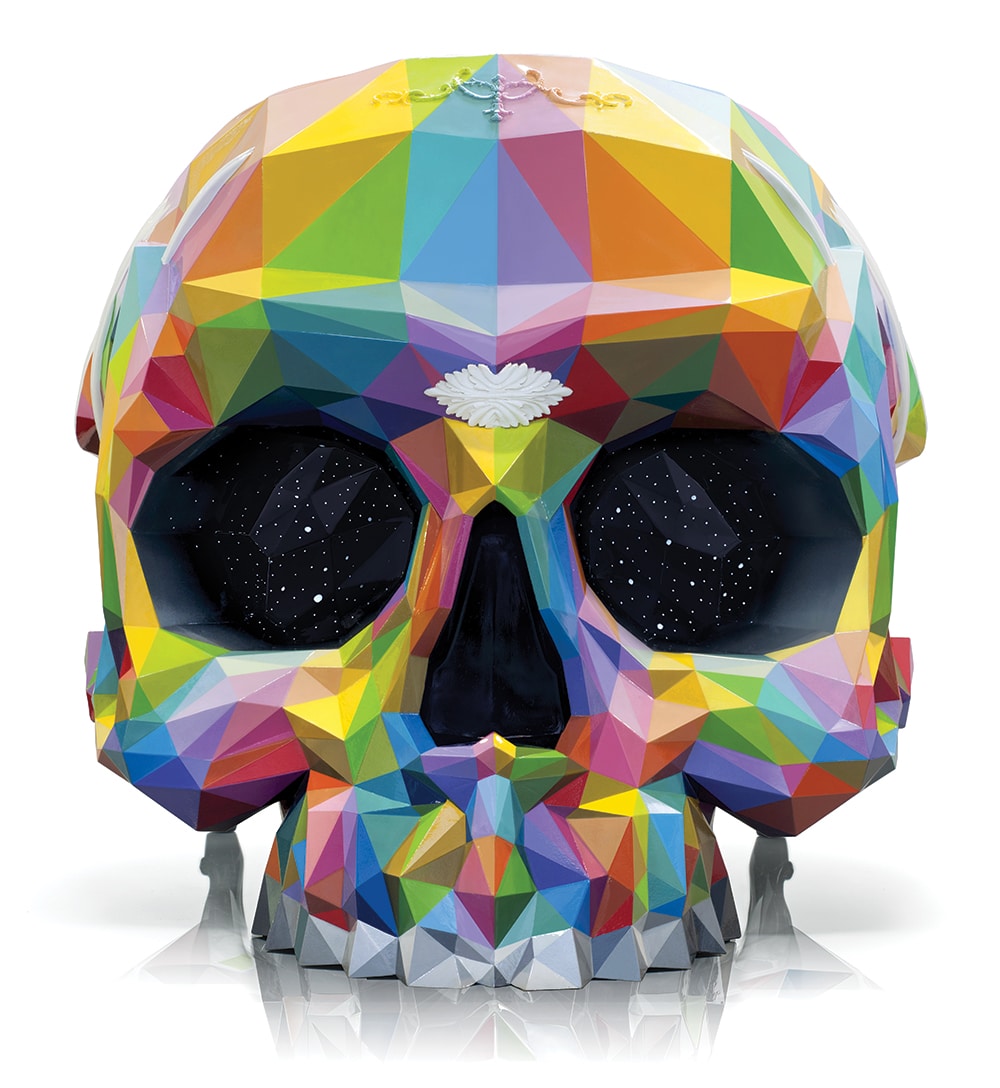 Above and below: SKULL ARMCHAIR
The skull has been a powerful symbol in different beliefs for thousands of years. Mayan legend tells us that the secrets of the origins of humanity were to be found in 13 crystal skulls, each capable of foreseeing the future as well. The first of these skulls was discovered towards the end of the 19th century, and they are still being found in Mexico, the last in 2011. The Skull Armchair, finished in black (below), ruby (below), chrome, copper and gold, also includes the series made in collaboration with Spanish designer Okuda San Miguel (Above) and the VaporWave edition.. The 24-carat gold edition (below), at half a million dollars, is for those whose Lamborghinis are parked in the driveway.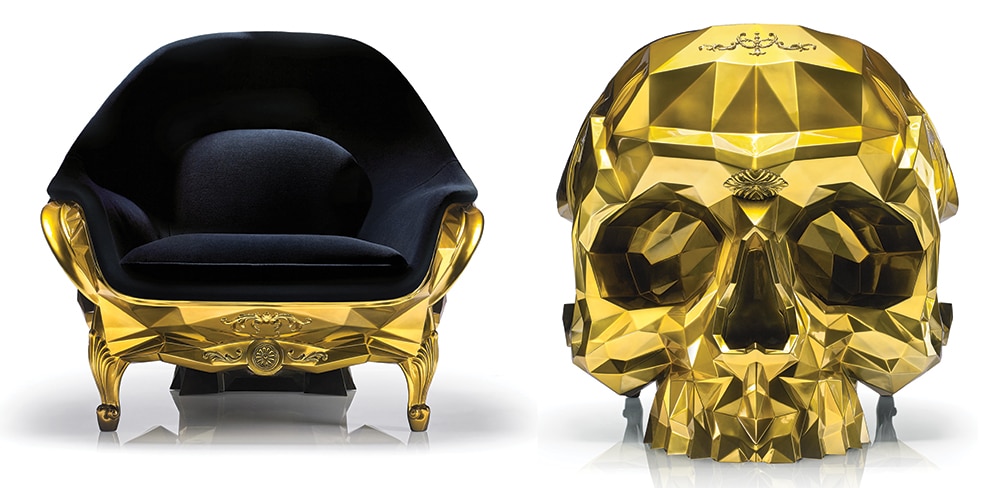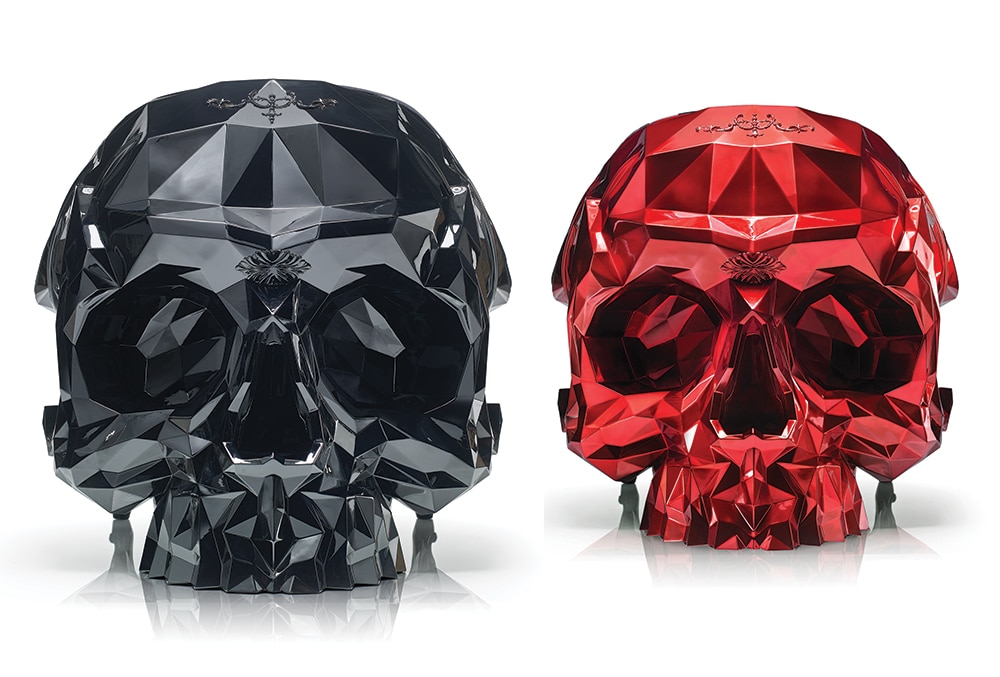 Perhaps you're best known for your Skull Armchair. What's the story behind it?
I've always been fascinated by the skull, and from the start it has inspired me. It's an aesthetic element that has influenced many generations, a timeless shape with a very powerful meaning. Skulls have always aroused creativity in all cultures throughout history: you can't escape them. I had a lot of ideas in mind for this project. I absolutely wanted to work with this symbol and explore the contrast between the raw polygonal structure and the refined classical influence, and this gradually turned into a very intriguing and imposing piece. I think the main idea was a fusion between the poetry of classicism and the angular skull. I wanted an eye-catching design, curious, timeless, a kind of visual knock-out. I love to be impressed, and my idea is to transmit this feeling. The unique gold edition is the first-ever chair designed and handcrafted like a faceted diamond. Somewhere between sculptural art and functional furniture, the Skull Armchair is as comfortable an armchair as an object to be admired.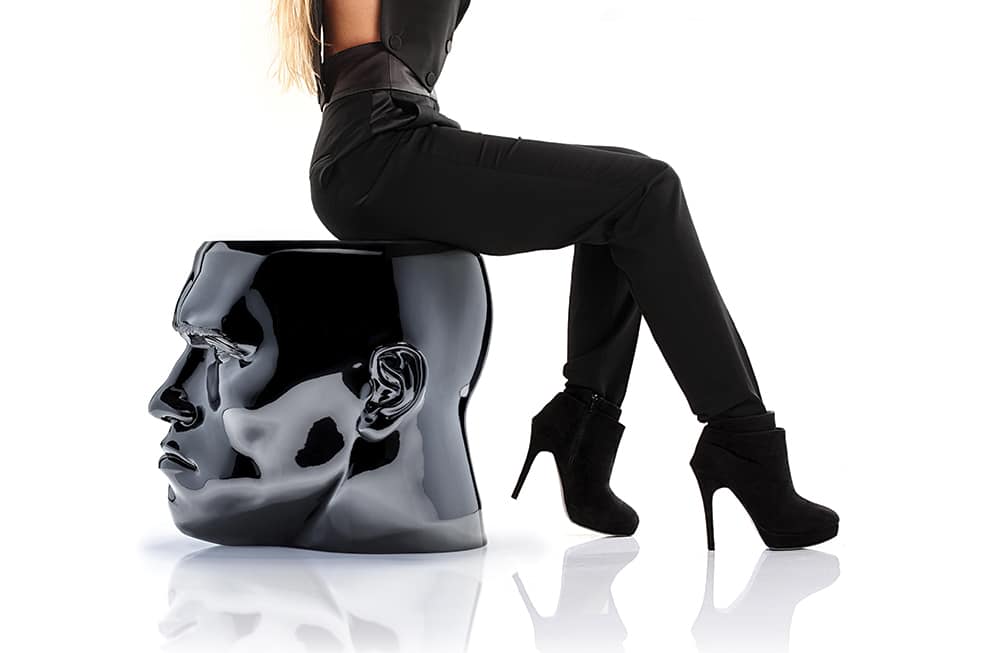 Above: ICONIC STOOL
Arnold Schwarzenegger is the embodiment of the American Dream. Born into a modest family in a small village in Austria, he was told again and again that it would be impossible: impossible to become famous in Hollywood with an accent like his, impossible to become a politician without ever having held public office. An eloquent example of determination, Arnold has become a cinematic, cultural, political, and in a word, contemporary icon. "Winners find solutions, and losers find excuses".
The Iconic Stool, made by hand, is not as heavy as it looks (11 kgs), and is finished in black, white, gold chrome and gloss. If you feel you deserve your own Iconic stool, Harow Studio can conceptualize one for you.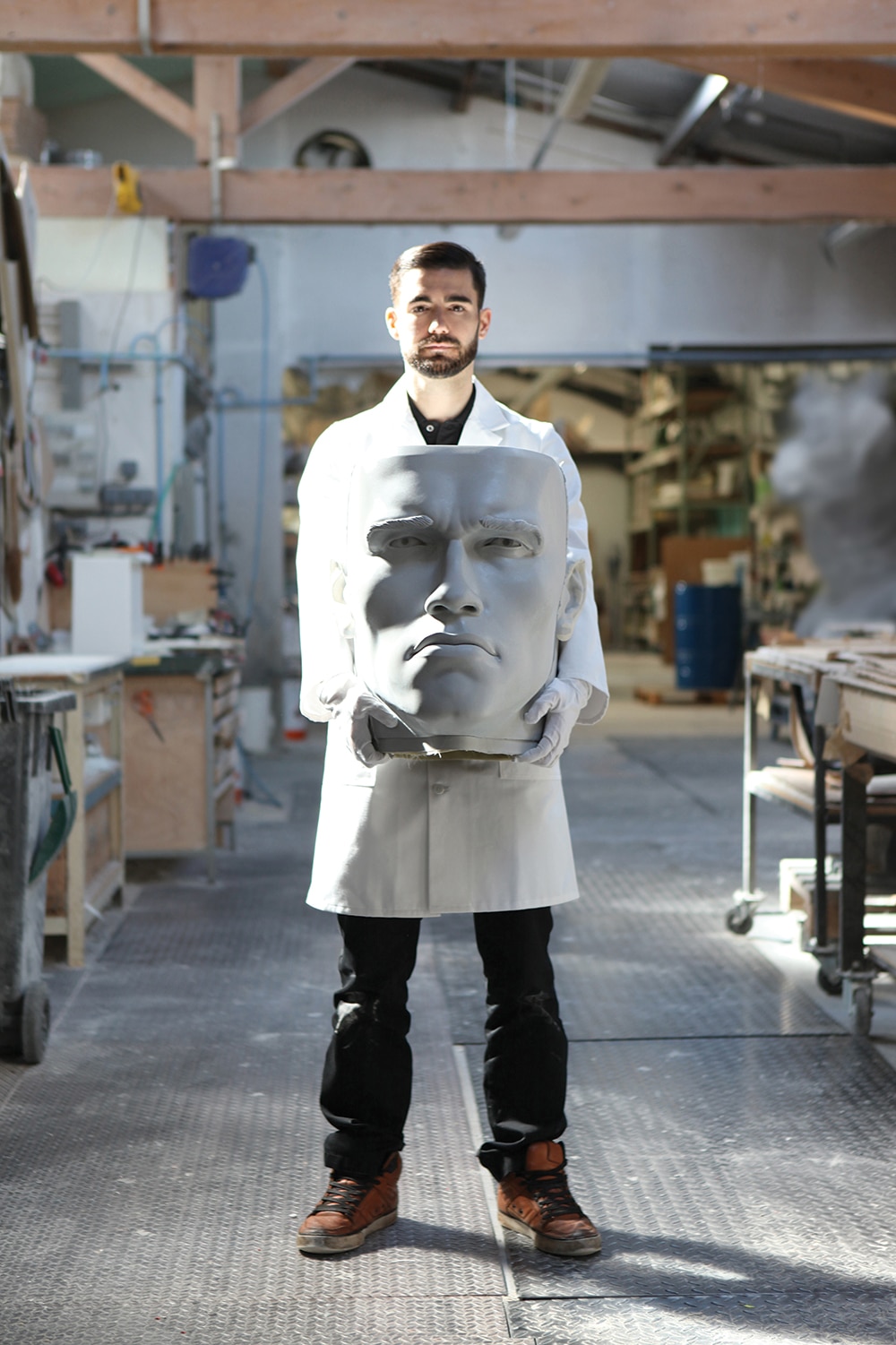 Above: Harow and the Iconic Stool, in the atelier in Paris
Did you imagine it would become a sensation so quickly?
Having the pieces become famous was not the goal, I just wanted to complete the project. When I finished the first Skull Armchair, I took pictures of it and over the weekend prepared my first ever press release. I sent it out on the Monday and one week later I had more than 100 articles in specialised press and about 500 inquiries in my inbox – that was a great surprise. At the same time, I was very scared of how I was going to satisfy customers and produce the pieces. That is one of the main reasons why I decided to work on very limited editions, which allows me to maintain a state-of-the-art standard. It would make no sense for me to produce anything that is short of perfection.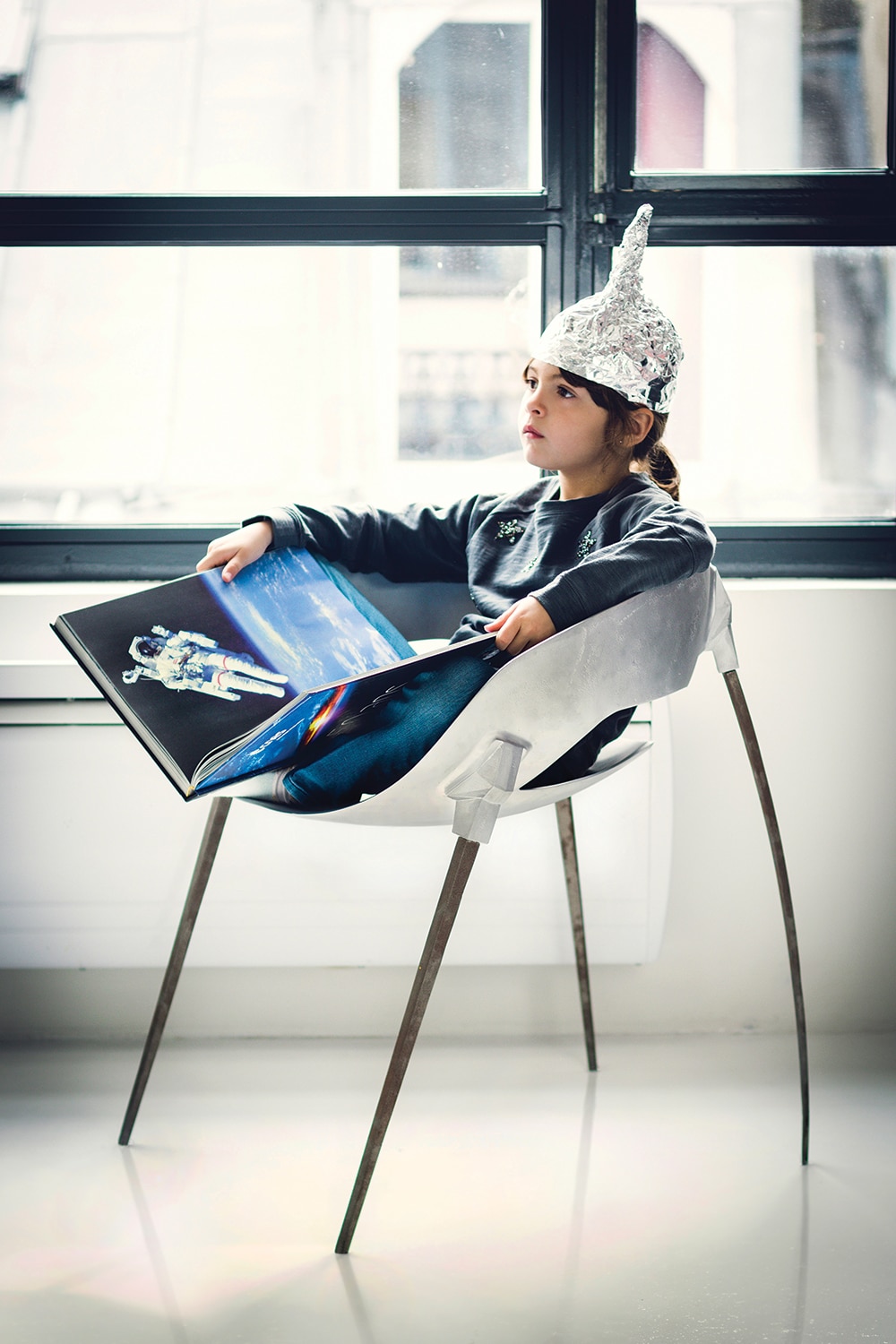 Above: SPUTNIK CHAIR
You know it reminds you of something from way back, but you just can't put your finger on it. Well, think space race, because Harow had the unlikely idea of designing a chair inspired by the first Sputnik satellite, launched in 1957. And unlikely as it seems, it works. This delightfully sculptural chair, with its shiny metal finish and spiky legs, is what the late 1950s is all about. Eat your hearts out, Charles and Ray Eames!
Great care was taken to design the Sputnik Chair as authentically as possible, and that involved the study of original Soviet technical plans. It was shortlisted for The Chair category in The International Design & Architecture Awards and won the Silver A Design Award.

The Skull Armchair has so much character and charisma it could easily feature on Game of Thrones. Is there an ideal personality you imagine it being used by?
Being in love with the character of Emilia Clarke's Khaleesi I think it would suit her. I would probably have to begin by making a provocative John Snow armchair and then offer it to the Mother of Dragons.
Back in 2008, way before the success of your furniture pieces, you exhibited a wooden sculpture of a T-Rex at Palais de Tokyo. How did that come about?
I have always been making stuff and at the time of the Palais de Tokyo exhibition I had just made this huge raptor sculpture which had really no aim. It was just made to be made. I had a few old school friends, one of whom helped me with the technical side and another who dared to ask Palais de Tokyo if they would be willing to exhibit it. And they said yes! I think the most important thing is just to do what you want and to work with people you can trust. My two business partners, Alexandre Chastel and Julien Wolf, have been the key people in making the Harow Studio what it is today. We make all the decisions together, but I always have the final word when it comes to design – no borders, no limits.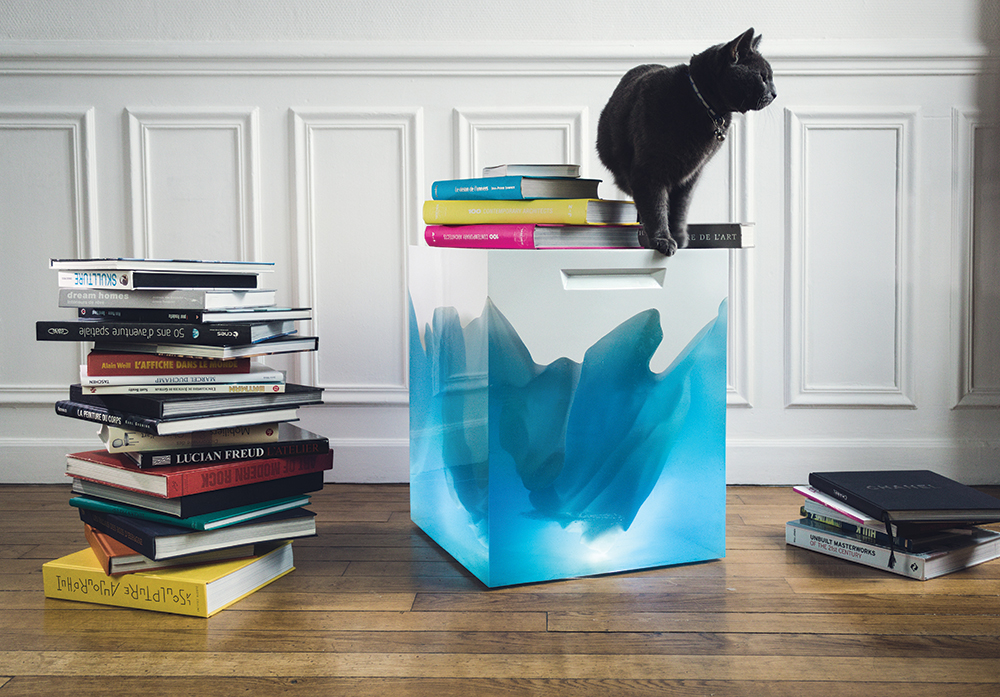 Above: ICEBERG STOOL & SIDE TABLE
This extraordinary piece of furniture is a genuine work of art, bringing a piece of raw nature into the sitting room while also reminding us of the need to combat climate change. In 2014, a study published in Geophysical Research Letters announced an irreversible reduction of the ice in western Antarctica, predicting the total disappearance of the glaciers within 200 years.
Made of resin and fibreglass, this Limited Edition Iceberg Stool and Side Table is a magnificent example of high-tech manufacturing. Each piece takes a month to produce, with resin dripped millimetre by millimetre in successive layers to form the whole, in a process slowed by the need for perfect polymerisation. 
In one of your interviews you mention that you've worked as a master tattoo artist. How did you go from there to furniture design?
It's true that my profile is kind of atypical and nothing predestined me to work as a designer. I've been carried through life by my will to create, to imagine things and to go beyond my limits. I love to work with all kinds of media: human skin is just one of them. Step by step my creations became bigger, and here I am with the Harow Studio.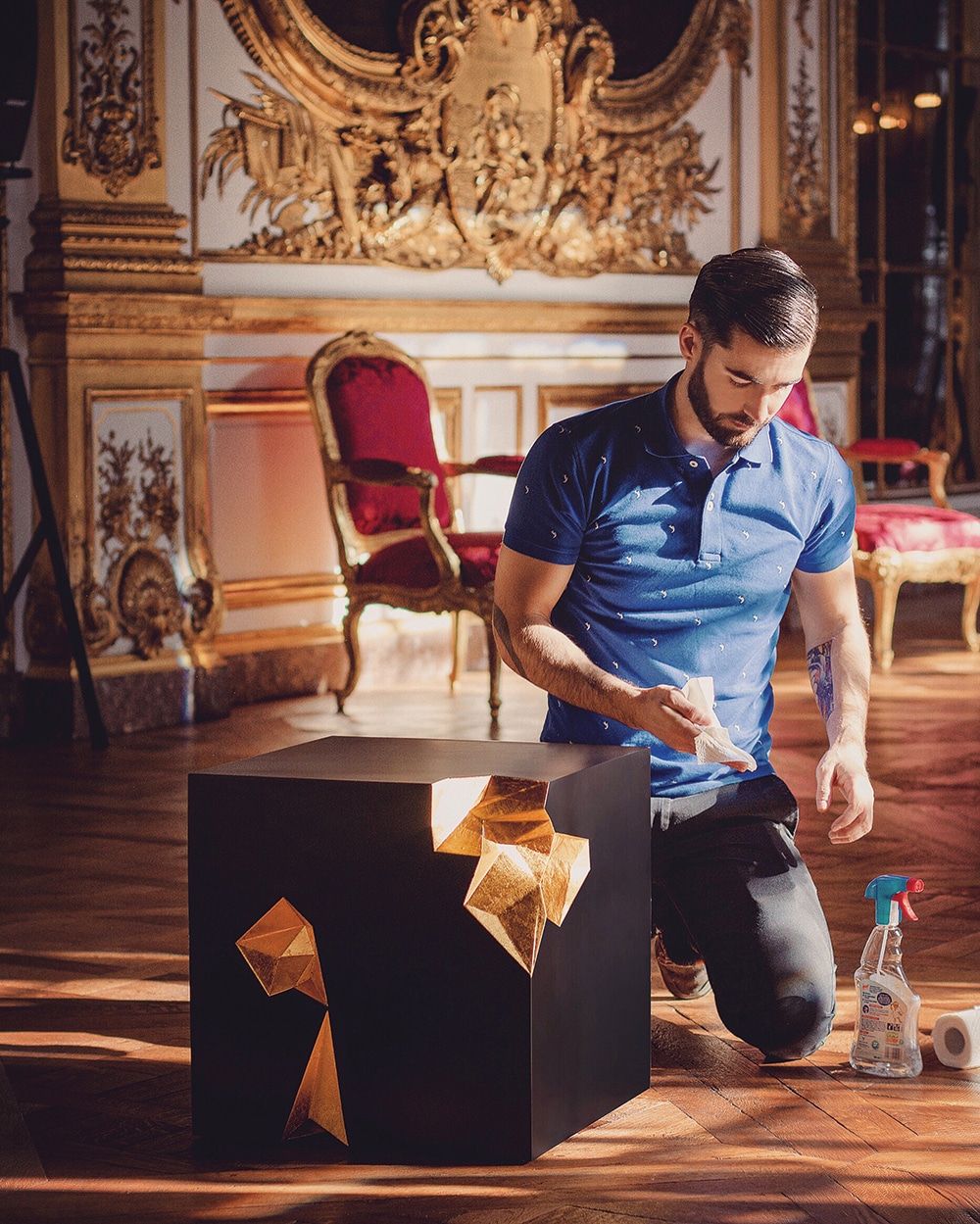 Above: MONOLITH STOOL & SIDE TABLE
Looking right into the centre of the earth, as the Native Australians believed as they contemplated the glory of the sacred Uluru, known to many of us still as Ayers Rock. The natural monument is mostly smooth surfaced, but with cracks and crevasses where eucalyptus trees grow. These imperfections are an ode to life itself, and form the essence of this beautiful sculptural piece of furniture. It would not be out of place in a contemporary art gallery anywhere in the world.
If you wondered how the glittering depth of vision has been achieved in this piece, it is through the use of gold leaf, an ancient technique passed down by master gilders from generation to generation, assuring authenticity in each individual Monolith.
How would you describe your own design style?
I would describe it as the design of artistic furniture that does not follow any trends or fashion. I only create things for their beauty.
During your recent collaboration with Okuda and VaporWave, you made very colourful pieces which stand out from the rest of the collection. Was this a conscious move towards colour?
My collaboration with Okuda has been very curative for me. In a way, it freed me from the OCD of perfection, which I had with regard to the work I signed. Seeing him actually at work, using his instinct, he provided a new source of emotion for the Skull Armchair, and that really impressed me. It allowed me to combine painting, the medium with which I have the most intimate relationship, with design. The VaporWave is the first "collateral damage" of this collaboration, a kind of cyberpunk edition of an artistic movement which I particularly like.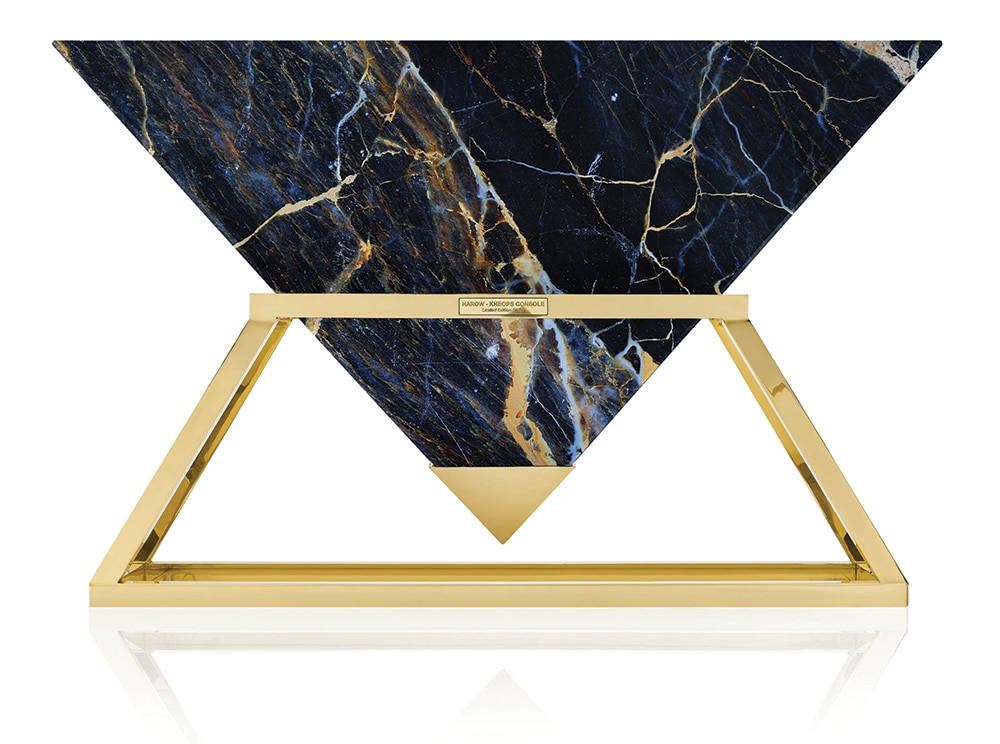 Above: KHEOPS CONSOLE & TABLE
A stunning reminder of the importance of applied geometry in an ancient culture. This console and table is indeed a delightful exercise in symmetry: an inverted marble pyramid (the Great Pyramid of Giza) on a simple metal stand, achieving a play of contrasting positive/negative space in a piece of furniture that is both old as the pyramids and new as the creative mind of its designer. Once again, not out of place in the most contemporary of art galleries.
An exercise in sturdiness and elegance, the Kheops collection is manufactured to 1/100th scale. Using precise techniques, the marble slabs are pumiced by hand to remove all imperfections, and then reassembled, keeping the natural veins of the stone perfectly intact.

Can you tell us about your new collection?
The new collection will have an aesthetic guideline. I'll try to express a new emotion through shapes that will be engraved in everyone's spirit, which will be nostalgic and very futuristic at the same time. The Vapourwave movement will be a very important part of this new collection. The main idea is to stay true to the Harow Studio DNA: "Design that does not follow any trends or fashion, only design for its visual beauty".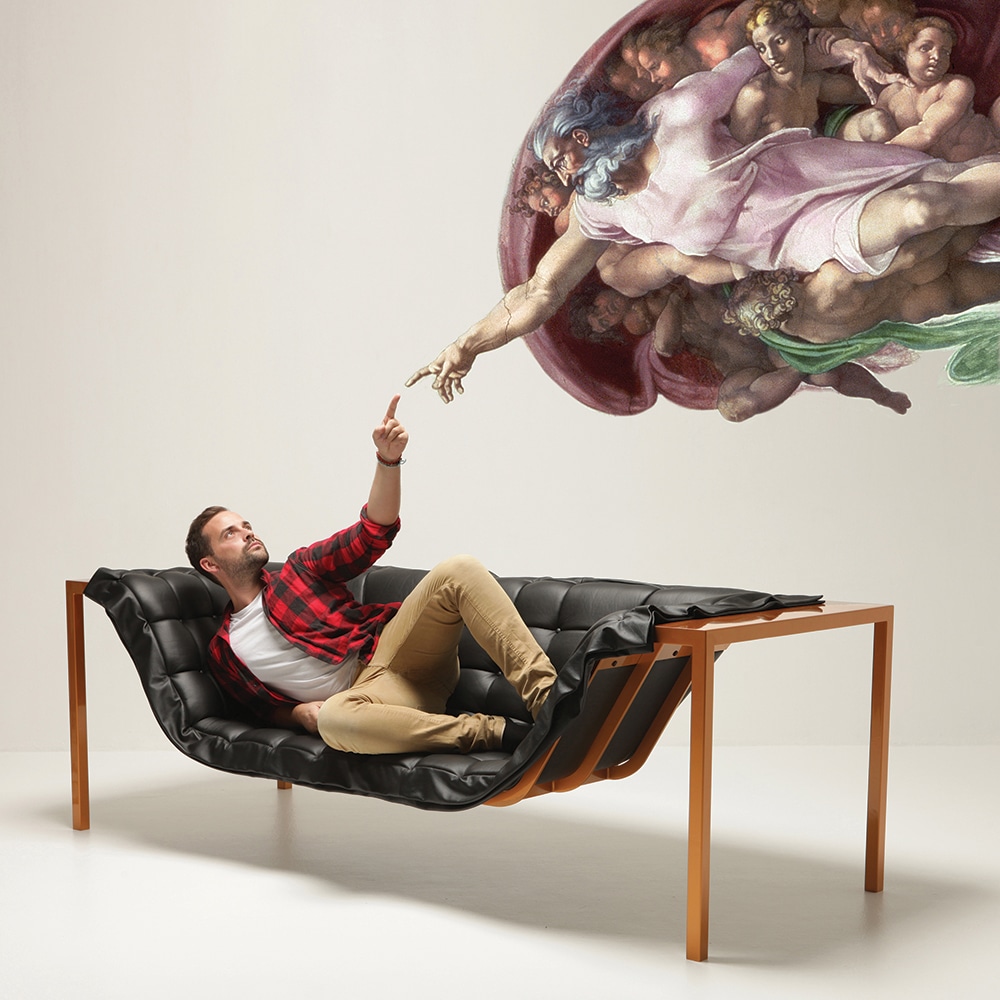 Above: ORBITAL SOFA
Although not instantly evident in photographs, the Orbital Sofa has been aptly named. Look again, and then think of the basic shape of the International Space Station, the ISS. That was the inspiration for this piece, a fusion of extraordinarily complex technical wizardry and simple, functional shape, ideal for relaxing in and contemplating the great questions of humanity: who are we and how did we get here? This piece is also a reminder that great design is simplicity, both visual and structural.
The Limited Edition Orbital Sofa is made in black leather with bronze or steel structure.
What's your creative routine? Do you rely more on inspiration or plain hard work?
Everything starts with the will to work on a new project. When an idea arises, a theme comes to mind, a material attracts me, and that's when design comes in and I try to combine everything to achieve something both artistic and functional. I try to keep my design raw, just as it comes. What's really important to me is not to establish any borders or limits on the design process.
---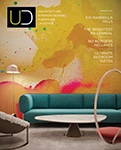 This article first
appeared in the
5th issue of
UD Magazine.
Click on the image to read online.
---