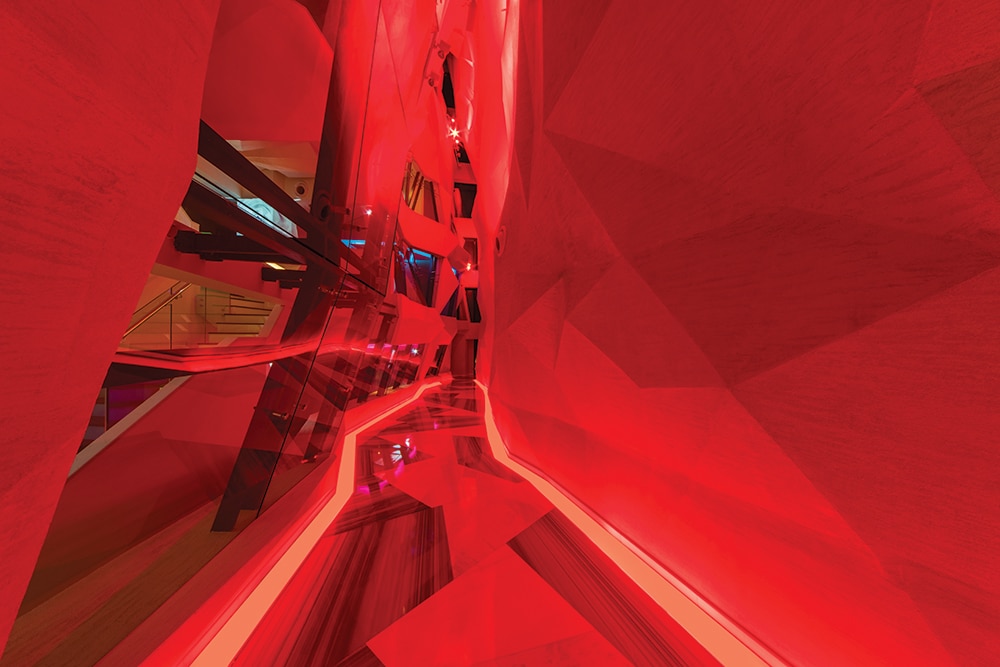 Designer Escapes: W Amman Hotel
Colour and lighting play a key part in the design story at this ultra-modern tower hotel, illuminated at night by an eye-catching vertical red and purple strip extending down its 30 floors. The W Amman, which opened in 2017, is located in the historic city's up-and-coming Abdali district.
Before even entering the hotel, the guests see the illuminated "W" outside reflecting the vibrant colours of Jordan's sunset – a warm palette of yellow, orange and red. This strong use of lighting is continued throughout the hotel, to enhance transitions of mood.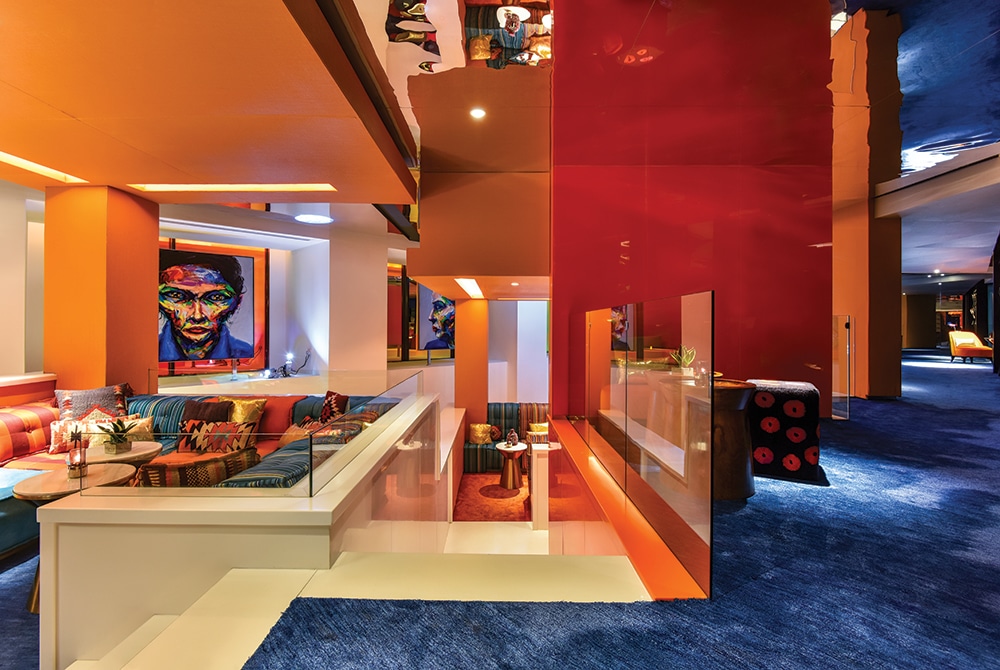 Above: Fabrics in the Living Room lobby bar are designed by a local non-profit organisation, inspired by Bedouin weaving.
Inside, one passes through a narrow corridor of vivid colour edged in lines of light, with striking planes and angles – a modern interpretation of the famous Siq partition in Petra. This ancient UNESCO World Heritage city, carved from rose-hued rock, which is also one of the Seven Wonders of the World, is located two hours from Amman. Dynamic use of lighting in a bold shade of red in this stunning Canyon Walk leads to the lifts, which take guests up to the hotel lobby.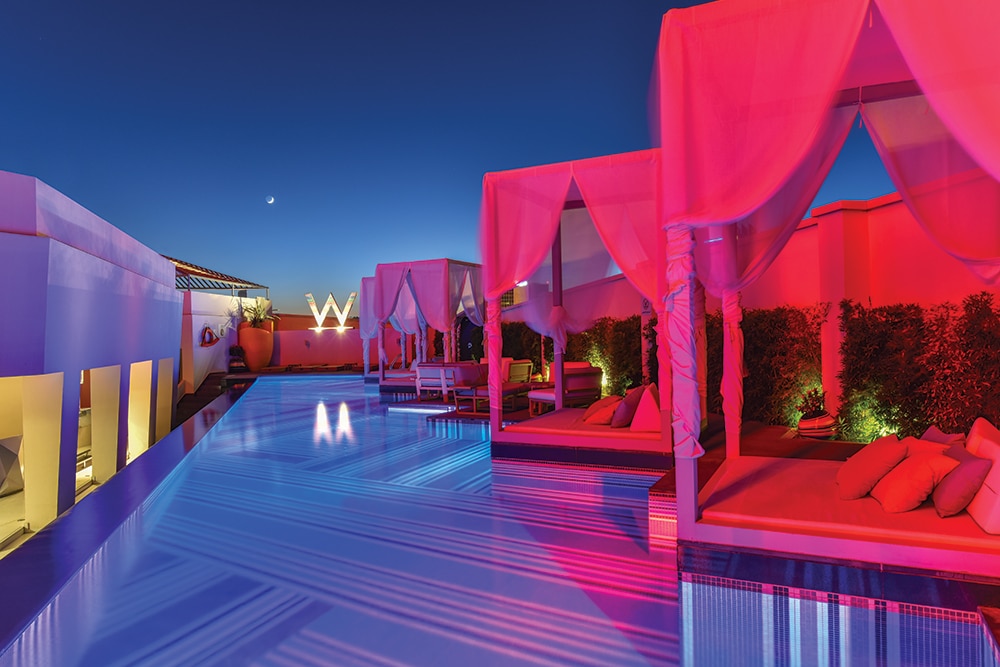 Above: At The Wet Deck on the 6th and 7th floors the lighting transforms the pool and Balinese beds with shades of cerulean, crimson and violet.
Local culture and tradition are strongly reflected throughout the hotel, so that guests feel that they're definitely in Jordan, home to Petra, as well as to many Bedouin (literally, desert dwellers), rather than a corporate hotel with bland décor of indeterminate geographical location. One can also sense humour and playfulness – a lightness of touch.
The Living Room lobby bar invites guests to sink into sofas inspired by Bedouin weaving, while leaning against brightly coloured ethnic print pillows designed by the Jordan River Foundation, a non-profit organisation supporting children's and community projects. Here also they can listen to live DJ sessions: local music is an important part of the experience, as in all W hotels. At night the mood lighting reflects the change of atmosphere as day slides into evening with transitions of colours.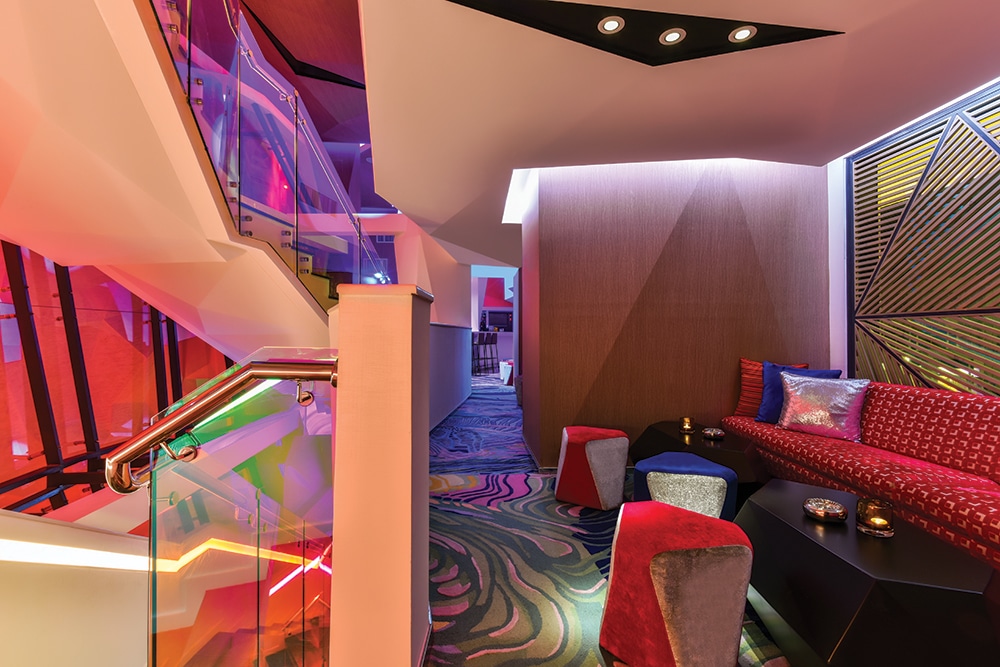 Above: Elements of Jordanian nature are reflected in Aura restaurant, with Petra's rose stone swirling in the carpet. The restaurant serves Mexican dishes, whose pop culture is also referenced in the decor (below)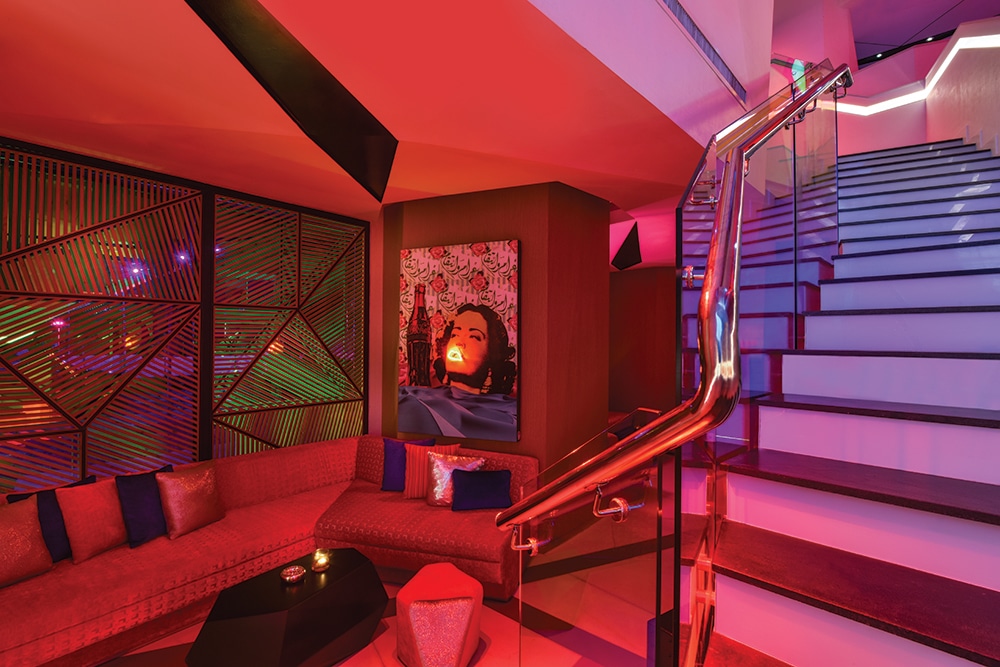 Various world cuisines can also be sampled here: Levantine-inspired dishes at Mesh, with geometric wall designs and ceramics; five regional South-Eastern Asian cuisines at Enso; and cocktails and Mexican dishes at Aura, where even the carpet underfoot is a work of art, inspired by Petra's rose stone, with swirling waves and curves in exquisite shades.
These restaurants feature special nights, keeping up the dynamic essence of W's ethos, such as street food on Thursday and Friday brunch at Mesh, with live DJ sets, and sushi on Mondays at Enso.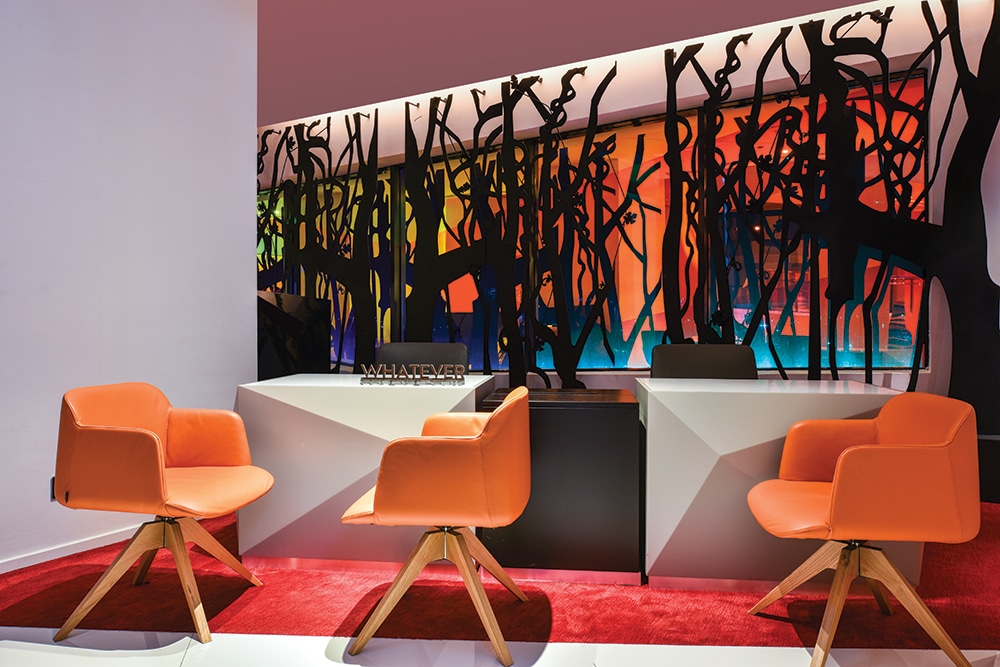 Above: The reception area has an informal yet decidedly artistic feel.
Music can also be heard at the outdoor heated pool, the Wet Deck, on the sixth and seventh floors, which shows Amman's up-and-coming musical talent in a space whose waters and curtained daybeds alike are tinted with cerise and violet by night.
The vibrant cultural theme continues with a fractal tree, made from twisted multi-coloured fabrics, striped in intense shades inspired by Bedouin tribes, offering a further striking visual reference to ancient nomadic desert dwellers.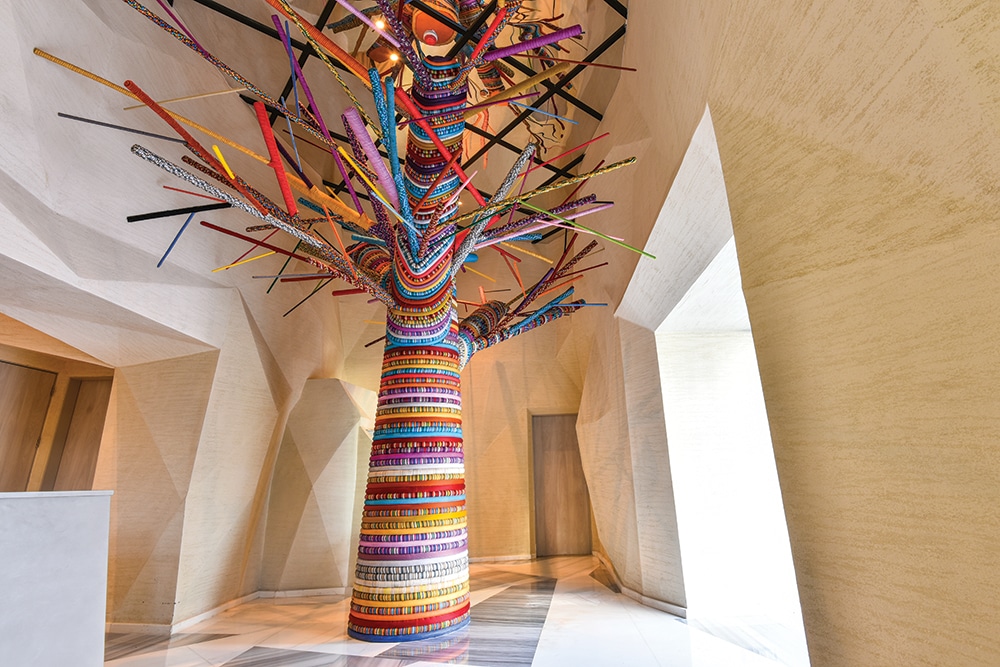 Above: The Tree of Life. Sculpture, nature and local culture combine in this fractal tree inspired by traditional fabrics.
The 280 guest rooms, named Wonderful, Marvellous, Spectacular and Mega – the suites are Cool Corner and Wow – enjoy stunning views of the city through floor-to-ceiling windows. The lighting is in warm, sunny yellow-orange, while bathrooms are in cooler shades of blue and purple, with the intensity changing according to the time of day. Each room has a goose-down duvet, media hub, and its own W Mixbar, with ingredients for guests to craft their own cocktails. What's not to love? 
A quirky design touch which caught our imagination was the illustrative interpretations of Amman's skyline, and of the "ships of the desert" on the bed pillows, in pink and golden hues respectively, to reflect the sunset and sand.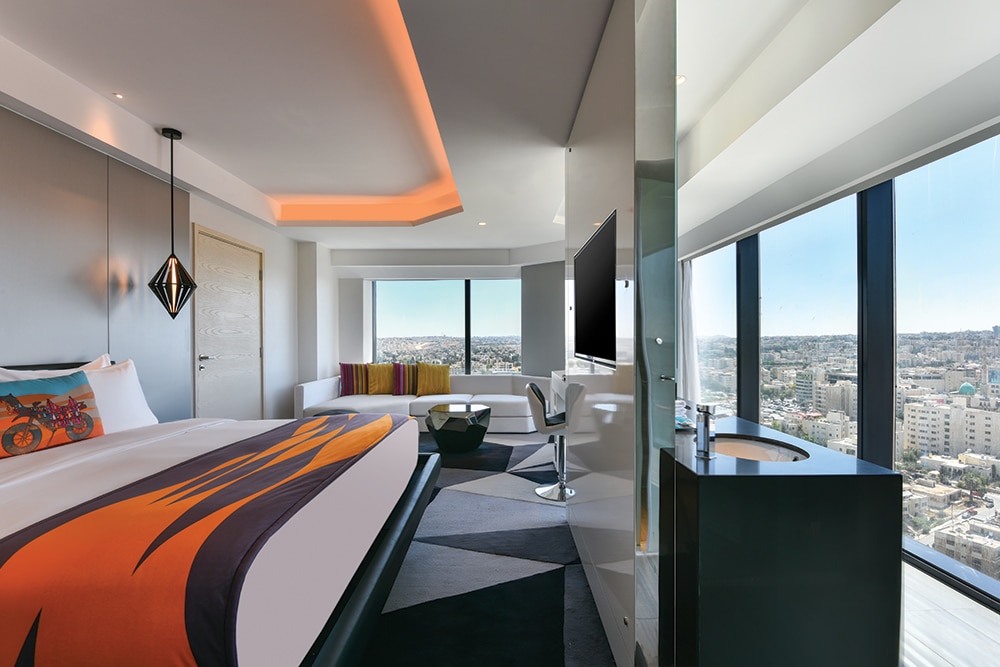 Above: Enjoy stunning views of the city through floor-to-ceiling windows in one of the 280 guest rooms.
Want to host your own private party? The Extreme Wow Suite is similar to a presidential suite, offering guests sweeping panoramic views of Amman, and 159 m2 of luxurious space, featuring an in-room DJ deck, amplified entertainment system, and private jacuzzi.
Mixing age-old traditions and customs with contemporary design, the W Amman strikes a fine balance, offering a level of luxury with artistic kudos and a modern twist.
marriott.com/hotels/travel/ammwi-w-amman
---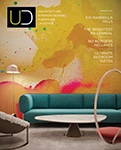 This article first
appeared in the
5th issue of
UD Magazine.
Click on the image to read online.
---