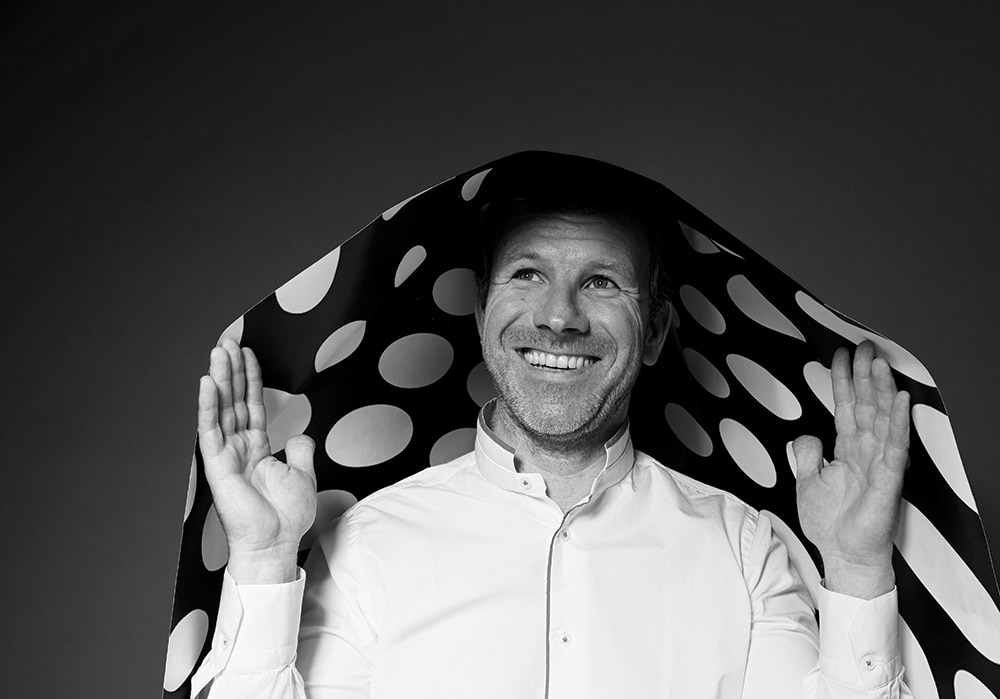 Curious to the max: Interview with Markus Benesch
It prompted Leonardo to seek a means of defying gravity. It encouraged Albert Einstein to search for some of the answers to our universe. It's what makes artists and designers react positively to what many of us would regard as the absurd. Only those artists and designers who have it in bucket loads are capable of constantly pushing the boundaries. Markus Benesch is one of them, and he would also appreciate the close link between the creative and the absurd.
His rather absurd but intelligent company logo tells us so: a simple line drawing of a head with a love/ heart for a mouth, to communicate with kindness and ease; a twinkle in the eye to see the world, and the work his company does for it, with humour and wit; a flexible brain to envision the non-existing, big ears to listen carefully and an antenna on the head to send out and receive messages, signs and symbols. Creatora, he calls her, and cute as she is, she's also the smartest kid on the block.
We spoke to Markus over the best part of an hour, and what he says tells us everything we need to know about him, about life in general and about his work. He started early, designing and building a submarine at the age of nine. It didn't work, but he survived the ignominy. While still at school he had taught himself enough about design to have Benetton commission him to design two of their stores. A move to Italy followed, where Markus studied the work of the great Italian classical painters, and throughout this period, more and more people in the design world were looking in his direction.He was always fascinated by colour printing, and with industrialized printing laminates mostly unknown, he began to experiment on his own. His spectacular multi-disciplinary projects attracted even more attention, and the reputation of the Markus Benesch brand grew steadily. His company have been pioneers in the industrial digital printing industry since the late 90s, working with Hewlett Packard to take digital printing to new heights.
Markus lives between Munich, Milan and New York, and gives lectures and workshops as a guest professor at various art and design schools in France and Italy.
On Curiosity and Inventiveness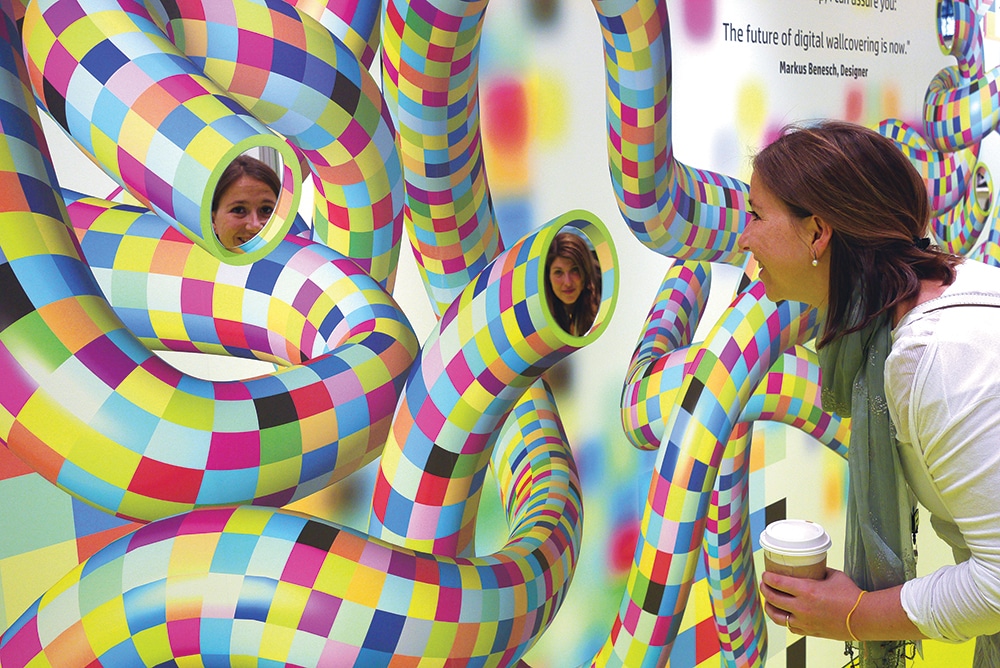 Above: Markus created this Inspirational Wall, a striking 3D Illusion mirror, 6 x 3 metres, for Hewlett Packard at the International Contemporary Furniture Fair in New York, showing the great possibilities of digital printing.
"I was always curious. I built a submarine at the age of ten but it just stayed on dry land. As an adult I taught for 20 years in Milan, and some of the students would come in with piles of magazines under their arms. Asked what they were doing with them, they'd say they were looking for ideas. Nowadays it's their laptops they search. But being curious about life around you, using your own brain and trying things out, is more fun. Too many people are afraid of doing things wrong. Of course you don't want to make mistakes building a house, for example, but being too safe makes for results that can be boring, and that's not really us. Curiosity and inventiveness go together, because you're going into unknown territory, and while there are rules you have to follow, the unknown is a nice space to be in. Curiosity is what keeps us young, I guess."
On Being an Artist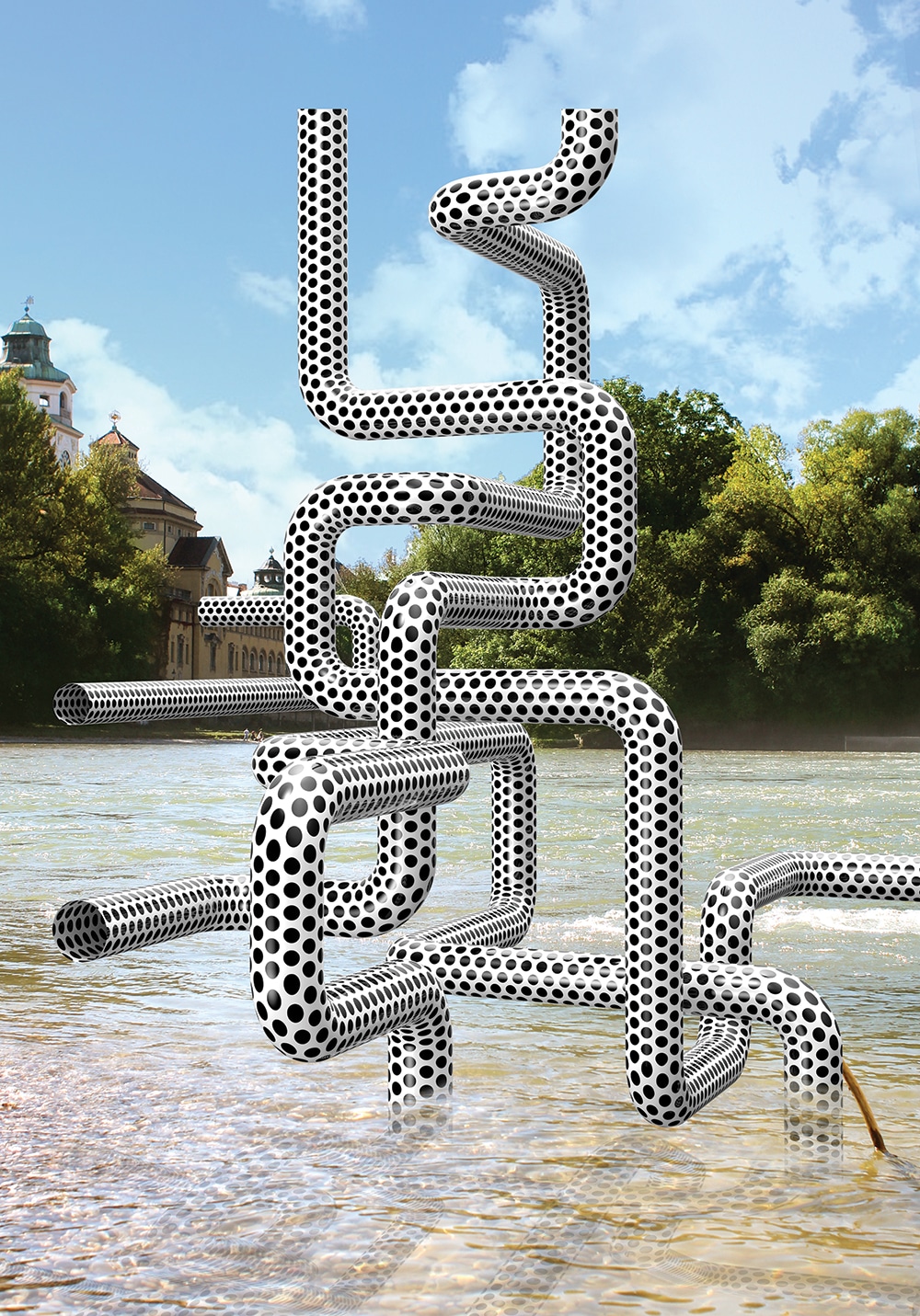 Above: Water Tube at Curious to the Max, an art installation at the Munich Oktoberfest which was a forum for artists, designers and musicians that introduced an exhilarating world of illusion to the visiting public.
"My girlfriend and soon-to-be wife comes from a large family in New York, and I'd have to tell them what I do for a living. Saying I was an artist was always difficult for me, because when I was young I had a pre-conceived notion that an artist was a person who would get up late and do very little all day. So I thought being a designer or inventor was better. Then people would look at my work and say: it's art! And so I had to confess to being an artist. When we're doing an architectural project with 35 engineers, for example, I wouldn't stress the artist bit. I'd call myself an architect or a designer, because I can say what I want, since I have the freedom of not having formally studied anything. I really see myself as an artist who is creating various things."
On Learning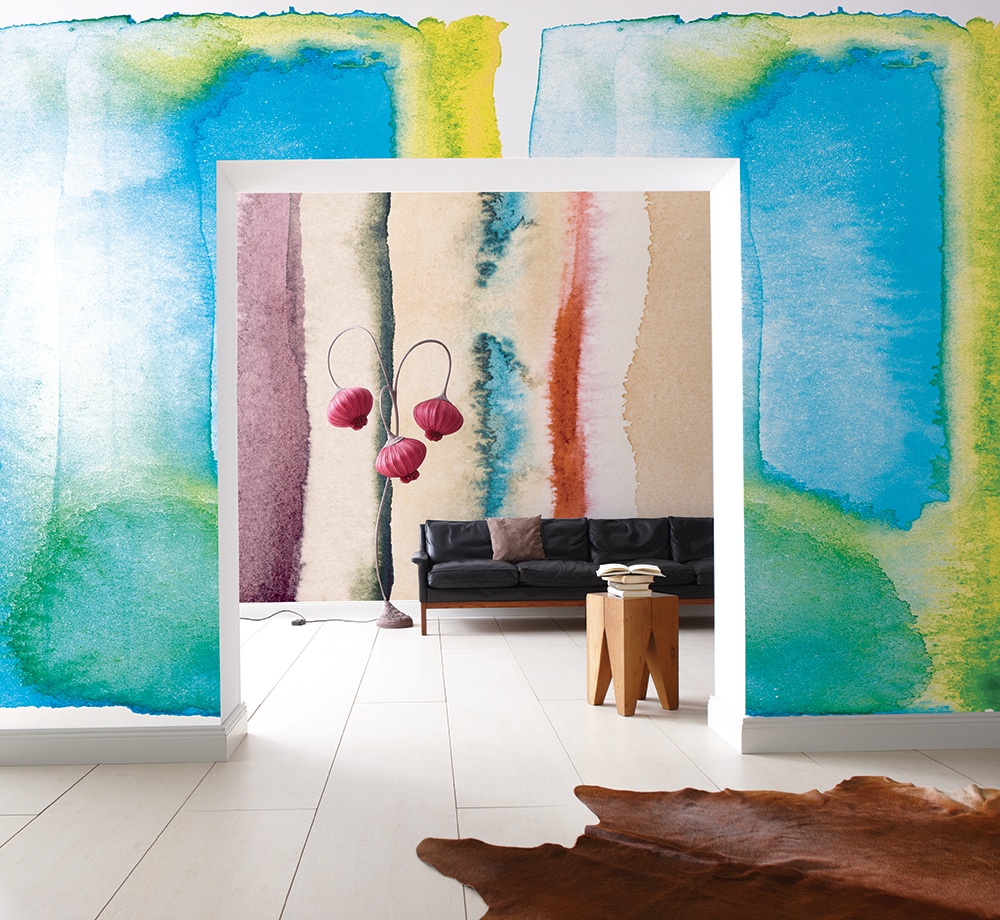 Above: Aquarello Mauve wall covering from the 30 Days Collection by Markus Benesch.
"My multi-disciplinary approach maybe comes from my Italian experience. I went to my first salone at the age of 15, and when I finished school I went back to Italy looking to work with design studios, but having to admit I had no education in the field, and they told me to just do it and see. I never actually worked in a studio, always for myself, but I learned in Italy all about spazio, the entire space where you put things in. I've had to learn various disciplines along the way, and had to do lots of different things to make a living. There's not really a school for multi-disciplinary learning. What I learned by not knowing anything is how to learn."
On Mass Production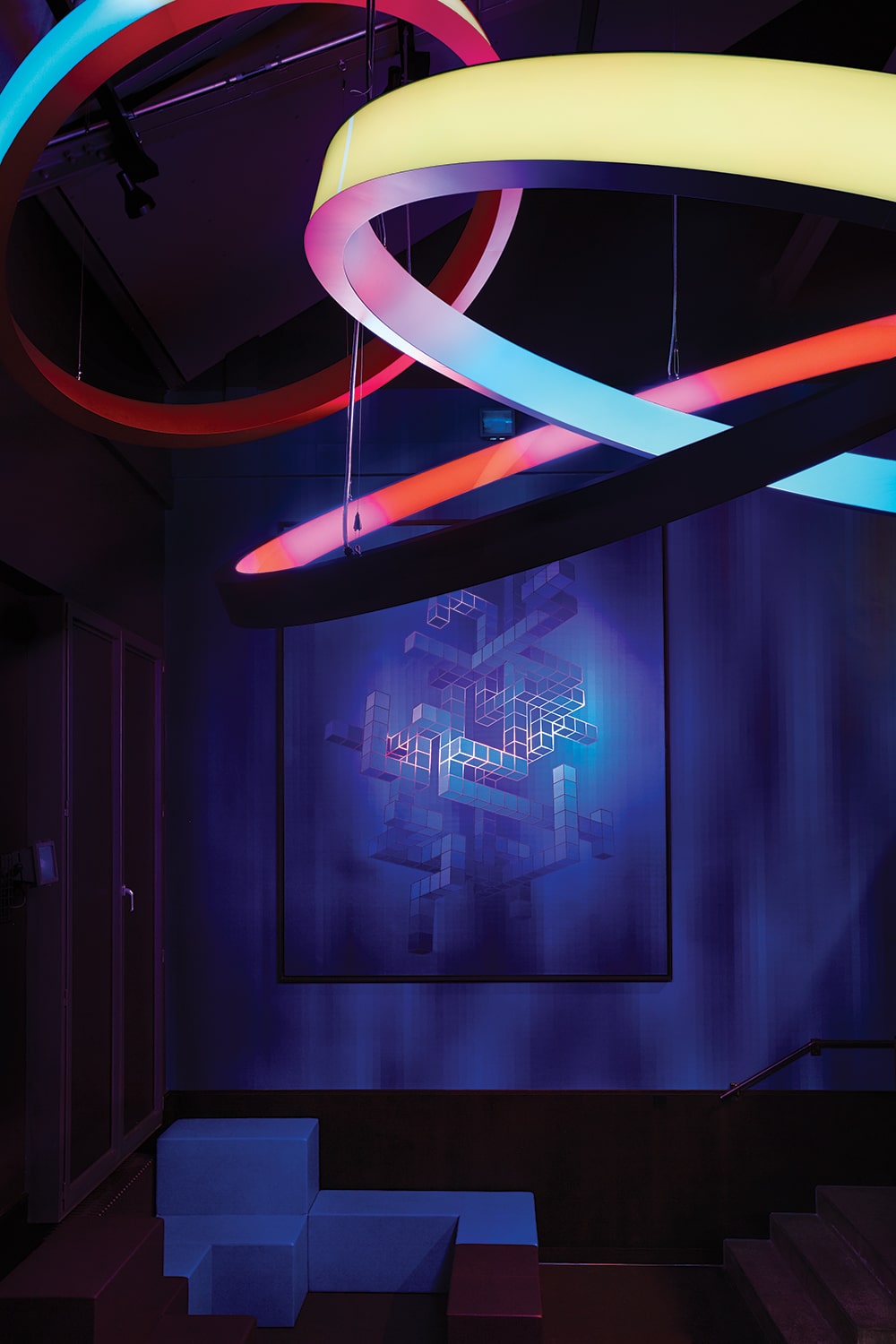 Above: A corner of the lounge at Ampere, a concert and club venue in the heart of Munich, designed by Markus Benesch
"I always wanted to have my furniture mass produced, but it never worked out that way. I guess my work was too artistic. While still in school I worked for a Swiss company who wanted 4,000 beds to sell in furniture stores, and that did very well on royalties, so I thought this could be great, designers could make a huge amount of money from this, but it turned out that was not true at all. It all depends on the pieces, and some things are just not made to be mass produced. The Foomy chair (right), for example, has about 500 laminates, so mass production would be complicated. Also, when I go to fairs and see all the products out there, it might not be such a good idea to put more stuff on this planet. But yeah, the idea of mass production is something I like, especially if it's something fun that many more people would like to acquire."
On Creativity and Funding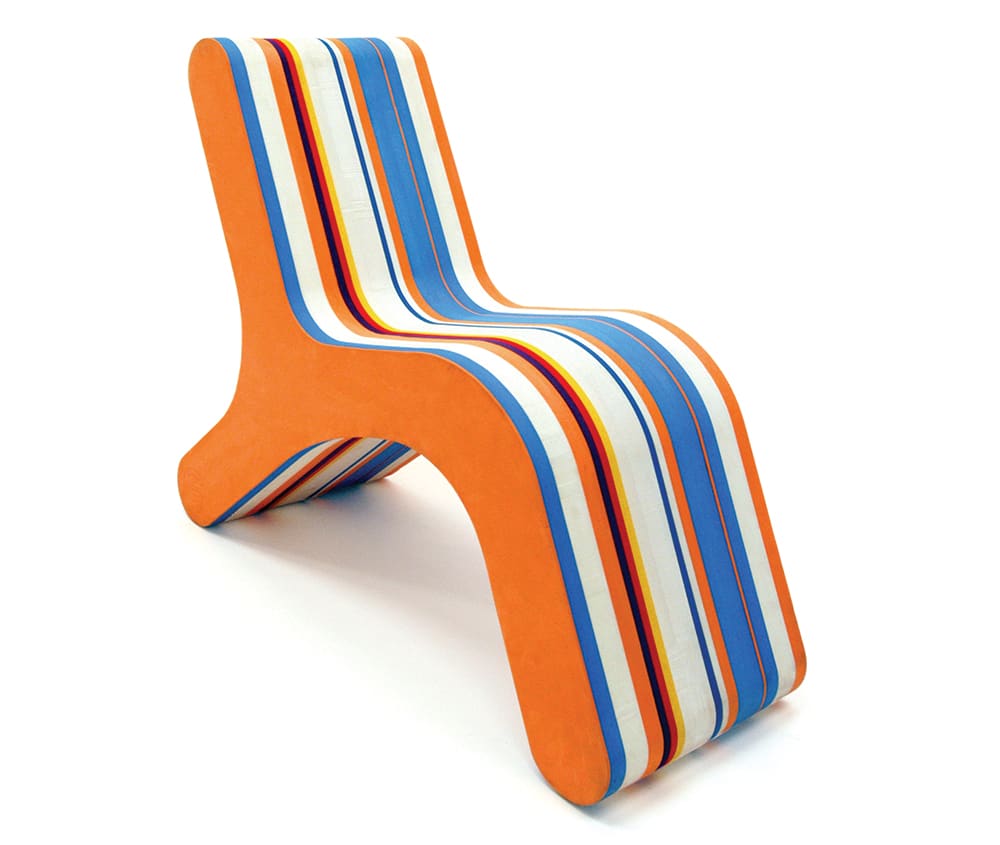 Above: The Foomy Chair, a mix between a toy, a sculpture and a functional object. "My aim was to create a chair which was both easy to handle and comfortable, and which radiated an optimistic aura into the spaces where it was exhibited."
"If I had unlimited funds? Well, I have to say that to have limited funds is also a great source of creativity. In the past, for most of the time I had negative funds, which doesn't make things easy. I have artistic freedom anyway. My clients don't really interfere, unless something were very ugly, I suppose. On the other hand, I have a pet project which I call flat sculpture, three dimensional work printed on layers of metal, and I always wanted to put this in a river, on the Hudson maybe, or in the sea, but you don't really need unlimited funds for that."
On Obsessiveness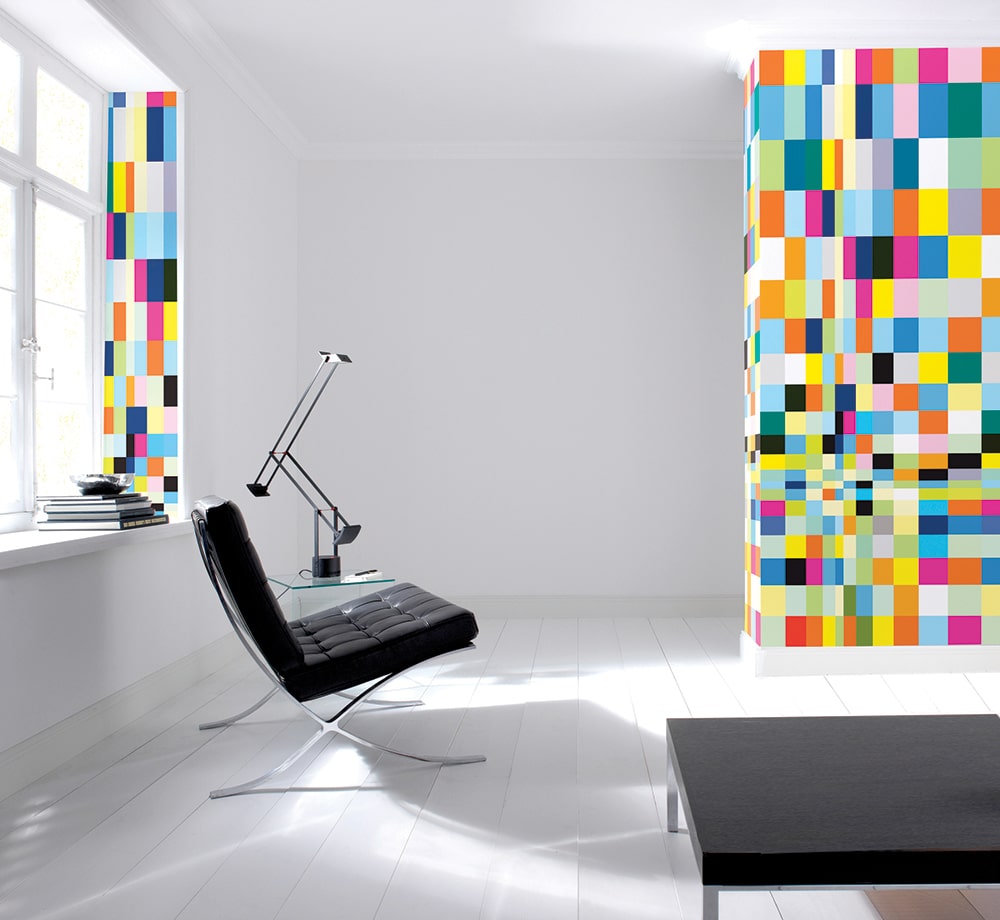 Above: Bricks Colour – a textured wall covering from the 30 Days Wallpaper collection. "This collection offers designs which are full of surprises, encouraging the observer to stop for a moment – and smile."
"I get obsessive in my work, but my house is not obsessively tidy, it's more a goal that I never quite reach. I'd say I'm creative-messy, although when finishing a piece, it has to be executed perfectly, so I suppose I'm obsessive about that. And I'm always surrounded by tons of paper. I seem to attract paper, because I use it a lot, but in this case I'd call it creative-chaos."
On Collaborating with Past Masters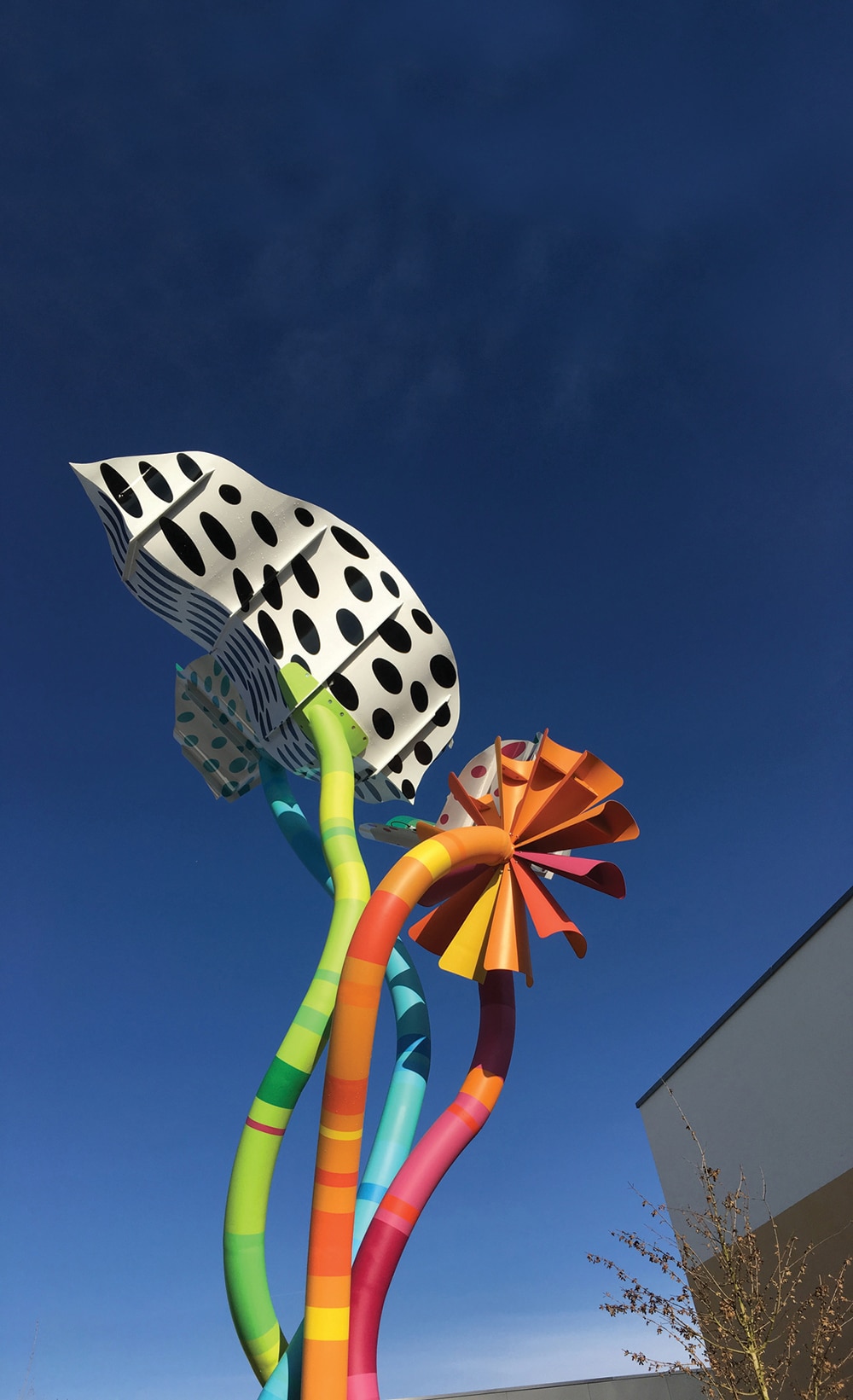 Above: Power Plant solar sculpture for a new residential area in Munich.
"David Bowie, I would say, but I was too shy and slow to ask him and unfortunately now I can't. Not to actually work with him but to do something alongside him, relating to his work, would be great. And maybe Leonardo Da Vinci. I don't think anybody could have worked with Leonardo, but just to observe him and learn. Oh, and Kate Bush, she's not a past master but she has this quality I love in artists, which never ceases to surprise me."
A long lifetime of experience and the wisdom that comes with it packed into 50 years. This is the story of Markus Benesch, so far, and who knows? There will certainly be a lot more to surprise us in the years to come. But even if he were to retire right now to some remote island in the Pacific, his inspirational legacy of creative design, artwork and teaching will continue to colour our world.
---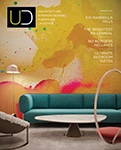 This article first
appeared in the
5th issue of
UD Magazine.
Click on the image to read online.
---