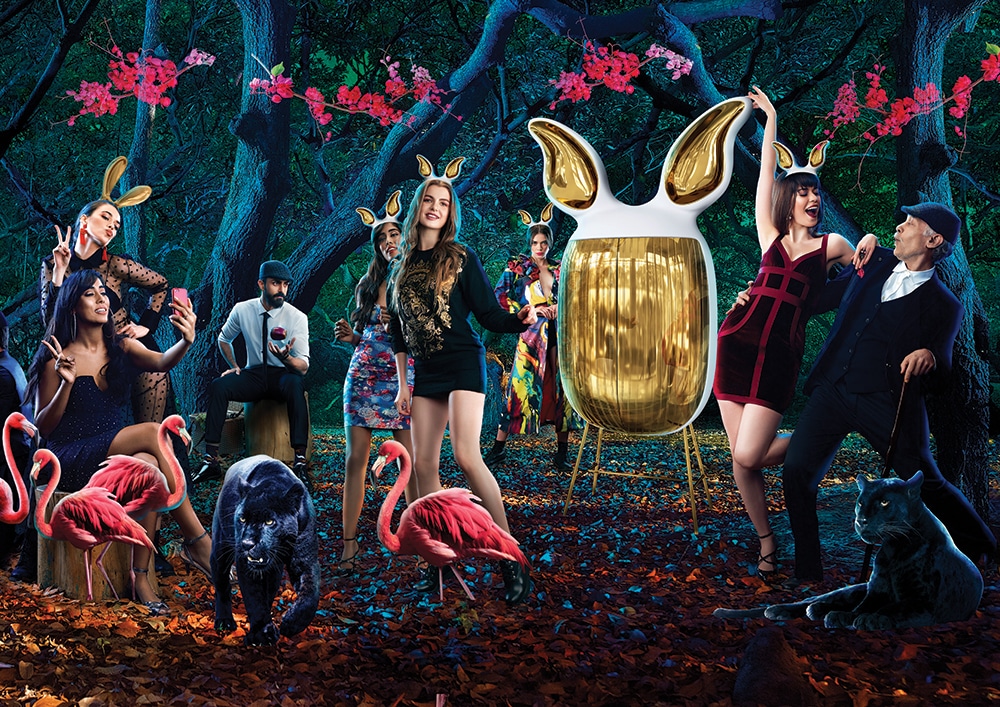 Scarlet Splendour!
Wedged somewhere in fantasy land between Willy Wonka and Alice in Wonderland, these luxury designer pieces will blow your mind. Meet Scarlet Splendour.
Scarlet Splendour: the first time we've ever used the company name, which describes exactly who they are, as the title of an article. The hot colours of India, the hot stars of the silver screen and the splendour that all this evokes. Add a large dollop of humour, the extraordinary design skills of its founders, Indian craftsmanship and best of what Italy offers the world of international furniture design, and success is almost a given.
Almost, but not quite. Like a meal prepared by a top chef, all the ingredients must be measured and fall in exactly the right places, and of course, a key element is entrepreneurship. Siblings Ashish Bajoria and Suman Kanodia debuted their first collection of 15 pieces, titled Vanilla Noir, during the Milan Design Week in 2015, paying homage to the era of silent movies with their light-hearted irony and underlying depth in black and white, and they pulled it off with only three month's preparation. Little wonder then that this Kolkata-based brand has expanded so rapidly.
More than 50 trips to various Italian cities and regions later, the founders realised that bringing European design and Indian craftsmanship together is what creates the kind of previously unseen synergy they were aiming for. Scarlet Splendour successfully transcends geographical borders while staying true to its mission: to preserve the artisan traditions of India and open them up to the rest of the world through top international design.
The pieces, whose design link to India is mainly in the colours and certain design details of the whole, veer between surrealism, absurdism, Art Deco, the playful works of artists like Barry Flanagan and Jeff Koons, and not least, functionalism, although in time, perhaps, they themselves will become an "ism".
Each piece is startling: "For us the drama is all about standing out and creating impact", and each has been designed by the founders or their top-notch collaborators and made to the highest standards of Indian craftsmanship. Each also has an element of fun, from the rabbits' heads and ears on otherwise fairly sober drinks cabinets to the outrageous shapes, doors and other details. To see their Madame Verdoux cabinet from the Vanilla Noir collection, for example, is to both have a laugh at the absurdity of a two-metre high water bottle and to look into the colonial past of India itself. To see the spidery legs on their Nika Zupanc pieces, which seem to float above the floor, is to realise the genius of 1950s furniture design, and to see the 88 Secrets Bar cabinet is to know that these people have a fine respect for the Art Deco period. Plainly put, they know their stuff.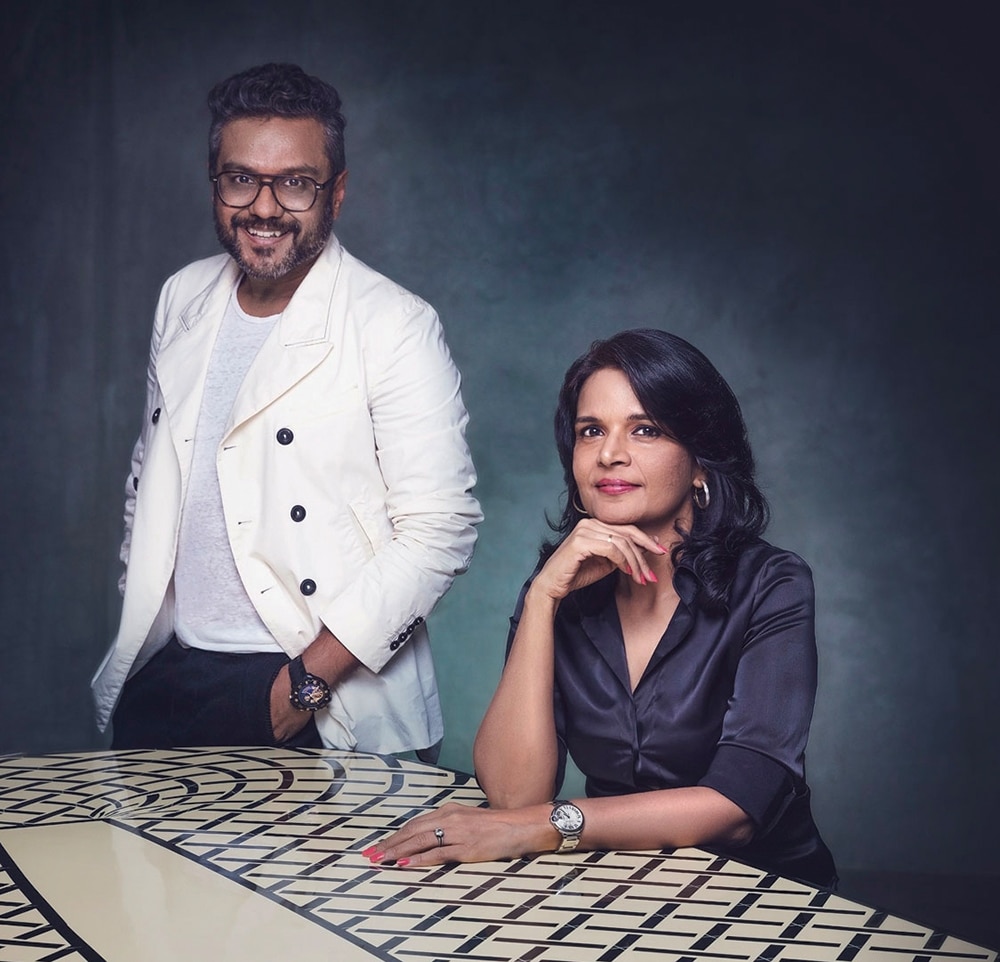 Above: Siblings Ashish Bajoria and Suman Kanodia
UDesign talked to Ashish Bajoria shortly after the release of the brand's latest collection, which brings together designers from Italy, Slovenia and Holland.
The motto of your company is "Craft, drama and luxury". Where does the drama fit in?
Each product is hand-made, each is a luxury piece, and each is dramatic and maximalist as well. We know it creates a certain drama in the space around it, wherever it is. For us the drama is about standing out and creating impact. I don't want to call them statement pieces, but they are indeed dramatic.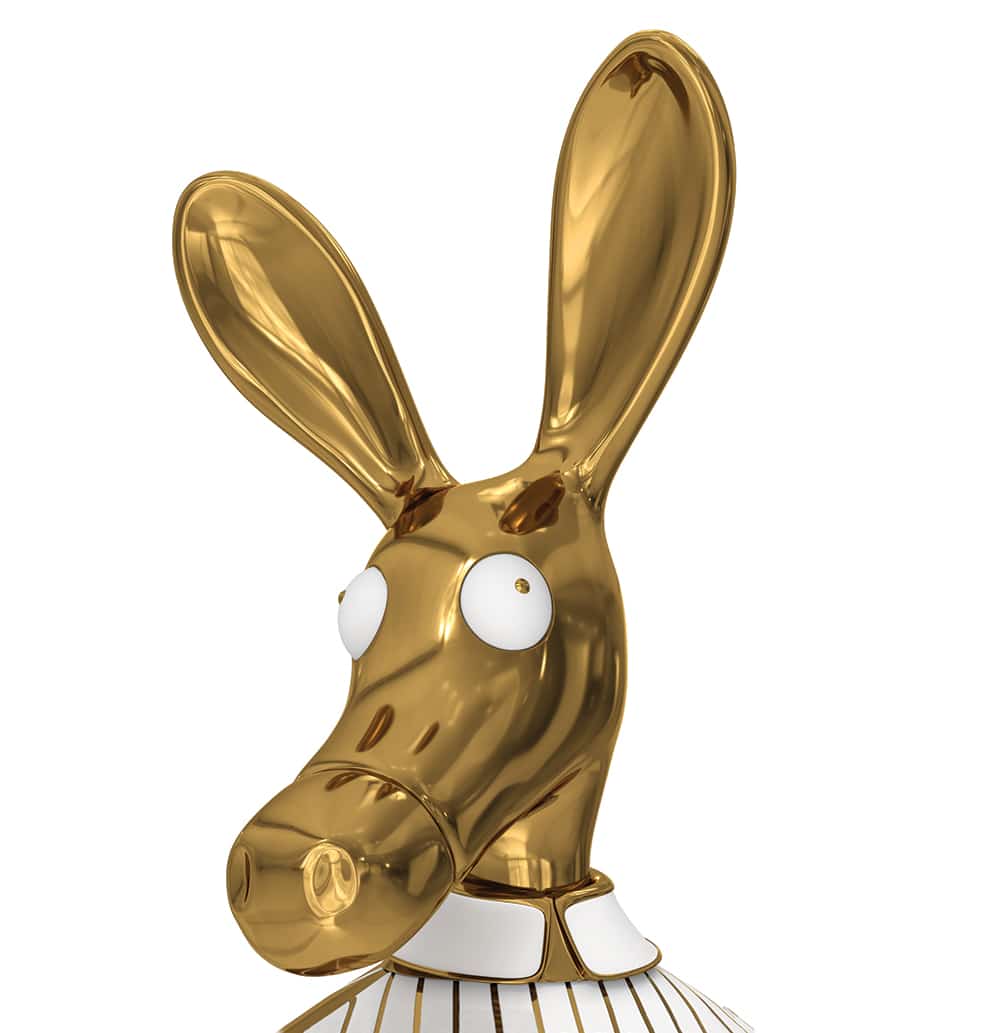 Above: The Ciuco Cabinet by Matteo Cibic is a decadent conversation piece.
How did you know it was time to put your father's engineering business aside and embark on the Scarlet Splendour journey?
As children, my sisters and I were lucky to be exposed to the entire range of Indian crafts, on a one-to-one basis with the craftsmen. When I was about eight years old, I made a jewellery box for my sister Suman, and she still has it. She studied interior design and I was painting as much as I could while handling my father's company. That business, as it grew, took me to Italy and exposed me to Italian design, and that's what renewed our love for the discipline. About six years ago we were visiting a design exhibition in Milan and, while choosing ceramics for my new house in India at his store, I met Matteo Cibic. As he says, we fell in love! We became best friends on the spot, and later I commissioned him to design a lamp for my new house, which is now part of the Luce Naga collection. We sketched together and went to the factory to see how the sketch could be brought into life. It became a journey we didn't want to end, so we came up with the idea of forming a company.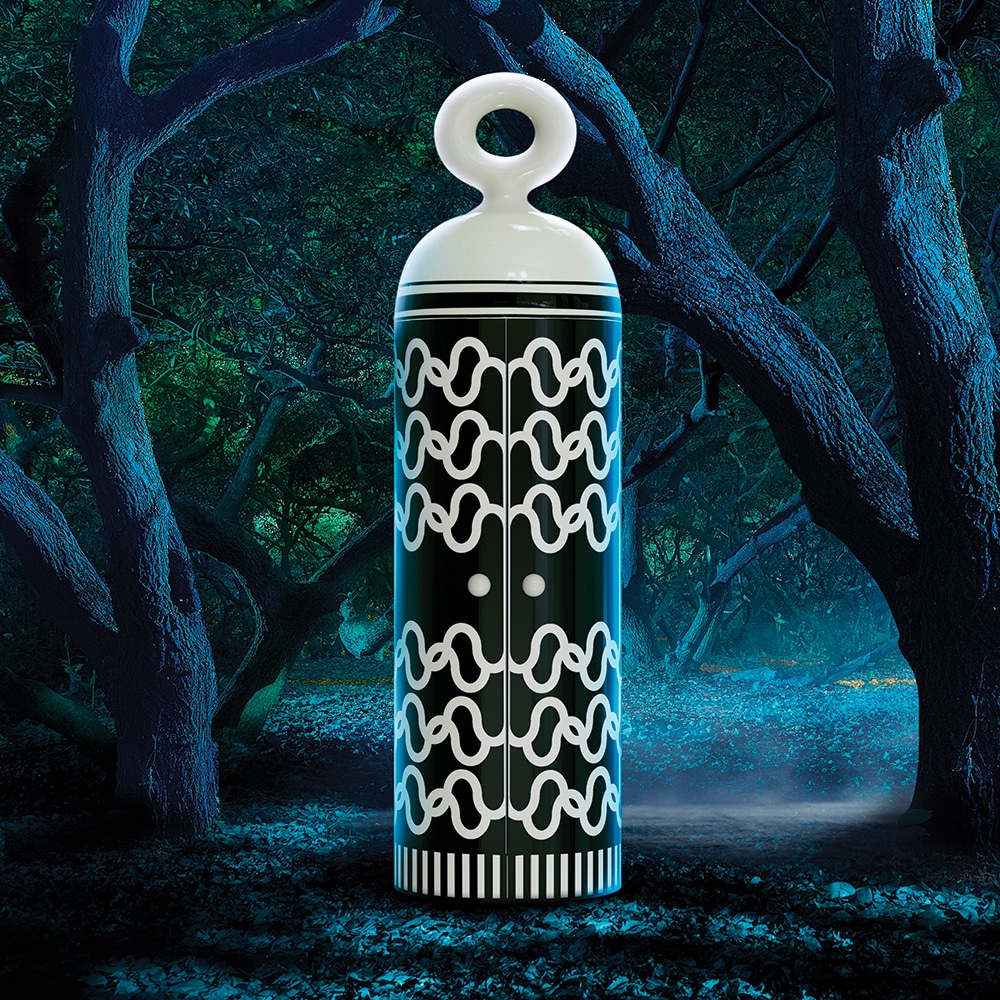 Above: Madame Verdoux by Matteo Cibic is a splendid cabinet from the Vanilla Noir collection with lace inspired motifs and rich black leather interiors. Standing at just over two metres high, it can be used as a bar or a storage cabinet.
As a co-founder of the first Indian luxury furniture company, which values of your homeland would you want the world to know about?
We are very proud to be Indian. When we founded Scarlet Splendour a lot of people advised us against stating our heritage so openly, suggesting we wouldn't be able to sell anything. But you have to be grounded in where you come from and what surrounds you. India is incredibly rich in culture and art, and Indians have an innate sense of craftsmanship. There are many regions where generation after generation have been perfecting their craft over the years. Metal handicraft from Moradabad, jewellery from Rajasthan, rugs from Benares, there are many examples. Creating the brand, we wanted to look beyond the typical Indian souvenir shop. A lot of these products have incredible craftsmanship but not much product design behind them. We wanted to form a company where every product is made by artisans, but the craft is preserved by a commercially viable venture, saving it from dying out like many other ancient artisan techniques. Scarlet Splendour is a meeting point for European designers who are given a chance to dream up their most daring designs and Indian craftsmen who want to pass on their traditions and give their art an international appeal. It's the best of both worlds.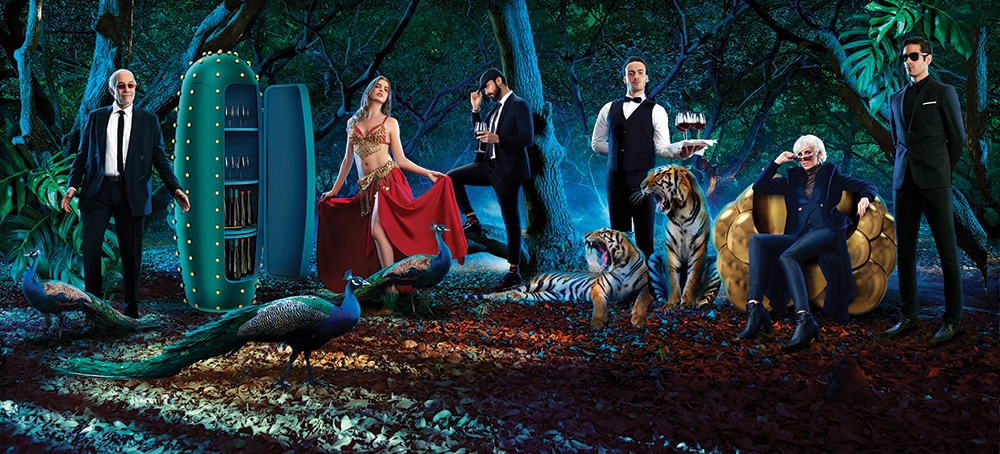 Above: The Wolk Chair by Richard Hutten is a giant cloud-shaped chair in brass which becomes the conversation piece in any space. It is almost surreal in appearance and a triumph of ergonomics. Left: The Oasis Cabinet also by Richard Hutten is a novel deep green cabinet with pale blue interiors. It is covered in gleaming brass spheres reminiscent of thorns on a cactus.
Indian artisanship and European design. What brief do you give your designers to bring these two values together? 
It's a very complex process but it's also very simple. When we choose our designers, as editors of the brand narrative we have to check whether their signature forms, lines and language can be taken onboard. The brief is quite extensive – we tell our designers everything about our strengths, crafts and materials, but we never tell them what to do. We didn't tell Matteo Cibic to design a donkey with a bar inside, or order Nika Zupanc to design a cabinet that looks like it's been gift-wrapped. There is a continuous process of going back and forth once our designers start to sketch, a constant flow of shared ideas. The result is not a surprise. The goal is to help them produce a piece that is completely fresh and revolutionary, but at the same time contains their signature. If you look at almost all of Nika Zupanc's pieces, no matter how visually fundamental, they have the dainty legs on all of them. That's her signature, and it's maintained. At the same time, it's the designer's task to transmit our brand values.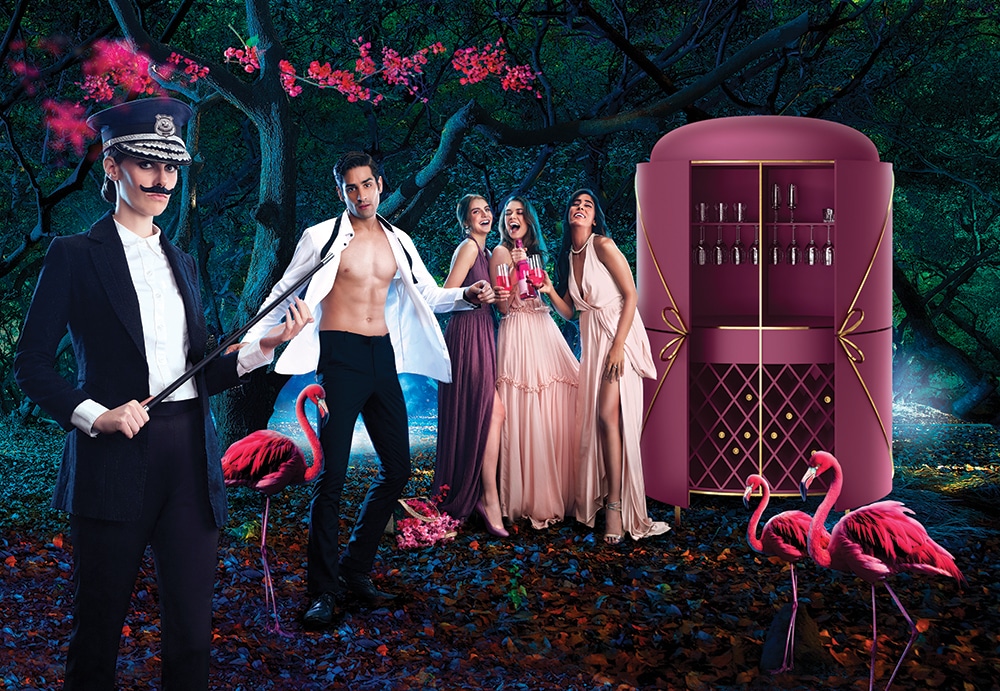 Above: 88 Secrets Bar Rosa Oro by Nika Zupanc is a rose pink bar cabinet in sensuous, feminine lines with luxurious metal trims in gold.
Your Lotus Sanctum cabinet is based on the symbol of the mandala, and in India it is sold as a shrine but used as a cabinet elsewhere. How do you manage to bring the spiritual and the mundane together so freely? 
There are different things that give you tranquility and answer your spiritual calling. It could be a temple, it could be alcohol, it could be a shoe fetish or a jewellery obsession. In India if someone wants it as a shrine, we customise it, while European clients buy it as a cabinet. We call it a spiritual piece, but you can experience spirituality in many forms. We are all different and we don't judge.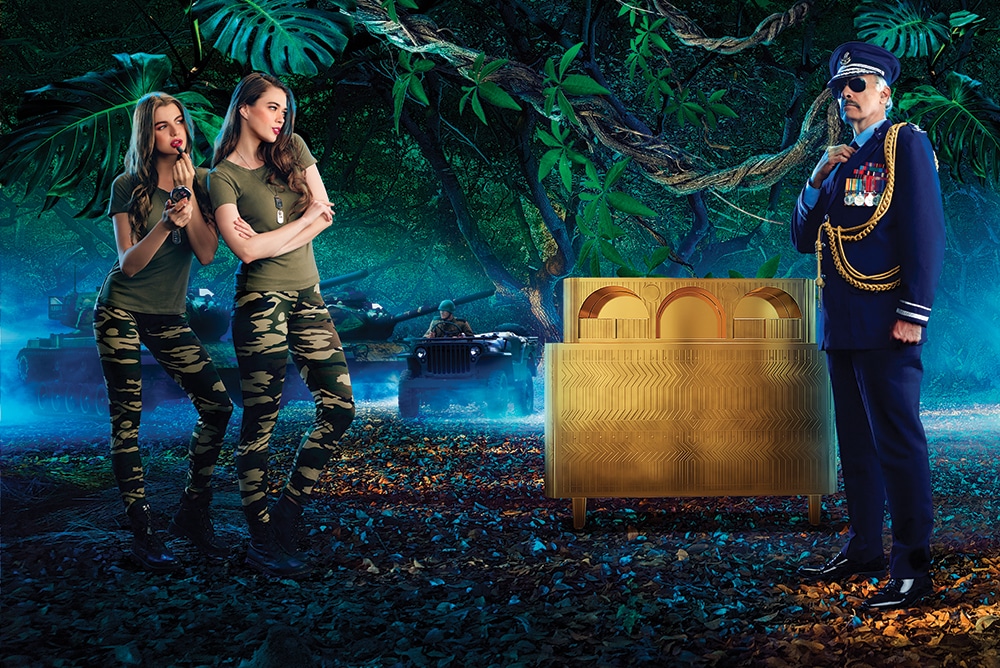 Above: The General Oro by Matteo Cibic is a chic study table in brass, with an extendable writing top and small details, reminiscent of a traditional desk.
Your pieces are anything but ordinary, ranging from the surrealistic to the exotic. Just how difficult is it to come up with new ideas? 
To be successful you need to believe in what you do. We believe in ourselves. The choice is limited to being a leader or being a follower, and we always choose the less comfortable leadership role. It might not mean commercial success from day one, but once people accept you, they don't turn back. We've seen the same in other companies – Diesel, Louis Vuitton, Tom Ford, Gucci – all of whom have their own language. Everything they launched was revolutionary at the time, but they became inspirational brands.
How do you picture the eventual owners of your pieces, especially those from your lastest collection (the Lulu and Oasis Cabinets, the Wolk Chair and others)?     
Apart from craft, drama and luxury, most of our pieces bring a smile to one's face. Luxury doesn't need to be serious. It can be happiness, fun, humour. When you possess a piece of furniture, it's not just a piece of furniture anymore  – it becomes a part of your home, it grows with you. It also stays with you, because our products are meant to be handed down. Humour is an essential part of our philosophy and we believe that everyone should have something that brings pure happiness to their home. You could have the most serious living room and have the ANIMAGIC donkey just sitting there staring at you, making you smile. Our furniture is for anyone passionate about design. It's not about affordability. You could call our brand inspirational, so someone could be saving to own just one Scarlet Splendour piece. Why not?
---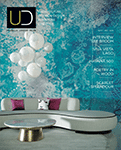 This article first
appeared in the
6th issue of
UD Magazine.
Click on the image to read online.
---