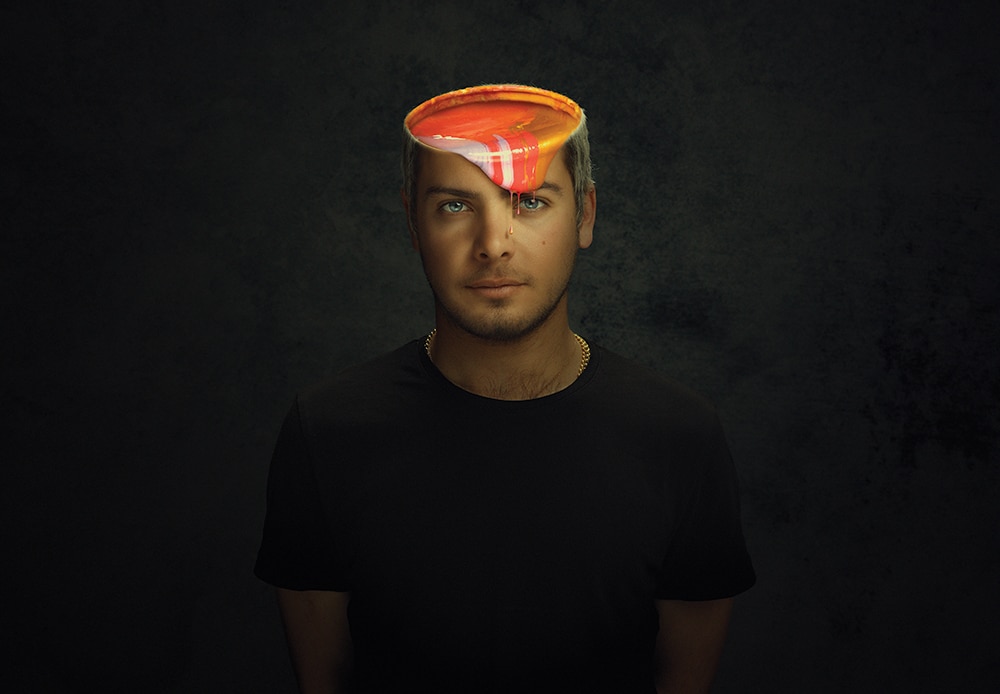 The Brightest Millennial
UD Magazine talks to Misterpiro about how it feels to be on the Forbes list of the 30 most influential people under 30; his dream projects and the ambition of creating his own line of furniture. He's a visual and urban artist, graffiti master, DJ, interior designer and a daring personality, although true to the spirit of his generation, he isn't preoccupied with definitions.
Text and interview by Anastasia Sukhanova, photos courtesy of Ink and Movement.
Misterpiro was born Andrés Sánchez-Ocaña Núñez in 1994. That's more than a century after the birth of impressionism, a few years after the launch of the World Wide Web, and the same year Friends aired for the first time. He is a visual and urban artist, graffiti master, DJ, interior designer and a daring personality, although true to the spirit of his generation, he isn't preoccupied with definitions. His technique is based on improvisation, where the aggressive quality and colours of spray paint and the delicacy of watercolour mix to become perfectly modern, yet deeply meaningful artwork.
Misterpiro has collaborated with such brands as Converse, Dr. Martens and Nordic Mist, and yet he isn't looking for more of the same – he wants to maximise his creativity through different media and projects of his own. Born and based in Madrid, Misterpiro and his artworks are borderless: from London to New York and from Seoul to Mumbai.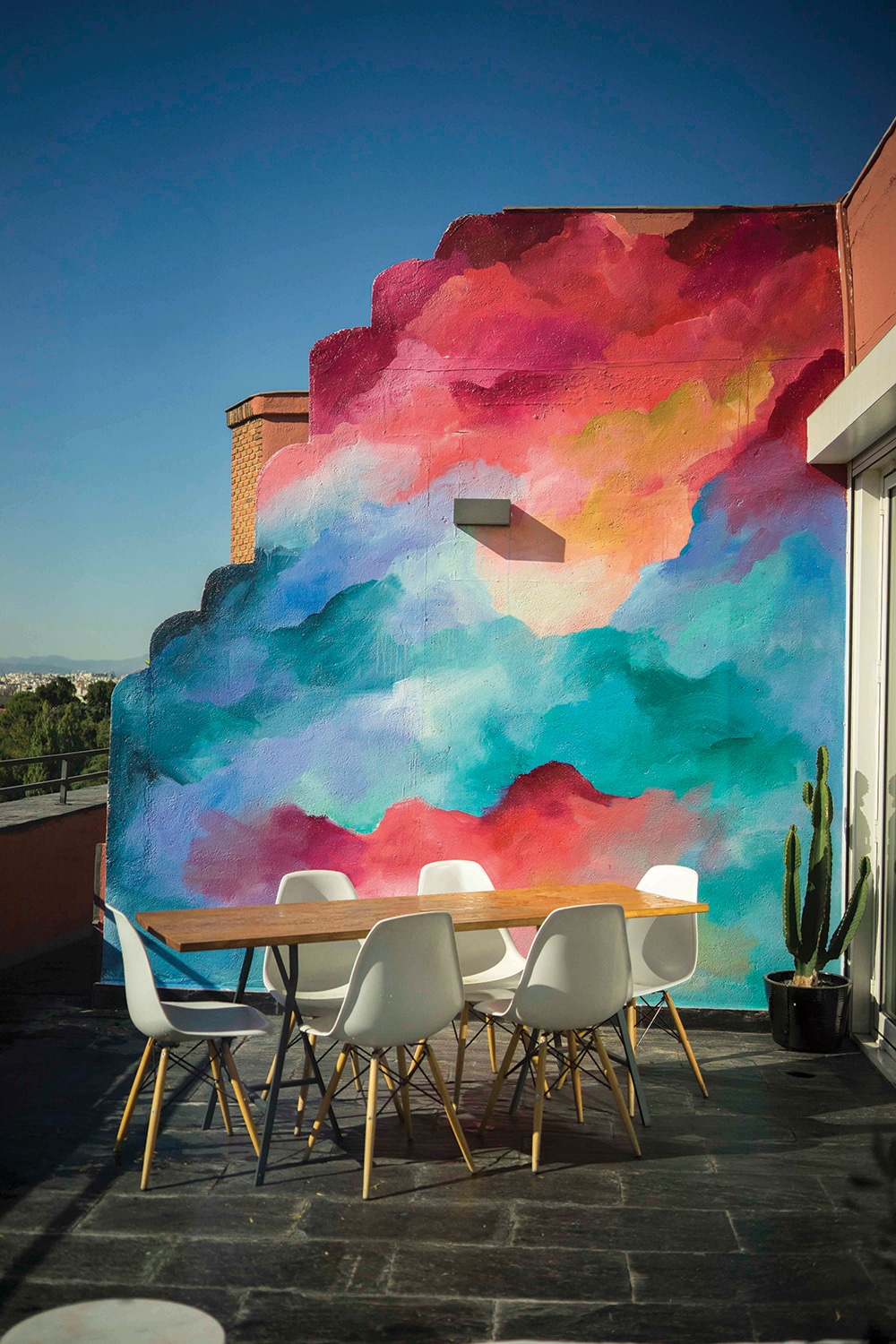 Above: Misterpiro's artwork brightens up a terrace.
You started your creative path as a street artist, always improvising. Now a lot of your work has to do with design, brand collaborations and other projects that require more precision and planning. Which do you prefer?
My whole creative process is usually based on free-styling. I hardly ever do sketches of my paintings and murals. I can determine a concept to base my creations on, depending on the collaboration or the brand that I'm working with. But once I start working, I let myself go with the flow and produce the artwork impulsively. Even though I have slowly walked away from graffiti, that way of working is still alive in me and in what I do.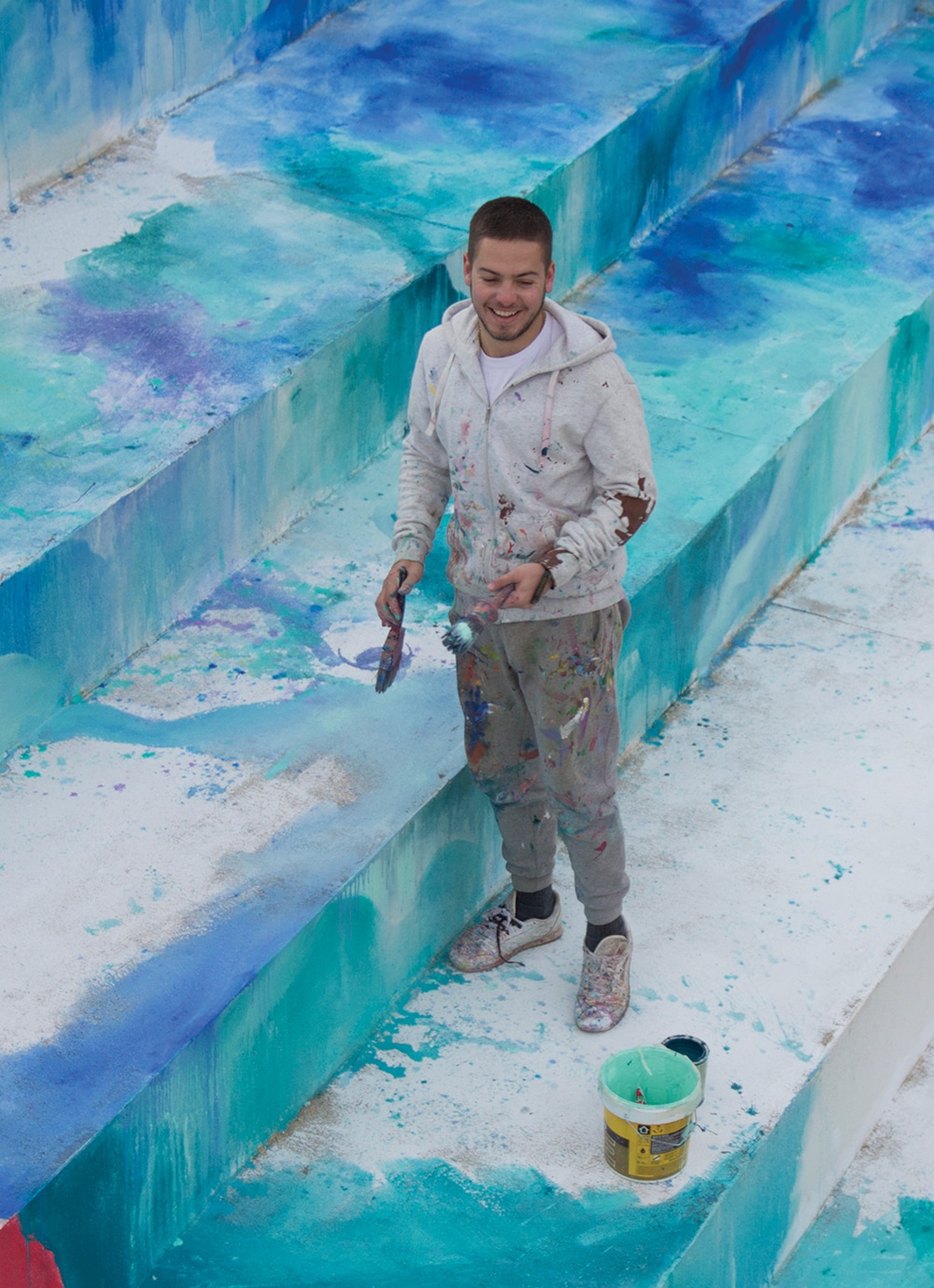 Above: Misterpiro brightens up a football stadium in Extremadura, Spain.
What's your favourite collaboration to date?
A few months ago, I did a collaboration with Nordic Mist. Spain's main cities were papered with graphics I made for them, and then they decided to turn it into a TV commercial. It was a huge success for me. Normally the customer asks for so many changes in advertising campaigns of this magnitude that your artwork loses identity somehow, and you end up doing something that doesn't represent who you are. In this project, however, I was given total freedom and allowed to fill three different sets with my work: a house, a bar and a rooftop terrace. At a visual level, this collaboration is my favourite so far.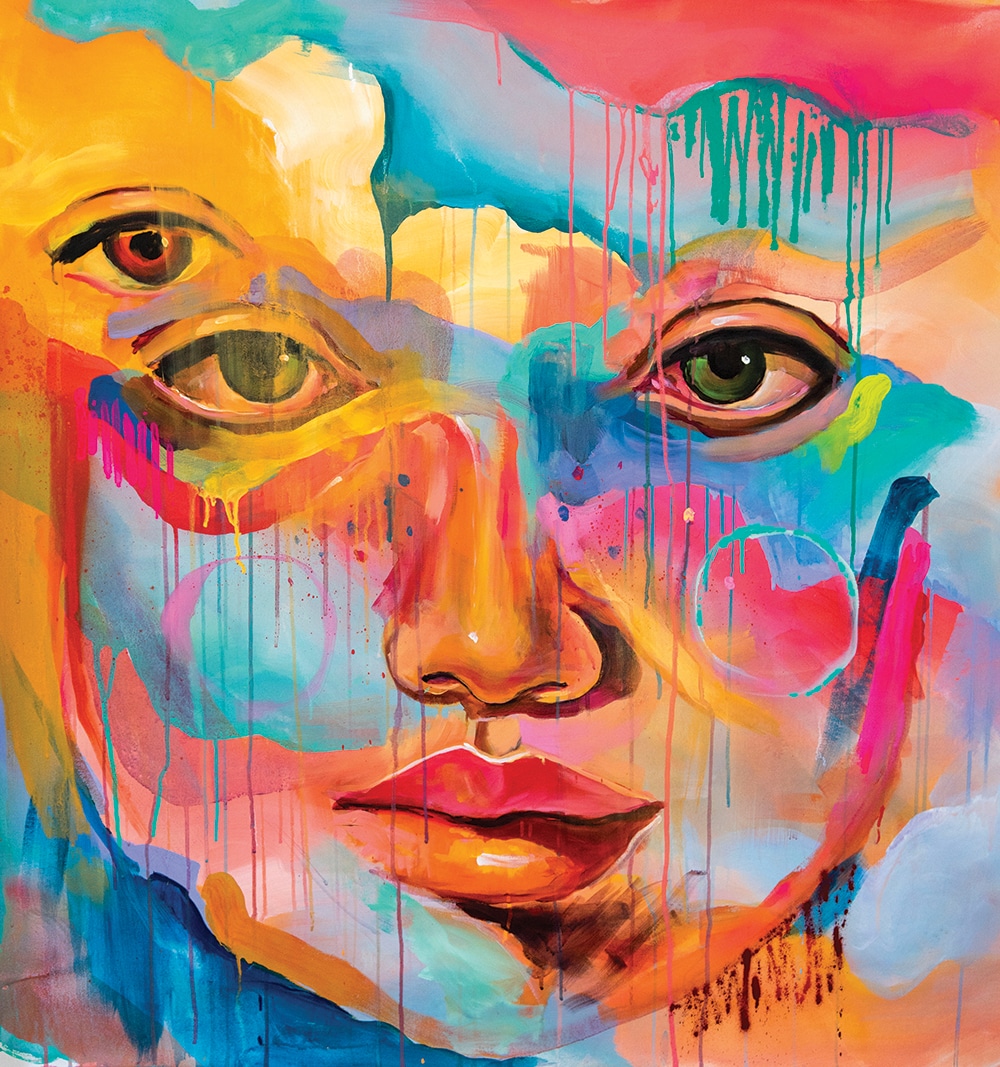 Above: From the People Through Me series.
All of your creations are made in bright eye-catching colours. Why is that your palette of choice?
It's not something that I plan for, really. I usually freestyle, even with the colour palette. I often try to do monochromatic pieces or work with pastel colours, but I eventually end up using bright tones and fluorescent colours. The piece usually feels unfinished until I do.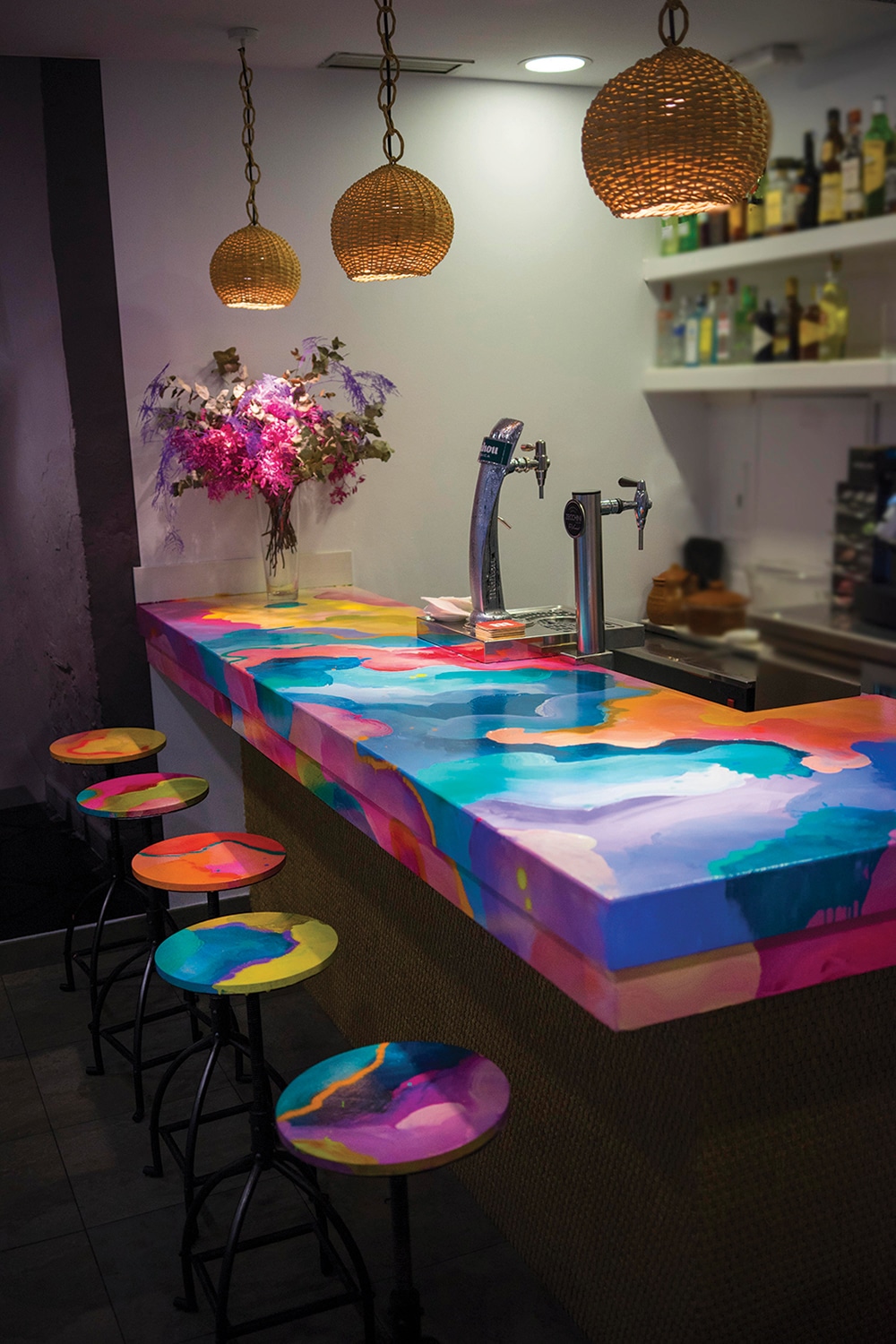 Above: The bar at the Marengo Madrid restaurant gets the Misterpiro touch.
Human skulls and other bones seem to be a recurring theme in your work. What is their meaning for you?
I love dealing with the subject of human anatomy. A year ago, I did a series of artworks that included bones, hands, skulls, and some other parts of the human body which have always been related to dark things or had negative connotations. Using colour to put those negative elements and their traditional interpretations upside down provided this piece with a sweet and eye-catching look.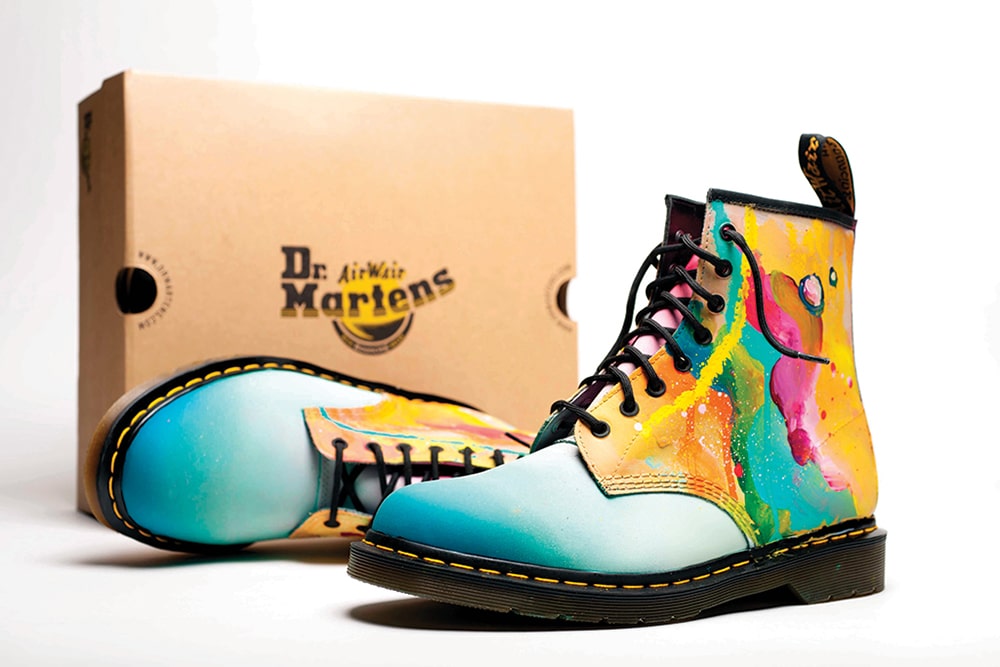 Above: Misterpiro's Dr Martens.
In 2017 Forbes Spain magazine put you on the list of 30 most influential people under the age of 30. How do you interpret this influence and what would you like to tell the world?
The truth is, it was a huge surprise – especially because I was surrounded by entrepreneurs that were all very unlike me. They were young too, but mostly CEOs of their own companies or app developers. Knowing that Forbes chose to include someone from the world of art as an influence made me even more excited. It encourages young people to believe in what they do, whether it's painting murals, dancing or designing clothing professionally. You can be the CEO of your own lifestyle and make it whatever you want.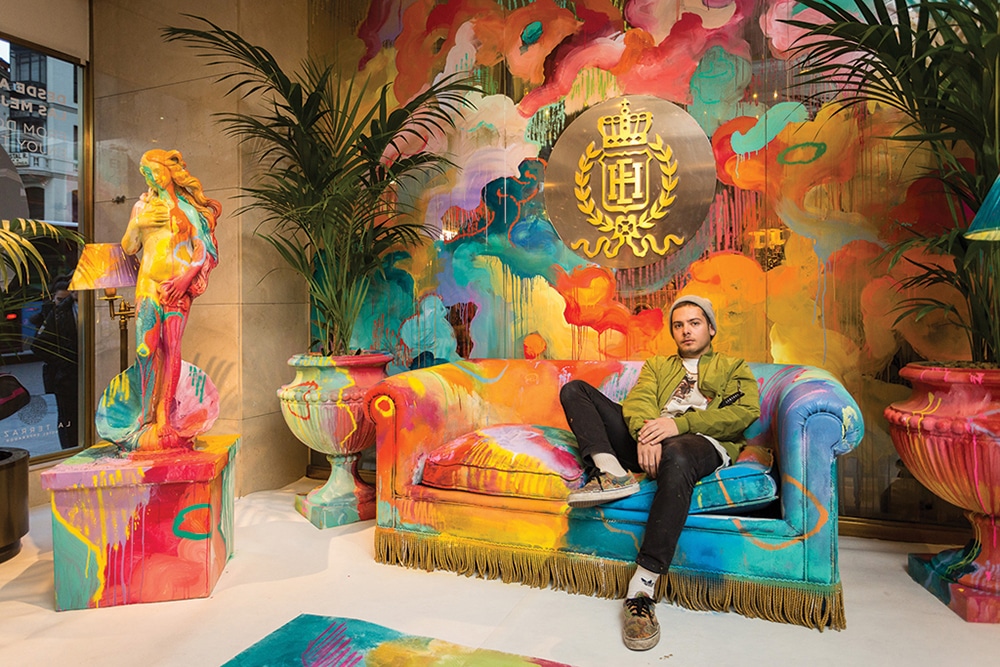 Above: Through the Glass – In 2018 Misterpiro transformed the lobby of the Emperador Hotel on the Gran Vía in Madrid with his paintings on the walls, stairs and furniture. 
One of your recent projects was the redesign of the lobby in Madrid's Emperador Hotel. What is it like to take your art into the sphere of interior design?
It turns out that this past year I've worked on more inner spaces than big murals in the streets. I love to play with the architecture and the elements that compose a set or a room. I find flat formats like murals or canvases quite uninspiring. I really enjoy having an entire space to play with, invading ceilings and floors, columns, furniture, windows, mirrors, and everything I might find on my way, turning that space into my art.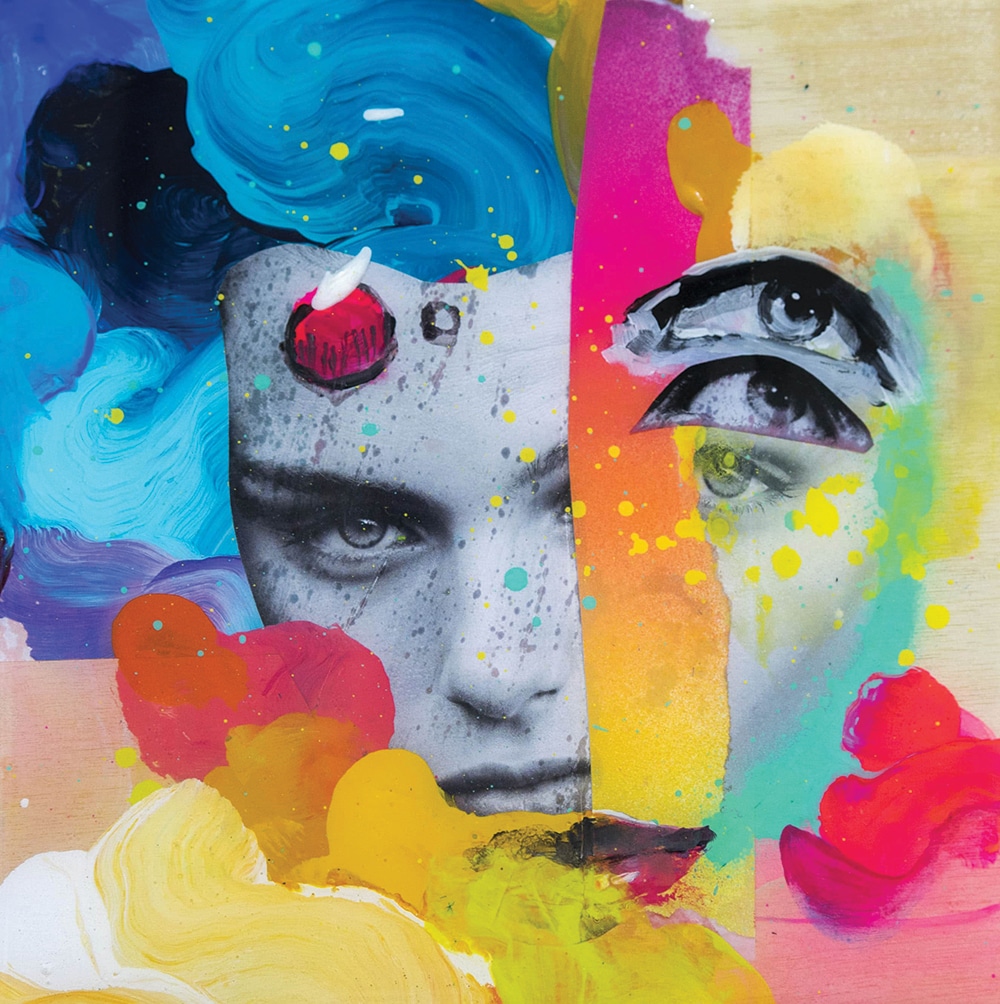 Above: Empathy 1 From the Empathy Series, made for the Gerhardt Braun Gallery in Mallorca, 2018.
You have painted in Madrid, Lisbon, Rome, London, New York, Seoul, India, Honduras… Where would you want your work to take you next?
I don't have any upcoming project outside of Spain right now. This year I worked very hard painting a wooden boat on the island of Komodo, Indonesia. In the end the project fell through, but I'm determined to make it happen the next time I'm there. I always enjoy painting in recondite places more than in big cities packed with people. The energy and work philosophy are different, especially with limited resources. This makes you test yourself and you always come up with something new.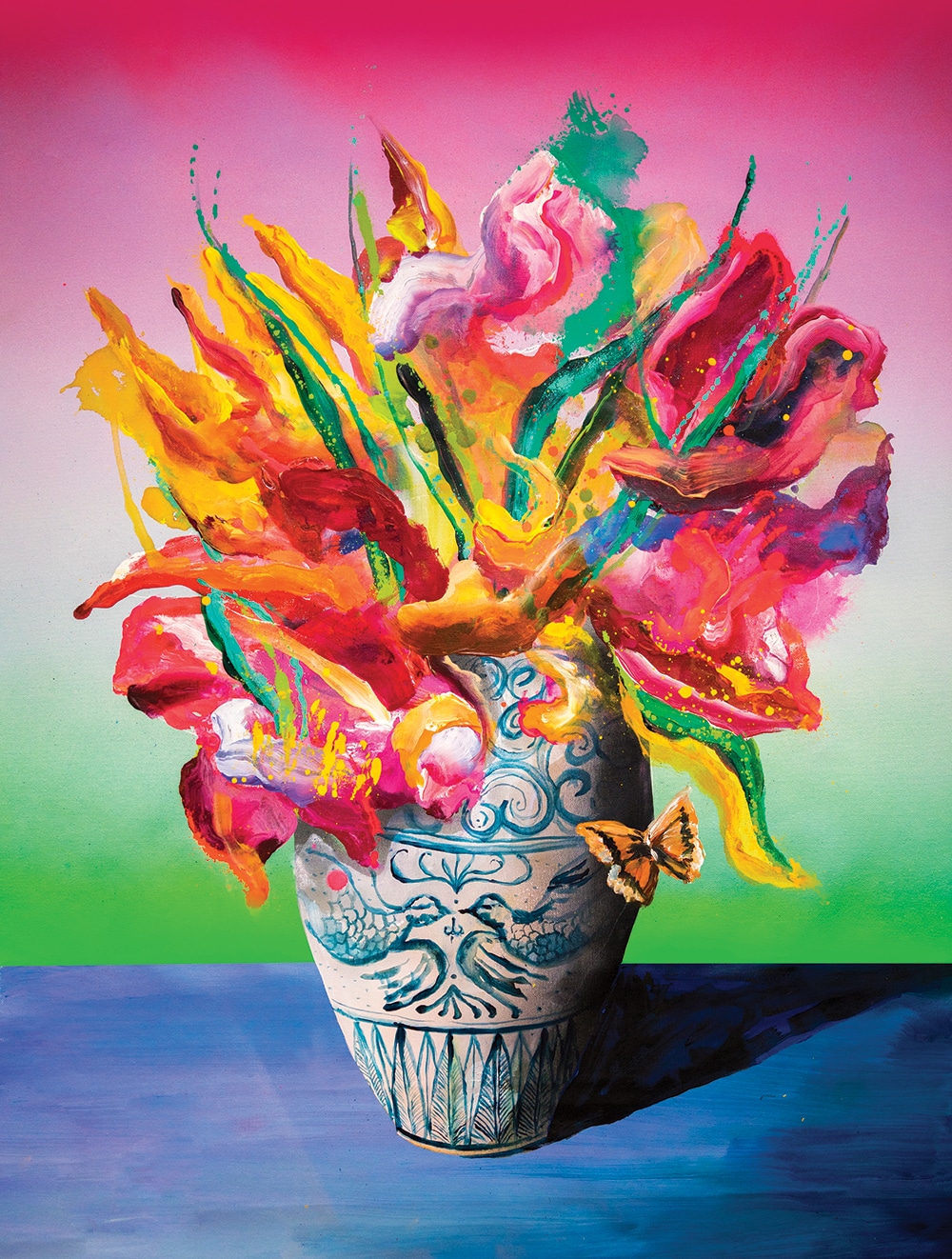 Above: Bouquet 1 From the Bouquets Series (2019).
Last summer you collaborated with artist Antonyo Marest and DJ Meneo, creating a work of art accompanied by music. How was the experience?
It was incredible! I love to collaborate with artists whose artwork and way of working are very different from mine. A lot of strange but fun things come out, even more so if it's accompanied by music. I love painting while discovering new rhythms. Sometimes I DJ at events and little parties. My work flow is very free. From time to time I dance while I paint and prepare my sets.
You have painted entire rooms, bar tops, furniture. Is there any particular aspect of interior design you would like to be challenged by?
It's true that I've worked on all types of furniture, painting over wood, upholstery and glass, making those objects a little more 'mine', but not a hundred percent. That's why I've been thinking about doing my own line of furniture, designed and hand-painted by myself. Moreover, I'd love to design tapestry with my own prints on it.
What music do you listen to while you work?
I love 80's disco, especially African and Brazilian. Of course, Italodisco and Funk music mixed with Detroit house, Acid and groovy rhythms. I love all that!
misterpiro.com / inkandmovement.com
---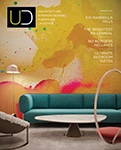 This article first
appeared in the
5th issue of
UD Magazine.
Click on the image to read online.
---