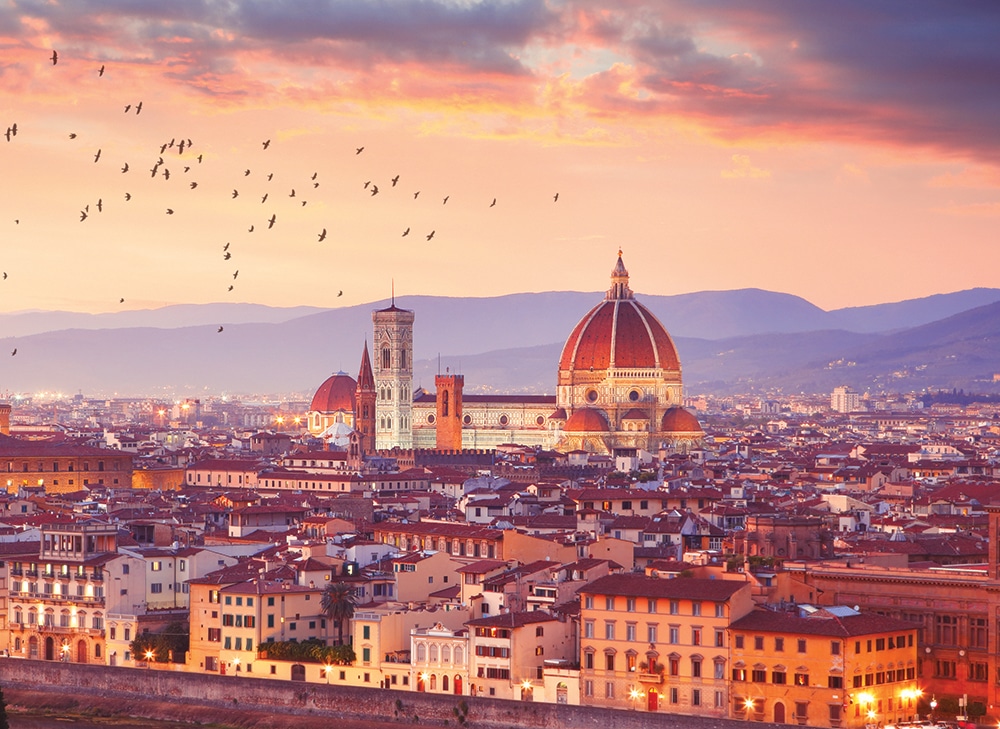 The Spirit of Florence
Florence. Think art and architecture. Think ancient and utterly modern. Think great food and great wines, and a unique manufacturing tradition founded on centuries of craftsman-ship. Think textiles, think furniture, and think Arketipo Firenze, because this company, now one of the leading furniture designers in all of Italy, is the essential spirit of Florence.
Arketipo, archetype in English, which, according to the Oxford English dictionary, is a very typical example of a certain person or thing. But it also tells us, in equally plain language, that it could mean a prototype. When Arketipo Firenze was established in Florence in 1982, it was well named, because it tells us a lot of what we need to know about the distinctive furniture they make.
It doesn't tell the full story, which begins when Giorgio Cattelan and his wife Silvia, set up Cattelan Italia in Florence in 1979. They started making tables and marble products to sell abroad, and became successful very quickly, gaining a reputation for quality and innovation and expanding their product line after opening a new production plant just a few years later. 
Cattelan Italia acquired the Arketipo Firenze company in 2011, and in the intervening years, under the expert guidance of the couple's sons, Lorenzo and Paolo, the Arketipo Firenze brand grew to become a world leader in furniture design and accessories. They are now one of the top product design companies in Italy and have a presence in more than a hundred countries throughout the world, showing proudly in the most reputable design fairs wherever they take place.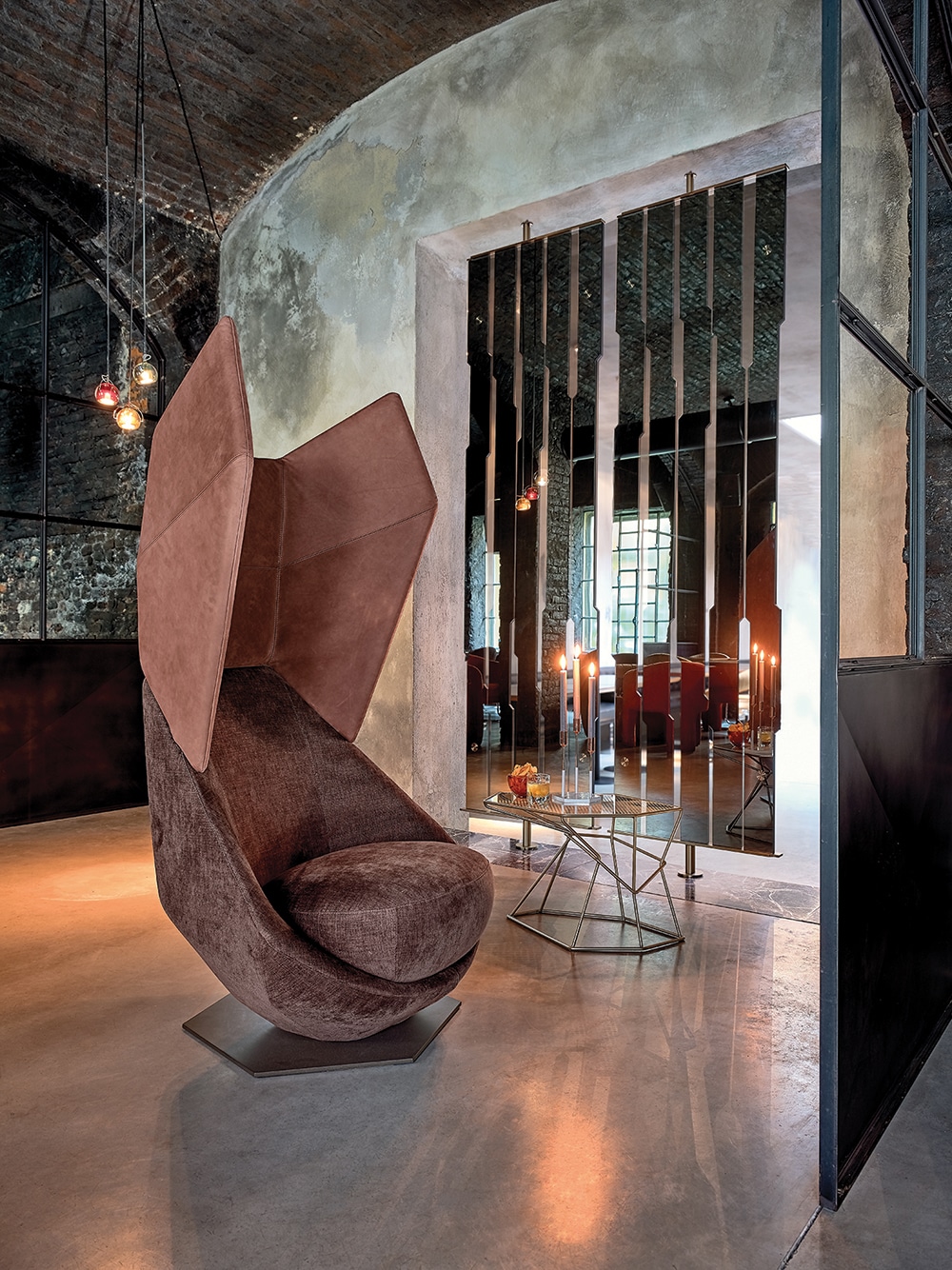 Above: The Overdrive swivel armchair, with its dynamic diamond-like form, draws inspiration from the fantasy film world. Surely perfect for any Bond villain…
The brand is not instantly recognizable: it doesn't jump out at you, like much of the funky furniture made these days.  It is a lot more subtle than that. You need to actually see it, examine it, touch it and feel it. Even the scent of newly-worked natural leather, locally made fabrics and noble woods tell you this furniture is not made by standard production-line methods nor aimed at a mass market, but is a luxurious blend of ancient craftsmanship, knowledge of the ages, innovation and technology. The raw materials are sourced locally (and remember: this is Italy) and they go through no complex industrial processes before being worked. The result has a refined beauty, understated in colour and minimalist in shape, and although it is right up to date and designed in a most contemporary way, the quality and history behind each piece should be obvious to any discerning buyer. Once seen slowly and with care, once experienced and once used, a piece of Arketipo Firenze furniture is always recognizable as such.
Paolo takes care of the business side, and although he clearly does an excellent job of it, our focus, as a design magazine, is on Lorenzo, who looks after the creative side of the company. This involves overseeing a team of top designers, corporate image, creative leadership and the rare ability to spot a trend before it happens, while never losing sight of the core values of the company. His wide-ranging interests include wine making and photography (he does the photo-shoots himself), and they help explain, as he says in the interview below, how he works and how ideas come to him.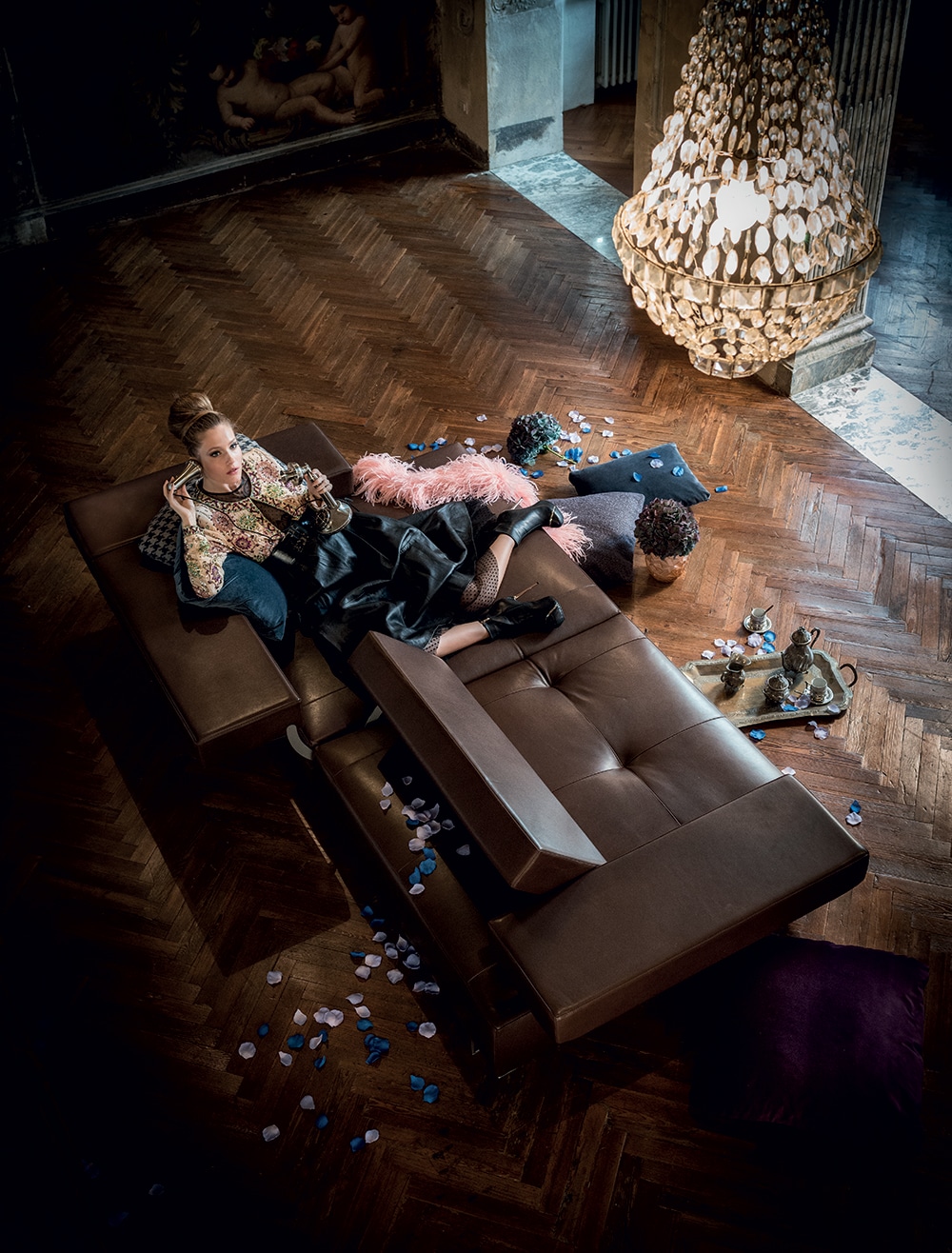 Above: Loft is more an innovative seating system than a sofa. A simple mechanism allows for two different seat depths, while another mechanism adjusts the back from horizontal through to vertical.
You're the creative half of the Cattelan brothers. Does this creativity show itself in other artistic disciplines?
"I'm very proud to be identified as a creative soul. Curiosity and sensitivity are two of my main attributes, and two of the main qualities that distinguish the Arketipo Firenze brand, too.
"At the heart of my creative spirit is a huge passion for photography, an artistic discipline that I've been practicing for many years. The camera is almost always by my side, both in my everyday life and in long journeys around the world. I've always taken photographs of my family. I like to shoot mostly in black and white, which tends to have a strong narrative and evocative power, I think".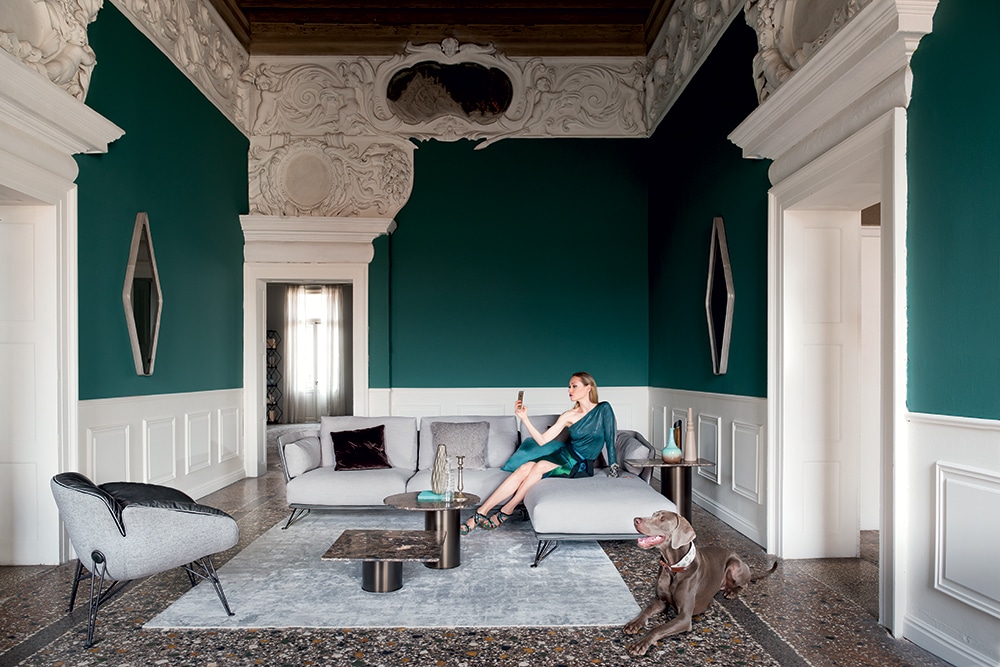 Above: "A true friend is someone who lets you have total freedom to be yourself." Jim Morrison's quote defines the Arketipo Morrison Sofa.
What advice would your father, the founder of Cattelan Italia, give to you and your brother?
"My father, Giorgio Cattelan, was an innovator in the furniture industry. He always had great curiosity for the new and the avant-garde, and even now his constant urge is to look ahead, to capture life's changes as they happen. He has a strong sense of family values and the energy that goes with that – the driving force behind everything – and he had the wisdom to constantly seek out foreign markets. He would hope we share these values."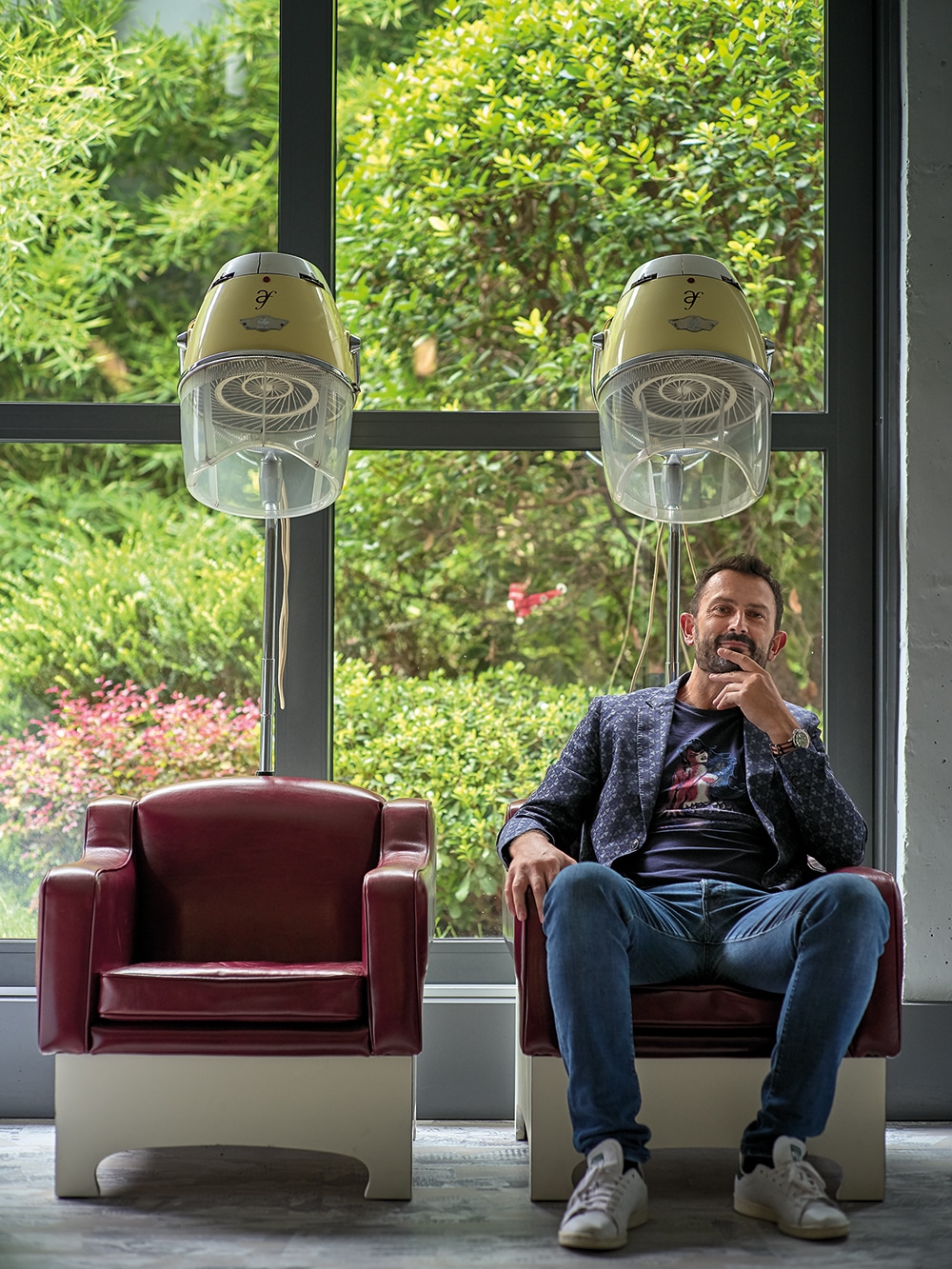 Above: Lorenzo Cattelan
What's the key to your success, in as few words as possible?
"We've got a tight team that never leaves anything to chance, an all-Italian supply chain, fluid and tightly-run, providing the variety of materials we need (wood, leather, fabrics, marble, steel, glass, ceramics and so on) and a constant innovation and research facility of the highest quality, for an authentic made-in-Italy product. And as I mentioned in the previous answer, we always look to markets abroad."
Above: LOL:) As fresh and informal as the chat language it's named after, this is an armchair for curling up into.
For you, would a tour of Florence's art galleries be an infrequent cultural outing or an essential part of your work schedule?
"I'd love to be able to visit the art galleries in Florence more often, which would be a hotbed of inexhaustible inspiration for me! Unfortunately, my professional commitments don't allow me, but I go whenever I can and try to keep myself updated on the coolest and most innovative trends. I'm inspired very much by the fashion industry, and take note of every innovative idea in the sector. I'm attracted by new ideas and the eye-catching results that can arise from the mix of different materials. This is certainly the hallmark of Arketipo Firenze collections which, along with the Made-in-Tuscany brand, reinvents an easy-chic lifestyle where heritage and functionality merge with elegance."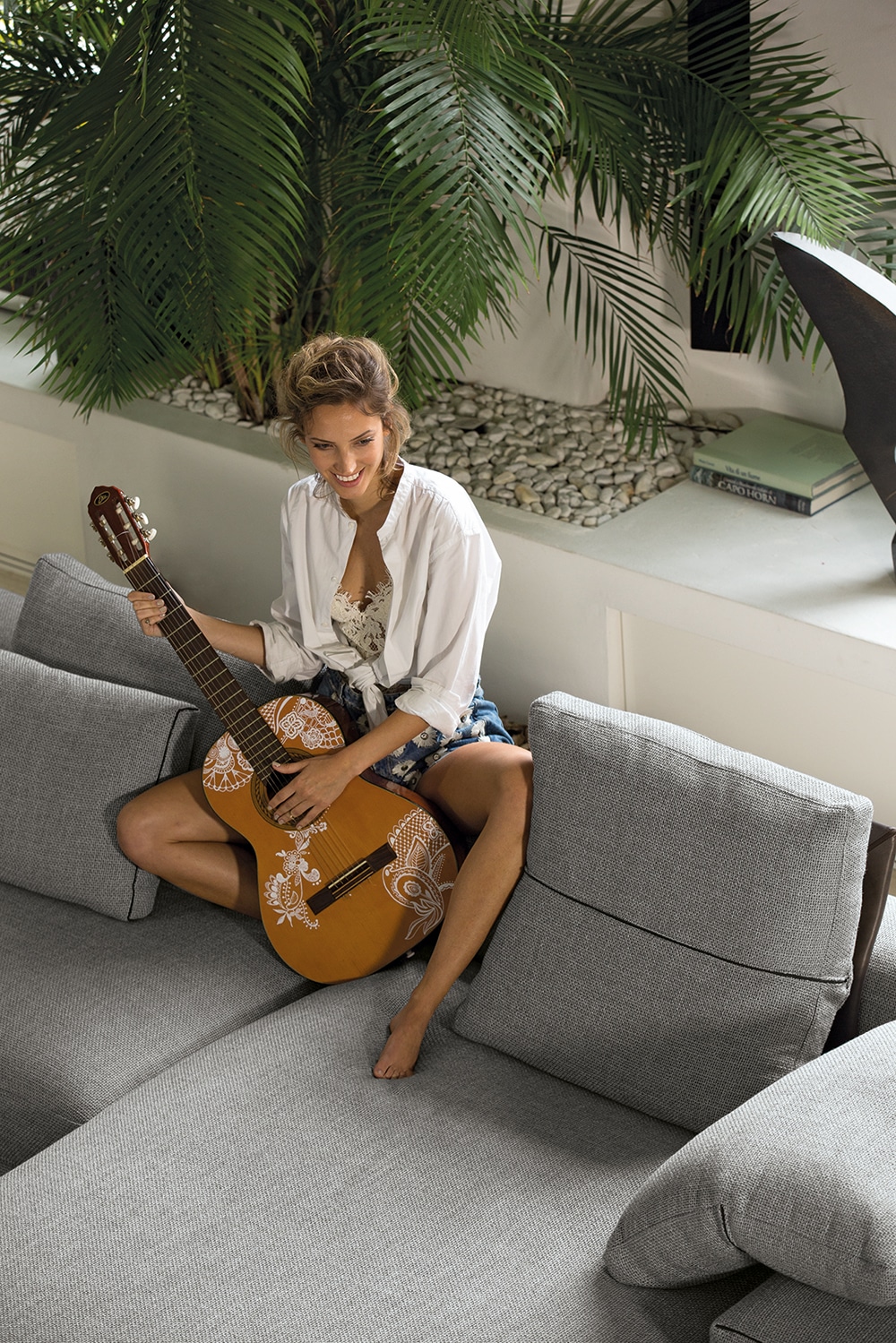 Above: Atlas Sofa. Slim, wide and cool, all the elements that make up this sofa blend beautifully into one seating unit
How important is the choice of fabrics you use?
"We dedicate great attention to the choice of our materials, which are all made in Italy, whether leathers, precious fabrics, metals or exclusive marbles. We take care of every detail, inspired by outside or complementary sectors, to work in a spirit of irreverence that makes for classic innovation.
"The goal of Arketipo Firenze is to transcend the contemporary and create a provocative lifestyle product that we call 'stylistic transgression', through the use of materials and design. The result, combined with the manufacturing mastery of Florentine tailoring, gives life to our collections and makes each product unique, precious and an original work of art."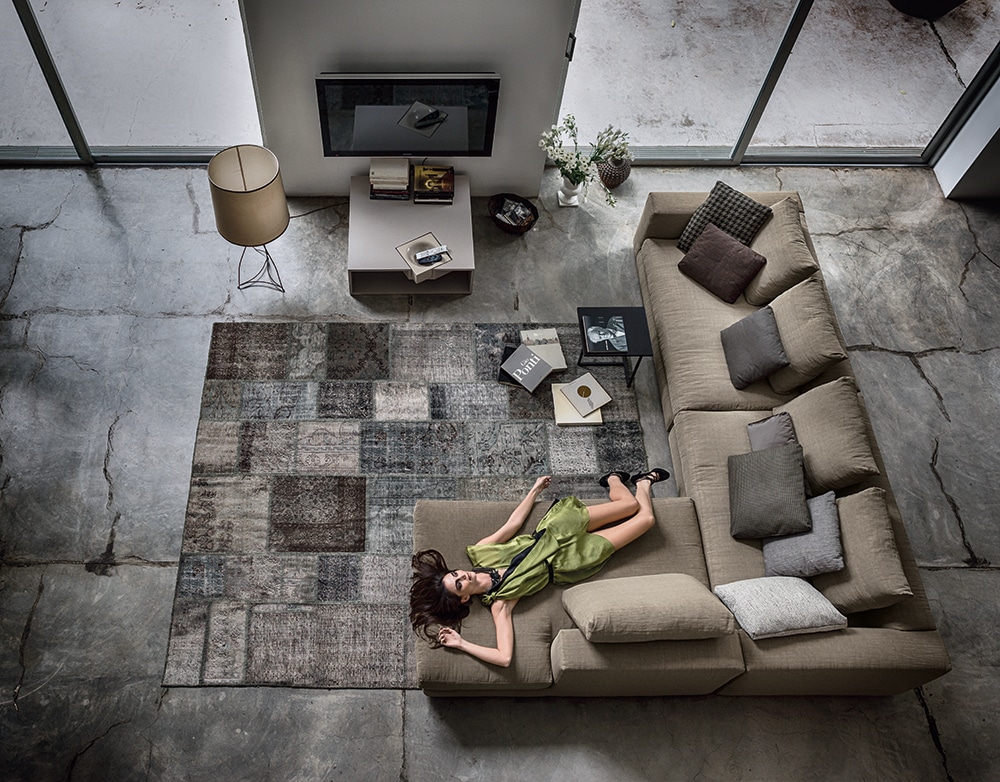 Above: The Marea sofa, is another piece that can be adapted to fit large or small spaces.
Your mastery of photography has been a real asset to the brand, is this the favourite part of your work?
"I personally take care of all the photo shoots, choosing all the set locations, and this enhances the Arketipo Firenze brand. I'm fascinated by working with various stylists and together we find the best way to communicate the palette of emotions that is behind every collection.
"Of course yes, this is the favourite part of my job".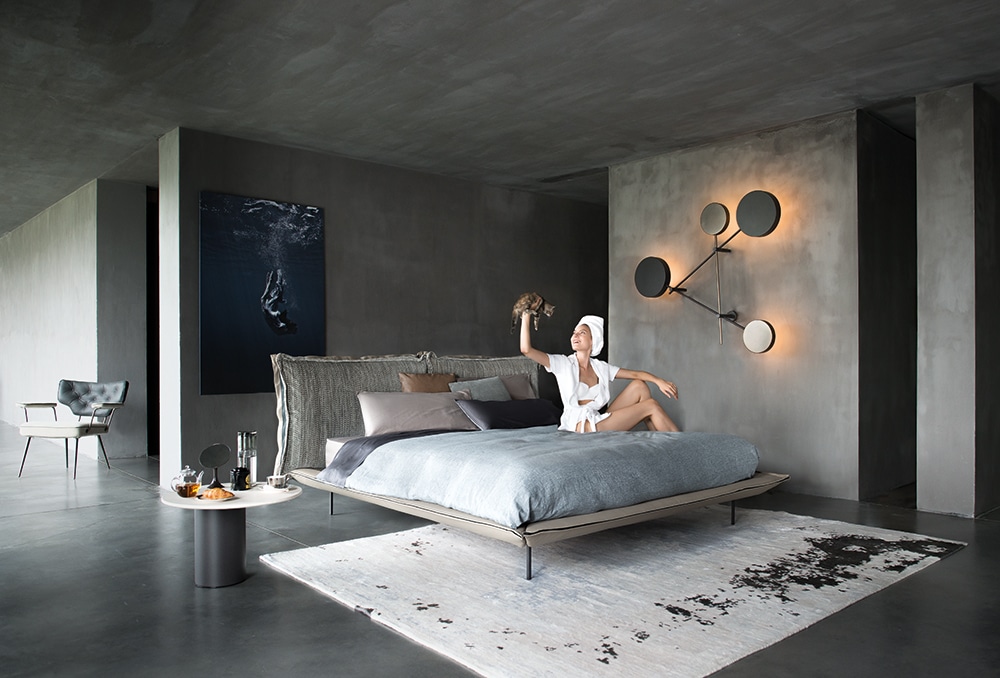 Above: Auto-Reverse Dream is a unique bed whose multiple combinations of colours and fabrics are reversible and interchangeable
We're struggling to find the connection between your interest in wine production and furniture design. Is there any?
"They might initially seem disconnected, but in reality they are the two great passions of my life whose common thread is Veneto, my region of origin, and Tuscany, my region of adoption. Each has a fascinating history and manufacturing traditions, both in the furnishing and wine sectors, which make us truly unique in the world".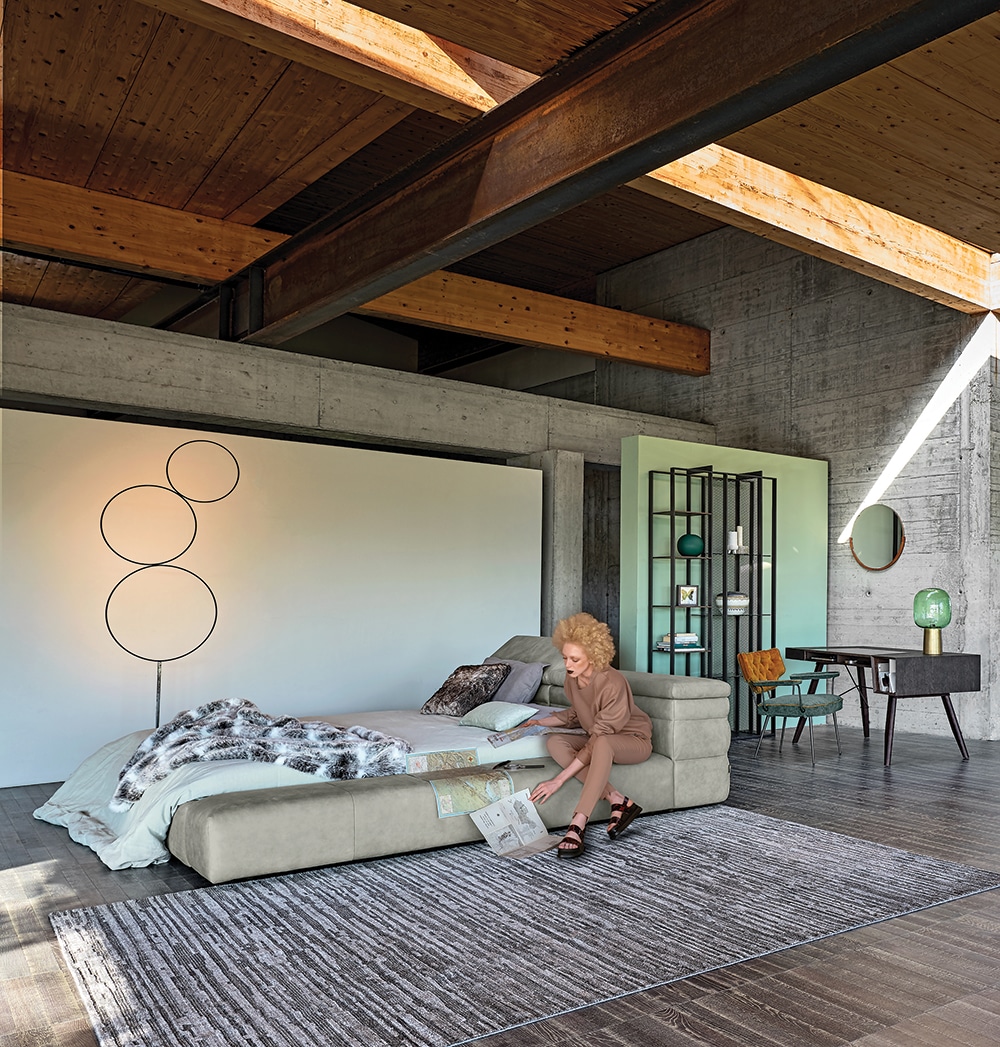 Above: Mayfair Dream, inspired by haute couture with refined stitching details, the inclining headboard and side rest are padded with down, making this an exceptionally comfortable bed.
---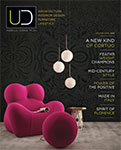 This article first
appeared in the
4th issue of
UD Magazine.
Click on the image to read online.
---