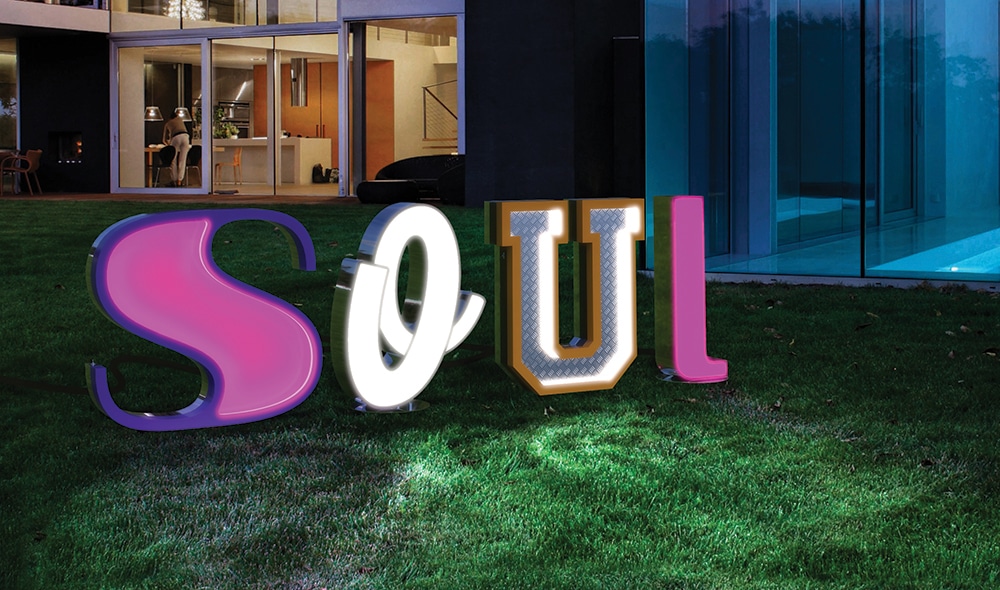 Mid-Century style and all that Jazz
If you're searching for that mid-century  style, look no further than the Heritage  Collection from the contemporary lighting company Delightfull that draws on a metropolitan Mad Men vibe. Mix a Martini, don a sharply tailored suit and listen to some vintage vinyl next to a Hepburn lookalike, and there you have it. 
"That's exactly what we're aiming for," smiles  Cláudio Vasconcelos, CEO at Delightfull.  "Listening to New York, New York with a cocktail in hand and a Sinatra floor lamp setting the mood is one of the  most  charming – and stylish –  ways  of  spending the evening."
WHAT IS MID- CENTURY STYLE?
Mid- century design is one trend that shows no sign of going away. There is plenty of disagreement about when the period started, but it roughly lasted from the mid-1930s to mid-1970s. It gave us sleek lines, organic curves, a love of contrasting materials, and designers that we still idolize today.
Great music and top style have always loved each other. The jazz pioneers and soul icons of the 40s,  50s and 60s had effortless style, and the mere mention of names like Sinatra, Simone and  Coltrane  conjures up images of sharp suits, designer dresses,  Manhattan apartments and Big City nights in chic  clubs.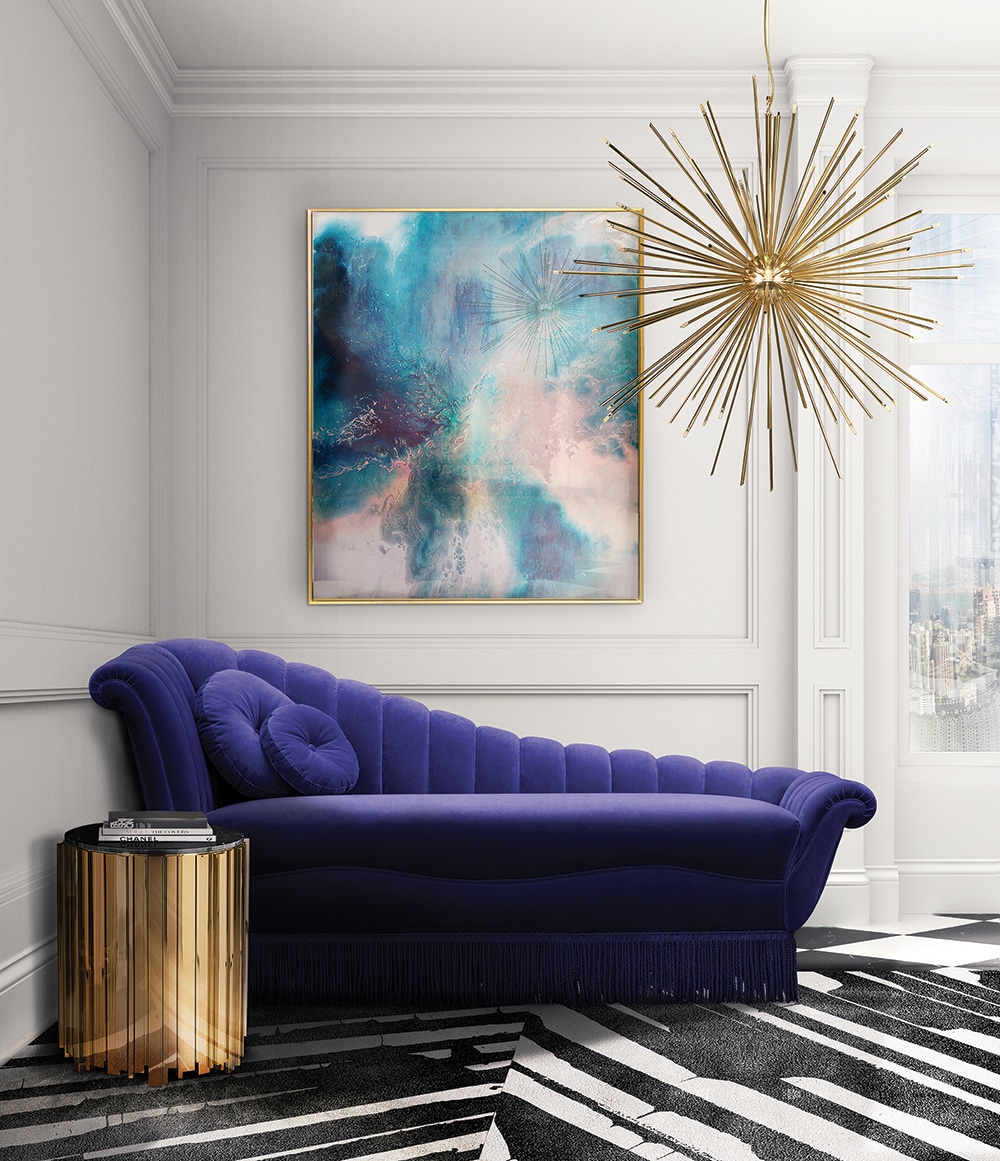 The Heritage Collection recaptures this mood with a selection of high quality lighting designs that feature a classic twist of mid-century style.
Vasconcelos explains the concept behind the range: "we wanted to create unique lamps, giving them a fresh taste of music with a contemporary and unique reinterpretation. Revisiting the golden years of the 40s to the 70s, each piece is a tribute to the great musicians of the era. We want to respect their unique work by giving each lighting piece modern-era techniques and details with mid-century style, creating fresh classics".
COLTRANE SUSPENSION & TABLE LAMP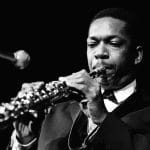 John Coltrane was one of the most cerebral composers and saxophonists of the mid- century jazz renaissance. Along with Charlie Parker and Miles Davis, Coltrane pushed the parameters of modern jazz with superb albums including Blue Train, Giant Steps and My Favorite Things, and looked effortlessly stylish while doing so…
"One positive thought produces millions of positive vibrations."

John Coltrane (1926-1967)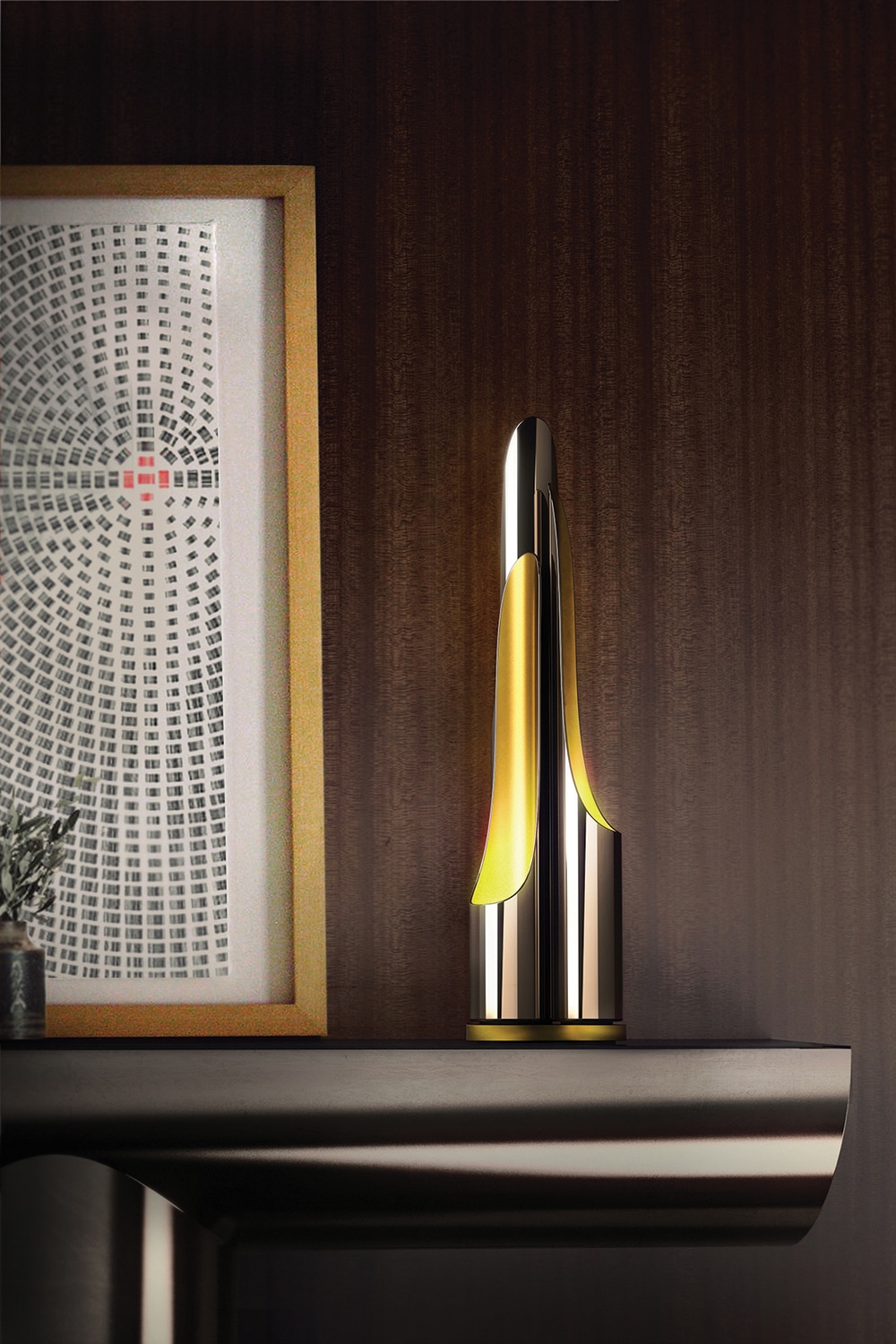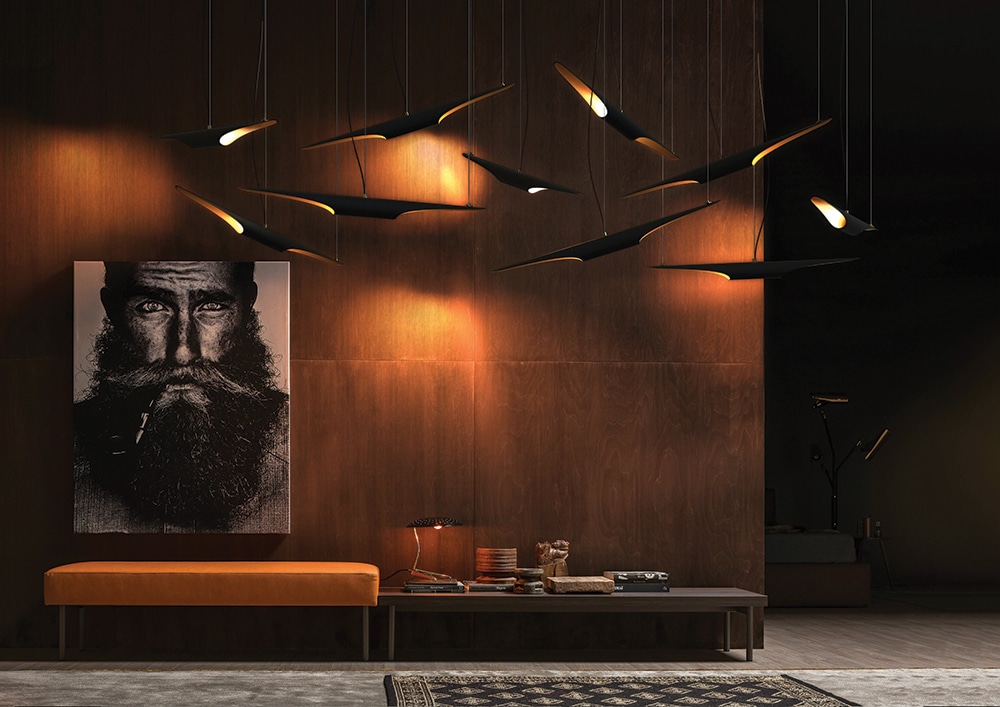 Above: COLTRANE SUSPENSION With a minimalist and almost industrial feel to it, this is an uber stylish steel light.
They chose musicians as the inspiration for Heritage, rather than film stars or artists, for a specific reason. "We thought musicians have so much that we can take and transform into something special, from their time to the modern-era. We've chosen this because it's different, it's bold and creative, and that's who we are and what Delightfull aims for."
"All the chosen artists are an inspiration themselves. The way their music, their personality and their lives inspired millions is what we aim to inspire with our lights." A bit of a stretch perhaps, but why not? 
BOTTI PENDANT SUSPENSION & TABLE LAMP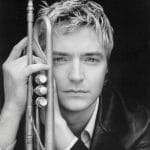 American trumpet player Chris Botti is the world's biggest selling jazz instrumentalist. A Grammy Award winner for his album Impressions, Botti has worked with Sting, Paul Simon, Andrea Bocelli and Joni Mitchel, amongst others, with continuous tours and recordings.
"It's a compliment when someone tells me my music put them in a place where they were almost in tears."
Chris Botti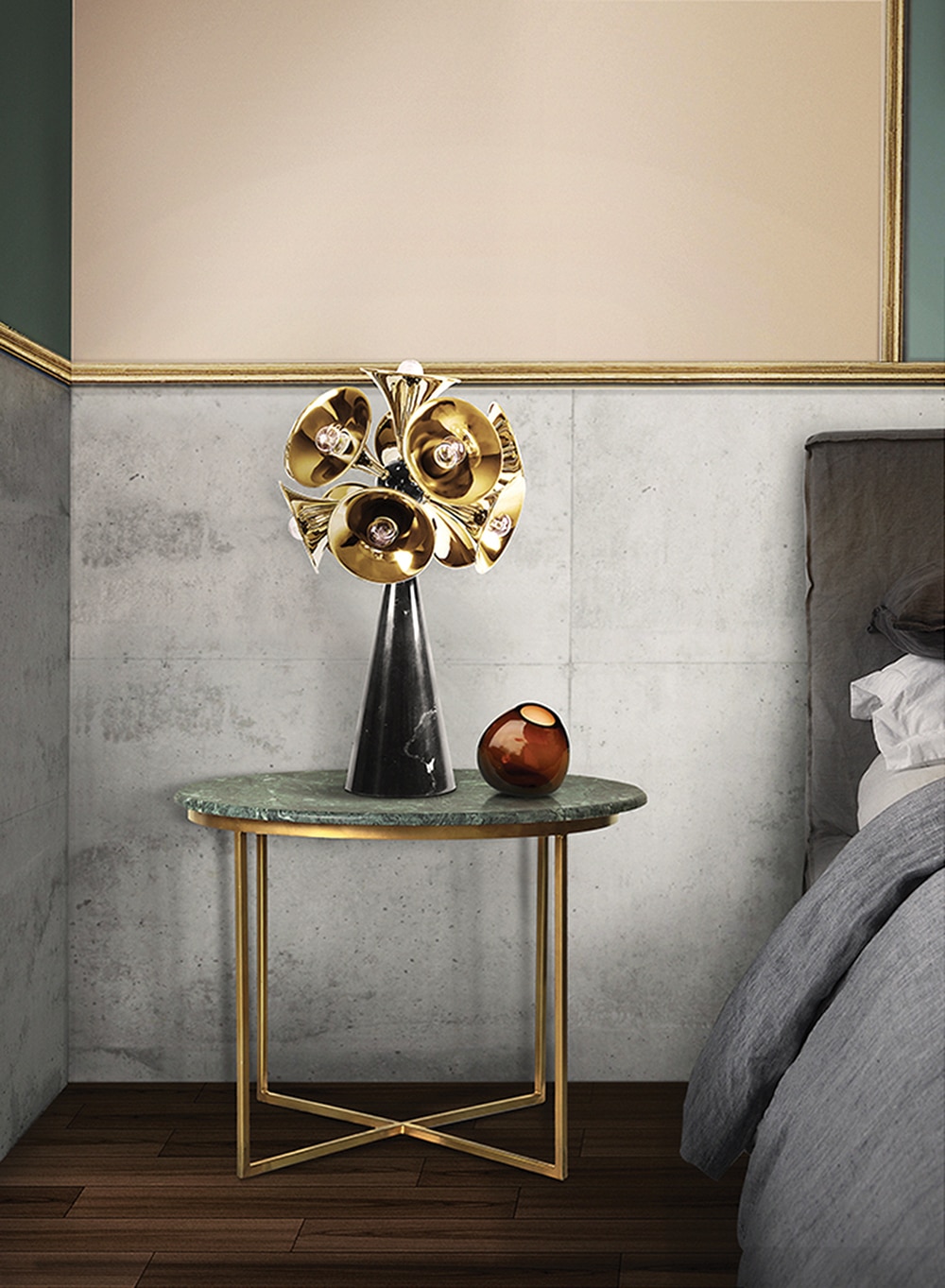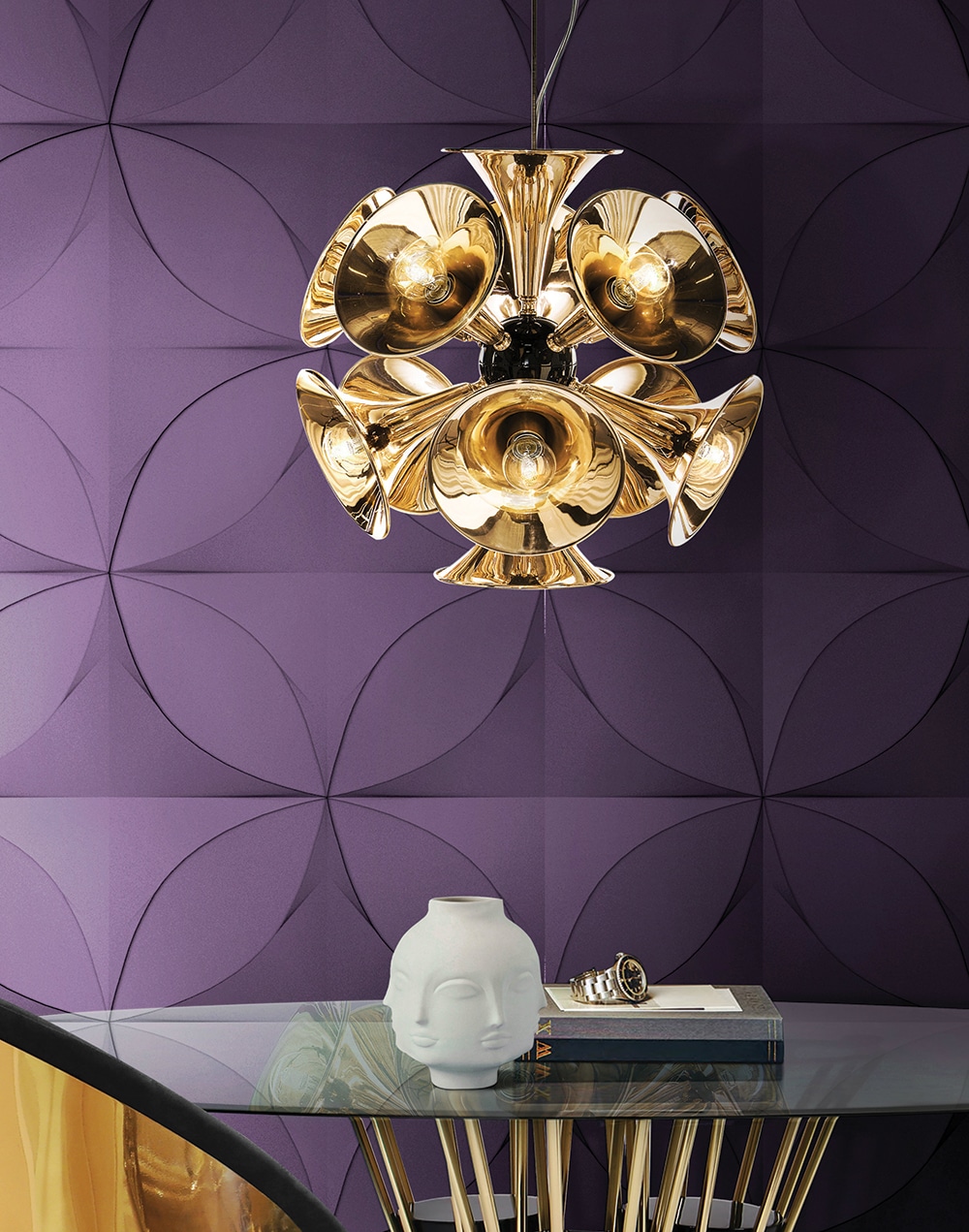 Above: BOTTI PENDANT SUSPENSION  With 15 trumpet shapes that stretch out from the centre, creating a perfect sphere, this handsome gold-plated brass light is a perfect tribute to Chris Botti.
When it came to creating a background concept for the range, they didn't have to look far for someone to take on the project. One of the creators and designers of the Heritage Collection is a musician, so he was given the challenge, which must have been a dream commission!
The team at Delightfull did much more than just sit around and listen to music as their inspiration for the Heritage range. They delved deeply into the lives of their subjects and discovered how certain aspects could be adapted into a lighting piece. For example, Amy Family was inspired by Amy's hair and golden rings, while the Botti pieces took their inspiration from his trumpet. All the lighting pieces themselves are handmade by  the company's skilled artisans in Portugal.
THE HENDRIX WALL LIGHT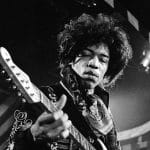 The Voodoo Child himself, Jimi Hendrix took the electric guitar and pushed the envelope so far that he seemed to be on a different planet from other musicians. Not so much Blue Sky thinking but "'scuse me while I kiss the sky thinking". The Hendrix Wall Light represents the million selling gold albums such as Electric Ladyland and Are You Experienced.
"When the power of love overcomes the love of power the world will know peace."
Jimi Hendrix (1942-1970)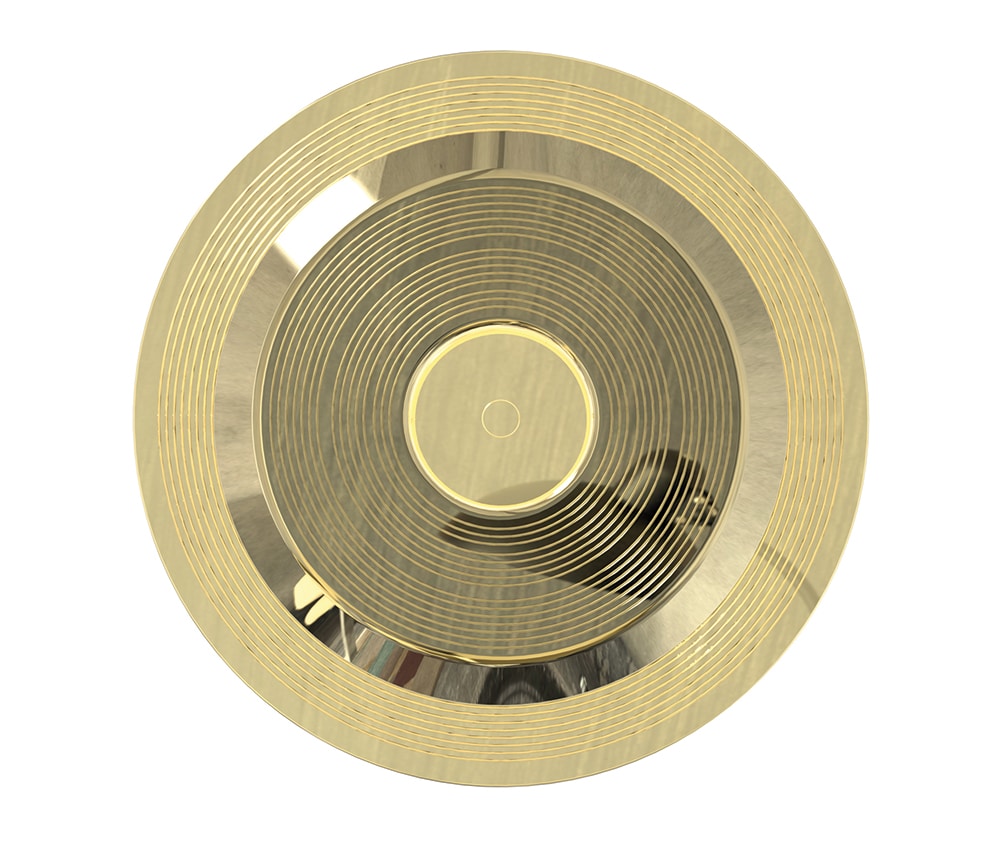 Above: THE HENDRIX WALL LIGHT brings a smooth lighting effect to a room. It's handmade in brass with a gold-plated finish.
Visit the Delightfull website for more great musical  inspiration from their Heritage Collection. Get your mid-centruy style on with the Sinatra Suspension, the Etta Chandelier or the Janis Table lamp – there's a light for every room of the house.
---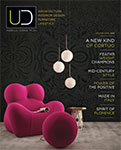 This article first
appeared in the
4th issue of
UD Magazine.
Click on the image to read online.
---