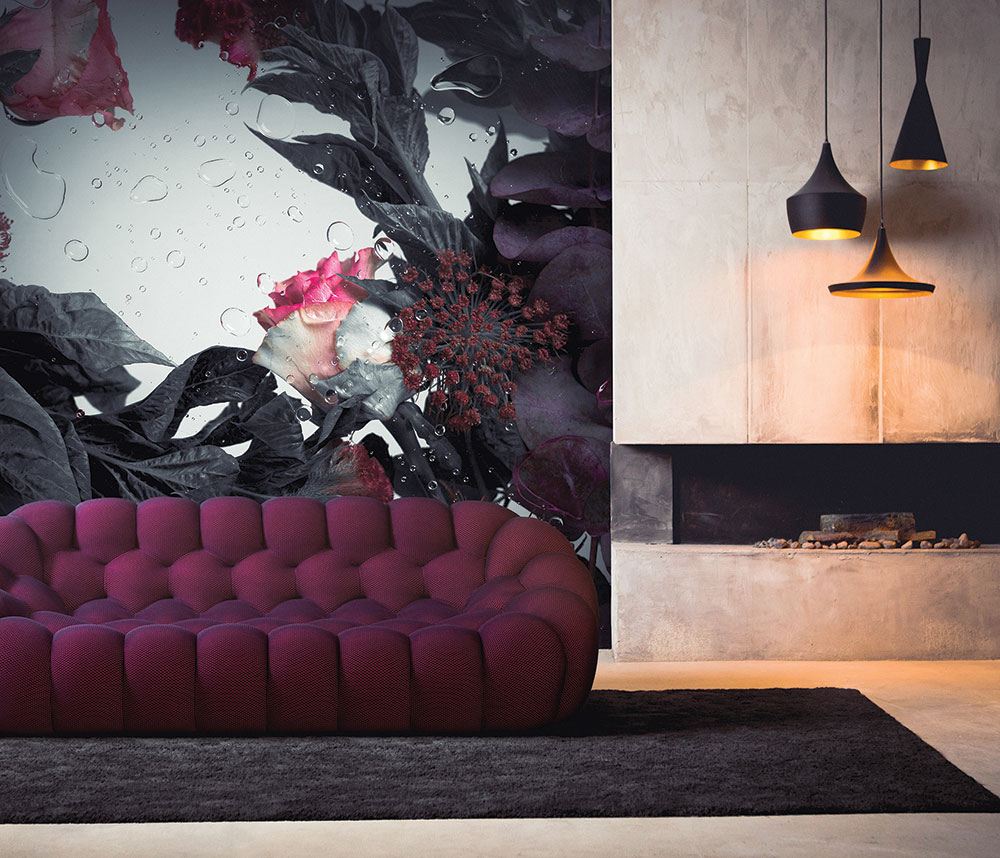 2018 Design Trends – what's hot?
Every year brings lots of changes to the design landscape and before the industry's big show in Paris this month we take a look at some design trends for 2018.
Colour wise, things are becoming very bold! It seems the neutral palette is becoming a little tired and bold statements are the talk of the town. Neutral shades will still be part of design projects but it looks like they will be taking a back seat in 2018. If you're wary of using bold colours – try them in rugs, cushions and throws, that way you can get into the trend without being too committed!
Vintage accessories are certainly hot and one-off pieces are easily accessible these days. Metallics and metal finishes are still popular and brass seems to be making a comeback.
But all these design trends seem to pale into insignificance when confronted with the best and biggest trend: "design freedom". Creating a unique, bespoke space that suits who you are, without conforming to conventions or a pre-determined set of rules. 2018 will be a great year!
ARABIAN NIGHTS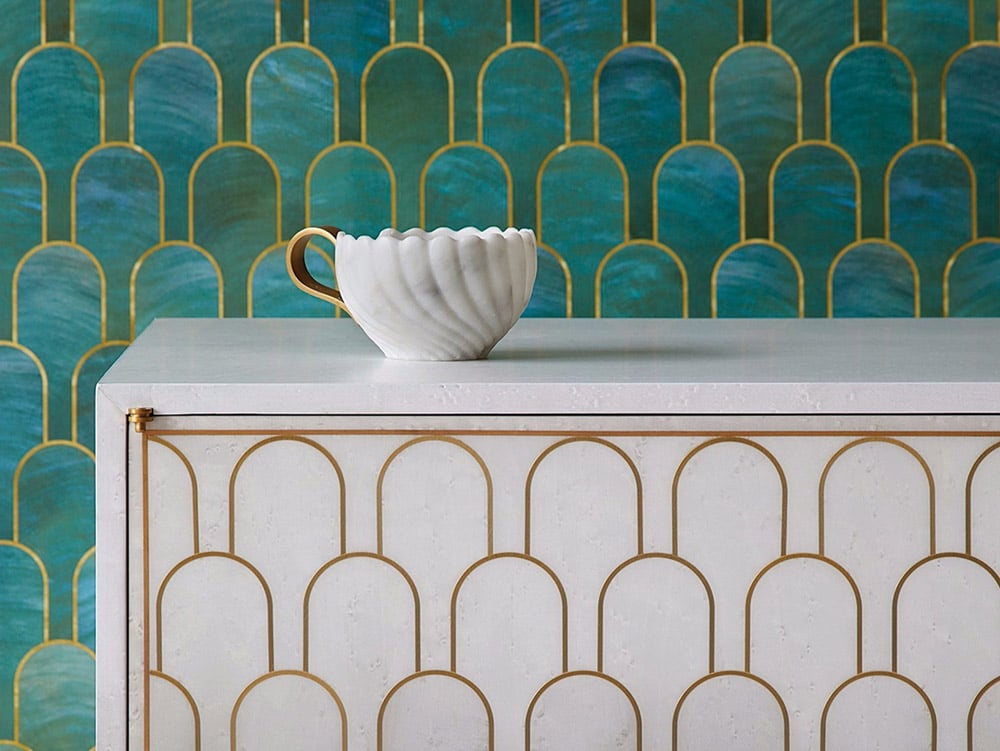 Above: Bethan Gray & Shamsian Nizwa cabinet
Metallic, one of the strong design trends for furniture in 2017, is used here in a supremely sophisticated way. Award-winning Welsh designer Bethan Gray has produced a collection of elegantly ornate cabinets which combine vibrantly stained maple wood and brass marquetry.
Gray is intrigued by the Islamic craft where metal, shell and other materials are inlaid into wood, and works with Iranian artisan Mohamed Reza Shamsian who hand-makes the traditional-yet-contemporary pieces to order in Muscat, Oman.
For her latest collection, Dhow, Grey has taken her inspiration from the dhow sailing boats of the Gulf region, while Nizwa is inspired by the eponymous fort in Oman.
MORE ART LESS DECORATION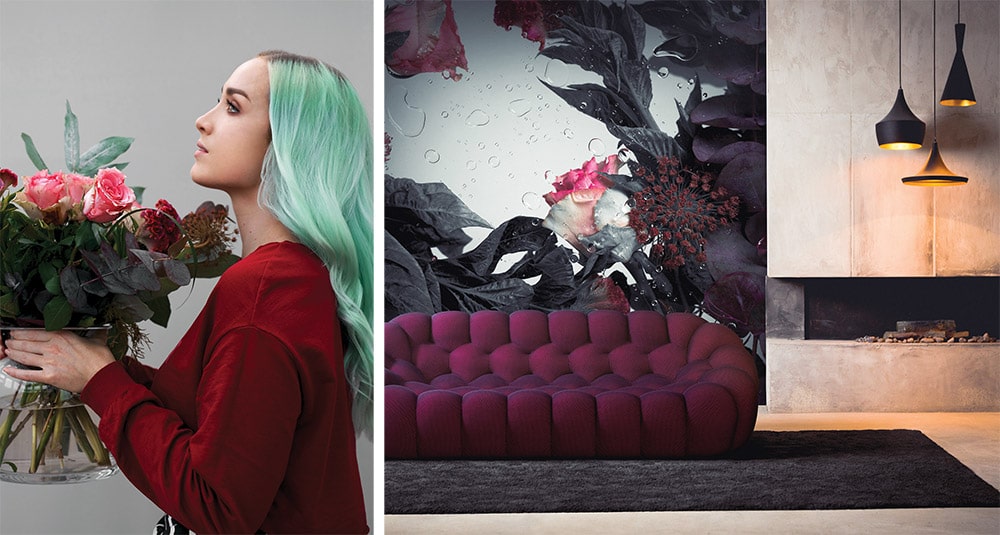 Above: (Left) Claire Luxton Right: Creusculum Wallpaper by Claire Luxton for FEATHR
Finnish design collective FEATHR are on a mission to fill the world with more art and less decoration. FEATHR roam the world collaborating with contemporary artists to create original wallpaper and fabrics. Founded in 2015 by husband and wife team, Anne & Tom Puukko, along with Creative Director, Oliver Green, FEATHR is found in Helsinki, London and Bali.
Their recent collaboration with multi-disciplinary artist Claire Luxton and the DegreeArt.com Gallery sees the launch of a new range of wallpaper murals. The four wallpaper murals were created to complement the launch of Luxton's new solo exhibition, entitled Botanica, at the DegreeArt.com Gallery in London.
Albus I, Albus II, Albus III and Crepusculum, are available exclusively from www.feathr.com at £49 per square metre.
WATER CANDY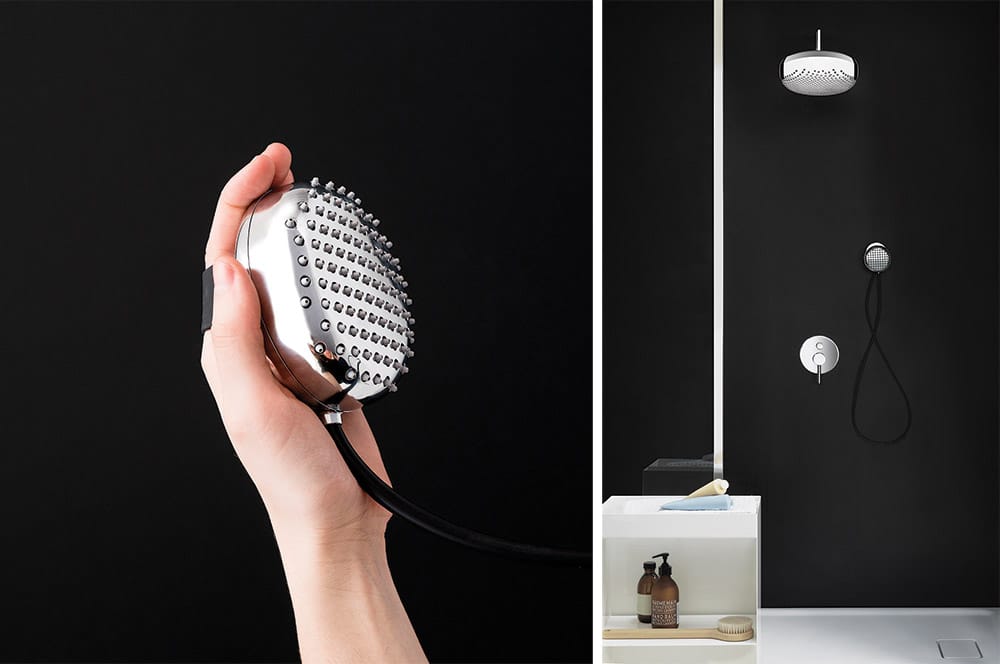 WaterCandy – the main shower head echoes the characteristically elegant design of an acoustic loudspeaker.
We love the new WaterCandy shower head designed by Ludovica & Roberto Palomba for Zucchetti.
The revolutionary hand-shower  can be used as a normal shower head or as a massage tool by bringing the soft, silicone nozzles into direct contact with the skin.
FLOOR CANDY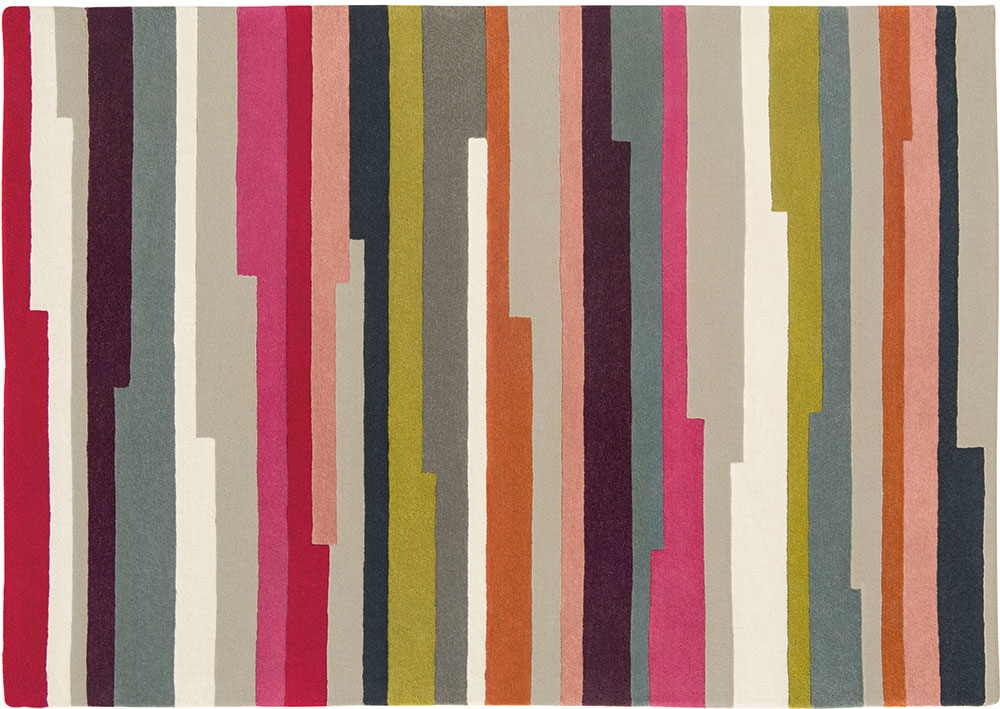 Above: The Clarice Rug by Louis de Poortere for Romo, also available in neutral tones (240 x 170 cm & 280 x 200 cm)
The Romo design team has beautifully translated a selection of their most popular designs into a stunning new collection of rugs. Collaborating with distinguished Belgian weavers Louis de Poortere they have created a collection of eleven flat weave and hand tufted rugs.
Contemporary and sophisticated, combinations of bold and subtle designs such as large-scale florals, on trend geometrics and ethnic patterns are presented in vibrant and neutral shades to create a diverse collection.
Available through retailers and interior designers worldwide from early 2018.
WET WALLPAPER?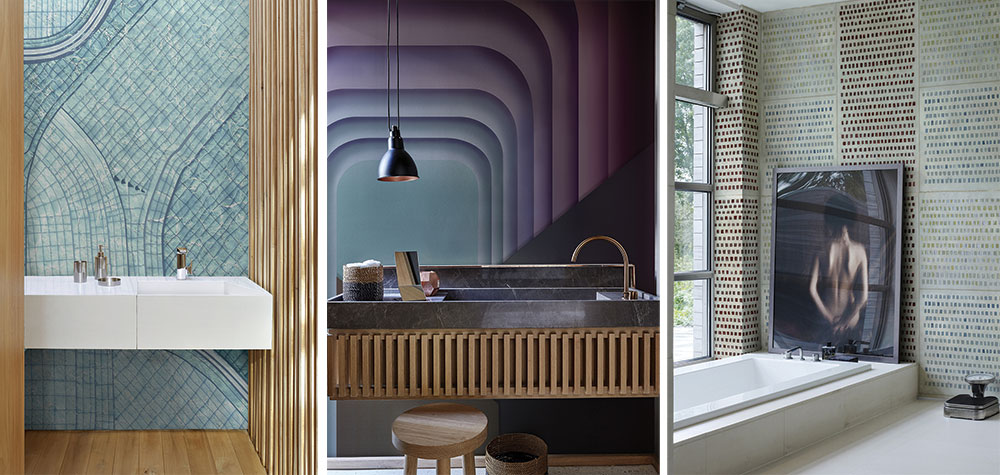 Above: 1. BADAAL designed by De Bona & De Meo 2. ORA BLU by De Bona & De Meo 3. CHANGING DOTS by Gupica
Wallpaper has certainly made a comeback in the last few years and is one of the design trends that will be strong in 2018. But wallpaper in the shower? What! Thanks to a new innovation by Wall&decò this is now possible. The new WET SYSTEM collection (patent pending) is a waterproof wallcovering for walls in humid interiors such as bathrooms, shower rooms and spas. Completely resistant to water, dampness, yellowing, abrasion and harsh house cleaning products.
There are 22 fabulous designs available in the latest collection.
---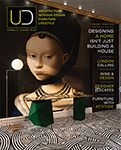 This article first
appeared in the
inaugural issue of
UD Magazine.
To read UD Magazine
online click here.
---