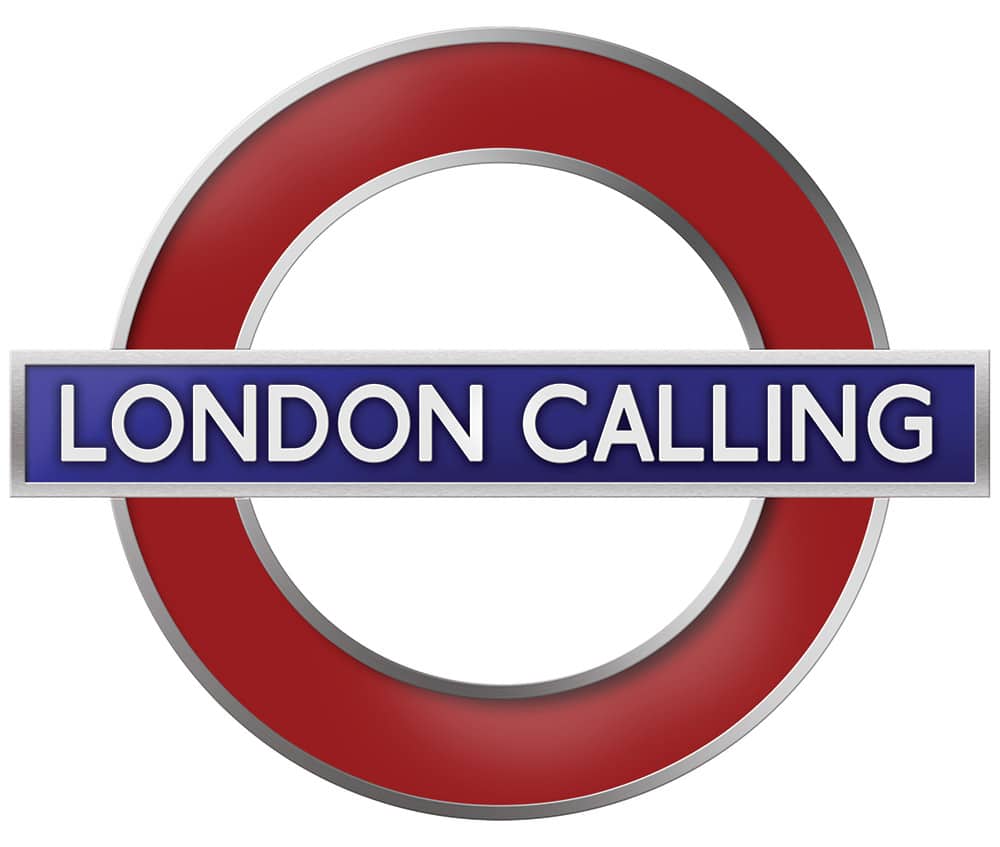 London Calling. An interior design project in Belgravia.
UDesign, based in Marbella since 2008, were up against the world's top interior design firms for a contract to design an exclusive listed building in London's famous Belgravia. Vivion O'Kelly talks to their Creative Director to find out more.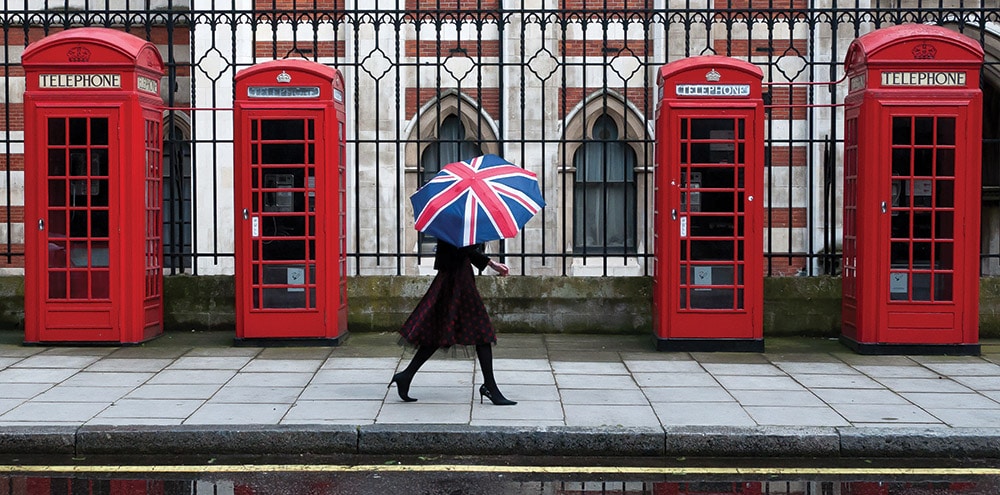 Belgravia. A beautiful word. For those who take pride in the ownership of exceptional properties, and those of us who simply like to dream, it's one of the most beautiful words in the English language.
It says it all, without qualification, explanation or reservation. Everybody knows where Belgravia is and what it means to live there, and the actual address, at Eaton Square, SW1, is probably, along with nearby Belgrave Square, the most exclusive in the world.
"We had just finished an interior design project for a client in Marbella," says Jason Harris, (Creative Director at UDesign), "and they were so impressed with the work they asked us if we could come and look at one of their London properties. We were impressed too when we saw it."
The listed property, built in the 1830's, is huge: six floors with formal and family lounges, formal dining room, separate staff and family staircases and a lift. It has nine bedrooms on the upper floors, a basement for spa and entertainment, and ample staff quarters.
Jason was not fazed by the challenge of history and the change of location. "It is a million miles away from the contemporary Mediterranean style that UDesign are known for," he says, "but good design is good design. The principal is the same, regardless of style. Colours and textures adapt to the location, immediate environment, the property itself, the needs of the client and the building's function. Of course, the palette of colours and materials are different from what you would use in a sunshine country."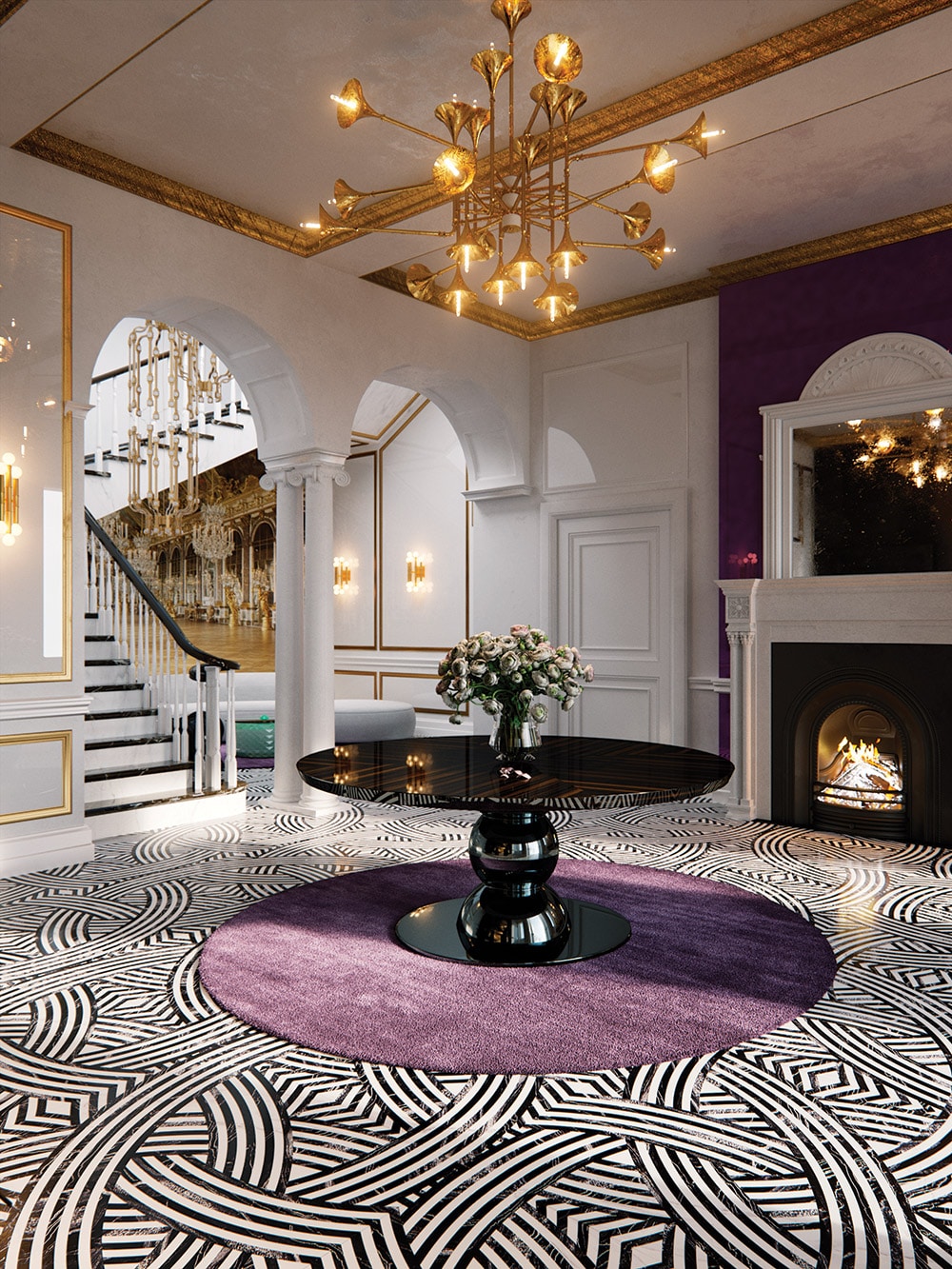 Entrance Hallway: a lovely wood burning fire greets you as you step into the magnificent hall – in classic black, white and gold with a splash of lilac.
Each space itself dictates how far we can go without taking the interest away from the period features.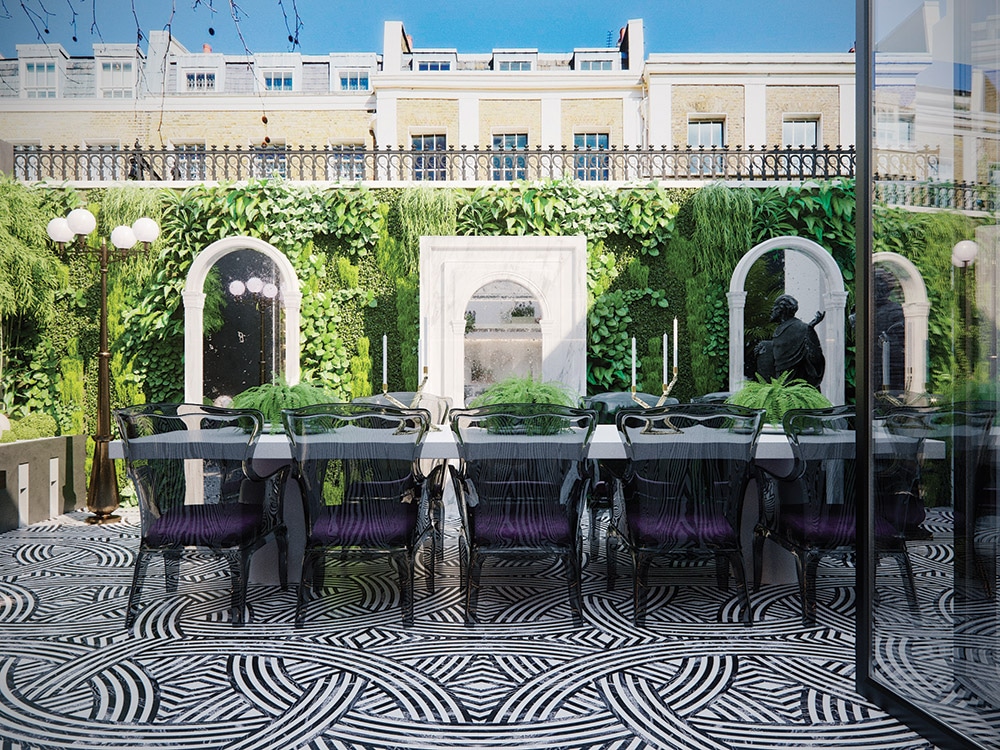 The Family Kitchen opens out onto a contemporary patio with its own vertical herb garden.
And the pricetag on a place like this? If you live in Belgravia you don't talk about money. But you gotta have it.
Interesting neighbours too, past and present. Belgravia takes its name from one of the Duke of Westminster's subsidiary titles, Viscount Belgrave, from the village of Belgrave in Cheshire, and the 7th Duke is the freeholder of most of the square and the surrounding area. Two Prime Ministers, Neville Chamberlain and Stanley Baldwin, lived here, as do establishment figures such as Sarah, Duchess of York and Lord Halifax. As it happens, this particular property was once the Spanish embassy, and it has now become a family home once more.
So what exactly was the brief? Brief, as it turned out.
"It was to have a contemporary feel but to respect the period features and inherent character of the building," Jason tells us. "After this short brief they left us to it."
The design concept alone took six months, and then a further ten months to manufacture the bespoke pieces of furniture in the house. Jason and his designers were clear about what had to be done:
"As the property was going on the market as soon as it was finished, colours and style had to be fairly neutral in order to appeal to as many people as possible. Having said that, at this level, it still had to stand out and be highly original. Very often with a property like this, the building and each space itself dictates how far we can go without taking the interest away from the period features. Everything is to complement and enhance what is already there, bringing it into the 21st century. Every room has to have a WOW factor with its own identity but still a part of the rest of the space. Everything has to have the highest qualities, which we sourced from all over the world: granite, marble, onyx and rare woods."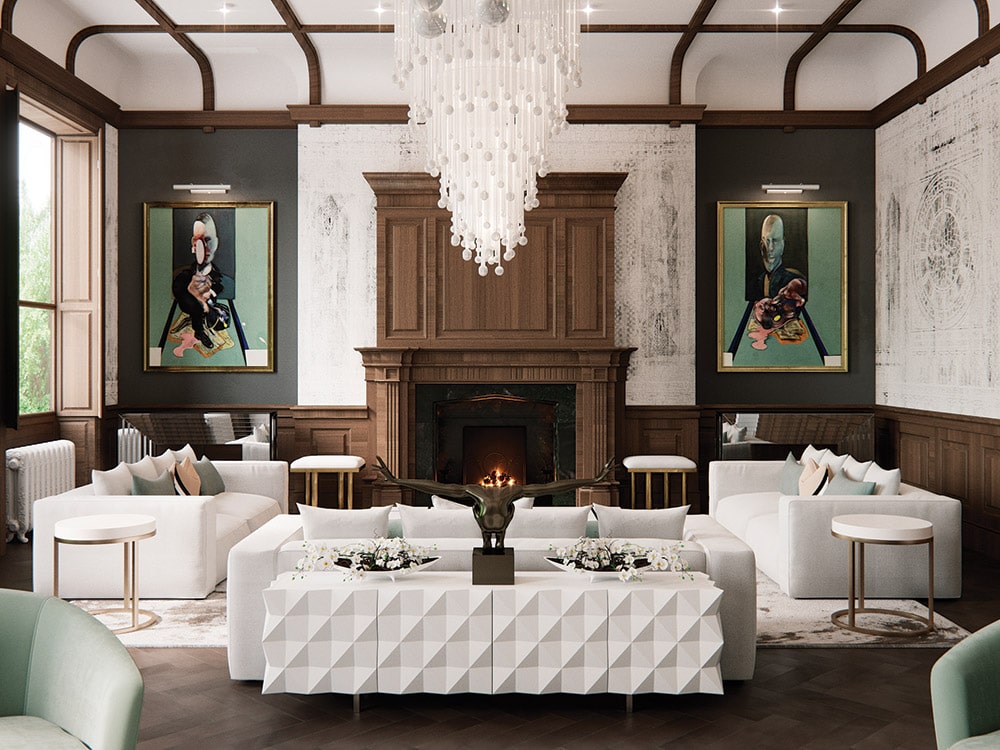 The Reception Room, covered in period features from floor to ceiling, but yet with a contemporary feel.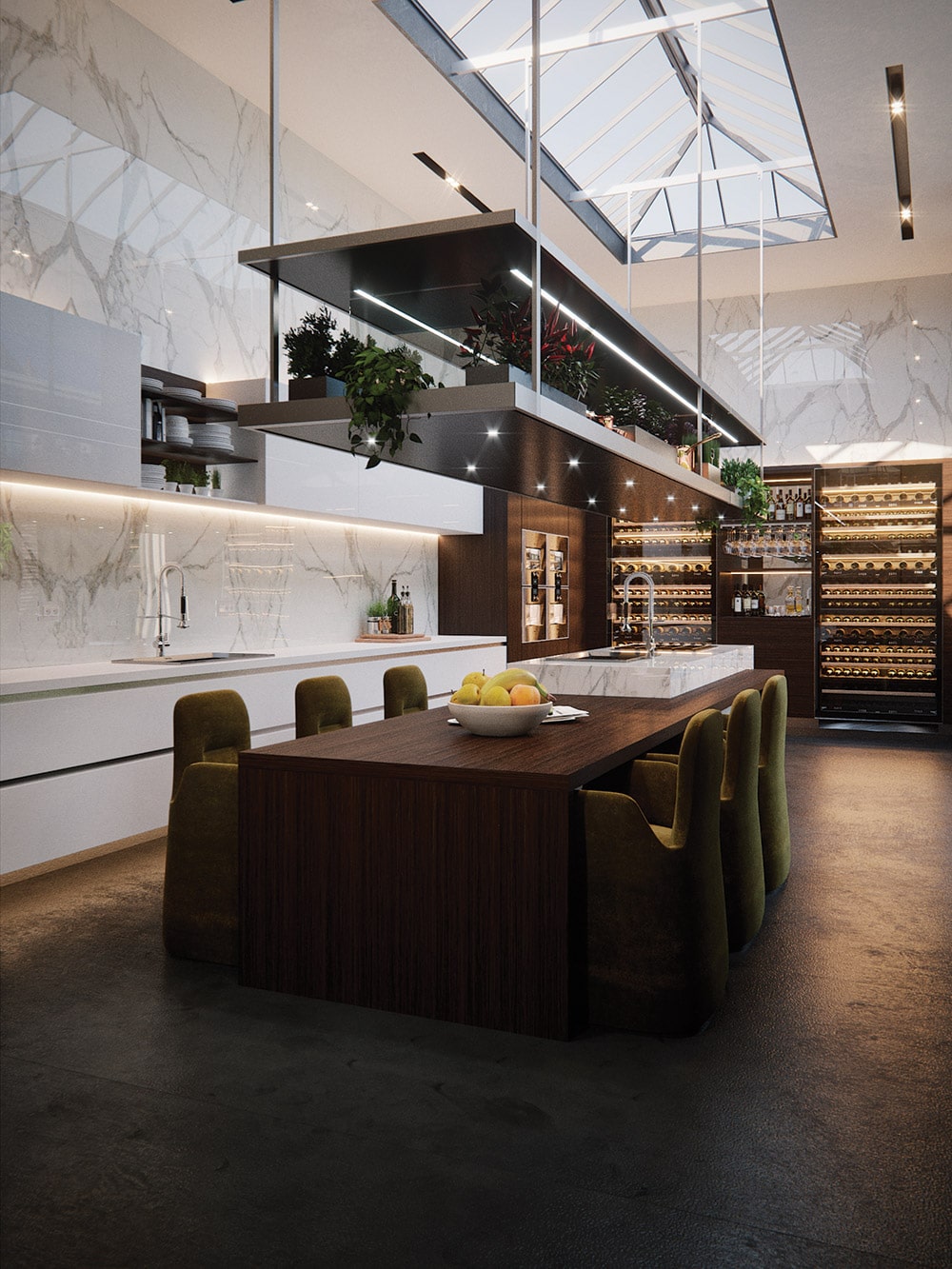 The Family Kitchen at the heart of the house has cathedral-like proportions with a 4-metre high ceiling and light flooding down through the Edwardian skylight.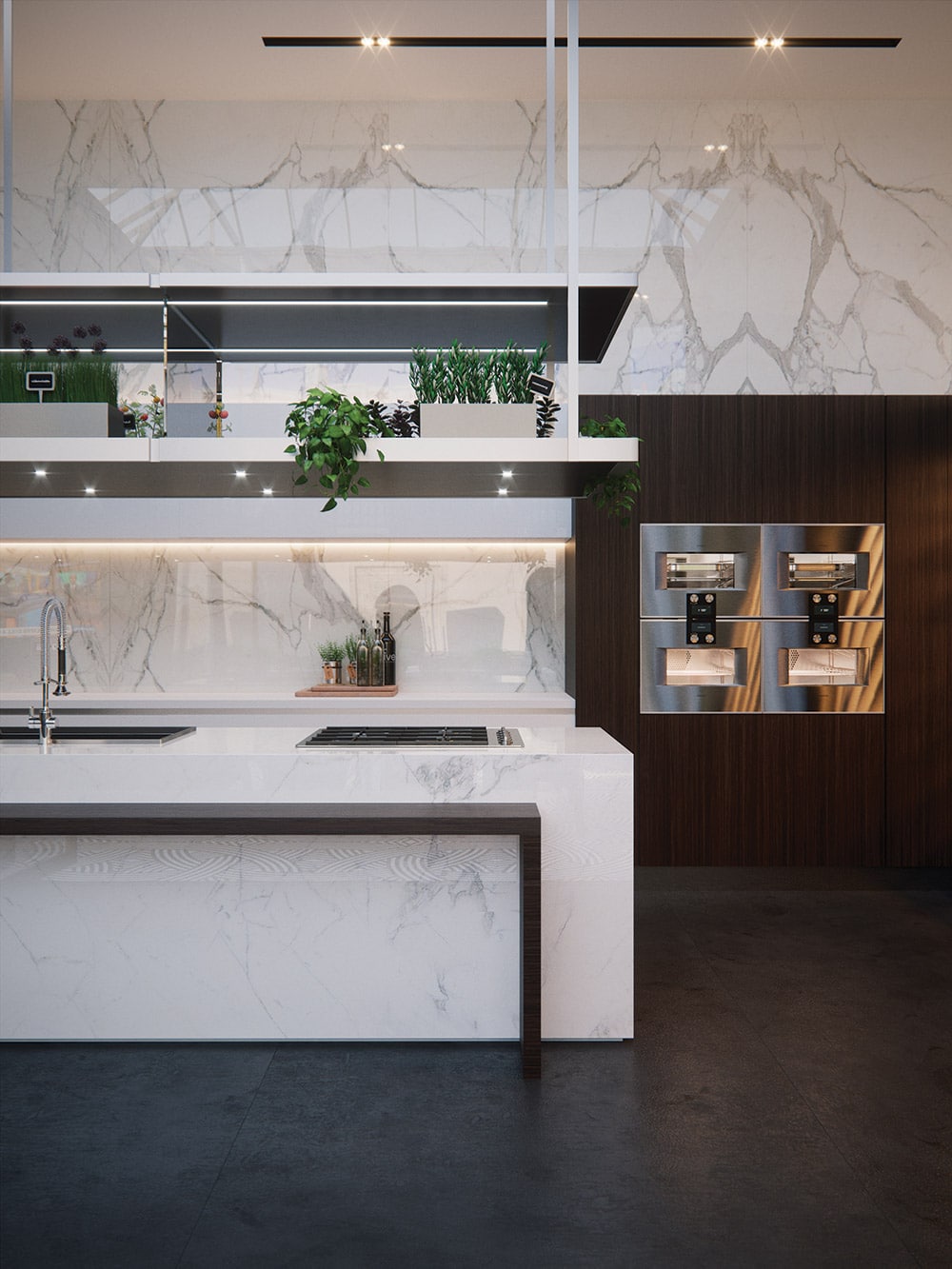 Floor to ceiling Italian marble, Gaggenau appliances and bespoke mahogany cabinets.
A property like this has multiple period features, and they all had to be renovated. Columns, ceiling panels, skirting panels, balustrades, doors, fireplaces, cornices, window frames, door handles and much more – all were meticulously restored and preserved. And Jason Harris is very proud of the results.
"Obviously to design a project like this we had to be at the top of our game with a real creative vision. The level of design had to be the best there is – creating a look like this was no walk in the park. It was a great opportunity to show off our diversity and talent," he says.
"UDesign manufacture their own furniture and have a whole team of product engineers, carpenters and technical architects. This was one of the reasons that our company was chosen above others for this project. It swung the deal for us," he adds.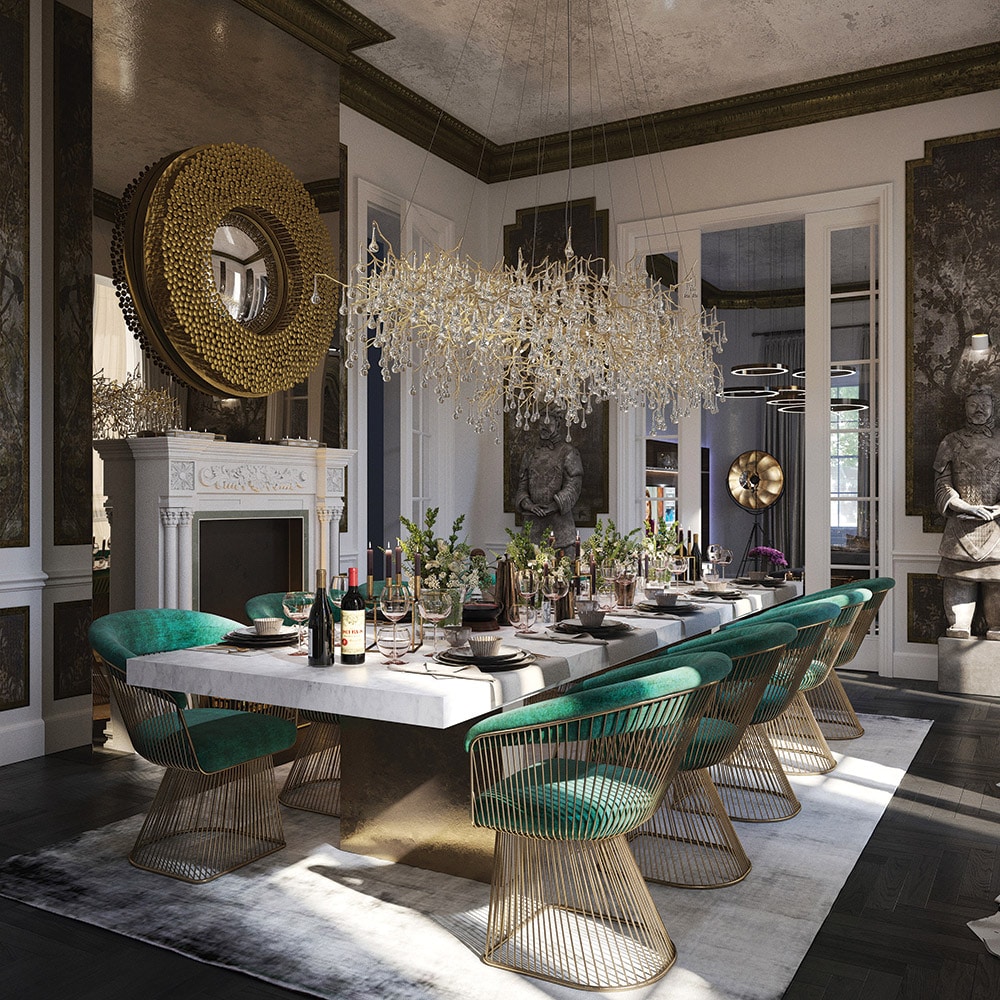 This opulent dining room has gold-plated Walter Knoll chairs, a marble table and dew-drop chandelier lighting.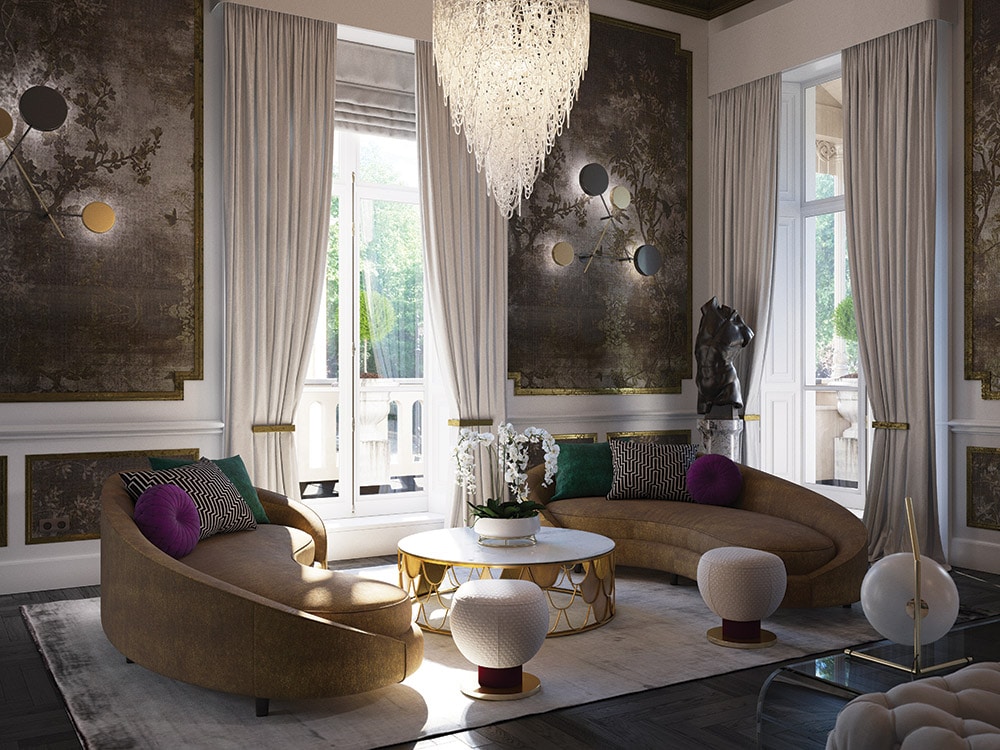 Each piece is meticulously placed to create the ultimate informal sitting area, from the beautiful, bespoke curved sofas to the Art Deco crystal chandeliers.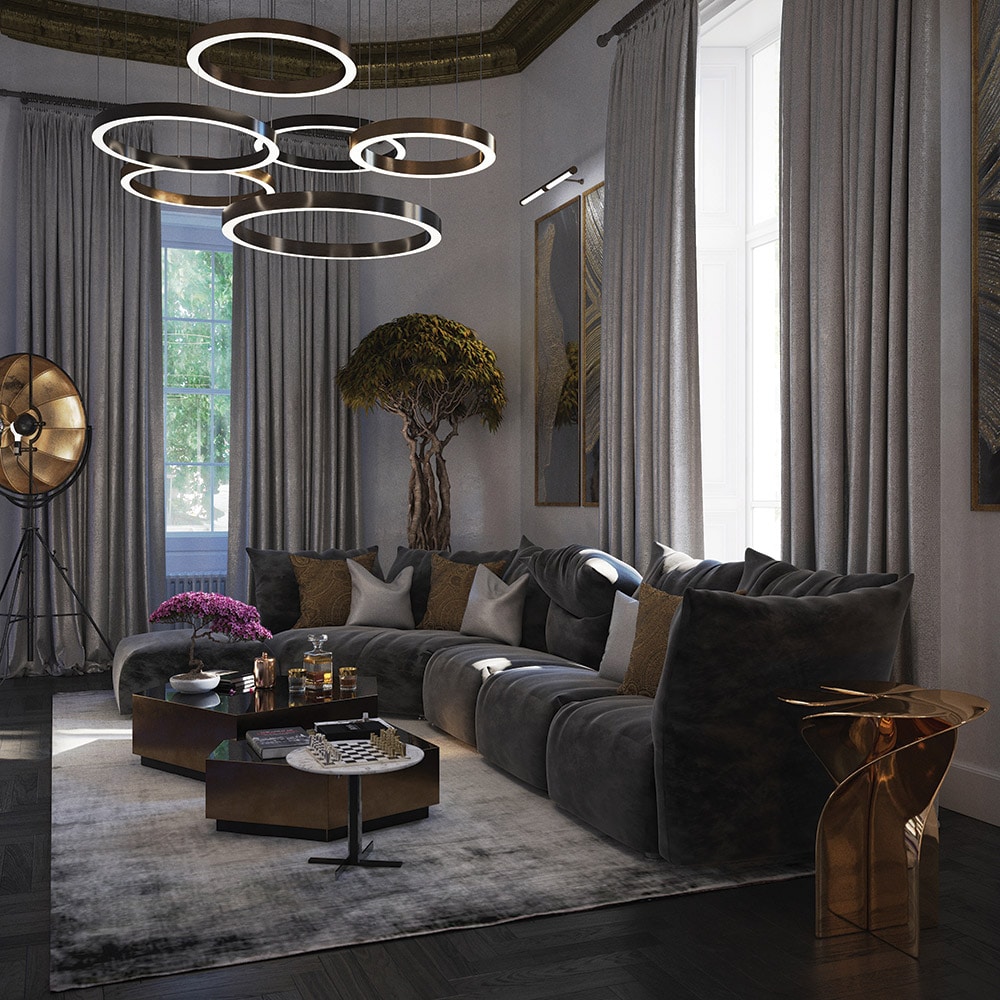 The family TV / chill-out room was designed primarily to be cosy and comfortable, without compromising on style.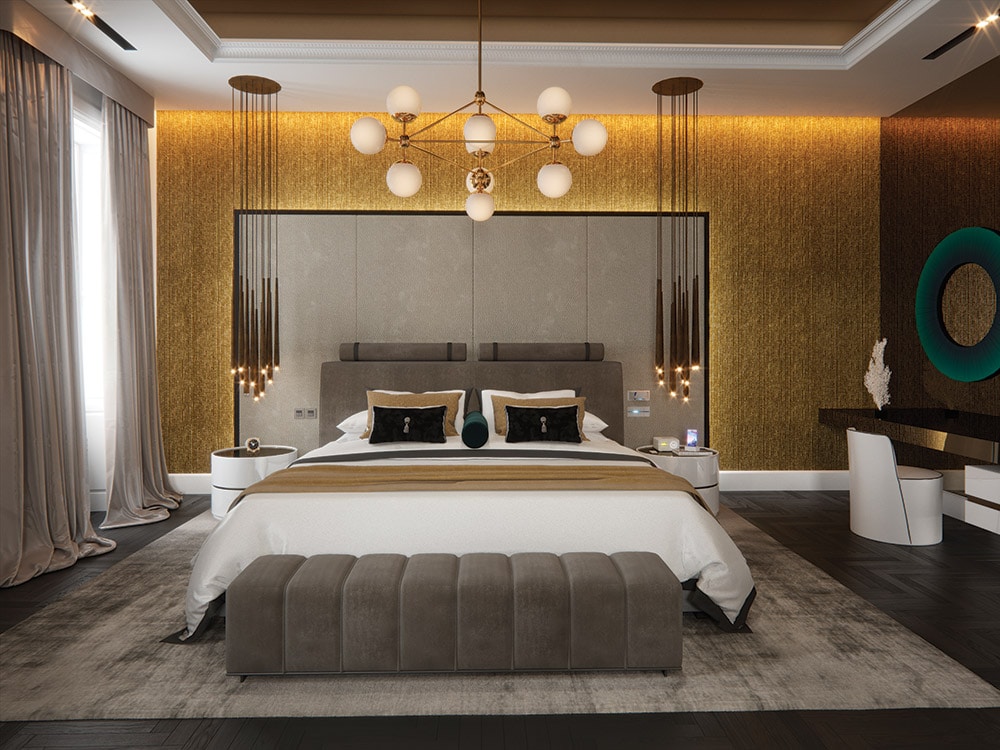 The Grand Master Suite oozes style and luxury, from smoked mirror ceilings to gold leaf wallpaper – it would rival any 6-star luxury hotel suite.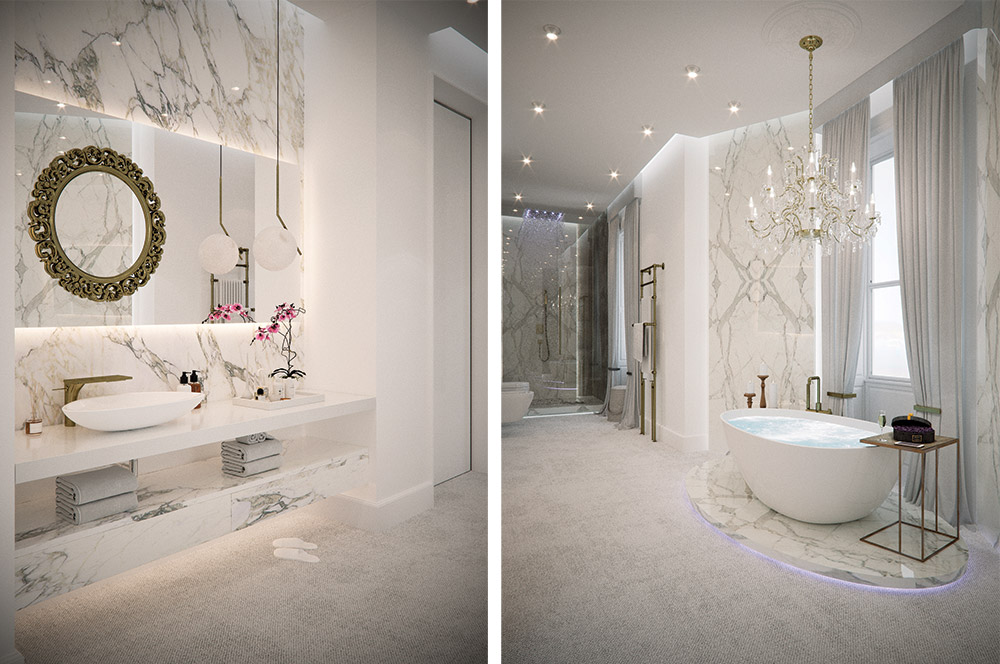 "Her" bathroom above and below the magnificent hallway leading from the bedroom to the bathrooms and walk-in wardrobes.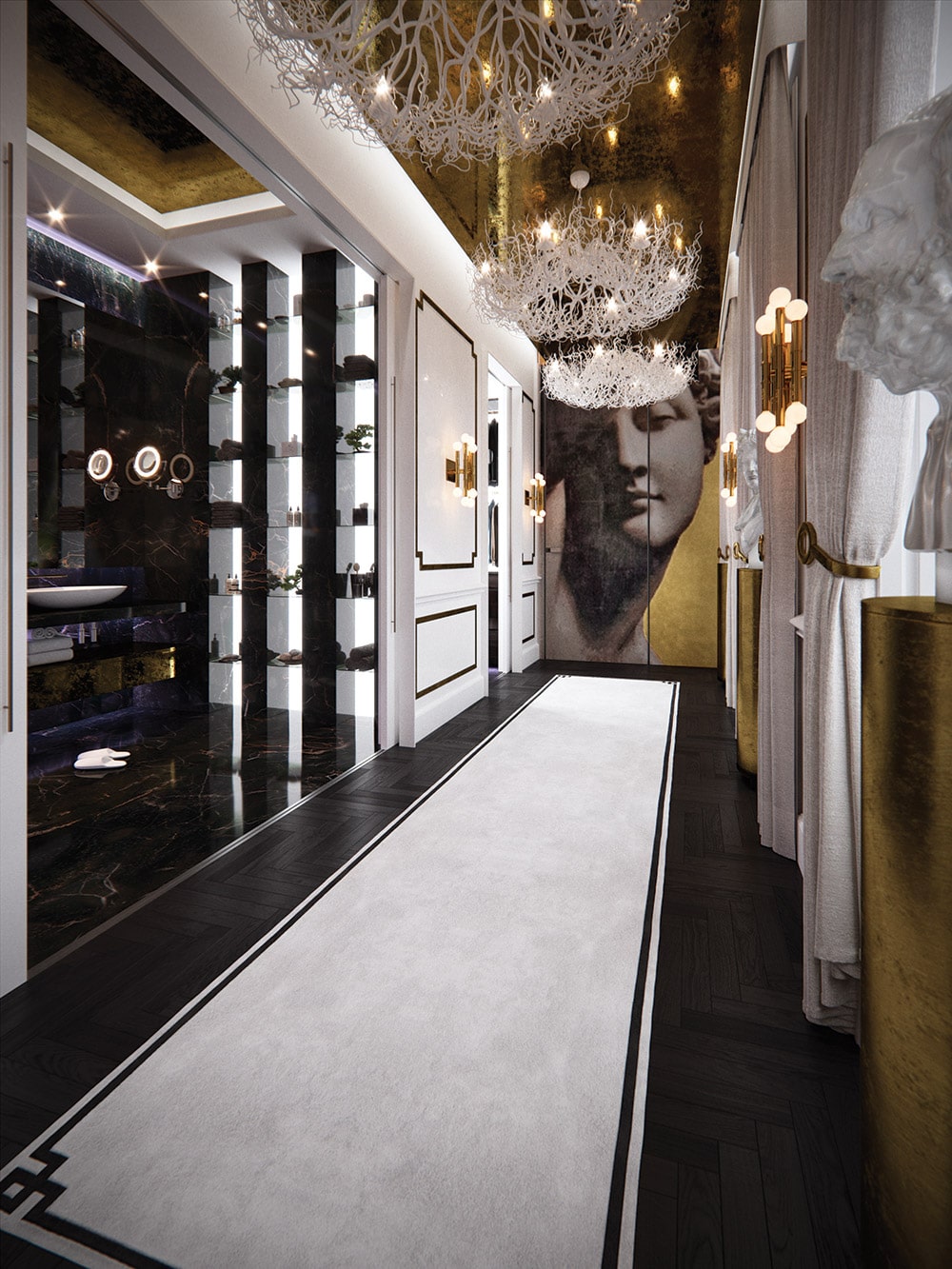 The real world is just a short walk away, but of course, this magnificent house will be a very real and comfortable home for whoever lives there, because it was designed that way. All in all, Eaton Square, Belgravia, has become a flagship design project for what is a flagship design company, and one they can be justly proud of.
---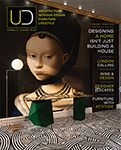 This article first
appeared in the
inaugural issue of
UD Magazine.
To read UD Magazine
online click here.
---