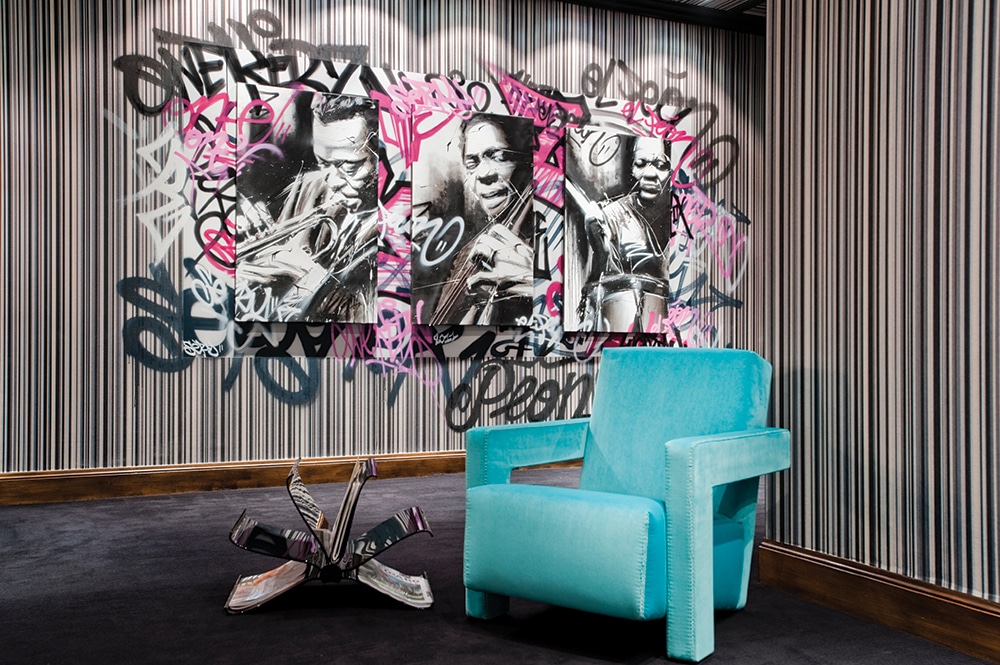 Designer Escapes: rustic-chic in Mykonos & cutting-edge art in France
We travel to an uber-stylish, award-winning seaside hotel, the epitome of designer rustic-chic, on the Greek island of Mykonos, and to France's Atlantic coast, for a boutique property converted from a Royal Mint, marrying period charm with cutting-edge art.
By Fiona Flores Watson
KENSHO BOUTIQUE HOTEL & SUITES
MYKONOS, GREECE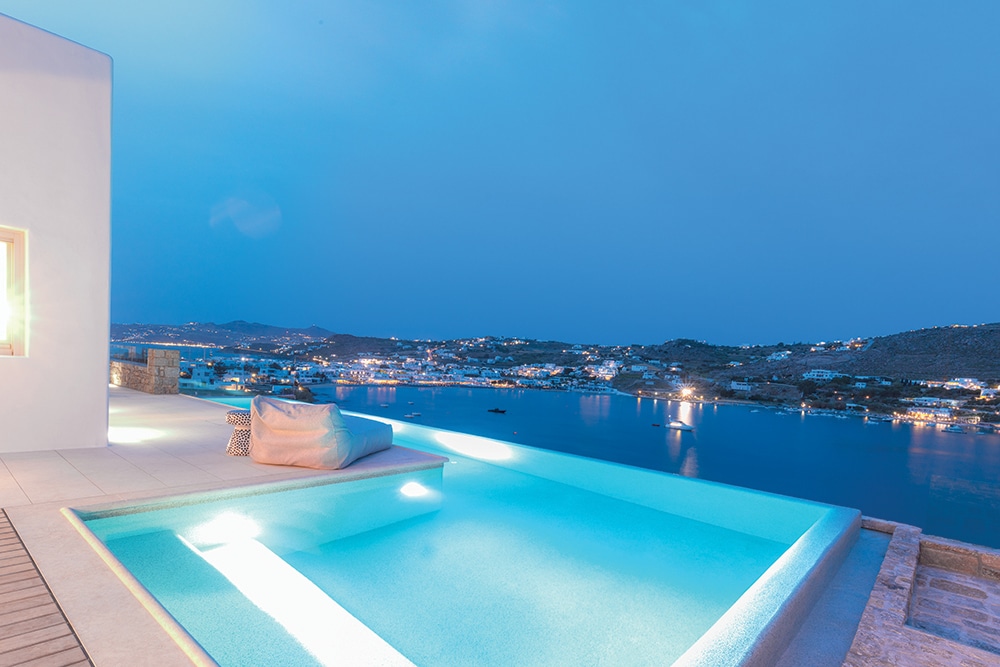 Above: This is the stunning vista from the villa at the Kensho Boutique Hotel & Suites. Each private pool in every room overlooks the Bay of Ornos, and the turquoise waters of the Aegean.
Perched above beautiful Ornos beach on the Greek island of Mykonos, favoured destination for the rich and famous, this hotel is the epitome of designer luxe, from the private plunge pools to the Patricia Urquiola chairs.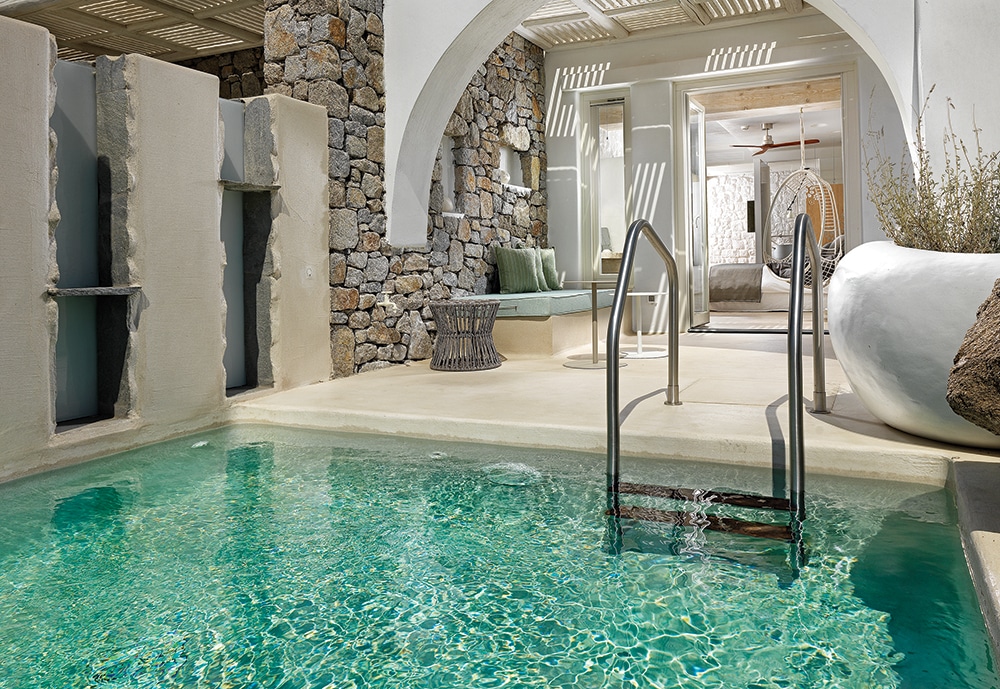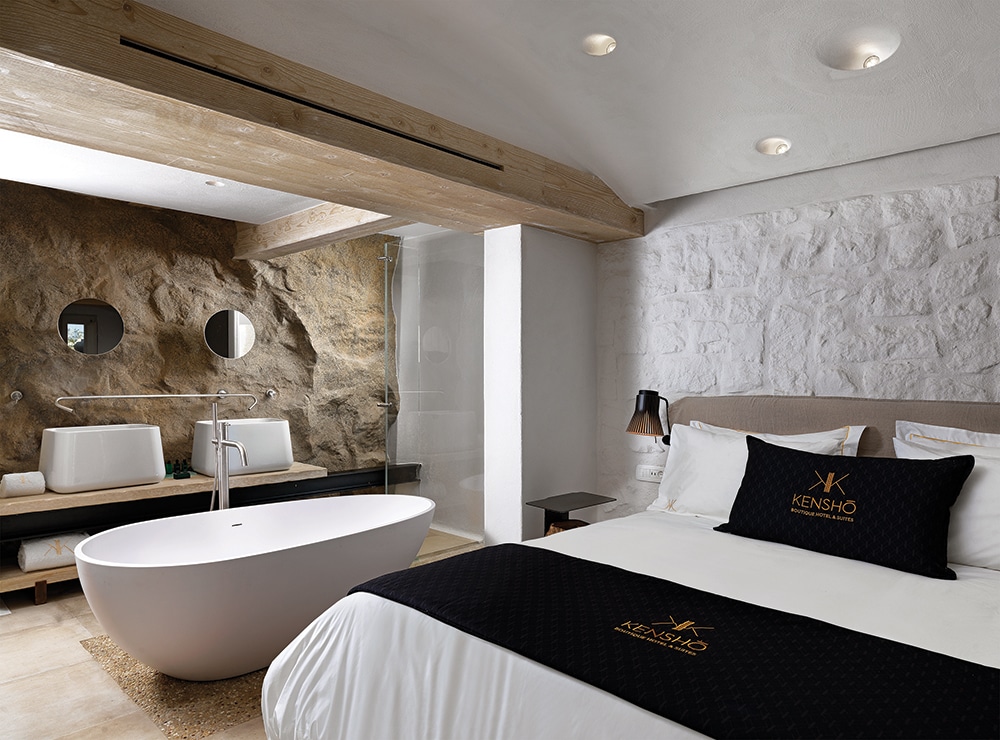 Above: Rooms have a rustic feel: bare stone walls enhance the striking designer furniture and private pools.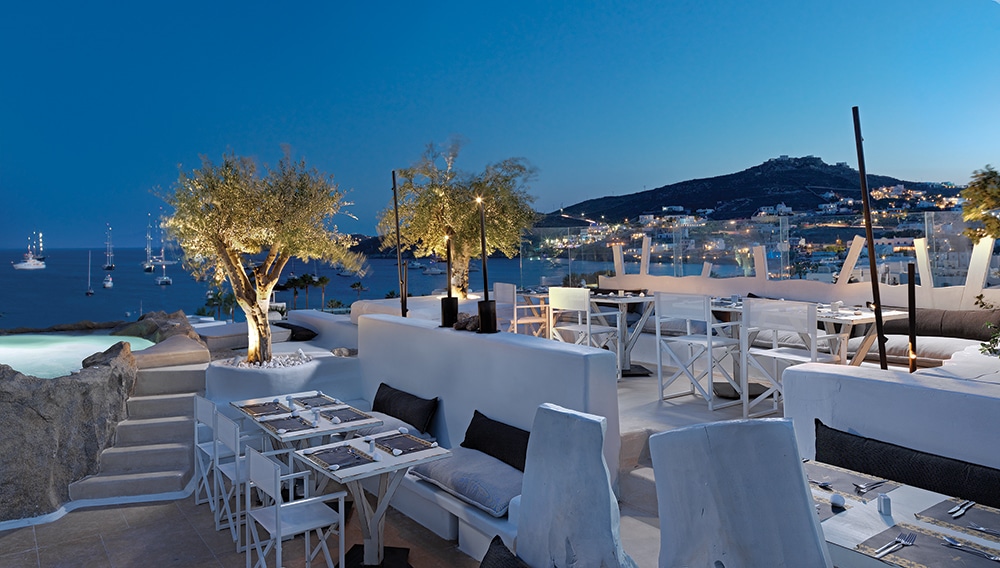 Above: Fine dining with a view across the Aegean Sea.
The decor defines minimal chic: island simplicity + cutting-edge contemporary, making a winning combination. Sophisticated neutrals in stone floors and pale wood act as a backdrop for statement pieces by big-name designers like Tom Dixon and Kenneth Cobonpue, as well as Urquiola. We especially like Cobonpue's woven bedside lamp and Yoda chair, Dixon's pendant lamps in the bar and spa, and Urquiola's poolside sofa pods.
Kensho means "enlightenment" in Japanese.
As is now the norm in top-end luxury resorts, most of the 35 rooms and suites have their own private pool, whether Jacuzzi or plunge pool, enjoying stunning views down to the Aegean. Bathroom goodies are by Hermes, and each room has its own Nespresso machine and iPad with in-house Spotify playlist and app guide.
Naturally, the hotel also has a larger infinity pool for all guests, and for the even more energetic, there ¡s a fully equipped gym. Afterwards guests can relax in the spa's cave-like hot tub and hammam, be gently pummelled by a futuristic massage chair, or indulge in a pampering treatment such as a facial.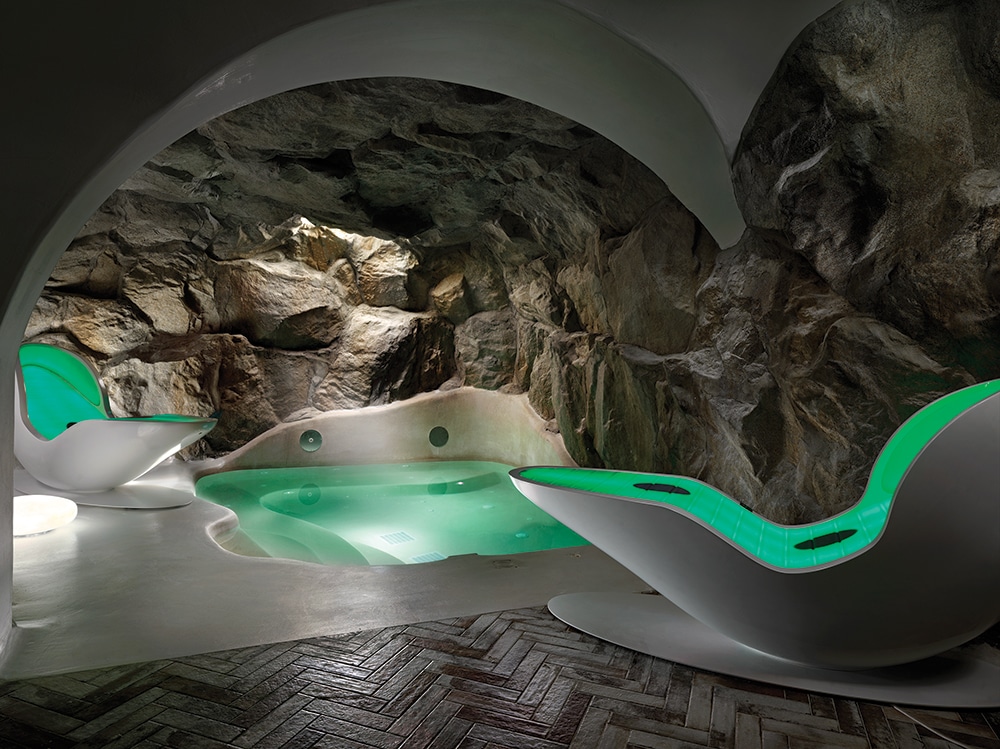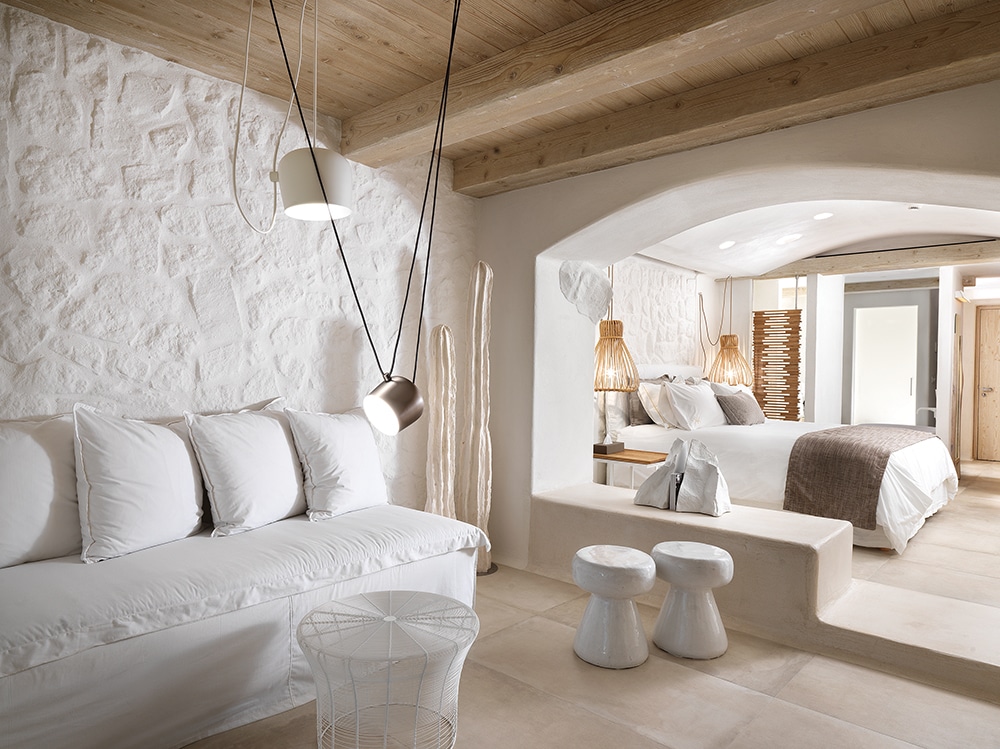 Above: The cool white and inviting rooms, and the cave-like grotto of the spa's hot tub, create such a welcoming ambience that some guests seldom leave the hotel. 
As you would expect, the cuisine is also of the highest standard – George Stylianoudakis' creative modern Greek dishes, exquisitely presented, are best sampled in the 10-course tasting menu, which includes scallops and wagyu beef, while local specialities include kakavia (fisherman's stew). You also have the option to eat outside in the more casual Sunset Lounge and watch the lights twinkling across the bay on a warm summer night. Even the cocktails are masterpieces, made by the hotel's professional mixologist.
Island simplicity + contemporary design = pared-down chic
This luxury retreat, whose awards include Boutique Hotel Awards World's Best New Hotel and Mr and Mrs Smith Top 10 Best Boutique Getaways, cements Mykonos' reputation as the go-to glamour spot in the Greek islands.
LA MONNAIE ART HOTEL AND SPA,
FRANCE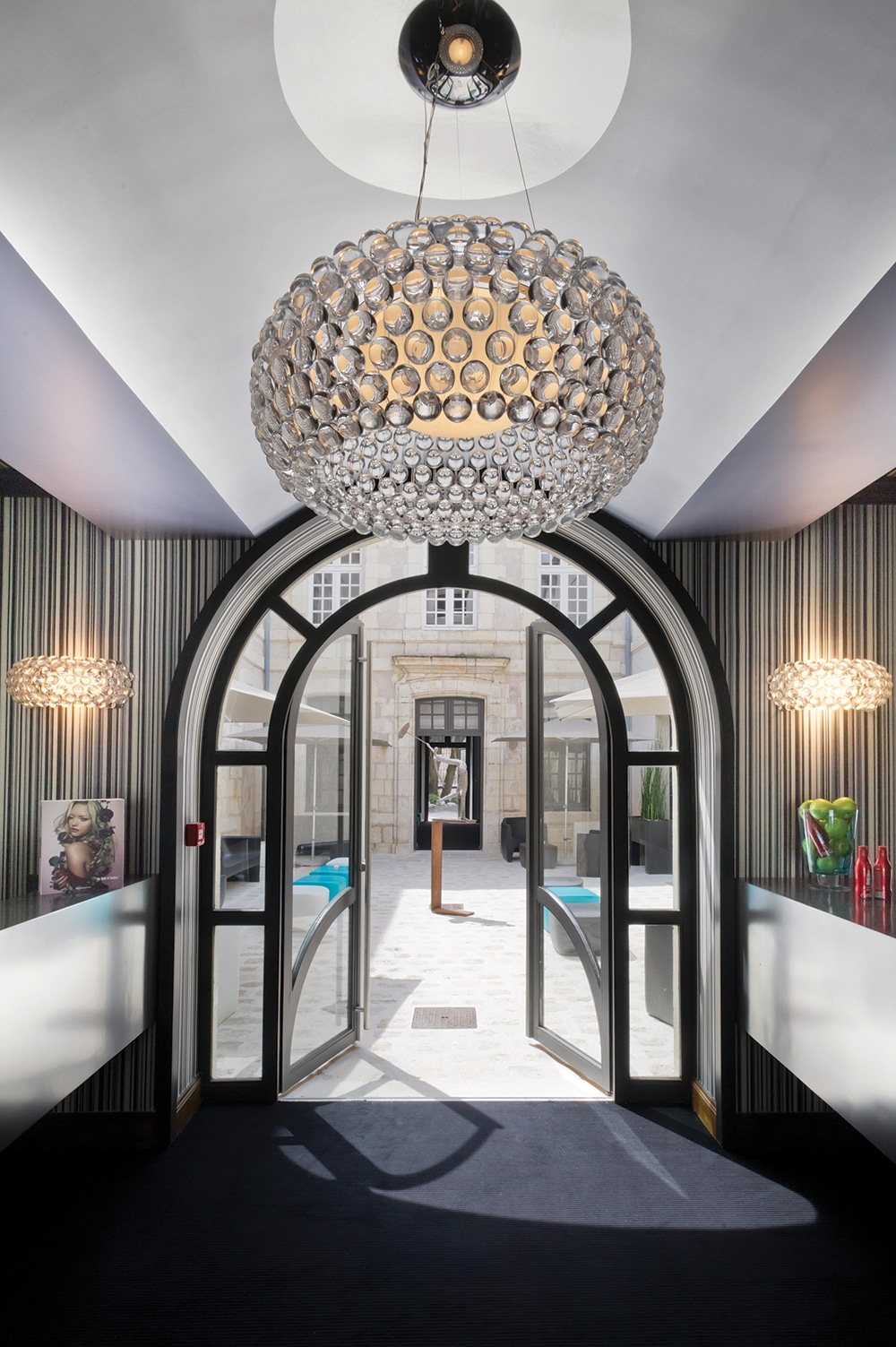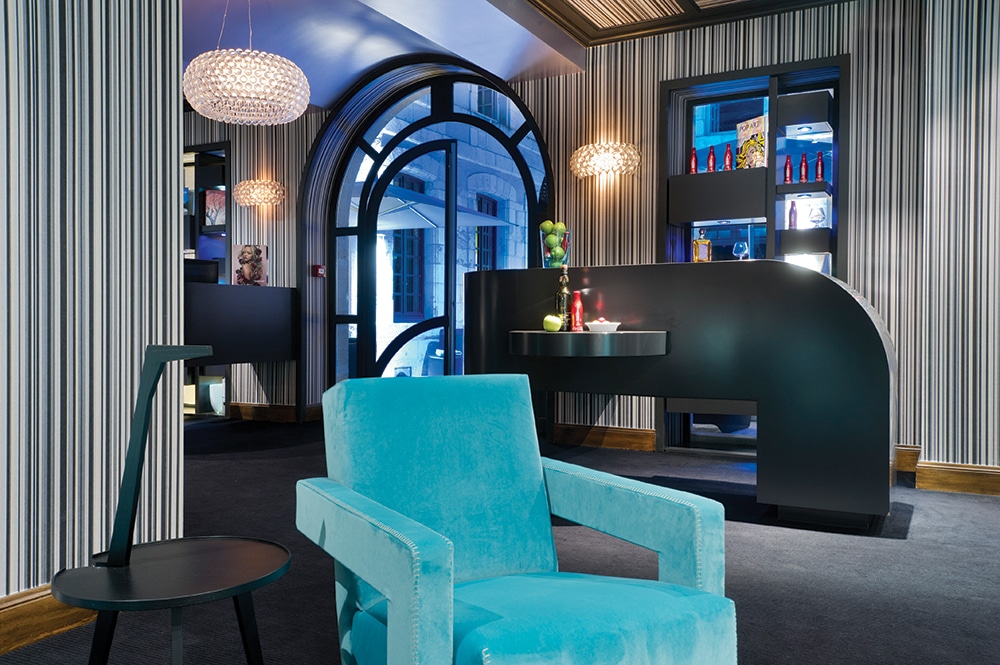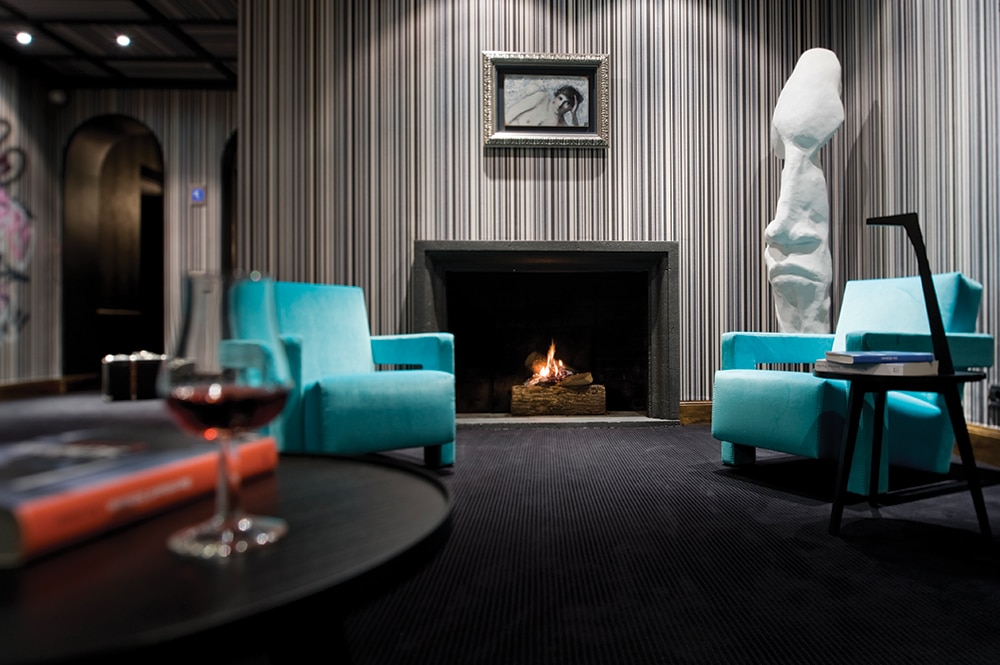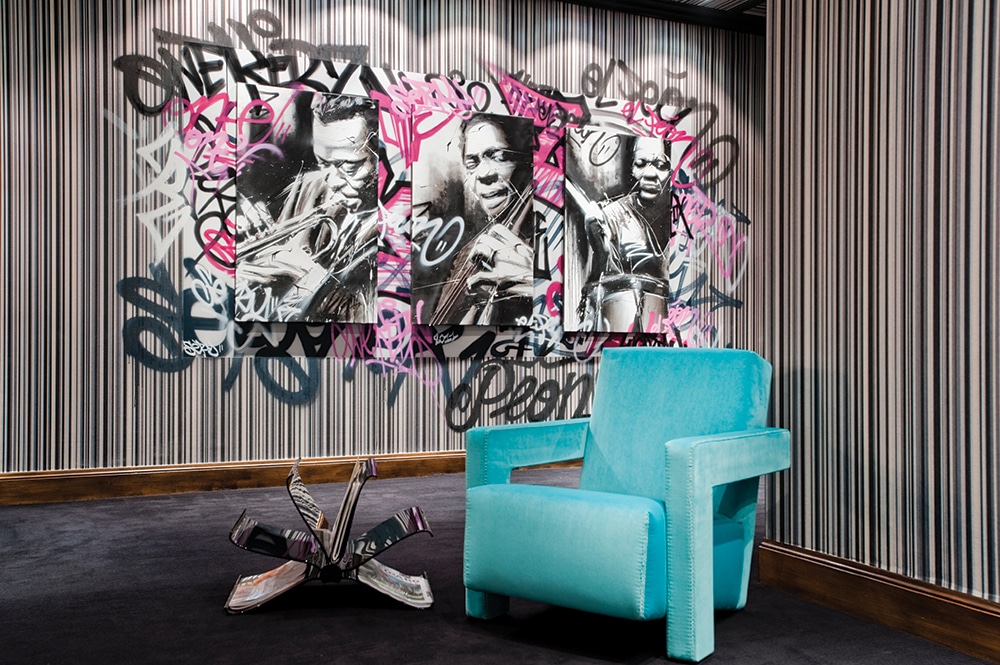 In the chic French seaside resort of La Rochelle, on the Atlantic coast – think fabulous seafood and a historic old town – this converted 17th-century Royal Mint leads the growing hotels-as-art galleries trend.
The period building with 41 guest rooms marries traditional architecture with contemporary touches, such as graffiti, Modigliani-type sculpture, and iconic pieces by the likes of Philippe Starck and Gerrit Rietvald. The vibe is luxurious and cleverly quirky.
The hotel has a monochrome palette of glamorous black, smooth white and soft dove-grey, accented by metallic pink lamps, turquoise chairs and glass chandeliers.
In the new annex, a neighbouring 19th century building, classical French decor features Louis XV-style gilt chairs, marble fireplaces, and wall coverings in graphic print or Renaissance icon, plus a roof terrace with views to the Tour de la Chaine. If you choose the magnificent suite, you get a bath for two and Pierre Frey elephant wallpaper.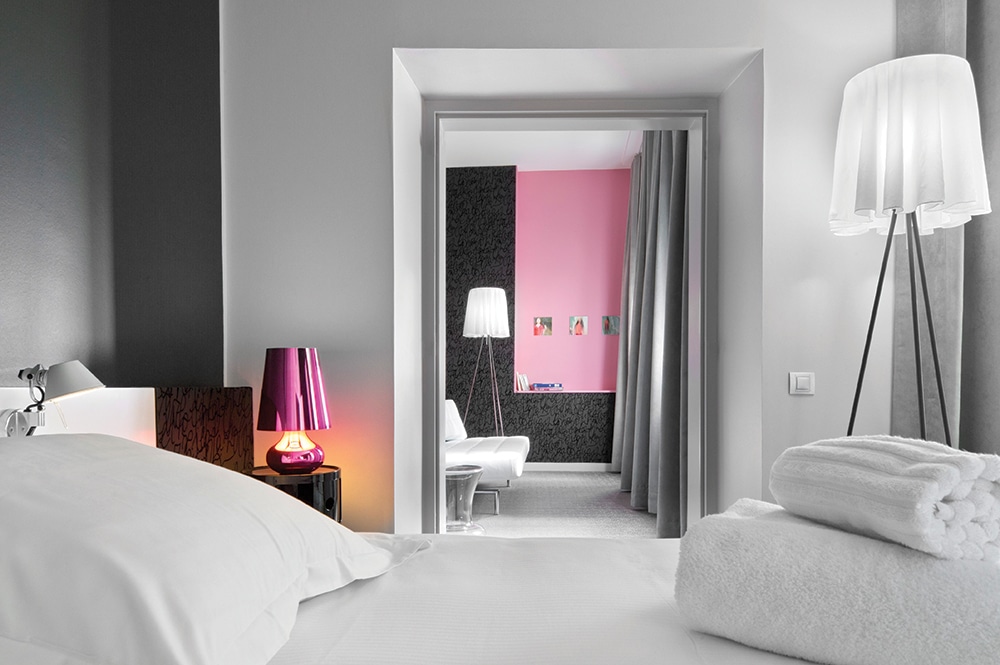 Above: Room Nº6: Soft, soothing, still-on-trend dove-grey walls and furnishings are accented by a vibrant pink wall and lamp.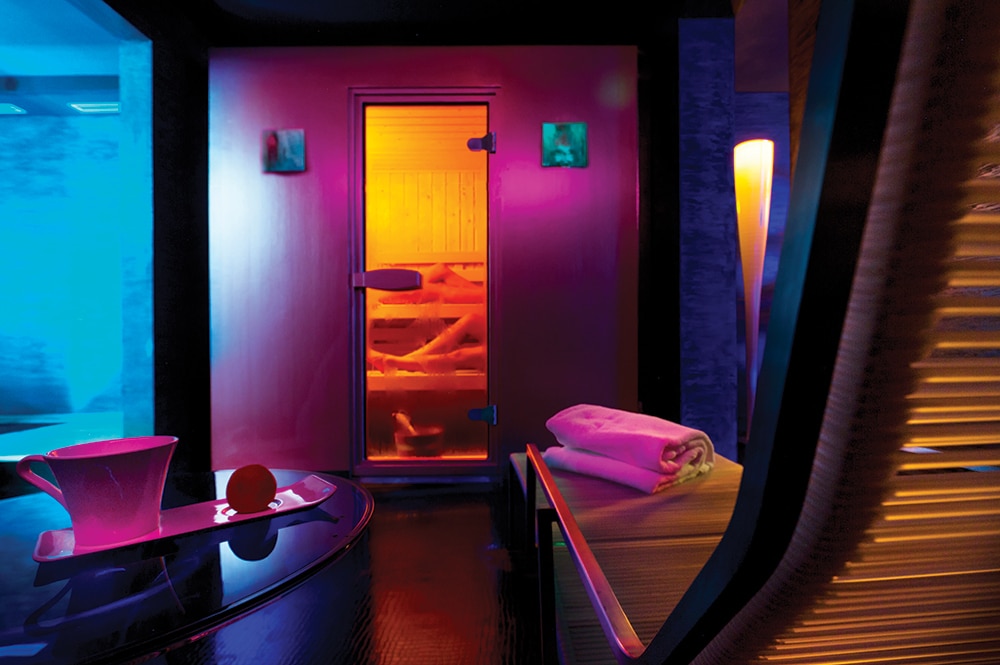 The art has been collected by the owners, Sylvette and Pascal Lebeau, and exhibitions are held in May and June each year. Artists whose works hang in the hotel permanently include Mexican painter Liz Bono, designer Bernard Dagan, and homegrown La Rochelle graffiti artist ("graff" en français), El Peon.
Celebrities love the glam touches – every July, French rock stars from the Francofolies Festival take over the hotel. Not to mention that La Minimes is France's largest yacht marina, with almost 4,500 vessels moored.
A small garden, Jardin des Loges, continues the theme of stylish comfort, with wooden chairs and daybeds with pretty plump cushions, while the bar has bold black-and-white striped wallpaper, Charente-Maritime and île de Ré wines, and a cocktail of the month.
The pampering spa, with dark walls and low lighting, has two hydro-massage beds with 12 programmes offering different combinations of jets, plus a sauna. Pure sophistication, as the French know best.
---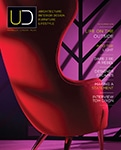 This article
appeared in the
2nd issue of
UD Magazine.
Click on the image to read online.
---
Click here to read our Designer Escapes article from the 1st issue of UD Magazine.