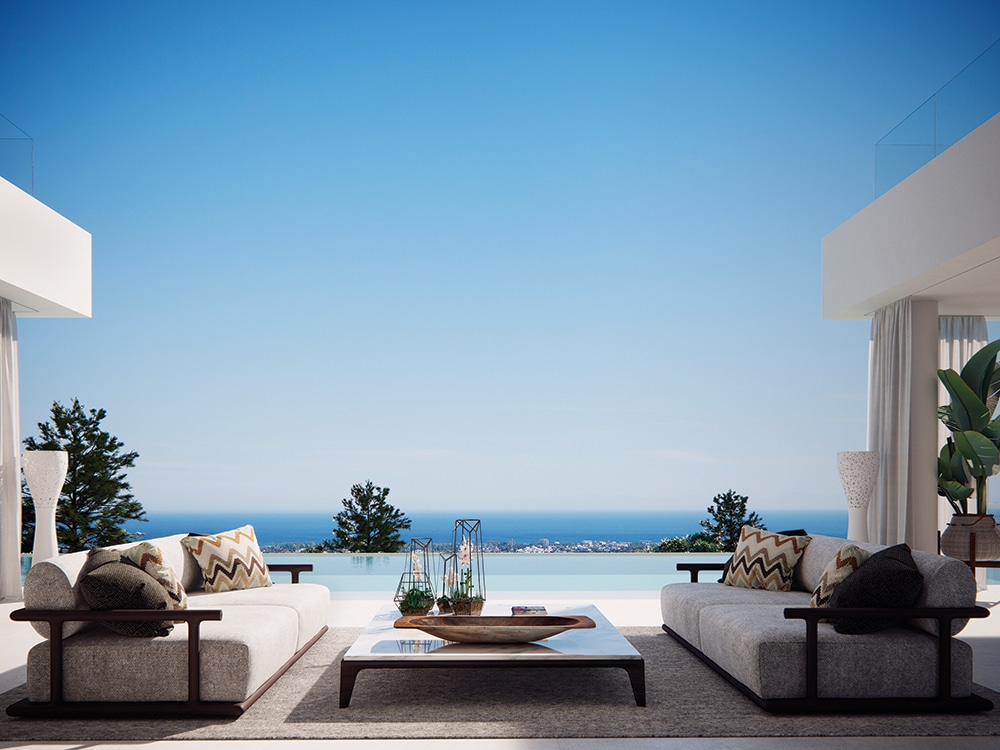 Luxury Redefined: Villa Alcuzcuz
Villa Alcuzcuz is basically a showcase villa, but it has a great deal more to show than any other of its kind (the high-end market) on the Costa del Sol, or indeed anywhere else in the world.
Earlier last year UDesign entered the luxury villa market hoping to build a villa that would epitomise the spirit and soul of the company: overall excellence both visually and functionally, attention to detail, exactly the right furniture and fittings in exactly the right places, the effortless flow from one space to another, proportional perfection and the use of light as an essential design element.
"Good design is not just about making a space look good. It's about making it feel good," says Creative Director Jason Harris. "In each space we design we're trying to combine visual and functional aspects to perfection. Good design is both of these working together in harmony."
"Effortless flow from one space to another and proportional perfection."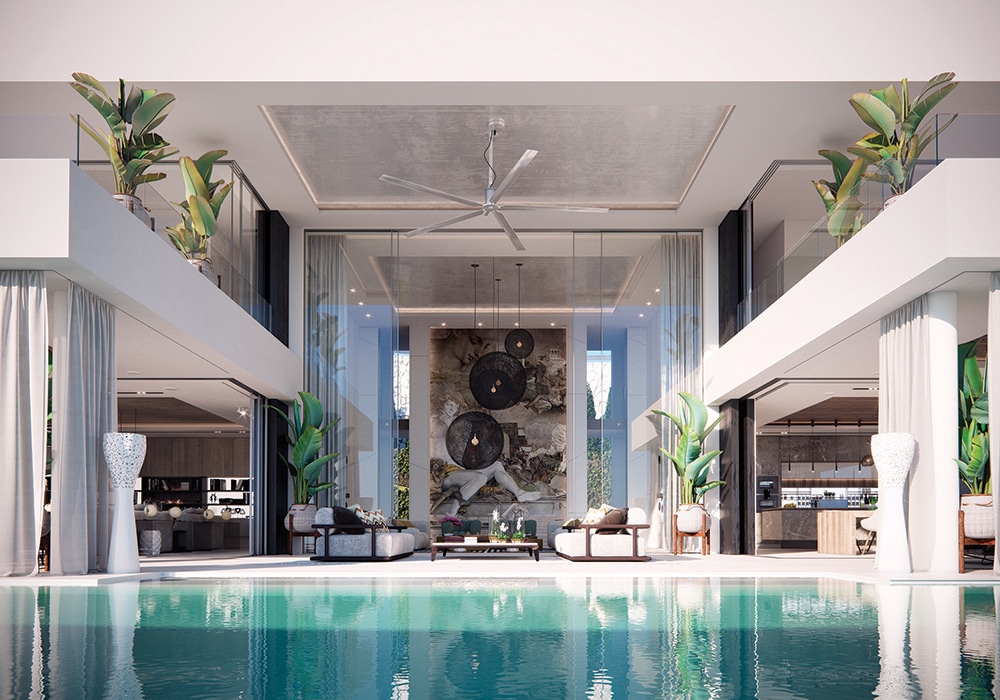 Above: View across the pool to the Formal Lounge. The ancient Moors knew all about water: it has to be close to the living area, and this concept has become a UDesign trademark in the positioning of all their pools. Below: Main entrance. The imposing geometry of the main entrance is echoed by the formality of the cypresses in the garden behind.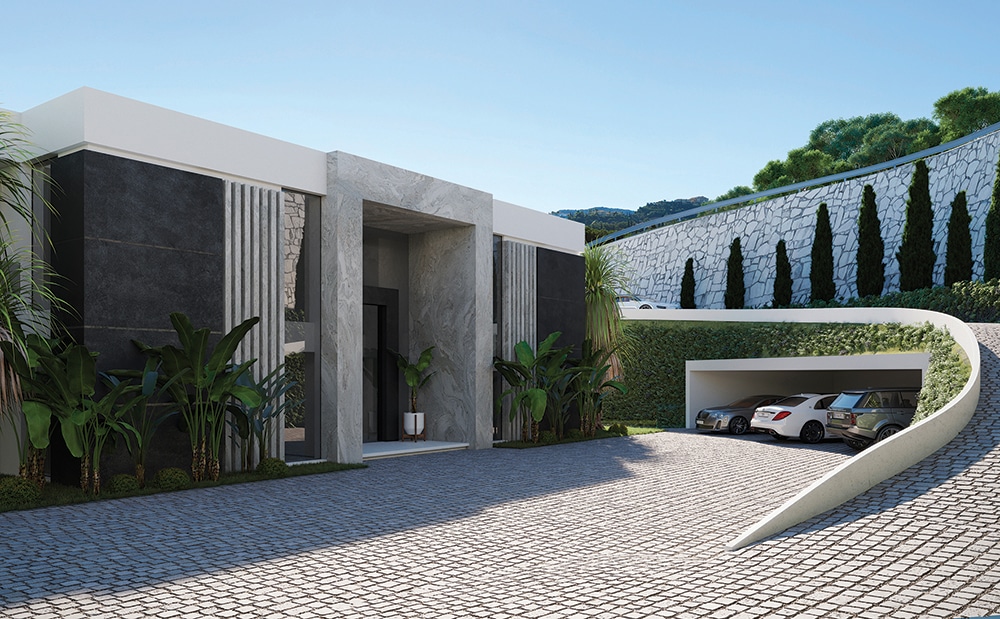 Knowing what works in harmony is the key to design excellence, Jason insists. "A great chef will take a few ingredients that, on their own, are fairly ordinary, and put them together in such a way that he achieves the extraordinary. It's a question of how to use these ingredients, and that requires the same kind of knowledge and understanding that both architects and designers have been striving for over the years. Villa Alcuzcuz is our chance to show what can be achieved."
"The balance between the visual and functional is the key to good design."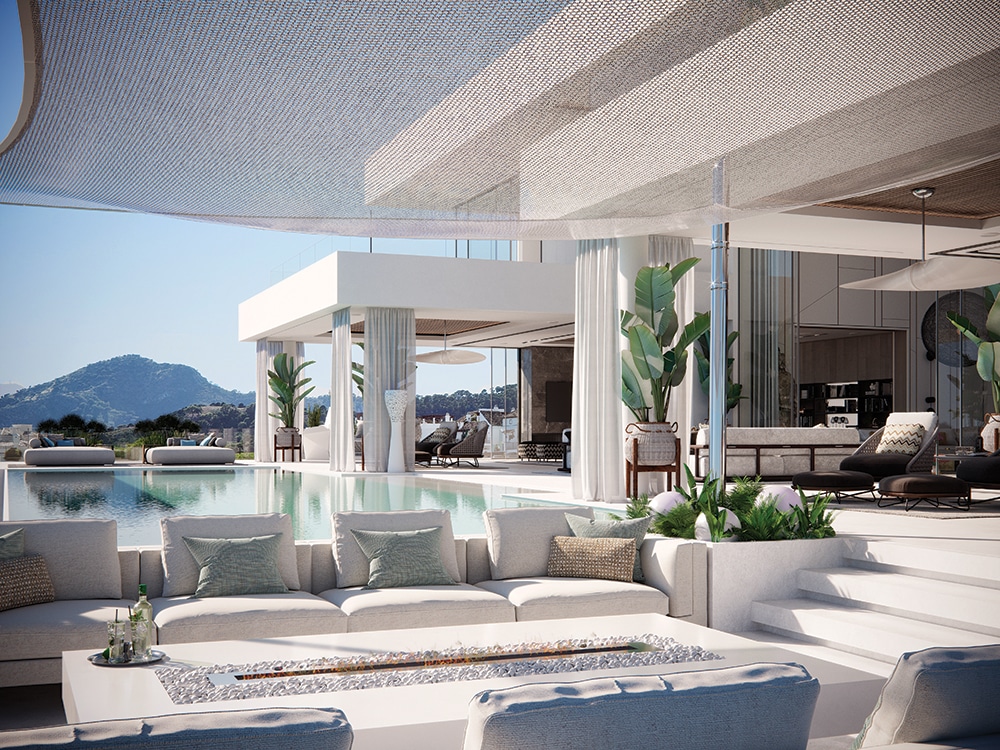 Above: Terrace. This magnificent terrace manages to cleverly contain five distinct areas – the sunbathing area, the fire pit with comfy sofas, the TV room terrace, the kitchen and dining terrace, and the formal lounge terrace. Whether entertaining with friends, just having a family BBQ or sitting alone with a glass of wine, each space has its own purpose and function.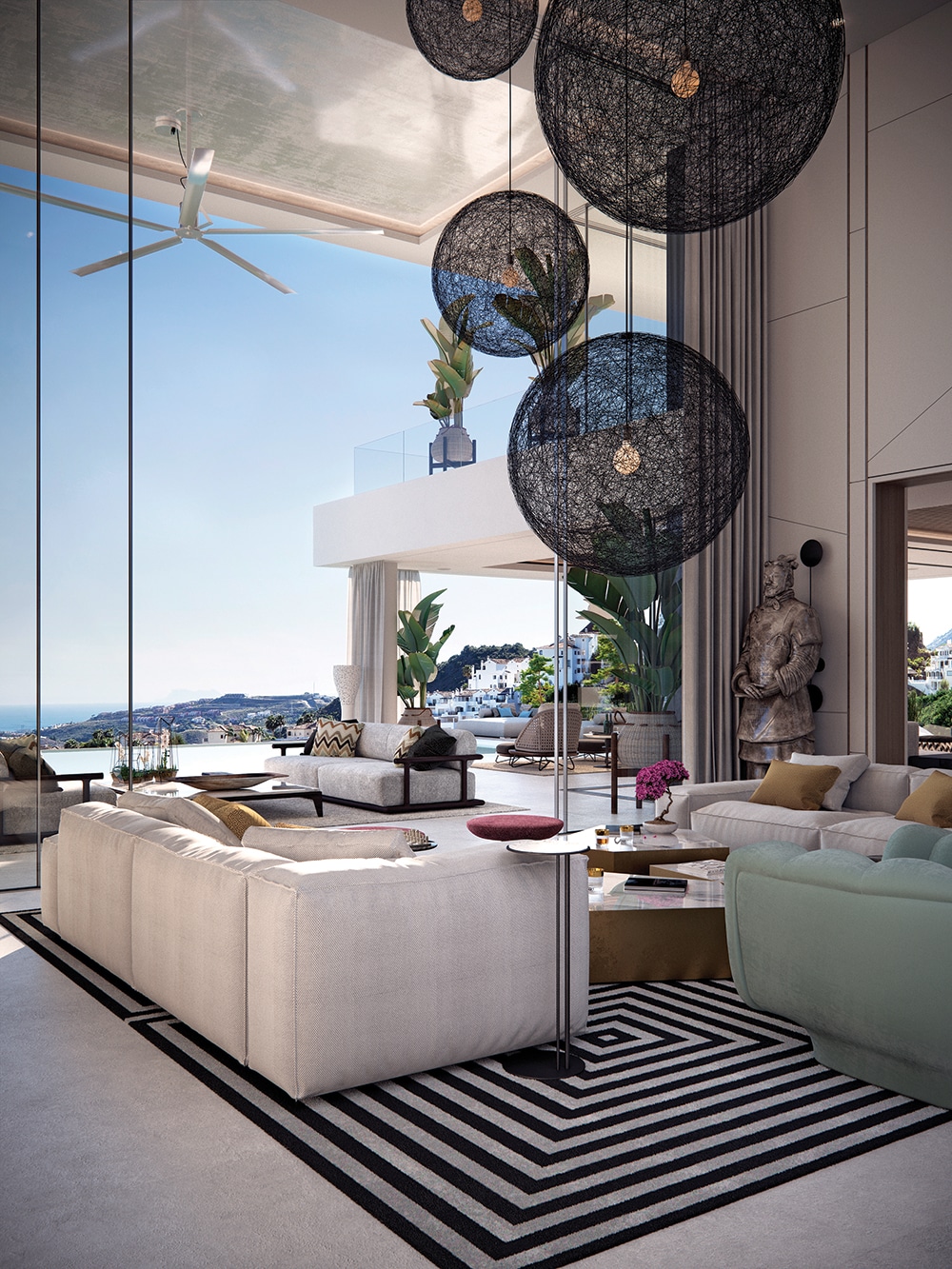 Above: Formal Lounge. An inspiring room of grand proportions with its own terrace space (below)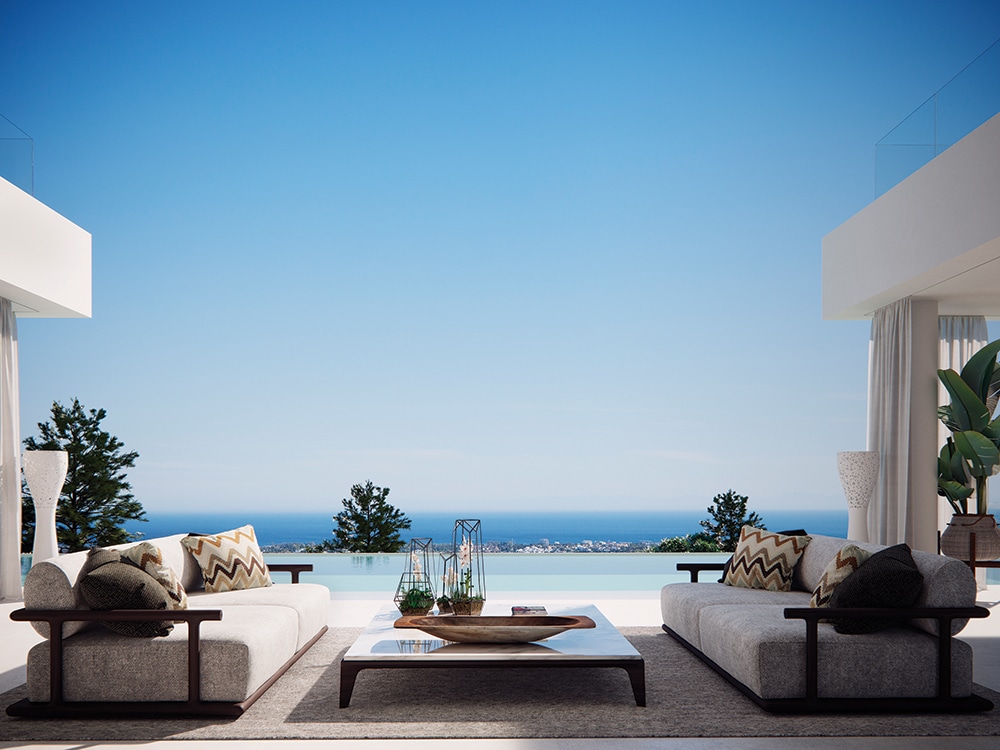 There is science in all art – from the science of harmony and rhythm in music to the science of colour, light and perception in art – and this includes interior design. There is a reason something looks and feels right. It doesn't happen by chance, but by the application of certain basic design principles whose discipline is welcomed by designers as a way of liberating their creativity, rather than restricting it.
"There is science in all art, and a reason that something looks and feels right."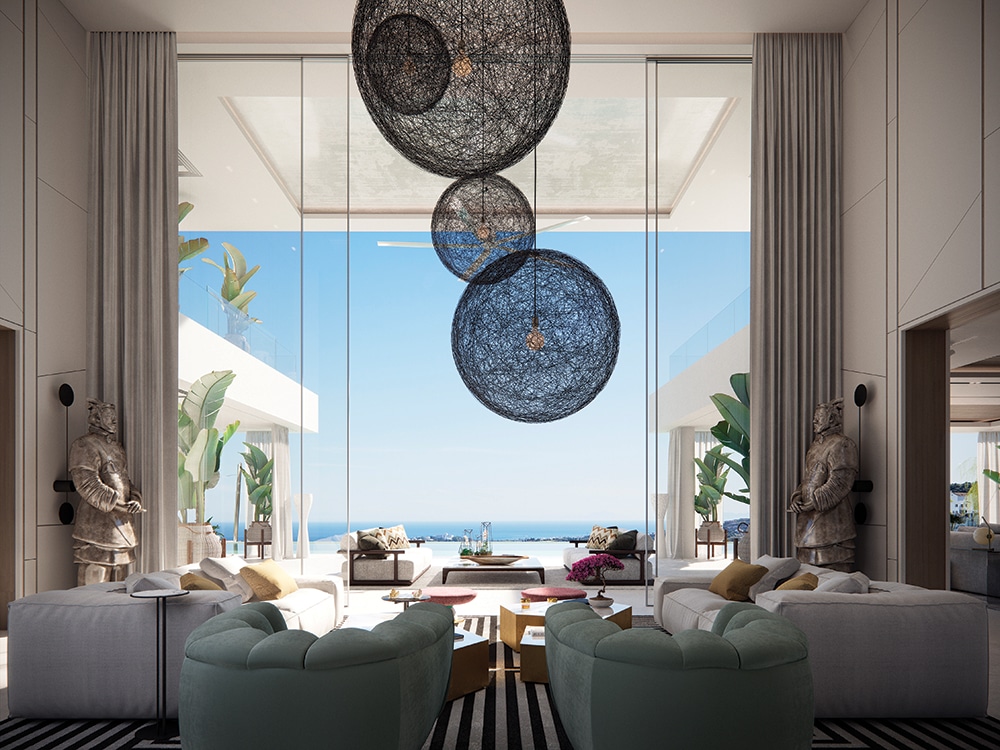 Above: All the details, big and small, come together in this stunning view of the Mediterranean from inside the formal lounge. Perfectly symmetrical, designer fittings with the ceiling lights redefining the sky and the two warriors inviting us to look outwards, the perfect blend of tone and colour – this is designer opulence.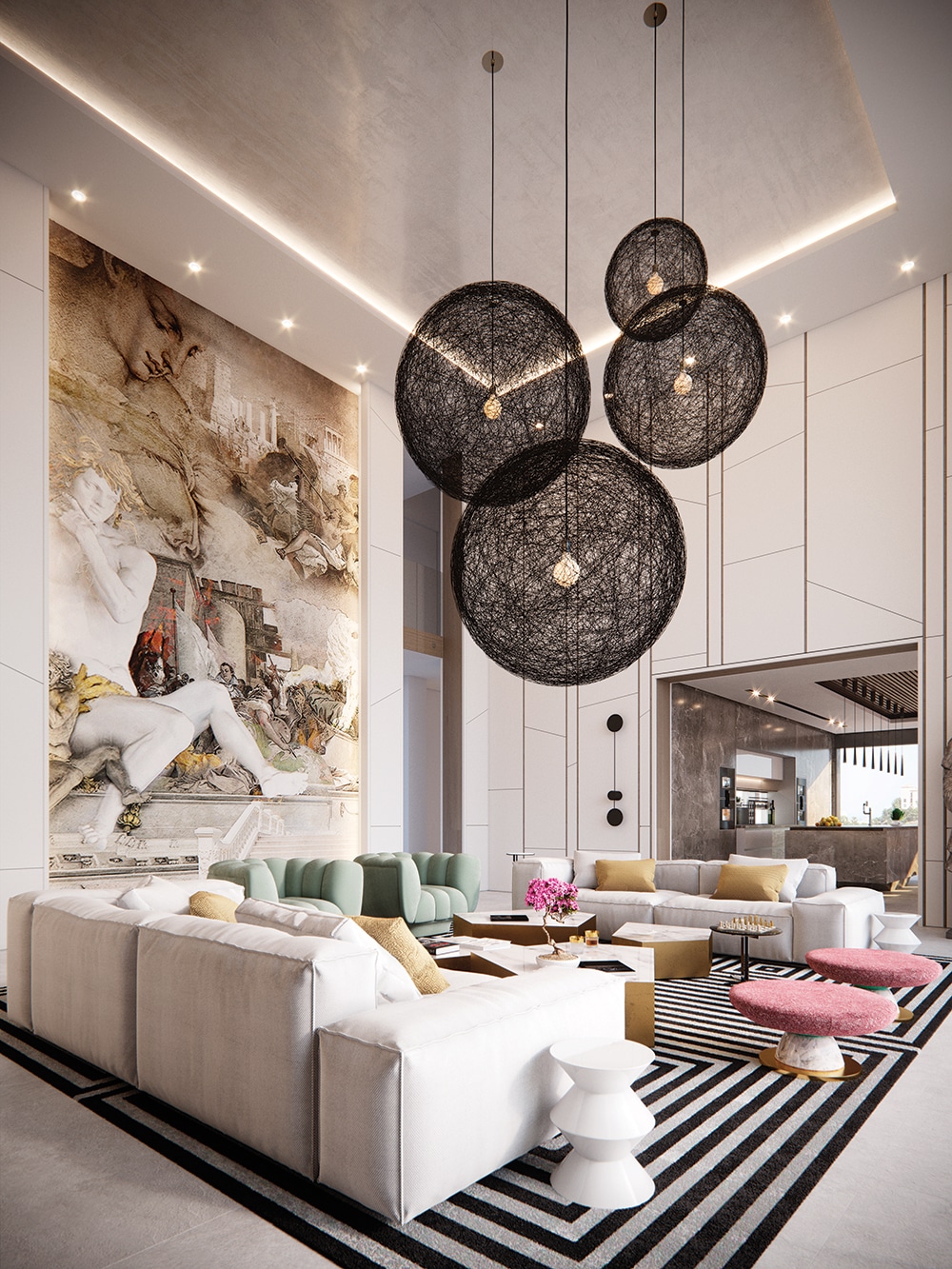 Above: Formal Lounge. The high ceiling running into two floors, the lighting  an imposing design element in itself and the large mural on the wall – it all adds to the splendour of this room.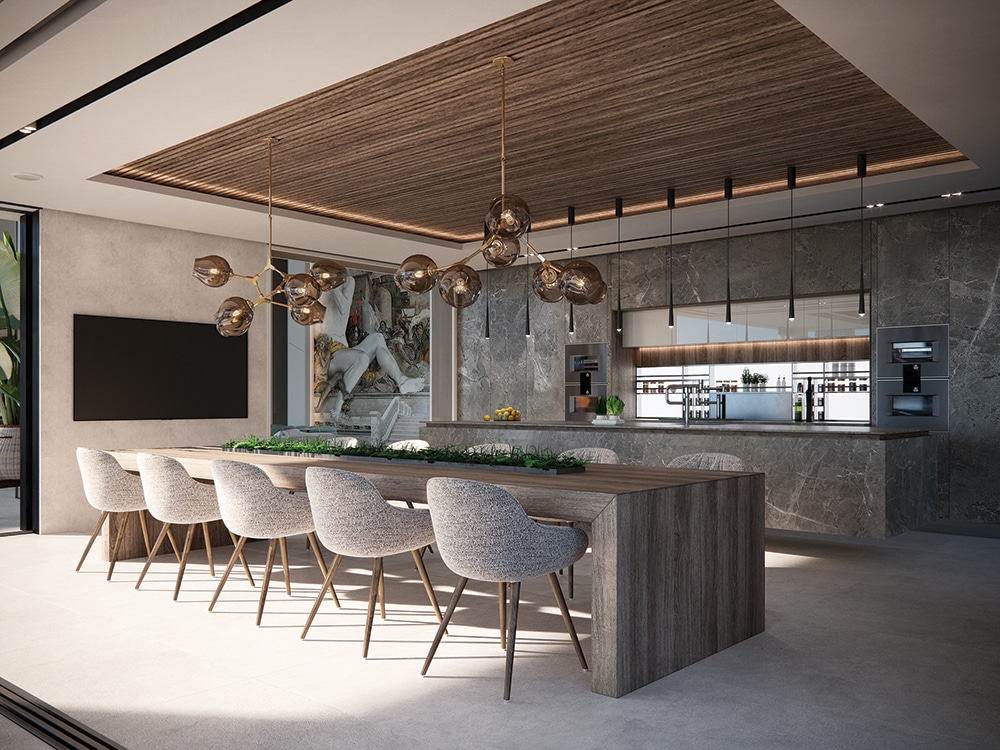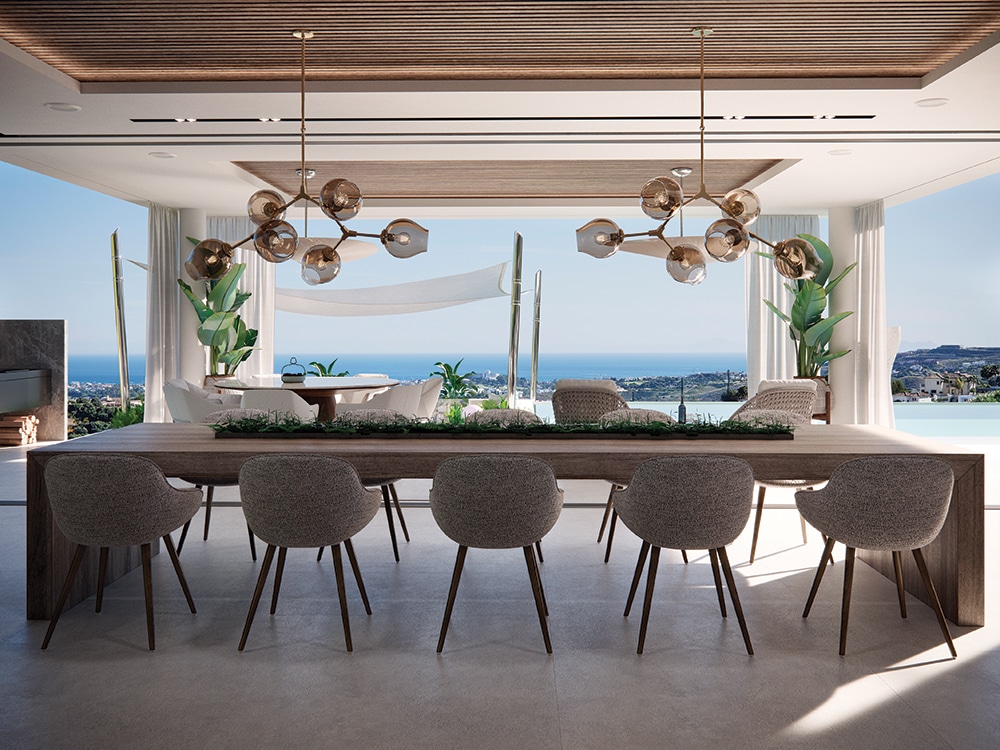 Above: The kitchen-dining room also has stunning views, which is not surprising, given that the house was designed to maximise the views from every single room.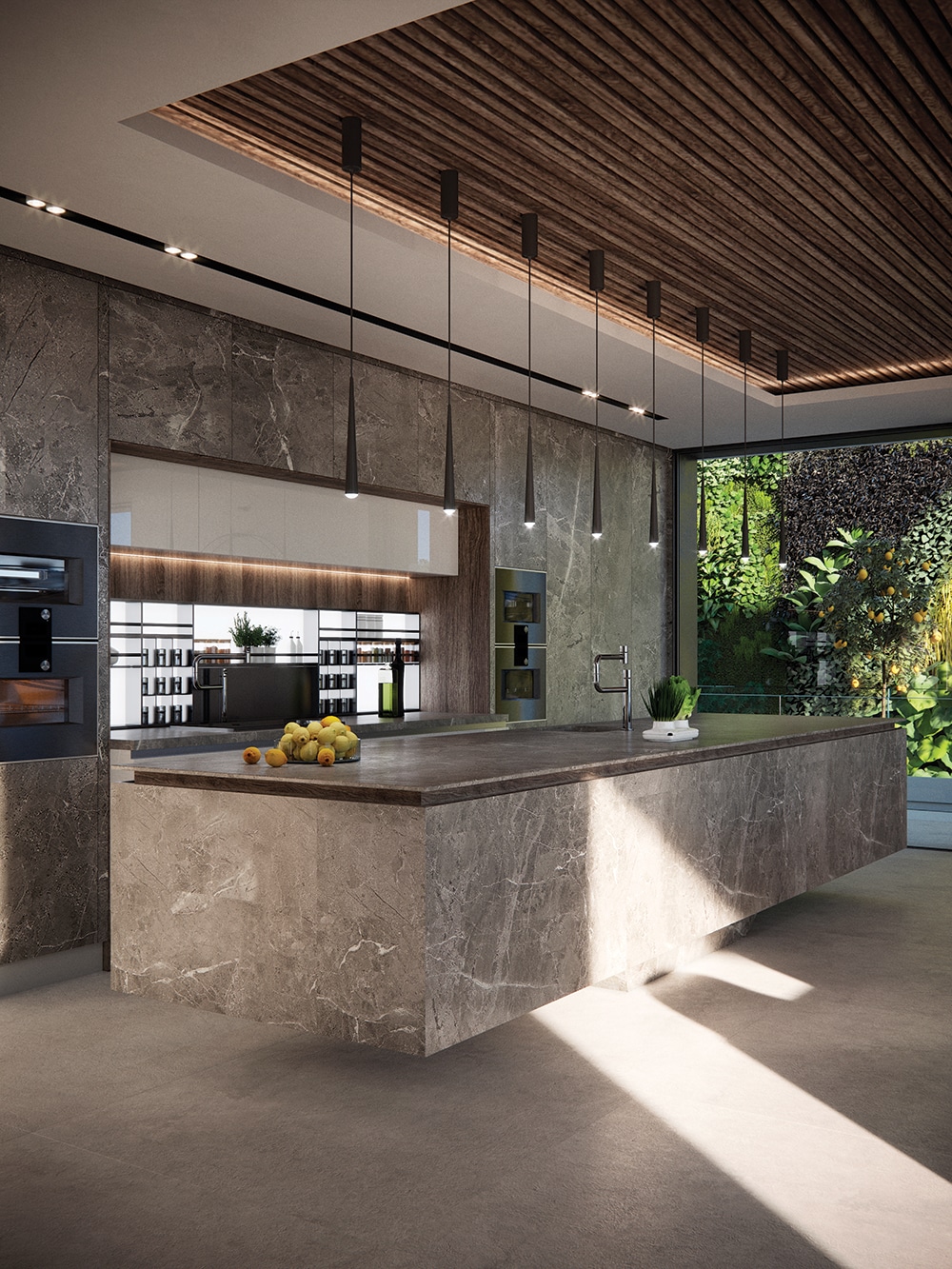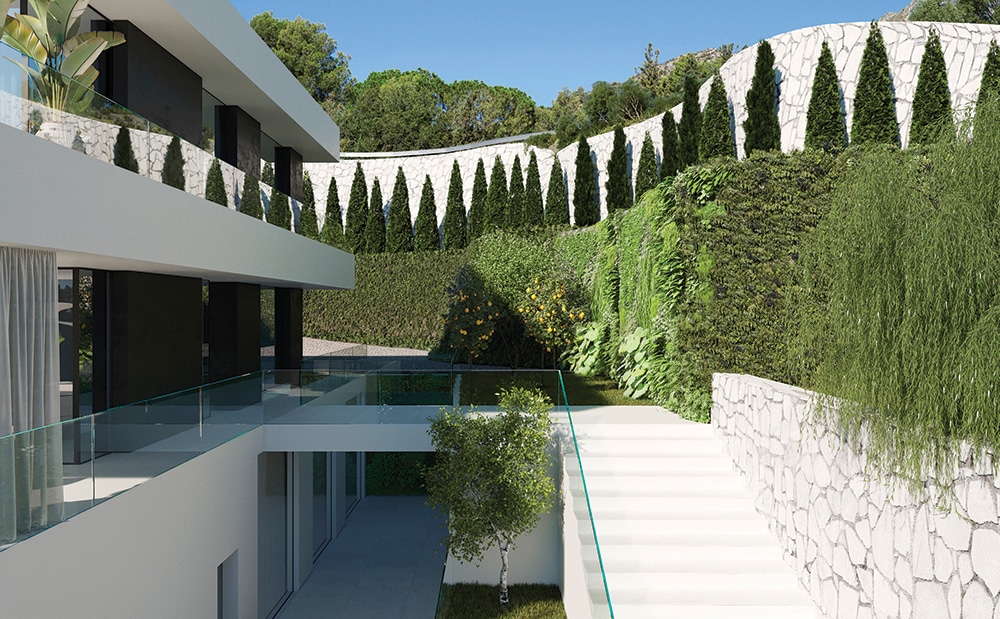 Above: The kitchen and its vertical eco herb garden. The floor-to-ceiling window in the kitchen brings you across a walkway (photo above) to the vertical herb garden just metres away. Here you can pick parsley, rosemary, mint, basil and other herbs, all year round. You can also pluck oranges and lemons from the mini orchard.
"We try to ensure that our kitchens always enjoy the morning sun."
We don't need to know why, but when we walk into a room and everything feels right, we can be sure that this is the result of it having been designed this way.
As Jason says, "distances between pieces of furniture and between furniture and the walls have to be big enough so you don't feel cramped when you walk between them. And not too big so it feels empty. We design our rooms according to the furniture we will be putting in them. That way we create a perfect balance, always considering light and views."
"In an open-plan house you need a line of sight from every individual area."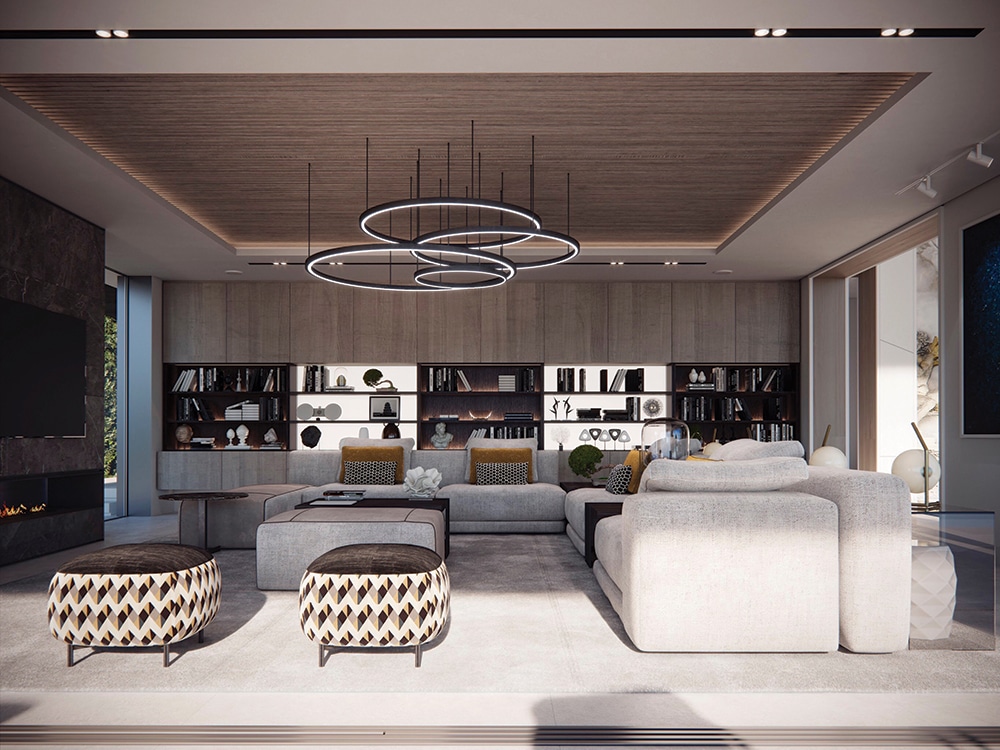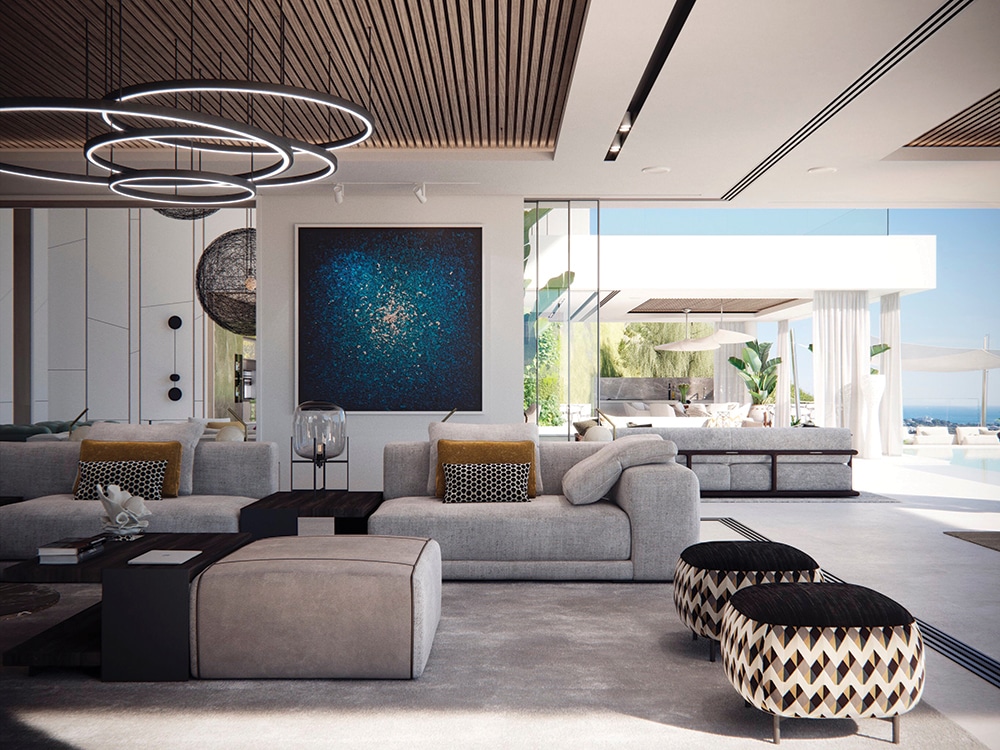 Above: The family TV room. A TV room has to be designed for comfort and practicality, but this one, with a wall of glass separating it from the outside, makes it quite different from the standard version. The glass slides wide open to merge the inside and outside spaces into one.
"For example, windows in a room should follow the sun, one for sunrise and one for sunset. They should maximise the views and allow the light to flood into each space during different times of the day (depending on the orientation of the plot). There are, of course, many other technical aspects to building and designing a house, and although they might not shout at you as you walk into a room, you know they are in place because the space just feels so good."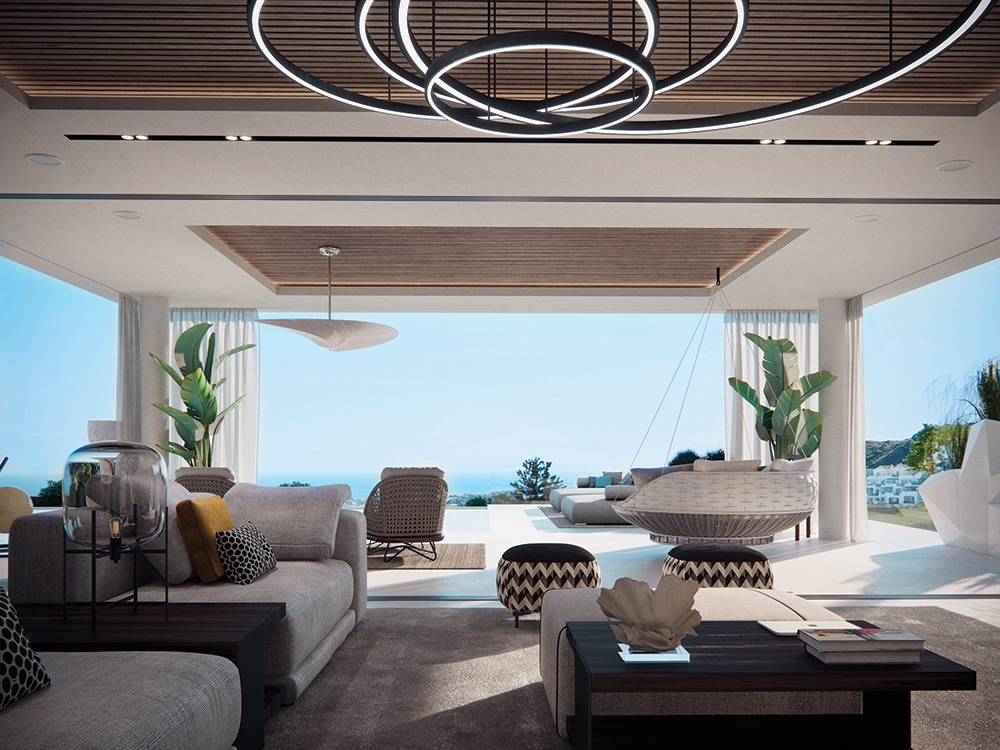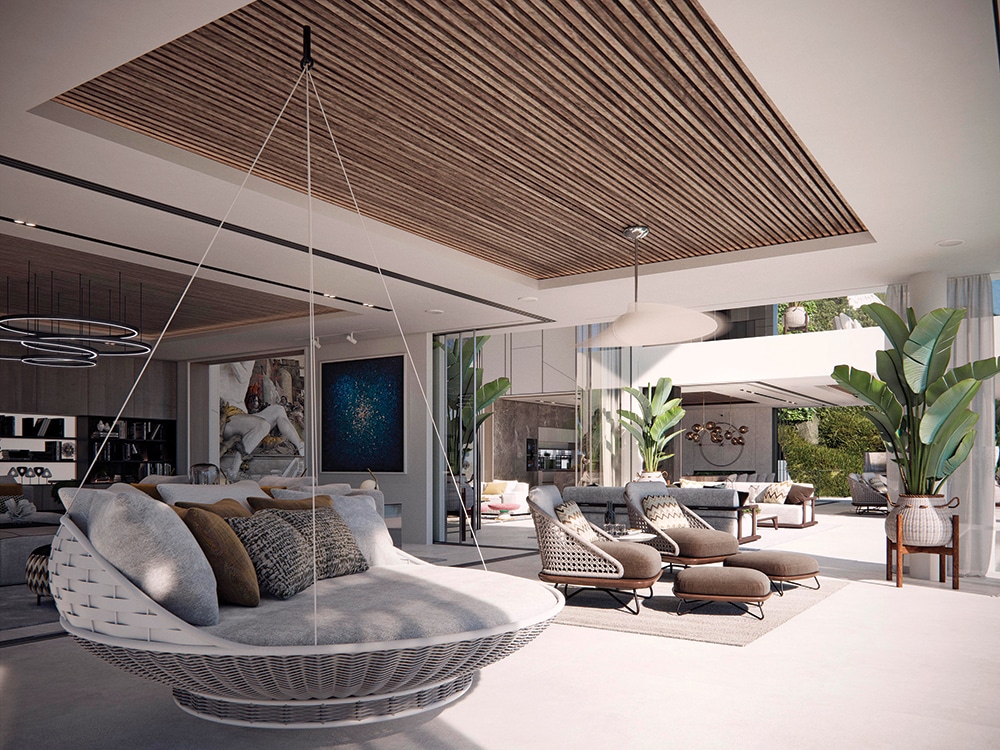 Above: The family TV room and terrace: the seamless flow to the outside space is inside/outside living at its finest. The swinging day bed is the perfect place to take your siesta.
If ever a house could think, this is it. We all know about walking into a room and the light going on, but Villa Alcuzcuz actually knows what you want to do and helps you do it. It can turn the heating on from a mobile phone, open entrance gates for a specific car from a specific distance, open doors by walking towards them, turn lights on and off, recharge phones by placing them on surfaces like the kitchen counter, and more importantly for the safety and comfort of the house, detect immobility in a room where windows have been left open, and close them after a specified period of time.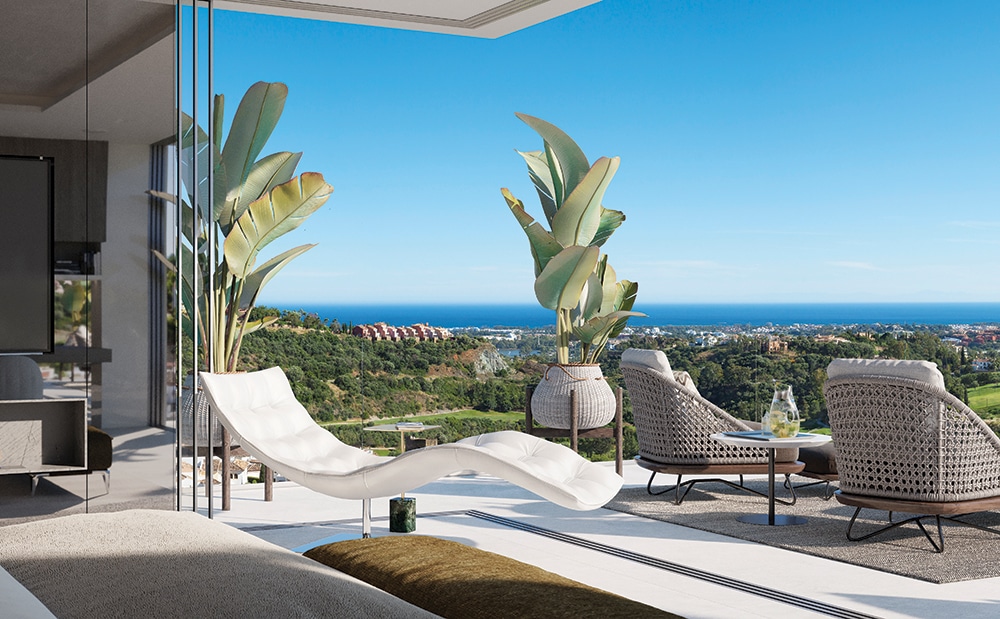 Above: Master Bedroom. The view of the sea from the master bedroom can be enjoyed as you wake up in the morning.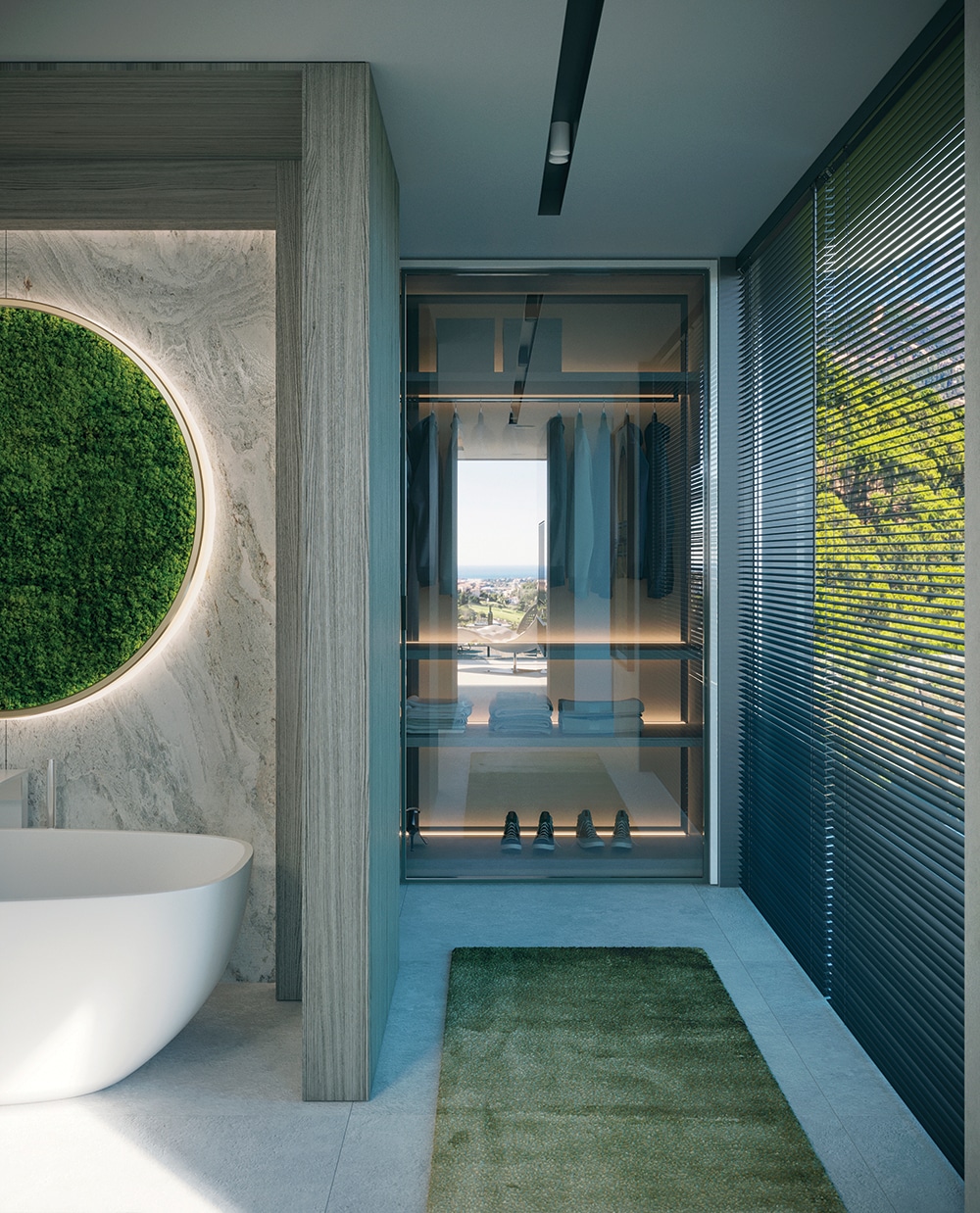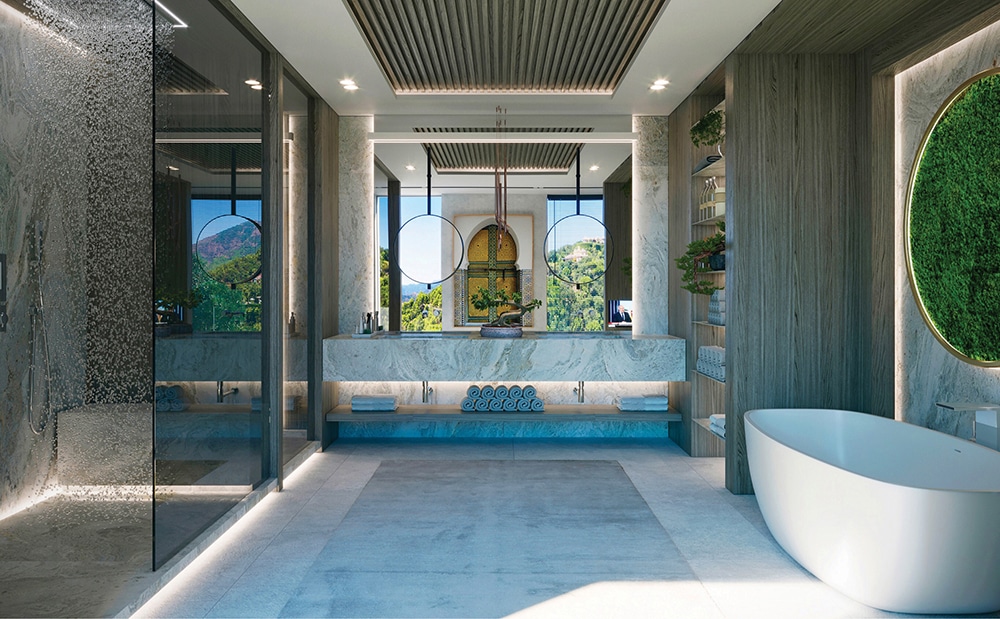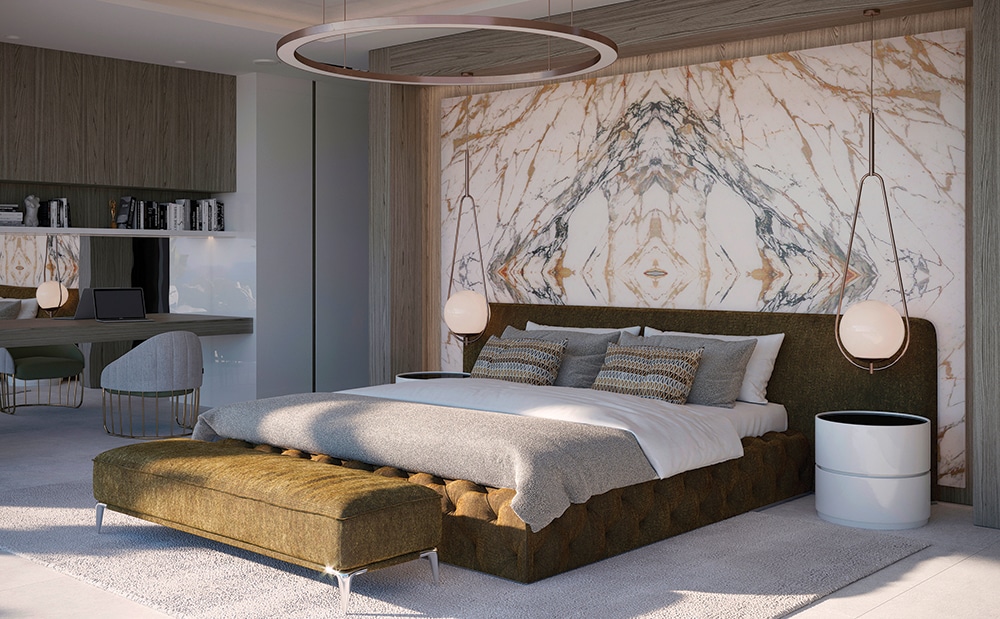 Above: Master Bedroom & Bathroom: the beautiful backlit onyx wall behind the headboard is subtle enough not to dominate the room. The television set is hidden in the mirror, making it invisible when not on (you only see your own reflection!). The walk-in wardrobe is connected to the bathroom by a small, naturally lit hallway.
Luxury redefined? To do it properly, you must have your very own entertainment space. Just look at the following images and you can see for yourself how luxury can take on a new meaning. The basement Villa Alcuzcuz covers it all: cinema areas (that's plural!), a sports bar, games area with pool table, VIP seating areas, DJ booth, a state-of-the-art golf simulator, spa, a fully-fitted gym, wellness zone with treatment rooms and relaxation areas: it's all here to be enjoyed and to enjoy looking at.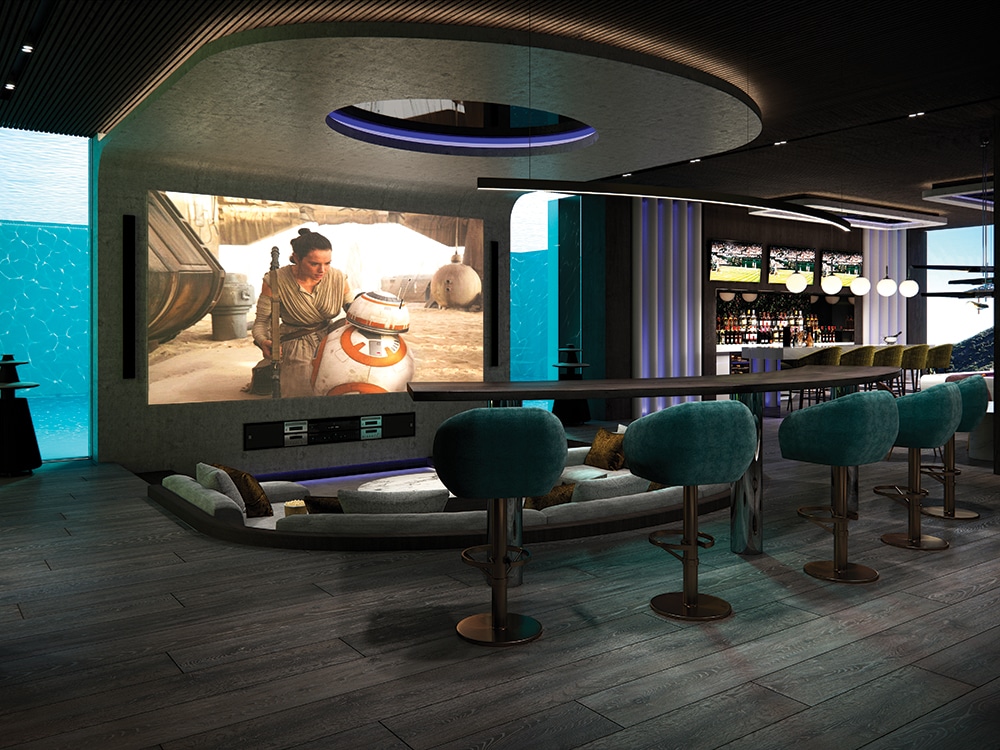 Above: Entertainment room: the swimming pool can be seen on either side of the cinema screen, a lovely way to bring light and a different dimension into the room.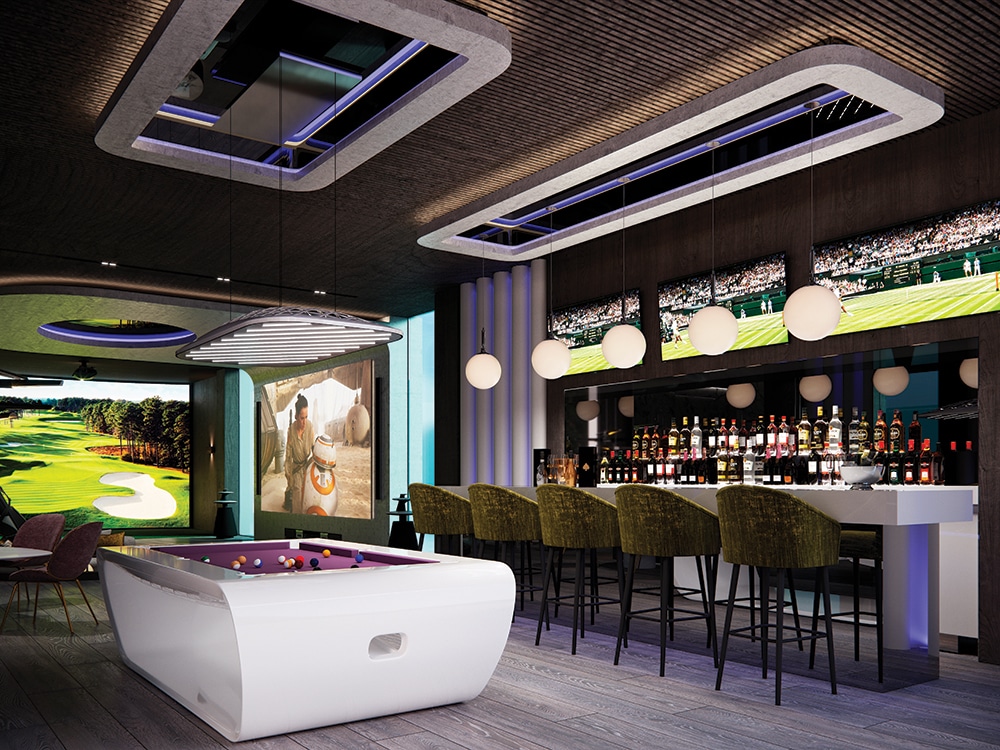 Above: Entertainment room: this view looks towards the golf simulator. There are two VIP seating areas  opposite the bar which would rival the coolest nightclubs in Marbella.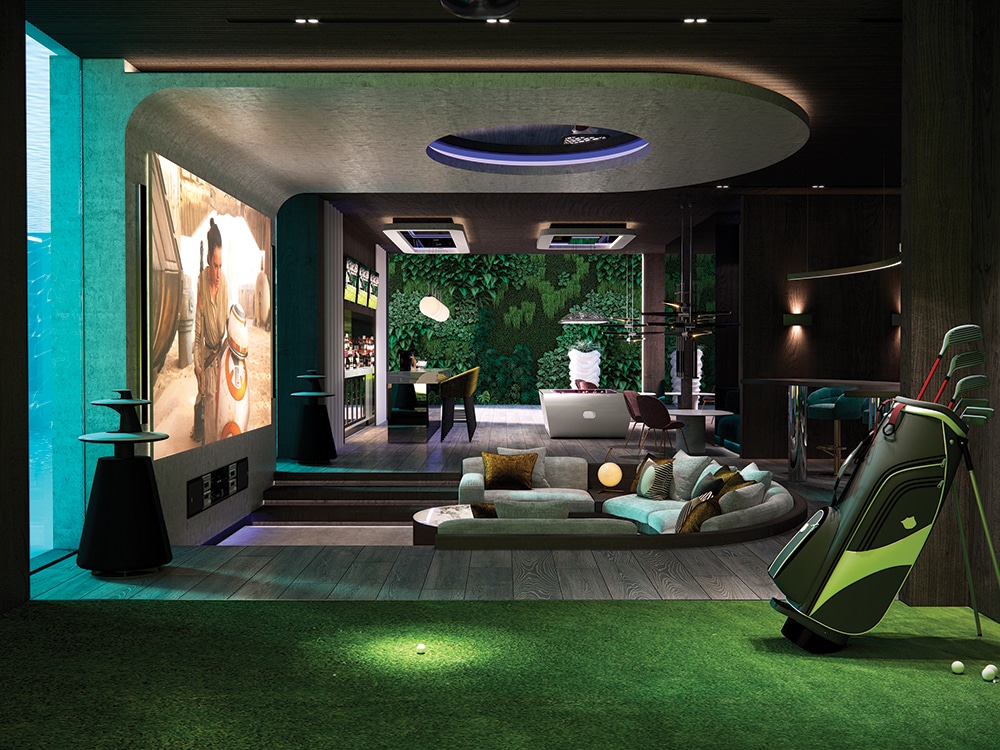 Above: Entertainment room: The view from the golf simulator across the entire entertainment space to the wall of greenery beyond.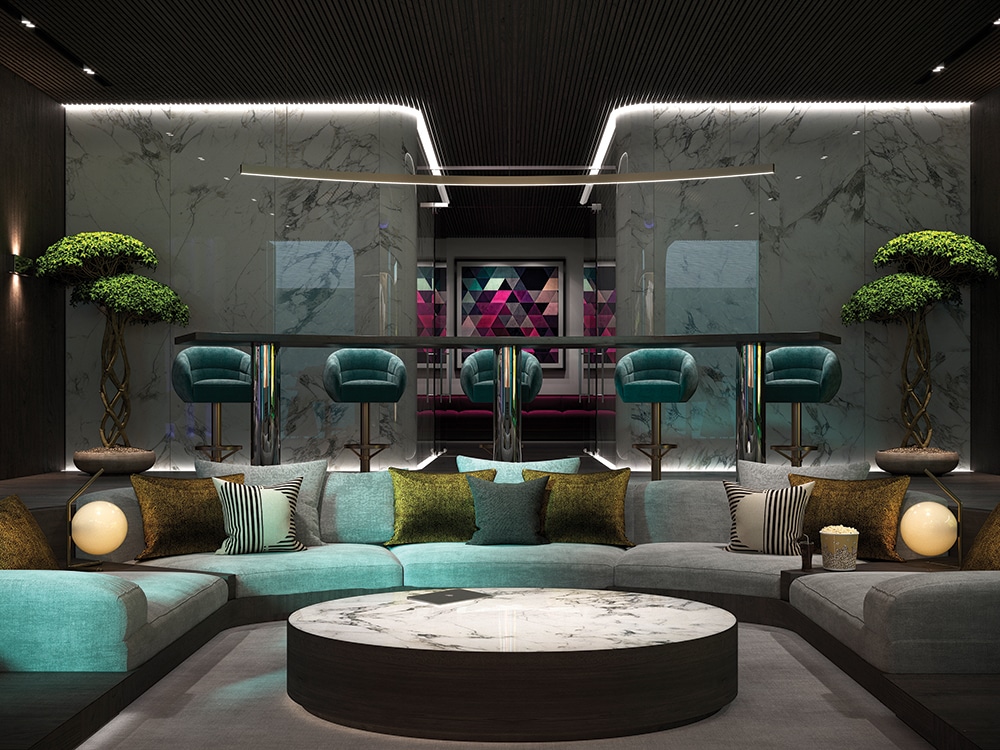 Above: The cinema seating area.
All in all this is what it's all about, and Villa Alcuzcuz is all about attention to detail, practicality, pure comfort and visual aesthetics, using the most advanced know-how and technology to build a house that quite simply looks magnificent, is magnificent and feels magnificent.
Villa Alcuzcuz is Marbella's very first luxury Passive House. The Passive House Standard is a modern and sustainable construction method that guarantees over 75% savings in energy costs. It provides unparalleled comfort, consistent fresh air throughout the entire building, structural longevity, is mould free, has extremely low cooling/heating costs and a radically improved indoor environment. To learn more visit the International Passive House Association at www.passipedia.org
Villa Alcuzcuz Specifications: Bedrooms: 7 – Bathrooms: 7– Built: 1,200 m2 – Plot: 3,500 m2 – Covered Terraces: 200 m2 – Price on Application – Viewing by Appointment Only
For further information on this project, or to book a viewing, please contact UDesign by calling (+34) 952 794 117 or emailing: alcuzcuz@udesign.es.
---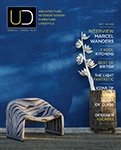 This article first
appeared in the
3rd issue of
UD Magazine.
Click on the image to read online.
---