The Wonders of Wanders: Interview with Marcel Wanders
Marcel Wanders is difficult to classify with precision: more than a product designer who designs extraordinary and often bizarre objects, more than an interior designer whose works are genuine art installations, more than the leading light of one of the most reputable design studios in the world. He is an idea, and ideas, especially good ones, know no borders and respect no limits on how far they can travel or whom they can reach.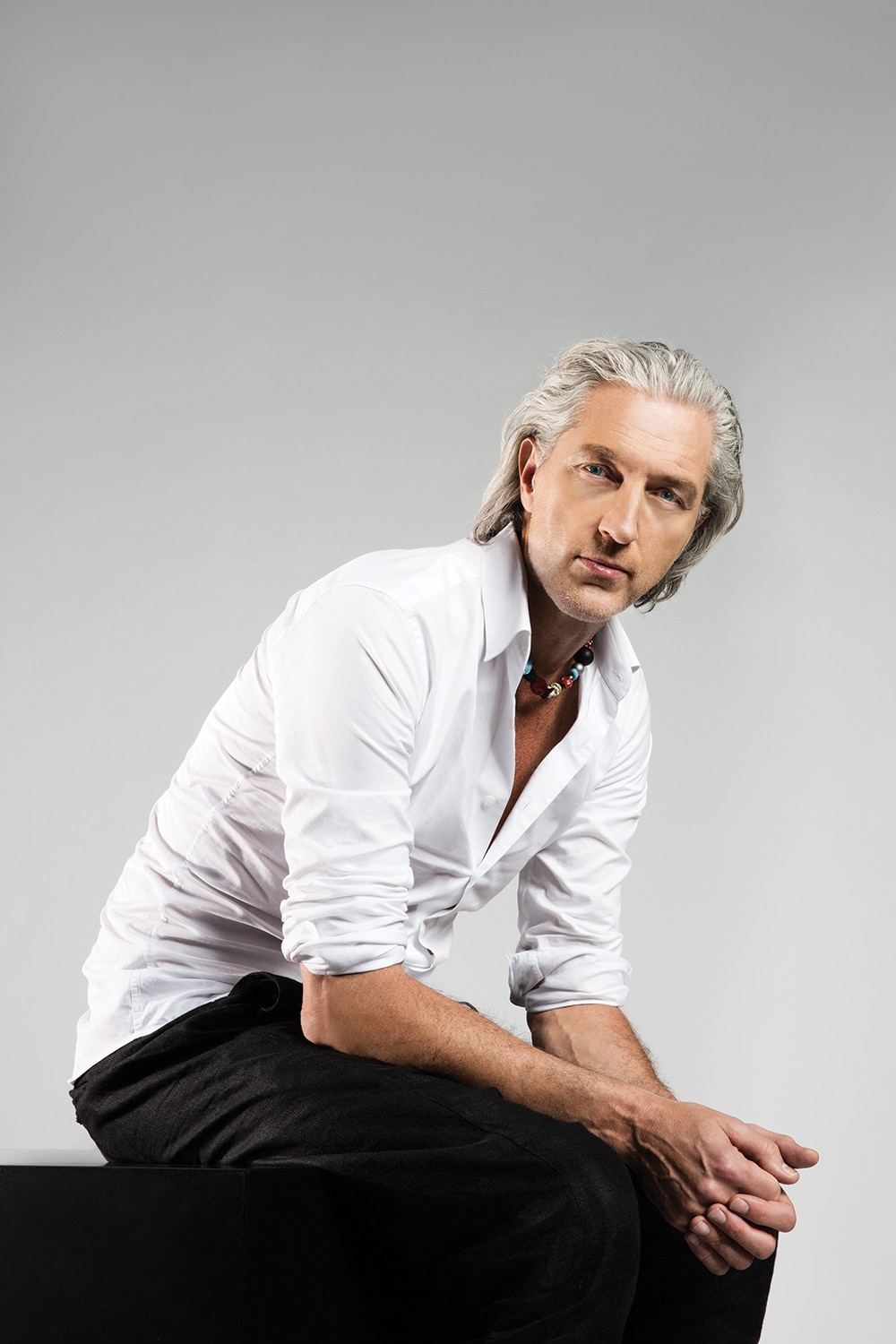 Above: Marcel Wanders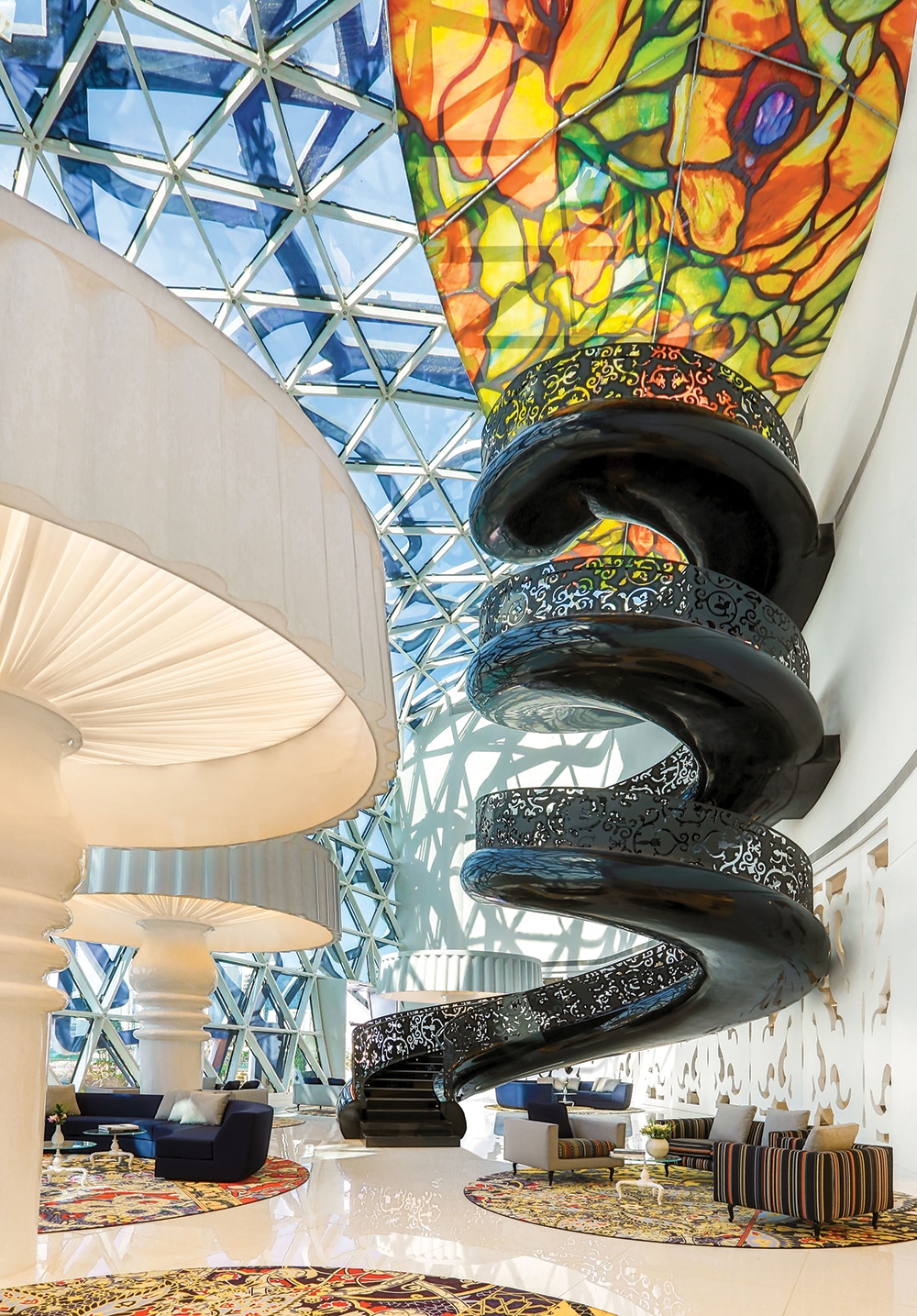 Above: Part of the lobby of the Mondrian Doha Hotel, where Marcel Wanders created a multi-layered sensory experience.
Even as a child, he was interested in making the unworkable work, and design seemed an obvious outlet for his ingenuity. He attended design school, showing early promise by being expelled from the Eindhoven Design Academy before graduating cum laude from the Institute of Arts Arnhem in 1988. He set up his own studio in Amsterdam in 1995, and came to the attention of the international design community with his Knotted Chair a year later. He moved into interior design in the late 1990s, which was, as he says, "a completely different animal", in that it demanded a different thought process and an increased awareness of context.
In 2001, along with partner Casper Visser, he founded the design company Moooi. Although he is owner, artistic director and product designer of the company, he describes it as "a platform that allows designers' work to shine", and by that he means other designers. Apart from their core function being pure design, they do interiors, photography, art direction and some architecture.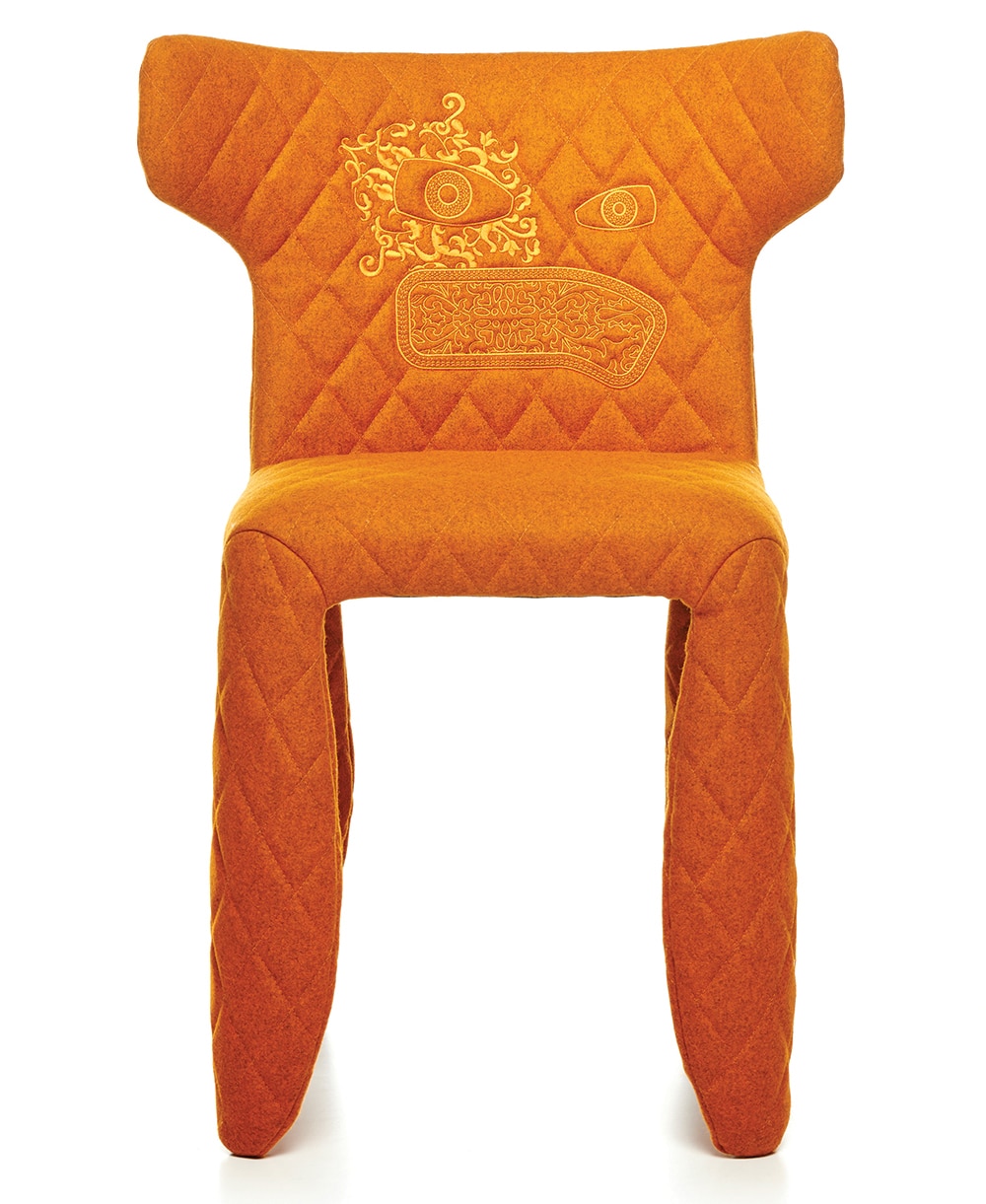 Above: Monster Chair Divina Melange, designed by Marcel Wanders for MOOOI in 2014, now available in 25 different colours.
The Marcel Wanders interior design studio (a separate entity from Moooi) is located in Amsterdam and has a multi-disciplinary team of fifty or so designers, backed by Gabriele Chiave as creative director since 2014. They work with many of the leading brands of our time, including KLM, Hyatt Hotels, Louis Vuitton, Morgans Hotel Group, Puma and Swarovski. His work is in some of the top museums in the world, such as the Centre Pompidou in Paris, MoMA museum in New York and Stedelijk Museum in Amsterdam. In 2005, Business Week selected him as one of Europe's "25 leaders of change".
A full life so far, but hardly the stuff of an Oscar-winning biopic, except that this man touches our souls in a way Hollywood never could. It's not that he has the unusual gift of thinking new and making it work, but he looks to the past, of which he has a great appreciation, to see the future, and does it now. His work, always surprising and sometimes even weird, is also classical and timeless, rooted in knowledge, experience, intelligence and a healthy disregard for the norm.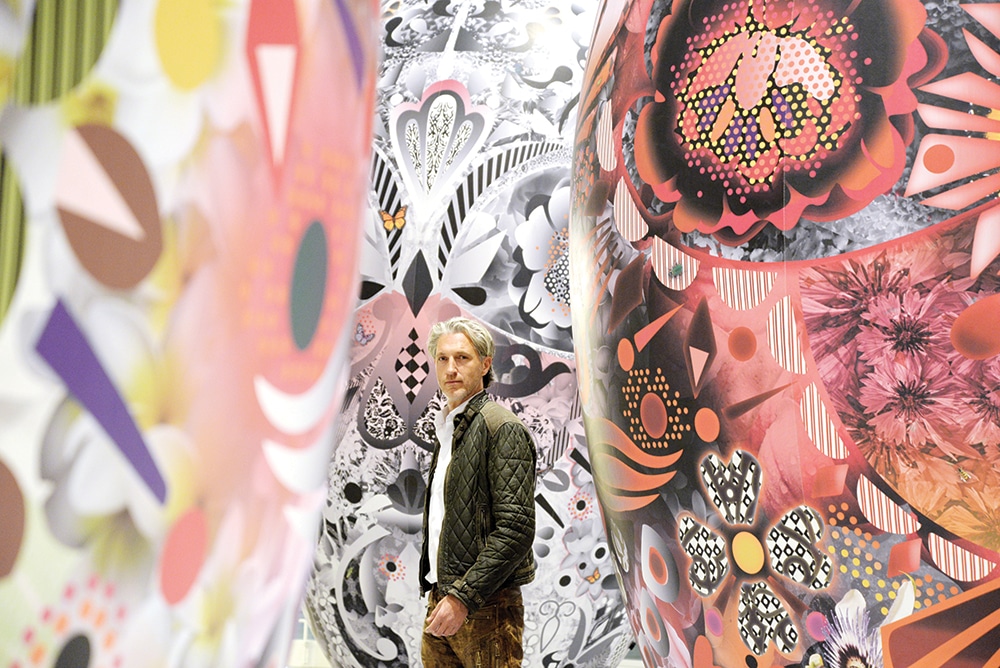 Above: The Eurasian Garden Spirits, by Marcel Wanders, for the Oita Prefectural Art Museum in Japan. This was inspired by the historical narrative of Dutch explorers who first arrived in Japan in the 16th century, and symbolizes the cultural union between Holland and Japan.
He regards modernism as unsustainable and therefore the enemy of the future: "modernism was created by the throwaway society, because nothing ages as quickly as the new." Minimalism, he adds, is little more than the invention of modernism. And yet…
And yet his work is as up-to-date as the average teenybopper's mobile phone. The thing is, it will never be out of date. His designs are based on the accumulated knowledge of the centuries, almost exclusively made by craftsmen drawing on the traditions of yesterday when appropriate and using the technologies of tomorrow when necessary. It is what he calls the "contemporary renaissance of humanism", a passionate desire to make things that will make the world a better place and will surprise and delight us, however strange some of them may seem at first glance, because nobody has ever seen their like before.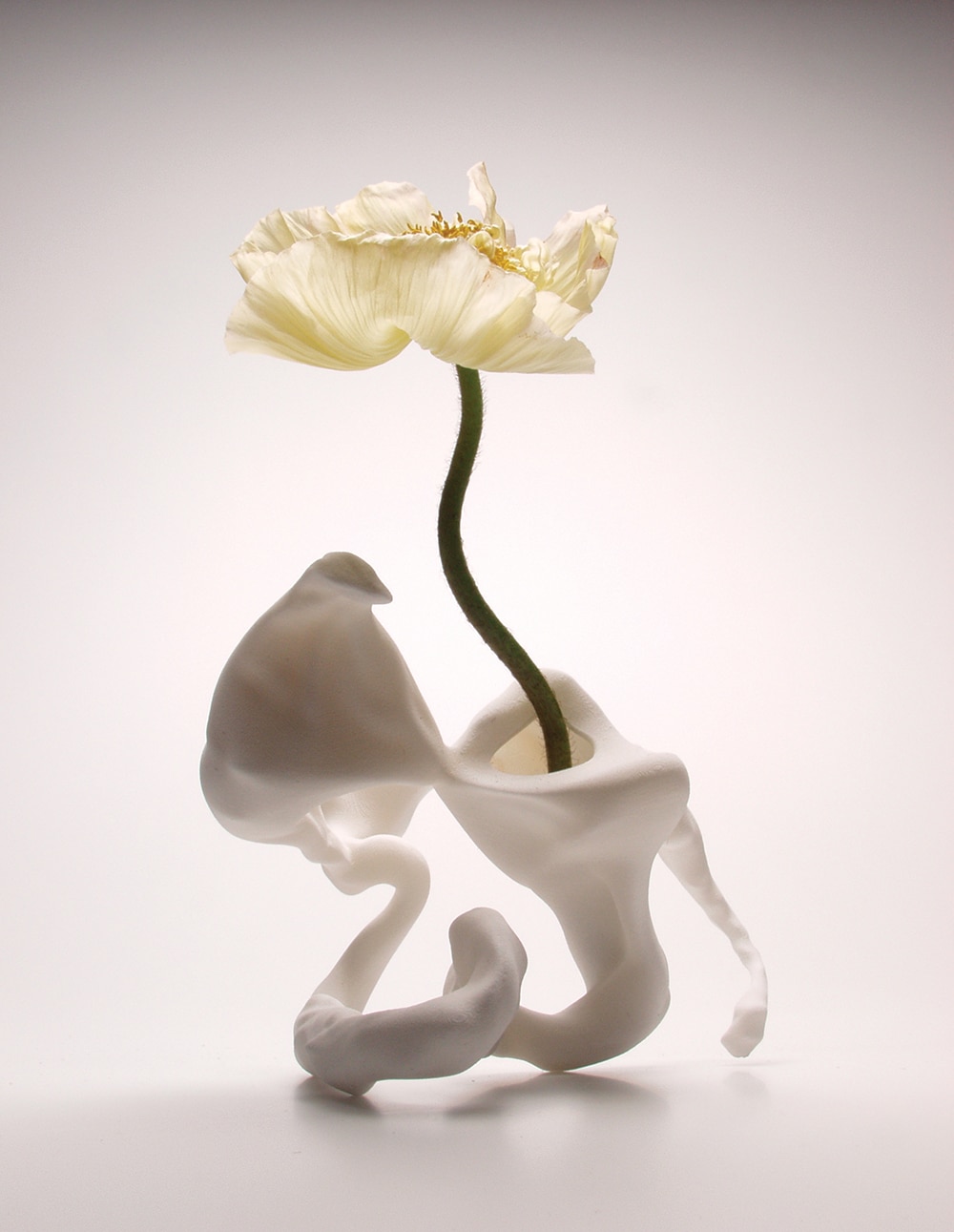 Above: Airborne Snotty Vase. Grotesque beauty, the first ever 3D printed commercial product, was made from enlarged microscopic mucus particles emitted in a sneeze. It won the WIRED Technology Award in 2001.
Your Snotty Vase, as a name, says as much about your irreverent outlook on life as its design. Is that a fair comment?
It's called Airborne Snotty Vase, the name is self-explanatory. It's both visually and sculpturally interesting. The name catches your attention but doesn't try to take you into some abstract thinking. It just is what it is.
This piece is the first ever 3D printed product in the world. It's super hi-tech, and we won the WIRED Technology Award with it. Just consider that in 2001, people weren't thinking about 3D printing. It was called Rapid Prototyping back then. We were the first to make a product this way, and it was supercool back then.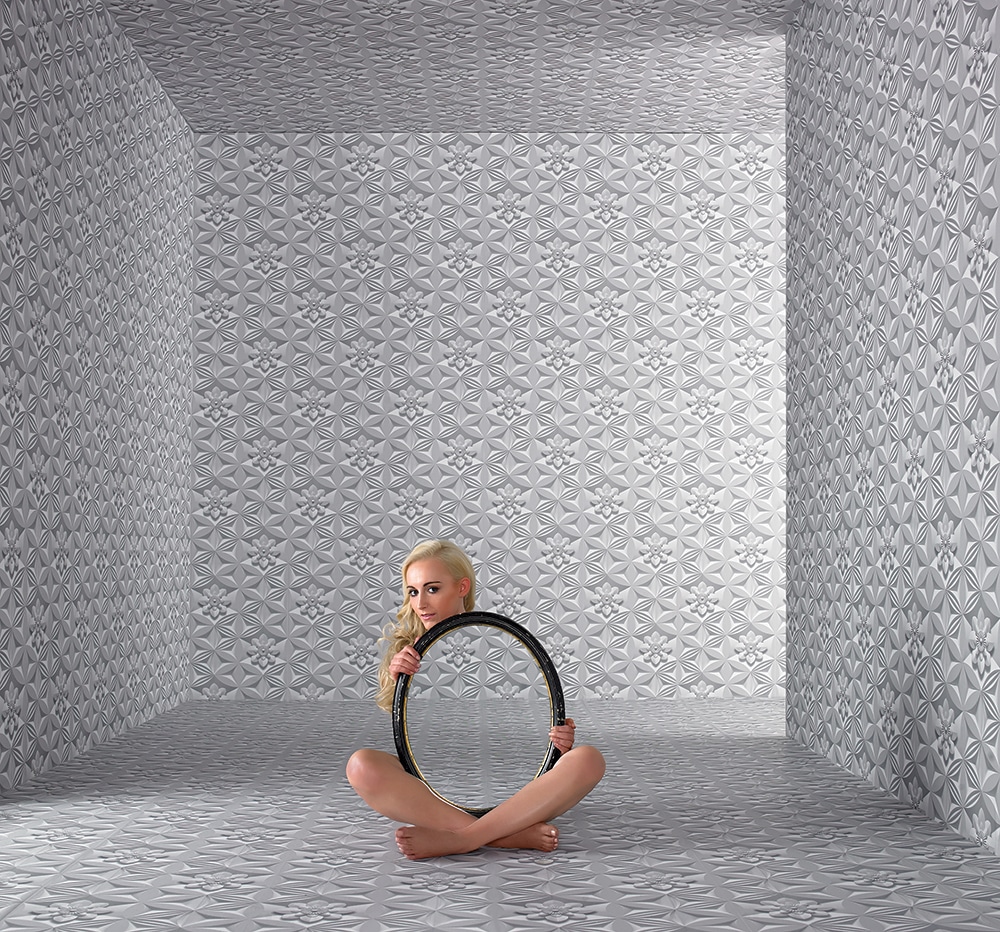 Above: Art doesn't always hang on a wall. Sometimes, it is the wall. Illusions Collection, design by Marcel Wanders for Graham & Brown.
The chandelier (and mirror) in Van Eyck's Arnolfini Portrait almost looks like you had designed it. And some of your floral designs could be the work of Bruegel the Elder. How close do you feel to this early period of Dutch art?
That's Flemish art. I understand the question but I just want to make it clear that it's Flemish art. A few years ago, when Castiglioni died, I was asked to write something for the newspapers. I suggested he was my uncle, that he was always there watching over my shoulder. I always thought it was a good idea to see your peers, the creative people surrounding you, as your family, and it has always made my life more interesting to think that way, both today and in the past. I do like to feel that relationship with creative people through time and space.
Nevertheless, I think the work we do in the studio is contemporary. It learns and borrows from the past, yet it tries at the same time to be very contemporary. We like to make work that shows its respect for the past while being innovative and contemporary in the here and now, but also looking to the future.
We are fighting modernism. Modernism, in one of its most important dogmas, states that the past is irrelevant for the future. So what does that mean for the things we create today? It means they are irrelevant tomorrow. This is fundamentally a throw-away society, and we can't live that way! So it's really important that we start to see that the past is relevant for the future. We have to live in peace with our past and appreciate the beautiful things in our culture and bring them forward. That's why I am doing new antiques and lots of things that are criticised in a modern context. But for me they are a step forward in a more beautiful, sustainable way.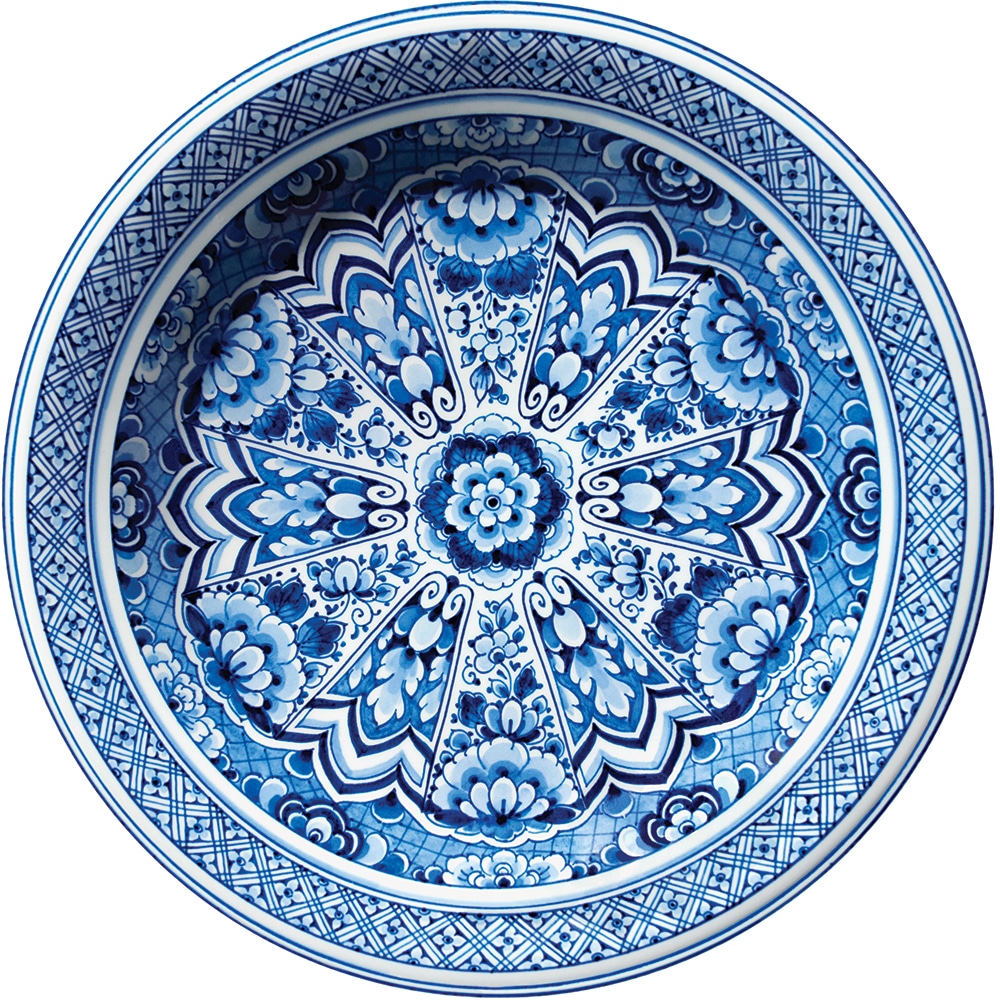 Above: Marcel Wanders Delft Blue Rug, for Moooi Carpets
Design, art…if the question is not too philosophical, what's the difference?
Design is about our hope for a better future; art has a more profound conversation going on. I do think that design aims to speak to a lot of people and art tends to be a deeper conversation with fewer people. The aim of art isn't to reach a lot of people but to be pure and straightforward.
You were called (New York Times) "the Lady Gaga of Design". Can you see the resemblance?
She's an amazing entertainer. She changes herself, she changes the status quo, it's exciting. She's certainly not boring!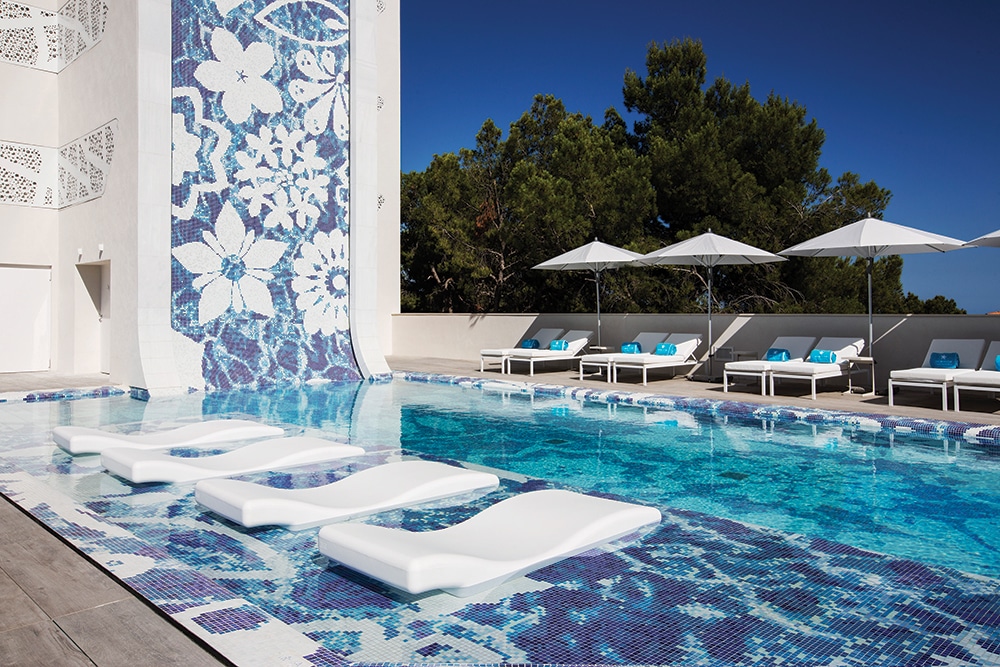 Above: Pool with a 30+ metre cascade and bar. An iconic hotel design created by Marcel Wanders for Grand Portals Nous, in Mallorca, Spain.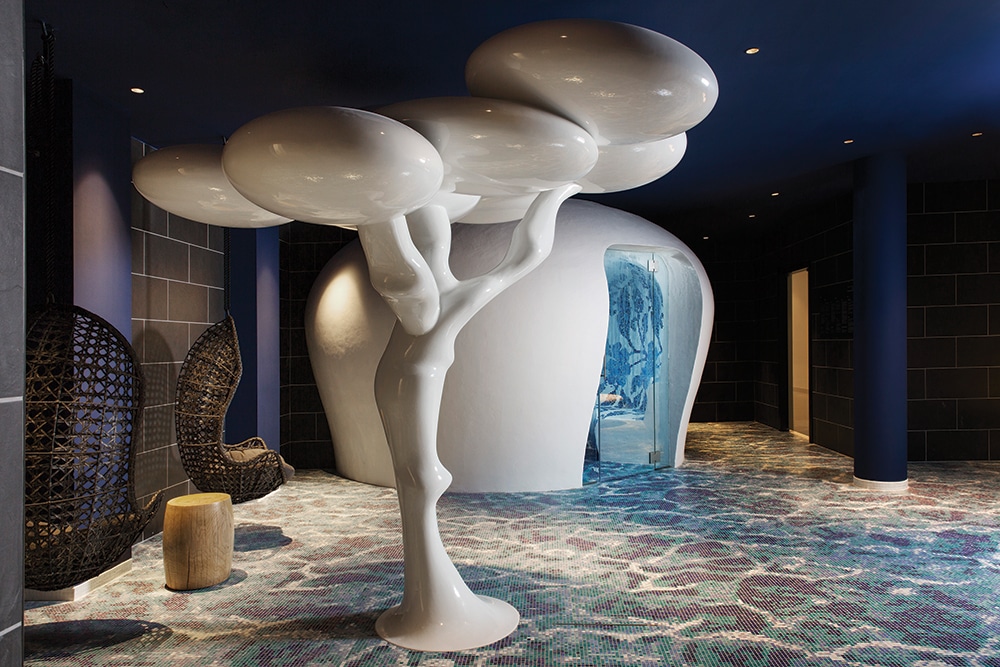 Above: the entrance to the hotel's spa.
Virtual design is a key step forwards for design. What other steps do you expect to see in your lifetime?
We have to make sure we're on the same page here. Design is basically for free. People think design is expensive, but they have no idea. Designers make their sketches, drawings, prototypes – they put them in a shop, a fair, an exhibition, a magazine, otherwise they can't be communicated. Communication allows them to be seen, read and understood by people. You don't own a Snotty Vase but you've experienced it, you've thought about it and you've enjoyed talking about it. What designers do, whether or not it exists in real life, is there for all of us to enjoy, and that is the value of design.
If you read a design magazine, it's not because you want to buy a sofa. You just want to be entertained, you want to see something new, you want to grow, you want to feel something. So design is for free. It doesn't have to be physically realised to be enjoyed. It can be virtually realised. This all started, in the context of true design, in the 1990s, and I think it was a super important change. It was only possible because there were more and more international design magazines, and of course later the internet gave us the ability to communicate all around the world in that virtual way.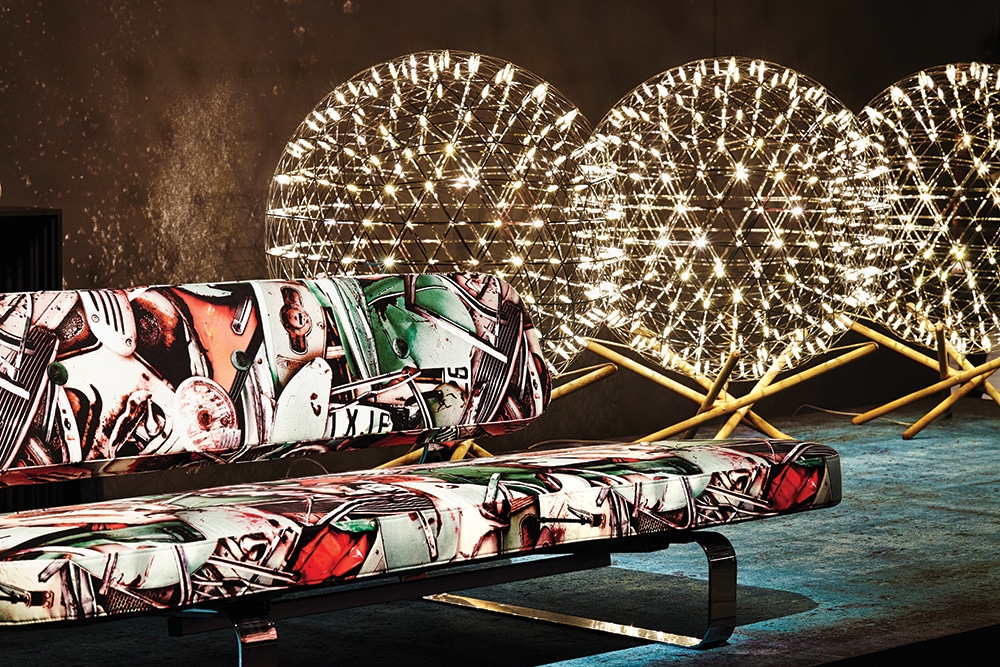 Above: Marcel Wanders' Power Nap with the Raymond Floor Lamp by Raymond Tensegrity for Moooi.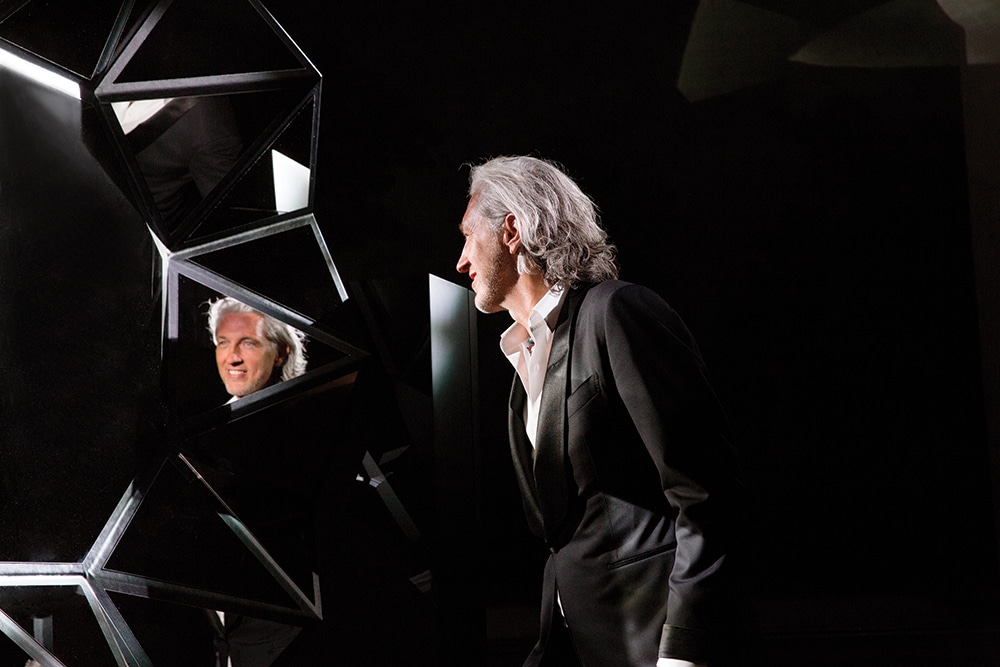 Above: Marcel Wanders at Salone del Mobile 2018 with the Diamond Mirror – the newest addition to Louis Vuitton's Objet Nomades collection.
What's going to happen next? So much that I don't even know where to start that conversation!
Dutch design is typically minimalist and you are clearly maximalist. How Dutch are you really?
I don't think more is more. And I don't think less is more. I think more is a word that means nothing unless it's in relation to something. More of something good is better. More of something bad is worse. It's that simple, right? I do think design is a positive thing, and we can create value for the world. So I don't think that less of something positive is negative. I think more of something positive can only be a positive thing. It's relative.
I am not a minimalist or a maximalist. I'm an optimalist. If I were a minimalist I'd do another job. What's a minimalist grocer? What's a minimalist hairdresser? What's a minimalist politician? It's a person sitting at home waiting for more coffee. A minimalist designer is someone who just doesn't like his work, who can't come up with an idea that's good enough to be better than nothing. Basically, he feels guilty about being alive so he does less. I believe we should make real value for people. That's not minimal, that's optimal. I'm an optimalist.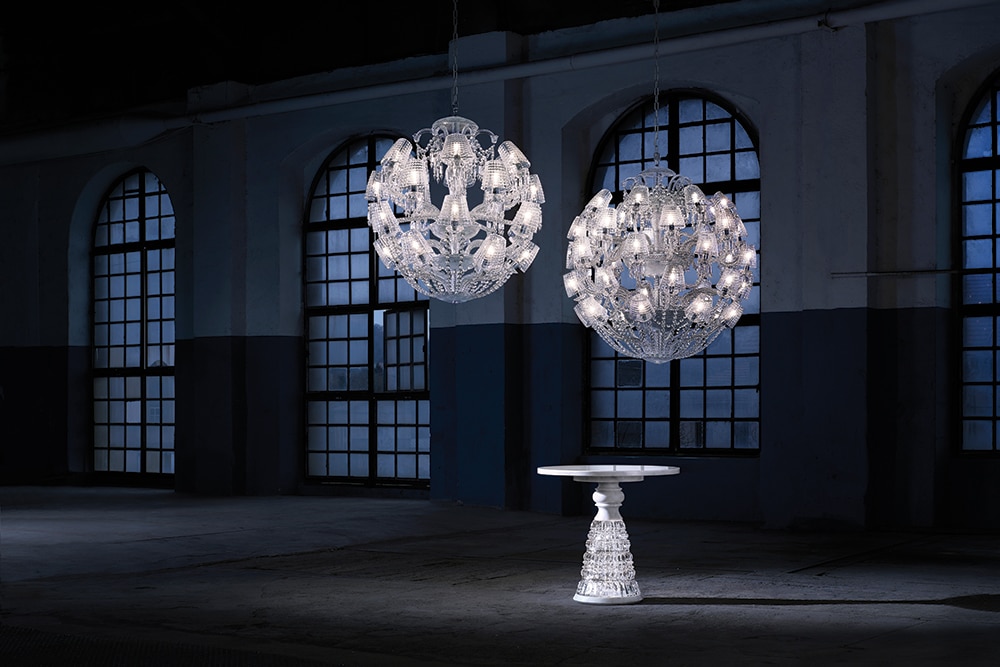 Above: Le Roi Soleil chandelier, a tribute to Louis XIV, and the New Antique Table, by Marcel Wanders for Baccarat.
Do you think Louis XIV would have been comfortable holding one of your wine glasses, and if so, would that please you?
You look at my designs and think they are so wild and baroque that Louis would have liked them. I think he would puke on the austere minimalism that we have today, even in my work, because it's way too minimal. If you look at the beauty and the generosity that was prevalent in these days, I think he would not like to drink from my glasses. Obviously, back then, that came with a political situation that was abusive to our people, so it's not something we should like to go back to. That doesn't mean that the beauty of these things that were made then is something that we now should walk away from. We should all live as kings and queens today! That would be very easy to do if designers would take the responsibility to make things that are truly remarkable, truly durable, truly ecological and truly lovable.
If you had a Louis XIV glass, a beautiful crystal glass from that age, would you love to own it? Would you love to use it? Would you ever drop it? Would you pass it down to your children? Yes, you would. And that's why it's ridiculous that we aren't able to make these things today, because that is what ecology is all about: to make things that are so important to people that they will make sure they survive, and pass them on to their children. You shouldn't make recyclable things, you should make things that last, that parents will hand down to the next generation.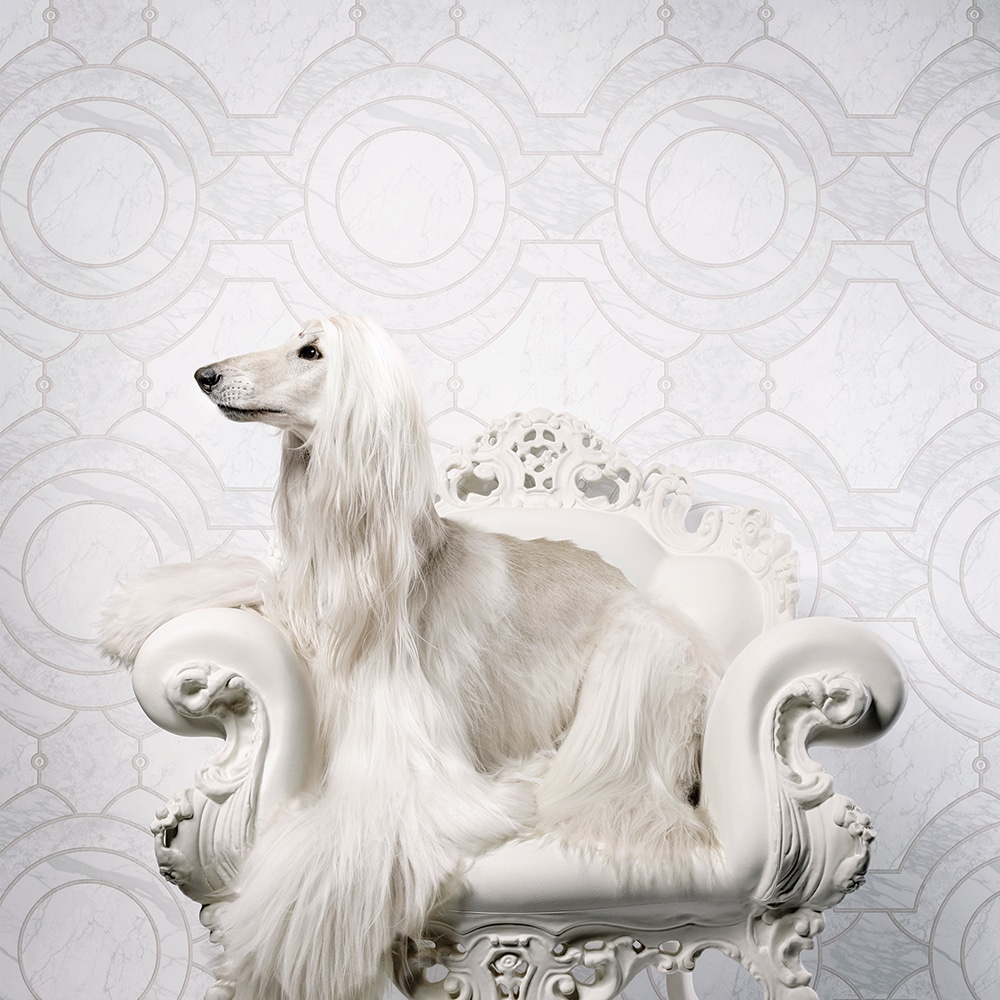 Above: From the Neo Royal Collection, wall coverings to reawaken the traditions of aristocracy, by Marcel Wanders for BN International.
There's a hint of the Middle East and Arab world in your work, especially with regard to abstract patterns. Why is this?
Well, if you are referring to work we have done in the Middle East, that's to make sure there's a sense of authenticity in the work. If we are not in the Middle East we put in elements that come from all over the world, so obviously also from the Middle East.
A while ago, one of the techniques we used was to create different patterns and then overlay them, putting one on top of the other. By doing so we show the world we can live together, we can be one while being very different, but all together. It would be beautiful if we were all overlaying each other. We don't all have to be the same, and that wonderful pattern that you get when you put all these elements together is amazing.
Above: The Mega Chandelier by Joost van Bleiswijk, for Moooi Works, hangs over an Eden Queen Rug by Marcel Wanders for Moooi Carpets.
We have done some graphics that also include Middle Eastern patterns. Besides that I have a few projects in the Middle East, and obviously I like to show respect for their culture and make my language closer to theirs, while staying in my own terrain.
It's all about giving and receiving.
---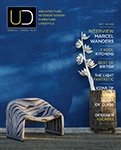 This article first
appeared in the
3rd issue of
UD Magazine.
Click on the image to read online.
---