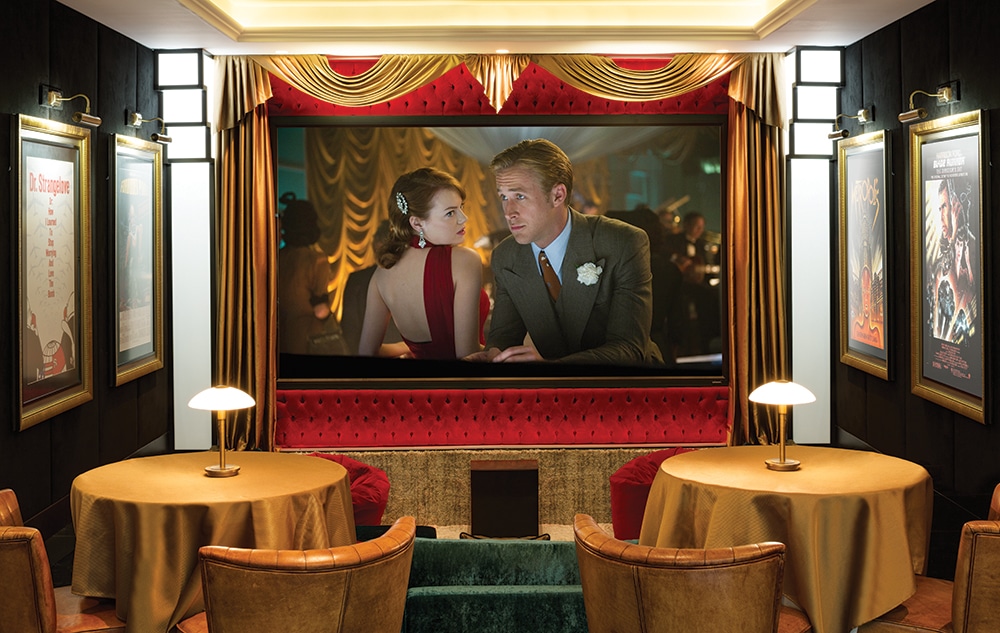 The Entertainment room – a 'wow' space that makes staying in the new going out
Entertainment rooms are the fun and funky spaces where you can let your imagination run riot. Giles Brown discovers that stylish staying in is the new going out.
We've all seen them. Those picture perfect homes that seem to have come straight from Homes and Garden magazine. The kitchens are uncluttered and the lounges and living spaces have every objet d'art perfectly placed.
The problem is though, if you want to chill out with the family and binge watch a box set or catch up with the boys over a few beers and the big match, then your spotless living room can be impractical.
Which is where your entertainment space comes in. In simple terms this can be the room where you can tune in, turn on and chill out, but it can be much, much more than just a modest man cave.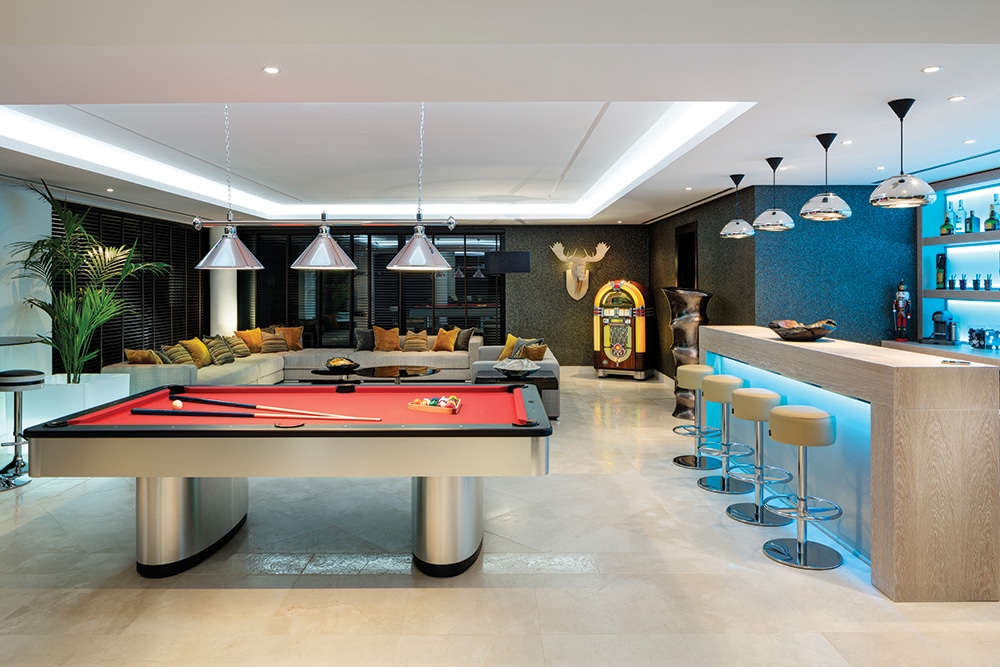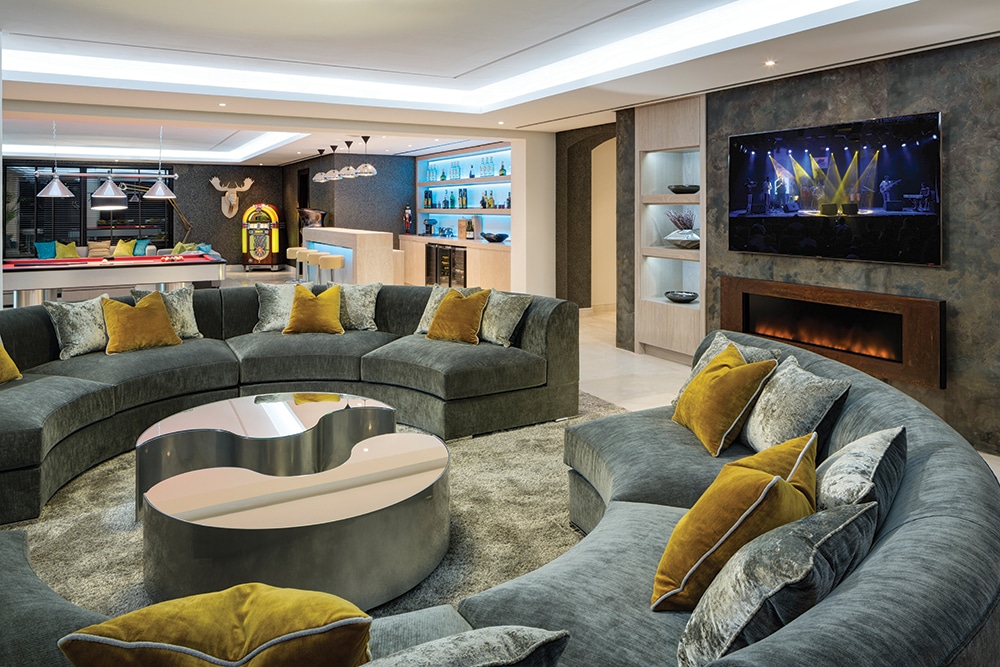 Jason Harris explains the evolution of the entertainment space. "It's interesting how the concept of the entertainment space actually came about. In Spain when they build huge houses they start with large basements, building the house on top of them. This becomes important when they come to sell it because they add the basement space to the square metres of the house.
"The reality is that only half of the space is above ground. So they have these huge basement spaces and then they think about how they might fill the space. You might have one or two cars, but unless you are a car collector, to have a 600 square metre garage doesn't make sense."
The first thing that people started to do was to create private cinema rooms with lights and padded walls, up to 12 cinema chairs and projectors. But the novelty soon wore off. "Clients would visit me and I would ask them how their cinema room was going," Jason explains. "They would tell me that they had used it on the day that it was finished and the following week, but now they didn't use it, mainly because it was just a big room with chairs and sofas that was very cold."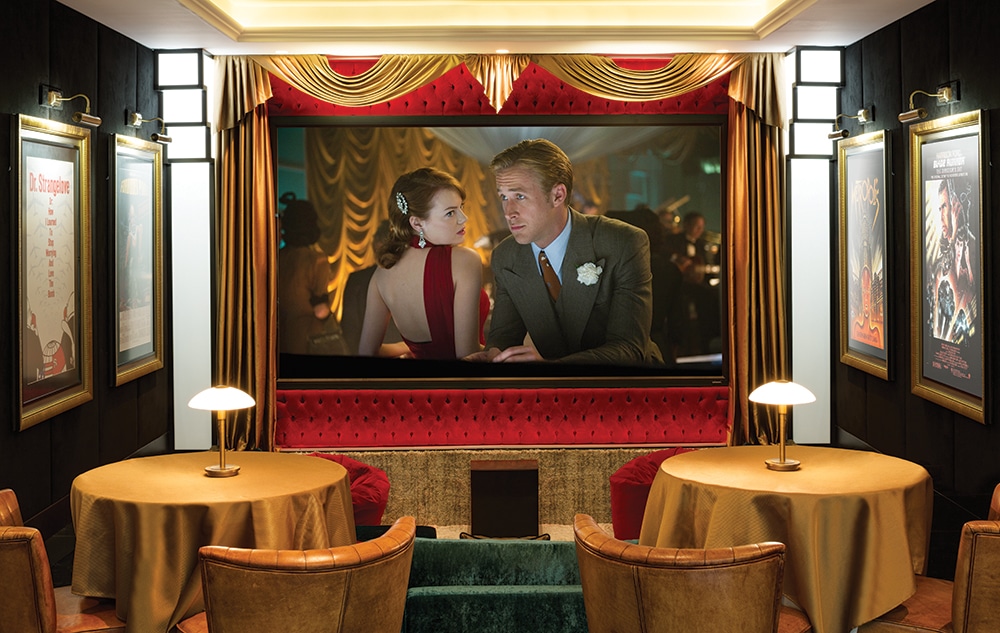 Above & Below: The inspiration for this entertainment room came from the movie Gangster Squad. The client, an art deco fan, fell in love with the club, Slapsie Maxie's, that was featured in the movie. He loved it so much that he asked UDesign to recreate it in his basement. With a themed entertainment space like this one, staying at home has never been so much fun!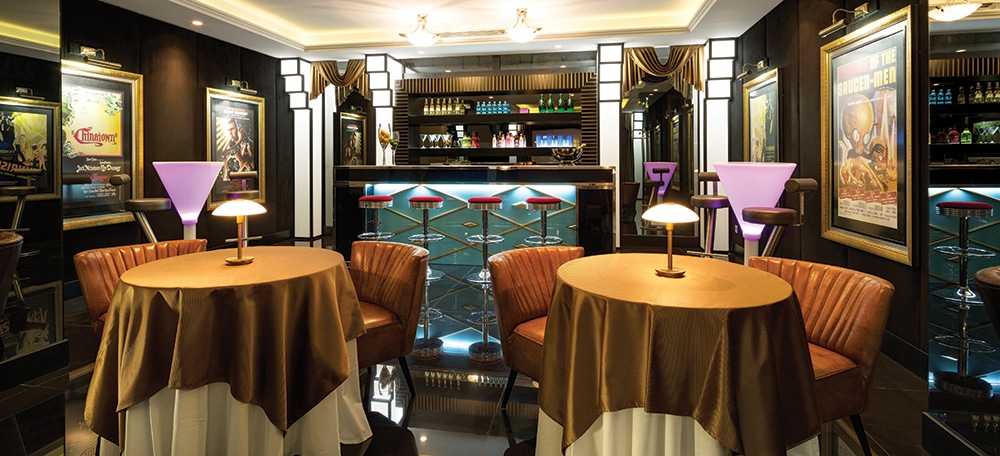 The advent of large flatscreen TVs with high resolution also means that you can now experience cinema quality without having to have a dedicated cinema room. Thus the entertainment space evolved as people wanted a room in their houses where they could enjoy some serious down time, without compromising the style of the rest of their home.
It was, if you like, an evolution from the "man cave", but rather than being a dark room where only the brave or foolhardy would dare venture, the entertainment space is a place for the whole family to hang out in.
"You can show off all your toys" says Jason. "The kids can be playing on a console with an 85-inch screen, while Dad is playing pool and Mum is picking out tunes on a retro jukebox. So what you have done is to create a space that you can all enjoy, and also, it really adds value. Because now it's not just a room with a bar, or a room with a pool table, TV or cinema. Now, it's actually a multi-purpose family entertainment room."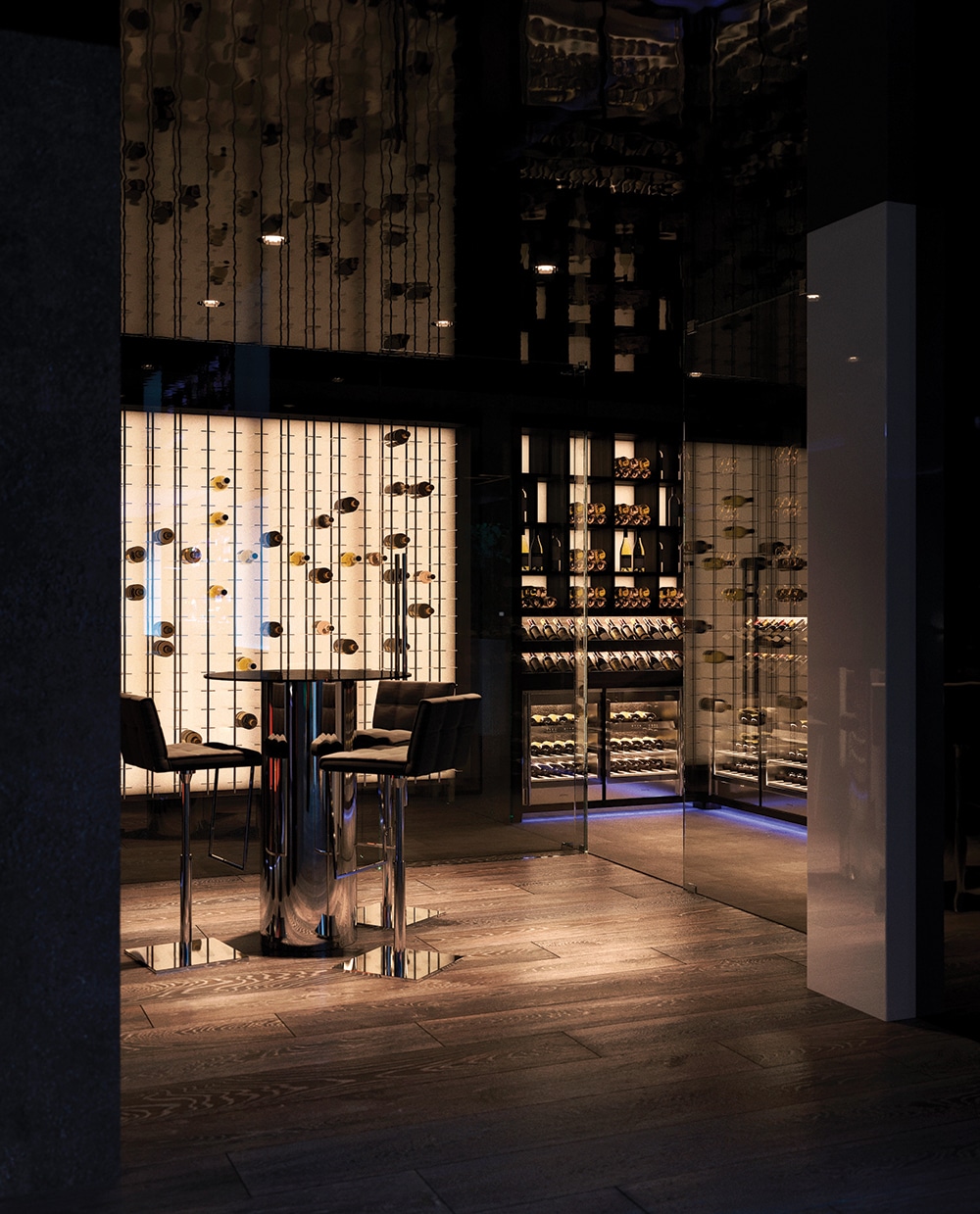 Above: Today's bodega isn't just about storing wine, it's about creating a feature wall and a comfortable space where you can enjoy spending time.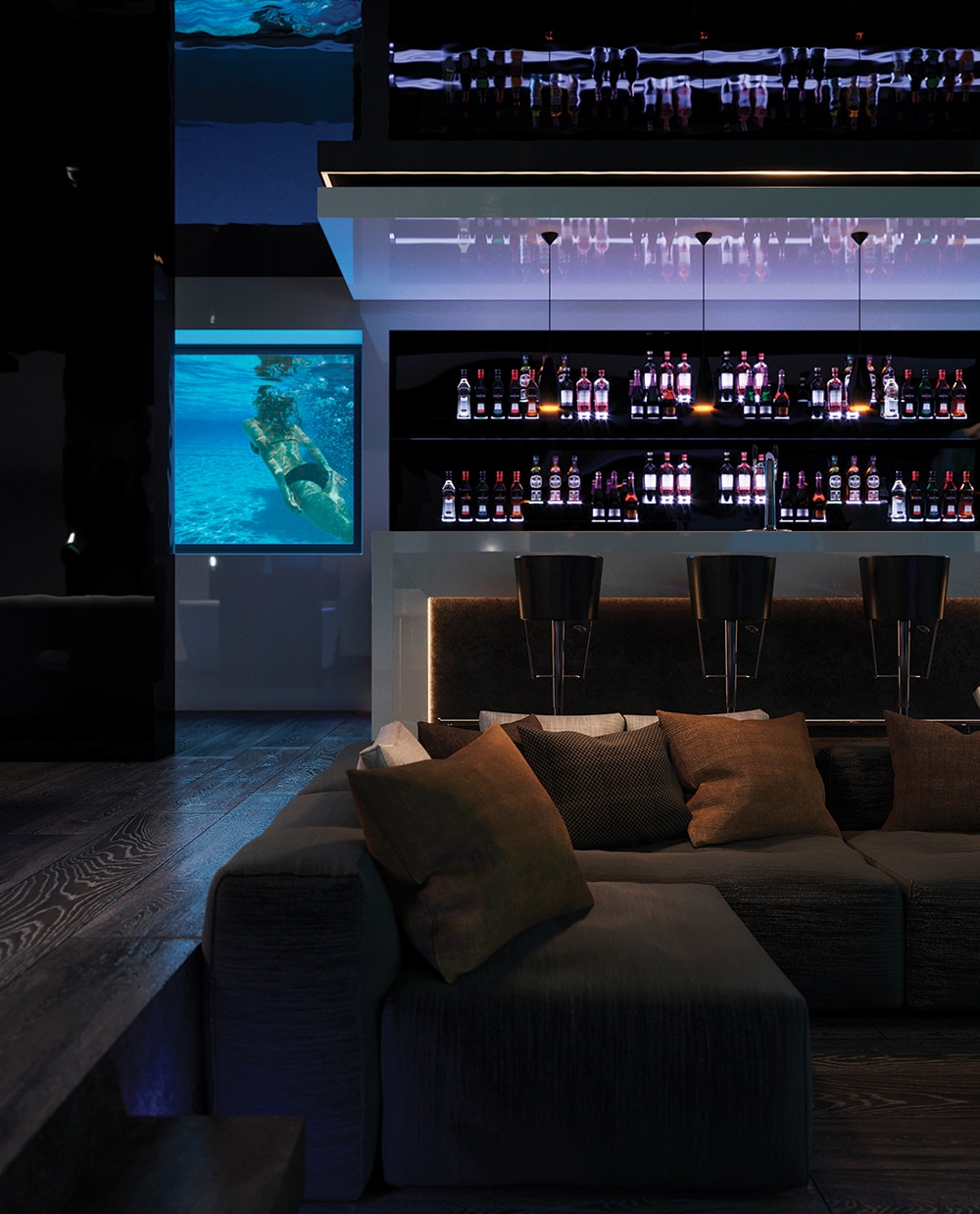 Above: An entertainment room where you can keep your eye on whoever is in the swimming pool. This adds a beautiful light and dimension to the room.
It also gives you a place where you can let your imagination run riot. "You can do things down there that you don't want to do in your formal lounge because it's a bit too wacky – like the Space Invaders tables, for example. We all love these and it reminds us of our youth, but we don't necessarily want one stuck in our living room next to our sofa", grins Jason. "With an entertainment room, however, we can go back to our youth and it doesn't matter because it's the entertainment room and we can have fun there. It doesn't have to be serious or sophisticated, retro or modern, cluttered or industrial – whatever suits and you can get away with because it's not like you are affecting your beautiful sophisticated interior design concept upstairs. You are in the right place, it's there so you can have fun and it's not meant to be serious."
The entertainment space is also perfect for holding parties and events, and UDesign have incorporated dance floors, DJ booths, VIP areas and even poles and Jacuzzis, bringing the after party to the house itself.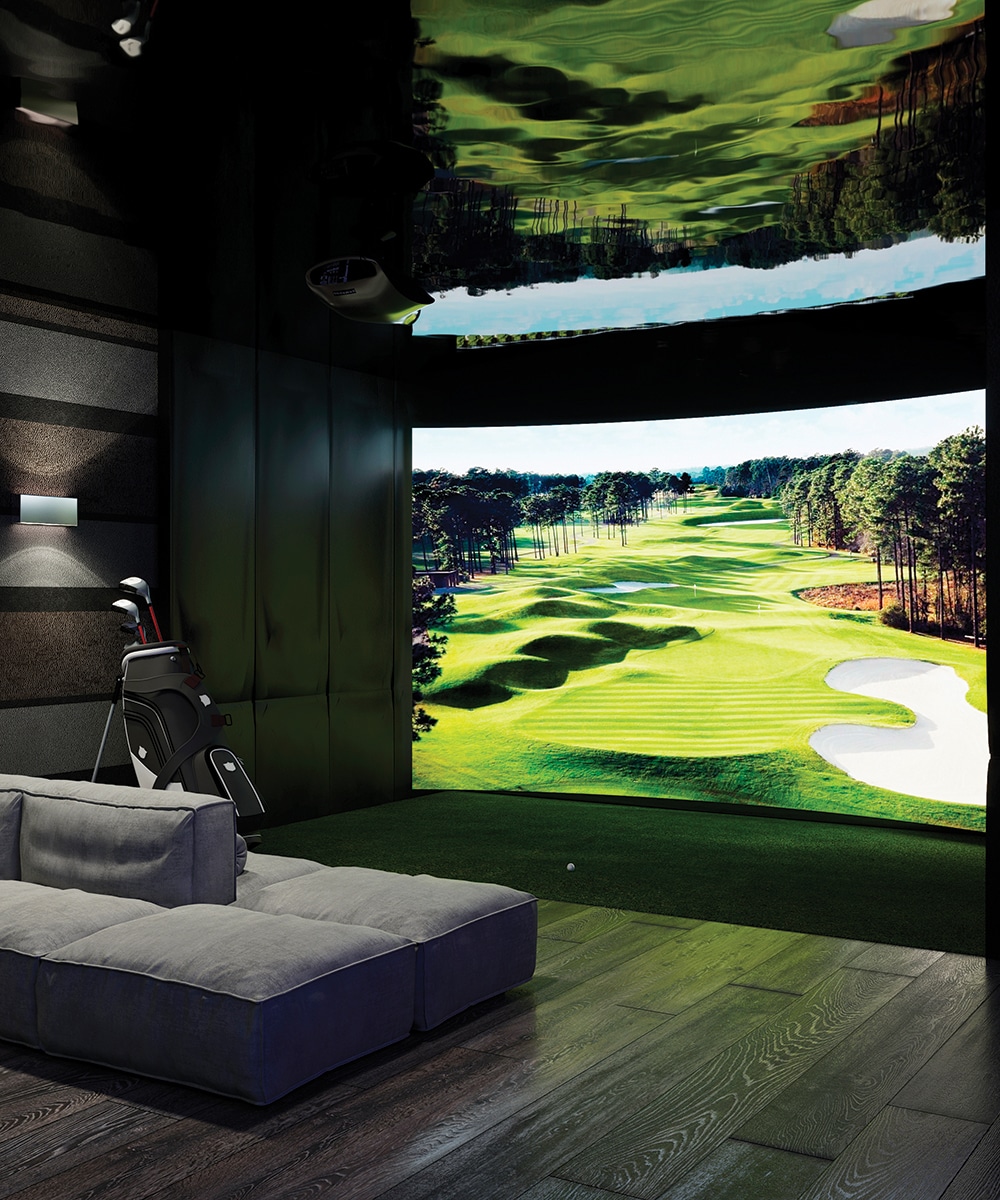 Above: With today's gold simulator you can go to any golf course in the world and enjoy a round.
There really is no limit to the possibilities of the entertainment space. "We designed one space with a bowling alley and virtual golf" says Jason. "Imagine. It's raining, you're a golfer, you've got this state-of-the-art golf facility and you can go to any golf course in the world. So while you are golfing in Augusta, your friends can be bowling and the kids are watching TV."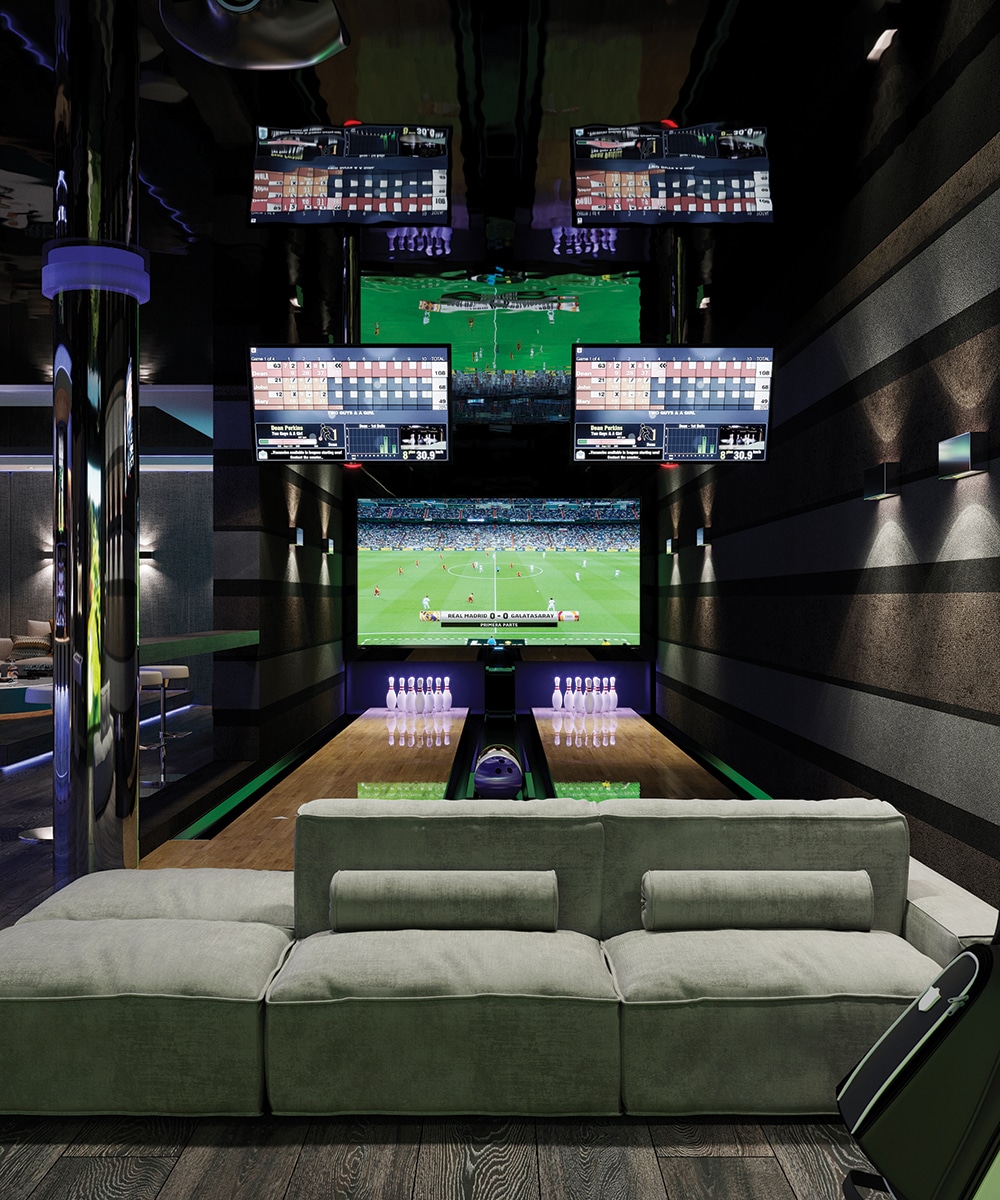 "The possibilities are endless. It's basically just down to your imagination and what you want. We design bespoke entertainment spaces that are purposely built for our clients. We create a wow space that takes living in the house to another level."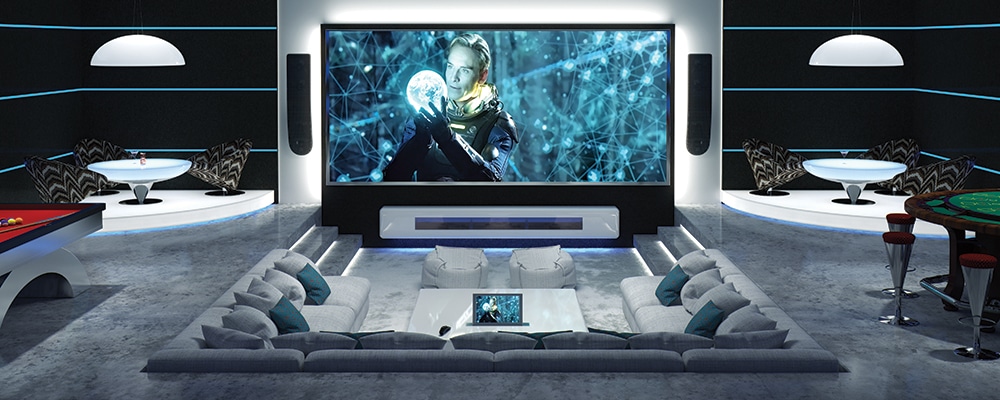 Above: VIP seating, sunken cinema are, professional poker table, pool table and below…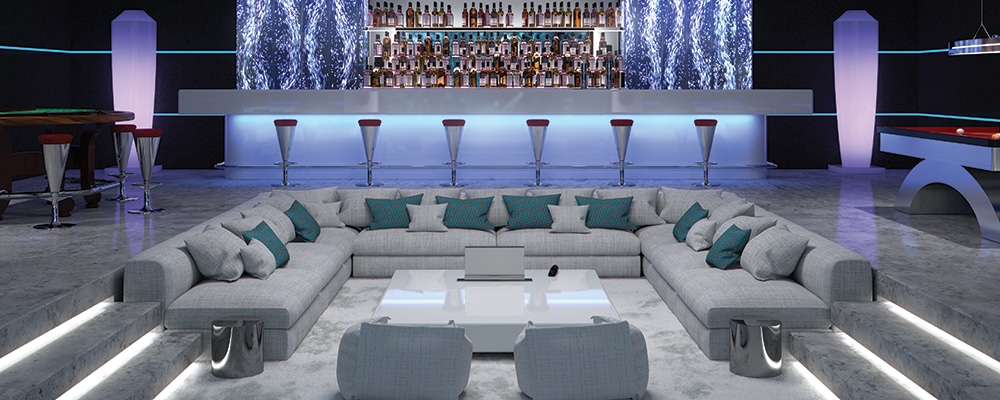 Above: The state-of-the-art cocktail bar that makes this entertainment room a perfect place for the after party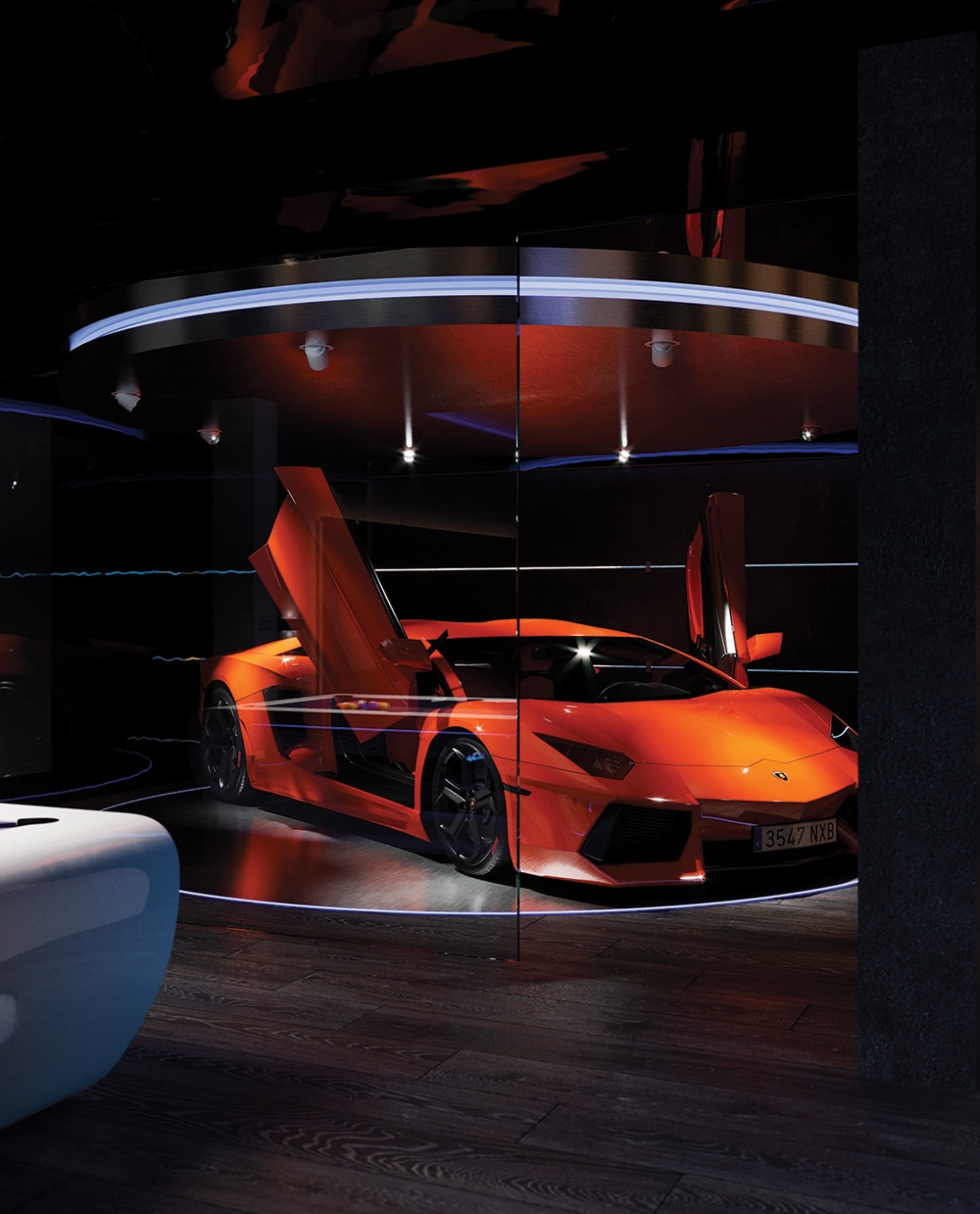 Above & Below: The Car's the star. Perfection for a petrolhead with the supercar taking centre stage in this motor enthusiast's Man Cave. Feel free to unleash your inner Clarkson with your very own Top Gear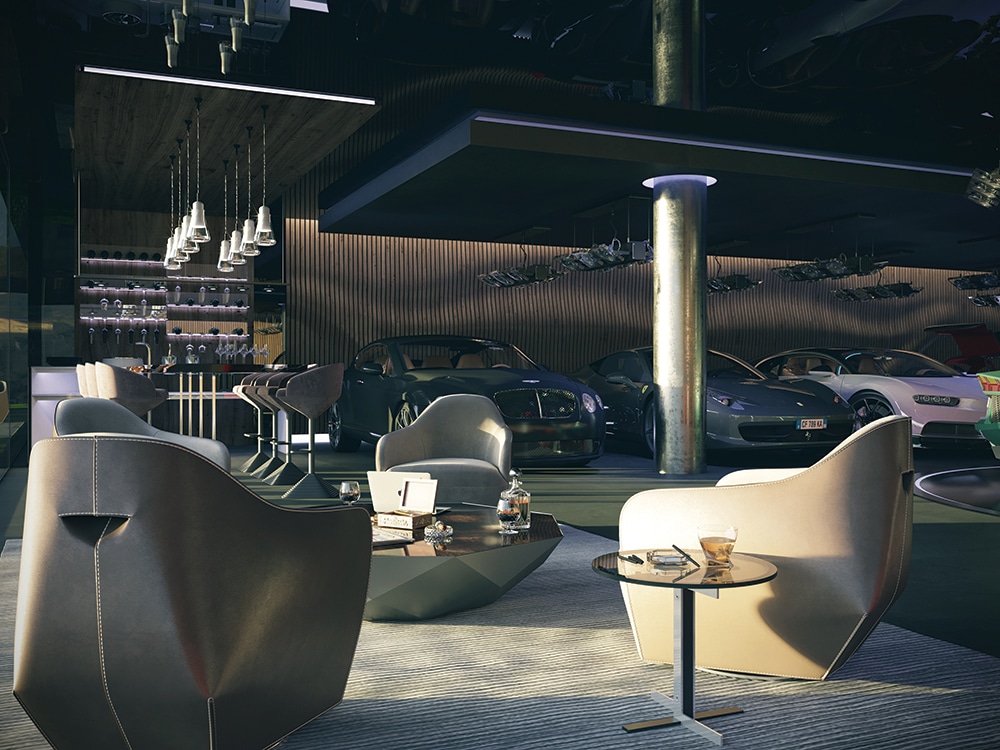 Forget "Don't leave home without it" – with these exciting, eccentric and eclectic entertainment spaces, you don't need to leave home at all.
Concept and Design of all Entertainment Rooms in this feature are by UDesign. Photography © UDesign
Visit our interior design gallery.
---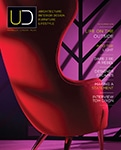 This article first
appeared in the
2nd issue of
UD Magazine.
Click on the image to read online.
---