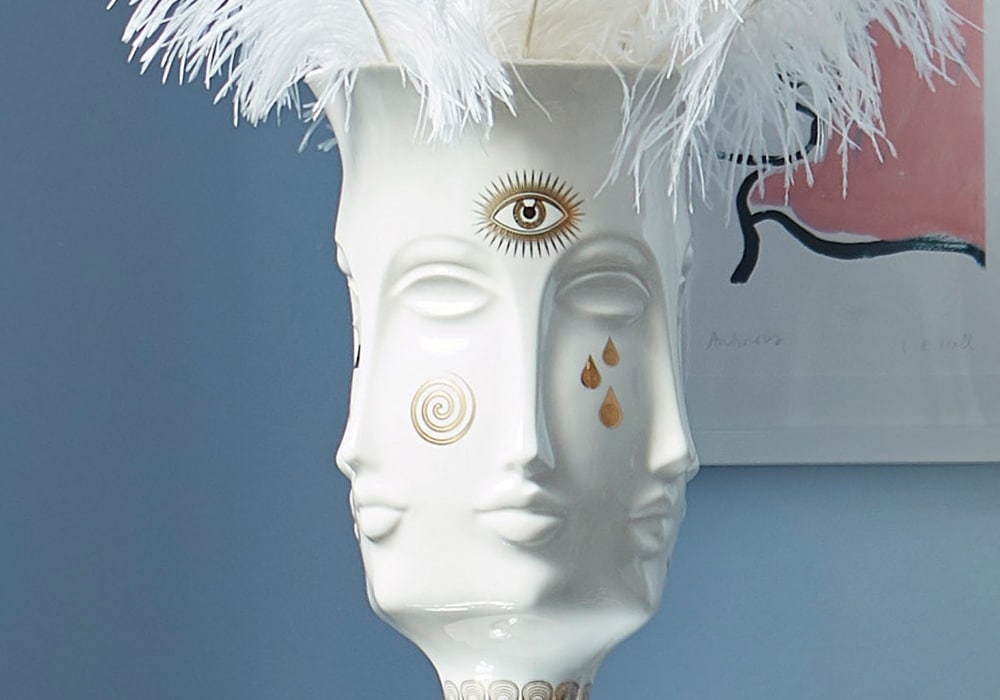 Heart of Clay – This is Jonathan Adler
It's not easy to write about Jonathan Adler. Or to be more specific, it's not that easy to define him in words. Is he maximalist or minimalist? Is he a potter who drifted upwards rather than sideways on his successful career path, or a designer crafted by acquired knowledge and innate talent? Is he a free-wheeling renegade or a serious product designer blessed with an irreverent outlook on life? Most likely, he is exactly what he seems to be: all of these, in measures we cannot measure. But most importantly, it is his extraordinary body of work that defines who he is.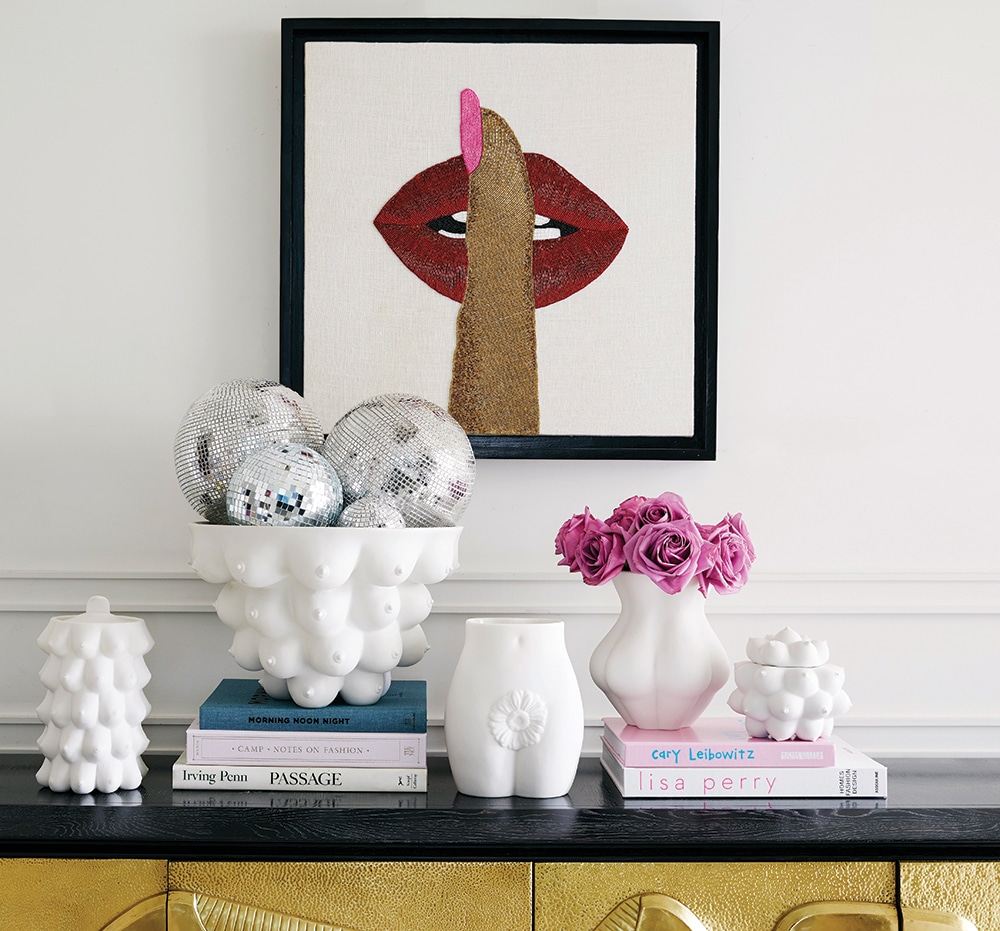 Above:  Jonathan's pottery is predominantly white, giving it a sculptural quality. His sense of humour is evident in the slightly naughty motifs he uses to create patterns.
From left to right: Georgia Vase, Georgia Centrepiece Bowl, Edie Vase, Kiki's Derriere Vase, Georgia Orb Box. 
The Hush Beaded Wall Art is hand-beaded on linen ground.
Jonathan began potting at the age of twelve. He had been sent to summer camp, and found himself spending more time at the pottery wheel than playing ball games and splashing about in the water. He studied art history and semiotics (the study of signs and sign processes) at Brown University, but not really: he spent almost all his time at the nearby Rhode Island School of Design making pots. His sources of influence were Chanel and Sèvres, pop culture, early hip hop, contemporary art and fashion. An eclectic bag, and little wonder, perhaps, that his pottery teacher was not entirely convinced. Jonathan tells the story in a recent interview with UD Magazine:
"While I was in college, my ceramics teacher told me I had no talent and should move to New York City and become a lawyer. It was the best advice I never took."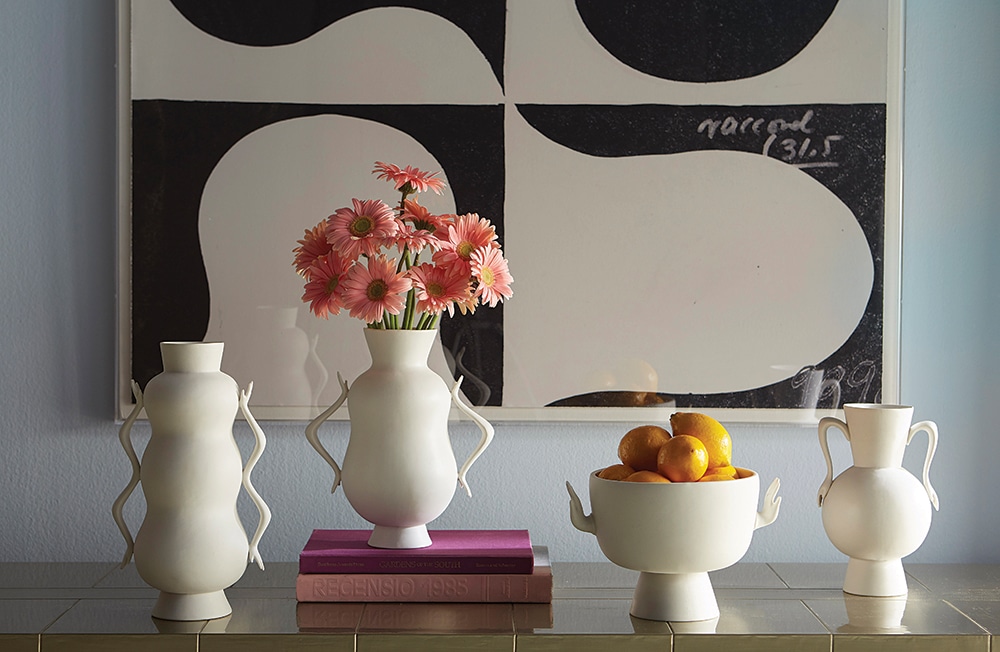 Above: Eve Triple Bulb Vase, Pedestal Bowl and Urn: the design of these pieces is elegant and timeless, with a contemporary touch in the absence of colour and texture, and in the unusual shapes of the handles.
He worked for three years in the entertainment industry following graduation, but pottery, he realised, was his first love. He started teaching in exchange for studio space in 1990, and presented his work at Barneys New York, who were impressed enough to place orders. He founded his own company three years later, worked alone for a few years more and then visited pottery studios in Peru through the non-profit organization Aid to Artisans. Inspired by Peruvian textile design, he began making simple home items, and in 1998, he opened his first store in Manhattan. Today, as a product and interior designer, potter, author and occasional television personality, his work is sold in thirty stores and more than a thousand retailers around the world.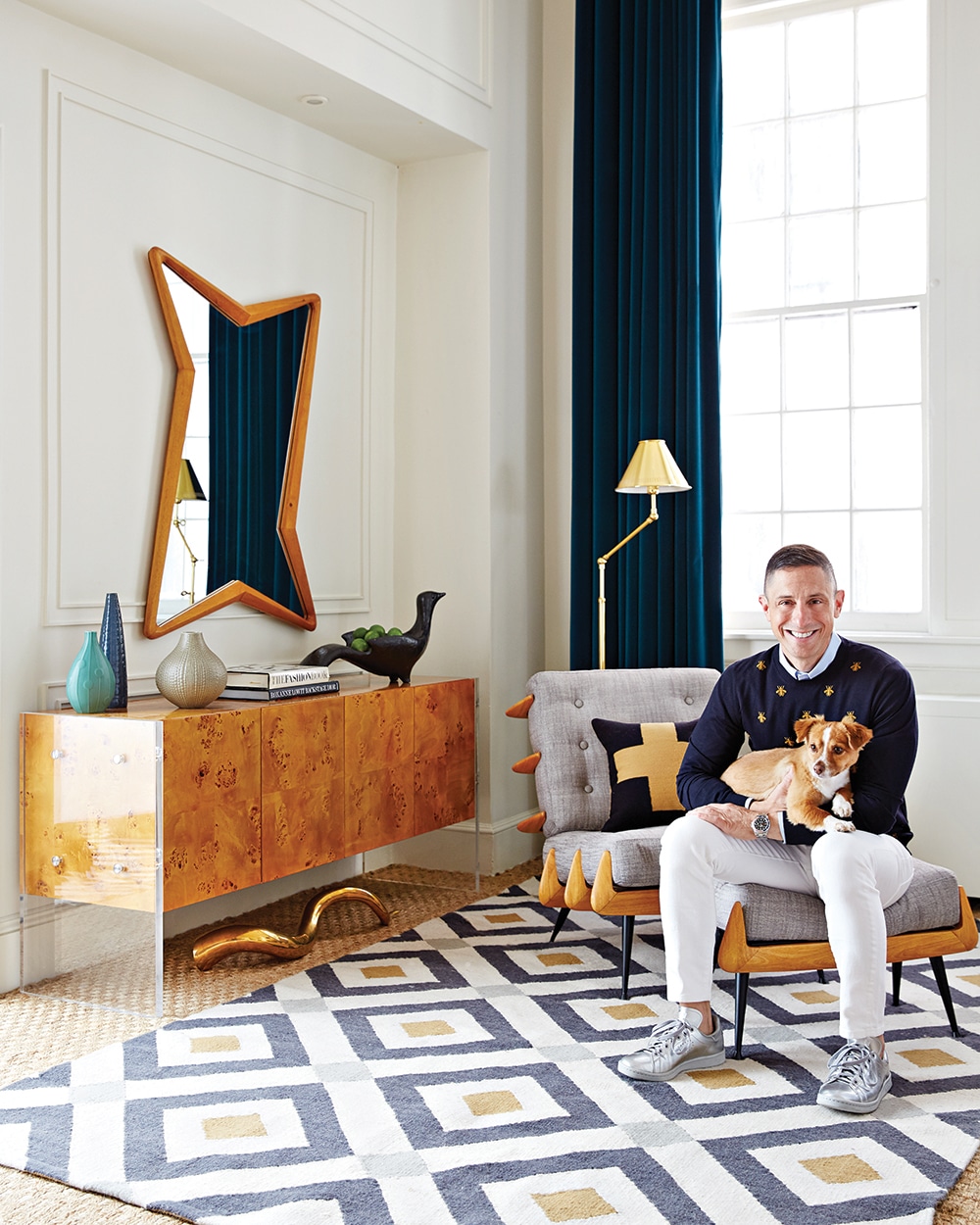 Above: Over the course of his career, Jonathan Adler has appeared on television programs like Good Morning America and The Oprah Winfrey Show, referring to his style as Modern American Glamour.
Pottery is a lone occupation, and the Peru experience was crucial to his later success as a designer. "When I went there," he tells us, "I fell in love with the people, the scenery, and the food. I was fortunate to find a group of unbelievably talented artisans to work for me; it was the best thing I could do for my creativity. When I didn't have to make every single piece myself, I was free to design textiles, furniture, lighting, and everything we make today."
This is probably why he is famously reluctant to discuss inspiration, but we asked him anyway.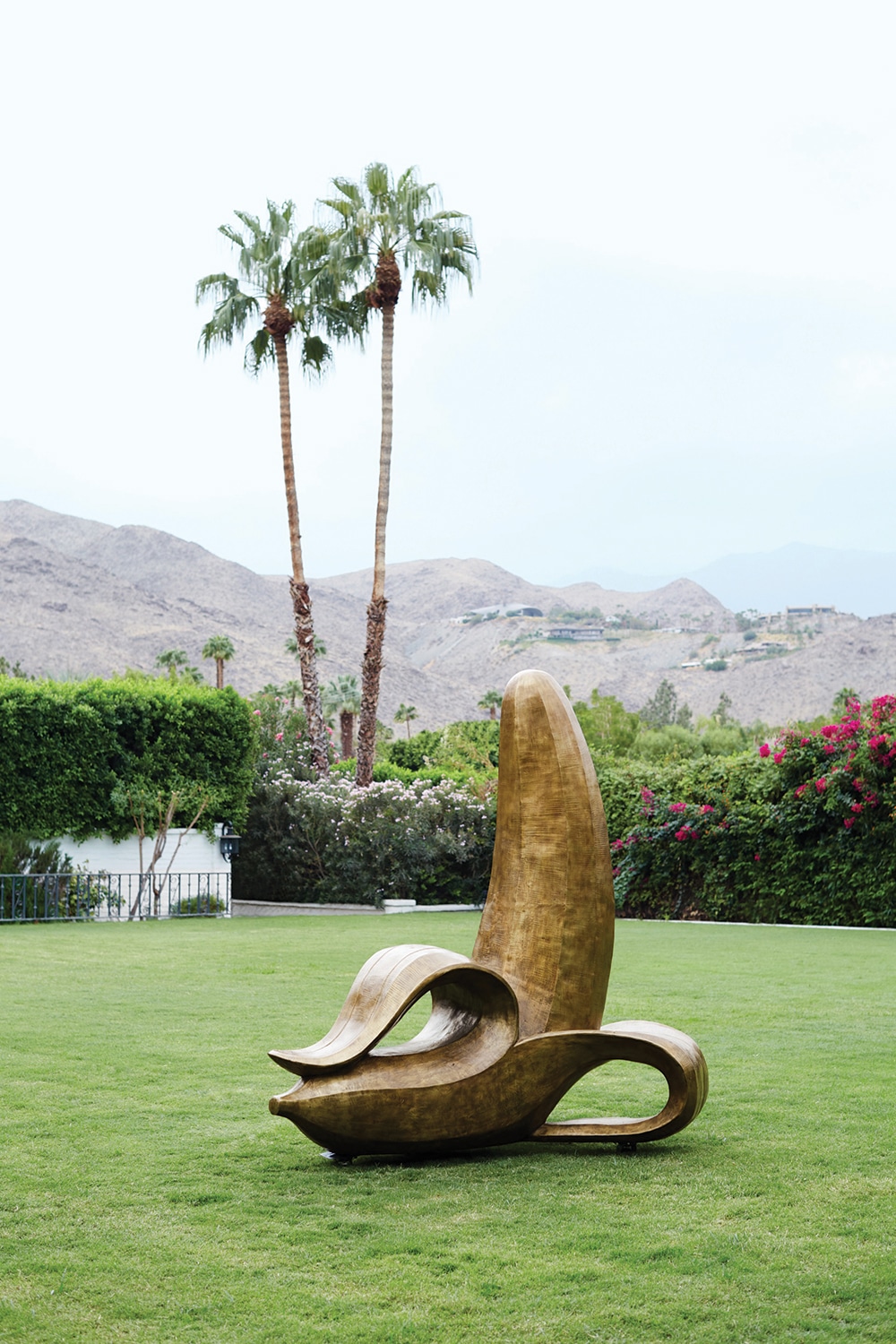 Above: Standing proud on The Parker Palm Springs Hotel lawn is Adler's first foray into public art, in the form of a seven-foot-tall phallic banana in bronze, held in place by its own banana skin.
"People always ask, and it's the most impossible question to answer. I should probably come up with something to say, because the reality is, I have no idea. Inspiration is kind of anything, everything, and yet nothing." Few interviewees in this magazine have come up with such a wise and honest answer to this question.
We noticed a mid-European influence in his work, especially in his ceramics, and asked him about it. "Yes," he said, "I'm obsessed with the Vienna Secession, which was an art movement of the late 19th century. Now, I look through that lens when I'm designing and often think, how would my muse have lived there and then?"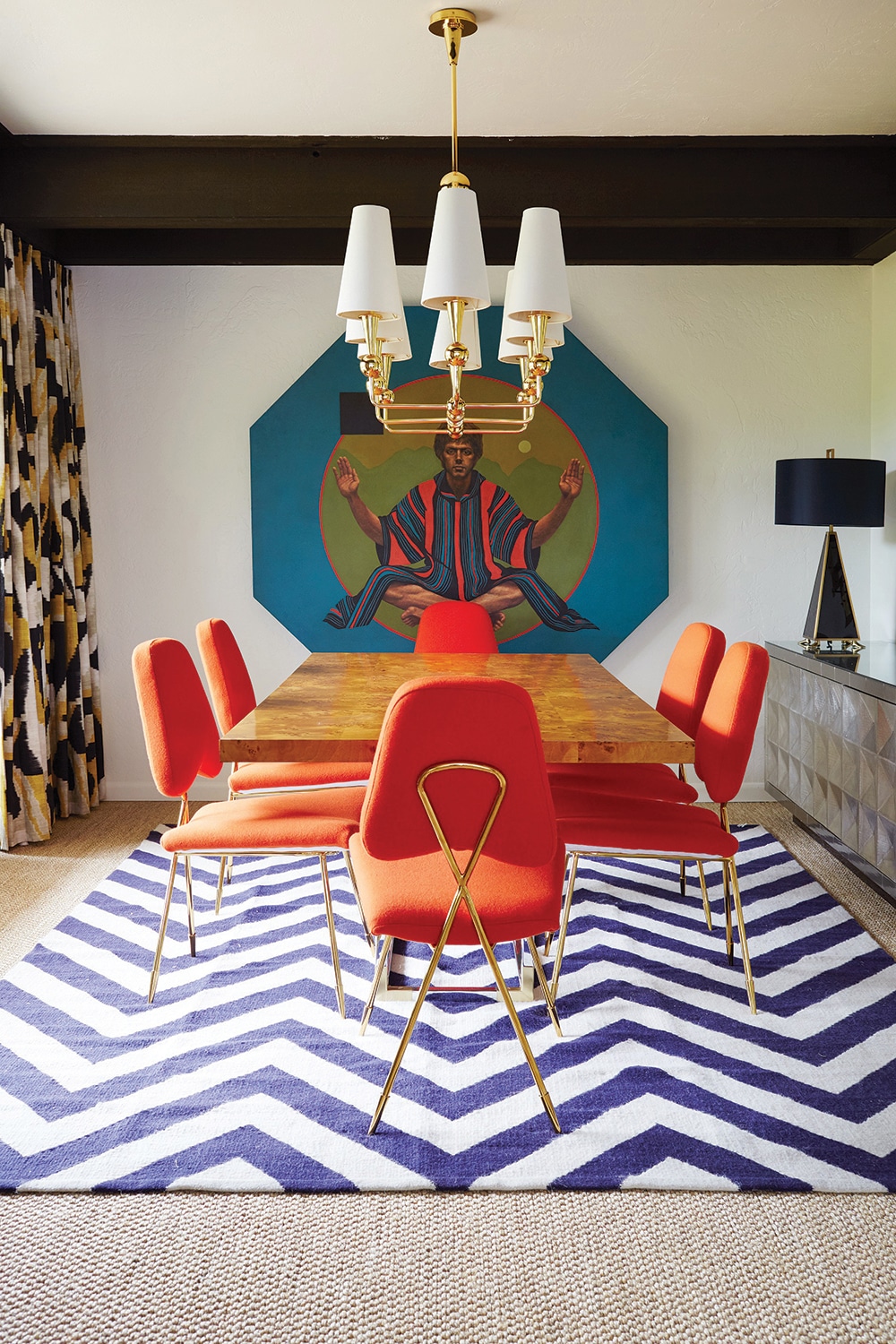 Above: The Gene Autry Dining Room in The Parker Palm Springs Hotel. Adler gave the iconic Californian hotel a head-to-toe refurbishment ten years after his initial redesign. "This hotel is a psychedelic passion project that has been part of my life for over a decade."
Was it also correct to suggest, we asked, that one of his influences, especially with regard to furniture and lighting, is the mid-20th century?
"Definitely," he replied. "The modernism of that period is at the core of my design and my design philosophy."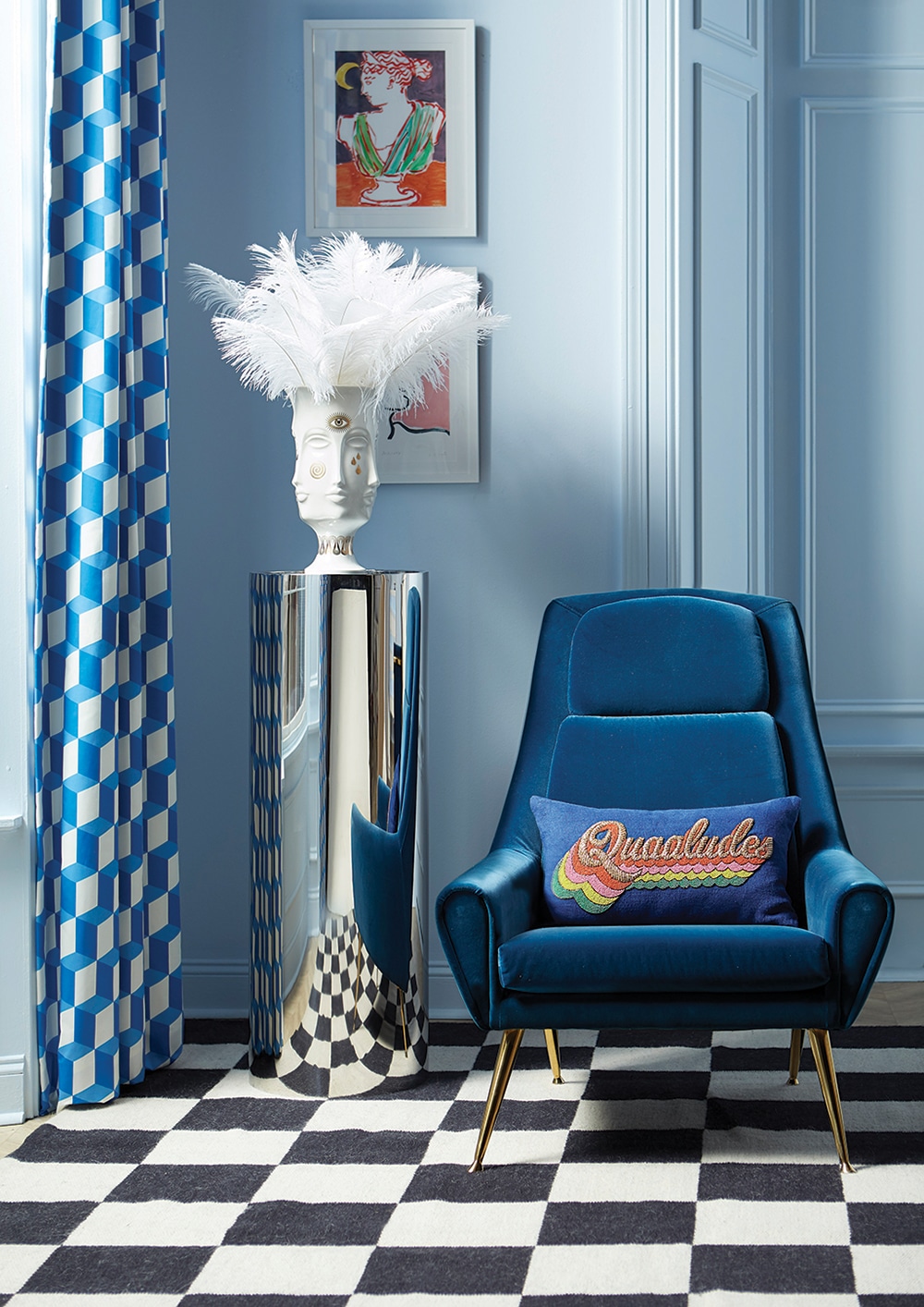 Above: The Gilded Dora Maar Urn has subversive signs and symbols in glittering gold. Inspired by Dora Maar the French photographer, poet and painter, and most famously Picasso's lover.
An Ultra Lounge Chair with a Quaaludes Beaded Pillow, inspired by the counterculture designs of the 60's.
This design philosophy is not complicated: a craft-based approach and the use of impeccable materials resulting in chic and elegant products made to classical proportions, often disrupted by an almost subversive readiness to abandon his self-imposed rules and surprise us. Put simply, if you appreciate good design, you'll know a Jonathan Adler when you see it.
He uses bright colours and patterns, claiming to reject the concept of colour coordination. We were curious about that one.
Above: Twiggy, the fashion icon of the 60's, looks out over a Mykonos Table Lamp based on a simple Grecian motif, sitting on a Globo Cabinet, lacquered in white with blue acrylic cabochons.
"I always say that there are no rules. But I do think that there is a science to working color into your décor. My go-to trick is to start with a neutral base, and then go bananas with colour. And there are a few 'always' combinations: black and white always works and red, white, and blue always works," he said.
His best known interior design projects include his work on The Parker Palm Springs Hotel in California and the Eau Palm Beach Resort and Spa in Florida, and much of his work for private clients remains private, given their celebrity. But he has recently collaborated with the Swedish H&M retail chain to produce a more accessible collection, named the H&M Home X Jonathan Adler Collection.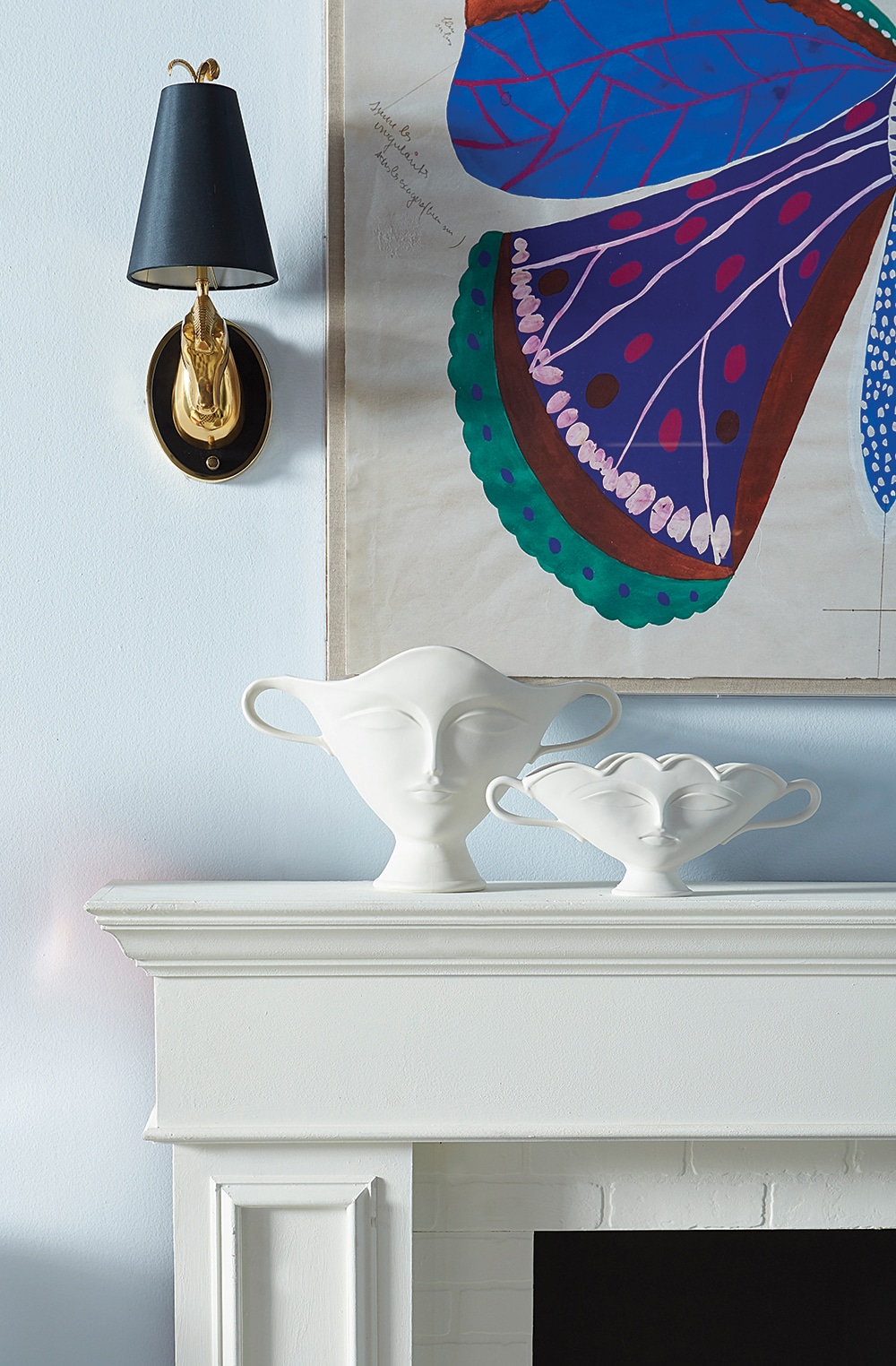 "It has been a dream to work with H&M Home," he says. "I hope people enjoy the collection as much as I enjoyed designing it."
The collection bears the stamp of the American glamour designer, from brightly coloured vases and mugs to candles and cushions, and the occasional item that defies category.
But through all the brass from India, the ceramics and fabrics from Peru and the wood products from Thailand, the standout material of all of Jonathan Adler's work is clay. Pottery, it is apparent as much here as in any of his collections, is in his blood.
jonathanadler.com
---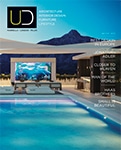 This article first
appeared in the
7th issue of
UD Magazine.
Click on the image to read online.
---