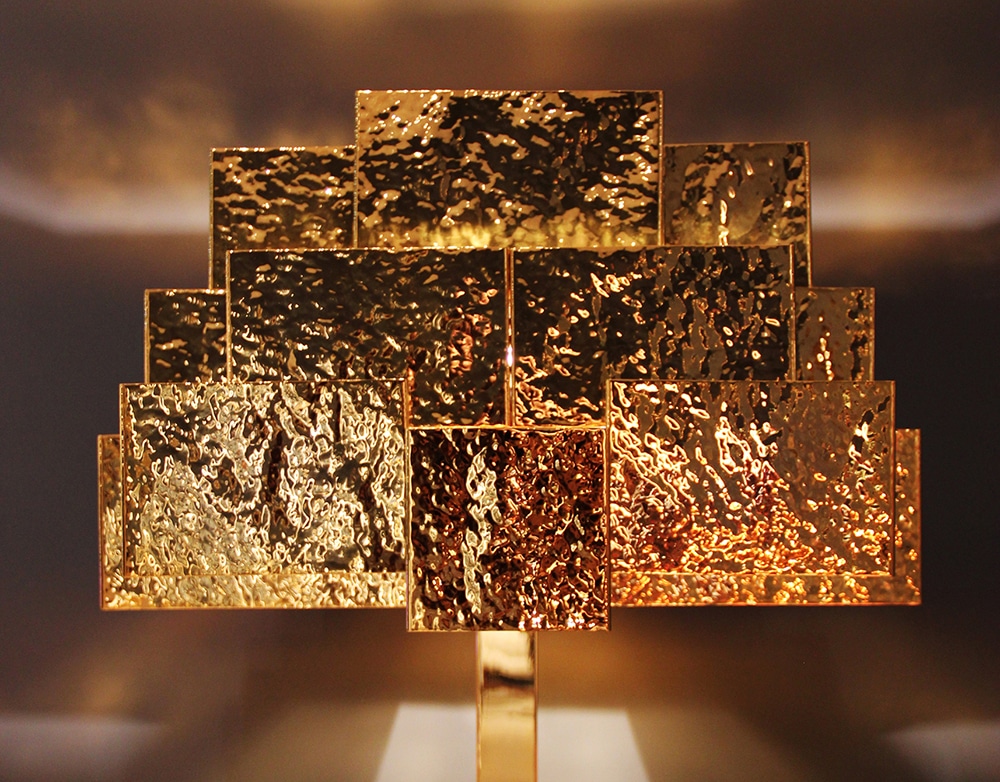 Inside Insidherland
Portugal has a centuries-old tradition of craftsmanship, dating from long before the word 'design' became an industry. Craftsmen would simply make things, relying on intuition born of years of experience, and traditions handed down from generation to generation. And these traditions are alive and well in the hands of the young Portuguese designer Joana Santos Barbosa, who uses the accumulated knowledge and expertise of times past, combined with influences derived from her own personal life experiences, to create new pieces in her elegant and exciting style.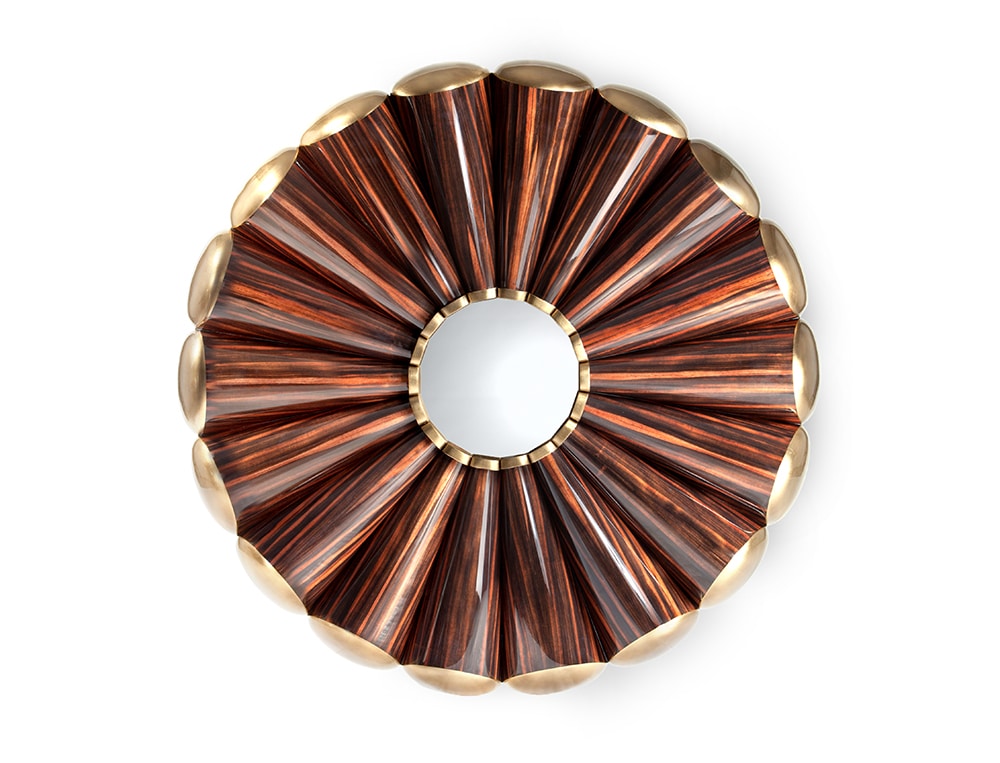 Above: The beautiful handcrafted Osani Mirror with an ebony veneer and aged gold leaf. 
She qualified as an architect at the University of Oporto in 2006, later studying interior design at St. Martin's School of Arts and Design in London. She set up the luxury furniture and accessories brand Insidherland in 2012, and is now widely regarded as one of the top designers in Europe, having been named one of the Top 10 Contemporary Designers from Portugal and exhibiting in prestigious design fairs in Milan, London and Paris.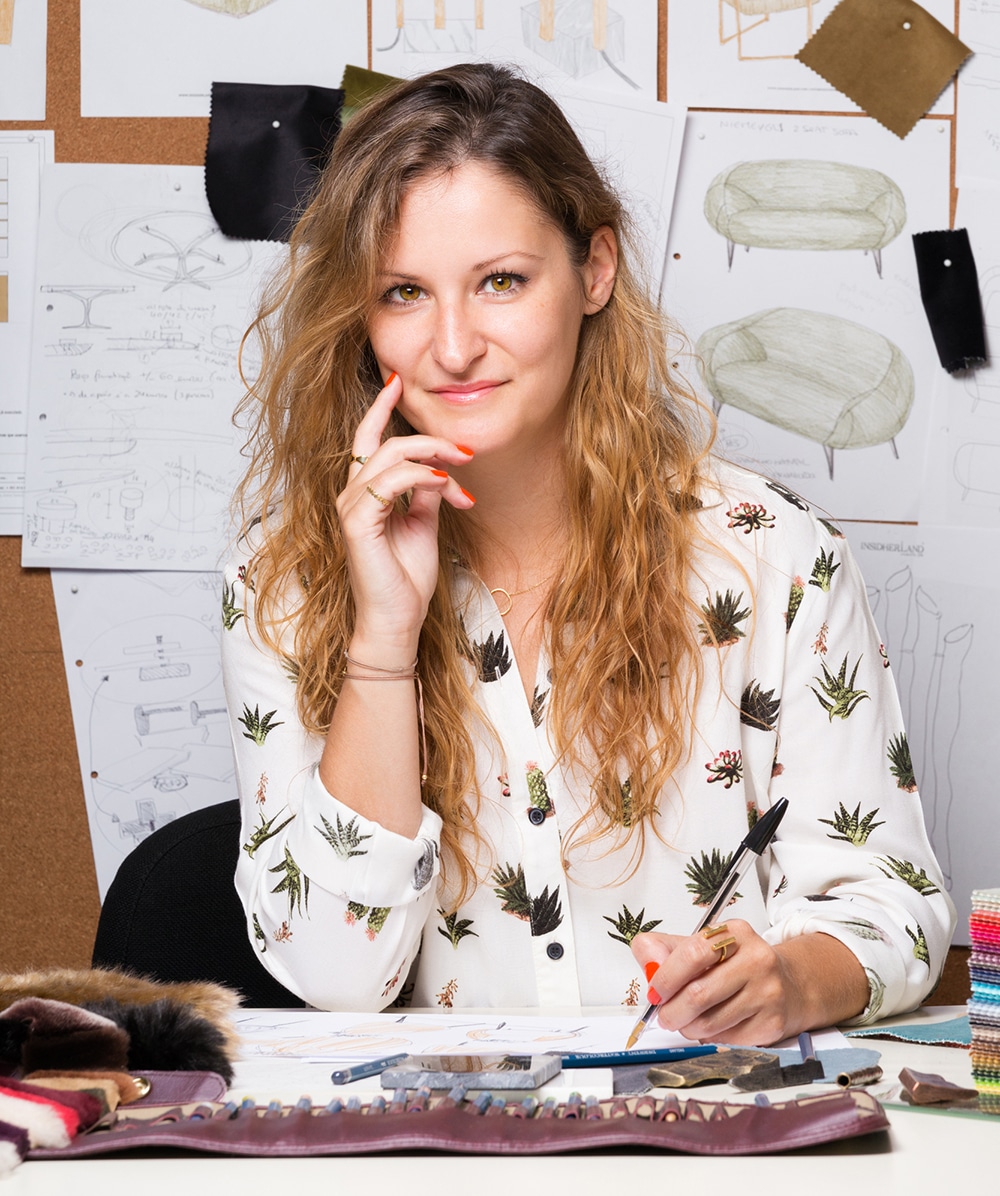 Above: Joana Santos Barbosa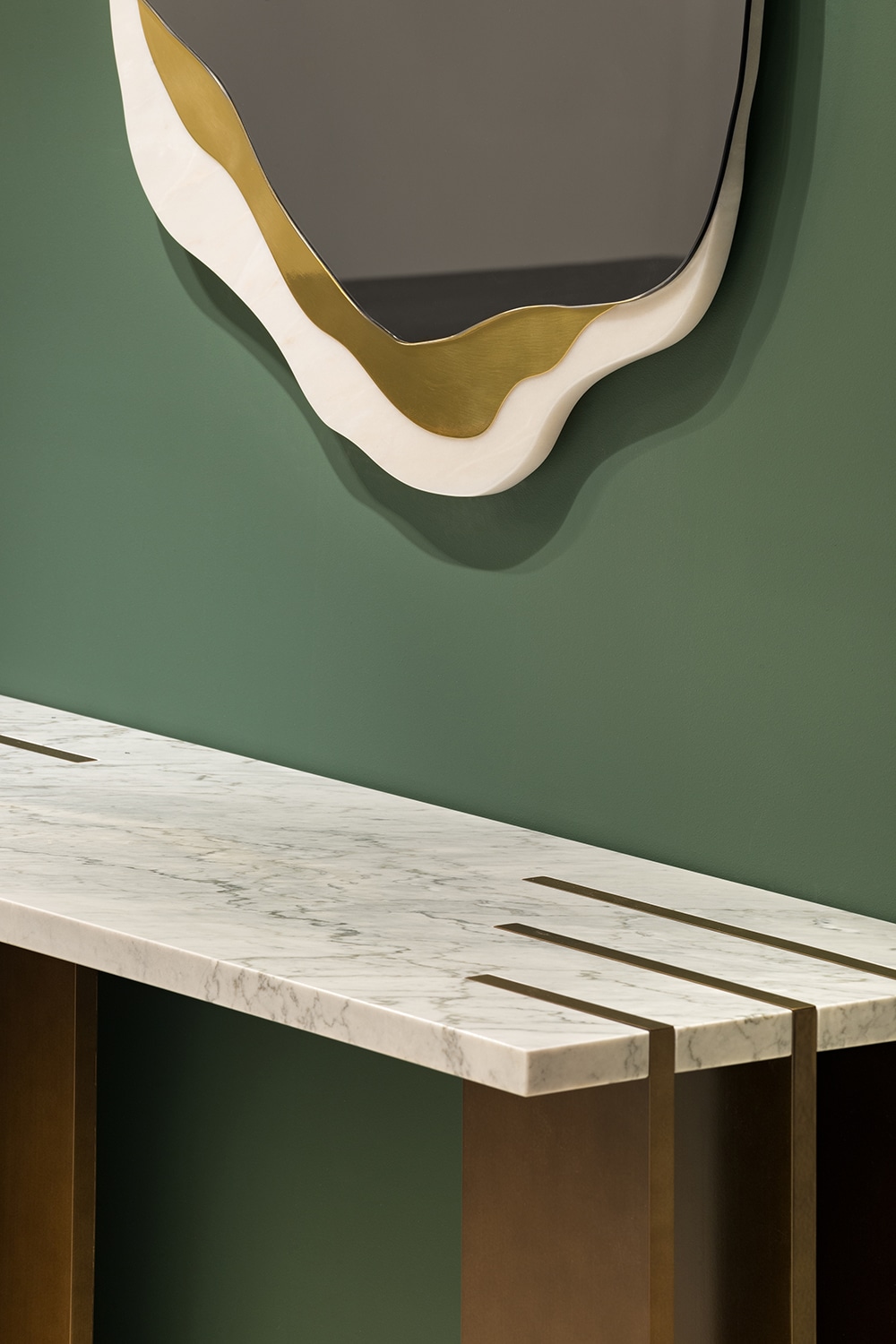 Above: The Pianist Console made from Carrara marble and the base handcrafted in brushed bronzed brass. Hanging above it is the Arizona Mirror.
Great design, by its very nature, is usually instantly recognisable as such, so it's not difficult to see why Joana has attained such a reputation. More interesting, perhaps, is how she has done it; how her creative processes work, how she takes an idea that she might have had while driving through the city streets or wandering through the woods, and gradually nurtures it, with the help of master craftsmen, into a three-dimensional object, whether it be a piece of furniture, lighting, an accessory or one of the unique pieces of jewellery she sometimes makes with her own hands.
"My work is deeply anchored to the use of noble materials we find in Portugal and to respect for the craft techniques practised in the specialities with which I work daily such as wood, metal, marble and upholstery". This respect she speaks about is evident, to take one example, in the Pianist Console, recently exhibited at Maison&Objet. Its release had to be postponed for about seven months due to difficulties arising from her determination to hide all supporting mechanisms, the result being a piece that looks like a suspended top in Carrera marble, incisively cut by brass blades.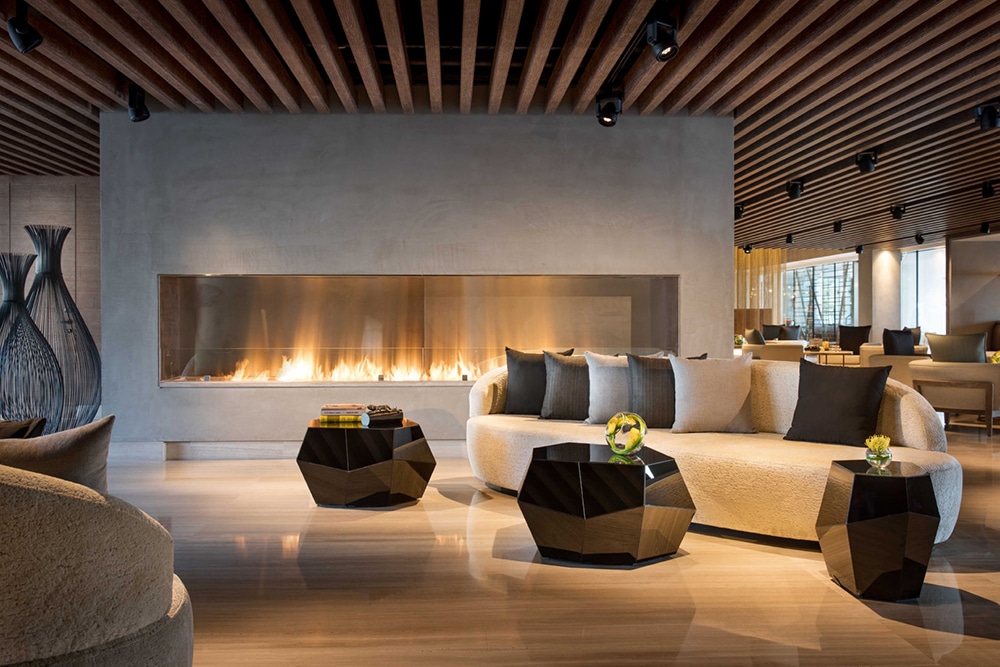 Above: Hotel Renaissance Downtown, Dubai, with Joana's Three Rocks tables, not just pieces of luxury furniture, but symbols of audacity and unique design.
With the formal training of an architect and the innate sensitivity of a sculptor, she approaches the creative process of design in much the same way as she would design a building: form, function, concept and emotion, the concept being the basic idea that she intends to convey with the material being used, and the emotion being the feeling she aims to awaken in the viewer. She names the Italian architect Carlo Scarpa and the Brazilian Oscar Niemeyer as influences on her work, and has, in fact, both echoed some of Niemeyer's forms and named one of her armchairs after him (below).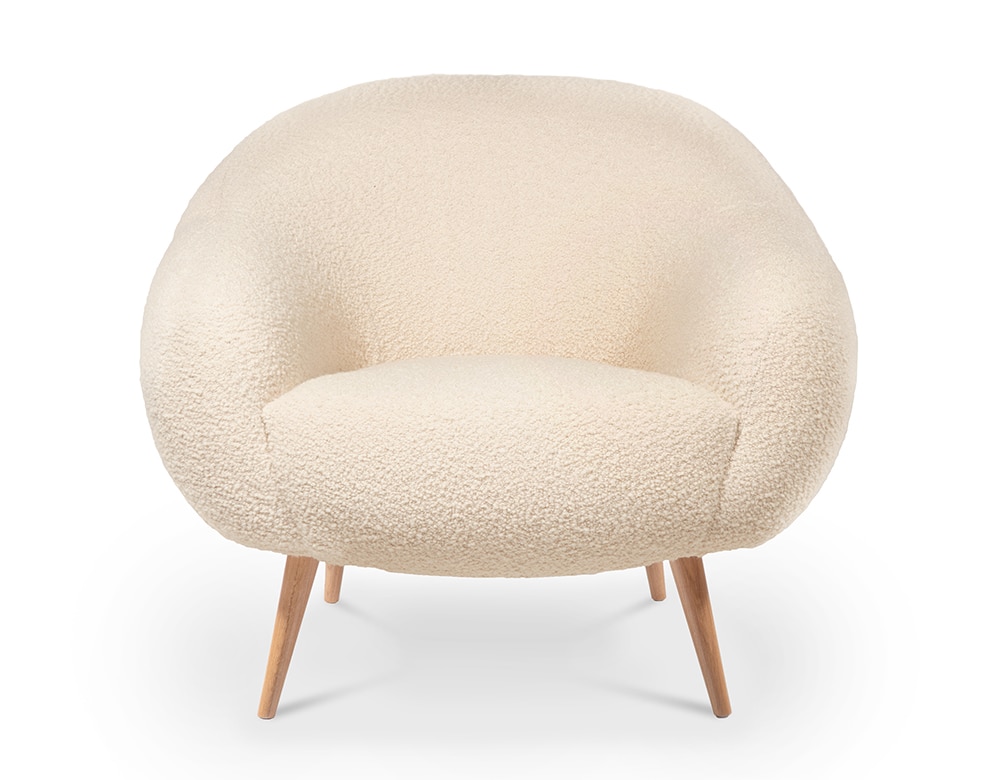 Portugal has a magnificent tradition of gold and filigree work, and Joana is happy to carry on this tradition in her own unique way. "The Portuguese inheritance in the use of gold is especially important to me. I recently launched the Azores wall lamp (right) and chandelier, inspired by a weeping willow I found on a trip to San Miguel Island," she says. "They are completely handcrafted with hundreds of individually welded brass leaves with a gold plated finish. Many people tell me they look like jewellery."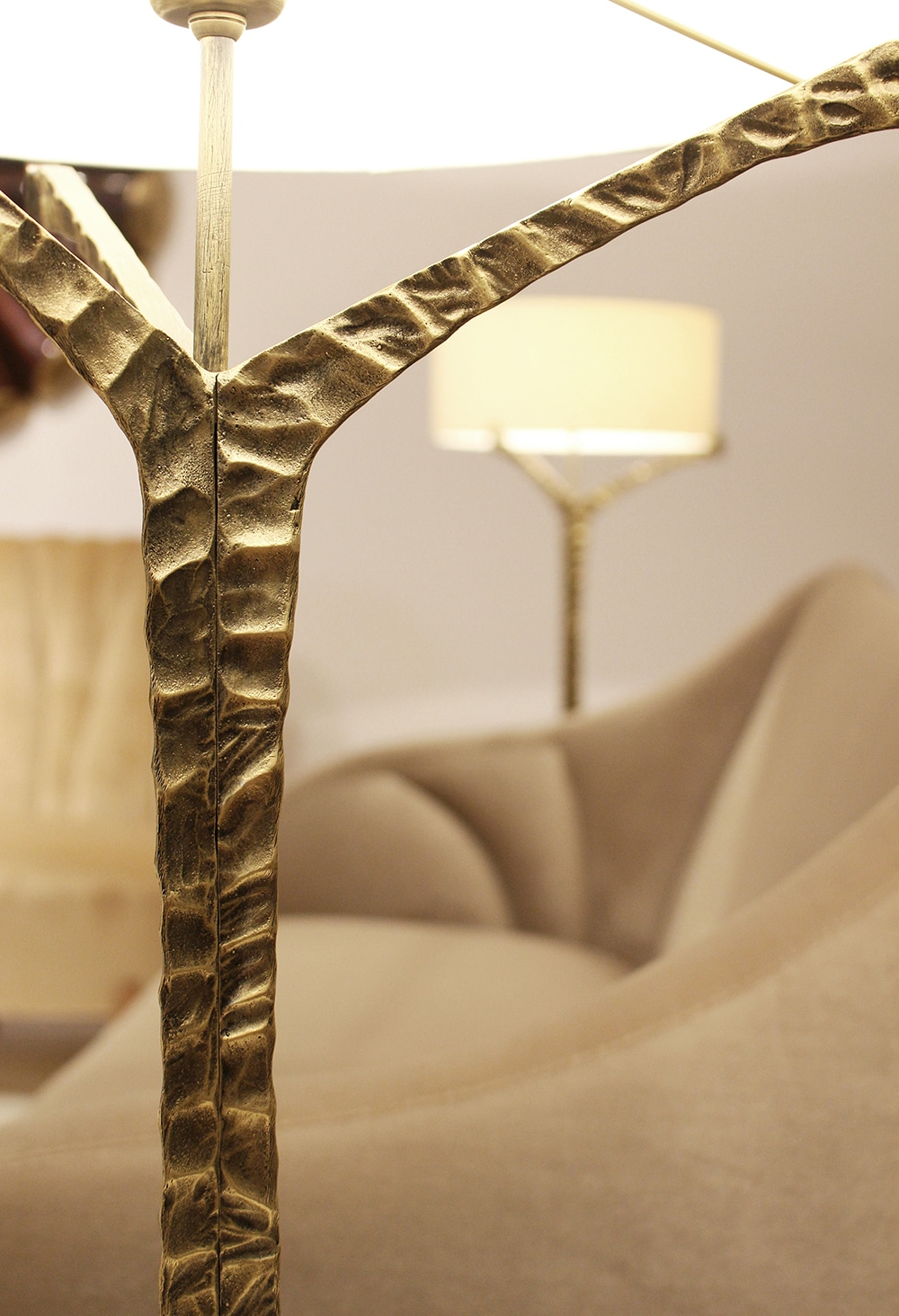 Above: Alentejo Table Lamp has the similar conceptual approach of the typical cork oaks trees found in the South of Portugal.
With Portuguese seafarers establishing colonies on four continents in the 15th century, noble woods such as African ebony, Brazilian mahogany, Indian rosewood and West Indian satinwood were being brought back to be worked right up to the 19th century by Portuguese master craftsmen for export throughout Europe and beyond. The art of veneer thus had an important part to play in the history of Portuguese craftsmanship, and Joana has become part of this history.
"In some designs, working with veneers allows me total creative freedom by using materials in a controlled manner, while taking into consideration the sustainability of the materials being used," she says. "The Special Tree sideboard and cabinet (above and on the left) are coated with natural root veneers. in these pieces I use exotic woods to reinterpret different tree species in a forest, each with its own special hues and shapes. Inside, both are completely covered in satinwood veneer with a yellow tone that brings to mind the rays of the sun piercing those trees."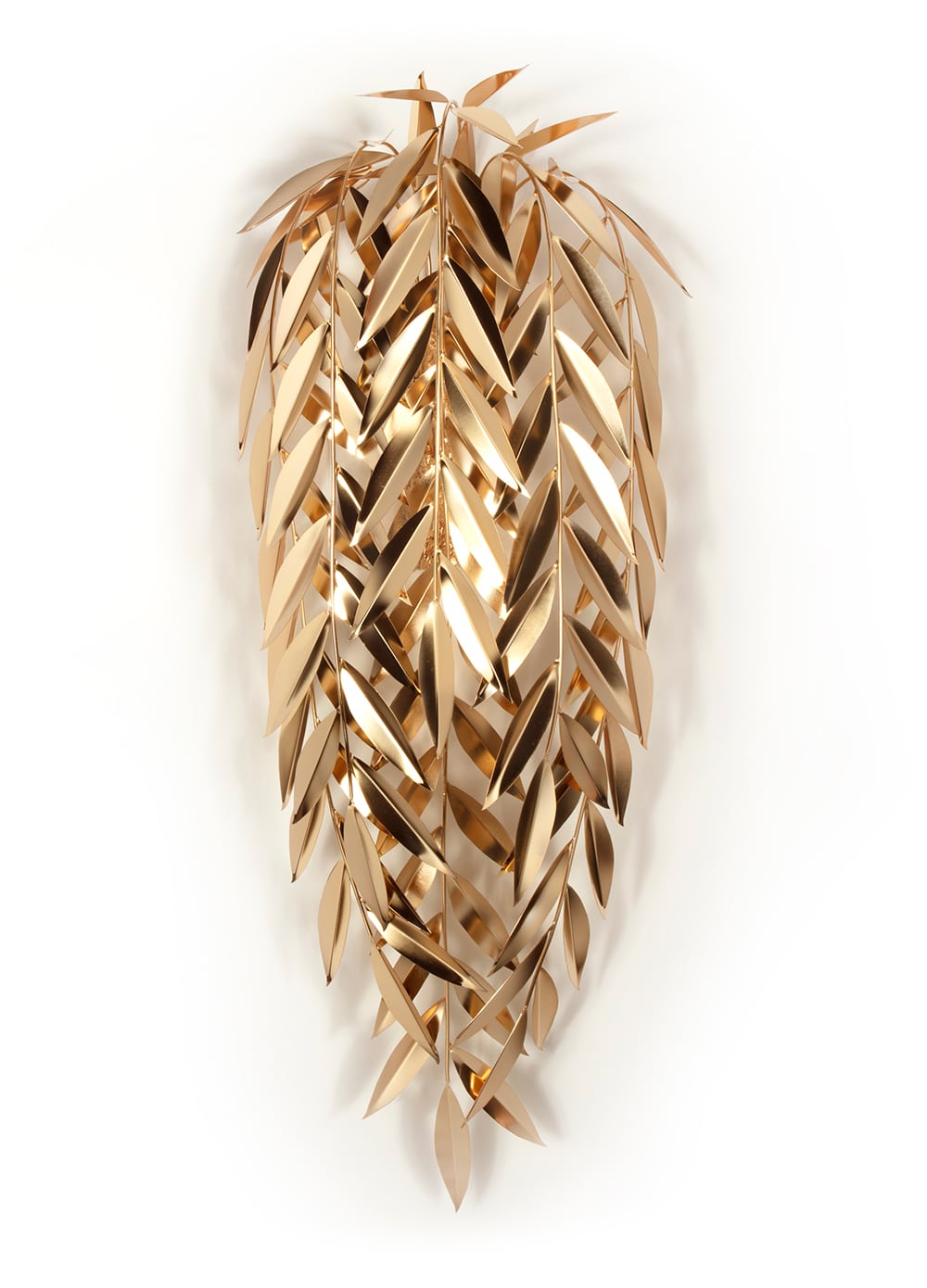 Above: The Azores Wall Lamp, handcrafted in polished brass, inspired by a weeping willow tree Joana saw on a trip to San Miguel Island (below)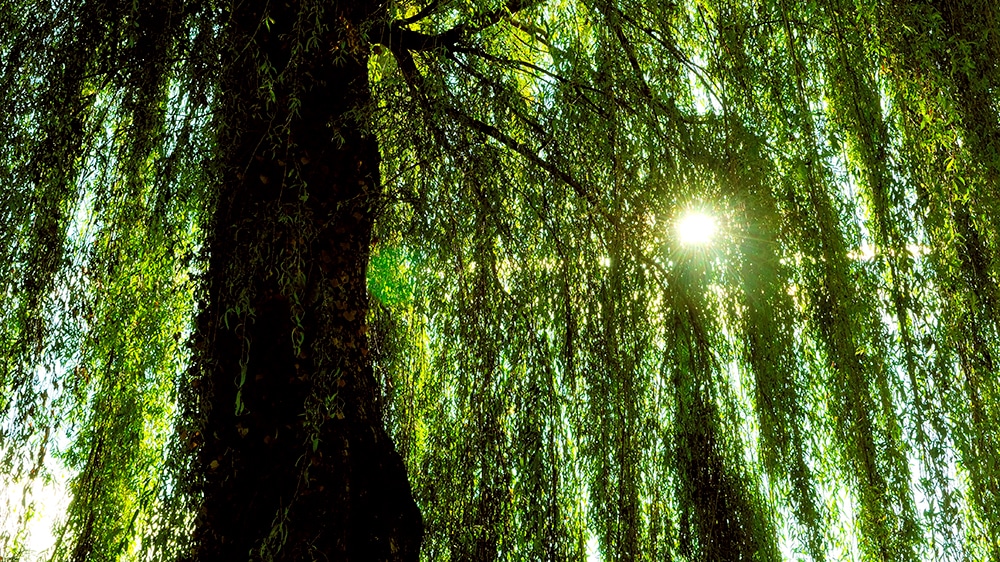 Music (and to a lesser extent, dance) also plays a large part in her work. She started playing the piano at the age of nine, and her love of this instrument – and classical music in general – is evident in many of her best creations. The Pianist centre table is one such piece, the table representing what she sees while playing the piano, which is not the keyboard but her fingers gliding over the keys. She recently launched the Symphony stool, made to the actual sound of Beethoven's 5th Symphony.
"The fluffy part on top, in Mongolian lamb fur meets the musical tension felt during the 1st moment of the symphony and contrasts with the smooth handmade movements of the base in oxidised brass that recreate the most melodic chords," she explains.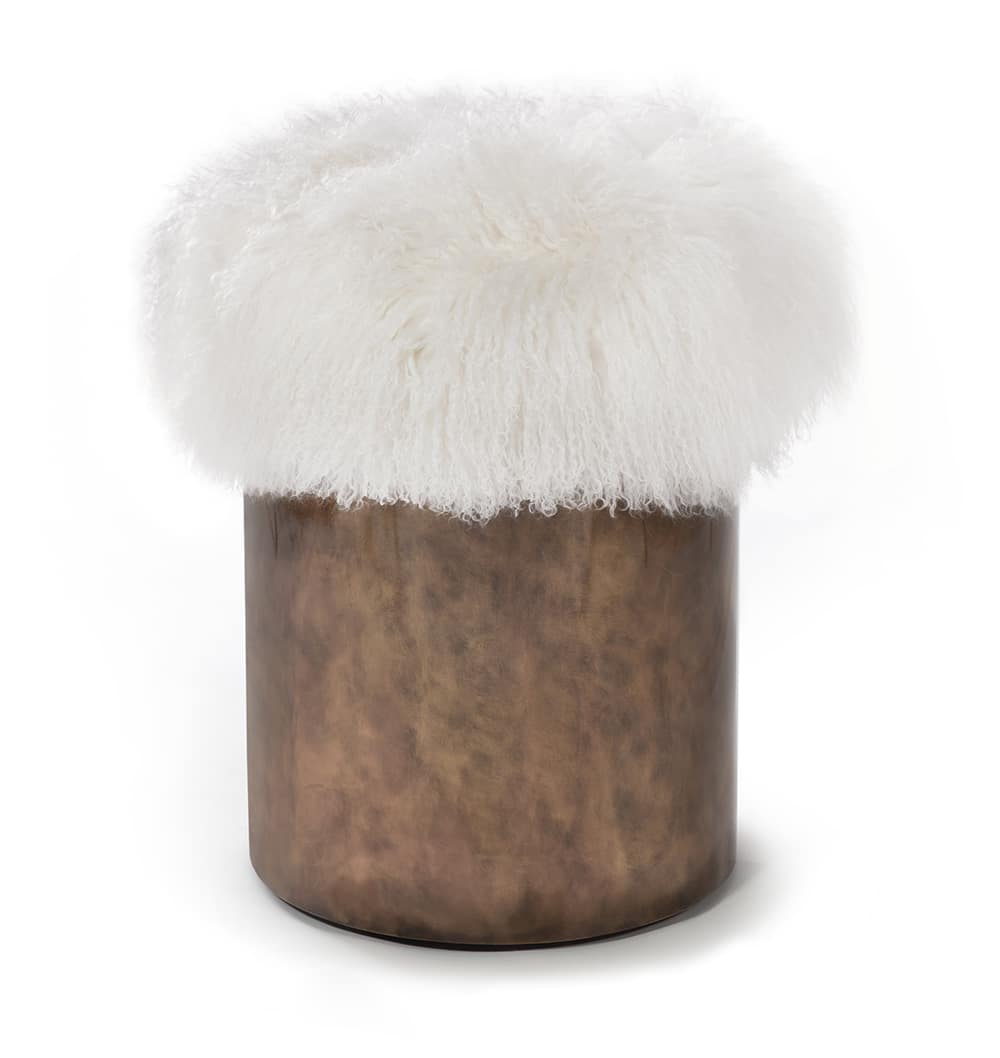 Above: The Symphony Stool with the top in Monolian lamb fur and the base in oxidised brass.
Joana travels extensively. Her creative process, she tells us, is intuitive, and results from her experiences, memories and the places she visits and treasures.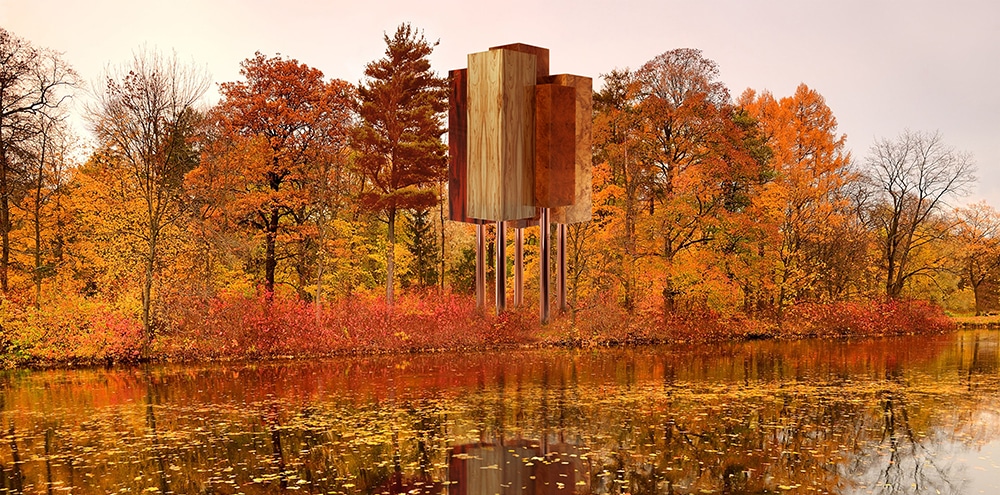 Above: The Special Tree Cabinet mirrors the colours and form of the trees and below, The Special Tree Sideboard, both finished in exotic root veneers.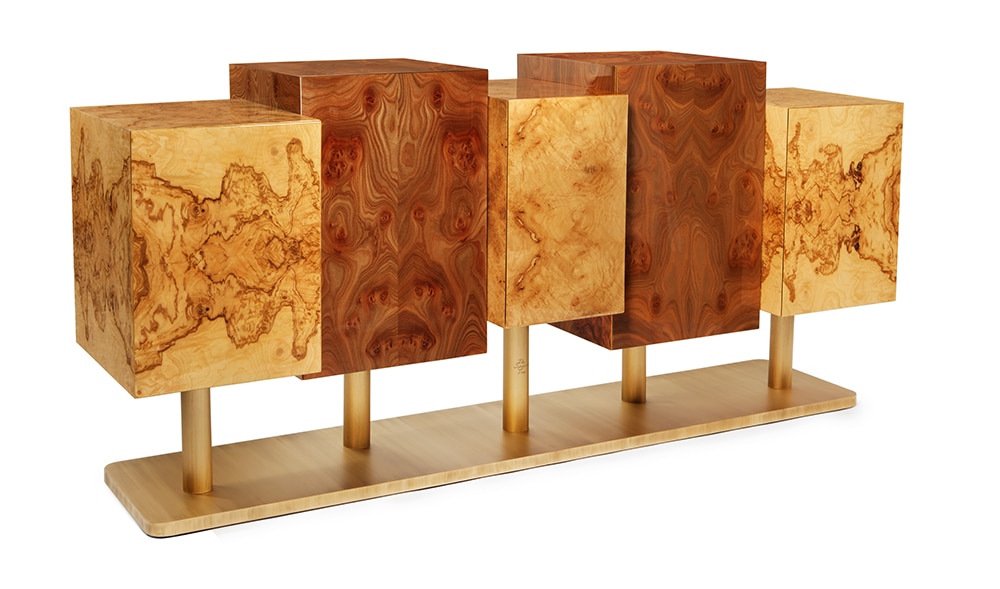 "The birth of a new piece may result from a new image that crosses my eyes or an old memory that's revisited a long time later. When a new idea shows up, it automatically materialises in the mind with its form and function without a rational intervention on my behalf," she says.
But not always. "If the birth of an idea is freely created without any rules, the construction process is completely the opposite and focussed on overcoming the most varied technical issues that appear during the evolution of the initial idea."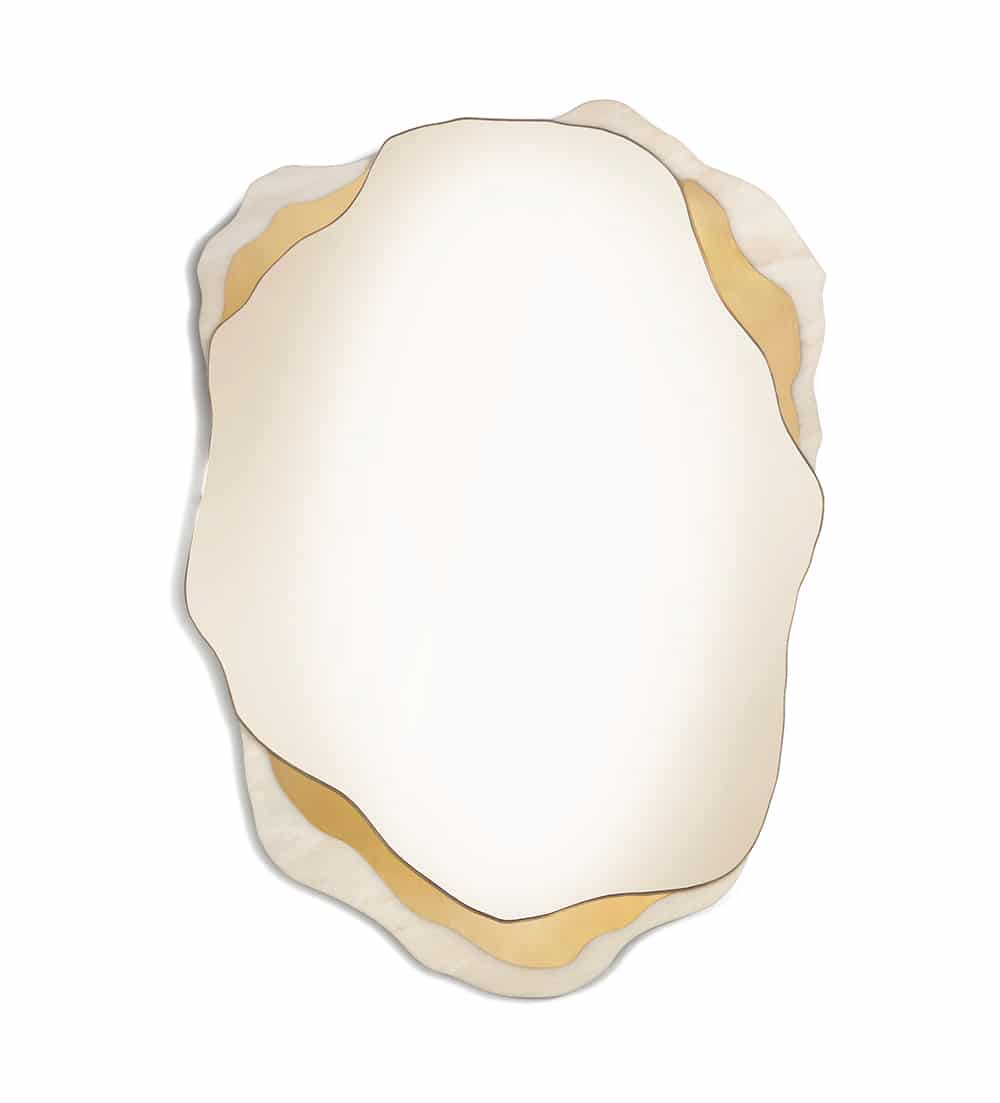 Above: The Arizona Mirror from The Beyond Memory Collection, inspired by "The Wave" rock formations in the Arizona desert (below).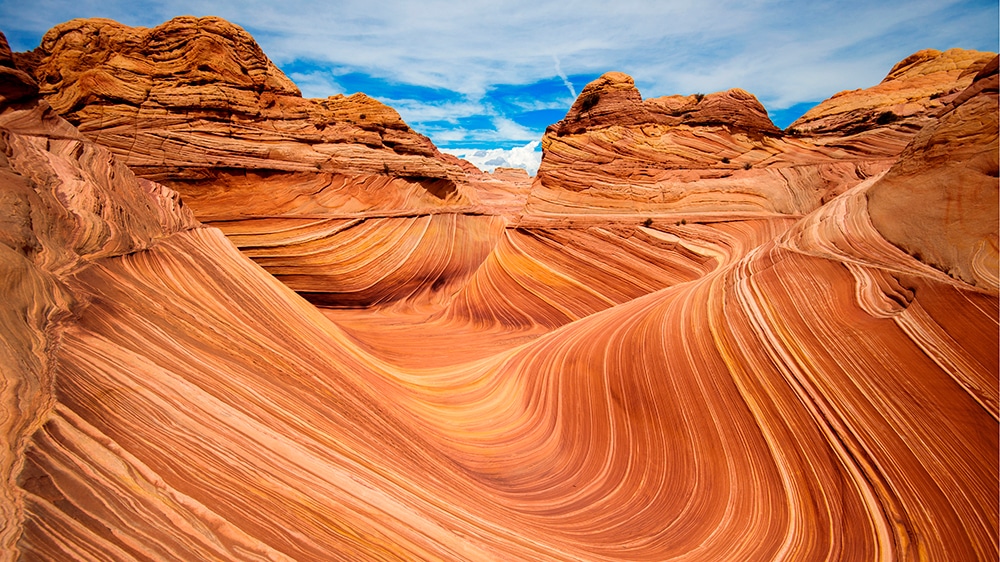 Some of her pieces, she says, could be described as enlarged jewellery. She mentions her Inspiring Tree lamp (above right) as a piece in which original goldsmith techniques were used, but a brief look through her entire lighting catalogue tells us just how important the craft of jewellery is to her. In fact, she has designed some pieces of jewellery just for family members, made entirely by her own hand.
We asked her if, in old age, she would prefer a retrospective exhibition of her work at MoMA in New York or that ordinary people would recognise her work. She would like both. "My goal is to create meaningful art pieces with function, that touch people's hearts, and I would be honoured to have an exhibition in MoMA that would highlight the quality of the designs while deeply connecting with the viewers."
Based on what she has achieved so far, it is quite likely all her dreams will come true.
insidherland.com